Best Toe Rings For Free Spirits Reviewed
In a
Hurry? Editors choice: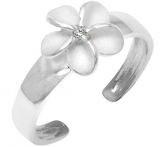 Test Winner: Honolulu Jewelry Company

In the 90s, you couldn't go to the beach without seeing toe rings everywhere you look. The trend has reemerged and become a fashionable way to show off your feet sans shoes or wearing sandals. If you're scared of drawing attention to your feet, toe rings are often used to distract against imperfections on the foot. Get ready to serve up some style while playing beach volleyball or hanging by the pool with one of these glitzy options.
Standout Picks
Criteria Used for Evaluation
Adjustability
Everyone has different feet. Maybe your toes are long and remarkably skinny. It is possible you could have chubby and stubby toes that make it hard to wear much of anything on them. Either way, you aren't out of luck when it comes to accessorizing.
Every ring, except for the wedding band style from bling jewelry which is ordered to size, it physically able to adjust to your liking. One thing about adjusting ring size is to always go slow. Slowly and deliberating close the ring to be a tighter fit, or bend it open for more room.
Any metal soft enough to bend is soft enough to break. Treat your jewelry with care and you won't have a problem. It can be hard to remember to take extra care with flexible metal due to its lack of resistance, but this is an absolute must if you want your jewelry to maintain some modicum of longevity.
Comfort
You have to remember you're wearing this around your toe. You use your toes for balance when standing and walking. Anything you wear on them or in between them you're going to feel. Just because you're aware of the jewelry, doesn't mean it should actively irritate or bother you.
Smoothed outer edges make all our picks comfortable on either side of the toe. You won't experience soreness or blistering assuming the ring is fitted correctly on you. Sharp edges and pinching can be really problematic qualities of some adjustable rings. To avoid that, our list focuses on softer designs and features.
Value
Toe rings are a risk. You don't want to go super high value with something you're wearing on your feet, generally in sandals or barefoot, because it just isn't a secure placement. Much like how most people would never wear diamond earrings to swim in the ocean, you shouldn't wear platinum or 24k gold toe bands to take a trip to the hotel pool.
For our list, we found options that would flaunt a cool style without breaking the bank. If you lose one of these, it won't be a devastating loss. However, if you're spending any money, we of course also want the rings to be worth it. Gold priced for practically the material alone is possible through choosing direct to consumer brands. By doing this, you are able to get high-quality materials for the price of less precious metals.
Materials
We wanted you to have a little bit of variety in your life. From Black Rhodium plating to sterling silver, to white, rose, and yellow gold. Most of these accessories come in multiple metal colors, so even if you aren't wild about the one displayed, you can shift the color without changing the overall material.
The gold options here are soft and pliable, so they fit comfortably on pretty much everyone. The risk of snapping or breaking is much lower due to just how soft the rings are. The sterling silver picks are also pretty pliable, but a bit less so.
Sterling silver holds up much better to scratches and nicks. You won't see every wrong move or collision on a silver ring. Sterling silver and gold are both hypoallergenic for most people as well. Certain silver alloys may give you a reaction, however. Remember, sterling silver is actually only 92.5 percent pure, so that means there is 7.5 percent of another metal in the mix. If you are unsure of your sensitivities, that's okay! Serious effects from reactions to metal tend not to be pressing. Just stop wearing a ring if it turns your finger green or causes discomfort, and go for a pure precious metal in its place.
Style
Having something to fit every style is really important to us here. If we can't diversify our choices to appeal to people with different styles, our picks really aren't all they can be. We want styles that stand out from the crowd. Whether you're demure and just want a little something to glimmer in your new sandals, or are going full-on beach bunny babe and want a flashy accessory for that special occasion, hopefully, you are willing to trust us with suggestions on how to best accent your look.
We love your unique style, and don't want to change it for anything in the world! Providing toe rings that range from flirty and fun, like our Hawaiian inspired Plumeria option from the Honolulu Jewelry Company, to dark and mysterious, like the Black Rhodium plated ring with identical Cubic Zirconia gems. If you are into a more natural look, the gorgeous pair of spiraled options from Novica will make you feel like Mother Earth herself.
Subscribe to our Newsletter