Best Toe Rings For Free Spirits Reviewed
In a Hurry? Editors choice: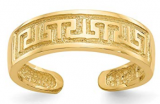 Test Winner: Ice Carats

In the 90s, you couldn't go to the beach without seeing toe rings everywhere you look. The trend has reemerged and become a fashionable way to show off your feet sans shoes or wearing sandals. If you're scared of drawing attention to your feet, toe rings are often used to distract against imperfections on the foot. Get ready to serve up some style while playing beach volleyball or hanging by the pool with one of these glitzy options.
Standout Picks
Criteria Used for Evaluation
Adjustability
Everyone has different feet. Maybe your toes are long and remarkably skinny. It is possible you could have chubby and stubby toes that make it hard to wear much of anything on them. Either way, you aren't out of luck when it comes to accessorizing.
Every ring, except for the wedding band style from bling jewelry which is ordered to size, it physically able to adjust to your liking. One thing about adjusting ring size is to always go slow. Slowly and deliberating close the ring to be a tighter fit, or bend it open for more room.
Any metal soft enough to bend is soft enough to break. Treat your jewelry with care and you won't have a problem. It can be hard to remember to take extra care with flexible metal due to its lack of resistance, but this is an absolute must if you want your jewelry to maintain some modicum of longevity.
Comfort
You have to remember you're wearing this around your toe. You use your toes for balance when standing and walking. Anything you wear on them or in between them you're going to feel. Just because you're aware of the jewelry, doesn't mean it should actively irritate or bother you.
Smoothed outer edges make all our picks comfortable on either side of the toe. You won't experience soreness or blistering assuming the ring is fitted correctly on you. Sharp edges and pinching can be really problematic qualities of some adjustable rings. To avoid that, our list focuses on softer designs and features.
Value
Toe rings are a risk. You don't want to go super high value with something you're wearing on your feet, generally in sandals or barefoot, because it just isn't a secure placement. Much like how most people would never wear diamond earrings to swim in the ocean, you shouldn't wear platinum or 24k gold toe bands to take a trip to the hotel pool.
For our list, we found options that would flaunt a cool style without breaking the bank. If you lose one of these, it won't be a devastating loss. However, if you're spending any money, we of course also want the rings to be worth it. Gold priced for practically the material alone is possible through choosing direct to consumer brands. By doing this, you are able to get high-quality materials for the price of less precious metals.
Materials
We wanted you to have a little bit of variety in your life. From Black Rhodium plating to sterling silver, to white, rose, and yellow gold. Most of these accessories come in multiple metal colors, so even if you aren't wild about the one displayed, you can shift the color without changing the overall material.
The gold options here are soft and pliable, so they fit comfortably on pretty much everyone. The risk of snapping or breaking is much lower due to just how soft the rings are. The sterling silver picks are also pretty pliable, but a bit less so.
Sterling silver holds up much better to scratches and nicks. You won't see every wrong move or collision on a silver ring. Sterling silver and gold are both hypoallergenic for most people as well. Certain silver alloys may give you a reaction, however. Remember, sterling silver is actually only 92.5 percent pure, so that means there is 7.5 percent of another metal in the mix. If you are unsure of your sensitivities, that's okay! Serious effects from reactions to metal tend not to be pressing. Just stop wearing a ring if it turns your finger green or causes discomfort, and go for a pure precious metal in its place.
Style
Having something to fit every style is really important to us here. If we can't diversify our choices to appeal to people with different styles, our picks really aren't all they can be. We want styles that stand out from the crowd. Whether you're demure and just want a little something to glimmer in your new sandals, or are going full-on beach bunny babe and want a flashy accessory for that special occasion, hopefully, you are willing to trust us with suggestions on how to best accent your look.
We love your unique style, and don't want to change it for anything in the world! Providing toe rings that range from flirty and fun, like our Hawaiian inspired Plumeria option from the Honolulu Jewelry Company, to dark and mysterious, like the Black Rhodium plated ring with identical Cubic Zirconia gems. If you are into a more natural look, the gorgeous pair of spiraled options from Novica will make you feel like Mother Earth herself.
Top 10 Picks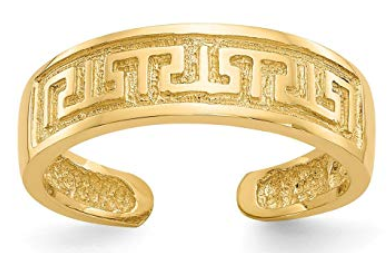 Utilizing a keen sense of style and aiming for customer satisfaction, Ice Carats offer collections designed to give you exactly what you want. With a passion for jewelry, their styles range from classic, simple diamonds to trendy showstopping jewels. Whether you want to drip in luxury or show off a classy glimmer in your favorite dress, Ice Carats has something in their collection that will feel like it was made just for you. Since their humble beginnings in 2008, Ice Carats has made a real commitment to providing absolutely stunning pieces at amazing prices with their direct sale strategy.
This piece gives me such Hercules and Megara vibes and I was absolutely in love at first sight. Although their story ended less than perfect, this accessory is sure to be the icing on the cake of your favorite look. If you want to feel like an absolute Grecian God or Goddess slip this on and you'll be one step closer to achieving it. This 14k yellow gold ring has a stamped pattern which is textured in the depressed section of it. In a way, it adds more depth to the overall appearance of the ring itself.
If you have sensitive skin, there is no need to worry about this gold band. It is guaranteed nickel free and hypoallergenic. Celebrate your unique beauty with something like this from Ice Carats limited collections. Every single piece from the brand comes beautifully gift wrapped and warrantied. A style like this would look absolutely killer with some gladiator sandals and your favorite light, neutral dress. Real gold makes this slightly more expensive than a more casual option, but you're basically paying for the price of materials here.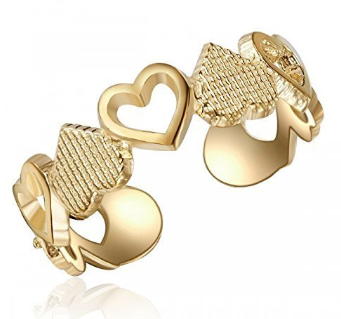 We all have our style. It wouldn't make sense to have identical looks and accessories, and it especially doesn't make sense to all wear the same tired jewelry. Ice Gold Jewelry is direct to consumer jeweler that changes the way we shop for our glimmer. Featuring all Canadian and American made items, their selection is chosen with the experience and keen eye of 20 years in the jewelry industry. With an emphasis on educating their buyers and providing tools to care for and love their new gorgeous pieces properly, Ice Gold Jewelry is making a reputation for themselves of quality and reliability.
Who doesn't love simple hearts and that chain look? Hollowed heart designs are utilized in an interchanging pattern with textured hearts. A passionate accessory that's perfect as a gift for your loved one. Less daunting than a promise ring, but still able to communicate your love for either another person or yourself beautifully. If you are going for a carefree summer look, this will be a great little accent to add a little shine into your ensemble. The classic design will easily go with a number of different styles, so feel free to experiment and see what best suits you!
In stunning 10k yellow gold, this beauty will go with most yellow toned jewelry. Sandals in blue hues would really pop in contrast to this toe ring. Fitting any toe size, long or chubby toes won't affect your ability to rock this great pick! For your most lovable friend or the love of your life, this toe jewelry stands out for its adorable look and fantastic quality. Due to it being genuine gold, it is a bit higher in price than similar jewelry that is inauthentic, but, once again, you are paying for the metal itself more so than any bloated manufacturer cost on this one.

3

. Honolulu Jewelry Company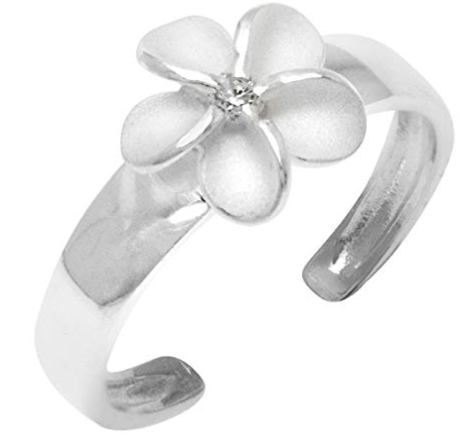 Say Aloha to fashion with any of the simple and elegant pieces from the Honolulu Jewelry Company. Since 1981, they have been creating amazing examples of Hawaiian jewelry and honoring traditions of the islands. Fine, long-lasting keepsakes are absolutely key to the companies values, and their Aloha Spirit is warm, friendly, and sincere with every customer they are able to touch. Island jewelry has long been a tradition in providing heirlooms and beautiful pieces for families and young ones, as well as gifts to improve bonds and friendships. Keeping with this time-honored tradition, Honolulu Jewelry Company creates simply gorgeous designs to both Islanders and others all over the world.
Sterling silver is used to recreate this Plumeria flower perfectly on this small toe ring. Plumerias are indigenous to Hawaii, the Caribbean, Central America, and Mexico. The flower is used as an ornamental flower in warmer regions, but it has specific cultural significance in Hawaii. In the Apocynaceae family, the flower represents relationship status when worn on a specific ear. Worn on the right ear, it means actively seeking a relationship, on the left, it means taken. Obviously, this isn't the only reason to wear a sterling Plumeria, but if you're into that, you can totally wear on the right or left foot to indicate your status.
In really nice sterling silver, this piece straight from the Hawaiian islands makes a lovely gift for anyone with the tropics on their mind. Small cubic zirconia adds sparkle and interest to the middle of this lovely recreation of their island flower. Polynesian styles come to practical wear with this toe ring. Plumerias are often regarded for their sweet and enticing smell, but their noble appearance isn't lost on the people of Hawaii. Priced moderately and affordable, this is a great first step into wearing toe accessories!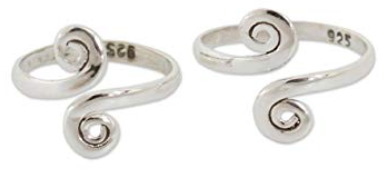 Robert Milk was sitting in a class learning the language of Portuguese in 1995 at Stanford University. When he was a senior at Stanford, he was unsure of where he wanted to go from there. One night while DJing under the moniker DJ Milkbone, he met a Brazilian woman and fell in love at first sight. Learning Portuguese, his teacher spoke of the craftsmanship of artists in Brazil, and how their art didn't get a chance to be successful worldwide. Coming from a long line of artisans, Robert decided he was the one to change this. After his teacher passing shortly after, he was inspired to make his dream happen immediately. Upon his graduation, him and his now wife, Mina Olivera, started Novica.
Novica really is committed to handmade works. National Geographic themselves endorse the company for their fair trade practices. This particular work of art was crafted by the artist Alok Jain, who has had a long family history of crafting, which shows in his designs. Taking inspiration from nature and the ebb and flow of the natural world, Jain loves to be able to share his vision with jewelry designs, going beyond the handicrafts he has been known for previously. Due to their partnership with National Geographic, the company has been able to have connections with artists from all over the world like this one.
This stunning set contains two spiraled rings, which personally remind me of the sea. The simple design, aptly titled Luminosity, is stunning even with its basic structure. Two polished sterling silver pieces can be worn on any of your toes on one foot, or you can split them up and wear one on each for a more symmetrical look. These definitely have an Indian charm about them and would look amazing being worn to an Indian wedding. A pretty gift bag adorned with patterns and elephants is the cherry on top of this gift, and the price may be a little higher but it is accounting for two rings! That being said, the individual pricing is super doable.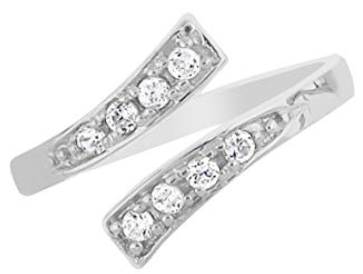 This brand is really awesome for anyone into fashion on a budget. Every single piece is made with the goal to be under 100 dollars, providing glamorous accessories for people everywhere at every income. From classic designs like hoops and "huggie" styles to more on trend and current gems and pendants, Ritastephens has you covered no matter what you love to show off. Offering both fine and fashion jewelry, the large assortment of items will always be delivered polished and new to your door. Every piece they send has a 100 percent satisfaction guarantee, so there is nothing to lose! Try Ritastephens for your jewelry needs today.
White gold is an amazing and versatile precious metal for quite a few reasons. Not only will it compliment and accent your other silver or even platinum jewelry, but it is easier to maintain and less prone to show imperfections as opposed to yellow or rose gold. The Cubic Zirconias in this ring aren't necessarily in a phenomenal setting, but the design of the ring itself is really stunning, so the setting itself works in its simplicity. Channel settings are pretty sturdy which adds a bit of security that you won't be losing gems when you're flaunting this sweet piece of bling.
Round stones look really nice in this wrap around style. One of the best parts of this particular ring, other than it comes in both yellow and white gold, is the fact that it can actually also be worn on your finger. If you are new to toe rings and a bit intimidated by them, one that can be adjusted to fit your finger is a great non-committal start to make your way into the trend. The slightly bigger size is easy to adjust to either finger or toe but just adjust slowly and deliberately due to the soft nature of gold. The price reflects that it is a genuine precious metal, but there aren't additional costs added beyond the manufacturing and material cost, so it's an awesome pick!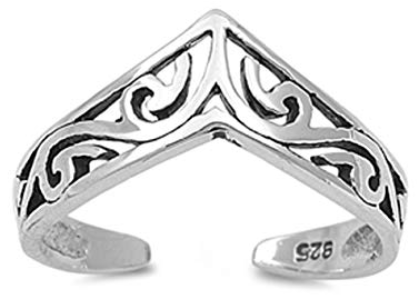 A brand that has really straightforward values, Sac Silver is focused solely on fine silver and sterling silver products that are made with consistency. Every single piece of jewelry that leaves the Sac Silver headquarters is tested for quality assurance and is made to exceptional standards. Their service promises superior treatment of customers by their company. Fast shipping, full money back guarantees, and completely open lines of communication are all promises Sac Silver makes to their customers.
Gorgeous filigree adorns this awesome and unique ring. Their 92.5 purity of silver is mixed with high-quality alloys for strength, but still won't tarnish or react with sensitive skin. Cutting edge in design, this unique, almost medieval ring is a really fun addition to any outfit. The shape compliments hands as well and this would look amazing as a ring to wear on your knuckles as well as your feet! I personally think this is one to rock barefoot, but it could also be worn with anything from strapping heels to slides.
The shape alone isn't the only standout of this sterling silver creation. Symmetrical, woven filigree all over the ring has a regal look that looks more delicate than it actually is. This ring won't bend or break when being adjusted, and definitely still has the feel of a dainty accessory. When you want something light to throw on to add a little element of sparkle or style to a look, this is the ideal choice. Super affordable, it isn't even a question as to if this ring is worth it.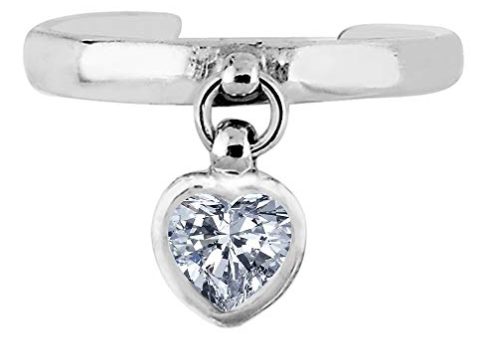 This family-owned and operated jewelry store operates out of New York City and the practice of making wearable art is truly in the family's blood. Serving iconic celebrities like Elizabeth Taylor and Sammy Davis Jr., the brand has a long history in luxurious jewels and beautiful pieces. Don't worry though, no matter who you are, you will get the red carpet treatment from these dedicated craftsmen. Niko and Christo are brothers working under their father Constantine who has forty years of service in the industry. What they do is just as product oriented as it is consumer oriented. They want to ensure every single style is perfectly suited for those who buy it.
I can't talk for long without mentioning the adorable, dangling charm on this toe ring. Unlike the other solid options on the list, this cute little ring is really fun. The dangly heart reminds me of charm bracelets from yesteryear, and it really brings a cute update that brings up all my nostalgia. The Cubic Zirconia heart is glittery and fun but not too showy, so it still has an air of sophistication. A great toe ring for going barefoot or lounging by the pool, this would be awesome for a young teen at her sweet sixteen once she slips into flip flops to tear up the dance floor.
Completely hypoallergenic and nickel-free, this option is awesome for anyone with sensitive skin. It can be really difficult to find something that won't turn your toes green, especially when it is a piece of jewelry you will be wearing for an extended period of time. Uncomfortable rubbing or allergic reactions can completely ruin foot accessories for the wearer, and this shouldn't cause any unwanted effects. The cuff-like design of the silver band has all rounded and smooth edges, increasing comfort as well. This is at a great price, and the high polished finish will shine as much as you do when wearing it.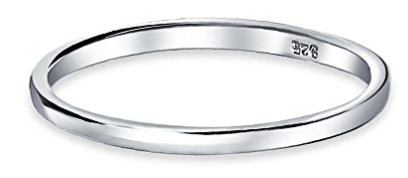 A company that wants to brighten your day, every day. Choosing styles that are uniquely you, to show the world who you are and what you stand for. They also curate perfect picks to add to their collections, creating a diverse selection. What began in a studio apartment in the Big Apple is now a million dollar company, thanks to CEO Elena Castaneda. Sterling Silver is the star of the show in most of Bling's collections. Elena got her hard-working attitude and ability to pay close attention to detail from her parents, her Peruvian salesman dad, and her no-nonsense German mother. Inspired by the work ethic and support of her parents, Elena was able to build a company as ambitious as she is.
Called the "wedding band" this elegant simple band can be actually worn on either fingers or toes. Not adjustable like other options here, however it does come sized, just pick what will best fit your toe or finger. Otherwise, this is a pretty versatile option as an accessory. The band on this ring is the half round dome shape, which is one of the most popular and requested shapes for any band. Polished silver adds an air of sophistication and makes this eye-catching without looking excessive or like overkill.
A ring that can be worn with, quite literally, anything, this pick is great for those who mix up their style often. It won't tarnish and is hypoallergenic, which makes it awesome for sensitive skin or low maintenance folks! There is no clasp or adjustable setting to pinch and bother your toes and fingers either. The price is very reasonable for the ring, and you will get a lot of wear out of it because it is so subtle. Also great for wearing as a stand-in wedding band at jobs that don't allow for stones!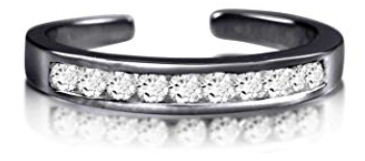 This family-owned business has been in operation since 1983, and they stick with the motto of not being satisfied until you are. Anything you may need or want, from opals and extravagant pearls to base metals and cubic zirconia, Kezef makes beautifully with care to give you exactly what you want and need out of your accessories. Gems of all cuts and value are provided to give you a piece perfectly tailored to your own tastes and desires. Kezef knows how to pamper those with expensive taste, but can also accommodate those with a simpler need as well. Check out this brand for all your new staples!
Sterling Silver based but plated in a striking Black Rhodium, this ring is truly a marvel of style and design. With nine round Cubic Zirconia Gemstones, this beautiful inlay will make you instantly fall in love. For more gothic styles this is the perfect accessory. It isn't too cutesy or light. The smooth finish can even go under shoes and socks if you want to only reveal this indoors in the cooler months. However you decide to wear it this will do all your fashion work for you, making a glittery appearance whenever it hits the light.
The Cubic Zirconias in this ring are matched so that none will outshine the others or look out of place. Even and uniform gems change the whole appearance of a piece of jewelry. Clean and maintain this easily with a soft brush and soap and water and you will have a piece you can love for the long term. This design is open to adjusting to your toes perfectly and the smooth edges won't cause any discomfort. Pricing is extremely reasonable and this is a great addition to your jewelry collection without breaking the bank.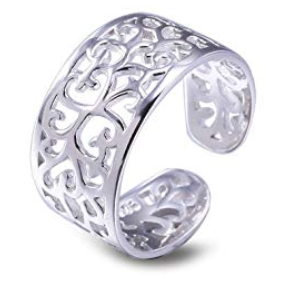 With the goal to leave a bit of sparkle wherever you may go, Viki Lynn has some great, feminine pieces that add a dazzling element to all your favorite looks. Starting with a humble bead store in Mississippi, now Sheila, the creator of Viki Lynn, has enlisted her four daughters and husband to help her in her craft. For twelve years she has been creating wonderful fashion and fine jewelry for all occasions and wants you to be able to love her creations as much as she does. Utilizing Swarovski crystals and unique patterns, her designs are a refreshing addition to anyone's accessory collection.
This ring is supremely ornate and intricate. The hollow cutouts are mostly heart shape but they come together in stunning sterling and really blow you away aesthetically. It is super chic and won't tarnish with proper care or turn your toes green, nor will it cause an allergic reaction, which is necessary for a piece that covers this much surface area. This might leave a bit of a weird tan line when sunbathing though, so consider removing it if spending long periods in the sun with your toes exposed.
A design like this would look fantastic with soft, billowy cotton pants in a neutral color and a cute knit top. The casual, yet elegant, look of them can complement so many down to earth styles. A long linen skirt would also perfectly compliment this foot accessory. No matter how you choose to wear it, it is guaranteed you will be stunning no matter where you're planning to go and what you're planning to do. The price is extremely affordable and the band, although light, won't slip off your toe when walking or moving.

Subscribe to our Newsletter