Best Shoes Seen In Pictures Of George Clooney Reviewed
In a Hurry? Editors choice: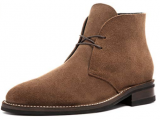 Test Winner: Thursday Boot Company Scout Chukka

I am unsure if there are any Hollywood heartthrobs more famous than George Clooney. His jet setting and heartbreaking lifestyle have landed him on the cover of tabloids and magazines since he first appeared in ER. George Clooney is an absolute babe but his impeccable style doesn't go unnoticed despite the distraction. The man is simple but strong in his footwear choices and getting the look has never been easier with the help of this list!
Standout Picks
Criteria Used for Evaluation
Comfort
Clooney is a no-fuss kind of guy. When emulating his style, it wouldn't make sense to dress in over the top duds and restricting shoes. The man, for the most part, dresses for comfort. Even our Oxford and wingtip selections here have crucial comfort additions.
From gel padding on the heel to the multiple Ortholite picks, style is nothing without ease. George Clooney radiates effortless cool. Whether he is at a black-tie event or a dinner with his stunning wife. Looking good doesn't have to be a chore. Picking from any of these dress options won't hurt, I promise.
Materials
We are talking about Clooney here, so some lap of luxury is necessary. Calfskin and Nappa leather make up the uppers to our formal choices. Supple leather won't pinch your toes or become misshapen. The best part about soft leather is if you take care of it, it almost gets more beautiful over time.
The few suede options really reflect George's personal style. We see him wear suede everywhere but the red carpet. This material is soft and can either lighten up a look or add in a different texture to an ensemble.
Caring for suede is important to give it longevity. Make sure you are treating it with proper protectant. If you do buy a suede cleaning kit, ditch the stiff brush they provide entirely. A soft toothbrush or nail brush is much more fitting for the soft hairs of suede.
Style
Our main goal was to find shoes that could mimic the shoes George is seen wearing is multiple photos. The man is a busy Hollywood actor, but due to his level of stardom, people catch him all over in so many different looks. We were focusing on dress options here, in particular, hence the emphasis on Oxford styles.
To dress up the suede picks, thing light color suits, and blazers matched with turtlenecks rather than button-downs. The lightest suede pick would look outstanding with a cream summer suit. Every chukka I can easily see paired with grey tweed slacks, a red sweater, and a blazer. George Clooney has some iconic outfits, go exploring and find some things to experiment with now that you have a base.
Versatility
They may be all mainly dress, but you can dress a lot of these down as well. The matte wingtips would be to die for with jeans and a cable knit. The chukkas would be so sweet with jeans and a tea. A cuff on the jeans and a flannel would elevate the look to a whole different realm completely.
Other than the patent tuxedo shoes, you can play around with this list. The Clark was absolutely made to be dressed up and down. It feels like a sneaker but adds a bit of class to your khaki and polo combination. Some of these would work very well as a work shoe. If you're committing to buying styles like a famous person, you should be able to get wear out of them. We aren't trying to create costumes, we are trying to add to your already gorgeous wardrobe. You obviously have good taste, but everyone could use an extra set when hunting new and exciting options.
Value
Is George Clooney fashionable? Usually, yes. Is he modest with money? No, not at all. It would be great if we could all drop a grand whenever we please on a designer name, but that is neither practical nor responsible. For us normal folk, budgets are our friends.
Styles that emulate the greats without emulating the great's price tag are everywhere. The problem is picking through the ones that are less than satisfying in terms of quality. Knock-offs are fine, but they aren't really worth the time of NicerShoes readers.
You all know fashion and quality. What we want is to be able to ease your mind when it comes to figuring out what is worth it and what isn't. Having a second opinion is always appreciated. We know you got this, but finding great footwear for our readers is something we are passionate about.
Top 10 Picks
1

. Thursday Boot Company Scout Chukka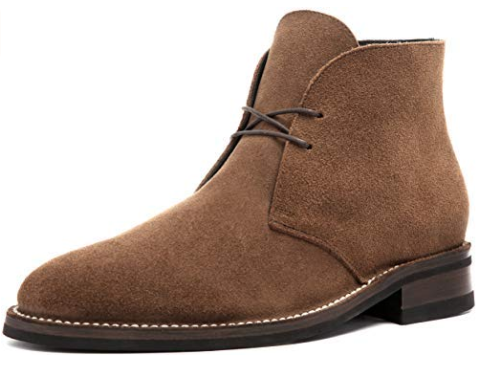 Some shoe companies were inspired to create. Others, like Thursday Boot Company, were pissed. Quality boots were few and far between, and with limited options, many were stuck with either a boot that looked good or performed well, and that was it. True to its fashion hub status, New York City was the breeding ground for this seed of an idea. It grew into a functional footwear brand that invests in its own rather than cutting corners for profit. High standards in both ethics and quality assurance set Thursday Boot Company up for success. Just see for yourself what kind of Chukka boots they offer, you won't be disappointed.
Did I mention Clooney's love for suede Chukkas? For being such a man of culture, he proudly displays his beat up suede boots regularly. George understands that function matters. There is more to a shoe than what meets the eye. Obviously his favorite pair, you can get his look easily with cheap imposters, or you could try one of our comparable boots and see how you like them. The worst that can happen is you will look cool temporarily while trying them on. The studded rubber soles on these boots give a great feel for walking and make the construction water resistant.
The premium leather upper is accented by only two eyelets with waxed laces weaving in between them, one of the more old-school lacing styles on Chukka boots. Stitch-out construction lends itself to the durability of this beauty, as well as the structure of the whole upper. An interesting element on these is a full cork footbed. The benefit of something like a cork that depresses over time is that it will slowly form to your feet and then stop. Memory foam can get crushed and never really bounce back, so this is a great option if you tread heavy and have trouble keeping shoes comfortable. In the medium-high price range, the quality of these is gorgeous on a boot. Durability tends to come at a price and these are the epitome of durable.

2

. Allen Edmonds Macneil 2.0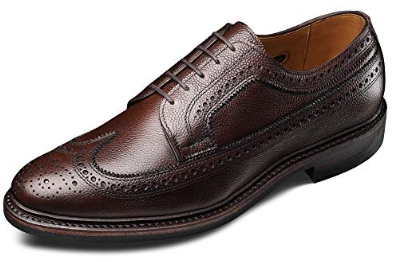 1922 was a good year for Allen Edmonds, as it was when they launched their first gorgeous shoe. Allen Edmonds Goodyear Welted shoes are a beacon of quality in the industry, and their manufacturing process is unparalleled as it required 212 steps to complete. Getting their start in Belgium, Wisconsin, there were no gimmicks to their success. Straightforward honesty with their customers and themselves created an environment where the products they were creating surpassed most others existing at the time. So committed to their craftsmanship that they re-craft shoes for distraught customers that wore their shoes ragged, Allen Edmonds is a different kind of company that deserves attention.
Classy, slightly elaborate, and downright beautiful, wingtips have been loved by men of culture since they first hit the scene. Of course, our man George can often be seen in rich brown wingtips that show off his unique sense of style. Adding an element of surprise and sophistication to run-of-the-mill menswear is an easy feat with a style like this Macneil. Not that Clooney wears and run-of-the-mill suits. The detail of this wingtip is truly breathtaking, utilizing classic methods of embellishment, the Macneil features blucher with perforated brogue styling, an awe-inspiring combination.
Premium calfskin makes these feel as indulgent as they look, and the quality material is utilized even in the lining. The sole is constructed using Black Dainite, which creates a dark and brooding accent to the already deep palette of this wingtip. 360-degree Goodyear welted construction guarantees this is made in a way that doesn't betray its appearance. A sturdy oil-infused Double Butyl outsole makes this a beautiful choice to wear anywhere. Poron insoles ensure comfort whether you're going to work or play. This shoe is extremely elegant and in high demand and comes at a designer price tag. The craftsmanship isn't matched by anything else on the market, and they will literally stop onlookers in their tracks with their look.

3

. Marc Joseph Lexington Loafer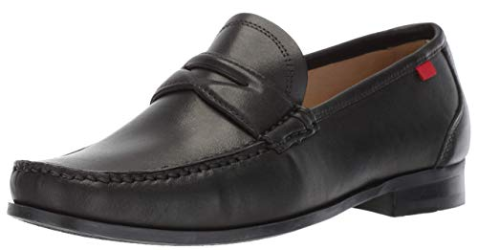 Wholesome brand inceptions are the best kind. Marc Joseph came from a father and son duo. Marc Antebi had 30 years in the business of entrepreneurial endeavors when his son approached him about his interest in the ever-changing fashion industry. His son, Joseph, wanted to offer comfortable, luxurious, and stylish options that fit the New York City life. They merged their names to create Marc Joseph, and simple as that, their brand began. Famous for driving moccasins and loafers, catering to their favorite people, fellow New Yorkers, has cemented their name as a leading footwear producer.
George Clooney isn't always quite dressed only to impress. A man is nowhere without his loafers, it is one of those staples absolutely everyone should have at least one of. Clooney often wears his when taking a stroll or running errands. Comfort is key, of course, so finding a pair that reaches all your expectations in that department is a must. These Lexington Loafers are designed in New York but then specially crafted by hand in Brazil, giving a true artisan touch to the classic casual style. The monochrome black of these is sleek but unassuming. These would make an incredible gift for your favorite guy.
Gel padding on the insoles revolutionizes the experience of wearing these. In this loafer, they manage to pack lovely heel and arch support, the two most important areas of discomfort in shoes. For the upper, rich, supple, Nappa leather envelops the foot and provides a customized feel. Their outsole is rubber and very flexible as well, this is quite the loafer. When you have these on, you will feel like you are vacationing in Monaco and living in the lap of luxury. Their price is much more affordable than even the plane ticket there, thank goodness.

4

. Bruno Marc Desert Boot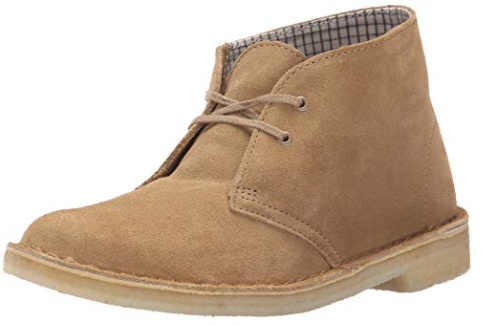 Bruno Marc is owned and created by Daily Shoes, a brand that is creates women's fashion staples at an awesome value. With the thought that the most important time of the day is that spent picking out your outfit, Daily Shoes has dedicated their whole philosophy to accompany you in every milestone and event. Bruno Marc does much the same with menswear. Smart silhouettes, classic styles, and amazing comfort, they exceed expectations as an online retailer of men's footwear. Trying one of their styles is a decision that is rewarded with surprisingly sound quality.
To be clear, George Clooney wears a tan suede boot in every photo of him within a casual setting, excluding athletic endeavors. In various levels of wear, it is clear what his standby is. The tan suede footwear looks most like a desert boot and they are dashing despite their well-loved appearance in the photos he is caught wearing them. If you're looking to outfit your feet in a decidedly Clooney shoe, this is the one. This chukka from Bruno Marc totally emulates that effortless style that he adds to every ensemble with this shoe. It is the perfect balance of mature and tough. I absolutely love this style.
A plain suede upper is a perfect tone to go with basically any coordination of colors and fabrics. You could pair this with jeans like George frequently does, or khakis, all the way to corduroy. Durable but flexible, the tension points on this have reinforced stitching to ensure you get a long time of wear out of them. The classic three-eyelet closure and contrast stitching is notably on-trend and will remain on trend for years to come. Their outsole is non-skid and their insole cushioned, the perfect final touches to this casual staple. Extremely affordable, definitely a great piece to add to your collection with very little to lose.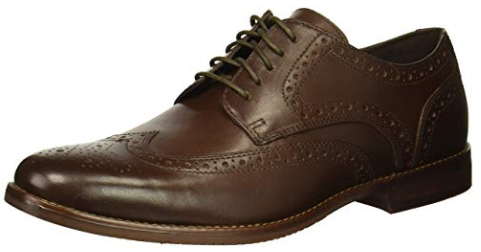 Thinking on your feet is one thing, but thinking about your feet is an activity that few do. Rockport has built a whole business on the less-than-popular practice. Experiencing walking in their customer's shoes, Rockport has made an intense effort to understand the need of everyone who slips them on. When the brand was first imagined in 1971, they realized there was no middle ground in the shoe industry. It was either formal or casual. Sneaker or oxford. This greatly limited the possibilities of fashion and shoemaking in general. They created a solution by revolutionizing shoes and how we wear them. Now, everything that Rockport creates is a harmonious combination of what people love in both dress and casual wear.
Brown wingtips are a total classic, one that I hope, and believe, will never go out of style. The look calls back to early Americana and I love that vintage feel you get when you finish an outfit with a smart wingtip. Any man can pull off this style, and many do. George Clooney loves wingtips when he is wearing a suit, and he wears them pretty exclusively in pictures if it isn't quite a tuxedo kind of occasion. EVA heel cups stabilize your steps, so you won't be tripping over yourself on the red carpet, or any carpet for that matter, high-fashion or otherwise.
This Derby Room from Rockport's Renly Collection is a real masterpiece. Trutech throughout the shoe responds to the way you walk and wear on the shoe itself. It will feel similar to a sneaker or casual boat shoe rather than a dress option. Cement construction will have this shoe outlasting most in your collection, a true feat. Ortholite in the sole creates a soft, cool, and dry environment for your foot. It is removable, so you can replace with orthotics, or just keep clean for a healthy footbed. The price on Rockports is always a great deal, and the comfort you're receiving from the purchase will have you feeling like a movie star.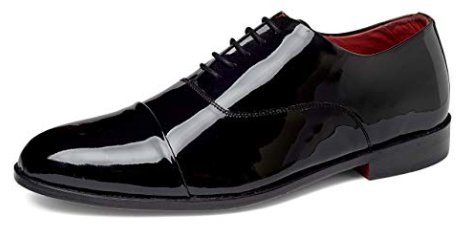 Carlos Santana is known mostly for his gorgeous music and his finesse with string instruments. The musician has graced our ears with his sound, yet his artistry continues in the fashion world as well. Launching in 2001, the brand has made its name making statements with unique fabrics, textures, colors, and features. Everyone should deserve to feel like a work of art, and Carlos by Carlos Santana ensures that is the case with every pair. His charity, the Milagro Foundation, was founded in 1998. When he began his brand, he vowed to donate a portion of the proceeds to children in need and invest in them by way of education, healthcare, and the arts.
George can often be seen on the red carpet in a few signature looks. The glossy, patent tuxedo shoe is a staple for evening wear, and the way Mr. Clooney wears them might as well be an endorsement for the style alone. This pair is genuine calf patent, rather than the plastic of some lesser quality brands. Formal looks generally aren't complete without a little shine, but the high gloss of this material will turn heads even more so than just a polished oxford. Blake construction makes this flexible and comfortable, stiff shoes are a nightmare when going out on the town, that we know. Don't fall victim to a stuffy, too structured shoe just because you think you can't be at ease in formal wear.
Leather lined insoles absorb moisture and keep the foot from slipping around while wearing. In the shoe, this creates more stable wear and more temperature regulation as well. Adjustable lacing always helps to create more form-fitting footwear. Classic cap-toes and a leather stacked heel will have you in a lap of luxury while you have these on. Slight cushioning on the insole seals the deal on this beauty. Due to it being calf leather, it is slightly higher than moderate to high dress brands, but not at all unreasonable. The quality is extremely covetable and the purchase goes to a humanitarian effort to invest in the children of the world.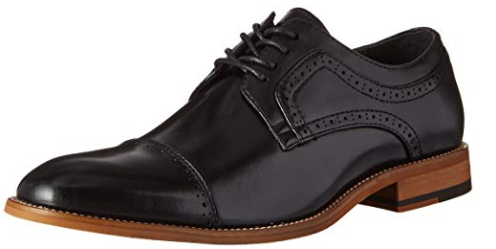 An incredibly long American history that has preceded most other menswear brands stateside, Stacy Adams has long been setting trends and breaking boundaries of what men's footwear can be. A lifestyle brand looking to create gorgeous, timeless masterpieces with every release, Stacy Adams is true to their roots while still being innovative and eye-catching. From their beginnings in 1875 in Brockton, Massachusetts, Stacy Adams has seen many things come and go. Eras that inspired them in fashion and times that pushed them to be different than the rest, they have experienced it all which led them to become the brand they are today.
Cap-toe oxfords are one of those shoes that will never go out of style. On the Dickinson, a contrast sole really makes the shined upper boast sophistication. Clooney loves an easy oxford, and he can often be seen wearing styles that similarly wow like this pick. Burnished brogue perforated trim is subtle, yet striking, adding texture in small details which lifts this uppers impact to the eye. This choice may look sleek and barebones, but inside the insole is actually fully memory foam and shock absorbing. If you're on the go and attending galas like Clooney, you obviously need comfort, but even if your lifestyle is slightly less demanding, memory foam is a gift from the shoe gods.
Breathable linings are accented by the shoes rough-and-tumble construction, it remains light despite its reinforcements. Real stitch detailing on the contrasting sole lends a vintage appearance to this cap-toe, and the stacked heel elevates the whole look. Natural coloring on the sole includes an integrated heel tap, a classic feature often long forgotten on more modern inceptions of oxfords. Hand burnishing is responsible for the vintage look that radiates from this true beauty. The price on these is remarkable for a dress shoe of this caliber, and these can easily be added into the wardrobe of even the pickiest dressers.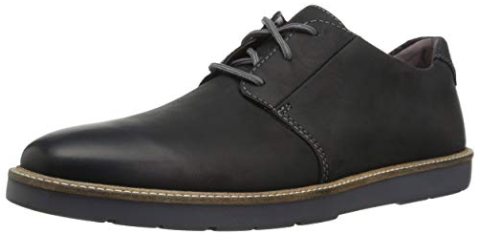 Clarks is a family owned and operated business that has been in the industry since 1825. Starting with slippers made from purely scraps, they have expanded to become quite the juggernaut of formal, casual, or even athletic footwear, plus everything else in between. They have studied the foot and its biomechanics to discover what people need the most in terms of their shoe performance. They have obviously been a quick study to what the world wants, as their Desert Boot that first debuted in 1950 is still one of their most sought styles today. Rich history and tradition have made Clarks a standout in shoemaking and craftsmanship.
Leather and mostly matte, with only a slight shine on the toe, the Grandin Plain is a favorite for ensembles that toe the line between formal and casual. Clooney is often seen dressing pretty casually, but he hits the perfect note when out promoting films or on a dinner date when he can be spotted wearing hybrid options such as this one. Flexible TR outsoles make this have great ground feel when walking, and the grooves of the outsole ensure they won't crack due to tension from their ability to flex with the foot.
Cushion soft technology adds special padding on the heel and ball of the foot that looks and feels completely different than any other brand's insole. Relieving pressure from the most worn parts of the foot is both good for your overall comfort but also your posture and muscles. Ortholite is utilized in many sneakers for its thin and lightweight build. In this shoe is provides cushion and regulation of heat to carry moisture away from the foot and keep your foot dry and supported. Feels like a sneaker, flaunts like something else entirely. These are in a reasonable price range for Clarks and the quality is outstanding, definitely worth trying if you are new to the brand.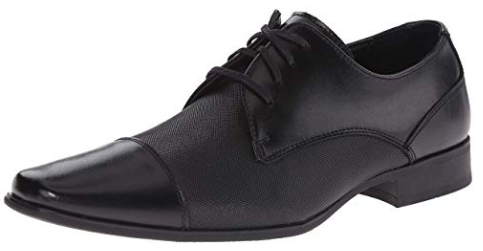 In 1968, Calvin Klein and Barry Schwartz came up with the brainchild that is the Calvin Klein of today. Minimalism is made sexy and bold by using strong silhouettes, groundbreaking techniques, and overall finesse. You could say they are a pretty successful company, boasting nine billion in sales in 2017 alone. Striking designs that make you rethink your preconceived notions about fashion are the crux of this company, and they continue to have global success by inspiring looks that become cemented in the industry. From their underwear to their menswear, simple, clean profiles are renewed and celebrated for what they bring to the fashion world.
Nappa leather adorns this matte cap-toe, and immediately when you look at it you see it isn't quite like the others you have seen before. A mix of textures adorns this footwear to create depth and dimension to the classic style. George Clooney loves to add interest to timeless fashion, which is exactly what the Bram achieves with its mix of finishes. Completely monochrome, this relies on its quality and materials to make it stand out from other cap-toes like it. Small eyelets make the lace-up closure appear delicate despite its durability.
Shine on the rounded square toe is elongating and creates a sharper profile for the wearer. Extremely flexible construction won't let you struggle to rock this, the ease, when you slip these on, is palpable. Padded insoles treat your feet like the boss you'll look like when you step out in the Bram by Calvin Klein. The textured Nappa leather accent is truly remarkable when your eyes are taking in the overall design. Contrast topstitching is the perfect final addition to this beautiful build. The price is in the moderate range for the style, surprisingly, regardless of the supple Nappa leather being used here.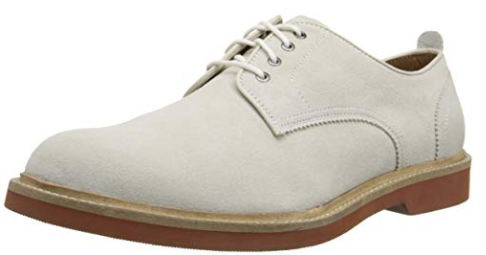 Chicago, Illinois is a hub for so much culture, whether that be music, food, or fashion. Florsheim hails from this city and was first imagined in 1892, over 125 years ago. Gaining features in The Cosmopolitan and The Saturday Evening Post, Florsheim was immediately loved for their style and ingenuity. One of the first few brands to begin branding their shoes both on the inside and the pull-tab, the company was innovating how fashion grew and ensuring genuine articles for consumers. From supplying shoes during wartime to becoming the show to wear during a good time, Florsheim's status is cemented in history for its beautiful profiles and extensive milestones.
Lighter than the similar styles listed prior, this shoe is a more spring to summer look. Clooney steps out in suede offerings such as this year round, but for the warmer months, it can be nice to just have something in suede that doesn't appear heavy. Suede is now an all-season fabric, and I feel that the light gray accents that on this oxford. Rear pull-on tabs, much like Florsheim was once famous for branding, are featured on this shoe for simple wear. It is always nice to have a dose of convenience in your fashion favorites.
Pinking trim on this Oxford by Florsheim really make it pop. What could be a kind of boring, monotone gray really comes to life with the contrast of the trim and sole, which is fully rubber, I should add. This footbed is fully cushioned from heel to toe, which is always nice for something that you wear often, as George does with these styles. The price is average for a real leather oxford, and it looks great with a wide range of outfits, so this is a great accessory to add into your wardrobe.

Subscribe to our Newsletter