Best Shoes For Working Out Like Dwayne Johnson Reviewed
In a Hurry? Editors choice: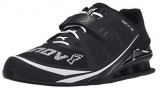 Test Winner: Inov-8 Fastlift 325

Fitness isn't easy. When you look at someone like Dwayne "The Rock" Johnson, you can only imagine the work that goes into looking so incredible and building that level of muscle. Thanks to him sharing his routines, we are able to see how he gets his amazing build and can find what to wear when we are working on our own bods. You might never look exactly like "The Rock", but you can look as amazing as you begin to feel by adding some of these footwear into your workout.
Standout Picks
Criteria Used for Evaluation
Breathability
Your feet are one of the places where you expel the most heat. When you are working out, your body is releasing a lot of heat and trying to cool itself down. It is supremely uncomfortable to wear a shoe that doesn't breathe and wick away moisture during a workout.
Mesh is an athlete's best friend when it comes to breathable shoes to wear in the gym. While I am sure the gym keeps their temperatures warm to encourage calorie burning and sweating, it can be god awful when you're experiencing it during a workout. A great way to combat overheating so you can finish your reps is athletic wear for your outfit and mesh for your feet.
Flexibility
Dwayne Johnson does a ton of box jumps and other fast-paced footwork interspersed throughout his weight lifting regimen. It is absolutely critical that you have a shoe able to conform and move with your foot. This increases your mobility.
Light, flexible shoes also lend themselves to your stamina. You shouldn't feel like you're working against your gear. Instead, it should feel like it is working for you. The wrestling shoes that are similar to weightlifting shoes on this list have split soles. You can quickly maneuver with a split, so you won't get tripped up when working with the pivot points of your shoe.
The Rock is a huge fan of leg lunges, a flexible sole won't get have you tripping over your shoes when in the middle of a set. Flexibility in your shoes increases your natural ability to balance, which helps posture, and tones small, supporting muscles.
Support
For this list, it was personally important to me for there to be a couple different supporting features. The high tops here are great for weightlifting. Ankle support keeps your form in tip-top shape when lifting, and protects your ankles which can be vulnerable to pulls.
Arch support is also crucial. Your arch and how it is resting has a huge effect on your posture. A too-flat shoe can really damage your workout without you even realizing it. Padded tongues and collars also help stabilize the feet and ankle during intense workouts.
Your whole foot should feel protected, especially when just starting out. Without adequate equipment, we can do more harm than good to our bodies, unfortunately. We want to keep your body in great working condition so it can improve and get stronger, not damage it due to negligence.
Ground Feel
Squats and weightlifting are a huge part of Dwayne Johnson's workout. The heel and drop of a shoe help your form when squatting. A proper workout shoe should make you feel balanced when upright, and counterbalance your weight when in a squat.
The right shoe will allow for deeper lunges, deeper squats, and more reps, done safely. Heel cages or specially crafted outsoles can make all the difference in an exercise routine. That especially goes for new routines or more intense activities than you are used to.
Traction
Slippage is truly dangerous if you are working with weights or even your own body's weight. Lunges can cause severe leg injury if your foot isn't firmly planted. Weightlifting simply is not safe without heavy duty traction on whatever athletic sneaker you choose.
Even aerobics can be insanely risky without a shoe that has adequate traction. To test a shoe, do normal drills back and forth to make sure they protect against slippage. You should feel secure in your steps no matter the position of the foot. This goes for using equipment too. Being in the correct position doesn't mean much if your foot can't hold itself in that position.
Top 10 Picks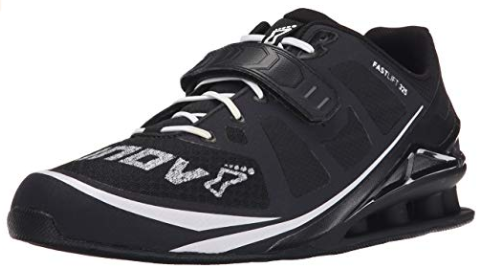 To be the world's leading all-terrain footwear company, you can't really follow the path of others, you have to blaze a new one. Inov-8 began in only 2003, and yet has already begun operating in over 60 countries. They may come from the British Fells, but Inov-8 has no desire to move back to their roots, only further into the unmarked territory. Athletes and how they interact with the environment, to Inov-8, is one of the biggest indications of what they need out of their sporting goods. Moving forward into the unknown without fear is what Inov-8 has learned works, and they have merged with Descente, a company with 80 years of experience from Japan, to be able to keep trudging into all the possibilities.
Dwayne Johnson mixes his workout up. He has specific days for legs and arms, but one thing is for certain, he is consistently doing some sort of weightlifting. Six days of the week are split up and devoted to different parts of his body. This Fastlift 325 is amazing, it is truly the lightest weightlifting shoe on the market, and its features are perfect for someone constantly switching it up and trying to build muscle and strength. Meta-flex technology allows for you to quickly move from one stance to the other, while also giving you an edge up in static workouts.
You may notice the Fastlift 325 features an external heel cage, the benefits of this are extensive. Coupled with power-trusses, the stability the whole design provides is phenomenal for your fitness regimen. It creates a stable base for lifting and won't slip or cause you to lose footing when trying to lift a challenging amount. Met-cradle lacing will give you the best fit around. Herringbone is usually reserved for high fashion, but this smart sneaker uses it on its outsole for amazing traction on indoor surfaces. Dwayne Johnson often works out legs and his shoulders, this is the shoe to push yourself to mimic his dedication. The price is in the higher range but you can't get another weightlifting shoe that is this stable without the bulk elsewhere.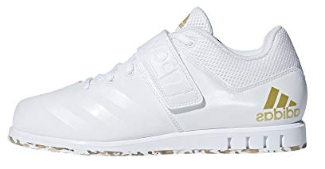 Sports have always been in the Adidas blood. You don't have to listen to Run DMC to know that once you get a pair of Adidas you will be singing too. Their symbol, the Trefoil, stands for performance, and when Adidas first began designing gear for Olympic athletes, it was obvious why. The company began in Germany by a young man, what began with football shoes turned into multiple endeavors in footwear. Adi Dassler totally changed the face of sporting goods. Their presence now is welcomed and revered in both fashion and athletics.
Weightlifting is a crucial part of Dwayne Johnson's workout. If you want to do a similar routine to The Rock, then a shoe built for the job is right here. The Powerlift has a soft leather upper that is breathable and comes higher than a normal low-rise sneaker. This provides stability and support for your ankles when pumping iron. Air mesh lines the collar, tongue, and inside the shoe for that breezy feeling. An empty fore-foot structure gives your toes wiggle room and it can help you keep your composure when your feet are well planted.
High-density die-cut wedges in both shoes are really light but counterbalance you when you're in a weightlifting stance. The lace closure has a lot wider straps than the average footwear, this creates a much tighter fit. A custom feeling is awesome for workout purposes because a secure fit will improve your movement. These are all white with gold accents that pop, and the fact these are great for indoor gym workouts, they won't get dirty or scuffed as frequently as an outdoor pick. Slightly higher than a non-specialized Adidas, the Powerlift is a great deal for those who weight lift and they will stand the test of time.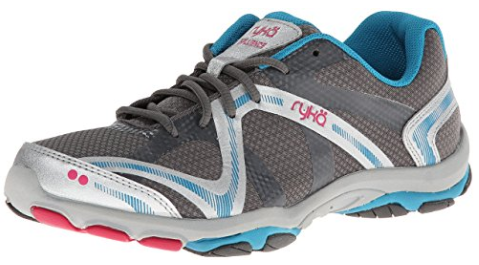 Made just for women, Ryka recognizes specific needs in an athletic shoe based on gender. Foot shape, muscle movements, and overall build vary between the genders, and very few brands cater to the specific challenges this poses in women's shoes. For women, their quadricep angle has a much greater degree between the hip and knee, making them prone to injury due to where their feet strike the ground. The bulk of the impact is bore by their outer foot. This is not safe or comfortable, and Ryka is one the few brands dedicated to making shoes that help the natural movements of their feet. Footwear for a woman's very specific biomechanics is finally here!
It isn't only men that want to have the physical prowess of Dwayne "The Rock" Johnson. Women don't want to be left out of the fitness game or left behind when it comes to strengthening muscles and their core. Super sporty style has vibrant accents and invisible eyelets. Padded tongues and collars both allow the foot to sit comfortably in the shoe, and firmly hold the ankle and foot in place because women tend to be more insecure in their footing when wearing athletic shoes. Multiple layers for support are infused into the base of the Influence by Ryka, including flex-foil and direct-fuse layers.
Bouncy midsoles on this Ryka are coined "precise return" keeping your foot exactly where it needs to be. Shape retention is integral as is forgiveness in the impact of any shoe a woman wears. N-Gage EVA energy is included in this dual foam memory insole, providing one of the best feels you can get in a shoe. If you are cross-training, you can't be more prepared than in an option like this Ryka. A unique sole in a footprint shape provides traction where you most need it and pivot points where you want some movement. The Influence is so affordable that it would be a shame not to try it. Even for casual exercisers, the difference you will feel when you try this Ryka can't be compared to any other shoe.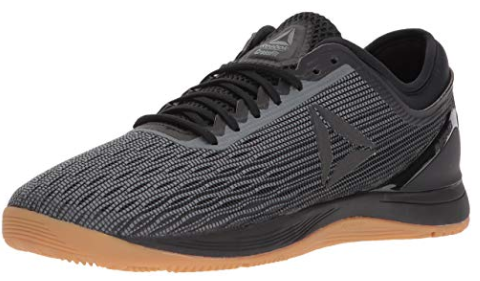 Reebok is an English company, but it is now a part of German superstars Adidas. It may not be the 1980s, but Reebok is still remembered for their spandex and headbands that got them in the popular eye. To be your absolute best, it takes effort on multiple parts, physically, mentally, and socially. Asking the consumer to "be more human", Reebok understands the necessity of humanity in growth. To be great, you have to be different, Reebok does everything in their power to exceed the expectation for a sports brand. Any company that is noticed by Adidas has to be pretty impressive in their own right.
The Nano 8.0 is an insanely light and easy to wear cross trainer. It doesn't have the frills of some of the heavier duty sneakers, but its simplicity lends to its streamlined function. This gray design is sleek and pretty, just as much a shoe for attractive outfits at the gym. Throwing on some Under Armour Project Rock gear and then putting on these sneakers will have you lifting like Dwayne Johnson in no time. New heel bootie construction contours to the foot in an amazing way and the arch of the foot is well supported and protected. If you like to add in tactical training to your routine, these have rope pro grip to take some pressure off your hands when you are climbing.
Intensely durable toe boxes ensure your shoe won't be talking at the end of unusually hard activities. Minimal drop on the outsole sticks your feet firmly on the ground or exercise equipment. Flexweave upper moves with you, not against you. The fabric has 360-stretch that is set apart from other constructions. Instead of wearing or loosening in the more flexible parts of the footwear, it will hold its shape no matter the movement. You may even give The Rock a run for his money with this pair of Reeboks! Pricing is very reasonable on these, perfect for beginners to the mats. Cushioning all the way down will the sole will feel lovely

5

. Otomix Stingray Escape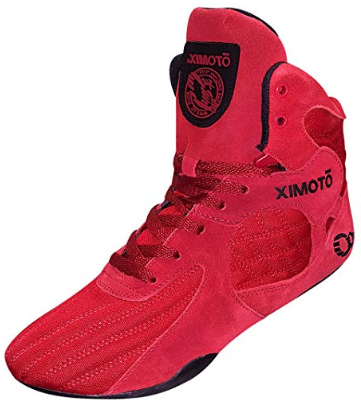 For martial arts gear, fitness apparel, and footwear, Otomix has been making the perfect products since 1988. Since launching their online shop in 1996, Otomix has been serving a wide customer base that has become obsessed with their offerings. Branching out into fashionable MMA gear, pilates wear, and yoga separates, the span on Otomix has so greatly spread to be loved everywhere that has access to them. Fun styles that rock the fashion and fitness worlds are being brought to you by this brand with a punch of innovation. Try out Otomix and their specially designed athletic and leisure wear today!
Dwayne Johnson is now known and loved as a television and movie star, but fans also know him from his early days in professional wrestling. His persona was fierce inside the ring, with his signature phrase being "can you smell what The Rock's cooking?" Since he was a professional, his career has shifted from being a character to being one of the highest paid actors in Hollywood. He didn't get there sitting on his butt either. When it comes to floor exercises and weightlifting, footwear like these Otomix is just the thing for performance. Made with both leather and synthetic materials, this is a light but durable pair of exercise wear.
An extremely thin sole won't limit your flexibility, but it still has enough of a base to create grip when you're wearing these. Bodybuilders, weightlifters, and mixed martial artists could all use a chance in these Otomix. Ankle support is always useful when it comes to challenges you are giving your body when upright and on your feet. These Stingray Escapes have seven eyelets all the way up the shoe to have it as form fitting on your shoe as is comfortable for the activity you have in mind. Vibrant red adorns these to turn heads with more than just your physique. These are priced as most specialty shoes would be, but they still aren't unreasonably expensive for a committed athlete.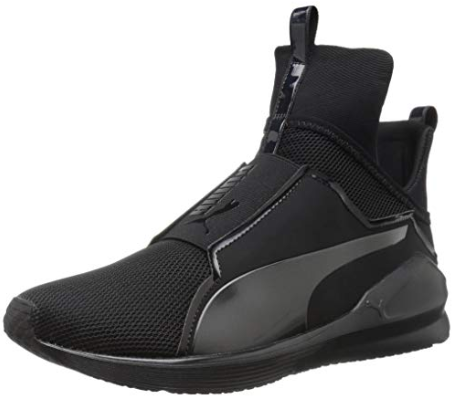 One of the leading brands in sports, Puma has sprung back onto the scene with their athleisure options and killer collaborations. Being empowered is so important for developing your craft and pushing yourself further. Risks that can propel the progress in athletics are worth taking to Puma, and that is exactly what they do. 1948 is when the brand first started, and they have since been dedicated to performance at all levels, for all people. The headquarters is in Germany but their impact globally has completely revolutionized how we view the marriage between sneakers and innovative technology.
This laceless high top is very similar to the sneakers that The Rock collaborates on with Under Armour. Sleek and insanely easy to get on and wear, these are sharp enough to wear with ensembles beyond the gym. You won't want to take this off outside of your regimen but during your time on the mat, these will greatly help your overall experience with cross-training of any kind. Pivot points on the heel and two make you quick and light on your feet, just like Dwayne Johnson, who is graceful in a way that betrays his size.
Gripping outsoles give you strong traction, so if you're getting a bit of cardio in on a machine, these will have you feeling steady the whole time. Goring across the top rests comfortably on your instep, for squats, the high top isn't too rigid where it will cause discomfort on the ankle or heel. Padded collars on both shoes hold the foot without constraint. Heel thickness is key for balance keeping like Dwayne Johnson. Average-priced like any other brand name, these are a steal for anyone trying to get a professional workout at a non-professional price.

7

. Nordic Powerlifting Megin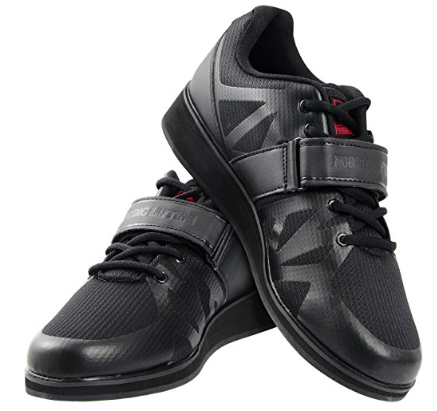 Prior to 2013, the fitness industry was lacking a very specific supply for a wide demand. On the market, there was a total lack of quality athletic gear to meet specific needs that weren't excessive in cost. Their Viking pact ensures that you will never be waiting if you have an inquiry or complaint about a product. Northern Europe is where the Norse hail from, with that name, comes the implication of quality and craftsmanship. Nordic Lifting works out of Sweden to totally change the face of weightlifting gear, plus workout gear in general. If you're carrying the weight of the words, literally, on your shoulders, you need shoes that can hold up strong and dependable under that weight.
Rigid, yet smooth soles are perfect for squatting like The Rock on leg day. You need a shoe to keep you in one spot through every single step of the workout, and this help makes that goal to stay still a little easier. Squat shoes like these also have a raised heel. If you have ever done a squat, you know the tendency for your heels to come up, which takes away from the benefits of squatting. When your heels come up, the tension in your muscles is diminished. Helping your feet stay straight, flat, and firmly on the floor is definitely critical for the best workout you are capable of.
Sturdy velcro straps make these easy to put on right before leaving the locker room or to pull off after your sets. Comfortably holding your feet and the lifted heel will give you deeper, more intense squats. Open forefoot and supremely soft mesh give you so much room in the toe and width of this footwear. Reinforced stitching keeps these going for years of workouts, regardless of the pressure they are put up against. Reducing the pressure on your knees is just one result of the amazing features of the Megin Squat pick. Supreme pricing makes the Megin the ideal lifting or squat shoe for those who are immersed in the sport, and those just starting.

8

. New Balance Fuelcore Nergize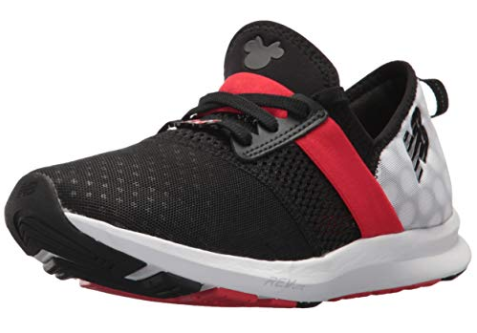 Over a century of experience goes into everything New Balance creates. We were all born to move, and without us, New Balance wouldn't have a purpose. Outfitting those to get out and get active is the main focus of every action New Balance takes. Creativity is at the heart of the brand, and their fashion-forward styles that marry design with awesome function have become a staple. Every product is made in the United States of America, where the company was launched and continues to operate. Technology and consumer appreciation come together, which is how New Balance has developed such a loyal fan base.
REVlight midsoles aren't bulky, but they provide sincerely stunning support and stability. For many cross trainers, the final product of shoe is kind of disjointed and too large. This is seamless, streamlined, and stylish. When you look at this shoe it doesn't even look like it is made for the gym due to how on-trend it looks. Modern contours, a band across the top, and an almost color block pattern blow other, lesser sneakers, out of the water. Roomy in the toes and at the thickest part of your foot, being on your feet won't bother the sides or constrict your movement. Your foot can spread out comfortably.
Memory foam tops off these as an ultra-cushioned shoe for gym rats, especially women. It isn't a heavy duty powerlifting shoe, but it will be able to enhance your abilities in workouts by not hindering any of your new moves. Dwayne Johnson does light cardio at least 20 minutes a day, and if you are going for a brisk jog or walk, a shoe that isn't too heavy can come in handy. This is cute enough to get you noticed, but it isn't slacking on also being feather light as to not literally weigh you down. The price on New Balances is always great, this is one of those sneakers that can be counted on for an accessible choice if you don't really know exactly what you need in gym shoes.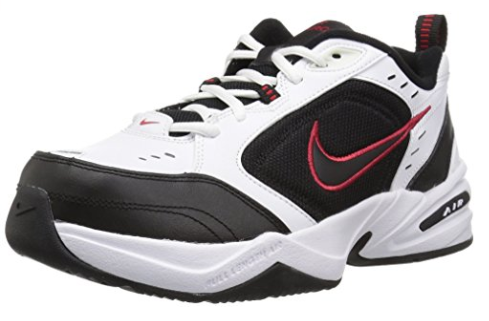 Nike is always thinking of the next big things in sports. A brand that hates exclusion, when they talk about athletes and the groups they provide for, they are talking about everyone with a body. With efforts in sustainability, technology, and communities, Nike doesn't look towards the future, they create it. Their company runs in 190 countries, speaks an inestimable amount of languages, and bridges the gap globally between athletes of all shapes, sizes, and abilities. Human potential doesn't limit the brand, it gives them an opportunity to push it to its ultimate ability. Actualizing your dreams is possible through trailblazers like Nike.
Monarchs are one of the most popular Nike shoes in history. Retro and chunky in design, these are a favorite among men, both athletic, and less than athletic. When you see older clientele regularly seeking a shoe just as often as younger generations, you know it is probably offering a lot by way of comfort. The overlays on the monarch support the foot, and the shoe is perforated all over for breathability. For someone who spends a lot of time in the gym like Dwayne Johnson, these are quite the all day shoe. The Air sole unit in the sole is so wildly comfortable you will prefer this greatly to bare feet even in your leisure time.
Outsoles that are solid rubber are less common this day, but these give you a really firm base for a number of activities. Light foam midsoles in each shoe keep it from being too stiff or heavy. This shoe is sturdy, but won't weigh you down. Extensive widths make these a viable option even for those with much larger feet. Arch support is crucial for posture and proper weightlifting, these completely contour against the sole of your foot and provide lift exactly where you need it and give where you don't. As far as pricing goes, these don't break the bank and are incredibly durable due to their reinforced leather upper.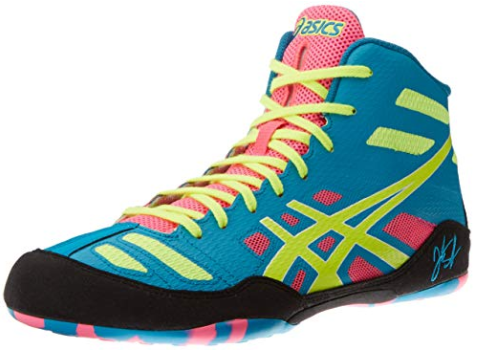 "Anima Sana In Corpore Sano". You might be wondering what that means, but first, let me tell you that is where Asics gets its name. The Latin phrase promotes the connection between a sound mind and a sound body. That alone should tell you that Asics goes far beyond being a wardrobe manufacturer. In Kobe, Japan, 1949, Mr. Kihachiro Onitsuka started manufacturing shoes right in his living room for basketball players. Though he continued to produce shoes, it wasn't until 1977 that he chose his company's name, which he believed perfectly summed up his intended ideals. Studying sports science closely, Asics are constantly shocking consumers with new and interesting ways to provide breathtaking gear for all kinds of plays.
These shoes are molded after Jordan Burroughs, an Olympic champion wrestler. Dwayne Johnson also got his start in wrestling, and he knew the importance of a light and flexible shoe in that kind of athletic endeavor. I love these personally because they remind me of cheesy 80s pro-wrestling and what isn't to love about that? Jordan Burroughs is truly an icon in the wrestling world, and I would like to think The Rock would recognize this awesome pair of Asics honoring him. A retro upper combines mesh and seamless ventilated give it the slim cut appearance. The quarter panel is ventillated for superior feel when wearing.
Mesh lining helps keep the foot cool and dry inside the shoe, while a cushioned footbed will keep your feet from aching when hitting the mat. The lacing on the JB Elite meets the standard for competitive wrestling, so these are great for those following in Jordan and Dwayne's footsteps. Reinforced stitching all over this pick make it a hard to beat, just like you will be when wearing them. Details like an embossed logo on the tongue and rear are topped off with the Jordan Burroughs signature on the heel. Split sole design makes you navigate lightly and quickly on your feet due to how much movement they allow. These are very affordable, Asics always helps sporting goods be attainable for those of all incomes.

Subscribe to our Newsletter