Best Wrestling Shoes Reviewed
In a Hurry? Editors choice: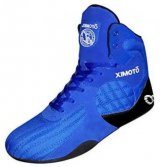 Test Winner: Otomix Stingray Escape

Wrestling has become a very popular sport in the last century, and no, we are not talking about staged wrestling, (WWE comes to mind). It is a sport that tests agility, strength, and endurance. To be able to excel at these traits, you have to invest in the physical equipment for training and competition, including shoes. Luckily, the increase in the popularity of this sport has led to an increase in the number of wrestling shoes available in the market.
Standout Picks
Criteria Used for Evaluation
Traction
If you don't have adequate traction, your performance on the mat will suffer. Your footwear should really grip the ground when you're taking a strong stance to take your opponent down; otherwise, you'll be slipping to the ground and giving your opponent an advantage. Certain types of soles in shoes can achieve this for you depending on your preferred wrestling style.
If you, mainly, rely on power and strength to take your opponent down, a single-sole shoe is your best bet. If you're a wrestler who tends to utilize quick movements to get your opponent down, a split-sole will be more beneficial in helping you make those moves.
Sufficient traction can be achieved through a quality rubber sole, with some texture added to the base for extra grip. Outsoles should wrap around the entirety of the shoe so that no matter how low you are on the mat, you can still maintain grip despite the sharp angle of your footwear. Wrestling shoes should feel more like bare feet, with a minimal drop, and plenty of toe room to help with foot splay, especially when pushing and holding your opponent. Try to select soles with a sticky rubber feel and gummy texture, as these tend to grip best!
Fit
When you're lifting someone off their feet, you're putting a lot of your weight and some of the other person's weight on your feet, as well. With that kind of consistent stress, it's important to have footwear that is a comfortable fit for you to help ease the stress your feet will feel. Shoe design can play a role in that, and you should notice how the uppers you're looking at are constructed. See if they are made of a soft material (e.g. suede, synthetic, etc.) which can make for a comfortable fit on your feet. Pay attention, also, to see if the sides are flexible which can make things easier, such as transitions.
The toe box is, also, going to matter when it comes to a comfortable fit. Are your toes cramping or is there too much room? You never want your toes too cramped, as this can lead to bunions, calluses, and other negative-related foot health concerns.
On the other side of the same coin, however, too much room can cause physical injury. It is a good idea to leave enough room to allow your toes to splay properly. In doing so, you are sure to be a bit more health-wise, as this applies to your feet.
Support
In addition to your feet dealing with a lot of stress during a wrestling match, your ankles can bear the brunt of physical work in helping you take down your opponent. So, it's valuable to have a shoe which gives you good support in that area.
One feature that will help in this area is the high ankle length. It'll wrap nicely around when you tie your shoe, and it'll help keep your ankles stable in your moves. Another way you can get this is to find a pair with Velcro ankle straps. They'll ensure a tight fit that'll make your ankles feel secure in them; as well as, sometimes aiding in keeping your shoelaces at bay.
While support in the ankle is something critical, the flexibility of the ankle comes into play with grappling, so your footwear should preferably have flexible textile uppers that allow mobility in the ankle joint. Lace-up can help secure your ankle for some support, but make sure you can still move adequately for low moves. Some newer models of the shoe can have high top laces along with a strap to secure the fit across the top of the foot.
Breathability
With a sport as physical as wrestling, you're about to deal with a lot of perspiration on your feet due to sweat rolling down into your shoes and/or your actual feet sweating. You want to keep your feet 'breathing' as much as possible; so, your shoe doesn't start to feel heavier. Wrestling footwear that keeps your feet cool is critical.
Certain types of designs are great for giving you that. Find a shoe that has an upper mesh that allows for airflow into your shoe. More breathability means you will feel better, as the match continues to escalate. More than this, however, good airflow means better overall foot health.
In addition, having a pair of wrestling shoes that are made of fabrics or washable material can also cut down on foot odor over time, as well as contribute to overall lighter weight. Most wrestling shoes have some form of lateral support in the form of leather caging, while the rest of the shoe is made from mesh. Check the manufacturer's site to see how to properly wash or care for the ones you've selected.
Flexibility
When it comes to the best shoes, there needs to be the perfect correlation between flexibility and stability. Split-soles work to create this perfect balance, a brawling dance between you, your opponent, and the mat. They give you great traction while in transition, and all without creating too much stiffness in the shoe.
Support stripes are another feature utilized to handle stability. They are often seen (on the upper) in sets of two or three, and are the driving force between the correct amount of stability while, simultaneously, giving you the flexibility needed for ease of transition.
At the end of the day, however, you need shoes that support your midfoot, forefoot, and heel. Also, ankle support isn't a bad idea, either. The best shoes give you adequate support and stability without compromising your need for flexible movement; that is, flexibility is not above stability and stability is not above flexibility. They are but two units working together as one; resulting in perfection on the mat while you pin your opponent down for the count.
10 Best Wrestling Shoes
1

. Otomix Stingray Escape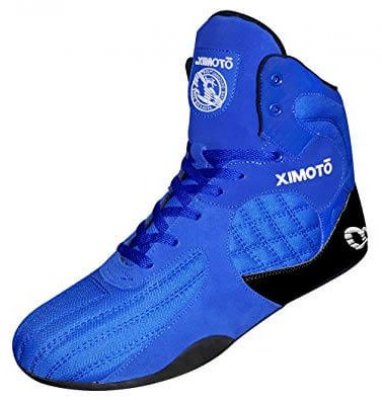 These MMA-style shoes are built for grappling events, wrestling included. Made for durability, flexibility, and performance, these best wrestling shoes are ready for you to take them into the action. The outsole is thin; providing you with a greater feeling when it counts the most. In addition, these shoes are made to provide better ankle support for those most moments when you might, otherwise, have an ankle-related injury. Lastly, made to breathe, these shoes will help you to remain cool while under pressure.
These wrestling shoes have a high range of motion; thereby, allowing you to maneuver in a more natural way. In this, you are better equipped to reduce foot-related injury and will have an easier transition from grappling move to grappling move. So these are great shoes for foot pain relief.
There is nothing quite like the feel of the mat under your feet, and these do not disappoint, as they are made with a thin outsole construction. Furthermore, this outsole carries with it a high grip technology to ensure better foothold and stability. It closely mimics the feel of barefoot mobility, allowing you to grip and move.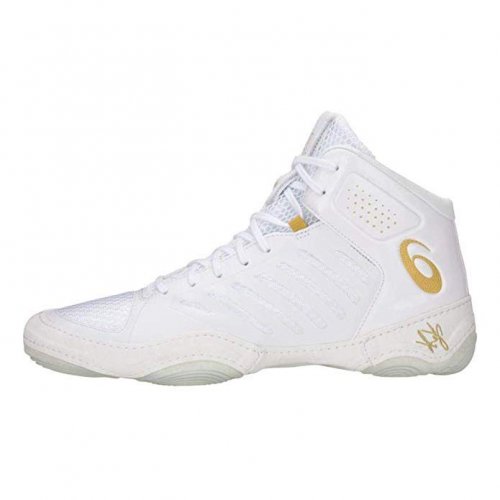 The latest iteration of the JB Elite line, the 3, was designed in collaboration with World and Olympic Champion Jordan Burroughs. Significantly modifying the features found in the 2, the 3 introduces you to a breathable upper made in a single layer of mesh. If you are someone that needs comfort, flex, and airflow from your wrestling shoe, meet the JB Elite 3.
The split sole design, a key-value point found in the JB Elite 2, is revamped and now features a Serra dial traction pod system designed only for wrestlers. The level of flexibility and traction you get from the 3 is incredible—a major improvement over the previous edition. Further, the 3 now has a lacing garage system that conceals laces, in accordance with most wrestling federations' rules.
The 3 also now features a seamless construction process, meaning there are no broken or annoying stitches and seams. Irritation often happens at places where traditional shoes would connect the sole to the upper, so ASICS solved this problem with their seamless manufacturing process, offering you enhanced comfort and style. Loaded with great features, you can't go wrong with this upgraded version of the JB Elite.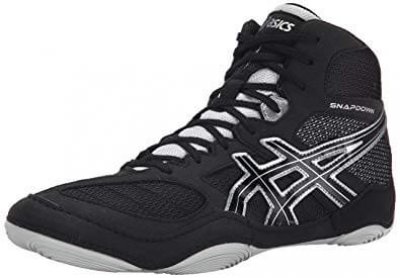 Have your way on the mat after getting into these shoes. With a full-length rubber outsole made of 'Serra dial' traction pods, an integrated lace garage, a breathable upper, and a nice fit, these shoes are sure to get the job done. After all, the choice of winning means the better decision made and these shoes can be a great choice for those ready to hit the mat in style, comfort, and performance.
In addition to the full-length rubber makeup of the outsole, 'Serra dial' traction pods are implemented into both the heel hand forefoot areas. This allows for even greater stability and grip while you wrestle your way out of that hold and on to victory.
With a breathable upper, you can worry less over sweaty feet and concentrate more on the task at hand. A breathable environment promotes the minimization of foot odor; thereby, increasing your confidence levels.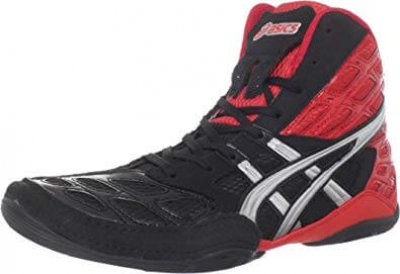 This shoe is a high-performance flexible option that offers good propulsion and foot support. Its versatility provides you with a casual and sporting option. The sole is designed to offer great stability by enhancing the connection between the foot and the ground. The fabric used is extremely lightweight and plush which offers great comfortability and ankle support.
The outsole is unique in design because it is made with a split sole. This provides you with excellent traction at the front and back area of the shoe so you can get optimum momentum and propulsion when wrestling. Ideal for pushing and pressing movements to keep you on the mat, while maintaining flexibility for placing pressure on the forefront of the foot and toes.
The shoe is designed with an asymmetrical lace closure system that provides a plush and comfortable fit. The lacing eyelets are, also, punctured into the leather fabric on the upper part of the shoe to reduce the weight that comes with metal eyelets. The Asymmetrical design allows you to use the top of the foot better for grappling moves, and give a better foot-feel for complex maneuvers.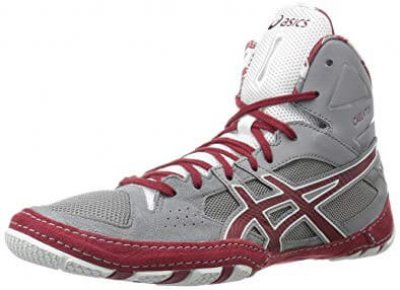 The Asics Cael v7.0 is made to the specifications of Olympic gold medalist, Cael Sanderson. The design of this pair is a revolution and not an evolution from its predecessors. The shoe is perfect for any wrestler, regardless of their level; simply, because of its unique and exclusive features. Every update in this shoe is targeted at making it more stable, flexible, and lightweight.
The upper part of the shoe is designed with a combination of Ecsaine synthetic leather and air mesh for enhanced performance and breathability. It, also, has a single-layer tongue designed with a lace garage™ technology for optimum comfort and breathability.
The outsole of the shoe is split at the toe and heel area. This design provides targeted flexibility, enhanced grip, and traction, because of the dominance of the wrestling-specific traction zones.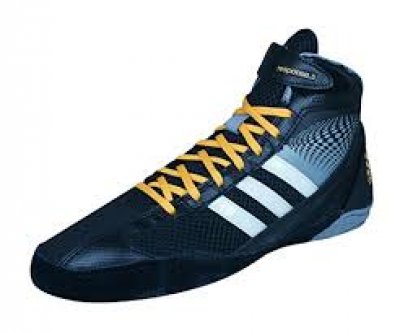 Adidas Response 3.1 is designed for hard takedowns, quick reflexes, and fast responses. They are designed with allover climacool® ventilation that ensures the feet are well aerated. This fabric provides 360-degree cooling to keep the entire foot dry. This feature is further reinforced with a porous nylon mesh. The midsole is uniquely designed to complement the outsole and provide contact responsiveness and with plush comfort.
The outsole of this shoe is designed with a Double Flex compound that provides enhanced traction and grip on the wrestling mat. A lightweight split-forefoot ADIWEAR™ Radial Curve is, also, added to the sole; in order, to make it easier for the wrestler to spin on the mat while, simultaneously, maintaining his or her grip, stance, and posture.
The upper part of this shoe is designed with an elasticized lace cover system that keeps the laces away and prevents tripping. The fit of the shoe is further reinforced with a hook-and-loop strap that, also, provides ample ankle support.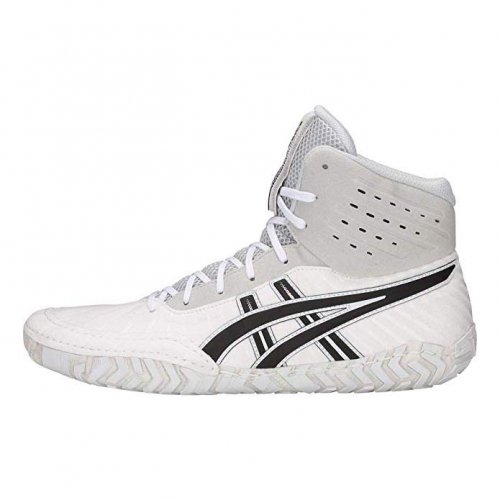 The Aggressor 4 by ASICS is a great pair of wrestling shoes if you are a novice or mid-level wrestler. With a focus on breathability, foot and ankle support and a hard sole that can take what you throw at it, the Aggressor will help you go the extra step to win. With cool colors like Rich Gold and Papaya, you're bound to find one that makes you ready to compete.
As mentioned before, the tough rubber sole of the Aggressor is perfect for durability. It features specialized patterned grooves to help you keep your grip and traction, especially when making quick and sudden movements. The mesh upper is made of suede and is lightweight and breathable.
Finally, the ankle cushioning in these shoes lends support and comfort to the new or intermediate wrestler. Although bulkier, when you are just starting to wrestle, you need some extra support until you reach a higher level of ability. These are perfect for helping you take that step to the next level.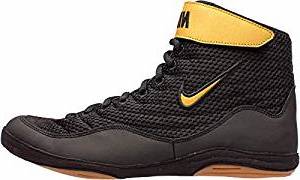 Nike Inflict 3 is another great shoe for wrestling. The black and gold colors with the choice of fabrics and style of construction lend a vintage look to the shoes; but make no mistake, under that vintage look there is a set of futuristic features designed to help you win. From the breathable air mesh upper to the gum rubber outsole, you can score the point with the Inflict 3.
The forefoot strap found on the Inflict is perfect for adding extra compression and receiving better support and stability. Adjust it when you need something a little more, or even a little less. Either way, you get the freedom of movement and flexibility demanded by the sport.
Finally, the double-lasted midsole is designed to resist easy wear-and-tear. Highly durable, these midsoles offer comfort while also giving you a huge amount of control. On the slightly heavier side, the Inflict 3 is great for wrestlers looking to win.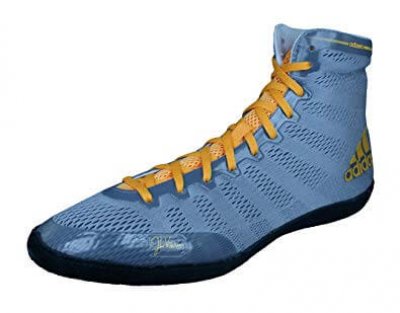 The Adidas Adizero Wrestling XIV is a legendary shoe; named after a legendary sportsman, Jake Verner. It provides you with explosive propulsion, unique momentum, excellent balance, and advanced traction control. These shoes are, specifically, designed for heavyweight wrestlers and are broken-in right after you remove them from the box. They are quite versatile and can be used as both a wrestling and casual shoe.
The shoe is designed with a simplified rubber outsole that has V-shape traction patterns. These patterns provide excellent grip, particularly, when engaging in a wrestling match in an upright position. Outstep your competition before you take them down with the Adizero XIV.
This shoe has a slightly elevated ankle length that provides you with ample ankle support. This is a very, important feature for a wrestler; simply, because the ankle support of any shoe determines how stable you will be on your feet. It still maintains an adequate range of motion for pressing and pushing, allowing you to perform your best.

10

. Asics Dan Gable Ultimate 4.0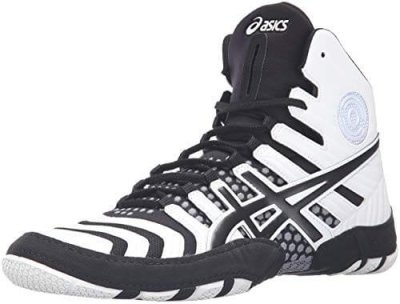 The Asics Dan Gable Ultimate 4.0 is named after wrestling legend, Dan Gable. The newest addition to this collection is the new Dan Gable ultimate® 4 which features a new integrated upper and outsole. It is considerably lighter than the previous version and has improved and enhanced grip. In addition, it has a raised boot and ankle system.
The entire boot is uniquely designed with a conforming compression-fit bootie system. Moreover, this system is encased in polyurethane support pods to offer improved and ample flexibility; thus, providing an exceptional fit. It, also, has a tongue that is a less bulky version and a lace garage which offers a place to tuck the shoelaces away to avoid tripping while wrestling.
The outsole's design is unique with an exclusive rubber compound to provide wrestling-specific traction zones; offering improved elite performance on collegiate mat surfaces. Furthermore, made with a split-sole design, these shoes have great flexibility.

Subscribe to our Newsletter