Best Rocket Dog Shoes Reviewed For Style You'll Dig
In a
Hurry? Editors choice: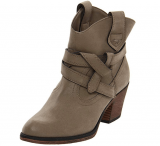 Test Winner: Sayla Vintage Worn

A brand that started as a line of beach-inspired footwear, Rocket Dog has since transitioned into a leader in ladies' fashion shoes. With styles including casual, dress, sandals, boots, sport, and slippers, this is a designer that offers a bit of everything.

The great thing about Rocket Dog is that they aren't afraid of stepping outside of the box, while still maintaining a fashion-conscious attitude that's skyrocketed them to the top of the trendy scene. Since 1997, Rocket Dog has been crafting quality and comforting pairs for ladies that are independent by design and perfect for the modern girl at heart.

California roots and a serious dose of attitude are what we've come to know and love about this line that continually delivers. In recent years, Rocket Dog has worked with countless fashion 'it-girls' to create stunning collaborations that have lit the footwear scene on fire.
Standout Picks
Criteria Used for Evaluation
Accessories
Who doesn't love a well-accessorized pair of shoes that stand out from the rest?! Whether its fur trim, tassels, zipper accents, or statement buckles, Rocket Dog has got your covered! This brand has really nailed the accessory side of shoes by incorporating these sorts of statement accents into their styles.

Take the Jolissa Ranger, for example; it proudly boasts those oh-so-cute statement buckles that add this 'bad-girl' vibe to an otherwise sweet and innocent design.
Then there's the Sayla Vintage that offers this classy yet somehow intriguing look that utilizes its own straps to craft a cool accessorized vibe.
Other awesome ways that these shoes accessorize is with their colorful metal eyelets that help to hold the laces perfectly in place. These add a unique flair to the shoes and make them stand out from the rest.
Speaking of unique, don't you just love the fringe look of some of their pairs, like the Joint Sneaker and the Jazzin?!
 
The bottom line is, who doesn't like to let their unique sense of fashion shine. With Rocket Dog, you can find an option that screams 'this is me!', which is why ladies just can't seem to get enough of their designs.
Comfort
There are many aspects that contribute to the overall comfort of a shoe. If shoes are poorly designed, it can cause all sorts of problems, ranging from painful blisters, to arch collapse and more.
 
The height of the heel and platform is a big contributor to how comforting a pair of shoes can be.
If the heel is too high or is thin by design, it can make walking more difficult, resulting in extra strain on your lower back, feet, and legs. In the long run, this can create lasting discomfort, which is why it's so important to choose a pair of shoes that are going to keep your feet feeling their best.
If the heel is over three-inches high, it naturally becomes more difficult to walk in which is why, if possible, you should consider opting for a heel that's lower than that. A wider shaped choice will be much easier to walk in then a thin silhouette like a stiletto because it will provide a better structure to step down on. Rocket Dog is known for designing easy-to-wear styles that feature encouraging heel structures and a low platform rise.

A well-cushioned footbed is another contributing factor to how refreshing shoes can be. Supple cushioning protects the delicate underside of the foot and buffers the arch for more enjoyable wear. It's important that the shoes offer stable support in spite of its pillow-like padding, which is why you should choose a selection that has a good supportive frame as well as soft footbed padding.

It's also significant that the toe box and heel areas of the shoe offer enough room for your feet to sit without feeling squished or pinched. Without adequate room for your toes to wiggle and your heel to freely rest, you can end up with painful pressure points that can cause you a whole world of discomfort.
Materials
When it comes to materials, women are always seeking out a luxurious feel, which is why this is such an important aspect to be taken into consideration when you're shopping for shoes. Materials like leather are always a good choice (so long as it's not a cheap knock-off) because it offers tons of enjoyable benefits.

Ladies who need to let their feet breathe will love the way that the leather lets air flow freely inside of the shoe thanks to its breathable makeup. Not only does leather let you breathe, but it also pulls excess moisture away from the skin and pushes it towards the outer side of the material, how cool is that! So us girls whose feet get a little sweaty from time to time can relax while wearing a pair of leather shoes because all that excess perspiration will be wicked away.

What about the materials used on the inside, you know, for the footbed and such? The footbed is best reserved for a comforting option that will provide a supple cushion. EVA or other foam materials are an excellent choice for this because they're super comforting yet still offer a supportive density.
When we're talking about the lining material you're going to want something that's soft, smooth, and soothing against your foot.
 
Fabrics are also a commonly used material and can deliver an enjoyable experience so long as the best ones are in play.
Cotton is an incredibly comfortable material, though it doesn't allow for very much air inside of the shoe, which can lead to overheating; once your feet get hot, they start to sweat. Sweaty feet inside of a fabric shoe can quickly turn smelly and can even ruin your favorite shoes, which is why it's important to opt for a choice that allows for adequate ventilation.
Canvas is an excellent fabric because it's lightweight and very breathable, making it a great choice to wear during the spring and summer months.
Style
There are lots of different styles of Rocket Dog shoes available, which is what's so great about this brand. They really know how to diversify their selection, making them so versatile and easy to wear. Some of the more popular styles are boots, sneakers, heels, and sandals, with their heritage being, of course, summertime footwear.
 
Rocket Dog boots come in ankle and knee heights, with each offering its own set of benefits, which all really boils down to the individual wearer's tastes and preferences.
Rocket Dog offers a ton of different sneaker variations that are super stylish by design and are perfect for almost any occasion. It's important that you take into consideration the kind of activity you'll be wearing the shoes for and whether or not its a dressy or more casual one. If the venue calls for casual, then these sneakers are exactly what you're looking for! They deliver timeless comfort and effortless style that can put the competition to shame.
 
The great thing about Rocket Dog is that they offer designs for every season of the year, including summertime sandals and rainy day rubber boots. All of their options are very stylish and provide a fashion-forward take on the most recent fashion trends.
Value
Ladies love a good value and that's exactly what the shoes on this page are! The shoes featured here are available for a reasonable selling price and they deliver high-quality features and materials that are worth more than what you pay for them.
 
The most important aspect of a shoe's value is how durable it is and how it stands up to the tough wear and tear that you're going to put them through. Shoes that are designed with careful craftsmanship and attention to details are going to long outlast the rest and Rocket Dog takes pride in their manufacturing.
 
Look for shoes where the sole is stitched to the upper, instead of glued because the glue won't hold up well and will fall apart easily. Also look for quality materials that provide a comforting environment for your feet like EVA, leather, and suede. Canvas is another solid choice that's breathable and lightweight.
If you can, avoid synthetic leathers, as they are not as long-lasting as their natural counterparts. Synthetics tend to crease easily, and may start flaking; not to mention they are not as comfortable or as breathable as natural leather. If you want quality, good value, and durability, definitely opt for genuine instead of faux.
Our Favorites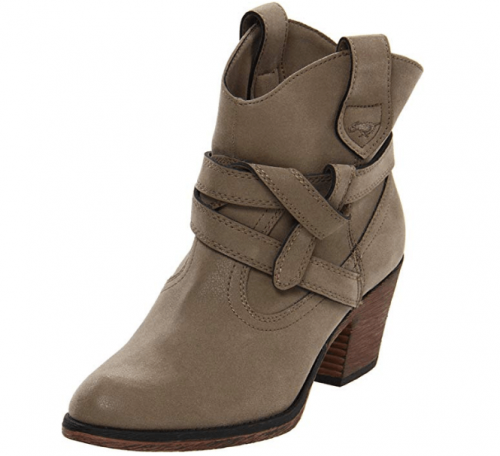 The Rocket Dog Sayla offers a stacked two-inch heel with a wood grain look that's all the rage! It's a Western-inspired bootie with wrap-around ankle straps and double pull-on straps for effortless on-off wearability. This cute pair of shoes has a 3.63-inch shaft so it sits perfectly above the ankle for a polished and modernized look.
The Sayla is made from synthetic materials that are lightweight and comforting for an all-around enjoyable wear. Its low-rise half-inch platform allows for natural strides and won't cause you any discomfort even after hours of wear. The sole is made from a soft rubber that provides additional padding while ensuring that you stay steady on your feet by preventing any accidental slips or falls. Rubber is an excellent material for the outsole because it is grippy on wet and slippery surfaces.
 
This cute pair of Rocket Dog shoes is perfect for everyday wear and is appropriate for almost any occasion. It offers a unique vibe thanks to its strappy accents and is sure to become your go-to option for day-to-day activities.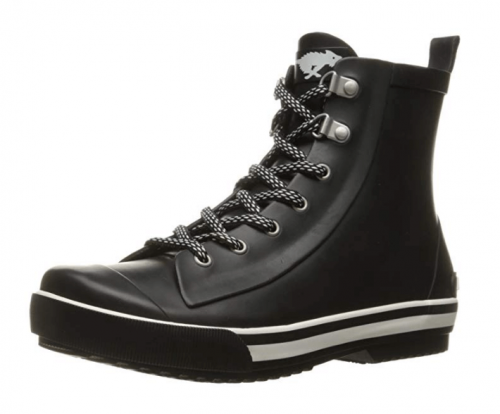 The Rainy from Rocket Dog is an ideal choice for those wet and dreary days of fall and winter. It is made from 100% waterproof rubber so you won't have to worry about uncomfortable feet due to damp socks and shoes. Its 5.5-inch shaft provides additional weather-protection for your ankle area and ensures that no water will sneak inside your shoe through the top.
This pair of shoes offers a lace-up design for an adjustable fit, making for the perfect foot feel. Its soft neoprene lining material feels great on your feet and will keep you cozy when the weather gets chilly. A cushioned footbed prevents foot pain and lower limb fatigue so you can stay active without having to worry about tender feet once the day is done.
 
Anyone who shies away from rain-proof shoes based on its usually un-flattering appearance will love these super cute Rocket Dog boots! They're as stylish as any other pair of shoes and will make it a breeze to keep your feet nice and dry. An easy rear pull tab makes for effortless on-off wearability so you can get up and go with no trouble at all.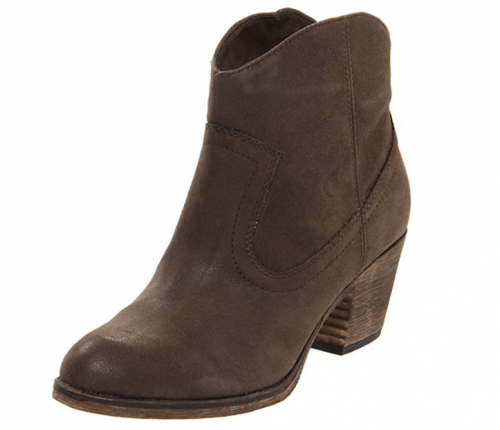 The Soundoff is one smooth pair of booties! It features an easy-to-wear pull-on style and synthetic materials that regulate the temperature inside of your shoe perfectly. No more hot and sweaty feet thanks to its breathable and lightweight upper unit that was made to move. This pair of shoes offers a cute two-inch stacked heel for some added lift that makes for an adorable vibe you'll find hard to resist.
Man-made lining materials wick excess moisture away from the foot to prevent a build-up of sweat and odor-causing bacteria for an all-around enjoyable wear that's ready to cruise the streets. The Soundoff includes a cushioned footbed for additional comfort and to prevent foot pain and fatigue. It is perfect for long shopping trips or for walking the downtown strip in style.
 
The Soundoff has a nice brown color to it that is very easy to match with almost any kind of clothing and is sure to look amazing. These shoes will fast become your go-to favorite thanks to their easy-wearing structure and too-cool appearance that keeps wearers coming back for more.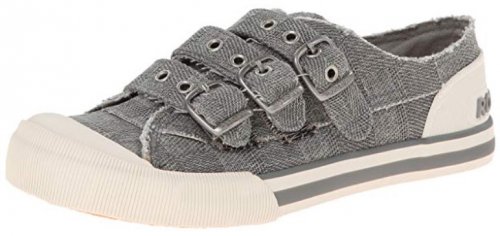 A bit of a style improvement on the last Jolissa model, the Ranger is here to promote more of that cool street flair that the Rocket Dog brand is recognized for. The Jolissa Ranger is a sneaker that will be the best accessory to any casual outfit, whether it is a pair of skinny jeans or a mini skirt to show of your gams. It is fun and a touch rebellious, just the kind that we love our shoes to be.
The most prominent feature on the Ranger is the buckles coming across the instep. There are three of them, and they are there only for decorative purposes. The entire upper is made from cotton for a lightweight, easy feel, and the inside is lined with more cotton. This means that the Ranger is comfortable enough to be worn without socks if you so desire! The outsole is made from rubber, with a toe cap for style points and bump and stub protection.

If you're the kind of person who likes urban styles and who likes a touch of hardware in their casual outfits, then the Jolissa Ranger is an obvious choice. It is a great nice weather option that will add some toughness to your look without going overboard. A perfect blend of fashion and function!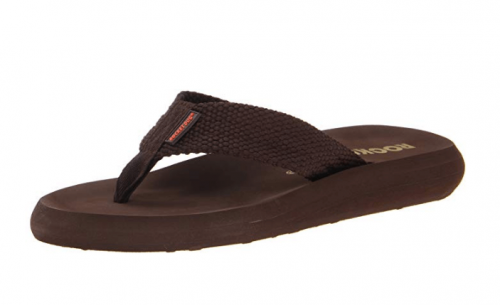 Rocket Dogs' Sunset flip flops are a beachgoer's best friend! This sandal is the perfect pair for summer days spent outside in the sun and it offers a look that's too hot to hold. Its webbing cotton upper helps to keep your skin dry, cool, and comfortable for all-day enjoyment that will keep you coming back for more, while its EVA footbed will have you riding free from discomfort.
These flip flops come in three colorways: black, brown, and tribal brown, so you can easily match them with nearly anything you own. They're a great choice to wear for long trips to the beach, or just for casual strolls along the sand. The Sunset can be worn while playing your favorite sports like volleyball or can simply keep you comfy while you pound the pavement around town. Its EVA footbed ensures that your feet always feel great thanks to its supple cushioning that relieves pressures from the underside of the foot, protecting the arch area from fatigue and discomfort.
 
Boho-chic ladies and surfer chicks alike can enjoy these cool and comfy shoes that are made to provide a laid-back look for effortless style and ideal functionality. Wearers rave about this flip flop's supportive design that won't leave your feet feeling flat at the end of the day.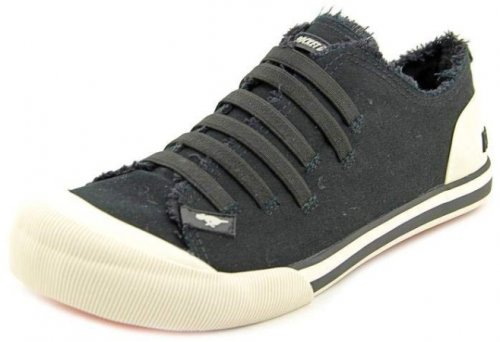 The Joint is one of Rocket Dog's best-selling sneakers! It packs a unique design and super stylish vibe that wearers can't get enough of which has helped to launch this one to the top. Its laceless structure and casual slip-on wearability make this an effortless pair for that get-up-and-go kind of days. These shoes are streetwear-approved and feature a statement vulcanized rubber outsole that looks as cool as your feet possibly could.
Soft cotton lining keeps your feet cool and fresh all throughout the day thanks to its open and breathable weave that allows for adequate airflow inside of the shoe and around your foot. Forget about hot, sweaty, and uncomfortable feet thanks to this pair's soothing and refreshing foot feel.
 
The Joint is available in two colorways: off-white and black, which makes this an easy shoe to match with nearly any outfit. Anyone shopping for laid-back shoes with some serious attitude will love the Joint's one-of-a-kind vibe that is ready to take on any occasion.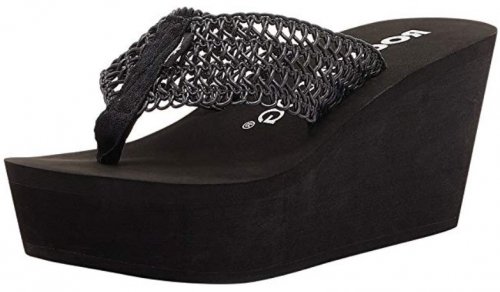 Holy platform, Batman! In case you're all about that '90s platform style and are not ready to part from your favorite sky-high flip-flops yet, Rocket Dog has your back. The Diver is an amazingly tall sandal, three inches in the heel and 1.5 inches in the platform, that puts all other sandals to shame. It comes in several color and material combinations, but we chose this weaved one to amp up the throwback feel.
The Diver's straps are made of fabric, with a fabric lining that won't cause you any blisters or abrasions. The footbed of the platform is cushioned for all-day wearability, and the platform and the heel are made from EVA foam, so you know they will be amazingly impact-absorbing. The outsole of the Diver is made from rubber, for some nice traction on all types of surfaces.

Thanks to the platform in the front, the Diver feels as comfortable as though you are walking in 1.5-inch sandals; they keep your foot in a natural position and lessen the strain on your joints. If you're looking for a jaw-dropper, a flip-flop to end all flip-flops, then reach for the Diver and don't look back!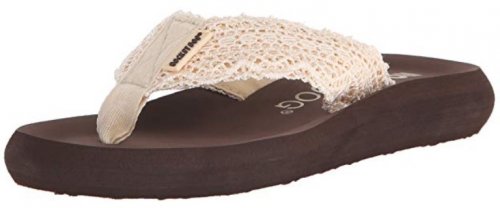 If you're into the breezy, crochet look, then the Spotlight is a sandal for you. It is perfect to match with any summer outfit - from ripped denim shorts to flowy floral sundresses, and it doesn't hold back in the comfort department either. The Spotlight from Rocket Dog will seamlessly fit into your wardrobe, and become your staple flip-flop design in a blink of an eye!
The upper of the Spotlight is made from cotton, for a gentle feel that won't dig into your skin. It comes in so many different designs they'll make your head spin, but we singled out this crochet moment for those boho-chic vibes you can wear anywhere. The sole of the Spotlight is made from shock-absorbing EVA foam, and it has a slight lift to it for a boost in height and a boost in confidence.

Take the Spotlight with you to the beach, on a fun trip with your friends, even to a sightseeing holiday! These comfy, easy-to-wear sandals will effortlessly keep up with your every step, and you will hate to part from them at the end of a long, summer-fun-filled day.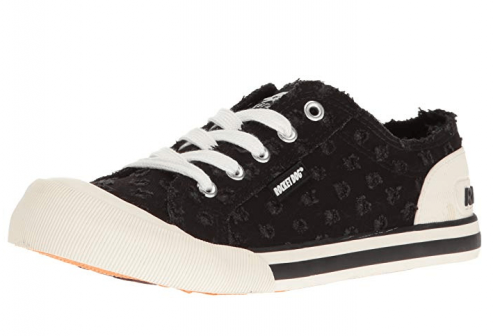 Basic street kicks step aside, there's a new kid on the block! The Jazzin is a cool looking pair of sneakers that offers an updated take on traditional urban streetwear. These shoes feature a vulcanized rubber sole that keeps you steady on your feet no matter how you plan on moving and a lace-up structure for a customized kind of comfort. Look and feel your best while rocking a pair of these low-top shoes that were meant for life in the fast lane.
The Jazzin has a lace-up design that makes for effortless wear and a customized kind of comfort thanks to its easily adjustable fit. Metal eyelets add some serious vibe to this shoe's silhouette and ensure that your laces stay right where you want them to. These shoes are a well-made option that boasts a vulcanized non-slip sole for a safer all-around wear. Go ahead and hit the slippery streets with ease because its ideal traction will prevent any accidental slips or falls.
 
The Jazzin comes in so many different colors and patterns, you can practically match them with any color of clothing. Its fabric upper is lightweight and breathable for all-over comfort. It allows or adequate airflow inside of the shoe which prevents a build-up of sweat and odor-causing bacteria for a fresher foot feel.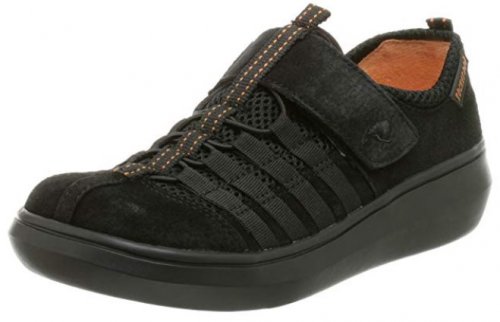 So it may not be the most fashionable of sneakers in the world, but if you're looking for something easy, uncomplicated and secure, Rocket Dog's Stoker is your model. This is a slip-on sneaker with a stretchy collar for a better fit, and it comes without any complicated closures! Indeed, the way to adjust the fit on the Stoker is via the velcro strap across the instep, which saves everyone a lot of time and trouble.
The Stoker's upper is made from synthetic nubuck leather for structure and mesh inserts for breathability. Thanks to its velcro strap, you can undo the shoe in an instant and fasten it just as quickly, ensuring a good locked-down feel in it. The outsole of the Stoker is made from rubber and is thick and in the form of a platform, going all around the foot for bonus protection.

The Stoker is a look that you can effortlessly pair with your favorite jeans. It is also a good option for light hiking and long-distance walking, thanks to its flexible sole and lightweight feel. However, keep in mind that it is not meant for any difficult or unpredictable terrain, only tame trails!

Subscribe to our Newsletter