Best Shoes Without Laces Reviewed and Rated
In a Hurry? Editors choice: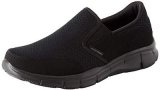 Test Winner: Skechers Equalizer Persistent

Functional, convenient, good-looking footwear can keep your stride self-assured and stabilized. If you're looking for shoes without
laces
, there is no need to compromise your values - you can find them in any style, and with numerous comfort and functionality features that make them a great investment. Additionally, they're and easy to slip on and off, making them a favorite for daily use. The following list features the 10 best models available, for all types of wear, including athletic, comfort, rain and winter, professional and casual use.
Standout Picks
Criteria Used for Evaluation
Features
Shoes without laces come in several styles, and they are a hugely versatile footwear option. Whether you're deciding to go with a laceless model because you can't be bothered with spending too much time on securing your footwear, because you're shopping for someone who isn't able to make laces work for themselves, or just want something easy to throw on, then you know that this category comes with a huge number of available features.
Overall, there are a few closure types that are most common (excluding laces), and they all have their good and bad sides. Not all of them will give the same result, and you may find that certain things work better for you than others.
Buckles: Most often found, on sandals and formal footwear such as monk straps or Mary Janes, buckles are great because they are sturdy, don't require too much effort, and are adjustable. However, they may not be the best option for those with mobility issues, as they do require some fine motor movement to secure. Note that larger buckles will be easier to deal with than small ones.
Hook and Loop: More commonly known as velcro, these are popular among children's footwear, but also that made for the elderly. Velcro is a great choice if you want a secure fit that can be easily adjusted, but it does have the drawback of sometimes losing its grip.
Elastic Goring: You'll find that most slip ons have at least a little bit of elastic goring which allows for easy on and off, as well as a customized fit as it can stretch to accommodate the foot. However, for those with a high instep, it may not be enough, while narrow feet may slip out.
Elastic Laces: Not featured on this list, but you can purchase elastic laces that can be used on any sort of lace-up shoe. These eliminate the need to tie and untie them while offering excellent support and security. They're best used in children's and athletic footwear.
Materials
The materials which are used to make your shoe are crucial in determining how comfortable, durable, and appropriate for certain types of use they are. A good general rule is to go with high-quality materials to ensure good value for invested money, but it is a variety available nowadays. Furthermore, you'll find that certain conditions may require special materials - for example, diabetic shoes need to be softer than regular footwear to provide adequate protection.
Overall, the models listed above are made with the following materials:
Leather: The most popular material used in footwear for all types of use, leather is a great protective, durable option that can look elegant and formal, with the right care. It's always a good investment to purchase leather shoes, however, make sure you're getting full grain and premium, as these will generally last longer. Suede and nubuck are also types of leather that can be excellent. However, they may not perform as well in wet conditions.
Canvas: Great for summer and athletic shoes, canvas is breathable and lightweight, so if you're after a walking or travel pair that won't get too hot, this is a great way to go. It won't protect from rain or snow and is generally not insulated, so it's more of a summer option.
Mesh: Used in athletic footwear, as well as in the lining of all types of shoes, mesh is a highly breathable material that's recommended for those with sweaty feet or those who walk a lot. It's downside, however, is its durability.
Rubber: Most commonly found in the outsole portion, rubber is always a good choice as it provides adequate traction, preventing you from slipping on wet surfaces. Certain types of rubber are even labeled as non-slip, which will be appropriate for professional use in the food service industry.
Foam: Used to provide the wearer with more shock absorption, thus comfort, foam was originally only present in athletic styles. Nowadays, however, you'll find that even formal models may include a foam midsole or insole, making them comfier and easy to wear for long hours.
Synthetic Leather: Cheaper alternatives that don't always perform as well as natural materials, synthetic leathers are most often chosen by those who prefer eco-friendly or cheaper shoes. You may find that they trap heat and lack breathability, but there are also those who are of excellent quality and are even better than the real deal.
Comfort
Many times customers will opt for footwear that is stylish but doesn't offer comfort or ease of movement. Slip-on footgear is designed to be as accommodating as possible for the wearer. Typically the footbed is cushioned and contoured. Some designs are more flexible, while others will offer a more sturdy midsole. There is a wide array of footwear to go with a variety of styles. If shoes that offer support, lessen foot fatigue and feel plush are of value, there are a few components to look out for to ensure the perfect fit. Below are some details that will help with choosing the shoe with a cloud-like feel.
A contoured footbed will help with adding extra support for high arches
Different kinds of cushioning are available this includes; memory foam, EVA midsoles, goga mat, and matlite foam.
When choosing which kind of padding is most important to decipher what is most important for comfort. Arch support, padding that encases the foot, foam that holds its shape long term, etc.
Many items offer wide and extra wide options
Some designs have a top strap for security and others offer easy slip-on
Elastic Side Goring for easy on/off
TPU Shank or internal shank for Stability while maintaining flexibility
The Outsole will have wider or smaller tread. Wider deeper treading is better for balance in a variety of environments
Finding a lightweight shoe will keep feet from feeling tired all day long
Needing some cooling capabilities is important for the summer months. Some shoes with a more elastic feel may not offer breathability. While others with material uppers may not dry quickly. Striking a balance with some mesh integrated into the design or perforation on the top of a shoe will help to increase airflow for all-day wear. Shoes that protect the toes may be of some value as well. It's important to find a toebox that's roomy but also molds to the foot without feeling overbearing.
Use
Finding a vestment that is adaptable enough for business and casual wear can be a challenge. When you find footwear that can accomplish both, it's a valuable find. While running around town or running through the office foot-attire that retains its structure, insulation, and cushioned padding. Another aspect to look out for is durability. The integrity and long-lasting ability of materials are important for a daily walker. There is no need to settle for cramped feet and blisters. Below are some aspects to look out for when deciding for the best footwear for all-day performance.
Quality Material is very important. If the shoe has an elastic material typical for some manufacturers, it may be a good fit depending on the footbed. Canvas material is breathable, and mesh provides superior airflow.
The stitching will tell how long a product will last. If it's double stitched or built for all day long-term wear, it's a good choice.
Many manufacturers will use glue to attach outsoles as long as the outsole is thick and built with a TPU shank for support and extra cushion in the form of memory foam or some other material it may be a perfect fit.
If a footbed is contoured and allows for the moderate arch support it will be a good fit for comfort
The toe-box should be wide enough to provide a little wiggle room for toes
The outsole should have wider deeper treading for better traction and an EVA outsole is typically sturdy and flexible
Fit should be pleasantly snug if the fit is too loose or too tight that particular wear will not be suitable for daily use
Any footgear needs to be sturdy and adaptable. The foot should always be in a neutral position to make walking easy and uncomplicated. There should be no annoying rubbing, and it's always a good idea to have room for insoles or the sho be fitted with a removable footbed. This design will allow for customizable insoles if need be.
Style
Several styles are available that don't require you to fuss with the lacing system. You'll find a model for every occasion, and you may even manage to eliminate the need for lace-up closures in your life, without sacrificing performance, looks, or features.
Loafers: Most often worn as formal shoes, loafers are the perfect choice to pair with a suit or jeans. They're the go-to laceless style for office wear, and come with several comfort features that make them feel great even for days with hours of walking.
Ballet Flats: Stylish and easy to put on, every woman owns at least one pair of ballet flats. They're a great choice for everyday wear, and some may even be appropriate for formal occasions, seeing that they're easy to pair with both pants, skirts and dresses.
Monk Straps: Slightly less formal than loafers, these are still great for wearing with suits, jeans, chinos, even shorts, and dresses. You'll find that they come with a single or double buckle, so they may not be the best choice for those lacking fine motor abilities, but they eliminate laces, and offer a stylish look nonetheless.
Sandals: Ideal for summer and hiking, these often come with hook and loop or buckle closures which are easy to deal with, yet provide all the benefits of athletic clothing. They're also often found with protective features that make them a good choice for rough terrain.
Slippers: At home or whenever you want to feel comfy, slippers are a great choice. They're often made with ultra-soft, flexible materials, making them easy to break in - which is a plus!
Pull On Boots: Available both in formal, casual and work styles, pull on boots can be a great item in anyone's closet. Go with a work model that features a protective toe, or a Chelsea that'll look with several outfits; you'll find that these are irreplaceable, especially in the winter and autumn.
Sneakers: Last but not least, you'll find several athletic sneakers (as well as lifestyle ones) that come without laces. Choose models for basketball or running with slip-on designs or elastic laces. You'll even often find them with velcro closures, which are especially popular for children's models.
Top 10 Shoes Without Laces
1

. Skechers Equalizer Persistent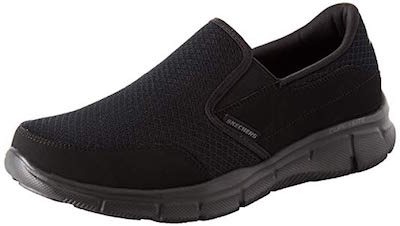 These shoes have an exquisite look for the casual professional. These are as light as air. It will feel as if you're walking on clouds. The mesh fabric upper keeps feet in a cool disposition. The perforation on the top of the shoe is in-line with an overall casual-professional appeal. Elastic bands on either side of the shoe collar assist in freely allowing enrobing with little difficulty
An outsole that doesn't give enough can create an uneven stride and cause pain in key pressure points. Some may want a sturdy shoe, but there is no need to sacrifice balance or flexibility. If a walking shoe isn't flexible, it will cause the foot to be placed in an unnatural position and add to fatigued feet. The ankles and shins will have to compensate for abnormal placement and reconcile the difference. The inside of this shoe will keep feet in a neutral position for structure and serenity.
The uncomplicated design creates a sleek experience allowing dominate aspects to flourish. The outsole will help to prevent slipping and grip when surfaces are uneven or slippery. This is accomplished with a wider treading that doesn't hold moisture but in fact, repels it. This also offers extra shock absorption when surfaces are hard or rocky. This will also save joints from long-term wear and tear. This an affordably priced product. The construction stips away all complicated elements to leave a very sleek looking and wearable sneaker. These are great for everyday outings and will go with business casual get-ups. They also will insulate the foot for optimal alleviation. The collar of this shoe is padded as well for maximum satisfaction. Easy to slip into with elastic side goring for extra stretching as needed.

2

. Vibram Fivefingers TrekSport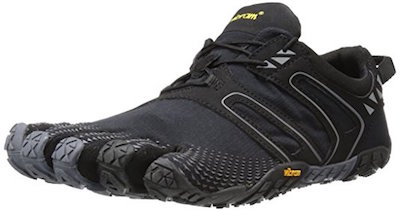 The non-traditional design of this footgear provides protection while actually exercising the smallest ligaments, muscles, and joints of the anatomy of the foot. This gifts a barefoot feel while exercising which anyone who is looking to strengthen their feet will find these to be very beneficial. They are easy to slip on and will stay on with a velcro strap over the top of the foot. The footbed is antimicrobial to keep feet fresh and lessen odors associated with exercise.
The TPU toe protection gives the toes extra protection in a variety of environments. This type of protection help conduct heat and keep feet cool during a duration of workouts. They also are oil, grease, and abrasion resistant, which will keep toes comfortable with no annoying rubbing. The insole is seamless and very thin for a little cushioning. Although the bottom offers wonderful traction if a thicker outsole is needed, this may not be a preferred design. This wear has a minimalist appearance and offers an authentic feel when in contact with the ground.
The history of razor siped outsoles is very humble. It all started with a sailor who was looking for shoes that would keep him from slipping. He noticed a small dog that didn't slip and looked at its paws. This is how razor siped outsoles were born. This provides better traction and flexibility for running trails and helping to prevent falling. This also maximizes the range of motion in the foot. This type of footgear is wonderful for strengthening ligaments, tendons, and muscles in the foot that are rarely used. They are well priced for the construction involved in the design. The toes are separated for optimal grip and barefoot feel. The toes are also guarded with TPU protection. This helps prevent stubbing in rougher environments and becomes more durable for trail running. The strap comes from behind the heel and over the top of the foot and is very secure. The bottom is part of this minimalist design does not have a ton of cushioning but provides grip-ability on a variety of climates.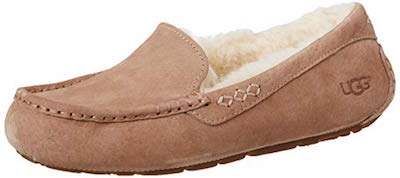 A moccasin slipper designed for indoor/outdoor use, perfect for autumn and winter wear, the UGG Ansley is a slip-on you'll love wearing on casual occasions. It's a colorful model that features the best the brand can offer, both in terms of materials used, as well as in terms of design. If you go with the neutral version, you'll have a versatile pair of shoes to combine with a number of outfits, while those who prefer to stand out can go with the sea green or bodacious pink colorways.
Both the lining and the insole of this shoe are made with pure wool sourced from the UK, Australia, Ireland, or the US. This means you'll have a warm slipper that's highly breathable, won't trap moisture, and is less likely to develop bad odors than synthetic versions.
With a suede upper that's water resistant, and a tractioned rubber outsole that works both indoors and outdoors (and doesn't let you slip), you'll enjoy wearing these at home, as well as outside, running errands. Average in terms of price, this model offers excellent value for those who are searching for footwear that's versatile and comfy. Because of the soft materials used in the upper, it won't be difficult to put on or off, which means it's great even for those with high insteps or wider feet.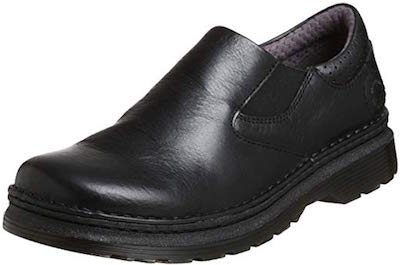 If you're looking for the perfect everyday model, appropriate for work as well as for casual occasions, the Dr. Martens Orson is an excellent choice. It combines a sleek upper look, available in brown or black leather, with the functionality and durability of the brand's most famous models. It's great for winter, as well as for transitional periods, and will look great both dressed up or down.
There's nothing worse than finding a great looking pair of shoes that cut into the back of your heel. Luckily, the Orson features padding in the collar that'll protect you from rubbing and blistering and will make these comfortable, even right out of the box.
The Dr. Martens air-cushioned sole has been a go-to for several people over the years, and it comes as no surprise. Not only does it do an excellent job at protecting you from shock, but it's also oil and slip-resistant, making these great even in an industrial setting. The Orson is up there, slightly above average in terms of price. However, taking into consideration the brand's reputation, the comfort, and quality, it's a great investment piece for those who need everyday shoes that can take a beating, but still, look good without too much fuss. Make sure to follow the size charts, though, as they tend to run a bit large.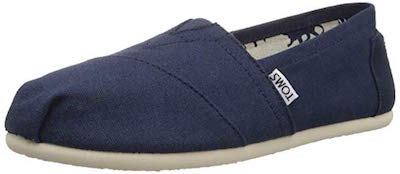 A canvas slip-on is often the perfect choice for spring and summer days. If you take into consideration that TOMS is a company who takes giving back seriously (for every purchased pair a child in need will receive a pair of shoes), then this is definitely a great investment. Add to it the fact that it's a comfortable model, easy to pair with a number of outfits, perfect for hot days, and you may have yourself a winner.
Not only will you benefit from a textile upper that's lightweight and flexible, meaning that it'll mold to your foot with wear, but you'll also benefit from a suede insole that's great even for barefoot wear. The latex arch insert offers added support, while a mixed-rubber outsole lasts for a long time.
If you have a high instep, you may find that putting your TOMS on for the first few times will be a bit more difficult than expected, but the elastic gore will provide a snug fit that'll eventually become customized to your foot. This means these won't slip off as easily as similar models. Slightly below average in terms of cost, the TOMS Classics is a great choice for anyone looking for a simple silhouette that comes in a huge variety of colors. It's easy to pair, and can even work on semi-formal occasions when you want a cute pair of shoes to match with your cocktail dress.

6

. Cole Haan Pinch Tassel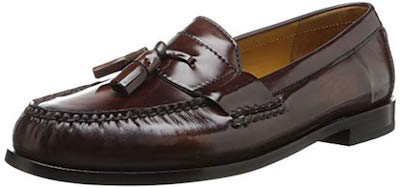 You'll hardly find a pair of footwear that'll look more fashionable than this model by Cole Haan. The Pinch Tassel is the perfect shoe for summertime wear, can be combined both with a suit, cropped trousers and jeans, or even a pair of shorts, and it'll elevate your style like no other pair of shoes out there. Available in a few color variations such as black, burgundy, tan and mahogany, you can go with the version that'll compliment your wardrobe the best.
The antiqued leather used for the construction in this shoe has been antiqued then brushed off, giving it a unique patina that you'd only get after years of wear and careful treatment. It's an excellent investment piece for semi-formal and formal occasions, but won't be too out there even on more casual days.
Flats don't often come with a comfortable insole, so you'll be happy to hear that this model features full-length padding, making all-day wear more comfortable. Coupled with the rubber outsole, the lightweight construction, and the exceptional flexibility, this will easily become a go-to style for anyone. One of the more expensive models on this list, the Cole Haan Pinch Tassel is an investment piece, perfect for those who are likely to need a stylish loafer they can wear on special occasions. Its benefits include quality construction and great looks, as well as the recognizable Cole Haan comfort the brand's become famous for.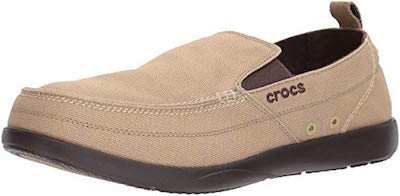 These are built to be functional for casual or relaxed career wear. The pull tab in the back and elastic side gore helps to ease feet in with little effort. The footbed is removable and friendly for orthotics. The outsole has non-marking components on the heel and ball of the foot. Wider traction in the middle is good for slippery environments. These offer clandestine relief for tired feet.
The pull tag at the heel and elastic side gore is a nice addition. Making this a model built for everyday wear. They are nicely styled and offer comfort with no annoying lacing techniques required. The material does tend to take time to dry if wet although they do have side holes to allow some breathability but do not offer much protection against water.
Some need wear that offers a favorable grip. Weakened ankles that are prone to rolling may need a sturdy structure and grip. If work environments are inclined to have occasional spills these are well structured. They will hold your balance to keep accidents at bay. The outsole is fitted the non-marking soles in the ball and heel of the foot. The middle offers wider tread for stability on a wider array of surfaces. These are a steal. They are underpriced for the quality of the shoe. This shoe has side hole for draining water but the material isn't waterproof so this feature may actually be better for airflow. They are easy to clean with a removable footbed for machine washable footwear. Another plus of a removable footbed is that customized insoles can be inserted for further ease of movement. The stability of this outsole is favorable in a variety of environments.



A synthetic nubuck style for those in search of a vegan, environmentally friendly style, the Sillian Paz by Clarks is a great investment when it comes to comfortable, everyday shoes that can be worn with a variety of outfits. Although it's only available in black, it's still a neutral shoe, with all the benefits you would expect from a brand such as this.
The Sillian Paz was developed to offer a classic, sporty style that's focused on providing you with cushioning, without the bulky look of a sneaker. It features several layers of foam in the midsole, giving you a shock absorbing, soft feeling underfoot.
The lining in this model is made with textile, that ensures good breathability, preventing the development of bad odors, as well as heat and moisture retention. Nonetheless, it's recommended that you wear socks or hosiery with these. Slightly below average in terms of price, the Sillian Paz is a good investment for those who work on their feet for prolonged periods of time, but also those with office jobs who want something comfy, but not too sporty. It's a great choice for casual wear but will look great even with a skirt.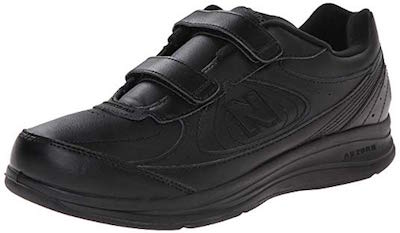 If you're after a sneaker that's great for walking, as well as for work, the New Balance 577 is a great solution. Instead of being only available in the traditional lace-up version, it also comes with a hook and loop closure that's great not just for those with reduced mobility, but also those who prefer less hassle but plenty of space for adjustments.
This model features New Balance's great ABZORB cushioning that's perfect for walking, as well as staying on your feet for the entire day. This means that your joints and back won't hurt as much after a long day, and your muscles won't get as fatigued as with harder soled models.
Some people require special footwear because of health issues they may be suffering from. Getting those can be a difficult and lengthy process, so it's great to know that this is a model that's appropriate for those who have diabetes. It may even be eligible for Medicare reimbursement. The price of the 577 is just around average, and it's a great investment for those after an all leather sneaker that'll do well on strenuous jobs (nursing staff, postal workers, even waiters love this model) or for traveling when you need something comfy with plenty of protective features.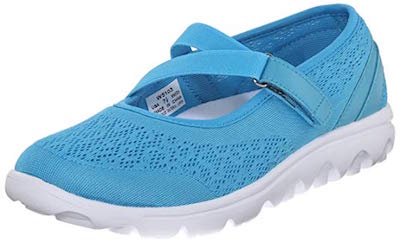 Summer weather is made for exploring. There is no need for shoewear that will weigh you down or cause excessive sweating. Light footwear that allows for air-flow and cushions the foot will make all your adventures a breeze. The mesh is very soft against the foot and the strap is secure without feeling oppressive. Propet offers a wide ordering option for those who need a little extra wiggle room for the perfect fit.
The mesh upper lays firmly against the foot. It gives the wearer comfort without feeling tight or itchy. This aspect of the design also has sweat-wicking capabilities and breathability. This will help keep moisture off feet on hot days for long-term walking. This is a low-top shoe and the top of the foot is mostly exposed but toes are protected a little less than halfway up the foot.
EVA is a very accommodating feature. It allows for a lot of flexibility for a more natural heel to toe walking experience. This will help keep the stride harmonized and keep feet from feeling fatigued after miles of walking. EVA is also very resistant to a lot of elements in the environment. This material is crack resistant, protected against ultraviolet radiation and waterproof properties. These are moderately priced for a Mary Jane with staying power. The perforated mesh exterior is designed to look feminine while allowing cooling. The stretch material is very soft and adheres to the shape of the foot. The footbed can be removed and is orthotic friendly. The bottom of the shoe is thicker for a supportive stride. The hook and loop closure is simple and provides extra security.

Subscribe to our Newsletter