Best Quality Socks Reviewed
In a Hurry? Editors choice: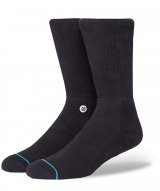 Test Winner: Stance Icon Classic Crew

They keep our feet
warm
, clean and well supported and a good sock can make or break your day. Whether you're partial to the wool type of socks or your socks preferences lay in the mix of fabrics, the socks play a very important part in our lives.
Socks are vital for every person that starts the day with a good morning jog and every soccer player that runs off the pitch. They can be tall, short, thick and thin but we can all agree that the socks are one of the basics in our wardrobe.
Standout Picks
Criteria Used for Evaluation
Materials
As always, the organic fibers like Merino wool and cotton are always going to be regarded much more than the synthetic materials like elastane and lycra. The socks that contain a much higher percentage of wool and cotton have better durability, better quality, better customer reviews and better response with the buyers. It's a type of sock that most of us keep buying, regardless of age, gender, and lifestyle. The wool and cotton are the most used fabrics for socks that are made for running or outdoor activities like hiking.
The wool and the cotton warm your feet in a more natural way, and they provide a great odor resistant barrier between the shoes and your feet. And the fungus and that goes directly to your shoes while you're hiking in the woods? Well, forget about them. The wool anti-bacterial properties protect your foot form any harmful bacteria that might damage your health, and they're soft, comfy and well secured. They're also one of the more expensive pairs of socks, but they're an excellent investment if you're looking for a lifetime commitment. The synthetic materials like elastane, lycra and polyester add more of a fit and grip to the structure, but they're also famous for their moisture wicking properties. They reduce the sweating in your feet, by holding the moisture inside the fabric and not on your feet. A blend of synthetic fibers can add a structured feel to a sock without jeopardizing the quality or the feel of the sock to your body. In most of the socks, the synthetic fibers hug your feet and place it securely in the shoe, thus reducing the risk of damage to your feet. If you find that perfect balance between natural and synthetic materials, then that's the perfect sock for you.
Advanced Features
Yes, these bad boys have plenty of advanced features and they're all good for you and your feet. Seriously. Where do we start with the advanced features? The anti-blister running socks have ventilation zones and padding in the toe and heel areas, while most of them have additional cushioning, reinforced arch support, iWick fibers, air mesh venting system, cushioned soles, reinforced heel and toe areas, and special ventilation channels that keep your feet moist free and airy as a breeze. Are you impressed yet? This is quite possibly the best bunch of advanced features, and each and every single one of them is designed and put there to give you the maximum comfort whenever you are and whatever you do. You like to run marathons? The best running socks must have anti-blister properties in order to prevent the development of blisters and sores to your feet. You work out in the gym?
The Comfort Athletic No Show Running Socks are perfect for you. Perhaps you're an avid hiker that's on the lookout for durable, comfy and breathable socks that can withheld the friction of the hiking? Than the Wigwam Merino Comfort Hiker are just for you. The advanced features make the wearing of the shoes and your daily activities much easier and comfortable. There's a different set of advanced features in every sock, and each of them serves a very different purpose. All you have to do is pick the right pair of socks.
Style
Most of the socks offered on this review list are made for the hikers, runners, and active people on the go. The majority are either crew style or no-show style of socks, and they all come in different colors. Some of them (Like the Puma, Calvin Kline socks for instance) have the company logos embellished on the sides of the socks, and although they're mostly socks for runners they do have a great style to go along with the comfort that they provide. You'll be impressed with the elegant yet practical style of the socks, and you'll definitely want to buy more of them.
Value
The price of the socks depends on the material that they were made of, the brand that manufactures them or if they're sold in value packs. The socks that contain the most amount of wool and other natural materials are on the pricier side, while the synthetic polyester made socks are on the cheaper side of the spectrum. However, the material does not define the price alone. Several other factors play a significant role in the price of the socks. Whether or not they're reinforced, cushioned, whether or not they contain ventilation zones, air filtration strip system, iWick fibers or are they specially designed to support different areas of your foot, for different purposes. For instance, if you're buying socks that are made for running, you're going to need pairs that offer support in the heel and toe areas, since most of the body pressure is focused in those areas.
They're experiencing most friction too, so you'll need a more expensive pair that offers the much-needed support.
While most of the socks on this list were offered in abundance of colorful options, some of them were offered in a unisex option. Which means that they were designed and manufactured without being gender specific, and that's great. Why divide the customers, when all of us wear the socks for almost the exact same reason. We all run, we all, work out at the gym, we all go to work, and we all go hiking. Yes, some of the socks came in a variety of colors to pick and choose from, but one of the most fascinating socks were the unisex ones. They were uniformed in colors and styles and they're guaranteed to suit every man or woman perfectly. Not that many socks are made unisex and more often than not they're explicitly labeled to which gender they're assigned to. The male versions have the basic black, white, charcoal grey varieties, while the ladies' versions have a whole pallet of colors. Pink, purple, green, red and yellow. Oh, they often come in a mix of colors, but the unisex type of socks was a nice and pleasant addition for the gender nonconforming customers.
10 Best Socks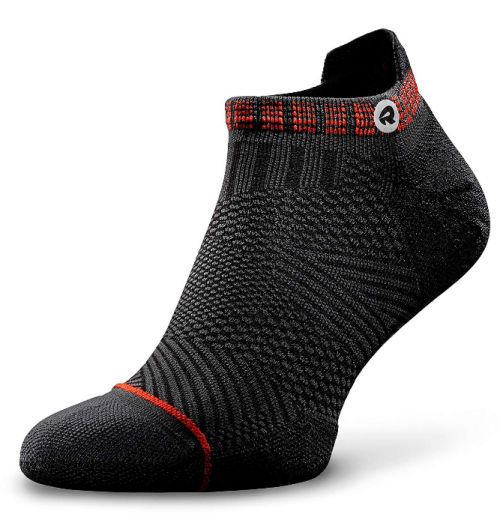 The Rockay anti-blister running socks have the best qualities that any runner would love. They're carefully made in Europe with organic merino wool that's been imported from South America and with ventilation zones that will help with air filtration in your feet. The wool that's been used in these socks is free from mulesing, has natural organic anti-odor properties and is ideal for runners that are struggling with blisters, rubbing, and chafing.
Oh, and they're guaranteed to last for a lifetime. That's right! Rockay stands by the quality of these socks and when they say that they will last forever, they actually mean it. Or else you'll get a full refund no questions asked. Every thread of sock has been tested to withstand maximum durability in extreme weather conditions, and every thread will keep you safe from blisters. The Rockay Accelerate Anti-Blister Running Socks are perfect for people who run ultra-marathons or enjoy rock climbing. The socks come with padding in the toes and heel areas and they were tested to endure activities like running and hiking.
The Rockay Accelerate Anti-Blister Running socks are empowered with powerful compression in the arch and tight area and have elastic at the top to prevent dirt coming in the foot. Rockay's best advice is to put them on and to forget them in almost every occasion. Your feet will be taken cared for by these socks.

2

. Stance Icon Classic Crew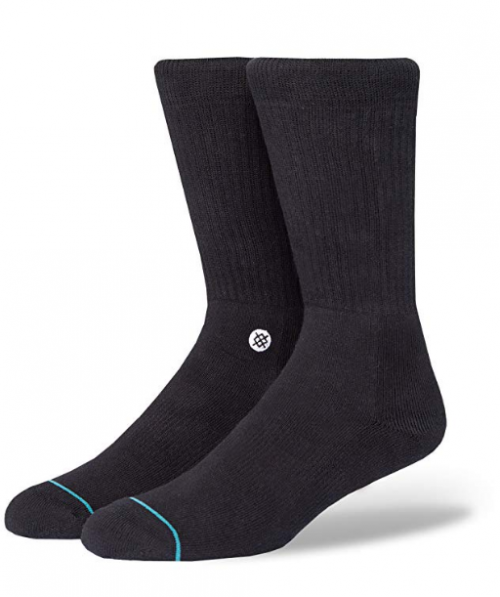 Made with a soft first class combed cotton blend, the Stance Men's Icon Classic Crew Sock is a great combo of quality and fit. This is a gorgeous crew sock and it's beautiful to look at as much as it's comfortable to wear it. In fact, one consumer review stated: If a genie gave me three wishes, one of my wishes would be that I had a lifetime supply of these socks. They are comfortable. They are stylish. They are everything you can ask for.
The socks also have an additional cushioning, a secure arch support and reinforced heel and toes area that makes these socks so comfy. The impact protection to the foot is much greater with the Stance's crew socks and a little pro tip directly from the company's website states that the socks will last longer if you keep them out of the dryer. So, make sure you keep them out of the dryer.

3

. Nike Performance Cushion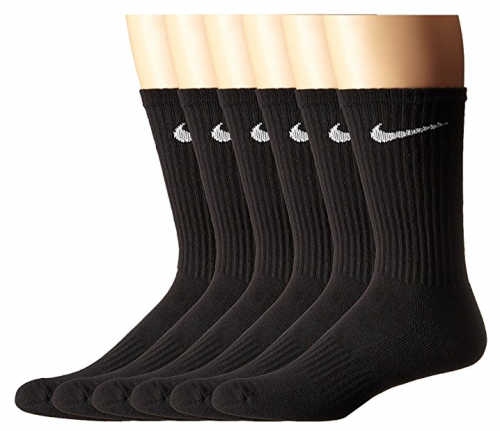 Another cotton sock, and this time from Nike. What is to say about Nike that hasn't been said before? The brand itself guarantees quality and style, but the NIKE Performance Cushion Crew Socks with Bag guarantee comfort and durability too.
The Nike Performance Cushion Crew Socks with bag have structured arch support for a more secure and snug fit on the foot, while the reinforced heel and toe take care of the durability in high-wear areas. The premium cotton based fabric blend is soft and comfortable for every occasion, and they are 6 pairs of socks with one purchase.

4

. Saucony Performance Comfort Fit No-Show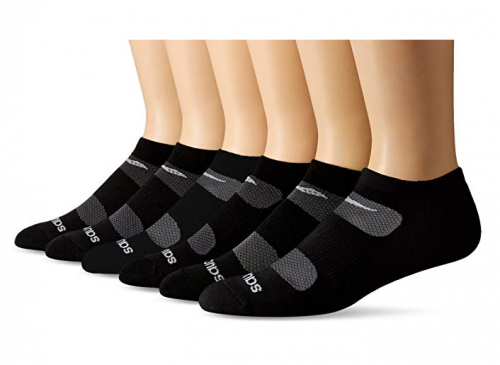 It's another great 6 pair offer, but this time from Saucony. The Saucony Men's 6 Pack Performance Comfort Fit No-Show Socks are a pollster based socks with a pull on closure. They ultra-wicking fibers also have built-in moisture management properties that offer moisture transport away from the skin and let your feet stay fresh and dry during your cardio session at the gym.
The socks are equipped with air- mesh venting construction that creates maximum amount of airflow. The airflow keeps your feet cool and dry even when your feet are so tired and sweaty.
The arch compression is engineered so that you keep your arch stable and secure during the day and it also prevents the socks from slipping in your shoes. The light cushioned sole is just the added bonus of these great socks that provides extra impact protection without overcrowding the shoe.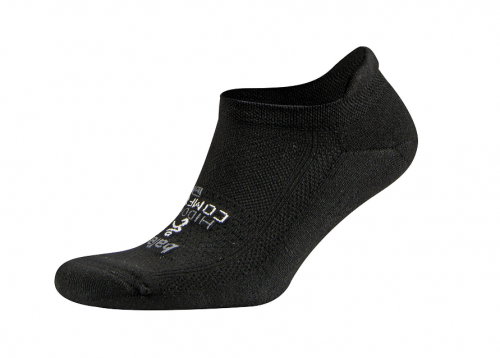 Balega is a company that prides itself on its mixed American and South African origins, and that's the multi-cultural quality that they're trying to emulate in their socks. These are a no show type of socks that provide maximum comfort and high performance during every type of physical activity.
They're unisex and a perfect choice for you regardless if you're a pro runner of just frequent visitor to your local gym. The special drynamix wicks keep the moisture away from your skin and the reinforced microfiber ventilation panels keep make sure that your feet are dry in every type of weather condition. These have a seamless toe box that minimizes friction, prevents chafing, and keeps the blisters at bay. They also have a reinforced heel and toe areas for extra durability, and a heel tab that secures the heel with every step. But that's not it. They also have added heel pockets that prevent the socks from slipping down, while the Elastane that's been built in the fibers, adds an extra no-slip security of the socks.

6

. Feetures High Performance Cushion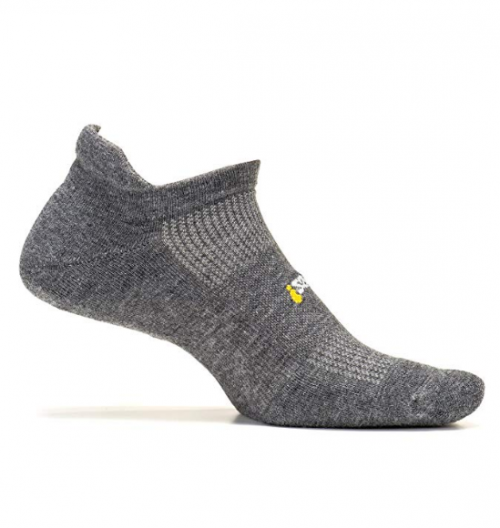 Feetures make products for the active body in motion, and these are no exception. They're a comfortable no-show tab style of socks what fit both men and women.
One of the most amazing features is the cushioned comfort that comes from the high-density cushioning. It provides extra protection in high impact zones of the foot and the seamless toe provides just adds to the overall comfort. These Cushion Socks have an extremely power Lycra bands that basically hug your entire foot and offer maximum support whenever it's needed. The fit of the sock is snug and supportive and prevents blisters from forming on the most critical areas.
The Y-heel construction prevents siding of the socks into the shoe, while the temperature control of the socks keeps your feet cool and airy under intense conditions. The iWick fibers are wicking the moisture away as you run, the while the mesh construction on top of the sock offers ventilation. Oh, and the most badass quality that these socks offer? A lifetime guarantee of quality. Feetures states that if you're unsatisfied with the purchased socks, at any given point,, you can return them and get your money back.

7

. Calvin Klein Combed Flat-Knit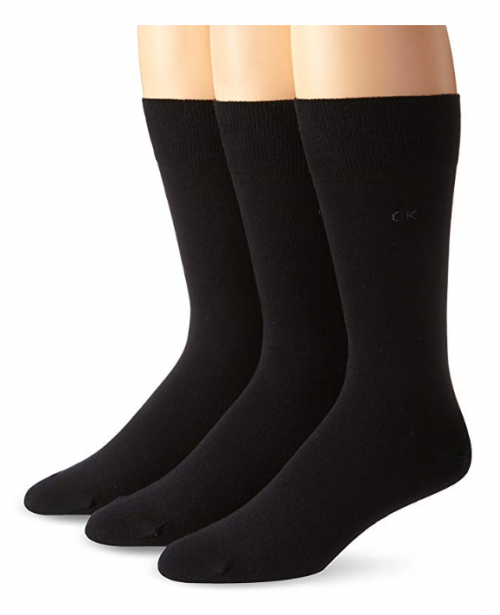 Classically elegant in style and fully supported comfort in the design. That's probably the best way to describe the Calvin Klein Combed Flat-Knit Socks.
You'll get 3 pairs of high quality cotton socks in one purchase, and a great value in style and comfort. The flat-knit socks have a seamless toe that prevents rubbing and chafing in the toe area, a rib-knit cuff, and logo embroidery at side, just to remind you that it's, after all, Calvin Klein socks on your feet. The Combed flat knit socks come in a mid-calf (crew) length and the fit is true to the sizing.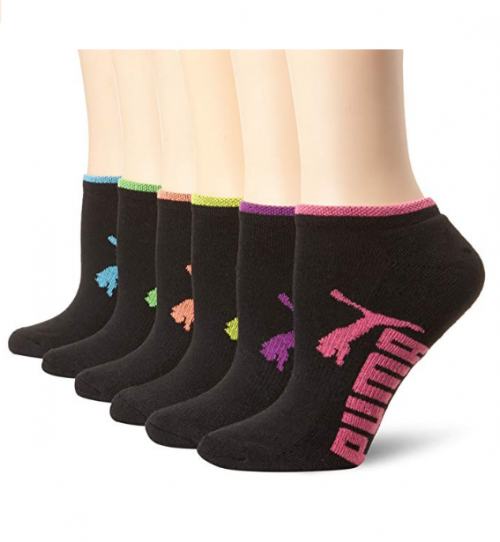 There are 6 pairs of incredible socks in this offer, and they come at a great price. They're a half-terry socks polyester made socks, made with moisture control technology.
The PUMA Low Cut are great and comfy ankle-high runner socks, and every single one of the socks has the colorful Puma logo on the side. The fit of the low cut socks is as expected and it's true to the size, but for that added level of security, these have built-in arch support and just enough cushion to make them extra comfy. If you're looking for comfort at the gym or during your weekly yoga sessions, they will not let you down.

9

. Dickies Dri-Tech Moisture Control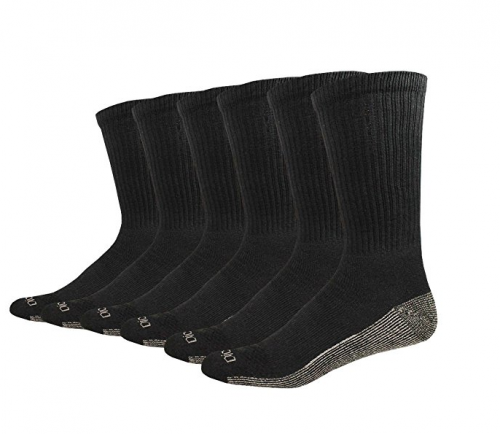 The Power of America's Work Sock Brand – that's Dickies. Dickies Dri-Tech Moisture Control Crew Socks are built for a purpose, and that purpose is to keep your feet dry and secured for a great price.
A pull on closure socks made from soft and breathable moisture control fibers that will help your feet stay dry during the day. They have built-in arch compression support for the extra stability, and ventilation channels that enhance airflow in and out of the socks. Your feet will remain filtrated and ventilated and you'll have plenty of them to change during the week, since they come in a value pack of 6. They're made from 78% cotton and 19% polyester, and are available in plenty of different color options.

10

. Wigwam Merino Comfort Hiker


Handcrafted with pride in Sheboygan, Wisconsin, since 1905 and a staple in almost every sock drawer since then. The Wigwam Merino Comfort Hiker Sock is a sock that's made to last.
A full cushion sock made from 62% Merino Wool, the sock won't be itchy on your skin and won't shrink in the dryer. If it does, you can have your money back, since it has a lifetime warranty. They're probably one of the most comfortable hiking shoes that you'll ever put on your body, and you'll be buying them over and over. The large percentage of Merino wool makes this sock very soft, warm and odor resistant, and you'll never get tired of it. You'll be coming back to it.

Subscribe to our Newsletter