Best Women's Multivitamins for Daily Health Reviewed
In a Hurry? Editors choice: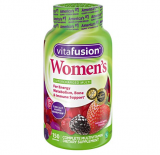 Test Winner: Vitafusion Gummy

We all want to feel and look our best, and getting essential vitamins and minerals can be a great improvement to our overall health and wellbeing, along with diet and exercise. Many health professionals say that it is difficult, if not impossible, for us to get all of the vitamins and minerals that we need out of food alone. That is why taking a daily multivitamin is so essential, and many people report that they feel so much better physically and mentally when taking vitamins.

In this list, we will explore the top ten women's multivitamins available for purchase. We will walk you through the process of finding the supplement that gives you the nutrients you need for your lifestyle. For optimum health, and to live the best life possible, multivitamins are a powerful place to start.
Standout Picks
Criteria Used for Evaluation
Ease of Use
The first thing that we thought about when it came to ease of use is the fact that this can mean different things for different people. For some people, swallowing pills, even big pills, is no big deal. For others, it can be extremely difficult or impossible for either mental or physical reasons. On the mental side, some have difficulty because they have a fear of choking or they do not like uncomfortable feeling of swallowing pills. Others have an actual physical limitation which makes them have trouble swallowing pills or large chunks of food.
Comfort is something you would normally think of as applying to something you wear. But in this case, comfort has to do with the shape and size of the pill which affects how easy it is to swallow. No one likes that feeling of getting a vitamin sideways going down the throat. Or that phantom feeling where it feels like the vitamin is sticking in your throat even though it isn't. Since these are common problems with swallowing pills, we tried to find products that were one of three things: fairly small sized pills, flexible or soft pills, or gummies (to eliminate the problem altogether). The unfortunate thing with gummies is that in order to be tolerable, they have to be flavored (and colored) which makes it hard to produce a product that is completely healthy and free of sugar. That is something you give up in exchange for ease of use when it comes to gummies.
Another related factor is how many pills you have to take per day, or the serving size. We realized that everyone has busy lifestyles and remembering to take your vitamins might not be the first thing on everyone's mind. Having to take four pills a day is going to be extremely difficult for many people. That is why we tried to stick with mostly products where the serving size was one or two. There is only one product on this list where the serving size is four. But keep in mind that the serving size is linked with the measurement of the product which affects how easy it is to take. A product with a serving size of four is broken down into smaller amounts and so will be generally easier to swallow than a product that has a serving size of one and has all the daily nutrients packed into one.
Side Effects
Dealing with not only the individual vitamins and minerals, but also how all of them interact with each other and how they affect your body on a molecular level is extremely complex and hard to predict. Of course, your doctor will be able to tell you if a product is safe for you to use and will make sure you are not overdosing on any vitamin or mineral. But even then, you might experience unforeseen side effects. Most of the time, these will be very minor. Some people experience an upset stomach or an ill feeling after taking a new kind of supplement. This might be something that passes after a few uses after your body gets used to the product (although it is never a bad idea to keep your doctor informed).
Another side effect we found was the possible allergic reaction to one of the ingredients. There are some foods that are commonly not tolerated by some people's systems and these include soy, gluten, dairy, shellfish, and nuts. Keeping this in mind, we tried to steer clear of products that included these ingredients, and we at least mention when they do. For some, taking the products that include these ingredients will not cause a reaction. But there is always the possibility that you could experience an allergic reaction for the first time after taking one of these.
Finally, another side effect that we examined was something less immediate. It is the gradual health problems that can come from artificial sweeteners and coloring, which some products include. What we found was that evidence for whether this is a real problem is somewhat inconclusive, so the decision to go ahead with a product that contains coloring or artificial sweetener is one that you will have to decide for yourself.
Product Purity
We were delighted to find just how many good quality, whole food products are out there. When evaluating these products, we examined not only what vitamins and minerals were included, but also where they came from. We gave priority to products that derived their vitamins and minerals from all natural and organic fruits, vegetables, and other kinds of plants. The healthy fruits and vegetables in the world are a bountiful and lush source of the vitamins and minerals our bodies crave, but many of us do not have access to this huge variety of fresh produce year round. That is why we chose supplements that take these plants and pack them into a pill.
Use
We tried to make sure we included a good variety of products to serve the needs for many situations. We realized that many people are vegan or vegetarian and will want a product that does not include gelatin or any other animal product. That is why we included a few vegetarian and vegan supplements. Another kind of product we have included is kosher supplements.
Although many of these products are not formulated for women over the age of 50, some of them are meant for women of all ages. The main difference with these products was whether or not they included iron which is generally needed in smaller amounts by women over 50.
Effectiveness
When researching, we did not stop with the simple facts about each product. We went on to research user reports and how the product performed both in real life use and in laboratory tests. We looked to see if women have reported that they felt healthier, more energetic, mentally focused, and if they noticed healthier, more vibrant hair, skin, and nails. These are all signs that the product is working. We chose only products that make a difference. One thing that contributed to this factor was that the products don't include fillers or binders. Another thing related to effectiveness was how easily the body can absorb the product. We looked for supplements that took this into consideration and were meant to dissolve quickly and enter the bloodstream.
Top 10 Picks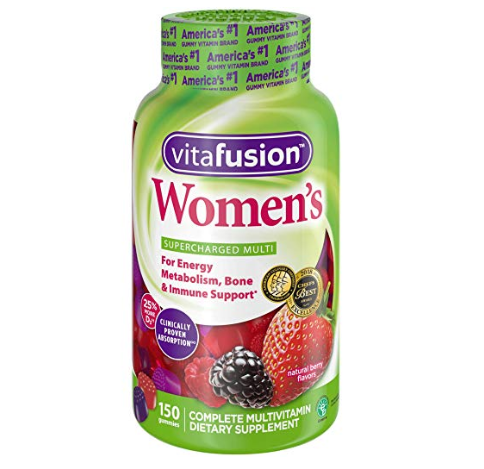 The Vitafusion is a good option for anyone who has any kind of food sensitivity. It is free from gluten, soy, peanuts, eggs, and milk. It also contains no artificial sweeteners or flavors, and no high fructose corn syrup. There are no synthetic FD&C dyes.
The recommended dosage is two gummies per day. These will provide a good range of vitamins and minerals that are needed by women. One great thing about the brand itself is that they have teamed up with the Fruit Tree Planting Foundation and they help plant over 10,000 fruit trees every year.
The Vitafusion gummies are flavored using natural fruit flavors. They are packed with antioxidants and vitamins like C and E and five different B vitamins. Vitafusion has won the Chef's Best Award for the good tasting and natural flavoring process that they use. Each bottle contains approximately 150 gummies, or 75 servings.
The gummies start out looking very bright and vivid, but one minor detractor is the fact that over time, the gummies will turn a darker shade of color. They might look a little less appealing, but the good news is that the potency is not in any way affected and they are still very safe to consume.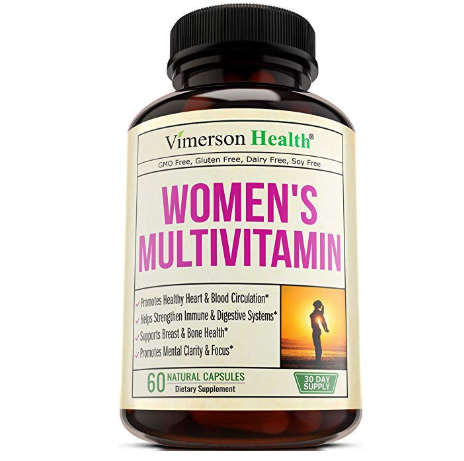 The Vimerson Health supports and promotes heart, bone, and breast health as well as improving circulation, digestion, and mental clarity. It strengthens your immune system and helps you focus.
This product from Vimerson Health has won the Good Manufacturing Practice Quality Product Award, and it is free from dairy, soy, gluten, and GMOs. The brand offers a no questions asked money back guarantee. Although these are capsules and not gummies, some users have mentioned that they still give you a bad aftertaste that resembles fish oil. It is unpleasant, but not unbearable.
The bottle contains 60 capsules, and the suggested serving size is two capsules, so the bottle contains a 30 day supply, which is handy for knowing exactly how long each bottle will last you and how many you will need to buy to have an advance supply. On the other hand, it is unfortunate that each bottle does not contain two months' supply, instead of one, because that would have helped cut down on plastic waste.
Vimerson Health is also free from hormones, antibiotics, preservatives, yeast, sugar, artificial flavors, binders, and cholesterol. What it does contain, however, are several vitamins (including A, C, D, and E), green tea, cranberry, cinnamon, biotin (a B vitamin which can help with healthy hair growth), folic acids (a form of B vitamin that helps your body create and maintain new cells), calcium, magnesium, zinc, herbs, and spirulina (a blue-green algae that can help with blood pressure and anemia). There are many health benefits of these ingredients. Cinnamon, for example, is anti-inflammatory and helps you fight infections and heal faster. Cranberries are filled with disease fighting antioxidants and are one of the most potent foods in the world.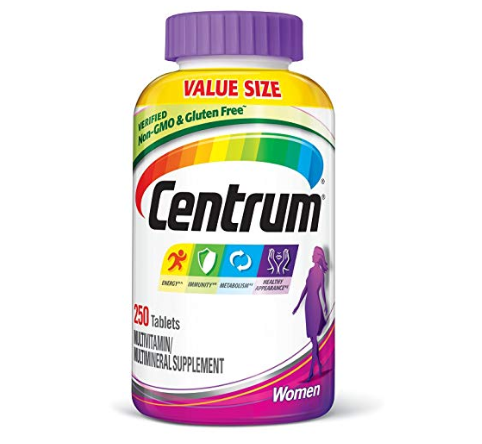 This product from Centrum contains 250 tablets which is more than some brands and is great since it will last much longer. Serving size is one tablet daily, meaning you will have over eight months' supply of supplements.
Centrum is specially designed to be good for your hair, skin, and nails, as well as metabolism and overall energy. The pills have a smooth coating which makes them easy to swallow. One of the included vitamins is D3 which is especially good for supporting your bone health. The brand wanted to make this a complete vitamin that has everything women need for overall health.
Centrum has put over 35 years of research and testing into this product, and they claim that it is the number one doctor and pharmacy recommended product due to its complete spectrum of essential vitamins and minerals. The Centrum has all the essential vitamins as well as potassium, Beta Carotene (the orange pigment found in foods such as carrots. It is a source of vitamin A), Hydrogenated Palm Oil (can help reduce cholesterol), and iron (to prevent anemia).
One detractor that is also possibly a major downside is that the product includes soy as an ingredient. This might mean the Centrum is not an option for some people. Some people are allergic to soy, and many think it is unhealthy, so it is unfortunate that it is included in this product. It also contains several artificial food dyes and other ingredients which might deter some users.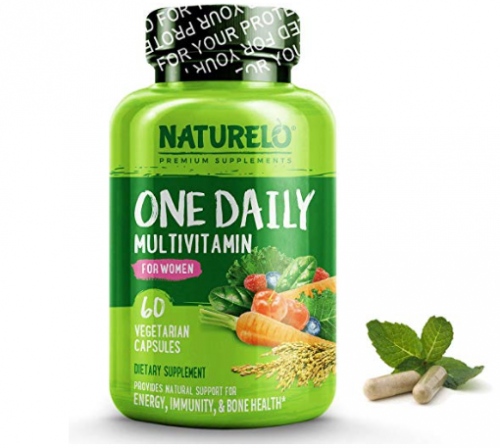 The great thing about Naturelo is that it is free from all the common harmful or potentially unhealthy substances like soy, coloring, fillers, and preservatives. Since it comes in a gelatin capsule, no flavoring is used which makes it more healthy.
Naturelo is also free from common things people are allergic to like corn, nuts, gluten, and dairy. Inside the capsules is a powder which means the product will quickly dissolve and this helps your body absorb the nutrients easier and faster.
Each of the vitamins and minerals come from natural sources. The product gets the vitamin A from natural beta carotene and not from cheap synthetics. The vitamin C comes from organic acerola cherries and is not synthetic ascorbic acid. The vitamin E comes from organic rice bran. Calcium is taken from a kind of algae instead of being taken from crushed rocks which can cause some health problems. Finally, the included iodine is taken from organic kelp.
The vitamins are extracted from organic, all natural fruits and vegetables such as the ones listed, but also including carrot, blueberry, kale, raspberry, spinach, and pomegranate. The brand uses a third party to test their products and make sure they have no heavy metals in them like arsenic, lead, cadmium, or mercury.
One nice thing about the Naturelo is that you can either swallow the pills, or you have the option of opening up the pills and sprinkling the powder on a food or drink if you have trouble swallowing them. The taste may not be the best, but if mixed with food or drink, you might not notice it too much.
Some users experienced a strange and alarming side effect where they started losing their hair. Although they could not know for sure what exactly caused this, they thought it might be the vitamin. Not very many experienced this, but it is always a good idea to talk to a doctor before taking any supplements. You never know when or how ingredients might interact with any other medications or supplements you may be taking.
Another thing to note is that the Naturelo contains iron, which is a good thing especially if you are prone to anemia. But you have to be careful with this, too. You can overdose on iron and will need to be careful if you are already taking iron supplements.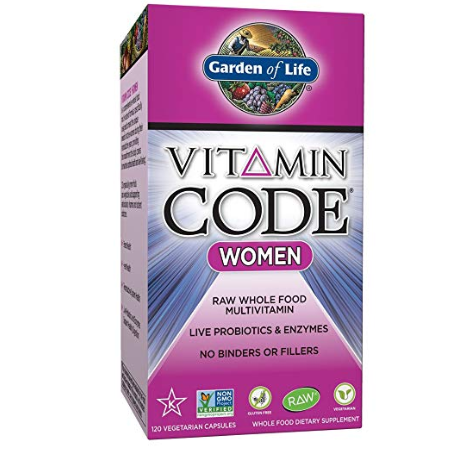 One great addition to the Garden of Life supplement is live probiotics and enzymes for supporting your digestive health and helping you better absorb the vitamins. There are plenty of antioxidants in this, and the vitamins and minerals are extracted from whole raw foods.
The Garden of Life includes calcium and magnesium which are two things that need to be taken together. When they were developing the product, Garden of Life took into consideration the specific needs of a woman's body. They included vitamin E and vitamin D to support breast health, and they added the calcium and magnesium to support both the reproductive system and bone strength. Folate and zinc were also included for reproductive health.
On the downside, the serving size is four capsules, which seems like a little much. Most products have a serving size of one or two capsules. Having to take four capsules every day seems like an inconvenience and brings with it more potential to forget. While the bottle contains 120 capsules, that turns out to only be a 30 day supply if you take four per day.
The product uses an impressive list of natural plants to provide the vitamins and minerals. The vitamins were derived from spinach leaf, tomato, strawberry, tart cherry, blackberry, brussels sprout, green bell pepper, green onion, parsley, garlic (a powerful anti-inflammatory supplement), ginger, red cabbage, cucumber, celery, asparagus (both the flower and the stem), cauliflower, and other plants. All of these ingredients used in this supplement are organic.

6

. OPTIMUM NUTRITION Opti-Women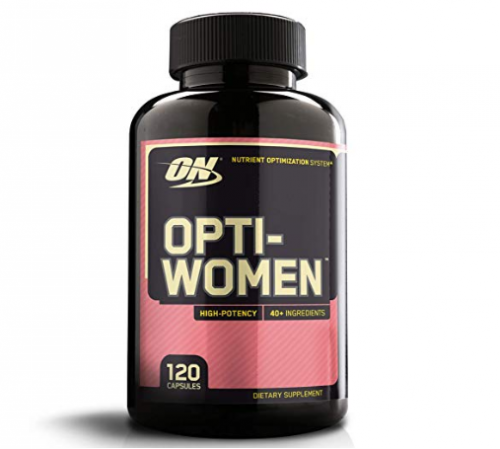 Rather than the non-vegetarian, animal derived gelatin capsules seen in many vitamins and supplements, the Optimum Nutrition has something called Vcaps which are approved by the Vegetarian Society and are derived from a cellulose material found in pine trees.
The product is available as a bottle of 120 capsules or 60 capsules which you can choose between at checkout. There are 23 included essential vitamins and minerals, and the formula is specially designed for women who have active lifestyles. The Optimum Nutrition has 17 specialty ingredients that are good especially for women's health. One is citrus bioflavonoids which helps with the immune system, circulatory system, allergies, viruses, and arthritis.
The brand is one that specifically manufactures supplements for sports, so this product is an especially good choice for women who regularly work out or compete in athletic sports. The brand claims that they have extremely stringent quality standards and will reject entire trucks full of fruits and vegetables if they do not meet those standards.
Some things users have reported is that the product has helped them grow healthier hair, cleared up acne and skin problems, and also that the pills are very easy to swallow even for those who usually have trouble swallowing pills. These pills are a small size. The product contains iron, which is good, but may not be recommended for women over 50 years of age. Another thing noted by users is that the product contains chasteberry and dong quai which are herbal supplements that have the potential to interfere with your hormones, especially if you are on birth control.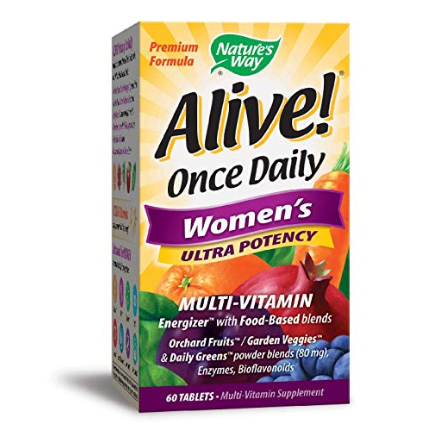 The nice thing about the Nature's Way Alive product is that it contains 60 capsules and you only have to take one pill every day, which makes the product last for two months. The brand has been around for about 50 years and is one of the most established in the business.
There are a total of nine food based blends in this product. They are: orchard fruits powder blend, garden veggies powder blend, citrus bioflavonoid complex, cardio blend, mushroom mycelium defense blend, hair, skin, and nails blend, flax lignan blend, digestive enzyme blend, and daily greens blend (which provides amino acids). The nutrients in the Alive are complete and diverse.
Besides supporting all the major systems, the Alive also supports eye health, which is a great feature and one not found on some products. The addition of bioflavonoids (which are types of compounds derived from plants) are what help support the health of your eyes. The product contains 22 vitamins and minerals, 12 organic mushrooms, 12 digestive enzymes, and 14 types of greens. It contains several ultra B vitamins which help you convert food into energy.
While it is extremely convenient that you only have to take one pill every day, on the downside, the pills are quite large. These are tablets, not capsules, and they are shaped in a way that some users have described as a horse pill. If you don't usually have trouble swallowing pills, you will probably be ok with these. If you do have trouble even with regular size capsules, then these might cause problems for you. One option you could always try is to use a pill splitter to split these into smaller, more manageable sizes and then swallow the pieces. This is somewhat of an inconvenience but it may be worth it if you find that this is the best product for your needs.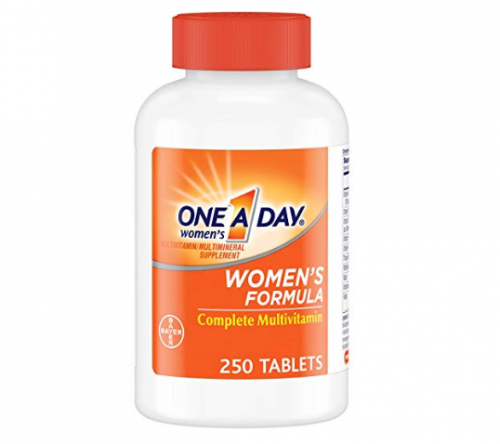 You might wonder why the One A Day has copper in it. Copper is an essential part of our bodies, and it has plenty of health benefits like bone strength, support and growth of white and red blood cells, and brain development. Copper is great for supporting skin health. Copper deficiency can cause health problems.
Of course, too much copper can also be a bad thing, which is just something to be aware of. It can destroy vitamin C and raise estrogen levels. One A Day has been careful to put the right dosage of copper in the product, but it is 100% of your daily value so make sure you are not already getting copper from other supplements as well.
One A Day has several types of B vitamins. One is riboflavin which is good for overall health and for growth. Another is thiamin which is water soluble. For bone health, specifically, One A Day has vitamin D and calcium. The brand has over 75 years of experience,
One A Day uses artificial coloring in this product, which is disappointing and unnecessary since these are tablets and not gummies. Users have reported, though, that this product does not affect them in any negative way and has made them feel healthier. Some have said that they can take these on an empty stomach (even though that is not recommended) without experiencing stomach pain or nausea.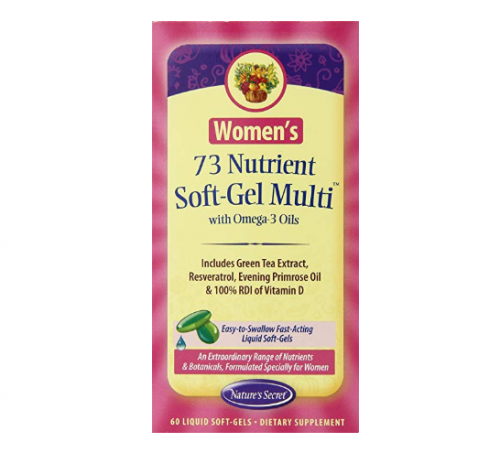 Nature's Secret combines the ease of taking gummies with the convenience of taking capsules. These are soft liquid gels which are easier to take since they are not as rigid as other kinds of pills. Another benefit of the soft gels is that they are absorbed quickly and are fast acting.
This product has green tea extract in it, as well as primrose oil. The health benefits of green tea are well known, but you might not be aware of the many benefits of primrose oil. Some of the benefits include reduction of acne, reducing eczema, promoting skin health, easing PMS symptoms, and promoting heart health. Primrose is also a powerful supplement for balancing female hormones. Another active ingredient is turmeric, which is good for reducing inflammation.
Nature's Secret includes omega 3 oils which are good for preventing heart disease and lowering blood pressure. It includes several supplement blends that are good for adrenal health, brain function, and immune system.
Two detractors are that the product contains soy and crustaceans (like lobster, crab, and shrimp). While these do provide some health benefits, they can cause some problems for some people, especially if you are allergic. Another thing to note is that Nature's Secret does not have iron in it, which could be a detractor if you are looking for an iron supplement, but it could be a good thing if you are over 50 years of age.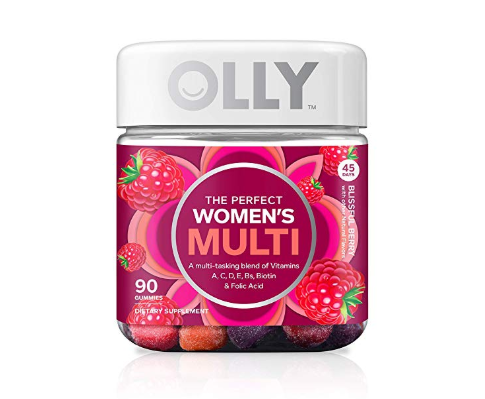 These supplements from Olly come in a fun sized bottle with colorful looking gummies. Olly contains biotin which is a B vitamin that is water soluble and which helps with hair growth. The product comes in a bottle of 90 gummies for a 45 day supply (since serving size is two per day), or 130 which is a 65 day supply.
On the downside, while Olly does not contain any soy, eggs, peanuts, tree nuts, milk, fish, shellfish, or wheat itself, it is processed in a facility that may contain products with these ingredients. If you are not allergic, this won't be a problem. But if you are, you might have to use a different product.
The product contains the antioxidants A, C, and E which help fight free radicals and also help give you healthy skin. The brand has put a lot of effort into the taste of this product. They have chefs and food scientists who work to get the ideal flavor and texture. Has it paid off? Yes. Most users have said that they love the taste. Some did not like it, but since taste is subjective, that is inevitable. Something to keep in mind is that the product should be kept out of the sun and in a cool place since they can melt into one sticky glob.

Subscribe to our Newsletter