Best Knee Compression Sleeve Reviews
In a Hurry? Editors choice: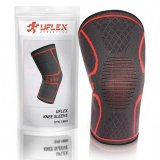 Test Winner: UFlex Athletics

If you love getting out there to pound the pavement every chance that you can get, you may be more prone to develop something called
runner's knee
. This condition arises when your joints are under prolonged stress, and it sends radiating pain signals to your brain suggesting that you take it easy.
While this condition isn't serious, it can put a real snag in improving your lap times. Adding some support and compression to the overworked joint and muscles will provide you with much relief to minimize your downtime.
Compression works by squeezing the part of the body that brings you pain, which in turn increases blood flow to the afflicted area. In this guide, we have compiled a list of some of our favorite knees sleeves to keep you out on the trails and to prevent future injury.
Standout Picks
Criteria Used for Evaluation
Materials
To ensure you will be able to wear it for multiple workouts without losing integrity and strength, it needs to be made out of the right materials.
The fabrics used not only give you an indication of how durable it will be, but how it will help your workouts. Below we have compiled a list of materials that we made sure to include in all of your products, and the reasons we selected these types of materials
Nylon: This is one of the most prevalent fabrics in these types of products, and for good reason. Not only is nylon incredibly resilient and easy to care for, but it also doesn't stretch out and become permanently warped. One of the most important aspects when it comes to these styles of products is that it needs to maintain its form, even after you have been wearing it all day. This is why nylon is so beneficial- because it can do all of these things, and it is also very easy to wash. These garments will start to smell a little funky after a while, so it was important that it was something that you could toss into the washing machine (on a gentle cycle with cold water). Some designs that are made from a thick layer of neoprene may offer superior compression, but they are often not very breathable and are a pain to wash.
Spandex: Spandex is what is more than likely in charge of providing you compression. If you want more compression, you basically want more spandex. However, a design that uses too much spandex often doesn't provide enough rigidity, because without some type of stiff material you are basically wearing a swimsuit on your knee. So, spandex was important to consider, but we made sure never to select a design that uses a little too much of this type of stretchy materials. It is also important to note we also made sure to include elastane and lycra into this category because they especially serve the same function.
Gel Rubber: You need to have something on the inside that will keep the garment in place as you move and jump. For us, gel rubber was the obvious choice because it creates a comfortable layer of friction between the gel and your skin, and that includes when it starts to get a little sweaty. Property placement of the gel rubber was another thing that we took into consideration. Typically, users prefer this gel band to run along the top and the bottom of each unit. This material isn't breathable in the slightest, so overusing it is a recipe for a hot leg!
Compression
Good compression will help deliver more blood to the parts of your body that need it most as you work out.
Hands down, the level of compression used was one of the most important things that we considered when selecting products for our list. However, different users need to utilize different levels of compression, so we made sure to select various levels to suit your needs. We also wanted to take a moment to break down the different levels of compression, and who will benefit most from using them.
Light compression: This style is generally made from an incredibly lightweight material that may not feel like you are wearing anything at all. Users the benefit from light compression are runners that don't have an injury but notice their knees are starting to ache slightly as they really dig into each and every mile. Injuries often occur when joints and tendons are unit consistent pressure without any attempt to give them a rest. The best way to prevent an injury is to listen to the signals that your body is giving you experience minor pain, and cut it off at the pass before it explodes into a full-on an injury. Light compression in this instance is an excellent way to keep your body happy when you want to really push yourself to your limits. It is also a great addition if you are someone that works on their feet all day long.
Moderate compression: If you have experienced a light injury, or your joints are always screaming every time you bend over to lace up your sneakers, moderate compression may be the way to go. These designs are typically made from a thicker layer of nylon and lycra over their light compression counterparts, but they still allow an excellent range of motion for the most part. You won't be as free and nimble as you would with a light compression design, but it is something that you will likely just have to get used to. Keep in mind that these will be a little hotter than light compression.
High compression: The high compression designs are typically for those that are recovering from a serious injury, and sometimes even an injury that required surgery. Higher compression will get your back on your feet sooner, but it doesn't come without its setbacks. The first problem with high compression is that it doesn't offer you a very high range of motion. That means that if you are playing tennis or basketball, you may not have the same reflexes and movement that you would have if you were wearing nothing at all. The second problem is that it can be very hot when worn for long periods of time. Users that lift heavy weights at the gym also benefit a lot from this option.
Comfort
Uncomfortable gear often gets sentenced to a lonely and dusty life at the bottom of your closet.
If it's not comfortable, or it hinders your performance, the competitor in you will suffer through the pain of screaming tendons to feel free and unencumbered. That's why we really wanted to make sure that we selected designs that would be something that you were excited to slip on, and not something you felt like you had to suffer through. To ensure that they will be comfortable, there were quite a few things that we considered.
Breathability: Keeping air circulating to your skin while blood circulates to your joints is the key to success. While these products will not feel as nice and breathy as a cotton shirt on a windy day, there are a few designs features that can help let air move.
The first features that you will want to look for are material that have vents. These vents may not be fantastic at letting air in, but they do a good job of letting the hot air radiating from your leg out. This will help keep your leg from overheating when wearing a bulky piece of fabric.
Low-cut design: Pragmatically speaking, the less room that it takes up on your leg means the more room you leg will have to breathe. We liked designs that fit to be a little lower down on the thigh. Not only will this keep you cooler, but it is designed to fit more sizes and shapes of athletes as well. The only downside to a low-cut design is that it is more prone to shifting around and bunching over longer models. This is also great for running on the treadmill or outdoors on a hot day.
Materials: Materials often make a world of difference. Most of these designs are made from a blend of some type of breathable and moisture-wicking materials such as nylon and then use a percentage of lycra to give it a good stretch. When selecting the materials blend, it was important that the percentage of lycra never exceed the amount of nylon. If you have a predominantly lycra design, it will not be very breathable at all!
Size
Getting the right size will make all of the difference in the world.
It can be a little difficult to determine what the best size will be because these products tend to fall into a Goldilocks scenario- you need to ensure that it fits you just right. That's why selecting brands that had a wide variety of sizing options was one of the big things that we considered with each product. Here are some issues that users had when they selected a size that wasn't the right fit for them:
Too tight: You may think that selecting a size that it too tight will turn the dial up on the compression. While that may be true and it will ease the pain in your joints- you will suddenly feel it in other ways! Designs that are too tight will cause you to lose circulation in the lower part of your leg- and even couch potatoes know that you need circulation in your feet while training! Plus, designs that are too tight just flat out feel terrible, and they also will roll down your legs with each and every stride.
Too loose: If you accidentally buy the wrong size, we feel that it is better to get one that is slightly larger. The problem with designs that are made to fit too loose is that they will not be able to do their job offering any compression. Sure, they will be able to offer some compression, but it likely will not be enough for your needs. Plus, they will bunch up in the crook of your leg with each and every stride- which is never a good feeling.
That's why we made sure to check out the sizing selection. For most brands, they offer general small, medium, and large sizes, with many companies going above and beyond in sizes such as extra small and up to XXX-L. If you really want to ensure that you get a perfect size, we suggest checking out style from Bauerfeind that gives users the option to choose from sizes 0-7 with a very detailed sizing chart.
Flexibility
Frankenstein's monster wasn't about to win any marathons with those stiff legs, and neither will you if you are wearing something that hinders your flexibility!
We wanted to select designs that provided users with the best of both worlds- compression and flexibility. Typically, when a product offers a lot more compression than the others, it often comes at the cost of flexibility. If you want to ensure that you won't lose your full range of motion with these products, there are a few things to consider:
Shape: The best designs that we found users really loved were those that have a little bit of shaping in the design. Products that looked like a wide paper towel tube typically will not conform to the shape of your leg as well as the designs that already come with a slight bend in the knee.
Materials: We have talked about materials a few times already, but it is worth mentioning again. To ensure that you get something that is really able to move with you, spandex, nylon, and lycra are the materials that you need. There are some designs out there that use a very thick layer of neoprene for their designs. Sure, neoprene offers unmatched compression, but you will have a hard time moving about. Neoprene is typically used by those that have a pretty serious injury, or those that are powerlifting and need more support on their joints when loading up a barbell with over 500 pounds.
10 Top Rated Knee Compression Sleeves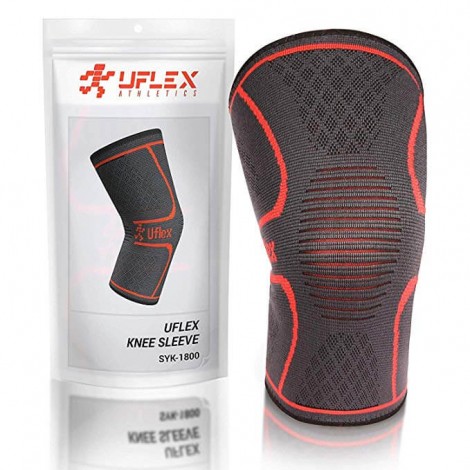 The reason that we placed this option at the top of our list is that it is made from high-quality materials that will stay in place when you move, and it gives really great support without hindering your range of motion. Of all of the designed that we researched, this was the one that we to be the most comfortable among previous users.
The materials used for this design are not the thinnest out there on the market, but you will have a pretty great range of motion for not only running but activities such as weightlifting and even squats. Users find that even though it is a little thick, the mesh vents along the side keep skin cool and comfortable while tight the tight material promotes blood flow to your joints.
It is offered in small, medium, large, and extra large sizes. UFlex Athletics suggests that you consult their sizing chart before making a decision. If you find that you are in between sizes, it is always better to go up a size rather than select something that would cut off circulation.
If you want something that works for every type of activity such as running, hiking, weightlifting and tennis, this will be one of your better knee compression sleeves that will stay in place while you work out.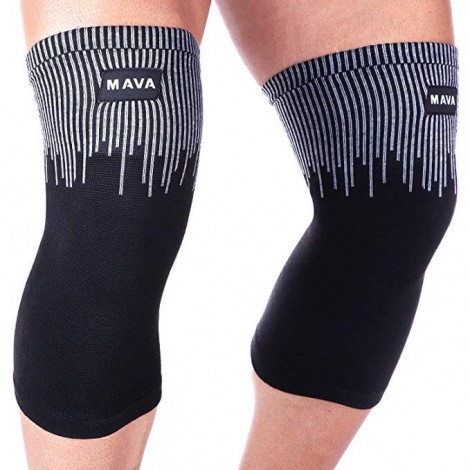 If you are active on the weightlifting scene, you probably already have a piece of Mava gear. We love this brand because they know what athletes need in terms of support and durability but they also make gear that is comfortable to wear as well. This design is super thin and lightweight and is the perfect option to pop on when going for a run.
Due to the fact that it is made from thinner materials, this option is will serve you best while running. As far as compression is concerned, this design offers minimal compression that may not be ideal if you are working with heavy weights at the gym. This design is perfect for unhindered running and jogging.
Sizing options are a little more diverse, with sizes starting at small and running all the way up to XXX-L. Many users love the way these feel, and find that is is something that is comfortable enough that they will want to wear all day long!
For those that want something simple and easy that provides mild compression to enhance your mobility, we feel that this option from Mava Sports will be one of your better choices.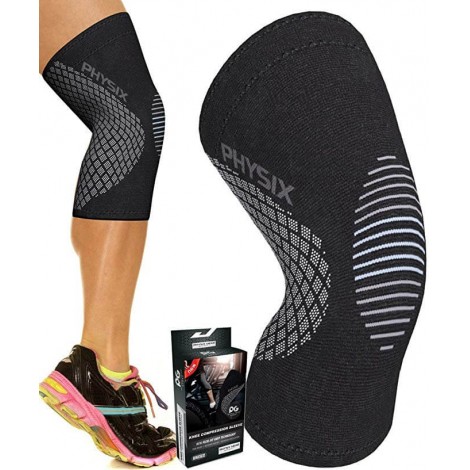 What we liked about this option from Physix Gear is that it offers superior compression without the use of really heavy fabrics. This design is made from materials that you would find in your lightweight and easy workout shorts and leggings, and it has a few extra features to protect your joints and keep you comfortable.
This knee sleeve is made from a blend of nylon and lycra spandex. Using these materials together creates something that feels lightweight, but the spandex creates a tight fit that will compress on your skin to promote blood flow to your joints. Mesh vents on the sides keep air flowing even when you sweat, and rubber grips at the top and bottom keep it firmly in place.
There is a wide variety of size options to ensure that you get the perfect fit. Sizes start at small and run all the way up to XXX-L. We found that this design tends to run a little on the small side, so be sure to opt for a size higher than what you would usually wear.
If you want something that provides a good deal of compression without the use of thick and bulky fabrics, we feel that this design from Physix Gear is definitely worth checking out and might be one of the best knee sleeves on the market.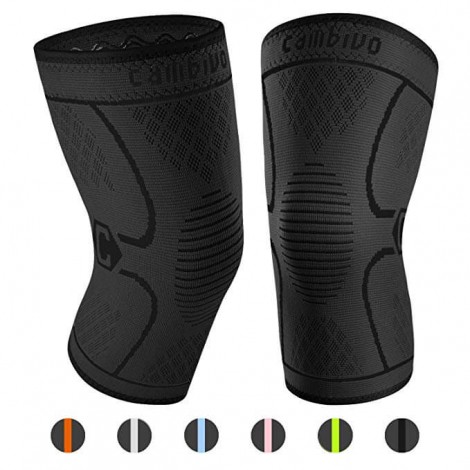 The very first thing that we noticed about this style from CAMBIVO knee sleeve is that it is quite a bit larger than other designs out there on the market. This means that it will sit higher up on your leg which offers a little bit more support to your joints, while also ensuring that it stays firmly in place as you run or workout.
The woven fabric used in this design is what makes it so flexible. While it does have a good deal of rigidity to keep your joints protected, the blend of nylon, latex, and spandex will help promote a full range of motion so that you don't feel like the tin man when you go for a nice and easy run.
Sizing options are a little problematic for this design with only 78 percent of previous users reporting that it fits them just as they expected. Sizing options start off at small and run all the way up to XX-L. Due to the fact that this design rides higher up on your thigh and lower down on your calf, finding a perfect size for your unique body shape may be difficult.
If you are looking for knee sleeves that will provide a decent amount of compression without limiting your range of motion too much, this is a great choice. Just keep in mind to really utilize their sizing chart to ensure that you get the right fit for you.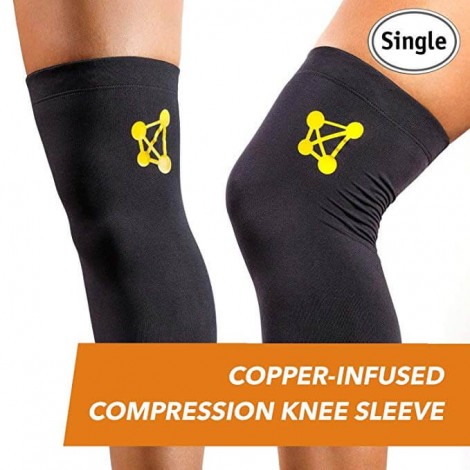 Perhaps you hate the idea of using a garment that is will limit your range of motion in the slightest. However, you still want something that will be able to give you a good deal of support and compression. For those that want something you would wear all day and possibly even forget that you are wearing it, you may want to check out this design from CopperJoint.
What makes this knee compression sleeve so unique is that the fabrics used are actually infused with Copper Ions. These copper ions will help with compression, and it also offers a cooling effect for angry and inflamed joints. The materials used for this design include a blend of the copper-infused nylon with the addition of spandex to ensure a snug fit that stays in place. It also utilized a double layer of silicon on the inside to ensure that it doesn't slip around.
Sizing options start out at small and run all the way up to XX-L. From what we have read from previous users, it will be in your best interest to buy a size higher than you would normally purchase. While tight options provide the most compression, it will not be something that you will be eager to put on before a run.
For those that do not like the idea of something that is stiff and may affect your performance, this design from CopperJoint is an excellent way to protect your joints without slowing you down in the slightest.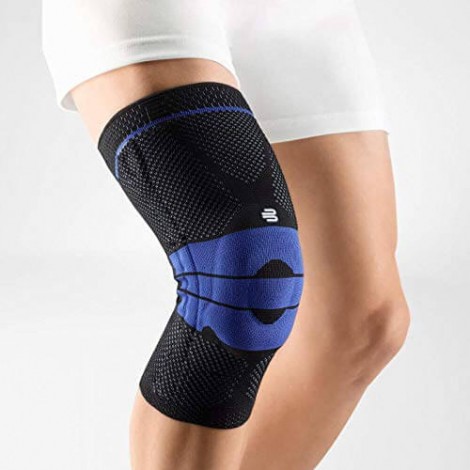 If your knee is very angry with you because of the wear and tear it has been taking with those impossibly long trail runs, it will be quite pleased with this knee sleeve from Bauerfeind. What makes this design different is that it is built with an extra layer of incredibly thick padding right on top of the cap.
Placing this thick pad on top of the cap offers intermittent compression as you bend and put pressure on that leg. This method is a more natural method of healing, and it will feel a lot more comfortable while in use. The fabrics outside of the cap area are made to be a little loose to not cut off circulation but will stay in place as you move.
Sizing options is where this knee sleeve really shines. Instead of providing the standard small-large, sizes are broken down on a scale from 0-7. Be sure you consult their very detailed sizing chart to ensure that you select the absolute right size for your body.
Intermittent compression is something that we haven't really seen in any other design, and it is worth a look for those that are thrilled to have to wear these products. Intermittent compression simply means that when the joint is not engaged, there will be no squeezing to promote blood flow. This makes it something that you will feel great about wearing all day long.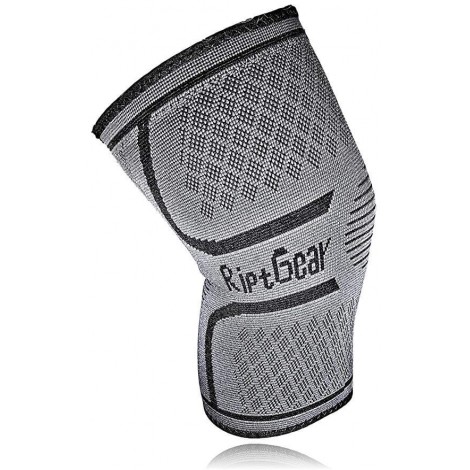 What we liked about this design from RiptGear is that it offers a good deal of compression without feeling too bulky or uncomfortable. The materials used are a little thicker than other designs we have seen so far, but based upon what previous users have had to say about this design, it didn't hinder their range of motion too much.
This knee sleeve sits somewhere in the middle of the road between minimal and moderate compression. It is designed for users that are engaging in fast-paced activities such as running, tennis, volleyball, basketball, or baseball. If you are training in the gym under heavy weight, this design may not give you the compression that you will need.
Size options start off at small and run up to XX-L. There were some users that felt that this design didn't quite fit them as expected. RiptGear suggests that you measure 4 inches above your cap, but if you have thicker thighs you may end up getting a size that is far too big.
If you are in the market for something that offers a modest level of compression if you are out of the trails for a run, or if you are just on your feet all day and want something comfortable, this design from RiptGear is a great choice.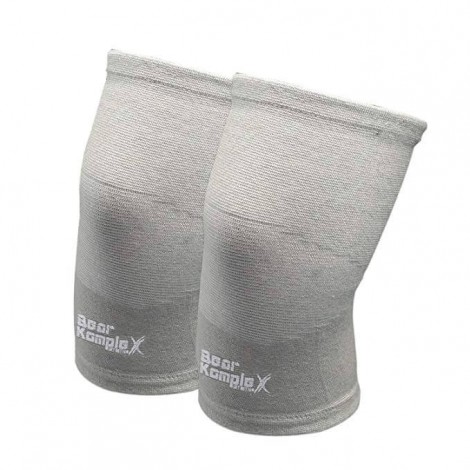 If your motto is "the more compression, the better", we feel you will be very interested in this design from Bear KompleX. This design is a lot thicker and bulkier than other designs out there on the market, but it also brings a high level of compression to really protect those tired joints. Users typically wear this design when they are ready to lift weights at the gym, but it can also be a great addition when you hit the trails for a hike or a run.
The materials used in this knee sleeve design are infused with charcoal fibers that promote a higher range of motion. Keep in mind, however, that the fabric on this sleeve is a lot thicker than other options, so it will feel a lot stiffer. Bear KompleX states that their product is made to be used for those that are very intense about their training, so they made a product the provides intense compression to protect those tired joints!
The downside to this option is that there is a limited number of sizing options available, so finding your perfect fit will be a little difficult. Sizes start off at small and run all the way up to extra large. We suggest that you consult their sizing chart before making a final decision, and always go up a size rather than down a size if you are unsure of what you need.
If you hate the idea of being sidelined when your joints start to ache, this will be one of your better options. While it may hinder your range of motion a bit, this design offers a lot of compression to your joints.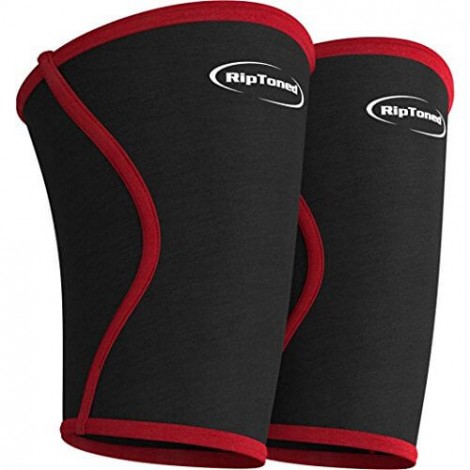 The very first thing that we noticed about this knee sleeve from Rip Toned is that it is a lot shorter than some of the other designs that we have seen. This means that it won't run high on your thigh, and it won't sit low on your calf. To some users, the more skin that they can have exposed- the better. While this style may seem simple, it offers users quite a bit of compression.
Whether you are going for a long run on the trails, or you are hitting the gym for some heavy squats, this design will be able to provide you with the compression to need to keep those joints comfortable. Compared to many of the lightweight designs that we have seen out there on the market, this one may offer users the most in terms of compression.
Another thing that we really liked about this option is that it is offered in a lot of sizes so that you can make sure you get the right size for your body type. Sizes start out at extra small and run all the way up to XXX-L. As always, be sure that you consult their sizing chart to make sure you get the right size the first time.
If you are looking for something that will provide you with a lot of compression for tired and overworked joints, this knee compression sleeve will be one of your better options. Just keep in mind that the more compression a product offers means that will also limit your range of motion.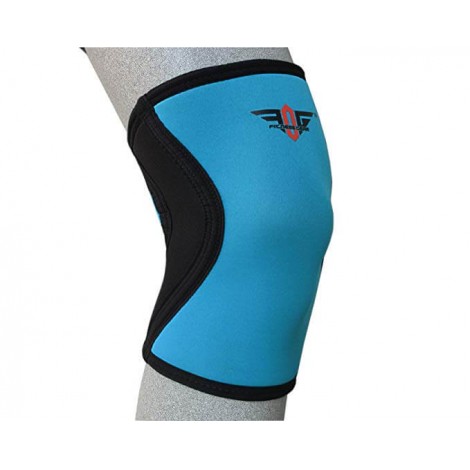 The thing that we liked most about this design from FOG Fitness is that is is made from neoprene. We wanted to provide at least one neoprene option because some users simply prefer the level of compression that neoprene can offer.
A 5mm layer of neoprene provides really great compression that users love. However, this material is notorious for not being very breathable, and it is also difficult to clean because you cannot throw it into the washing machine.
Sizing options start off at small and work their way up to extra large. From what we have read from previous users, the sizing of this design runs incredibly small. Make sure that when you make your selection that you go a full size higher than what you would normally order.
Users liked this design because of the amount of compression that it offers in unmatched. However, that level of compression also hinders your full range of motion, and it feels a little stiff and uncomfortable.

Subscribe to our Newsletter