Top 10 Best Sweatpants Reviewed
In a Hurry? Editors choice: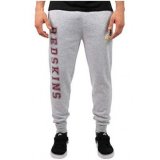 Test Winner: ICER Brands NFL

Most people love sweatpants. It's hard to think of a single person who doesn't. The best thing about them is the sense of relaxation we get the moment we change into them after a long day. They are the most comfortable pieces of clothing for lazy days and the best go-to apparels on the
coldest of days
. However, they are not limited to indoor usage alone.
Nowadays, trendier versions of sweatpants have dominated the market. They are not only cozy, but they have stylish designs and exceptional features. People no longer undervalue them, especially since they are also celebrity favorites. The problem is that most people don't know how to find pants that have the perfect balance when it comes to comfort and style. Fortunately, this guide has everything you will need to help you make the right selection.
Standout Picks
Criteria Used for Evaluation
Materials
Quality materials are always worth investing in
Brands use different kinds of materials when making sweatpants. Being knowledgeable about the subject will help you make better decisions, whenever you want to purchase a pair. The first material we are going to look into is cotton. Cotton is natural; therefore, it does not have any traces of chemicals. What makes it a great choice is the fact that it is breathable. That is what makes it an excellent choice for sports apparel. When worn on a sunny day, it will help keep your body cool.
Unlike other materials, cotton is superb for people who have allergies. It is a hypoallergenic material, that won't irritate your skin. This material is also comfortable and outstanding for relaxing in. It has what it takes to make the perfect pair of sweats. The downside to using cotton is that it is costly, compared to other alternatives. It's also not as durable as several other available materials in the market.
Polyester is also another material that is quite popular in this industry. Most brands prefer using it because it helps them save on costs. It is more affordable, because of its synthetic nature. However, you shouldn't mistake its low pricing as an indication of its quality. The material is long lasting, thanks to its sturdy fibers. It is not prone to getting wrinkles, and it will never shrink. Another advantage it has over cotton is that it is fast drying. Most athletes prefer it because it is incredibly lightweight and that it has moisture wicking capabilities. It is also quite flexible and resilient.
Spandex is often in material blends. The material is resistant to abrasion and does not have any static. It's a preferable option because it always retains its shape. As such, your piece of clothing won't stretch and will always have its original form. It is resistant to perspiration, and will not be stained by lotions and body oils as well. You have to be careful with spandex because it is susceptible to heat.
Some brands also use jersey material. Jersey is an excellent example of a knit fabric. It is made of either natural or synthetic fibers. Just like polyester, you won't experience any wrinkling issues. It is also elastic and extremely versatile. Lastly, we are going to look into the fleece, which is a synthetic material: often used in place of wool. It is much cheaper, warmer, and has excellent insulation and weight balance.
Comfort
They should have what it takes to make them cozy
Several things will help determine your comfort levels. One of them is the weight of the pants' fabric. Heavy fabrics are suitable for winter clothing because they will help keep you warm. However, they tend to be restrictive in other seasons. Additionally, you cannot wear them when it's hot. They are simply too uncomfortable. It's essential that you select a pair that is relevant to your current needs. If you're planning to be mobile or active with your attire, then lighter fabrics will be a better choice for you.
You also need to get a breathable option. Otherwise, you will end up feeling hot and sweaty. This high temperature can be quite uncomfortable, more so if you selected a pair that you intended to workout with. Moisture-wicking fabrics are always a plus. They will always ensure that you are dry, regardless of whether you are taking up rigorous activities or not. You need to be careful not to select an option that absorbs too much moisture. Such products may result in chafing and other sorts of discomfort.
Fit
They won't flatter you if they are ill-fitting
When it comes to shoes and apparel, getting the best fit is crucial: It's just one of those things that you cannot compromise on. Some brands have size charts to help you select an appropriate fit. However, each brand has its own measurement standards. Therefore, you cannot use the same criteria to shop from different companies. Generally, people are often required to select their waist size, and check out the inseam and outseam of the product.
However, when it comes to men's options, there are a few more details to look into. Guys should make sure that the crotch area has a loose fit. If it's too tight, it will restrict their movement, and they will be quite uncomfortable. You will also feel self-conscious with such kinds of pants.
The purpose in which you will be using it for will also determine the kind of fit you need. People, who just want casual wear, may not mind a slim fit compared to individuals who wish to work out and exercise. All in all, be careful not to choose an excessively baggy fit as well. You don't want to end up looking funny, especially if you plan to use them for outdoor activities.
Features
Identify the things that make them appealing
Pockets are critical features. You need to be able to store your belongings, even when you don't have a bag near you. Some pockets are quite shallow, and cannot really hold anything. Such pockets make it impossible to secure even the smallest of keys. Other pockets are deeper and can meet such storage needs when you need them to.
To top it off, you will find that some of them have zippers. The zippers will make you feel even more confident about keeping your belongings in the pockets. They reduce the risk of any of the contents falling off or any occurrence of theft. Pockets also make attires stylish, depending on the amount of detail and work put into them. People also use them to keep their hands warm, when it's chilly.
Elastic waistbands give room for adjustability. You will be able to wear pants with such waists even when you gain a few pounds. If you want maximum control, always go for such waistbands. Other features you should look into are; belt loops, seams, cuffs, and tapered legs. The length of the legs and the leg opening are also significant.
Versatility
Ask yourself if you're planning to use them for other activities
As mentioned earlier, some sweatpants help serve more than one purpose. As much as some are perfect for lounging, others have designs that make them easy to incorporate into one's daily activities. We have several examples in the guide, which include; ICER brands NFL, RBX, and Ezrun youth.
Brands like Ezrun have innovative designs such as 4-way stretch constructions, which make their model versatile. The design ensures that anyone wearing their brand has enough room to use them for other applications. That is the main advantage of having an attire that gives you the freedom of mobility. For instance, people use the pair for tennis, training, working out, walking, running, and even weightlifting.
So, if you are also looking for something multipurpose, make sure you thoroughly analyze its design, material, and overall construction. Doing so will give you more insight into the pants advantages and limitations as well. You will also be in a better position to make an informed choice.
10 Top Rated Sweatpants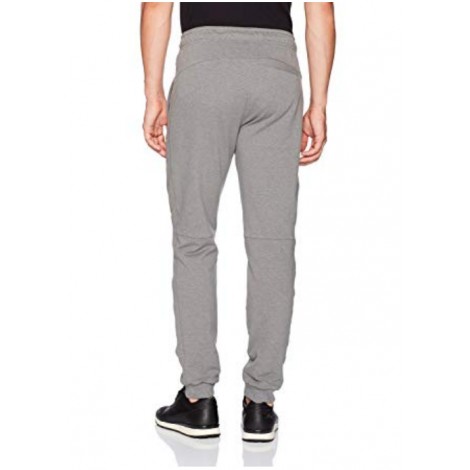 Everybody has heard of Calvin Klein at one point. From fashionistas to regular folk, the brand is a force to be reckoned with. It's not just an American fashion house, but also more of a global phenomenon at this point. Some people prefer the brand's jewelry, and others their lifestyle accessories, to mention a few. If anything, the one thing you should seriously consider getting is one of their sweatpants.
They are must-have sweatpants for every wardrobe, and they are not as flashy as the other products they offer. Therefore, you don't have an excuse as to why you wouldn't want one. It's not always about the brand name at times, but the quality you're getting. Why not invest in a quality pair of these sweats that you know are going to make your experience worthwhile?
No poor fitting, no guesswork, just quality you can rely on. The designer offers a size chart that you can use to pick out your correct fit. The dimensions given are based on waist sizes, ranging from small to 5xl. The lowest size category is for 25 to 29-inch waists, medium is 29 to 32-inches, large is 32 to 36-inches, Xl is 34 to 39-inches, 2xl is 36 to 42-inches, 3xl is 38 to 44-inches, 4xl is 41 to 46-inches, and the 5xl is 42 to 48-inches.
Over 70% of the people who purchased these sweatpants claimed they got the exact fit they expected. That is a lot considering this specific model has not been in the market for that long. It comes in a medium grey color and is very easy to maintain. Unfortunately, the brand doesn't offer other color varieties. However, you have nothing to worry about if you were looking for the perfect grey alternative.
To make them, the brand used 4% Elastane, 38% Polyester, and 58% Cotton. You'll find these pants so comfortable that you may end up a second and third pair. So don't be surprised if you find yourself shopping again in the near future. You can customize the fit, thanks to its drawstring waistband. Just experiment until you find what works for you.
They have a modern feel to them, mainly because their legs have a tapered jogger-style design. Their pockets also stand out because they have zippers. The detailing is in truth impressive. For the perfect casual look, feel free to pair them with a CK logo t-shirt.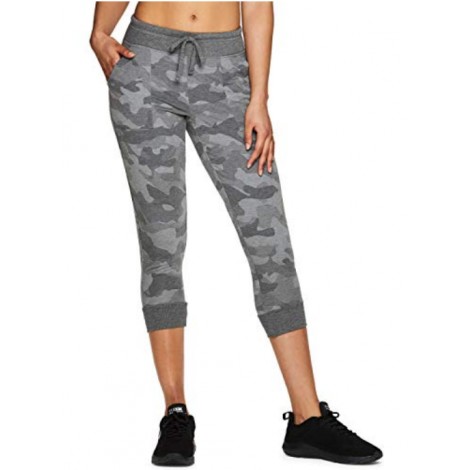 Every woman needs some active wear in her wardrobes. RBX offers a stylish pair in three different colors. You can get one in camo green, camo grey, and Grey combo multi. Some people prefer buying all three so that they can easily switch things up. However, if you've never owned a camo pair before, you can get one, try out the look, and see how things go. You can always come back for more if you happen to pull it off.
Most of the brand's products are well known for their performance and the comfort they offer. This pair is no different, which is evident from the positive feedback they continuously get. One of the best things about these pants is that any female can wear them regardless of their height. Their inseam is about 21" and comes in a Capri-length design. Most buyers find this flattering, and probably so will you.
Their side pockets are well placed and functional enough to help you store your small valuables. You can secure it with whatever kind of fit you want. The pair has a drawstring waistband for that purpose. The bottoms of the pants are cuffed, to add to its stylish appeal. The material compositions of the pants are 5% Spandex, 33% Rayon, and 62% Polyester. Seeing as it's mainly comprised of polyester, you can rest assured that it won't wear out quickly.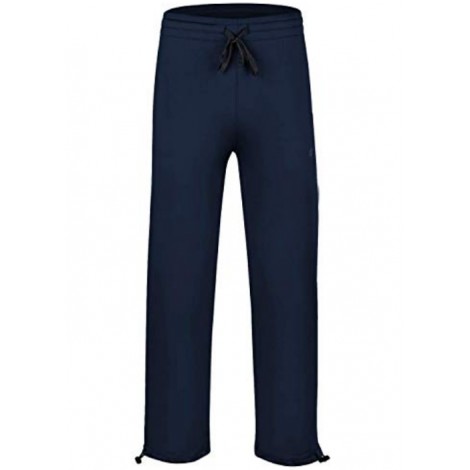 Even kids need comfortable attire that they can just relax with. They may not work but they still are worn out after a long day at school, part-time job, and after school activities, to mention a few. They are ideal for boys, but you can still get one for your daughter depending on what she's looking for. They are not only affordable, but you can also get one in gray, navy, and black.
These sweatpants are made of 90% polyester: Therefore, if you're not a fan of the material, the pants are probably not a good fit for you. Other than that, they are breathable, so your kid won't feel sweaty, nor will they feel sticky. They also have moisture wicking capabilities in their outer layer. As a result, the wearer will always feel dry whenever they wear them. They are basically ideal for different kinds of seasons. Reason being, they also have an inner fleece lining.
The lining will keep your son warm even on chilly nights. His movement won't be restricted, and the fabric is very light to walk around with. This model holds up well with time. Unlike some of the lower qualities in the market, it will not fade; thus retaining its original color all through. The pair will not shrink nor will it pill. Just make sure you follow the instructions provided by the brand to care for it properly. Buyers are required to line dry them always. Using fabric softener on them is also not a good idea.
This also model has a 4-way stretch construction. Such a structure makes it easy to take up a ton of activities because wearers become incredibly mobile. That is what makes this pair great for working out, walking, tennis, training, running, and even weightlifting, to mention a few. People can also wear them in two different ways, depending on their personal preferences. They come with an elastic drawstring and a stopper, which make the pair customizable. You kid will have the option of closing up the drawstring or leaving it open for a different look.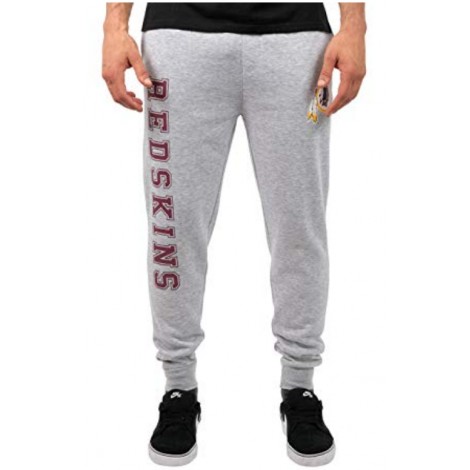 Did you know that American Football makes more money than the NBA? Both are captivating, but this pair right here is specifically for NFL fans around the world. Yes, the sport is American, but the fans are everywhere. Thanks to technology, people can easily follow up on any game without having to be there physically. The best thing about this alternative is the fact that you don't have to be a fan to buy one.
You can get one for your colleague, friend, spouse, or family member. All you need to do is get their size and the name of their favorite team. Once you do, just select the correct team name and size, and wait for your order. Don't fret too much about the sizing; the customer feedback shows that about 87% of the buyers got a proper fit. So relax, wait for the delivery, and look forward to the look they will have on their faces.
Each of the sweatpants has an official license from the National Football League. ICER brands collaborated with the league to re-introduce classic NFL fan gear back into the market. The brand did it innovatively and in the most modern and appealing way. There's no way any fan can resist wearing a pair to the stadium. Each of them also comes in official team colors. People also like the fact that they have an athletic fit; however, if you want a broader kind of fit, you can always order a size higher.
The sweatpants have some fleece, making them quite comfortable. Their cuffs are ribbed, and the drawcord is easy to adjust as well. You will get three pockets in total: one at the back and two on the sides. The waistband is elastic, and they have a tapered sweatpants style. The jogger pants are also versatile and useful for other applications as well. You can wear them casually, lounge in them, work out with them, and a variety of further uses.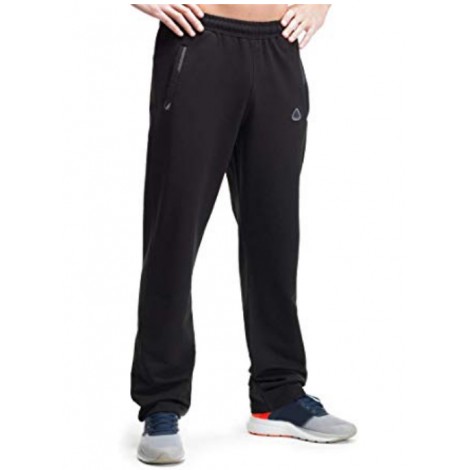 SCR SPORTSWEAR was very particular about the materials they combined when making this pair. To make them cozy, they used 70% cotton. That is why people find them so soft and breathable. These men's sweatpants also have excellent performance and will serve you for the longest time. The brand achieved this by using 20% polyester in the material blend. They are also able to retain their shape thanks to the 10% spandex composition. The stitching was also of the highest quality.
These men's sweatpants have an open bottom construction, but they are generally quite stylish. You can add them to your activewear collection or just wear them around the house after a long day. Their fit is customizable, and they come in a variety of sizes. The pair is medium weight, but thanks to their superior design, they are exceptionally durable.
Some people wear it during summer, but it's not ideal for this season. If you want to make the most out of this pair, you should wear it as a fall to spring transition attire. Its pockets are full size, and they have zippers for securing your items. You can purchase one these pairs in light grey, black, or heather grey.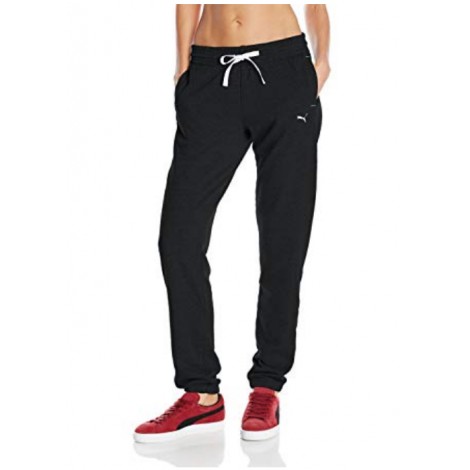 Puma is a big giant in the sports attire and accessories industry. Some might these women's sweatpants a bit pricey, but it's an investment worth making. The brand combines lifestyle apparel and sports performance to offer the ideal athleisure attire. The detailing is fashionable, and the finishes are quite refined. This kind of model appeals to people with different fashion senses.
You won't have any issues as far as wrinkles are concerned. The fabric is also elastic and long-lasting. It consists of cotton and a high portion of polyester. These sweatpants are also easy to clean because it is machine washable. The pants' closure is drawstring, and the waist has a high degree of elasticity.
The features that stand out most about it are; the embroidered Puma logo, the elasticized ankles, and convenient side-entry hand pockets. The available sizes are divided into regular and petite sizes. You can select this pair in medium heather grey, dark grey heather, and black colors.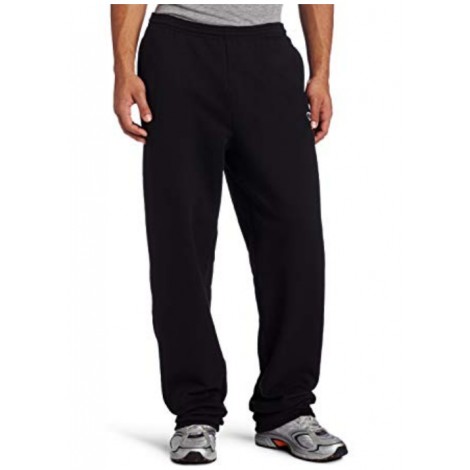 Most people think that they've experienced soft clothing until they come across this pair. The brand compiled cotton-rich fleece, and then brushed it. The process resulted in the ultimate softness. You shouldn't feel surprised if the pair ends up being your favorites. The fabric is heavyweight making them ideal for winter. Their thickness makes them warm and ideal for winter. They don't have any static and are tremendously comfortable.
The pair is also windproof: therefore, you can wear them in extremely windy conditions, and the cold won't get to you. It has side seam pockets, which are also warm. They are a great way to help warm your hands when you feel they're freezing. Their 75% cotton composition makes that possible. The pair also has a quick inner cord for easy adjustments and an elastic waistband that is covered.
The sweatpants are available in x-small, small, medium, large, x-large, xx-large, and xxx-large sizes. Xs sizes are for people who have 26-inch waists. Small is for 28 to 30inch, medium for 32 to 34 inches, large for 36 to 38inches, XL for 40 to 42inches, 2xl for 44 to 46 inches, and 3xl for 48 to 50inch waists. The available color varieties are black, gray, navy, and granite heather.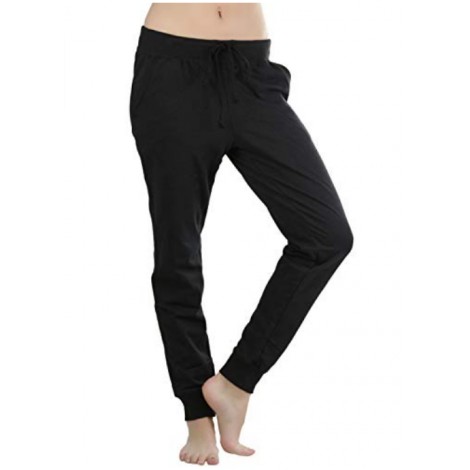 If you want more in terms of color, you should definitely look into this brand. Compared to the rest, they have a couple of brighter options that you can opt for. You can buy one in mauve, heather grey, burgundy, military green, charcoal, and black. Unlike other brands, the color you pick is exactly what you'll get on delivery. Additionally, they also retain their appeal even after you wash them.
The pants also won't shrink on you. You won't have to deal with such frustrations at all. Most users love the fact that they can store anything in their pockets- from their keys to their phones. The pockets are deep enough to hold them, so you won't have to worry about things falling off accidentally.
You will also have the luxury of wearing them all through the year. They are breathable enough to wear around summer. People also find them warm enough to wear during winter. They offer an almost tight fit. Buyers who prefer a baggy fit are advised to order one that's a size bigger.
To ensure the longevity of your purchase, make sure you wash it with the same kind of colors. Bleaching will damage the pair. You should clean the pants in cold water, and preferably, hand wash them as well. Afterward, simply hang them out to air dry.



No casual attire guide is complete without a Nike alternative. Most people don't need much convincing, where Nike is concerned. The brand is always mindful of its quality and upholds the highest standards when it comes to all their products.
The pair has a Nike logo on the left hip. The fit is also non-restrictive thanks to its open hem; allowing people to use them for various applications. Its waistband has a clean look to it. The brand chose a slim ribbed design to give it such an appeal. The pair is also very soft and warm because of the brushed-back fleece material.
The Nike option is available in several colors; heather grey, white, light heather grey, dark grey, grey, dark heather grey, and anthracite, among others. You can also get it in several sizes, from small to xxx-large. The sizing is tricky, but over 70% of the total buyers, got themselves an excellent fit.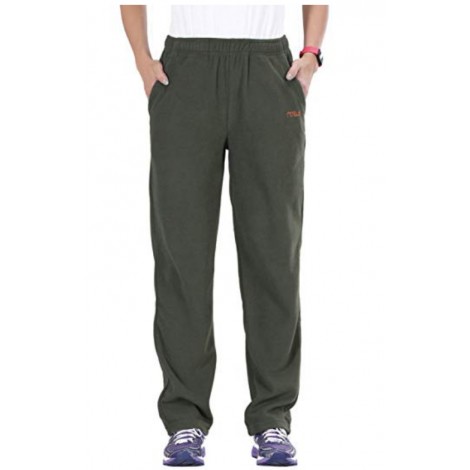 If you are an outdoorsy person looking for a pair that you can do more than just lounge with- then, Nonwe has just the thing. The pair is convenient, and you can use them for several outdoor activities. Calling them wind-proof is not an exaggeration. They can effectively block wind thanks to their heavyweight fleece material.
They are warm enough during chilly days, and may even be an excellent addition to your winter collection. The brand only used polyester to make the pair; as such, you will get to enjoy the full benefits the material has to offer. You will get three pockets in total, a flexible waistband, and an adjustable drawcord.
You have four color options to choose from with this pair, namely blue, gray, green, and black. Even though some of the sizes have longer legs, they are effortless to modify. The pair has some exceptional qualities that make it worth purchasing.

Subscribe to our Newsletter