Best G.H. Bass & Co. Shoes Reviewed
In a Hurry? Editors choice: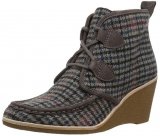 Test Winner: Rosa

When G.H. Bass & Co. was first established in 1876, the founder had a simple mission: "to make the best possible shoe for the purpose in which it will be used," as quoted from the manufacturer. Ever since, the company's been developing their products and their style to reflect just that. With a solid reputation for their quality, comfort, and durability, they've also become a symbol for perseverance and self-expression. You can always depend on them for footwear that's classy and high-quality at the same time.
Without further ado, here's a list of ten of their best shoes for both women and men so that you can jump on the bandwagon and incorporate them into your wardrobe this coming
spring
.
Standout Picks
Criteria Used for Evaluation
Style
It's true that comfort is key when it comes to footwear and clothing, but a big part of feeling good comes from looking good. On top of that, thanks to G.H. Bass & Co.'s consistent use of high-quality genuine leather, comfort is pretty much guaranteed already. If you're a working man or a woman who needs to look sharp and professional at all times (or even if you aren't!), style comes first.
Most items by this brand have a formal streak. Combined with their comfort and durability, they are perfect for work. They can also spiff up a typical everyday outfit by adding a polished and sophisticated finishing touch to any attire.
While scrolling through our list or through the manufacturer's website, you'll see that the shoe style "Weejuns" pops up pretty often. The funny thing is, G.H. Bass & Co. is actually the one that came up with this now iconic loafer style. In 1936, they decided to mass-market the simple loafer with an added strap running horizontally across the vamp. It is cut into a 'lip-like' shape with a small opening slit in the center. Since it's the perfect size to fit a penny, this shoe style is also called the penny loafer.
If you're shopping for your first pair by G.H. Bass & Co., we highly recommend you start off with a pair of their iconic Weejuns. Their simple style has been adapted into models for both men and women. There's a handsome elegance to their simplicity that you just can't go wrong with.
Versatility
Versatility paves the way for money-saving and convenience. When you've got a pair that can do the job of several, you don't have to go out and buy others, wasting your time and money in the process. Plus, there's minimal thinking involved on busy mornings, and the terrible fashion conundrum that never fails to hit before a big event is alleviated. Versatile footwear is what you can depend on in terms of style and comfort.
Most of the pairs on the list ranked fairly high with this criteria. The style of this brand seems perfectly balanced in the spot between formality and casualness. They can be suitable for both types of situations depending on the way you wear them. For instance, the women's penny loafers can be paired with ripped jeans and a sweater for a polished yet casual appearance, and with slacks and a blazer the next day for a work meeting. The options are endless.
There is, however, a catch. Though most are versatile in terms of looks, they aren't in terms of practicality. Their outsoles are simply too smooth for cold weather, when the pavements might be icy and slippery. They might even cause trouble on smooth indoor floors. Because of that, they aren't very adjustable to weather and the seasons.
Color
Color is really just an extension to style. Those who like to express themselves through clothing know how important color is. Depending on your mood, your preferred palette will vary. Even those who don't need a lot of day-to-day variation might want to switch it up a bit every once in a while. That's why, even with semi-formal or formal footwear, it's good to brand out a bit from the typical browns and blacks.
With these criteria, the items on our list are ranked based on how much variety is offered in that model. In other words, those with more color options are ranked higher. Those ranked highest have a bigger possibility of suiting your tastes because there's a bigger pool of options to choose from. It's a great way to switch things up a bit while still sticking to the styles you love and are comfortable with.
That's not to say that black or brown footwear is bad. They are still the safest and most versatile go-to, especially for formal occasions. However, to express yourself or go out of your comfort zone, opt for different colors.
Value
There is an ongoing debate over how much you should spend on a pair of footwear. Those who are frugal will argue for the cheaper ones, while others claim that higher cost means higher quality. There's no right or wrong answer, but since everyone likes to save their pennies, we ranked the items on the list based on their price; the highest-ranked are the most affordable.
It's true that a high cost often comes with high quality. After all, what drives up the price is the high cost of the materials or crafting methods. Nearly all G.H. Bass & Co. shoes on this list are hand sewn in El Salvador and use genuine leather not only for the uppers, but also for the sockliner and/or sole. Since all that costs money, the cost of the finished product naturally costs more than, say, factory-made synthetic shoes.
However, you've also got to consider your own needs and your own budget. If you don't plan on wearing the shoes too often, it's not worth it to spend a fortune on them. Or if you live in a region with long, snowy winters, you might want to save up your cents for high-quality snow boots instead…because God knows they cost a fortune. All that aside, shoes by this company are all within a fairly reasonable price range. No matter what you choose, there's not much to lose!
Size
Shoe size is crucial both for comfort and for foot health. When footwear doesn't fit right, it can result in uncomfortable friction that leads to blisters, bunions, calluses, and more. In the long term, they could affect the structure of your foot and cause chronic aches and pains. It's important to go the extra mile and ensure you have the right size for you.
Unfortunately, though this brand has excelled in nearly every other feature, size is the ultimate downfall. Very few of their items fit true to size. Most models fit small, though some are also large. The good thing is that at least they've got a reliable sizing chart on their website. Simply measure your foot and compared it to the chart to find out what shoe size you should order.
Another positive aspect is that there are two different width options: medium-width and wide. Those with particularly wide feet are more likely to find a good fit because of this. Wide versions of shoes are simply denoted by "W" next to the number size, though take care not to mix that up with the "W" for women's!
Top 10 G.H. Bass & Co. Shoes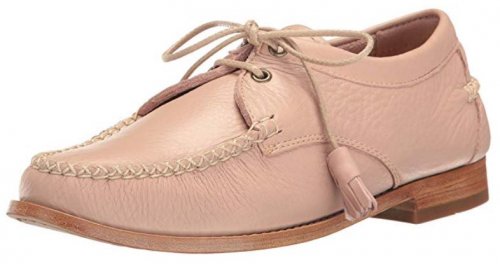 When you picture Weejuns, the first thing that comes into your mind may not be "cute"--but take a look at this pair and the word might just come up. Unlike the traditional, this women's pair more adorable than sleek.
The "moccasin" element of Weejuns really stand out with this design with its tassel and contrast moc stitch detailing. The materials include suede and embossed crazyhorse leather, all expertly hand-sewn and crafted in El Salvador. There is a slight block heel that adds to the look, and a round to that gives the toes ample wiggle room. As for color, a wide variety are offered, including options with white across the toes and a splash of brighter color compared to the typical brown and black. They are perfect when paired with casual outfits, such as with ripped mom jeans and sweaters. Though lightly costly, we think their style makes up for it.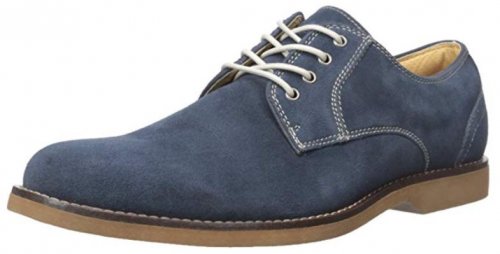 With spring around the corner, you're going to need to lighten up your wardrobe. But before you pull out your sandals, here's a breathable and professional-looking pair that's bound to be suitable. One thing's for sure--they'll make you look more put-together than flip-flops.
The materials in these Oxfords were carefully chosen to provide ventilation. Nubuck leather, suede, and canvas come together to ensure breathability, preventing sweat and odor from accumulating during long work days. In addition, a lightweight insole provides cushioning to keep you comfortable. As for appearance, the low heel, suede uppers, and contrasting stitching give them a casual look, albeit not at all sacrificing the formal streak that makes them suitable for professional occasions. Color options include navy, dirty buc, and oyster. The only flaw is that many customers say the laces wear out very easily.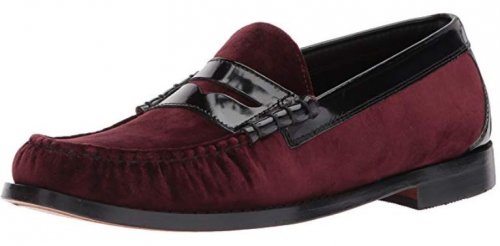 Next up is part of G.H. Bass & Co.'s signature style since 1936. The Larson Weejuns can be paired with a sleek suit for workdays, or a casual attire for the weekend. What better example of versatility?
A handsome moc stitching and classic "beefroll" stitching are featured. They add details to the traditional Weejun design and make them stand out a bit, though subtly enough to keep them suitable for work. They've also got a comfortable stacked heel, and the upper and sock are both made of genuine leather. Like many other pairs by the brand, they are unlined, which could cause discomfort for those who are used to wearing cushioned shoes. The biggest advantage is their wide range of color options, which includes burgundy velvet, hunter green, blue, and other neutral colors. All are dark in tone and retain their sleek appearance.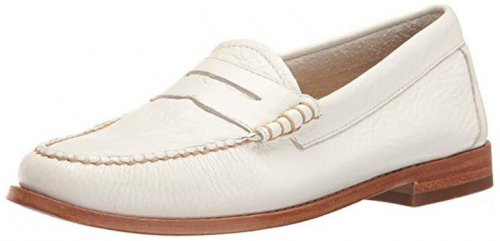 With striking similarities to the men's Larson Weejuns, Whitney can be seen as the women's version. The same versatility and timeless style are offered.
Beefroll styling, moc toe stitching, and genuine leather uppers come together to create this chic pair. Their overall simplicity makes them super classy that renders them perfect for staying comfy at work, or for adding a streak of sophistication to a casual outfit. In addition, new falls colors are featured, including blush pink and sky blue. Metallic options are also available, such as copper and gold. What better way to top off your autumn palette? Pair them with slacks and a cute sweater, with loose jeans and a long coat, or pretty much any other outfit you can think of! Anything's possible with a pair as versatile as these.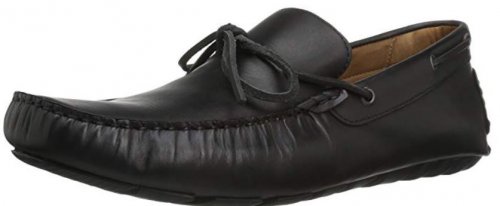 The Wyatt Driver is a suitable go-to for all kinds of occasions, both formal and informal. Not only are they stylish and simple, but they're also very comfortable.
As always, the uppers are made of genuine leather. Lace details can be found on the uppers to give them a streak of originality despite their simplicity. The shape of the toe, as well as the string looping around the opening and tying together at the front, make it reminiscent of the traditional moccasin style. As for comfort, this is ensured by their leather sock lining and cushioned footbed, though the uppers have been said to feel stiff and low-quality. In addition, this pair's one of the few by G.H. Bass & Co. with a sturdy, reliable traction pattern on the outsole to prevent slipping. It's safe to say the brand has achieved the right balance between practicality and fashion!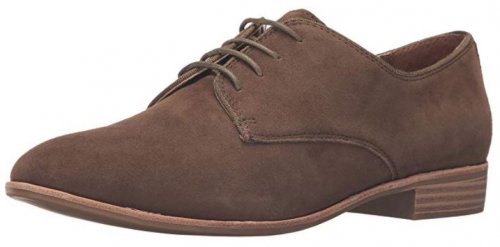 Though Oxfords are traditionally a men's dress shoe, it is now becoming increasingly popular in women's fashion. Indeed, they give an impression of class, perfect when paired semi-formal everyday attires like turtlenecks and sweaters.
Though brown and black are the only color options, you also get the choice between matte and glossy. They've got the traditional lace-up pattern as well as a modest overall appearance. The rounded toe gives the toes room to wiggle comfortably, and the insole is cushioned for walking comfort. What's more, the ¾ inch block heel keeps you stable on your feet, contrary to formal high heels that can cause foot pain after just a few hours. These women's Oxfords are the perfect choice for professional women looking for a different style of footwear than flats and loafers, and for those who hate the discomfort of high-heels.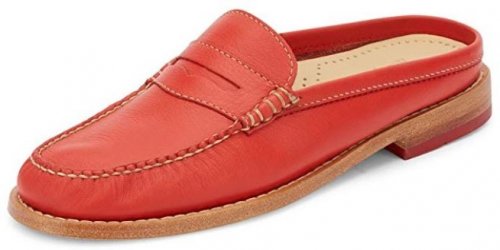 Though designed for optimal convenience for the busy women out there, these mules are also stylish. They can't be put side by side with stilettos, but they've got their own classy and chic vibe that renders them a must-have in every professional woman's wardrobe.
The penny loafer and moccasin come together in a more contemporary design. These mules have the classic penny keeper stitching, but in the "beefroll" style because it resembles the cut of beef tied up with a cooking string. A moc stitching and hand sewn moccasin uppers are also featured. The low ¾ inch heel makes them comfortable to wear all day. Unlined and slip-on, they feel almost like slippers, except they're socially acceptable! They are also affordable and available in an enormous variety of colors, both bright and neutral. However, they are very slim and will not fit wide feet.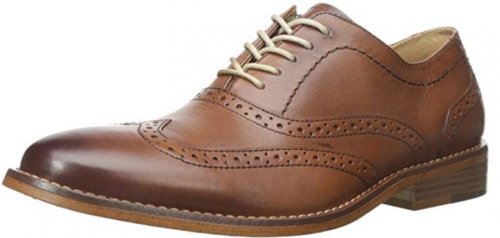 The Flex Step is a modern and practical take on the traditional wingtip Oxford. Innovative techniques are integrated into this timeless style, ensuring that you feel good as well as look good in a pair of these.
The "flex" part of their name comes from their flexible sole, designed to allow the foot to go through its natural flexing motion while walking and to ensure comfort as a result. In addition, this pair includes a cushioned sock lining. The outsole is made of slip-resistant material to prevent slipping and ensure safety, accented with genuine siping as well as a molded insole. As for appearance, elegant curves of detailing can be seen on the uppers, accenting its wingtip design and giving them a bit of a unique flare compared to the typical Oxfords. The only downside is that they cost more than most of the Oxfords mentioned on the list.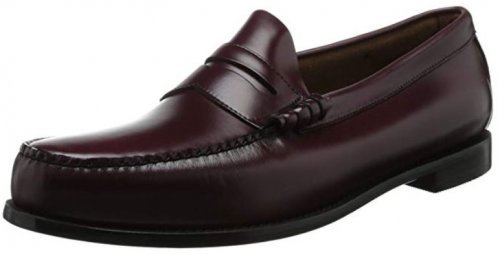 The original Weejuns have been around since 1936. Back in the good ol' days, as the manufacturer puts it, these shoes were "loafing around" on the feet of all kinds of people, prestigious and ordinary alike.
The Logan is their modern version of this classic shoe. It captures the same handsome style, with all the same handiwork, stitching, and investment. The uppers are made of genuine leather for a rich and luxurious look, and the same material makes up the sock for a soft underfoot feel. A classic flat strap styling is used to stitch the penny keeper flat to the side of the shoe. Classic moc stitching is also employed. On the whole, this pair is super versatile because it can be made suitable for both formal and informal occasions depending on the attire you pair with it. Just keep in mind that they run large in size so that you can tailor your order accordingly.



Though the majority of the items on our list are geared towards professional and formal styles, there are exceptions such as the Rosa wedge booties. These are more suitable for casual everyday wear in the fall and winter months.
Laces are combined with a wedge heel, resulting in a unique appearance with the casualness of boots and the femininity of wedge heels. However, it's true that when not paired right, they may come off as tacky. The genuine leather uppers come in different pattern designs like rust plaid and black houndstooth, as well as in solid colors like camel and grey. The rubber outsole has a crepe-like texture but does not, unfortunately, provide much traction, making them unsuitable for frozen terrain during the colder months. You can pair these booties with jeans, leggings, or even a sweater dress to look and be cozy throughout the day.

Subscribe to our Newsletter