Best Houndstooth Shoes For Posh People Reviewed
In a Hurry? Editors choice:
Test Winner: Amali Knit Loafer

Bored of plain, solid-colored shoes? Looking for a way to spice up your wardrobe? Houndstooth is just what you need. This versatile pattern is usually black-and-white and can be found in a wide range of clothing and accessories for both men and women. Its regularity gives it a neat, organized appearance, yet they still add a pop to your attire. In shoes, choose a micro-pattern as a subtle detail to a
professional outfit
, or an oversized pattern to truly make yourself pop from the crowd. No matter what effect you're striving for, a pair of houndstooth shoes will do the trick.
Standout Picks
Criteria Used for Evaluation
Style
Houndstooth is also known as dogstooth, or pied-de-poule, meaning "chicken's feet" in French. This textile pattern is characterized by their abstract four-pointed shapes that resembled broken checks. Its first appearance was on a garment uncovered in a Swedish peat bog back in 100 BC. Today, the traditional pattern is formed by weaving four black and four white threads in a two over/two under pattern.
The pattern can be found on both men and women's clothing and accessories. It can be very fine, to the point where the print simply gives the fabric a speckled appearance; or it can be oversized and more eye-catching. The former has a more modest and neutral look (it can even seem solid from afar), which is more suitable for formal and semi-formal occasions. The latter is bolder and more suitable for casual occasions.
Because the pattern was traditionally only used with menswear, women's shoes that have it on their uppers tend to look more masculine - or handsome rather than elegant, if you will. It gives them a modest (and if the pattern isn't too bold, perhaps even professional) look.
If you're just starting to experiment with the pattern, we recommend you pick a micro-pattern that's not too daring. If you're confident, reach for the more exaggerated pattern. After all, style is whatever you want it to be, so don't be scared to get creative!
Support
Sure, footwear can be worn for fashion. But their most fundamental role is to provide support and protection in your daily life. In the long run, high-quality support will keep the foot in its healthy alignment, preventing fatigue, foot strain, overpronation, and even issues with the knees and back.
The arches are what need the most support. For each mile you walk, it bears up to 300 000 lbs of stress! The majority of the pressure put on our bodies with each step goes straight to the arches, which is why they must be supported and protected.
Different people have different types of arches. Those with relatively flat feet require more stability, and should look for shoes that provide maximum stability as well as an arch support to prevent the arches from collapsing. Those with high arches should seek cushioning, which doesn't prop the arch up too high, and thus keeps the foot flexible and healthy. Either way, some form of arch support should be present in the shoe to ensure comfortable walking and long-term comfort.
Overall Fit
If your footwear doesn't fit properly, it doesn't matter how many great features they offer or how stylish they look - you won't feel good in them. The wrong size and fit can cause blisters, squished toes, feet aches, and a whole lot of misery that nobody deserves.
The thing with fit is that some manufacturers make footwear that does not fit true to size, meaning their measurements do not correspond to the exact shoe size they should be. Instead, they might run slightly smaller or bigger. Some shoes also run narrow or wide, which just adds another layer of complication.
On our list, we ranked the items based on fit accuracy according to the percentage of customers who were satisfied with their size. The highest-ranked ones are therefore the most accurate. For those ranked low, consider checking the manufacturer website, where there might be sizing charts to help you find the right fit for you. Or you can skin through customer reviews to see what adjustments you might need to make to your shoe size before placing an order.
Ease of Use
Everyone likes convenience. When you're facing a busy day and are having a rushed morning, it's always good to have a pair of shoes you can slip on easily and be out the door. By "ease of use," we refer to how convenient and quick it is to get the shoes on, and the shoes ranked highest are deemed most convenient.
It all comes down to the closure system, meaning how the foot is secured to the foot. The most traditional closure system is laced, which can be tied up and loosened. Though they have a classy look and they render the shoes adjustable in size, they aren't the most convenient and can eat up a lot of your precious morning time. Combined with high top shoes, it can take five minutes to just put on your shoes!
Buckles and velcro straps are also common, and footwear with these are much easier to use. At the same time, they are also adjustable, meaning you get a balance of convenience and adjustability.
Slip-on shoes undoubtedly rank the highest, since they take up almost no time to put on. They are also easy to slip off. The downside is that they are often not at all adjustable. If the opening is too large, your foot may not feel secure, and if it's too small you might find them hard to slip on. In short, ease of use tends to be in negative correlation with size adjustability, and what's best for you will depend on which feature you prioritize.
Stability
Walking, standing, running - all these activities require stability. Though more is needed during exercise and on slippery, icy winter days, in everyday life it's also important to ensure comfortable walking and to keep you safe.
Traction is what mainly determines stability. A good, reliable traction pattern should have grooves in geometric or zig-zag patterns, which would prevent slipping. Also, ensure the grooves aren't too shallow, or else they might wear out too quickly. Street shoes don't need as much traction as those for rugged and/or rocky terrain, but anything's better than a smooth outsole.
The heel size is also crucial. The higher the heel, the farther away your foot is from the ground, and the less stable you are. In addition, unless they are wedge heels, then the amount of contact your foot has with the ground is also reduced, which also impacts stability. If you like to have a polished and feminine look and won't be walking out on icy surfaces, then a heel of up to three inches should be perfectly fine. Anything above four inches, however, and you put yourself at a higher risk for slipping, falling, and getting injured.
Some other minor details that can make you feel more stable on your feet is a secure closure system (as we mentioned) and a deep heel cup. Good arch support can also hold the foot more in place inside the shoe, making you feel more stable.
Top 10 Picks



Though slightly similar to the other pick by Amali that we've got on the list, these have a more eccentric touch. The tassel at the front of the toe makes them a bit more eye-catching. What's more, they are also available in bold red and blue.
Made of fabric, they offer a flexible feel with every step. The sole is made of rubber and has a slight block heel for a sleeker appearance. The elasticity of the opening makes them slip-on. A smooth man-made lining is used on the inside for additional comfort. However, by far their best feature is their unique and stylish appearance. Wear them with a matching vest for a laid-back yet still modest style, or use them to add a pop to your otherwise plain attire. It's all about being creative!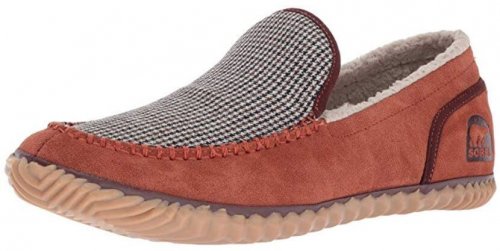 Sorel was founded in 1962 in Canada. Today, they take functionality and expert craftsmanship, blending it with modern fashion to create practical, stylish footwear. Most of their well-loved products are boots, but the Dude Moc slipper shoe is up there as well.
Wool and suede leather are combined to provide optimal comfort in these. The wool wicks away moisture and helps to regulate the temperature of the foot, and their softness makes them perfect for bare feet. Meanwhile, the supple suede ensures a flexible upper. The removable footbed is made of molded EVA for cushioning, and the vulcanized rubber compound in the outsole makes their traction unmatchable even to wet surfaces. Though here, the houndstooth pattern is restricted to the top part of the upper, the accent it gives to the overall look is still present.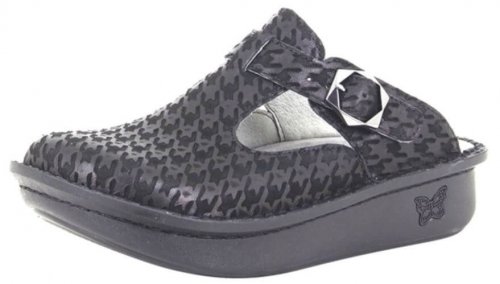 Alegria's classic clogs are well-known for their practicality. If you have a job that requires being on your feet for a long time, such as being a medical professional, a waiter, or a chef, then clogs are the best choice for you. Now with the houndstooth pattern, you can look stylish on the job, too.
They have a stain-resistant leather upper and a slip-resistant outsole. The mild rocker outsole helps the foot in its natural walking motion for more comfort and less risk of fatigue. The footbed is ergonomic and made from memory foam, cork, and latex, offering cushioning as well as arch support. What's more, if you have wide feet, you can request the medium-width footbed to be converted to wide. Unfortunately, the buckle is hard to adjust and the fit runs small.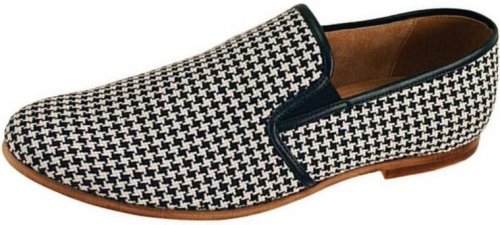 Slip-on loafers for men are incredibly handsome. They have an air of rugged elegance about them and can be paired with semi-formal and formal wear with their modest style.
These particular loafers are extra fashionable thanks to the print of their uppers. It's not so bold as to attract too much attention, but enough to pop from the crowd. The elastic gores render them slip-on and convenient, while their subtle heel adds to their appearance. The uppers are flexible and provide great walking comfort. What's more, the houndstooth print is offered in two colors - black/white and taupe. The only downside is that they fit somewhat small, so be sure to tailor your shoe size accordingly before placing your order.

5

. Dansko Professional Mule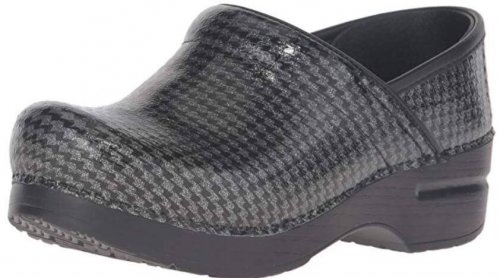 Founded in 1990, Dansko is a brand thriving to improve the quality of life and create a better tomorrow. Starting with their traditional clog, they have since developed other shoe styles with new technologies and improved styles. Their professional mule is one of their most well-loved models.
This is a comfort-minded clog made for optimal walking ease. Their wide heel strike ensures stability, while the rocker bottom helps to propel the foot forward and absorb shock. The PU inner frame reduces torque, and the memory foam footbed is there for cushioning. The uppers are made of easy-to-clean leather. Though they aren't the most fashionable, the black houndstooth print gives them a unique touch compared to most mules. Just keep in mind that they run a bit small in size.

6

. Aerosoles Ballet Flats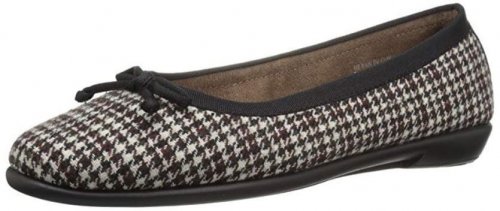 These ballet flats are suitable for semi-formal and formal occasions. Their dark color give them a modest appearance, while the small bow at the toe make sure they're not too boring. On top of that, the houndstooth print is small and adds a subtle, modest style to the overall look.
With leather and textile used in their construction, they have flexible and supple uppers. The synthetic sole has a heel measuring around 3/4 inches and has a diamond pattern to provide some traction. In addition, a stitch n turn technology is used for durability. Though their double padded memory foam insoles make it sound like they provide supreme cushioning, some customers have expressed disappointment on how flat the insole feels. We recommend you keep that in mind if you're thinking of purchasing them. Aside from that, they're the perfect go-to office shoes.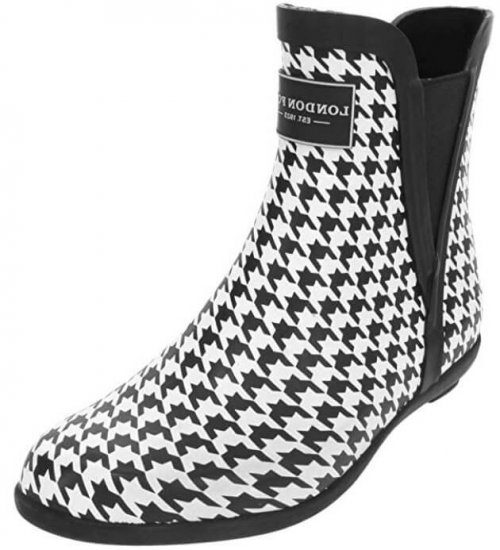 Everyone needs a good pair of rain boots, especially in preparation for the autumn and winter season. Don't let the rain get in the way of running errands! These particular boots by London Fog are practical, but also has a subtle, fashionable look for a casual style.
The shaft measures around 6 inches, making them ankle boots. This ensures your feet don't overheat on rainy days that aren't very chilly. It also gives them a more casual appearance. The elastic gores at the sides make them easy to slip on, and the lightly cushioned insole help to absorb shock with each step. Though the houndstooth uppers are a versatile look, they are also offered in other patterns like floral, butterfly, and even whale patterns. The downside is that their leather isn't very durable and their sole wears out easily. However, they are also pretty inexpensive, so it all balances out.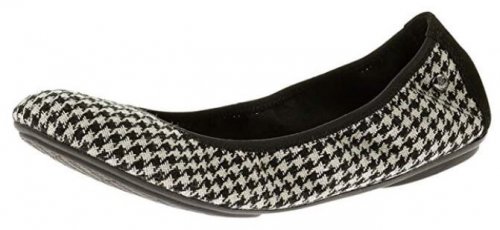 Ballet flats are one of the best shoe styles because they're so conveniently elegant. Easy to put on and slip off, they make you look feminine and polished with minimal effort. The Hush Puppies Chaste ballet flat, however, has a bolder look than most ballet flats thanks to their houndstooth pattern.
The HPO2Flex cushioned triangle footbeds are made to mould to the contours of the foot for comfort. At the same time, they are nice and lightweight with their ZeroG outsole that also provides traction and durability. Their full-grain leather keeps them flexible and soft. Though they are not the most supportive, they are flexible. They are also unlined for a relaxed, slouchy fit. However, some may not be used to the lack of lining and find them uncomfortable. As for price, they are a bit costly for their shoe style but their quality makes them worth every penny.

9

. Capelli New York Short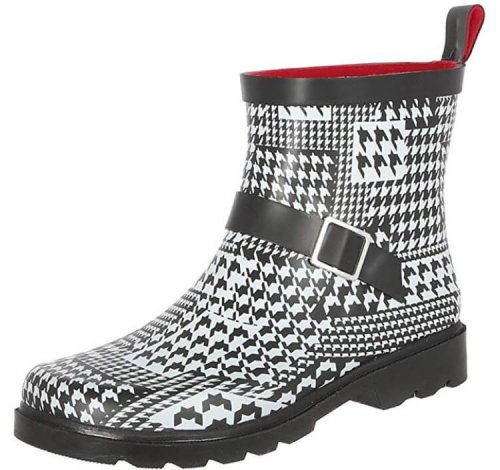 Rain boots don't just have to be bright yellow or plain red, like in the cartoons. Capelli New York gives you plenty of pattern options in neutral tones, offering a wide range of versatile choices. The black-and-white houndstooth is only one of the various stylish options.
With a low shaft, they keep water out without overheating the foot. The pull tab at the back makes them easy to pull on while also adding to their look. The outsole has a deep traction pattern for stability, and a buckle can be found at the front of the foot to add a contrasting touch to the pattern of the upper. Unfortunately, some customers claim they aren't as waterproof as they ought to be, and the fit is narrow. They do have a low cost to make up for it, but in terms of practicality, we have to admit they score quite low.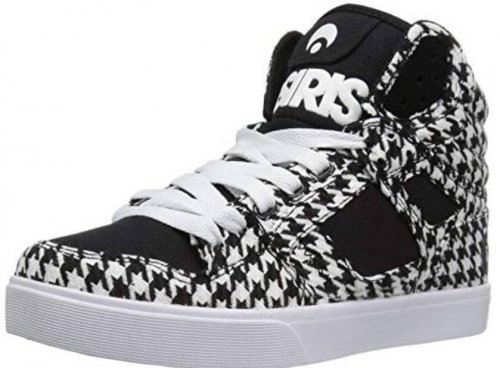 Osiris is a skate shoe company that manufactures footwear for both on and off the board. With practical features and attractive designs, their products are a must-have for every skater. The Clone women's skate shoes are no exception.
With their high top design, they allow the ankles to be flexible while also protecting them. The collar and tongue are padded for comfort, and the cushioned insole absorbs the shock of each landing. The rubber outsole is abrasion-resistant and designed for boosting performance. However, it is not very durable. With this pattern, they stand out from the crowd without drawing too much attention, and its black and white color also lets them be paired with nearly anything. These are also very reasonably priced.

Subscribe to our Newsletter