Best Funeral Shoes To Mourn In Reviewed
last updated:
Jul 10, 2019
Not every day we are at the top of the world, as it were. Some days are longer than others and even burdensome. This, sadly, includes funerals.
We have taken it upon ourselves to help in these times which may seem dire and unforgiving. As such, we have found funeral shoes which can help make things a bit easier as you prepare to say your last goodbyes. Below, you can choose from classic designs made by some of the best brands in the world, and you won't have to worry about what you're going to wear to look both respectful and appropriate at the same time.
In a Hurry? The test winner after 7 hrs of research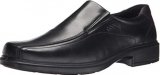 ECCO Helsinki
Why is it better?
Genuine Leather Upper
AntiBacterial Insole
Shock Absorbing Outsole
Elastic Side Goring
Smooth, Elegant Design
In a
Hurry? Editors choice: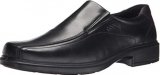 Test Winner: ECCO Helsinki

3
Researched Sources
7027
Reviews Considered
7
Hours Researching
10
Products Evaluated
Comfort
Style
Versatility
Fit
Value
By Default
Our Favorites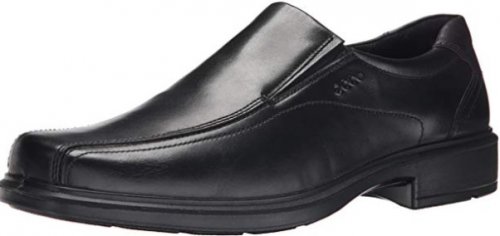 Genuine Leather Upper
AntiBacterial Insole
Shock Absorbing Outsole
Elastic Side Goring
Smooth, Elegant Design
A square toe design with bicycle stitching sets the scene for this slip-on with elastic side goring. Add the leather upper to this combination, and we are left with stylish funeral shoes which are quite versatile. This is, of course, in true ECCO fashion. The DIP, or Direct Injection Process, creates a fit which conforms to an individual's foot shape. In essence, this is a design which fits like no other, in terms of having that feeling like it was made just for you.
The outsole of the Helsinki is PU (polyurethane) and it does a fine job at absorbing shock during walking. This takes the stress out of your feet and places it into the shoes; a great solution for combating tired feet. Furthermore, the midsole is anatomically correct. The twin goring at the sides of the tongue is elastic. This helps to slip the Helsinki on and off without effort, in addition to creating a comfortable experience for varying foot shapes.
The insole is treated with AGION, a product which discourages bacteria growth and promotes a healthier environment. Furthermore, the insole is moisture-absorbent, and as such, both your feet and socks stay cool and dry. At the end of the day, ECCO Helsinki are great funeral shoes or ones for a similar occasion. They feels good, looks good, and remain versatile.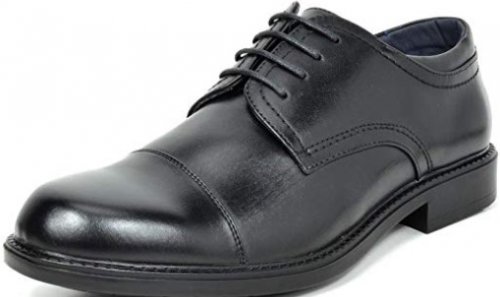 Latex Cushioned Footbed
Premium Leather Lining
1-inch Wood Heel
Adjustable Lace-up Closure
Classic, Oxford Style
Faux Leather Upper
Needs Breaking In
With a soft round-toe and a one-inch heel made of wood, this man-made design makes the perfect funeral shoes (among other occasions), as this style is professional and exuberates respect and humbleness. The lining is premium leather and allows for a natural, breathable environment. Furthermore, the latex footbed provides adequate cushioning to ensure your feet remain comfortable throughout the day.
These contain a faux leather upper and have a classic, lace-up aesthetic. This means you will not stand out as being overbearing in your wardrobe, but instead, will look as though you care about maintaining a professional appeal. Additionally, the style is classic, meaning this is a choice high in versatility, that you can easily wear to other occasions apart from the funeral.
The fit of the Oxford is great, but there will be a minimal break-in period since the upper is faux leather and will be a little stiff at first. Beyond this, the lace-up design allows you to tighten or loosen the fit as needed, which helps on those days with swelling feet. Comfort levels are decent with this pair of shoes, as the latex cushioning in the footbed does a fine job at handling shock absorption, and providing a comfortable walking and standing experience.
We love the overall value of the Bruno Marc Oxford, in terms of the cost-to-quality ratio. Furthermore, combine the classic styling and the comfortable experience and we are left with funeral shoes which excel in quality. These shoes are wonderfully versatile, in terms of wardrobe choices. In general, if you are searching for a classic style, these may be the perfect solution.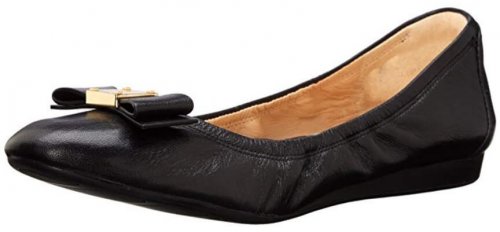 Buttery Leather Upper
Gold Hardware Bow Detail
Grand.OS Technology
Fully Padded
Elegant Yet Tasteful
Cole Haan is a brand known for its impeccable craftsmanship and almost a century of crafting only the finest designs made from the best possible materials. The Tali Bow is nothing less than that - an easy ballet flat that radiates grace and class, and that will be a perfect solution as a more formal type of funeral shoes.
It is made from smooth leather and features a bow at the front, decorated with gold hardware. We don't condone too much sparkle or gleam in such a mournful setting, but the amount that Tali Bow provides is just enough to make you elegant but not distasteful. The flat comes with the Grand.OS technology, with special lightweight cushioning, easy flexibility and enviable breathability. The micro wedge at the back of the Tali Bow is just enough to keep your feet in a natural position.

The Tali Bow from Cole Haan is great to pair with slim trousers and a silky blouse, or even with skinny jeans and an oversized sweater for casual weekends. These funeral shoes work well for most occasions and with most outfits, and they are wonderfully feminine and modest at the same time.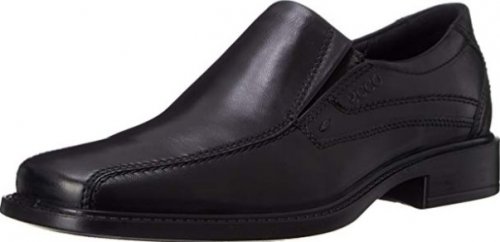 Bicycle Toe Stitching
Elastic Side Goring
Smooth Leather Upper
PU Shank for Stability
Easy Slip-On Silhouette
Unreliable Sizing
Narrow Fit
This slip-on with bicycle-toe stitching speaks of a man's shoe, within the realm of professionalism, sophistication, and humble reverence. This design is not overbearing in appearance and has a refined quality about it. It is casual, yet the aesthetic appeal with the square toe allows it to be worn with suits. As a result, New Jersey from ECCO are amazingly versatile funeral shoes.
Elastic side goring creates a better fit while utilizing the slip-on feature. The outsole of the New Jersey is polyurethane and there is a leather-covered insole to ensure that these remain comfortable with each and every step. Furthermore, the lining is made of a soft fabric which adds to smooth comfort as well.
The shank of the New Jersey is made of nylon/TPU and the PU material makeup allows these funeral shoes to 'remember' the person who is wearing it. In other words, these require minimal break-in times and will conform to your feet quickly. But we do recommend some breaking in prior to extended wearing.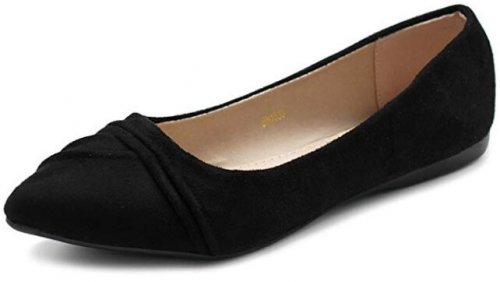 Elegant Pointed Toe
Flexible Upper
Micro Heel
Soft and Easy to Wear
Not For Narrow Feet
Not Breathable
Ollio Flats will work as contemporary funeral shoes, as they are not too loud in design and have a simple reverence about them. They are flats with a pointed toe, for an elegant shape. These shoes are soft, flexible, and do a great job of forming to your particular foot shape after a few wears. The only downside here, really, is the fact the Ollio Flat does not fit a narrow foot very well.
The upper of the Ollio Flat is made from faux suede, looking natural without the expense of actual suede. In addition, the flats are lightweight, have a micro heel, and are comfortable to wear.
However, the synthetic sole can cause sweating, especially at the forefoot area where the foot is covered by the upper. An insert can help to alleviate this small problem, and for those who need arch support, a sole insert is recommended, anyway.
Overall, this design is extremely comfortable to wear. The fit is spot on, and you will be able to match the Ollio Flat with many different outfit choices. Moreover, these funeral shoes rank high in value because of their structuring and ability to bring comfort.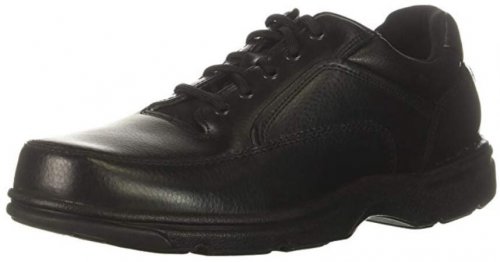 Genuine Leather Upper
Cushioned Latex Footbed
Shock-Absorbing EVA Midsole
Breathable Mesh Lining
Wide Base for Stability
Questionable Durability
Short Laces
The Ridgefield Eureka from Rockport is a design that brings all the comfort of a walking shoe to a style that is a little more elegant, a little more put-together than your average sporty sneaker. These funeral shoes are a great option for standing or walking around all day, as they offer stability, generous padding in several different areas, as well as forefoot flexibility thanks to their Strobel build.
The Eureka has an upper made from genuine leather, while the lining is mesh for extra breathability and moisture-wicking. The cushioning is made from latex, and the San Crispino construction of the interior ensures stability and a wide, supportive base. You will enjoy the padded collar and tongue for that snug comfort, as well as an outsole that is resistant to wear and tear.

All of this is accompanied by an EVA midsole which ensures you have proper impact absorption while still maintaining the flexibility and the light weight of the design. The Rockport Eureka is one of the most popular options from the brand; their subdued, simple aesthetic may be just what you need in your new pair of funeral shoes.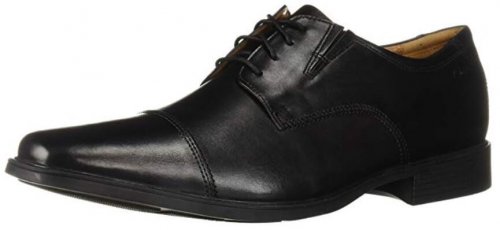 Genuine Leather Upper
Slim, Sleek Silhouette
Stretchy Elastic Panels
Ortholite Insole
Resistant to Bad Odors
If you are required to dress up - if the funeral you're attending is either a formal event or it is important for you to look your absolute best - then you can't go wrong with the Clarks Tilden Cap funeral shoes. This cap toe Derby is a study in elegance thanks to its sleek, slim silhouette, the gentle shine of its leather and the barely-there square of its front. It is a design that you wear with your best suit, one that will both impress and reflect the utmost respect in a funeral setting.
The Tilden Cap is made from genuine leather, with both a lace-up closure for maximum adjustability and two elastic inserts in the sides for an accommodating fit. It has a built-in Ortholite insole, which provides cushioning and comfort, as well as resistance against unpleasant odors and bacteria. The sole is made from TPR for solid footing on any type of surface.

The Tilden Cap is an easy choice for both a work and a formal event. It is a design that you wear with a dark or grey suit, that you will feel confident and elegantly dressed in no matter where you're heading. If your goal is to put your best foot forward - in every sense of the word - then go for the Clarks Tilden Cap funeral shoes.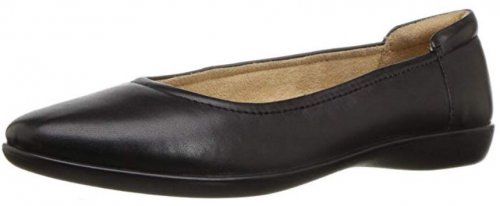 Latex Foam Cushioning
Moisture-Wicking Lining
Stable Heel Strike
Flexible Soles
Minimalist Design
Naturalizer is a brand famous for its comfort technologies; for designs which are amazingly easy to spend the entire day in and which are stylish at the same time. The Flexy is a ballet flat that is a reflection of both. If you're looking for simple funeral shoes, something that won't draw much attention to itself but that will still fit the occasion, then the Flexy is the perfect option. It is minimalist, yet amazingly comfortable thanks to Naturalizer's signature comfort system, and you won't have to worry about your feet no matter how much you spend walking around.
The Flexy has an upper made from genuine leather, and it comes with the brand's N5 Contour technology for comfort. This includes a latex foam which absorbs shock, a breathable lining which disperses heat and moisture, a stable heel strike to promote a natural gait, flexible soles to relieve pressure off your feet, and lightweight materials for all-day wearability. Yes, it does sound too good to be true, and yet the Flexy is a proud owner of all of these amazing features!

And now you can be the owner of them, too! Naturalizer Flexy is an option which comes in many different color combinations, yet as funeral shoes, black is your safest bet. When you're done with the service, you can still continue wearing these flats in many more outfit combinations, for practically any occasion, from work to play. Maximum versatility!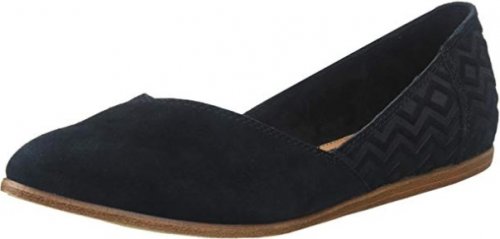 Genuine Suede Upper
Slip-Resistant Rubber Outsole
For Skirts and Pants
Pointed-Toe Design
Antimicrobial Sockliner
Not Too Comfy
Questionable Durability
The Jutti from TOMS is a good option for casual-wearing funerals. Not all funerals have a classic business suit styling, and because of this, it is only fitting to showcase a pair of shoes which fits the bill. The Jutti is still respectful and decent, though it is a bit summery and not as sophisticated as some other funeral shoes on our list. Thus, it makes it perfect for a casual setting.
The fit of the Jutti is better for those with narrow and thin-volume feet. Otherwise, the toe and the heel area might feel too tight for you. Additionally, these flats offer more in terms of aesthetic appeal than actual comfort levels - they might need a bit of breaking in before they reach the level of comfort that is desirable.
The suede upper of the Jutti is casual and offers so many options in terms of wardrobe choice. We also like the pointed-toe design, as it gives the right amount of class, yet remains toned down. The insole is cotton twill and creates a bit of cushion.
At the end of the day, these are funeral shoes which meet the criteria of a casual-only funeral. Outside of this, they should be worn on occasion and not treated as everyday footwear. They do not hold up well under everyday stresses in the long-term. Their value is found in the style, rather than the product's comfort levels and durability.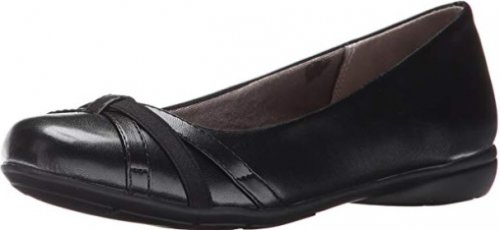 Versatile, Flat Style
Cute 3-strap Overlays
Rocker-Bottom Forefoot
Comfy Round-Toe Design
1/2-inch Heel Height
Needs a Break-in Period
Blistering at Toes and Ankle
With elegant strap overlays, these ballet flats are perfect funeral shoes. There is a sense of sophistication in the aesthetic of the LifeStride Dig. They are made with a faux leather upper and utilize LifeStride's comfort technology, which aids in keeping those feet content during a trying day. These are flats, but with the rocker bottom at the forefoot, the walking experience is a breeze.
The Dig does have a high back at the heel side, which may cause blisters, even after the break-in period. It is not so much the shoe itself, as it is the design factor. Thicker socks can help to counter this, but bare feet may suffer; we strongly suggest against the barefoot approach with this particular design.
Since thicker socks are recommended, these funeral shoes could be worn during cooler days as a result. They would not suffice for blizzard conditions, but a clear autumn day would be fine. Versatility is high, and you can wear these with multiple outfits for multiple occasions.
Without breaking these in beforehand, the comfort factor remains low. This means that, to maximize the shoe's worth, it should be broken in as much as possible prior to actually wearing them to the funeral.
Criteria Used for Evaluation


Comfort
Comfort is at the forefront of what we need in difficult times. If our feet are pounding from pain and cramps, then our ability to bring comfort to others becomes that much lower.
So, comfort is important when choosing funeral shoes. Important aspects to consider are the fit, the ability for the shoes to not gives us blisters, and whether or not they should be broken in prior to wearing.
A leather upper is great in terms of durability and longevity, but in terms of its flexibility on day one, it doesn't quite give us the relaxed feeling we may need. For thick, leather uppers, breaking them in prior to the funeral day is ideal. This can prevent blisters and can also help to lower overall fatigue levels that would otherwise exist from uncomfortable shoes.
The midsole and insole are equally important within this regard. Can the midsole absorb shock in case we are expected to walk a lot? Does the insole provide enough cushioning if we need to stand for a long time? Is there arch support present?
In essence, when we are considering if the funeral shoes are comfortable, these are the aspects we should be paying attention to. Moreover, will these funeral shoes keep our feet comfortable from the time we put them on to when we make it back home? If the answer is yes, then you can be sure that the comfort levels are high.


Style
When it comes to shoes, style is subjective, yet it is a necessary aspect in choosing what we will wear to certain events. For this occasion, we need funeral shoes which are not sporty and which contain a bit of refinement, sophistication, and can reflect respect in one form or another.
We need to know we are not overly flashy, thereby tipping the delicate balance of the day.
For women, low heeled pumps or flats are the best choices. Traditional funerals in Western cultures are conservative, and as such, the color of black is chosen as a symbol of mourning. We do not want anything which dazzles with sparkly rhinestones or exposes our feet. In a traditional environment, we are not attempting to standout but are, instead, working towards paying respects to those we have lost.
For men, loafers or dress shoes are the primary choice for a traditional funeral. Men's shoes, also, should not stand out. A neon-green pair of sneakers is a bad idea, whereas, choosing a darker color (black most of the time) is the usual and expected design.
Not all funerals are traditional, in the sense of Western ideology. Black may not even be the norm, nor even mandatory. And the funeral may, indeed, be held in a relaxed atmosphere, as well. A casual funeral, as it were, doesn't need an all-black wardrobe setting.
Even in a funeral such as this, the stylistic choice may be relaxed, but the colors should still be in the neutral spectrum. Unless it is a themed event, which does happen but not very often, the color choice for the right funeral shoes should remain respectable.


Versatility
Versatility is in regards to whether or not the funeral shoes can be worn with multiple wardrobe solutions. This has to do with the ability of the shoes to match well with varying styles, such as suit and dress choices. In addition to this, can the shoes be worn to another occasion? If yes, then the ones you're looking at are definitely versatile.
For women, flats or pumps can work well with funeral attire and, also, can work with other outfits after the funeral is over. This makes them high on the versatility list. Again, depending on the type of funeral, the color of the funeral shoes may change accordingly. When we choose our outfits, we match our shoes to the outfit. High versatility allows us to use the same shoes with various different wardrobe choices.
For men, the same can be said about matching the shoes to the outfit.
Additionally, the durability of the funeral shoes directly reflects their ability to be versatile. There may, indeed, be a pair which can be matched to many wardrobe choices, but if it is not durable enough to last more than a week, then it cannot possibly be versatile.


Fit
The fit of the funeral shoes which we are wearing is monumental in providing comfort.
In the case of flats and pumps, one of the biggest problem areas is the back of the heel. This area is closed and, therefore, has the potential to rub against your skin and create blisters. Let's face it, no one wants to add discomfort to a day that is already pretty terrible.
The lining of the funeral shoes needs to be soft (if present) and the back should not be so high as to cradle the ankle uncomfortably. If it is high and the upper is thick and sturdy, then chances are there will be heavy rubbing against the skin with each and every step.
For men, the problem areas will be found across the top of the toes, where the loafers or dress shoes should be flexible. New shoes are sometimes in need of a break-in period. With uppers made of thick leather, chances are this toe area can become problematic.
Two options should be considered prior to wearing these to a funeral: first, they should be broken in if possible, and secondly, the top of the shoes should not pinch or fit too tightly across the toes.
In general, we want funeral shoes which hug but do not constrict. The insole, midsole, and outsole should do a good job at handling the stresses of us standing for unexpected timeframes and also handling walking well. The shoes should perform both of these activities without causing undue stress to our feet.


Value
Obviously, value, as this applies to shoes in general, is the cost-to-value ratio. But in this particular area of funeral shoes, the value entails pricing, durability, style, fit, comfort levels, and versatility. Among these, fit and comfort must lead the way, as we have chosen to minimize the uncomfortable aspects of a day that is not good, to begin with.
Durability is also a key factor - a broken strap or fraying thread lines will not suffice as we pay our respects to the deceased. What made this list were funeral shoes that had comfortable straps, did not fray, and at the very least, could make it through the procession of the day.
Overall, the value is in how versatile the shoes are. It seems (in this instance) that the more versatile the shoe is, the higher it is in quality.
At the end of the day, however, the best value lies in what makes us feel better in these trying times. This is where the true value is found in funeral shoes.
Expert Interviews & Opinions
Most Important Criteria
(According to our experts opinion)
Experts Opinion
Editors Opinion
Users Opinion
By Default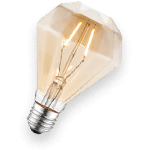 Add A Personal Touch
Funerals are not just a place of mourning. It's important to also celebrate the beautiful life that your loved one lived. Sometimes adding a little, special touch to your clothing is a wonderful nod to that life. Perhaps there is a color they loved; wear a scarf or socks in that shade. The best thing about black, after all, is that it goes with everything.
Reach Out
One of the first urges people have when dealing with grief is to shut out the world. If you're reading this then you probably already know that. Reach out to family and friends- both before, and after, the funeral. You'll need support and love during this hard time.
Other Factors to Consider


Effectiveness
Effectiveness relates to your funeral shoes and attire in combination. If your wardrobe choice brings attention to the deceased in a respectful manner, then your outfit will have a positive effect on those around you. If, however, you are dressed in neon-green sneakers, blue jeans, a tee shirt, and a baseball cap; then, unless you are attending a celebration of life involving a baseball player, you will have a negative effect on those around you. Effectiveness is what we strive for, to affect positively those around us in this trying time.


Bottom Line
Attending a funeral is never easy. Whether or not you were close to the deceased, it is difficult to say goodbye to someone who was once a part of our lives, however big or small.
With this quick and easy guide, we strived to make the selection of funeral shoes simple for you. You don't have to worry about your outfit or what you're going to wear on your feet - simply choose funeral shoes which appeal to you the most - whether in style or comfort or fit or all of the above - and you'll surely be the most respectable person at the event.
Frequently Asked Questions
q:

What is the best choice of women's funeral shoes?

a:

Flats and pumps are acceptable funeral shoes in a traditional setting. Dark colors are best within a general sense. Exceptions to this rule are found in casual funerals, celebration of life events, and whether or not it is a funeral in the style of a different religion or culture than the one you're familiar with.
q:

What is the best choice of men's funeral shoes?

a:

Loafers and dress shoes are acceptable as funeral shoes when attending a traditional funeral. As with the previous question, exceptions will be found in casual funerals, the celebration of life events, and whether or not you're attending a funeral outside of the Western culture.
q:

What should I wear to a summer funeral?

a:

Breathable footwear is what you need for summer funerals. This will help reduce sweat and overall discomfort throughout the sweltering day.
q:

What should I wear to a winter funeral?

a:

Depending on the weather forecast, you may want to reach for a boot of some kind. Ankle boots, those with low heels and those that go well with both a skirt or pants are great funeral shoes when it's cold and possibly snowing or raining outside.
q:

What clothing should I wear to a funeral?

a:

For women, it is best to stay clear of mini-skirts and shorts. Go for full-length or midi skirts, or even jeans or nicely pressed slacks. Sophisticated pumps or flats will compliment these very well.

For men, it all depends on the situation, and how close you were to the deceased. Anything goes - from suits to button-ups and slacks, even to tasteful sweaters and jeans. Anything barring the most casual combination of a tee and ripped jeans.

Hats are acceptable for women and men can wear them, too. Just be mindful that the baseball cap should be kept off limits and men, usually, take their hat off while indoors.
Subscribe to our Newsletter