Best Gym Duffel Bags Reviewed
In a Hurry? Editors choice: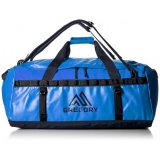 Test Winner: Gregory Mountain Products Alpaca

Carrying all your gear for a workout session and work, bringing all your needs for the day, or traveling can all be a challenge in terms of packing. Gym duffel bags can make for a great companion in any of these situations.

They can be makeshift luggage, overnight bags, or work bag that will be useful in carrying all your goods and items. When evaluating the best options that are available, we looked at ease of use, advanced features, durability, weight, and portability.
Standout Picks
Criteria Used for Evaluation
Ease of Use
A gym duffel bag is but a piece of gear to help us have what we need to get where we need to go. It shouldn't be complicated or hard to use, and it should easily accommodate our most essential items for when we are on the road. Therefore, the ease of use is very important. If it is simple to pack your bag with all the absolute necessities regardless of size and shape and pack that bag efficiently for the ultimate use of space, then you have a good product.
While you could always just throw your items in the bag, you will most likely be happier once you arrive at your destination to have things organized so that you can find them much easier. So options that allow for this are also important. The other factor that goes along with ease of use includes the ability of the bag to be closed up whether it by zipper or button, a closure that is made well and smoothly closes makes it extremely useable and low stress.
The other nice feature that you may find which can help you use your duffel bag is the addition of compression straps. These can be either inside or outside your bag or in both areas its construction. The use of these straps helps you pack a bit more and securely strap down your items. It also helps compact all your things so that it is much easier for you to open and close your bag.
Advanced Features
Extra features that go above and beyond for storing your most precious and needed goods will be super useful when you are trying to pack lightly for a trip only wanting to bring but one training duffel bag. Or if you are needing to bring gear along with clothing to a workout session or a competition, the extra features that a bag will offer could be very helpful in keeping your stacked and ready for your session. Advanced features like extra loops, mesh pockets, mesh dividers, internal zippered pockets, bottle holders, or clips. Additionally, some workout duffel bags will have the ability to be rolled about with wheels which make them very useable when you are packing heavy and don't want to weigh down your shoulder.
The other advanced options to consider is whether there is water resistance in the materials. This is particularly important and helpful when you are going to be outside, say hiking or camping. Some gym duffel bags could take a bit of rain without getting everything inside wet, while others can literally be submerged completely underwater and still come up with dry items inside. If the product is made of materials that are easily cleaned you have a better way to manage hygiene.
Durability
These bags that we chose for our list had to have an amount of durability that could hold up to traveling and serious exercise sessions. We were looking for solid construction with tough stitching and rugged materials such as nylon or polyester. Tough synthetic blends that are going to have better abrasion resistance and tear resistance were important to our evaluating each product on the market.
When you are purchasing a gym duffel bag you are going to want to get a good lifespan out of it. You shouldn't have to be super concerned about the wear and tear that it goes through in order to get this. We looked at models that could take a good beating and consistent use and still live up to providing solid performance through and through so you can have a bag that will offer abilities.
Weight
When you are looking for portable storage you are likely going to be on the move, and the easiest way to accomplish this is to carry your gear without any extra weight holding you down. Your weight should be in the objects and tools or clothing that you pack, not in the workout duffel bag itself that should be but an afterthought.
While wheeled products will offer an extra bit of functionality and ease of use, this extra built-in gear will add weight. This can often be as much as a whopping 6 pounds. So that is definitely something to think about. If you can do without the smooth functioning of a wheeled product, those that don't have this feature will give you a much lighter product while still having solid durability through construction and other materials.
Depending on what you are doing, whether you are simply going to the gym or working outside, or if you are heading on a plane, the weight could be an issue. If you are just engaging in a workout session, it may not be a big deal. You might like the wheels should you like to carry some heavier gear with you like a medicine ball for instance. If you are traveling on a plain, there are weight maximums to be considered.
That extra weight for the wheel function could put you over those limits. If so, you have the potential to get hit pretty hard in the wallet. Extra volume is another aspect that offers more ability to carry extra items, but that can come at a moderate weight level. So just think about what your primary purpose is when looking for the best training duffel bag and consider how much you need to carry and how much weight you are able to feasibly take on.
Portability
Outside of straps to hold in your hands or wheels that can help you glide through most any surface, there are other portability options that duffel bags offer.
Backpack Straps
When you just need to pack your bag and hit the road, a backpack strap can make for a nice companion to your bag. In general, you can expect that these backpack straps will have comfort padding built-in. If you feel like they are too bulky or you just don't need them, they will most likely have the option where you can remove them. This style is nice for use when you have to walk far distances. The set up distributes the weight of the duffel bag amongst your shoulders which can not just lighten your load and make travel much easier but also allow you to have full use of your hands.
Shoulder Straps
If you don't have to trek miles upon miles and just need to throw the bag on and get moving a shoulder strap could work.
While these aren't as comfy as a backpack strap, they are still very functional for portability. When you are using one of these straps it is best that the bag itself isn't overly heavy because they could dig into your skin and shoulder which is never a fun time. These too can be taken off the bag when necessary.
Carrying Handles
The most common portable feature is a carrying handle. they can be padded or not, they work well to simply aid in picking up your bag and transporting it from here to there. They can take a good heavy load, but we wouldn't recommend this as the only strap used if you have to walk far with them.
Grab Handles
You will find these on the ends or sides of your duffel bag they make for good help in picking up your bag. When you need to move them and change their location, like putting them up in a closet or on top of other high-piled luggage, these will be very helpful in getting a good grip.
Best Workout Duffel Bags
1

. Patagonia Black Hole 90L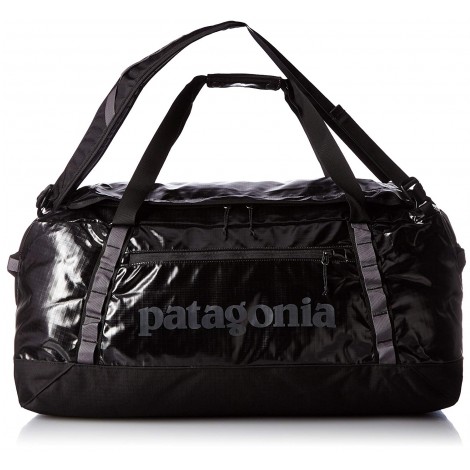 It can be hard to keep your fitness goals on track when you're traveling. But the Patagonia Black Hole 90L duffel bag makes it a little bit easier. It has tons of space and options including wheels if you are planning on packing heavy, wheels could be a good idea. Backpack straps are another feature you could use if you'd prefer. Depending on what you want to do, this gym duffel bag can adjust to your needs and provide tons of durability and carrying capacity.
This is a water-resistant bag that can have the extra features you may prefer such as removable backpack straps for instance. It has a ton of space that you can fill all the way up to the top if you want or keep it light with just a couple of things. Inside there is a smaller pouch that works perfectly to compartmentalize shoes and keep those dirty soles away from the rest of your clothing.
A super strong build, the inside straps that it comes equipped with are very helpful to hold all your goods in place so they don't end up a mess when you are ready to open it up again after you have met your destination. This is also a brand that has a serious following for avid outdoors enthusiasts, so the look and functionality won't disappoint even the biggest fans.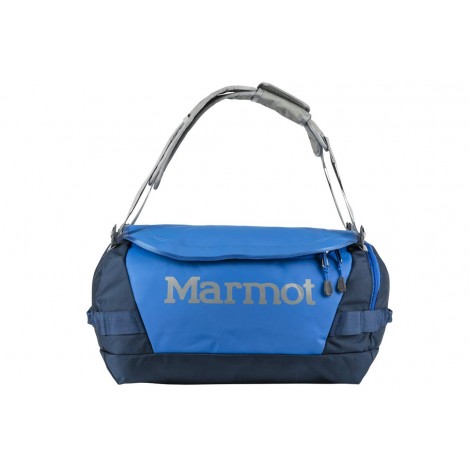 Coming to you with three traditional color options red, black, and blue, the Marmot Long Hauler gym duffel bag also comes in sizes small to extra large. This size range makes it the perfect bag for any gym-goer. And if you are in need of the perfect carryon for a flight, this duffel is perfect. You will have no problem fitting in the overhead. The rugged construction with strong zipper closures works very nicely together.
This is a high-quality gym duffel bag which can compete with the best brands on the market. It is extremely durable and extremely sturdy, literally, everything added into this construction is top-notch. It is easy to use and open with excellent waterproofing. It has a good look even with the water-resistance without an overly plastic-looking appearance.
The strength of the materials used, do add a bit of weight which should be pointed out. But if weight isn't an issue for you and toughness is more necessary for your needs this duffel bag will do it. The robust composition of the bag allows it to hold up to most environments. When you are using it for travel, it will still offer a lighter option than a bulky suitcase. Also, you can't be the classic look of the two-tone color scheme.

3

. Gregory Mountain Products Alpaca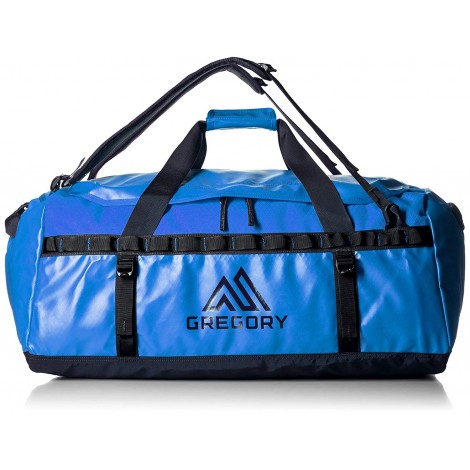 The Gregory Mountain Products Alpaca gym duffel bag is an offering that surely won't disappoint. Gregory Mountain Products makes top quality gear and they are a solid company. And this shows in their duffel bag. You should have no problem finding the room, it is very spacious. There are multiple zippered pouches and straps so you have the option to carry it as a backpack.
This is a solid duffel bag that will last you years of use. This bag is big and strong. You will appreciate the high quality of the materials and construction. Wearing it is extra comfortable which you will definitely appreciate if you are going to be hauling it over any real distance.
The closures are sturdy so you don't have to worry about any nasties getting inside on your things. And the heavy-duty water resistance makes this a top tier product. It will surely keep all your things safe and dry even if you take your bag along for a run in the rain.

4

. Fjallraven - Duffel No. 4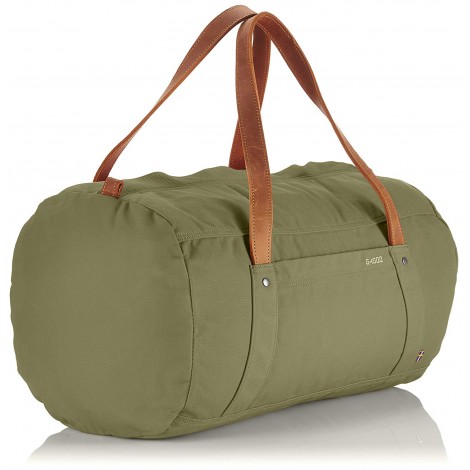 Fjallraven-Duffel No. 4 is a terrific duffel bag. It is a great option for traveling overnight or even taking on shorter trips. It will last you quite a long time. The woven fabric holds up very well. Pockets on the outside as well as on the inside allow you to have some ability to organize your smaller items.
This product is especially nice for those weekend getaways or shorter business trips. The fabric has a nice look to it and comes in six chic color options. The preppy appearance makes this a fantastic bag to carry with you when aesthetics count.
You can get a lot of use out of it because it holds up nicely. Durable leather handles not only add to the overall look but they also are very strong. The leather fox is a nice added bonus that increases its an overall appeal. This is a gym bag with a signature style that doesn't slack in overall soundness.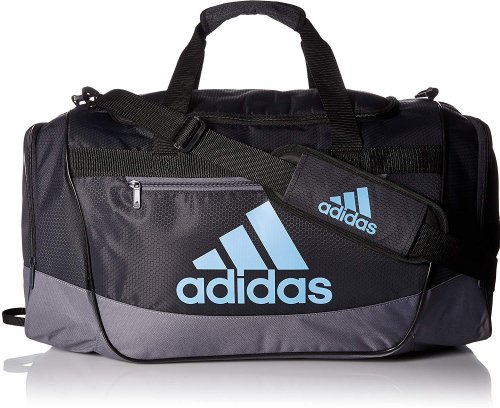 The Defender III workout duffel bag comes in many color and style combinations. This alone may make it difficult for you to narrow down which one is the right one for your style. Rest assured, you'd be hard-pressed not to find one that you like within the Adidas Defender III options that are available. While it may look like just an average to medium size, in reality, there is a significant amount of room inside.
Constructed with zippered pockets located at both ends as well as a longer pocket option that sits in the front of the bag, it is easy to use and store your items. These pockets work particularly well for gym shoes. Tough nylon makes up some of the construction. A nice feature is the attached loop which allows you to hang it up if you are limited on space.
This is a great option for a gym bag, which isn't too surprising given that it is Adidas. You can fit all your gear plus a plush towel if needed. And it also can work nicely for most laptops if need to be super efficient with one storage option to pack all your essentials for the day. On top of all that, the price is just right with this gym duffel bag.

6

. Under Armour Undeniable 3.0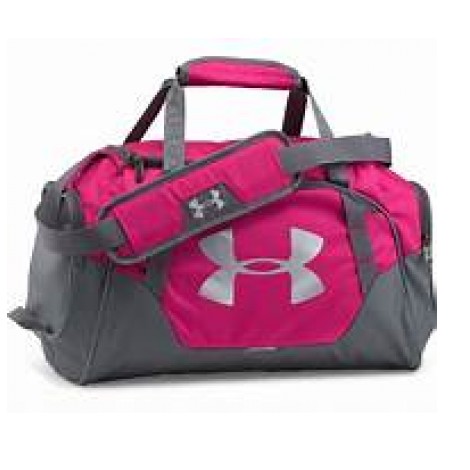 There is a good reason the Under Armour Undeniable 3.0 is one of the best selling products for gym-goers. It has enough space to fit everything you could need for a good workout and clean up after with extra room for any extras. It is light but has a good durable feeling to the construction. The materials are also pretty easy to wipe down which is almost essential when if you are primarily filling it with sweaty gear.
If you are looking for a quality item that comes with a price tag that isn't over the top, this bag will do it. It can fit all your needs for the gym or for any competition and sports. While it works well for clothing it also works well for protein shakes and water bottles, absolute necessary items to be packed for any of these activities.
It is a bag that both adults and active kids alike can get great use out of. The nice bonus that this bag offers is the vented shoe compartment for those nasty stinky sneakers which you are likely to have. The look is fun and vibrant with very bright color options which stand out against darker black in the background. It is a good looking gym duffel bag.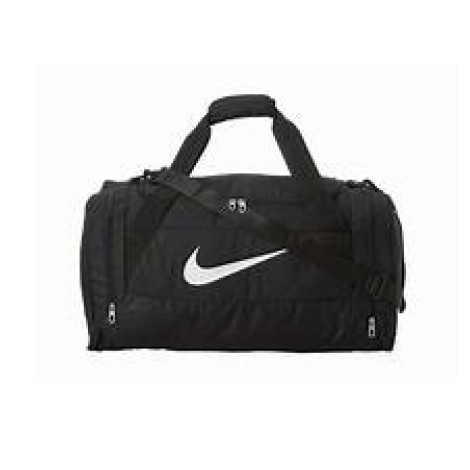 Nike Brasilia bag is a very spacious option that allows you to pack quite a bit. This makes it ideal for the gym, sleepover, or short travel. It is strong enough and has some additional pockets inside which help with organization.
This is a good product at a fair price. It can work for active kids as well as adults. It comes with the carrying handle as well as a shoulder strap for some versatility in how you transport it. There is the use of a mesh pocket that has the flexibility to add to your carrying ability and the need to air out anything that could use some real freshness. This pocket is also well-suited for bottles.
What you are getting is a highly useable, but fairly basic Nike bag with the iconic swoosh on it. Looks wise, for those who don't want all the flash and like a more subdued sporty appeal, you can get it with this training duffel bag. The durability isn't too bad either.

8

. Samsonite Tote-a-ton 32.5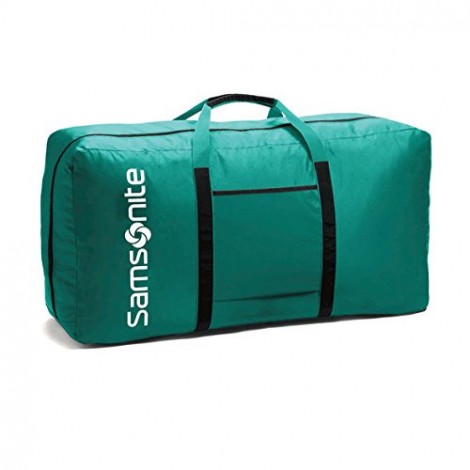 Samsonite is well-known for their luggage options so when it comes to making a convenient duffel bag, it just makes sense they'd have their own version. The Samsonite Tote-a-ton 32.5 has multiple attractive color options with a convenient carrying handle. It is fairly durable using nylon materials.
As expected, this training duffel bag was made for traveling as it is very strong and has the room to pack a significant amount. The nice thing about this option is that when not in use, you can easily fold it up and pack it away taking up little room. It is also lightweight, which you get from a bag that is so collapsable without any rigidity.
You can't beat the price on this product. While it really shines for traveling, it is also going to work well for the gym. The design and some of the color options also make this bag very easy to spot when you are waiting for it on at baggage claim. The overall look isn't too bad either.

9

. Osprey Packs Rolling Transporter 90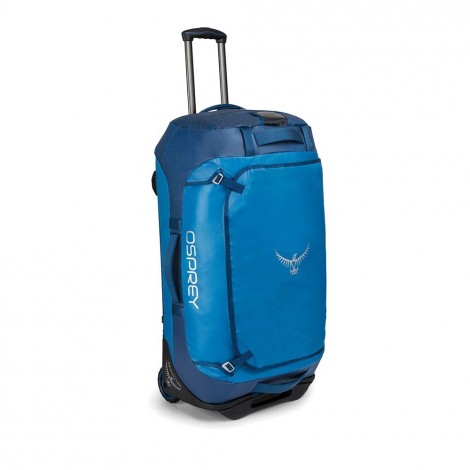 Osprey has a pretty significant following as far as brands go. For brands that are notable for travel packs and bags, this is one of the top out there. The Osprey Packs Rolling Transporter 90 duffel bag is a fairly bare-bones product but boy does it offer a lot of room.
This rolling duffel bag appears and acts more like a large suitcase in some circumstances. The extra-strength construction holds up well and the water resistance is superb. The extra flapped features of the zippers ensure that the closures are sealed shut without a doubt.
Large interior with compression straps that can tie down all your items well, this duffel bag packs very well. The handle smoothly comes up and down so you don't have to worry about it sticking. It is surprisingly very lightweight for how much it can carry and the built-in features it offers.

10

. The North Face Base Camp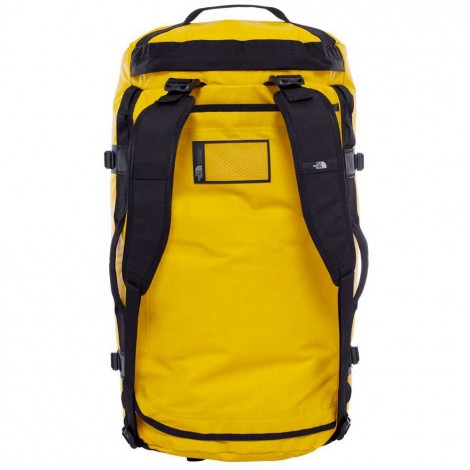 Perhaps the bright yellow color makes sense given the name. The North Face Base Camp is definitely something you want to have visibility should you be mounting the summit. It also helps that this gym duffel bag is so strong you won't have to worry about rips and tears in the materials.
When you need a seriously rugged duffel bag that can work for pretty much anything from air travel to storage on a large kayak, this one shouldn't be overlooked. Serious adventurers and travelers with a passion for all things extreme will love this product.
For the intensely tough construction and overall durability, you may think that there is no way it could be comfortable to wear. However, that is so far from the truth. Not only will this bag give you all the peace of mind you need in terms of taking a good licking but when worn on the back, it offers a surprising amount of support and comfort.

Subscribe to our Newsletter