Best Dinosaur Shoes For Active Kids Reviewed
In a Hurry? Editors choice: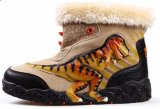 Test Winner: Dinosoles T-Rex Boot

We're all fascinated by them - the strange, reptilian creatures which roamed the Earth some 200 million years ago. They were larger than life, formidable and menacing at the same time, with teeth the size of our arms. Today, we usually associate stories about them with children and their active imaginations, though there are adults who continue to pursue this vast subject in their careers as well - hi, paleontologists! If you have a young one in your home who is in love with dinos, and who can't get enough of them, then a pair of dino shoes will definitely make them squeal with joy!
Standout Picks
Criteria Used for Evaluation
Upper
Since the theme of our guide is dino footwear, it stands to reason that one of the criteria we evaluated our items by - if not the most important one - was how relatable to this theme the designs were. We looked at the uppers, their decorations, and features, and ranked them according to how fitting they are to the dino topic, how interesting to look at, and if they do enough to pique a child's interest.

And the results, as you have seen for yourself, are quite varied.

At the top we have the interactive Skechers Damager III sneaker, which doesn't only come with a fierce, dino-fighter-plane-theme upper, but also has a built-in game! It serves to prevent your kid from getting bored even in the most mundane of situations, and you will be grateful that they have something to occupy their attention with. In terms of interesting features, this one is pretty high up.

Then we have those which have truly outstanding decorations. Dinosoles footwear particularly stands out in this regard, with their 3D ornaments and blinking LED lights and some pretty realistic depictions of our favorite reptillians. While we, as adults, may think that this many gadgets and gizmos is an overkill, a child will take full delight in running their fingers over the 3D T-rex, and watching how the large dino eye twinkles in the dark.

Speaking of LED lights, there is also the option of having them in the outsole, such as in the Outee Rain Boot. The reason we love the lights so much isn't only because we know that the children will enjoy them, but also because they represent a good way of keeping track of your young one in poor visibility. If it is gray and rainy outside, all you need to do is take a quick glance at the playground and spot your kid a mile away thanks to the light show on their rain boots.

More subdued, but no less fun upper prints are those which have various drawings and artistic depictions of dinos. They are fun to look at and always evoke a smile out of someone, and your kid will maybe even get inspired to take up a pencil and try to draw their own version of the scary reptile!

And finally, we have those, like in the case of the Carter's Damon and the Vans Classic, which are less obvious in their dino theme. These come with an unobtrusive print of small dinos, or with a dino claw slashing through the upper as a cool, but not excessive way of expressing love for the creatures. The good thing about these sneakers is, even though they may not be as attention-grabbing as the others, they are appropriate for any occasion, school included, and your kid can wear them wherever they want!

After being presented with so many options, don't forget that the most important thing is for your child to love the shoes they're going to wear. So, show them the pictures, explain to them what every design is about, and let them pick out the one they find the most appealing!
Comfort
When you're running around, climbing up the jungle gym, playing tag with your friends, it is essential that you feel comfortable and supported. Any irregularity in the footbed, a seam which digs into your skin or a shoe collar that is too tight can ruin the fun at best, and cause pain in the form of blisters or lacerations at worst. No one likes spending time in uncomfortable footwear, and neither do your children.

Comfort, however, is a somewhat individual characteristic. We all have feet of different shapes and sizes, and sometimes what works for us doesn't necessarily work for other people. Regardless, there are features you can look for to make sure that your kid feels nice and cozy as they take on the world, and we're going to list some of them here.

Footbed:
The footbed is the layer of the shoe which comes in direct contact with the sole of the foot. It can be a regular, flat footbed, or, preferably, it can be a molded footbed, contoured in such a way to fit the forms of the foot. This is what we look for in footwear - these curved lines, the hills and valleys of a footbed, can keep us supported and prevent foot fatigue, as well as medical conditions such as flatfoot.
Not only that, but a molded footbed is especially significant in children's designs, because it has the ability to correct any disbalance in gait. If your child tends to roll their foot inward as they walk - what is called overpronation - or outward - known as supination - then a properly formed footbed will do wonders to correct this and make sure they develop a healthy, balanced way of walking.
Midsole:
If constructed right, the midsole has the ability to absorb impact. Everytime the heel of the foot strikes the ground, there is a force, an energy, which travels up and into the joints of the leg - the ankle, the knee, even the hip. Over time, these impacts cause damage of the joints, and as a result people can start feeling pain.
To prevent this, midsoles are constructed out of shock-absorbing materials (such as EVA), which prevent the impact from going up into the leg, and instead they disperse it through the shoe, minimizing the strain put on the joints.
Lining:
If your kid is a very active one, it is imperative that the materials which come in direct contact with their feet - especially if they're not wearing any socks - are gentle to the touch. Rough, stiff materials cause chafing, and subsequently blisters, which can quickly turn into a real nightmare. A comfortable shoe is the one which softly hugs the foot, takes on its shape, and doesn't cause any pressure points. Look for smooth fabric or canvas linings, as well as those made of wool or felt, for more winter-oriented footwear.
Fit:
Finally, the fit is also an important factor when it comes to comfort. The design shouldn't be so wide that the foot is sliding around in it, but also not so narrow that it feels constricting, or that it prevents blood flow. Make sure that no part of the design is pinching or squeezing the heel, and that the toes can comfortably wiggle in their box.
What's more - even though it may be tempting if your child tends to grow out of their footwear in record time - don't give in and purchase designs which are several sizes up. This can lead to awkwardness and injury, if the shoe happens to slip off mid-run, but it can also cause problems in walking.
A perfectly comfortable design is one which fits well, not too tight and not too loose, and which doesn't impede your kid's normal way of walking.
Style
While young ones don't necessarily follow all the latest fashion trends, they do still want to look cool, and to be the best dressed in their group of peers. We already talked about the upper decorations, and what makes dino footwear so amazing, but now we're going to focus on the overall style of the designs, and see what makes them good for which occasions.

We'll start with the most common one in our guide - the sneaker. This is a casual, everyday option which your kid can wear absolutely anywhere - to school, to play outside, to grandma's house, to the park or the mall, you name it. Children love sneakers (everyone loves sneakers, for that matter), because they are lightweight, comfortable to wear, and go well with any outfit.

Of course, as we mentioned in our Upper section, there are sneakers which are appropriate to wear in more serious settings, such as at school, and which are not. While twinkling lights and roaring dinos are all the rage on the playground, maybe it'll be better to reserve these more embellished designs for when class is over, as they may distract from the school curriculum.

However, when summer rolls around, perhaps sneakers become too hot and too confining, and it is time to set young toes free. Slippers, such as the Anddyam Slipper, are the perfect option for that. They are comfortable to wear, have one large strap across the instep to keep the foot in place, and they allow the foot to breathe. This not only reduces sweating and overheating, but it also lowers the risk of infection. Bacteria and fungi are very fond of damp, closed spaces, such as in closed footwear during summer, and keeping most of the foot exposed prevents itchiness, redness, and bad odors that come with that.

What about the other end of the season spectrum though? What happens when the cold sets in and harsh winds pick up, and all we need is solid, sturdy footwear to help us trudge through the slush and the snow?

Well, in that case, boots are a no-brainer!

Rain boots, such as the Outee Rain Boot, and snow boots, such as the Lonecone Snow Boot, are amazing when it comes to protecting young feet from the elements. They keep all the moisture out, and all the heat trapped in, and your kid is both dry and warm as they jump through puddles or make snow angels.

Don't forget that there is a right design for every situation. Here we summarized all the styles that we have in this guide, but they all have slight differences between them, things that make them more suitable for one occasion, but maybe not the other. Think about the season you're shopping for, and what the purpose of this design is supposed to be, and make a decision accordingly.
Materials
As it stands to reason, materials are the ones which determine if the design is comfortable or not, how it fits, how durable it is, how breathable or flexible. We could also say that construction plays a role in all of this, but the materials are definitely crucial when it comes to the quality of the design.

In our list we encountered numerous combinations and options when it comes to materials, but we can categorize all of those in three large groups. So that's exactly what we're going to do here, as well as explain a little bit more about each one.

Brand-specific:
In this guide there is only one design which is made out of brand-specific materials, and that is the Crocs Clog, made out of Croslite. In this particular case, Croslite is a never-before-seen resin material which represents innovation and advanced technologies. It is comfortable, antimicrobial and water-friendly all in one, making it perfect for Crocs.
However, bear in mind that unique and high-tech doesn't always mean the best. Croslite works for Crocs, and makes them stand out in a sea of other shoes of their type - despite its lack of style - but the quality of the material doesn't have to be higher or better just because it is something new and revolutionary. The best course of action would be to test out the product beforehand, try walking in it for a short while, and then deciding if the material suits your kid's needs or not.
Genuine:
Here we mostly mean genuine leather and suede. This we see in the Skechers Damager III and the Dinosoles T-rex Boot. Leather is a durable material, especially if it's layered thickly, but it also allows for proper air flow in and out of the design, making it highly breathable. Not only that, but both leather and suede have that wonderful ability of molding to the shape of the foot over time, and providing comfort customized just for your or your kid's foot.
Suede is a little more delicate version of leather, one which has a soft, plush finish, but which is still just as durable and breathable as full-grain leather, if maybe more prone to stains.
The downsides of genuine materials such as these is that they are expensive, and also not waterproof unless treated with waterproof agents.
Synthetic:
If you're not looking to spend a lot of money, a good alternative to genuine leathers are synthetic ones. However, while they are more affordable and animal-friendly, they aren't as durable, and don't promote ventilation, either.
There are certain materials, such as canvas and felt, which can have either a natural or a synthetic origin. Their characteristics in these cases don't differ too much, and both of these materials serve their purpose well. Canvas is lightweight and breathable, perfect for summer footwear, while felt is a moisture-wicking and heat-preserving material which serves as an excellent inner lining to winter boots, and other types of footwear and apparel which provide warmth in cold months.
Durability
Talking about durability in children's footwear is a tricky subject.

For one, kids are active. They run and jump and skid and slide and roll around and play all kinds of sports and do all kinds of different activities that are in general hard on the footwear. Soles get worn out, the uppers get scuffed and stained, and perhaps even the straps or the shoelace eyelets break off. If your kid is a lively one, you should not expect a miracle out of their footwear. If a design lasts until they outgrow them, that means it's definitely worth the price.

Which brings us to our next conundrum - the fact that children grow. A pair of sneakers that fits today probably won't fit a few months from now, and that renders the durability of the design obsolete, in a way.

So what should you keep an eye out for, in order for your kid's new footwear to last until they need to size up?

Well, for one, as we briefly touched on before, look for high quality materials. Genuine leather and suede, and original materials such as Croslite are champions in durability. Footwear made of these will survive all sorts of activities, from playing tag to a rough game of soccer.

After that, look for rubber outsoles. Rubber is a highly durable material, and footwear with rubber outsoles lasts longer than most. If the rubber outsole extends up around the middle and turns into a rubber bumper or a shell at the same time, even better! This protects your kid's feet from getting injured as well as the design from excessive wear and tear.

While there is no perfect formula for a durable design, we are certain that these little details will help you in picking out the one which lasts the longest. Simply sort our list by durability, and choose the items from the top which catch your eye!
Our Favorites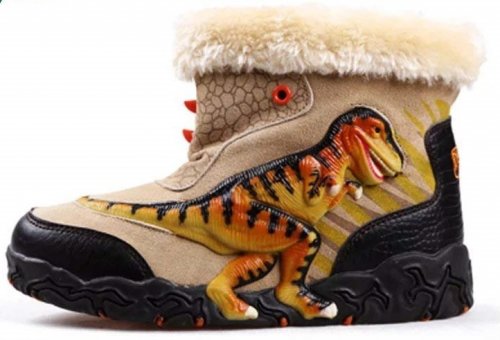 From a South Korean brand which aims to help these lovely creatures roam the Earth again comes the Dinosoles T-rex Boot. This is not only a treat for the eyes, but also for the fingers as well, since the colorful, badass T-rex decoration on this boot comes in 3D! That's right, your kid can now also feel the shape of the ornament on the boot, and truly appreciate the effect of his carnivorous being.
The Dinosoles T-rex Boot has an upper made of suede. We love this natural material, as it is soft and luxurious to the touch, but also breathable, durable, and amazingly comfortable to wear. It will be gentle on your kid's feet and will mold to the shape of their foot over time, providing them with tailored comfort.

What is another fascinating thing about this design, aside from the 3D T-rex, is the fact that the eye decoration on the inner side blinks with LED lights! That's right, this boot also provides a light show! And, if this entire T-rex-riddled experience wasn't enough, there is also a footprint of this creature on the bottom of the boot outsole.

We are honestly a little in awe with this gorgeous design. It is everything a little T-rex fan would need, complete with a faux fur collar at the top. It will keep your child warm, comfortable and safe from the elements, while at the same time bringing a huge smile on their face. What a great deal!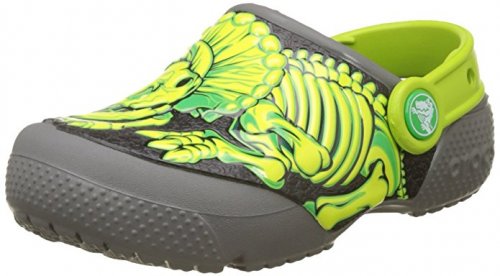 With the wonders of the Crocs Clog, your kid can now enjoy their favorite dinos even on beach day! This simple, effortlessly comfortable design comes with a colorful print of a triceratops skeleton which will leave everyone in awe. It is the perfect water shoe, one that you won't be able to imagine going swimming without.
Despite its questionable style, what we love about the Crocs Clog is the material it is made of, first and foremost. It is called Croslite, and is neither rubber or plastic - this is actually a closed-cell resin foam material that has exceptional anti-microbial and impact-absorbing properties. This material will keep your child's feet safe from any bad odors or foot infections, as well as keep them cushioned and comfortable throughout the wear.

The Crocs Clog comes with a convenient strap in the back which your child can use to wear this design as a clog, or if they get tired of it, they can rotate it forward and wear the design as a slipper instead!

One more thing that makes the Crocs Clog stand out from the rest of its kind is that it is a design so lightweight that it is actually buoyant. If your kid happens to lose their clog while traipsing in the shallows, you don't have to worry about anything - the lost shoe will simply float back to you!

While many would describe this clog as unattractive in appearance, its quality, comfort and advanced features are undeniable. After all, there is a reason Crocs are so wildly popular, despite their lack of style. You won't regret getting your kid a pair of spacious, well-cushioned summer clogs like these, complete with the triceratops on the front!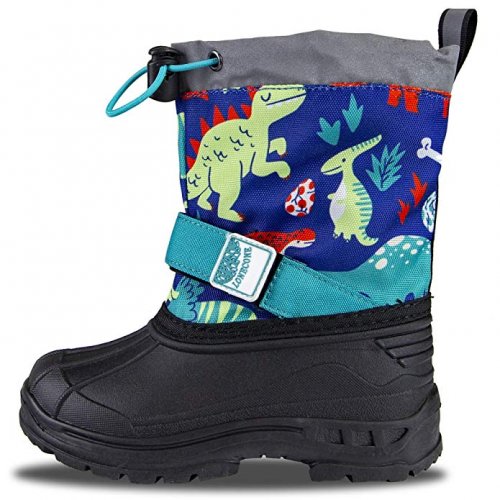 Hold onto your hats - one outstanding snow boot is coming your way! The Lonecone Snow Boot has it all - a waterproof upper, protection from snow, mud and rain, thermal insulation, easy closures, and, above all, a lovely Jurassic pattern across the upper, designed by an artist with the specific goal of capturing the attention of children everywhere.
The upper of the Lonecone Snow Boot is made from oxford material which keeps all the water away. It has an adjustable hook and loop strap across the instep, as well as a toggle system around the collar which allows you or your kid to cinch the opening for even more protection from the cold.

Inside the boot, you will find a felt inner liner. Felt is an amazingly moisture-wicking and breathable material, keeping your kid's feet sweat-free, while at the same time providing cushioning and thermal insulation. This inner felt liner can be removed for easier washing. An additional tin foil layer inside the boot helps trap the warmth inside - this boot will keep the little feet warm even in temperatures as low as 0 F!

Finally, we would be remiss not to mention the outstanding outsole of the Lonecone Snow Boot. It is made out of rubber and features a reinforced toe box, to protect your child from stubbing their toes or otherwise hurting themselves in the snow. It provides multi-directional traction both on icy and wet surfaces. No slipping and no injuries!

We are tempted to continue singing praises about this boot, but you get the idea. If your kid needs a solid, protective design to keep them warm and dry in the winter - while being peppered with dinosaurs at the same time - then there is no better solution than the Lonecone Snow Boot!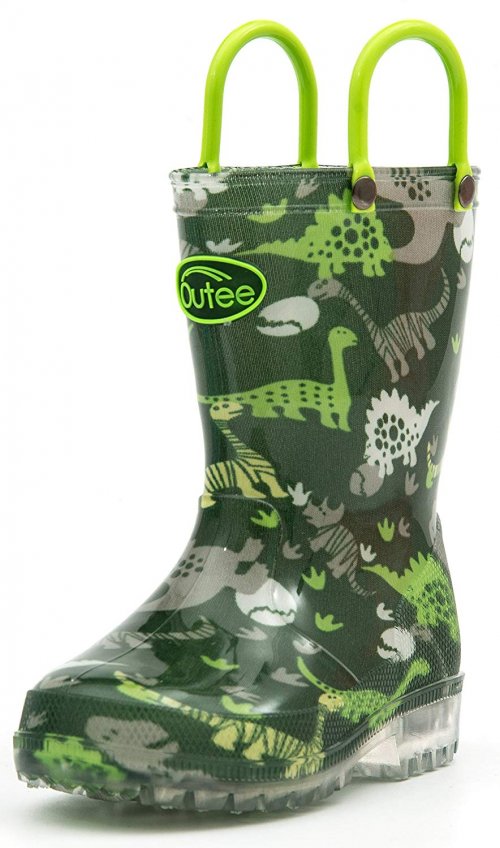 Splashing in puddles of rain has never been as much fun as in the Outee Rain Boot! This waterproof design is decorated with all sorts of dinos - triceratops, brachiosaurus, stegosaurus, you name it! If your kid is an avid fan and a collector of knowledge on all things Jurassic, then they won't be able to take their eyes off of this boot.
The Outee Rain Boot comes with a sleek upper that is resistant to water, mud, other types of stains, and pretty much anything else you can think of. It is easy to clean, as you simply wipe it down with a damp cloth and it'll be as good as new!

The outsole is a very special treat, however. Not only is it thick, slip-resistant and with deep grooves on the bottom which provide traction on all types of surfaces, but it also lights up as your kid walks! That's right, this amazing boot also has a light show effect in its sole, so that your child can have all the fun in the world playing with it, and so that you can locate them more easily in the gray, dreary autumn weather.

The Outee Rain Boot is also easily transportable, as it comes with convenient handles at the top, and is quite flexible, enough to be folded over and packed into a travel bag.

There is nothing we don't love about the Outee Rain Boot. It is fun, it protects from the rain and other wet conditions, and it will keep your kid's thirst for dinosaurs satiated. What more could we possibly ask for?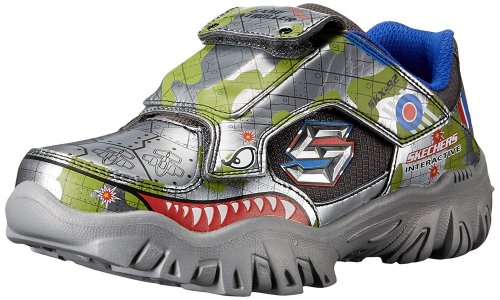 The Skechers Damager III isn't pulling any punches - this genuine leather sneaker is nothing short of fierce, with its smooth metallic upper, a combination of a battle plane and a growling reptillian, and - get this: a real, live, game inside of it! That's right, the Damager III is an interactive sneaker, one that lets your kid play games while they're wearing their favorite shoes.
It works like this: there are airplane shaped buttons on the upper, as well as a reset and an on/off button. The goal of the game is to hit the buttons when they light up, for the purpose of catching an enemy plane. There is even a remote controller for the game, and a special pocket on the sneaker itself, where the remote controller can go! What an outstanding feature!

In terms of the sneaker itself: it comes with a top velcro strap for an easy fit, as well as a padded collar and tongue, and a soft liner for comfort and a gentle feel on the skin. There is a midsole which absorbs shock, and a flexible outsole which is both slip-resistant and non-marking.

We're honestly a little taken aback, as we have never seen a sneaker which is a game at the same time. The concept is so unheard of that we now want to get it just to try it for ourselves. But your child is certainly going to be infatuated with their new kicks, and with all the fun that comes with it!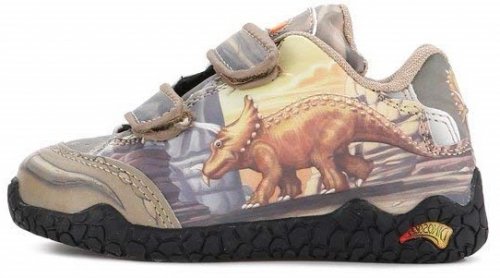 Another design from the brand which specializes in all things Jurassic, the Dinosoles LED Sneaker is a sight to behold. It is casual, easy to wear and even easier to fall in love with, but it has all the hallmarks of one mean design - a realistic recreation of a triceratops on the side, a giant footprint on the bottom of the outsole, and even twinkling LED lights in the place of the triceratops' eye!
The Dinosoles LED Sneaker isn't only cool to look at, it is also pretty cool to wear. Your kid's feet will feel nice and secure inside this design, mainly thanks to its double velcro closure on the front. This is perfect for those young ones who haven't yet mastered the art of tying shoelaces, and it will keep the foot in place, as well as prevent the sneaker from slipping off.

As in the case of the T-rex Boot, the addition of LED lights in this design is too good to be true. Your child will not be able to take their eyes off of this captivating feature. What's more, the footprint in the outsole - a signature stamp of the brand - is surely going to make them feel like they're stomping with dinosaur feet all around town.

If you're looking for something simple, that is easy to put on and easy to take off even for those who aren't into shoelaces yet, and which simply radiates dinos, then the Dinosoles LED Sneaker should be your number one choice.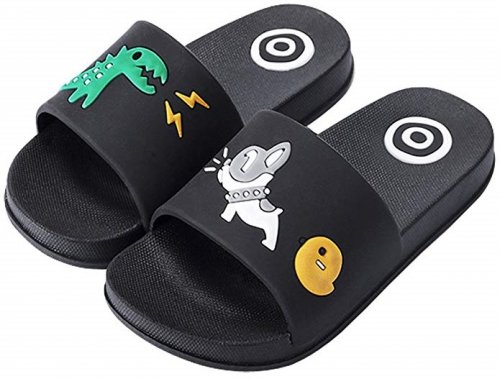 For when sweltering heats roll around and not even closed-toe footwear such as Crocs can help stave off the sweating, then a nice, open slipper is a great way to go. The Anddyam Slipper has a unique theme about it, complete with an interaction between a dino and a puppy, and a random baby chick standing in the background. We're not sure what all of them are talking about, but it must be something very important.
Nevertheless, this design makes the Anddyam Slipper irresistibly cute. Its footbed has a pattern to it, made from tactile materials and providing simple comfort, but also relieving pressure off of the ankles, knees, and hips. Thanks to these slippers, your child will have a balanced and healthy gait.

When it comes to footwear without a back strap, one that can easily slip off or cause the foot to slide around in it, slip-resistance is key. And the Anddyam Slipper comes with a durable rubber outsole which is patterned in such a way that it provides maximum traction on all types of surfaces.

This slipper comes in several different colors, all with this Jurassic/canine theme, and they are refreshingly lightweight to wear. Your kid will love spending their summer days in these, and won't be able to get enough of that addictive comfort and unique decorations.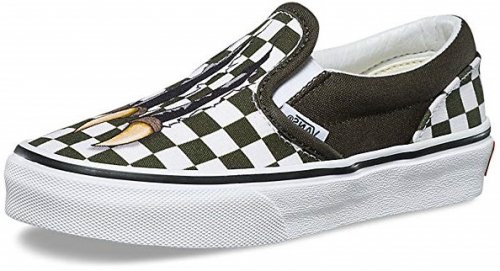 With the iconic skater sneaker, the Vans Classic, we are stepping away from loud, colorful, in-your-face type dino prints. Instead, the well-known checkered print upper on this sneaker has an image of claws ripping through the material, giving a menacing, but altogether very cool vibe to the design.
The low-cut upper of the Vans Classic is made from canvas - a lightweight, breathable fabric that makes these sneakers wearable anywhere from spring to autumn. It has that easy slip-on design, which is perfect for any kid, and there are elastic inserts on the sides, which allow for a stretchy fit.

Vans are famous for their waffle outsoles, which have exceptional grip abilities. Their original purpose is for skateboarders to be able to grip the board as they perform their tricks, but of course, your child doesn't actually have to skateboard to take advantage of these sneakers. The waffle outsole simply means that the Vans Classic is slip- and skid-resistant and that it will reduce the risk of your kid falling and injuring themselves.

While at first glance it may seem like the Vans Classic isn't anything special, there is something to be said about its timeless silhouette. This design has been around for literal decades, largely unchanged thanks to its ability to fit into any wardrobe and add a touch of laid-back interest to all outfits. Your young one is going to be the coolest kid in school with their new dino Vans!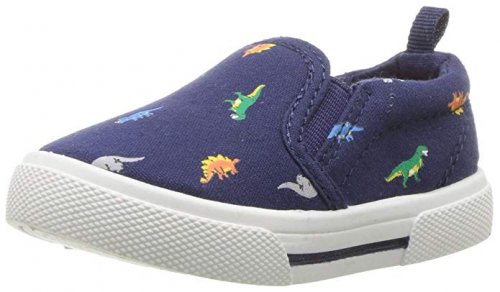 If your child wants to express their love for Jurassic creatures but doesn't want to be too obvious or too flashy about it, the Carter's Damon slip-on sneaker is a great solution. It has an upper peppered with little T-Rexes, stegosauruses, and brachiosauruses, to bring a little color into the design, but isn't too over the top.
This casual sneaker is made from textile, which is a lightweight, breathable material that your kid can wear all summer long without fear of getting sweaty feet. It has stretch panels on the sides and an elastic collar so that a foot of any shape can easily slide in.

The outsole of the Carter's Damon is made out of rubber, with a protective band all around the midsole. This keeps little toes safe from stubbing and injury, but it also increases the lifespan of the sneaker, as it protects it from excessive wear and tear.

Is this a special, one of a kind design that is simply a must-have for your young one? No, it isn't. However, the Carter's Damon is cute, comfortable, and easy to put on, wear, and take off, and that's all you really need out of a pair of solid, fun-printed sneakers.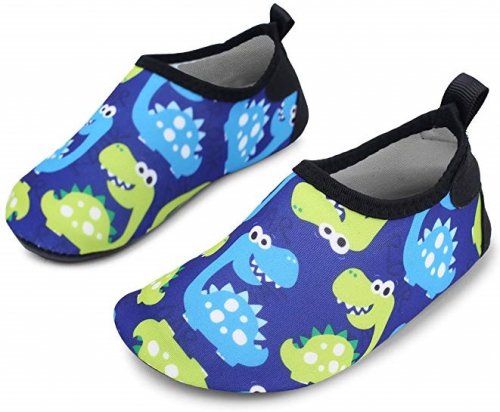 If your child can't get enough of the outside, if they enjoy running, swimming, beach sports and other fun things to do when next to water, then they may need a pair of solid, protective water footwear. And what better design to get them than the Jiasuqi Water Shoe, with a group of smiling cartoon dinos on the front!
This sneaker is made out of 92% polyester and 8% spandex. The spandex part of that allows for an amazingly stretchy, sock-like fit, one that will accommodate your child's foot no matter what shape it is. It also means that this sneaker will move along with the foot, providing it with outstanding flexibility and freedom of movement. The smooth collar of the design prevents any chafing or blisters and allows for an easy on and off.

The Jiasuqi Water Shoe has moisture-wicking properties. It is not waterproof - it will most definitely get wet, and get your kid's feet wet at the same time, but it will also dry incredibly quickly, and won't let the feet soak in a cold, damp environment.

Another aspect of this sneaker that we love is its rubber sole. It is not only slip-resistant - very important on wet surfaces! - but it also protects your child's feet from bumps, punctures, lacerations, and any other potential hazards that might lurk in the sand or in the ocean bed.

When it's time to hit the beach or the pool, the Jiasuqi Water Shoe is there to support your young one all the way! It is comfortable, flexible, has a playful print all over the upper, and it will be a useful companion throughout the day.

Subscribe to our Newsletter