Best CrossFit Gear Reviewed & Rated
In a
Hurry? Editors choice: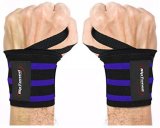 Test Winner: Rip Toned Wrist Wraps

CrossFit is at the same time one of the most demanding sports currently in practice and one of the most popular ones. It consists of a number of different disciplines, from running, rope jumping, cycling and other types of cardio to lifting and strength training, not to mention utilizing various gym machines and equipment throughout a single WOD or workout of the day.

The end goal of these difficult, often exhausting training sessions is to become the fittest you can possibly be. This is why we have put together a list of must-have best CrossFit gear that you need in order to achieve this goal. This equipment ranges from essential to optional, depending on your individual fitness and health levels, but we hope that you will find what you're looking for on our list. Read on and enjoy!
Standout Picks
Criteria Used for Evaluation
Protection
Make sure that you are as protected as you can be during a WOD.
As we mentioned several times during the course of this guide, CrossFit is not a sport to mess around with. Arguably, no sport is to be messed around with, but CrossFit is especially hazardous in that you're taking on heavyweights, dealing with rough and equipment, and you're almost constantly in a state of physical stress.
This is why protection is the first and most important element of best CrossFit gear and one which we ranked all our products by. The items we selected had to be protective in some way, whether it is through helping your legs recover more quickly after a workout or saving your hands from getting blisters and split skin from weight bars.
To make sure that you are properly protected every time you start your training, it would be useful to know what the trainer or you yourself have in store for that particular WOD. If it is simple strength training without additional weights, chances are you won't need much more than perhaps a compression sock or a sleeve. (Maybe good protein shakes after, to feed your muscles with much-needed amino-acids and protect them from breaking down.)
However, if you are lifting or doing pull-ups, you may want to bring your wrist wraps and/or grips. Your palms and fingers are sensitive and prone to scrapes and tears. While taking a picture of your bloodied hands may seem cool for Instagram, no trainer will be proud of you essentially hurting yourself during the workout.
Special attention should be paid to those areas of your body that might not be in peak health. If you have a past injury of some kind, if you had surgery on a joint, if you know - or have just found out - that you suffer from an ailment, it is crucial to consult with a medical professional before you embark on your CrossFit journey.
You don't necessarily have to abandon your idea of CrossFit, but this injured part of you might need additional support, which we will talk about more in-depth in our Support section.
Use
Determine what gear you'll be using frequently and what may not be essential for you.
Not all of the items on our list can or should be used in your every WOD. We ranked this CrossFit gear according to how frequently you will need to bring them with you whenever you want to train.
Some of the options you will need every time, such as the socks, the footwear, the towels, and the water bottle, perhaps even grips, depending on the exercises you do. These are meant to improve your performance and help you complete your WOD both safely and feeling satisfied with your personal progress.
It would be wise to stock up on more than one piece of this frequently-used gear, depending on how often you train. Socks and towels especially need regular washing and you have to have spares while your other set is in the washing machine. This doesn't have to be the case with footwear, but if you're dedicated to the sport, perhaps you will have to get a back-up pair of CrossFit shoes as well.
The gear that you may not use that often is the knee brace and the wrist wraps. How much you need these is determined by the health levels of your body. If you have knee problems, or if your wrists are not used to the strain of CrossFit exercises, then it would be best to provide them with additional support in the form of these braces and wraps.
However, not all of CrossFit athletes need these, and it would be best if you could consult with a medical professional or even your trainer beforehand, to see if you should invest in this type of gear or not.
Support
Support may help improve your overall performance.
Since CrossFit is so hard on the person, both physically and mentally, you could use any form of support possible. There is compression to aid your muscles as you work through your repetitions; there are wraps and sleeves to prevent your joints from breaking or suffering any significant damage. There is also footwear which helps your feet stay balanced and prevents them from feeling too tired at the end of a WOD.
One of the important criteria for CrossFit gear was that it should be supportive.
In our list, as we mentioned, there are several ways an item can provide you with the support you need to perform at your best.
Compression: Compression comes in the form of compression sleeves, socks and/or tights. This is specific clothing that is designed to put pressure on specific areas on your body. This pressure increases the blood flow through your muscles, as a result increasing the oxygen flow at the same time. All of this saves energy during your workout and helps your muscles recover faster after it.
You will be amazed at the effects compression can have on your performance. You may feel like this is not for you, but try it once and you will never look back.
Joint Support: While muscles can tear and rebuild themselves (in fact, these microtears are exactly what leads to muscle gain), joints are not as fast in regenerating. If you injure a joint, chances are you won't be able to exercise again for a while. Perhaps you will never be at your best again.
Which is why supporting the joints is an important aspect here. Wraps for your wrists and sleeves for your knees are just two examples you can use to prevent any serious damage to your body. These reduce the stress put on the joints and allow you to lift more and perform better than you would if you didn't have the support. Not to mention that your risk of injury would be greatly reduced at the same time.
Footwear: We can't talk about support without talking about footwear. Your feet take most of the beating in any type of WOD, and you need to ensure they are safe and cushioned throughout. Support comes in the form of arch support, in the form of stability, lateral support, cushioning which provides shock absorption and much more.
The midsole should be made from EVA or memory foam for protection against the impact on your every heel strike or jump landing, while the footbed should be soft (but not too soft) and yet supporting your arches. This will prevent a host of foot-related ailments later on and will lessen the fatigue that comes after the training session.
Durability
Find out what makes this type of gear durable.
As hard as CrossFit is on your body, it is just as hard on your CrossFit gear. Your clothing, footwear, and equipment withstand quite a lot of pulling, straining, pushing, pressing and similar, and thus it is natural that they can't last for too long. Same as with running, you may have to change certain pieces of your gear every few months, depending on how often you train.
However, there are ways you can ensure that you are getting durable items! These are mostly centered around the quality of the materials and the methods used for their construction.
Materials: When it comes to clothing, synthetic materials are far more durable than natural ones. Look for polyester, polyamide, nylon, neoprene and similar. These add wear and tear resistance and ensure your apparel won't let you down.
For footwear, genuine leather is more durable than faux leather. Similarly, leather, in general, is more durable than thin materials such as mesh and or woven uppers. Shoes that have rubber outsoles are quite long-lasting.
When we're talking about other types of equipment, such as water bottles, towels, grips, knee sleeves, etc, the principles are not much different: pick a sturdy material that won't break easily, and make sure to read the reviews of previous customers to gauge the durability of a particular product.
Construction: As much as materials are important, the design we're looking at won't be durable if there are any flaws in its construction. Make sure that there are no loose threads, that the seams don't have holes in them, that the footwear doesn't have any unusual bumps or things that are poking you. Velcro straps should be nice and tight and not unfastening at the slightest strain.
While there is no miraculous way to determine whether or not your gear will last through one or more seasons, these little things and details are what will help make a more lasting choice in the long run.
Features
Consider special features such as moisture management, breathability, and odor-resistance.
In this last criterion, we decided to sort all of those extra features and qualities your CrossFit may have that doesn't fit any of the previous sections. These include but are not limited to moisture-wicking, odor-resistance, breathability and similar.
Let's see what each of these has to offer.
Moisture-Wicking: This is the ability of a material to pull moisture away from your skin and towards the surface, where the moisture can evaporate. It is a good quality to have when you want to keep dry and sweat-free even during the toughest WODs. Moisture-wicking is mainly meant for clothing, tops, bottoms, socks, as these come in contact with your body the most.
Moisture-Absorbing: This particular trait is reserved for towels only. It is not a good idea to have clothing that absorbs moisture on yourself (such as designs made from pure cotton), as it quickly turns damp and stays damp throughout.
However, moisture absorption is what you want in towels, whose sole purpose is to draw moisture from your skin and into its material. So if you're looking for good workout towels, go for moisture-absorbing!
Breathability: Together with moisture-wicking, breathability is a feature that allows the air to freely pass in and out of a design, keeping you cool and dry even more, and not letting you overheat. Footwear and apparel can both be breathable, and it is a bonus if you can find materials and technologies with this feature to keep you comfortable.
Odor-Resistance: Lastly, odor-resistance is not a must-have, but it does come in handy. Various brands have engineered different ways of ensuring that your body or the clothes or footwear that you're wearing don't develop unpleasant odors. It is always good to smell nice and fresh, even when you have just taken a trip to hell and back during your WOD.
10 Top Rated CrossFit Equipment Reviews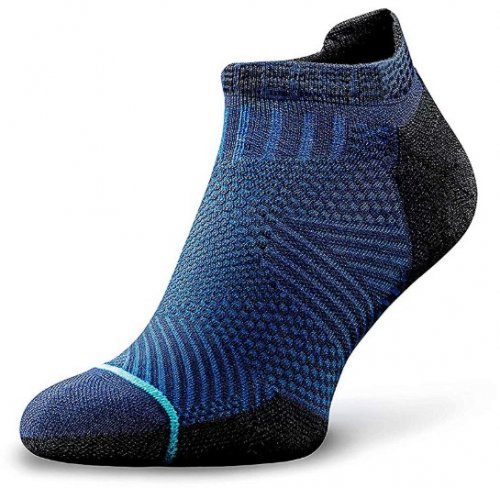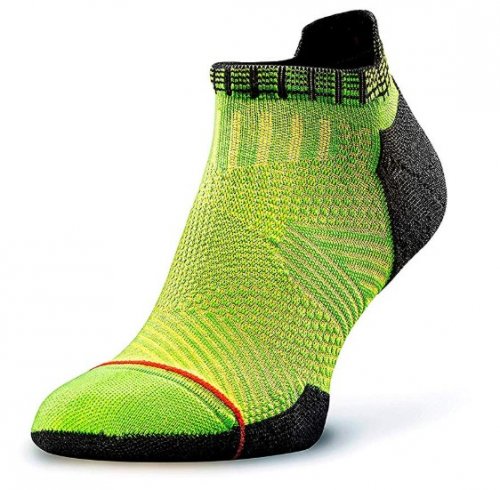 For a good CrossFit WOD, you need socks that can keep up with you. These can be anywhere from a no-show socksdesign such as the Accelerate, to a full-length compression model such as some of the later ones. The Accelerate is great to use on its own during warm weather and intense workouts, but it can also be easily paired with compression sleeves, in case you are not a fan of knee-high socks. It is outfitted with performance cushioning, arch support and breathable mesh zones for an optimal training session.
The Accelerate is made from partly recycled materials. These are polyamide, a synthetic blend that provides durability and doesn't allow the sock to lose its shape, then organic Merino wool for that naturally soft feel and moisture-wicking, and finally elastane for a bit of a stretch. On top of that, there are also mesh zones incorporated at the top to allow for better ventilation.
Arch support will keep your foot supported throughout the workout while also making sure that the Accelerate doesn't slip down or bunch up. The cushioning we mentioned is focused on the toe and heel areas for shock-absorption, and the toe area is also seamless for a blister-free experience.
If you're looking for freedom of movement and a sock that can support you without making a fuss, the Rockay Accelerate is the perfect option.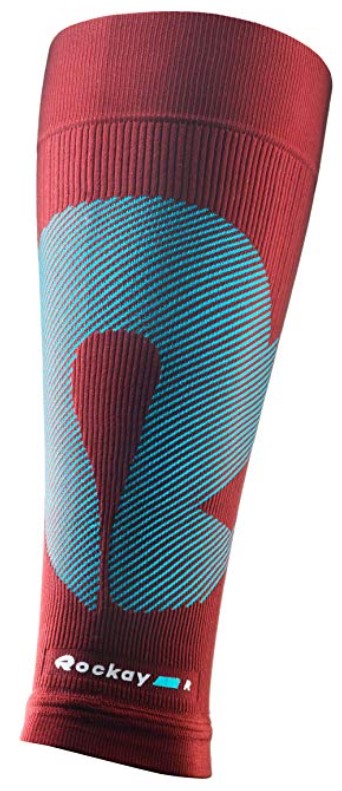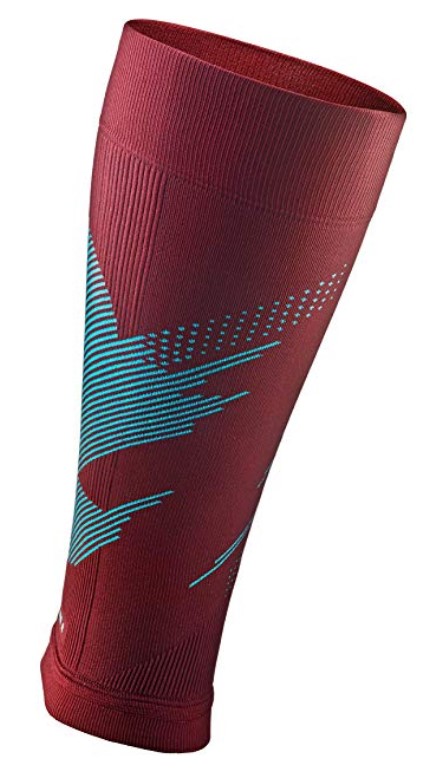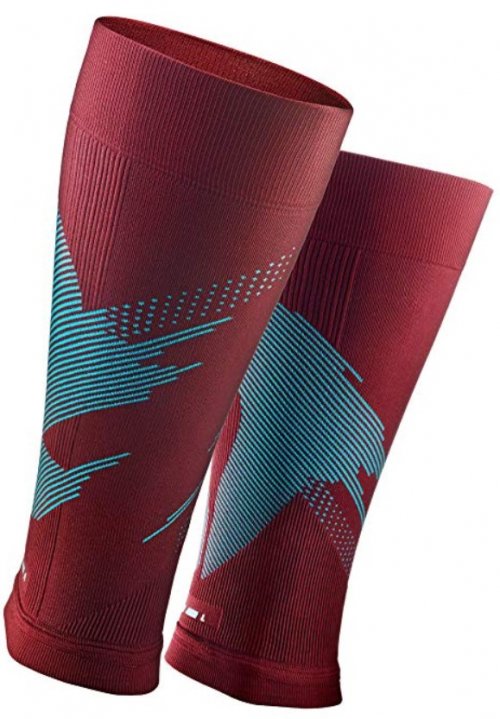 If you wish for some compression but would like to avoid a knee-high sock, then why not combine the previous option, the Rockay Accelerate, with a compression sleeve, such as the Rockay Blaze? That way you get the added benefits of compression during and after your WOD, but you don't compromise on your mobility or the feeling of freedom which you may not have in a full-length compression sock.
The Blaze is also made from partly recycled materials, just like Accelerate. It features both multifilament polyamide and regular polyamide as well as elastane for elasticity. What makes the Blaze stand out is the fact that it comes with the Polygiene technology that prevents the development of bad-odors and odor-causing bacteria.
This compression sleeve offers a graduated compression of 16 - 23 mmHg. It promotes blood flow through your leg, improves circulation and speeds up recovery time after your training. Its seamless construction ensures a chafe-free experience, while the strategically incorporated mesh zones allow for increased breathability.
The Blaze from Rockay is almost a must-have in a workout as hard as CrossFit. Compression will enable you to go harder and reach farther and break all of your personal records in terms of both time and repetitions. Don't underestimate the power of a good calf sleeve, and treat yourself today to improve your performance!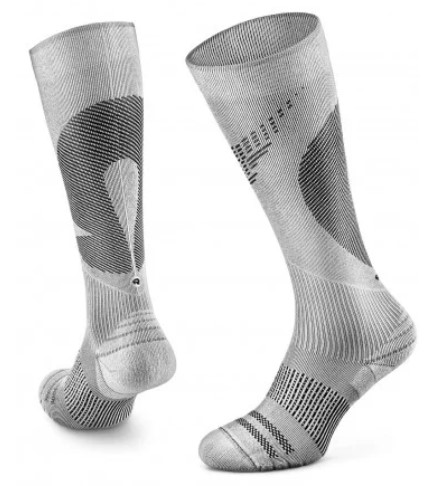 In the world of best CrossFit gear, compression socks are not quite the norm, but something very close to it. Compression in any form is a desirable quality to have in your gear because it provides numerous benefits both during the workout and after the workout. The Vigor from Rockay is a knee-high graduated compression sock with a rating of 16 - 23 mmHg. It has top-notch performance features such as a seamless toe, cushioning, arch support and mesh zones that provide breathability.
On top of this all, the Vigor is also made from completely recycled materials. Its build is Econyl regenerated nylon, recycled polyamide, and recycled elastane. The Vigor is not only durable, stretchy and gentle on your skin, but it is also a great choice for the environment! On top of these materials, there are also inserts of mesh which improve ventilation throughout the design.
Comfort comes in the form of performance cushioning that absorbs impact, and there is arch support that promotes circulation through the foot and keeps the design secure. A seamless toe ensures there is no undue rubbing of the skin, so you can have a worry-free WOD.
When it comes to compression sports socks, it doesn't get any better than Vigor. It is full-length and thus offers maximum protection, and its compression levels will keep you going for longer and help you recover faster. You will love the fit of these, as well as the fact that they come with a lifetime guarantee and are sure to be worth the money.



If you're not a fan of any of the options that came before this, such as the no-show Accelerate or the knee-high Vigor, if you're just looking for a simple regular sock that still has some high-tech qualities to it, then you will love the Razer. This is a crew sock that has the standard Rockay performance package: the seamless toe, the cushioning, the arch support, even the environment-friendly aspect.
Much like the Vigor, the Razer is also made from Econyl regenerated nylon, recycled polyamide, and recycled elastane. These materials are carefully picked out for their high-quality cushioning effects and even compressive benefits. There is a reflective logo on the design, and they are constructed with ergonomic left and right fits for maximum comfort.
A seamless toe is great for a workout without blisters, and the arch support will keep the fatigue away. The mesh zones we have come to know and love from this brand are placed on the top side so that air can easily pass through and cool down your feet when you're giving it yours all during training.
The Rockay Razer is a standard sock, at first glance. It is sleek and simple, and yet it comes with all the necessary features for you to make the most out of your WOD. It will keep you comfortable and supported, and it will help you go that extra mile and break your personal best in whichever discipline you want to excel.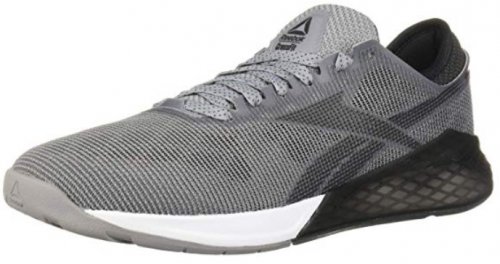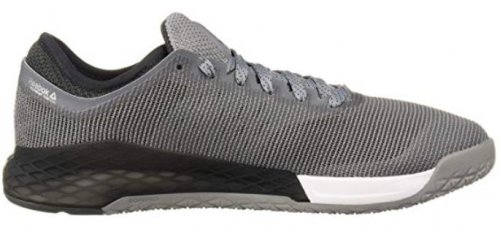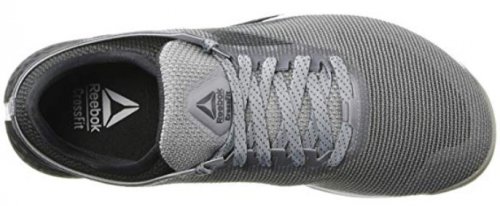 As the brand itself says, the Reebok Nano 9 is built by the CrossFit community for the CrossFit community. A successor to the largely impactful Nano 8, the 9 has a redesigned Flexweave upper, more cushioning in the midsole, and a special decoupled outsole. It enables you to take your training beyond just the Box and also includes a bootie construction and forefoot flex grooves. If you're after that perfect CrossFit shoe, you have come to the right place, as the Nano 9 is truly in a league of its own!
The upper is made using the Flexweave Technology that includes fibers weaved into a figure eight for a result that is strong yet able to move along with your feet no matter what you're doing. The flexibility of the Nano 9's upper is built to handle dynamic moves and you will have no problems executing the most demanding exercises in these.
Cushioning is added in the forefoot area for running and comfort, while the decoupled outsole is there to improve your heel-to-toe movement. This means that the outsole is made from two pieces for more flexibility. The bootie construction we mentioned provides ultimate comfort in performance.
When it comes to CrossFit equipment, there is no better trainer than the Nano 9. Designed and constructed by athletes such as yourself, the Nano 9 meets all the requirements for a successful WOD and then some. You will be able to move fast, lift more, and your feet will be grateful for the added support all throughout.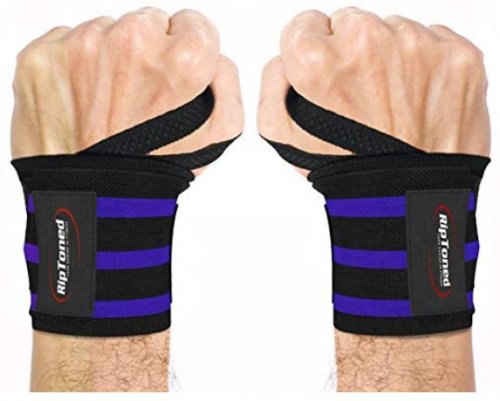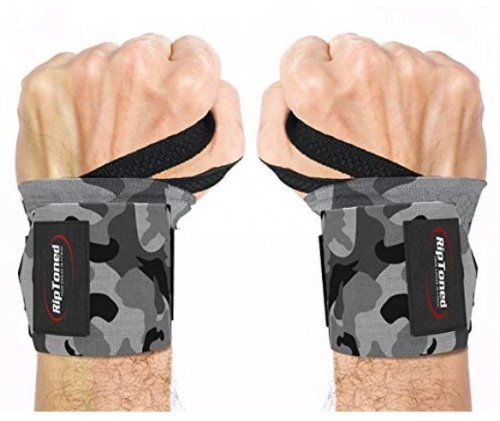 It doesn't matter whether you are someone with 'weak' wrists that need plenty of support or you are aiming for your heaviest lift yet, determined to push yourself out of your comfort zone - this wrist wraps from Rip Toned are exactly what you need to make your WOD a lot safer and a lot more enjoyable. With the Wrist Wraps, you will be able to do more reps and lift more weight, regardless of the type of lift. They come in stiff and medium-stiff versions and you will love choosing a color that suits your workout outfit.
These are made from professional high grade elastic of 18 inches with more than enough velcro to go around your wrist regardless of its width. They have thumb loops to secure them in place and thanks to their high-quality stitching, you can be sure that they won't unravel any time soon.
The stiff version of the wraps is meant for heavy lifting and it doesn't have much flexibility to it. Use these if you want to break your personal best in your next WOD. The medium-stiff version is for less strenuous lifts, as it is more comfortable and allows your wrist to move more naturally. These less stiff versions can also be used in yoga, bodyweight exercises and manual labor.
The Rip Toned Wrist Wraps come in an array of colors and designs so you can easily pick out one that fits your aesthetic. They are the only pair of weightlifting wraps that are endorsed by a world champion in powerlifting (Kevin Weiss), and when it comes to the safety of your wrists, it doesn't get any better than this!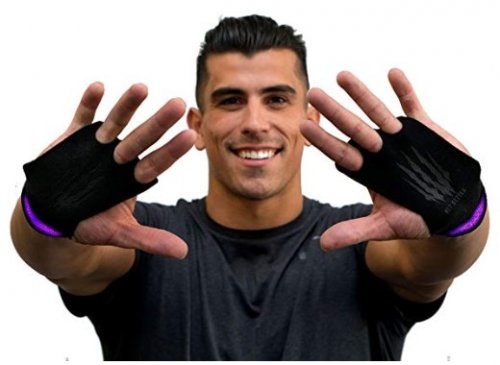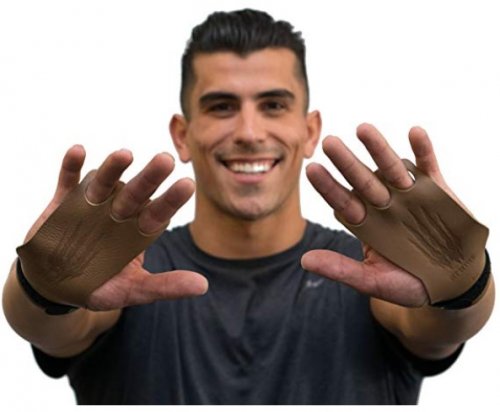 While some other items on our list are optional and/or meant for specific conditions or workouts, grips are something that is pretty much a must-have for any WOD. The ones from Bear Komplex are made from high-quality leather, with a wrist strap that is comfortable and doesn't rub your wrist the wrong way. They come with different options in terms of size, colors, even the number of holes for a fully customizable CrossFit experience.
These grips are made from genuine leather which will form to the shape of your hand for a tailored type of comfort. You can choose whether you want the 2-hole or the 3-hole option to protect your palm. They are breathable, and perfect for a range of exercises such as pull-ups, muscle-ups, kettlebell swings, deadlifts, snatches and much more.
There is a wrist strap that is easily adjustable and which prevents your wrist from discomfort. The stitching is quadruple, meaning it is insanely durable. The grips are fully supportive and provide a worry-free feeling that has you focusing solely on your performance and nothing else.
The Bear KompleX Grips are much-needed protection for your palms. Bars and weights are heavy and rough, and while you might be proud of your split skin, in the long run, it is not worth injuring yourself over and over again. Be smart, keep your hands safe, and dominate your next WOD!

8

. Rehband Rx Knee Sleeve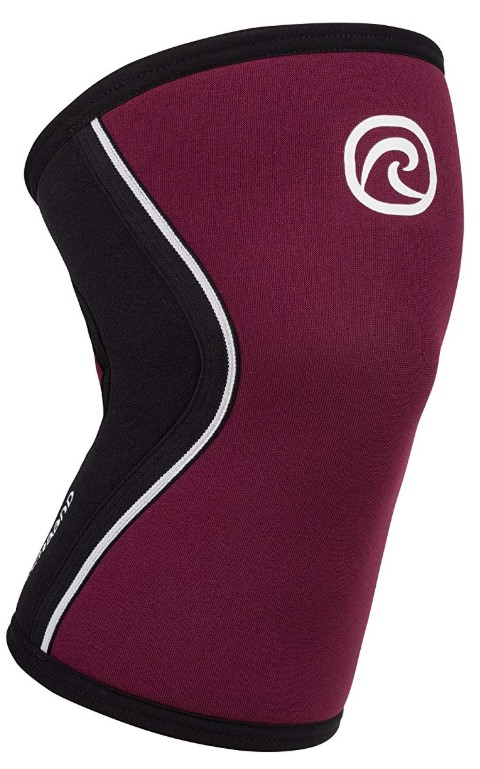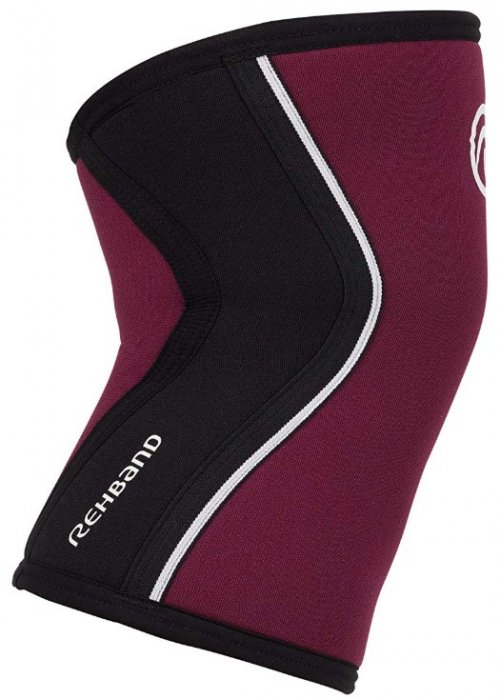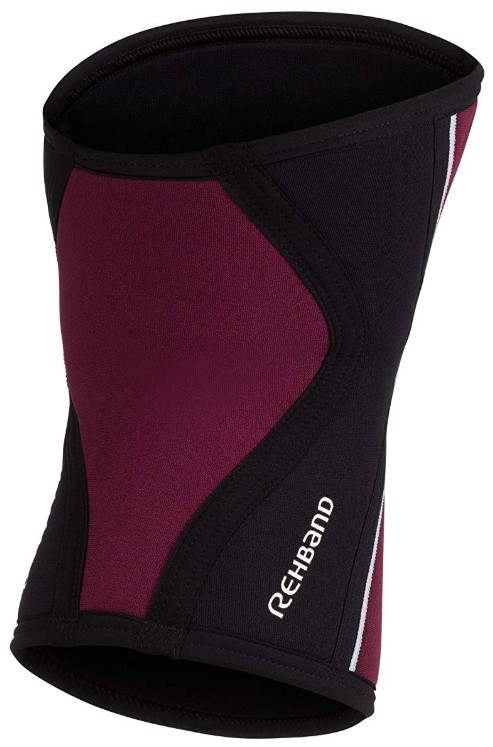 Right off the bat, it is important to emphasize that not everyone needs a knee sleeve during their WOD. This is mostly for those who have weak joints or whose knees have previously suffered an injury and/or surgery. If you know you have knee problems (make sure to consult with your medical professional!), then knee support is essential in workouts as vigorous as CrossFit. The Rehband Rx Knee Sleeve will return strength to your body and legs, provide uniform compression and all that in a neat, neoprene package.
The neoprene used in the construction here is long-lasting and with varying levels of rigidity so that the Knee Sleeve is both flexible and yet stable. This design has been thoroughly tested in the lab and with athletes before it was put into production.
The Rehband Rx Knee Sleeve follows the motions of your body, keeping it in place during exercise. At the same time, it won't limit any development of muscles around your knee. The Knee Sleeve has an anatomical shape and it fits the forms of your leg for maximum support and ease of movement.
When you're lifting, doing squats or basically any exercise which involves the strength and pull of your knee joints - and your knee is not in the healthiest of conditions - support is crucial. Thanks to the Rehband Rx Knee Sleeve, you will have all the support you need, without feeling held back in any way. Make your health a priority, and invest in a good pair of knee sleeves for your CrossFit gear!

9

. Desired Body Fitness Towel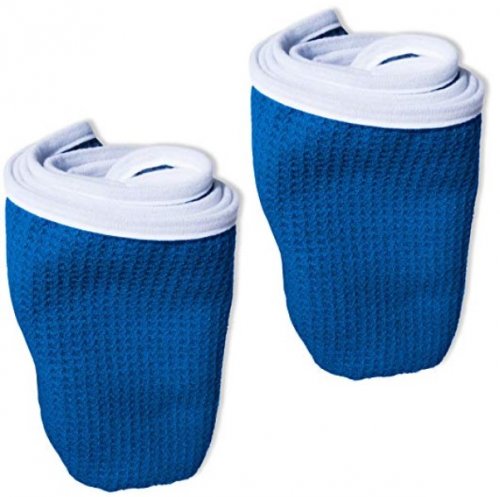 It's an understatement to say that during a WOD you work up a sweat. Depending on your body condition, you are bound to soak through your top and/or bottom, and sweat is definitely going to roll down your temples. This is why you need a good towel for your training session. It will keep the sweat away from your eyes, and it won't let your hands become too slippery, should you choose not to wear any grips.
The Fitness Towel from Desired Body is made from a soft microfiber material that has a waffle texture. This texture allows it to absorb more moisture than a regular towel and is able to keep you dry for longer. The waffle structure is reinforced with a border along the edges of the towel that keeps it from unraveling too soon.
This towel is about 44" x 16.5" inches in size, and it weighs almost nothing! It doesn't have any labels or hooks to irritate you or cause itching, and it is both quick to dry and resistant to odors! This means that you can wear the Desired Body Fitness Towel around your neck without fear of any chafing.
One more benefit of this towel is that you can not only use it to dry yourself, but you can also cover the benches and machines you're working with so that you don't leave nasty sweat stains all over. It is only common courtesy in a shared training space.

10

. BlenderBottle ProStak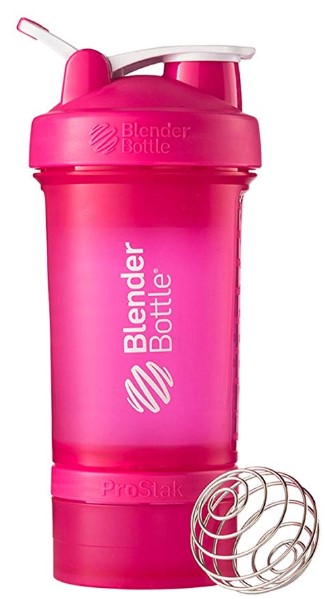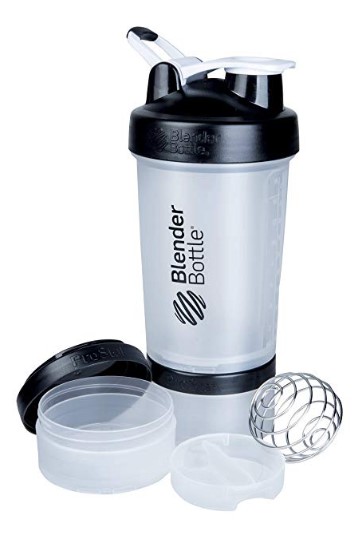 During a strenuous workout, it is imperative that you keep yourself hydrated. Taking in the right amount of liquids before, during and after your WOD is what keeps your body strong and healthy and what prevents complications that may arise from dehydration, such as fatigue, weakness, vertigo, loss of consciousness. The ProStak from BlenderBottle is a system that includes a bottle but also interlocking jars for storage and a whisk ball for mixing your own shakes if you so desire.
The bottle has measurement markings up to 16 oz, but its total capacity is 22 oz. There is a 150 cc jar included, as well as another 100 cc jar, a pill organizer, and a BlenderBall that serves to whisk the contents of your bottle. Measure out the correct amount of liquids, add your daily dose of powder proteins and plop in the BlenderBall. Shake everything so that the ball helps the powder evenly disperse through the water.
All of this is made from non-toxic materials that are safe to use in the dishwasher for maximum convenience. The ProStak also has a flip cap that won't leak, as well as a screw-on lid and a loop top. Drinking from it is a piece of cake even when you're exhausted.
The BlenderBottle ProStak is an essential element to your CrossFit equipment. It doesn't matter what type of exercises you're doing, or even if you're taking any supplements - this is a simple, practical way to simply take in more water. But in case you like your daily dose of protein, then the ProStak makes it amazingly simple for you. Stay hydrated with this versatile system from BlenderBottle!

Subscribe to our Newsletter