Best Protein Powders for Muscle Gain Reviewed
In a Hurry? Editors choice: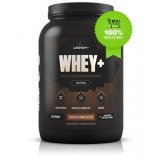 Test Winner: Legion Whey+

If you are
looking to bulk up
, you must have the right supplements to help you meet your body goals. Both bodybuilders and nutritionists will tell you the same thing; you will need more protein than your recommended daily allowance. Exercising alone may not help you achieve the kind of results you desire.
The best protein powders help bridge this deficit, especially since you will be working out more to achieve the body mass you want. Such supplements help aid in muscle growth and repairs, among other functions. Your overall body composition, strength, and performance will also improve once you start incorporating more proteins into your diet.
Standout Picks
Criteria Used for Evaluation
Ease of Use
The supplements should be stress-free and convenient to mix
The best supplements are often stress-free to blend. They quickly dissolve and mix with liquids: in addition to other ingredients. Some are not as soluble and end up forming clumps. No one likes the taste of clumped up powder, but there's a high chance that you may end up drinking them accidentally if you don't select the right supplements.
A rash decision may lead you to choose supplements that will need a lot of your time and energy to mix up. It can be quite inconveniencing, especially if you're planning to have your shakes on the go. Using a shaker bottle will most definitely be out of the question. You may even end up straining your arm when dealing with such supplements, because of all the shaking needed just to get a smooth shake. Alternatively, you will always be dependent on your blender because your strength alone wouldn't suffice.
Remember to do more research on the supplements to get more information concerning their mix-ability. Check for feedback and conversations from other buyers. At times, people purchase easy to mix options but still end up with clumpy shakes. One of the reasons could be how you combine your blend. If you don't follow the proper steps, you will have a hard time creating the kind of shake you want.
Another issue that affects your supplement blend is storage. Make sure you always store the container in a cool and dry place. Avoid placing it near heat or moisture. Doing so will ensure that the supplement retains its overall consistency. The temperature of the liquid you're planning to use will also affect the supplements mix-ability. Users are often advised to use warm liquids. Hot liquid may end up changing the supplement's structure, causing coagulation. When the fluid is too cold, the overall solubility will decline; resulting in the clumps, we are trying to avoid.
With proper research, storage, and the right instructions, you are less likely going to have clump related problems when making your shakes. Remember, you can always add some ice cubes, later on, to give your shake that cool and chilly effect.
Features
Better tasting supplements will encourage daily intake
If you've had your fair share of shakes and supplements, you can agree that it's not always a bed of roses. Some of them have up to twenty flavors. Others have a few variations, while some do not have any zest at all. Some tastes have common names, while others have dessert names. The biggest mistake you could do is select one because the flavor name sounds delicious.
Some situations would need you to make a random decision and hope for the best. On the other hand, people who are in a position to do some research should always do so. If you can sample different flavors, set some time aside, and do so. As previously mentioned, make it a habit to ask around to get other people's feedback. Their opinions will help narrow things down for you and possibly avoid some chalky tasting alternatives.
The search for better tasting supplements can also get complicated. Some brands have excellent options; however, you need to be cautious. Avoid any that use high fructose corn syrup sweeteners. Others use artificial sugars, which are then enhanced with sugar alcohols. Such supplements may cause bloating in some individuals. Natural sweeteners are better, but they also have potential risks. Too much may harm the healthy bacteria in your stomach.
The best supplements are those that are completely unsweetened. If you can avoid any of the sugars mentioned earlier, you will be one step closer to a healthier you. Alternatively, you can opt to disregard smoothies and shakes if you find them hard to drink. You also have the option of baking them into muffins, pancakes, and other foods. There are tons of innovative ways of incorporating them into your diet.
Vegan supplements often lack in taste as well. Instead of struggling with your daily intake, you can always add other ingredients to help you mask the taste. The best way to make sure you stick to your shakes and dosage.
Product Purity
Be cautious of what you put in your body
You've probably heard this time and again, always read the label. Don't be distracted by the front of the container. The real place you need to look at is at the back: where the ingredients are listed. You should always ask yourself; what is the supplement's source? How many carbs are you taking in? What is the total calorie count? Am I allergic to any of the listed ingredients? Does it contain any banned substances?
Allergies are the simplest to tackle compared to the rest. Reason being, you will be able to sift out anything you are allergic to just by looking at the contents. For instance, if you spotted eggs in the ingredient list, you would not pick out the supplement because it would do you more harm than good. People, who are allergic to animal products or have vegan preferences, can instantly tell if the product is consumable by checking its protein sources.
The two most common sources are Whey and Casein. Casein is a good BCAA source that helps in the reduction of broken down muscle protein. It makes delivering amino acids to the muscles sustainable. One of the reasons why casein is not preferable is because it is digested at a slow rate. Once it is in contact with stomach acid, it forms a gel-like substance that makes it difficult to empty the stomach. It can even take more than six hours for the body to digest and absorb it fully. The best time to take casein-based supplements is just before bed. Users can also take them in between meals in blends with other sources.
Whey is more popular than Casein for several reasons. The main one being that it's faster to digest compared to other sources. It gets absorbed into the body just as quick. The two reasons make it an ideal alternative for post and pre-workout shakes. Additionally, Whey has more BCAAs. BCAA stands for branched amino acids. A supplement will only be as effective as its BCAA ratio. The ratio is what also determines whether it has enough fat loss or muscle building properties.
There are other appropriate sources, such as eggs, milk, and a few vegan options like peas. As much as you would want a high protein count, you cannot trust all the products that have a high count. Some brands use amino acids to falsify laboratory tests and give a false count. This act is known as protein spiking. That is why even though some supplements may seem to have a high count; they are not as effective in reality. Reason being, they don't have the adequate amount of proteins needed to influence one's performance or muscle growth.
There are also ingredients that you should always avoid when it comes to these supplements:
Carrageenan
Often used in creams, some forms of yogurt, powders, and frozen pizza, it helps make products thicker and creamier. Recent animal studies by the Cornucopia Institute, show that it can potentially lead to tumors, inflammation, ulcers, and intestinal lesions.
Sugar substitutes
As previously discussed in the taste criterion, sugar substitutes may cause more harm in the end. Recent studies have linked artificial sweeteners and sugar alcohols to diarrhea, bloating, gas, weight gain, and cancer, to mention a few. So stay away from names such as maltitol, sorbitol, sucralose, saccharin, and aspartame. If you must sweeten your shake, use honey or frozen fruits.
Heavy metals
People who are most likely to be affected by heavy metals are vegans. Most of them are from fertilizers, pesticides, and others occur naturally in the soil. Make sure that you purchase your supplements from brands that carry out thorough testing. That way, you can avoid ingesting them accidentally; since their quantities will be well within the recommended safety limits.
The same concept applies to other forms of supplements. For instance, Athletes should purchase from trusted brands and labels that are certified for sport or NSF. These kinds of supplements have undergone proper testing to ensure that they have no traces of banned substances.
Compatibility
Seeing as there are hundreds of products to choose from, you need to be more skeptical than ever. Even though the list has narrowed down your options, it's still not a good idea to make a random selection. Here are several factors that will help you make up your mind:
1. Your Needs
Everyone has their reason for purchasing these supplements; what is yours? If you want to focus on building muscles, gaining weight or recovery, you should ensure that that the supplement has the appropriate amount of BCAAs. Select one that has the highest biological value and the ideal whey combination. It should have two parts leucine, one part isoleucine, and one part valine.
If your main agenda is weight loss, you should altogether avoid added sugars. Make it a point to shun starch-based sweeteners and high carb options as well.
2. Dietary preferences
If you prefer vegan alternatives, avoid milk-based supplements. You should stay away from whey options and focus on plant proteins only. A few examples of such supplements include;
- Pea
- Brown rice
- Hemp
- Mixed plants supplements
3. Allergies and Medical conditions
People with lactose and egg-related allergies could settle for options that are vegan based. Regardless, such individuals should only make purchasing decisions after consulting with their doctor.
Side Effects
Too much of anything can be disastrous
All supplements have adverse effects if used excessively. Some people end up having digestive problems, flatulence, diarrhea, increased bowel movements, nausea, and bloating. People who take too much and do not work out to match their intake often gain weight unhealthily instead. There are also a few cases where whey supplements have drastically lowered some people's blood pressure.
Other side effects include; kidney problems, hormone disruption, heavy metal poisoning, liver damage, high cancer risk, hair loss, acne, and dehydration. As you can see, some of the side effects are fatal. There is no need to put yourself at risk by not following the proper dosage instructions. As long as you consult your medical physician and take the supplements as needed, you will be in safe hands.
16 Top-Rated Protein Powders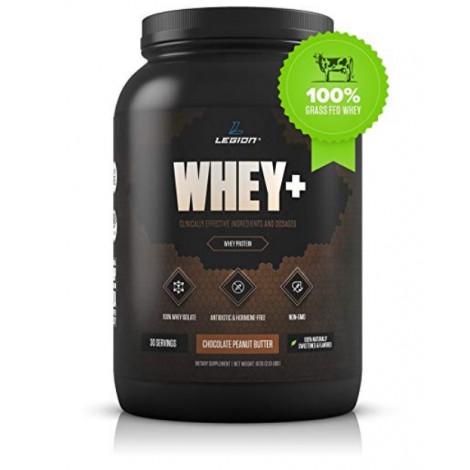 When it comes to sourcing for ingredients, Legion Athletics whey protein powder doesn't compromise. The brand only uses quality Whey from grass-fed cows. The supplement is ideal for anyone looking for a sugar-free, lactose-free, low carb, and low-calorie alternative. You can purchase this muscle gain supplement as well if you want some high standard non-GMO supplements.
If you're also the kind of individual that needs some flavor for more natural intake, you will have nine different ones to choose from. Buyer's get to select from vanilla, strawberry, salted caramel, mocha cappuccino, mint chocolate, cookies and cream, chocolate peanut butter, chocolate, and birthday cake. You can try each of the flavors to find out what works for you.
They are also available in five different sizes; 1.98lbs, 2.01lbs, 2.05lbs, 5lbs, and a 30 servings container. The supplement is also stress-free to mix, regardless of whether you are using water or milk. You could even use room temperature water, and it still would not get clumpy.

2

. Optimum Nutrition Gold Standard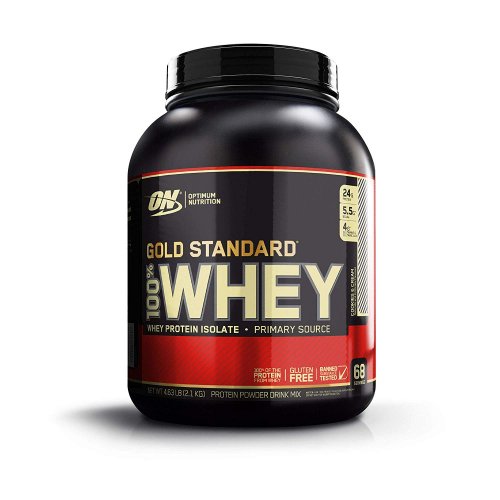 These Gold standard whey protein powder supplements are an excellent fit for people looking to build muscle or gain weight. The brand offers 5g of naturally occurring Branched-chain amino acids. As such, you can rest assured that you are going to get the lean and strong muscles that you've always desired. Consumers consistently come back for more because of the undeniable quality they get with each serving.
The protein powder for muscle gain consists of whey concentrate, whey isolate, and whey peptides, which make up the 24g-worth of the blend. It has about 3 to 4 grams of carbs, 1 to 1.5 grams of fat, and 1 to 3 grams of sugar. The brand does not use gluten when making the supplement. All their twenty flavors have the same ingredient similarities, except for one. The double rich chocolate flavor does not have any traces of sucralose.
All the final products undergo testing and are safe for consumption. The company takes quality control matters very seriously. You will be able to enjoy your shake early in the morning, before or even after your workouts. Unlike other brands, Optimum Nutrition doesn't restrict users. They make it easy for people to incorporate the shakes into their schedule. Some people also prefer drinking their shakes with or in between meals. The shake will help initiate your body's recovery process and even improve the outcome of your exercises.
This protein powder for muscle gain is instant and mixes quickly without forming any clumps and lumps. You can purchase it in four quantities. The 10lbs container is the largest, followed by the 5lbs, 2lbs, and 1lbs options. Each serving has 5g of proteins, 5g of fat, 6g of carbs and 100 calories in total.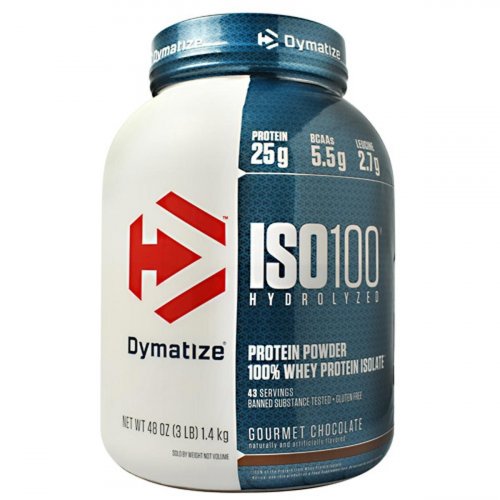 Some of us have trouble when it comes to digestion. The Dymatize whey protein powder is excellent for anyone who wants an option that's easy on the stomach. It has a pre-hydrolyzed protein that enhances absorption and fast metabolism. If you're still not convinced, the company's background in athletic nutrition should give you some peace of mind. Each of their formulae comprises of the latest science and manufactured in Sport and GMP Certified facilities.
All their claims are substantial, and the testing processes are rigorous. If you are an athlete, you will be glad to know that the supplements also undergo testing for banned substances. Dymatize uses cross-flow microfiltration for the preservation of critical muscle-building fractions. This purification involves multiple steps to remove excess fat, cholesterol, lactose, and carbohydrates.
The amount of sugar and fat per serving- totals to less than a gram. It also has some Leucine to support your muscles when it comes to protein synthesis. Amino spiking is against the brand's policies. They only use intact quality ones. You can get it in a 5lbs container, which equates to 73 servings. It's also available in smaller quantities and 15 other flavors.

4

. Six Star Pro Nutrition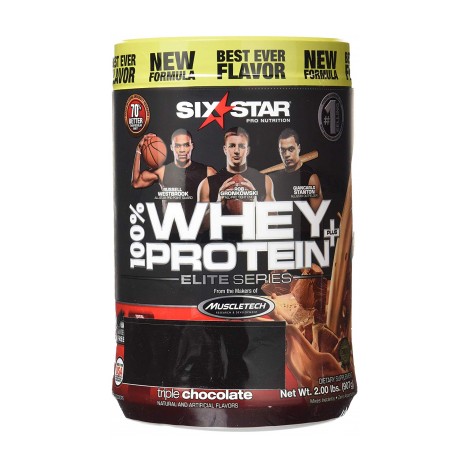 Six Star Pro Nutrition is a brand that needs no introduction. If you have ever browsed the supplement aisle in your local drugstore, you have more than likely picked up a Six Star Pro Nutrition product. What we liked most about this whey protein option is that it is an impressive serving of protein with all of the additional supplements that aid in recovery and absorption.
One scoop of this whey protein provides users with 32 grams of protein per serving. Each serving also provides over 7 grams of BCAAS as well as a generous dose of glutamine. Unlike some of the other basic blends out there on the market, this formula provides 2.5 grams of creatine.
There are quite a few flavor options to select from, and users are a big fan of how this blend tastes. Flavor options include triple chocolate, strawberry, vanilla, cookies and cream, and unflavored. You also have the option to select from 2 pound, 5 pounds, or 8 pounds packages.
If you are in the market for whey protein supplements to build muscles, this option from Six Star Pro Nutrition is a great place to start. It has all of the tools your body needs to build and recover muscle, and it tastes great!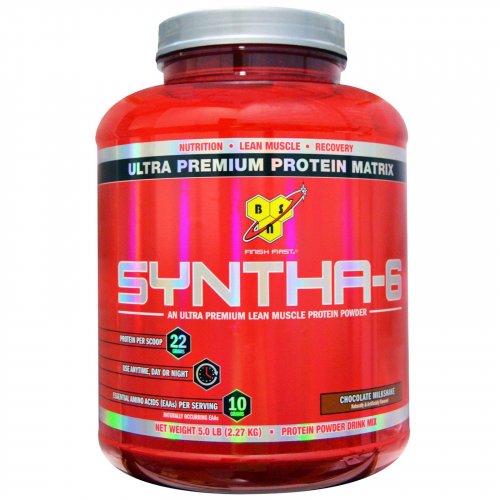 BSN is a reputable brand in the sports nutrition industry. The company has been a noteworthy player for over ten years, providing the masses with the result-producing supplements. One of the brand's core aims is to help its consumers reach their potential with the highest quality supplements there is. You can use it regardless of your exercise regimen or nutritional program.
Syntha-6 whey protein powder consists of premium ingredients; including a 22g protein matrix. The constituents comprise egg albumin, milk protein isolate, whey protein concentrate, calcium caseinate, whey protein isolate, and micellar casein, to mention a few. Each of its flavors contains at least 2 to 3 grams of sugar. The tastes range from vanilla ice cream, strawberry milkshake, cookies and cream, chocolate peanut butter, and the chocolate milkshake.
Buyers can use any beverage they want. However, using low fat or non-fat milk will help increase your intake. The fluid also helps bring out a fantastic milkshake taste as well. The supplements are popular because they have a proper balance in terms of fiber, essential amino acids, essential fatty acids, and overall nutrition. It's an excellent multi-functional supplement. You will benefit from this purchase, whether you are an amateur or a pro.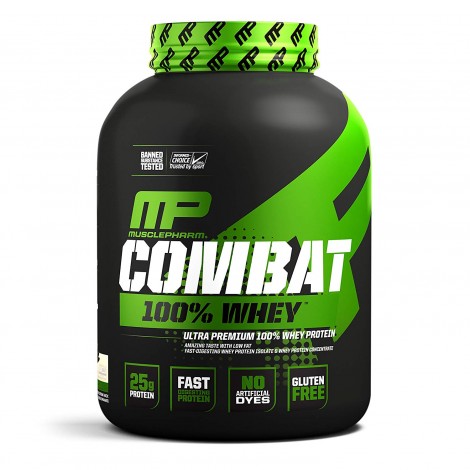 Looking for something that doesn't have many calories? This whey protein from MusclePharm Combat doesn't have nearly as many calories as other options. This means that, if you want to tone up and slim down, this is one of your best options.
This is a great option if you simply want a protein supplement. Each scoop offers up about 35 grams of protein per serving. It is important to note that it is a simple protein mix without any additional ingredients such as creatine, glutamine, or BCAAs. It is gluten-free and provides both a whey protein isolate and a concentrate.
You won't have to worry about a lot of extra calories with this whey protein, as each scoop provides just 120 calories per serving (if you simply mix it with water). Flavor options include vanilla, chocolate, strawberry, and cookies and cream. When mixed with water or milk, it may clump a little bit.
This is a great option for those looking to add just a little bit more protein into their diet without the need for a lot of extra and unwanted calories. If you are diligently tracking your macros, this whey protein gives you the biggest bang for your buck!



Naked Whey has solidified its reputation as a brand that has nothing to hide. The brand claims to use pure ingredients only, which then go through select manufacturing processes. As such, the Whey they offer is non-denatured. What this means is that you will only get clean proteins, and other vital nutrients such as glutathione, and essential amino acids.
The brand sources their whey from grass-fed cows' milk, and they use the cold process method. The process does not involve any acid or bleach. In fact, no chemical detergents will contaminate the supplement in any way. You can also be confident that it has no traces of synthetic additives or heavy metals. The process ensures that essential growth factors, which are naturally occurring, are maintained in the final product.
The whey supplement does not have any colors, flavors, sweeteners, gluten, soy, rBGH, rBST, or growth hormone. With each serving, you will get 5.9g of BCAA's, 3g of carbs, 25g of protein, 2g of sugar, and 120 calories. It has more than enough nutrition to help you with recovery and muscle growth. You can use them for both pre and post workout shakes.

8

. Body Fortress Super Advanced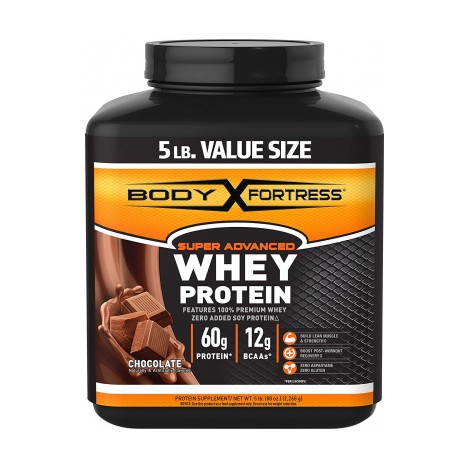 This option from Body Fortress really pumps up the protein content. It has more whey protein per scoop than many of the other options out there on the market. Plus, it is packed and a myriad of other ingredients that help process the protein in your body better as well as aid in recovery.
One scoop of this whey protein delivers an impressive 30 grams of protein to your system. It also provides users with creatine and BCAAs that aid in recovery as well. While the box says that it offers 60 grams of whey protein, that is per 2 scoops. It is important to note that the calorie count in 2 scoops is over 400, so you are better off with just one scoop!
Flavor options offered are pretty basic and include chocolate and vanilla. They taste pretty good and the flavor doesn't leave much of an after taste in your mouth. Plus, there is not a lot of clumping when the powder is mixed with water or milk.
If you are in the market for a whey protein that packs a powerful punch but still tastes great, this is worth a look. It has all of the ingredients that you need to perform at your very best as well as to aid in your recovery.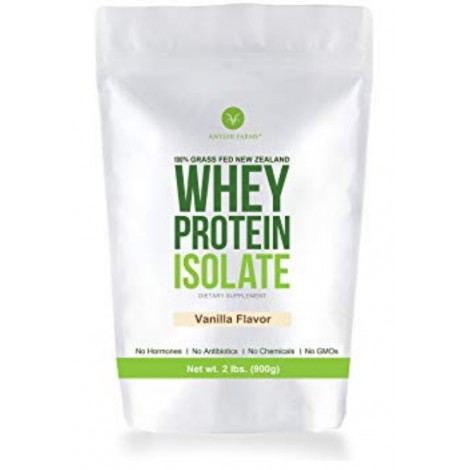 Being from New Zealand, all the cows included in the process fed on robust natural grass. The country bans the use of growth hormones and rBST. As such, no livestock are subject to hyper-immunizations, antibiotics, and other chemicals over there. They are raised under strict care and guidelines. That is why there's a big difference in the supplement's quality, compared to that of competing brands
Antler Farms' whey protein supplements also stand out because they are keto friendly. All the ingredients are natural; from the organic vanilla to the organic cocoa flavors, Organic stevia extract, and the sunflower lecithin. Even the whey protein in the supplements is free of sweeteners, artificial colors, flavors, and fillers. None of the ingredients is GMO, and the supplement is also soy and gluten free.
You can trust that you will also be safe from mold, salmonella, yeast, E-coli, or other biological impurities. The brand offers 26g of the purest and top quality whey protein. The supplement absorbs well and has high bioavailability. Thanks to cold processing, it has no fat and lactose but a high protein concentration instead.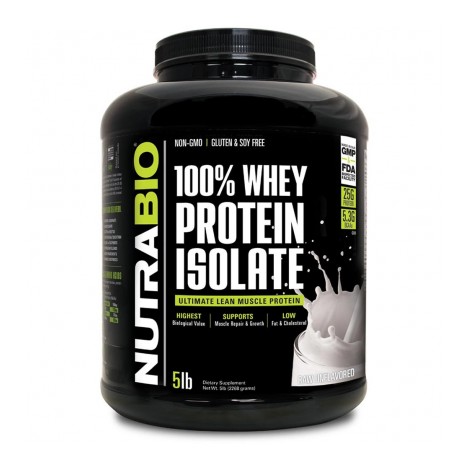 If you diligently count your daily macros, you will want to check out this whey protein from NutraBio. What we liked most about this choice is that it has a very low calorie count which is helpful when you want to burn off some fat. It also provides users with all of the nutrients they need to build muscle.
One serving offers just over 28 grams of whey protein isolate, which is just slightly more than similar brands. It also provides just over 5 grams of BCAAs as well as 11 amino acids. This blend makes it an ideal drink for muscle recovery after a brutal workout at the gym.
This whey protein from NutraBio is incredibly low in calories. Many of the low-calorie options clock in at around 130 calories, but this whey protein only has 110 calories per scoop! This makes it a great option for those tracking they macros.
Plus, it comes in 9 incredibly unique flavor options. Some of the more interesting flavors include blueberry muffin, pancakes and maple syrup, chocolate peanut butter, and cinnamon sugar donut. If you like your sweets but want to watch your calorie intake (and get your much-needed protein) this is one of your better options.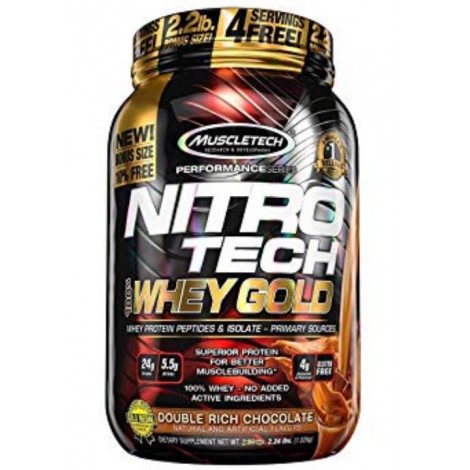 MuscleTech whey protein powder has a bonus size offer that has grabs people's attention. Instead of a 2lb container, the brand offers a 2.2lb capacity on sale. The same applies to their 5lb option, which they sell in a 5.5lb bottle. Therefore, buying one gets you more supplements at an affordable price. It may be just a 10% increase, but the extra nutrition you'll be getting is worth it.
The brand claims to have a scientifically superior formula. It consists of both peptides and whey protein isolate. That is why it is of higher quality, offers better absorption, and has a remarkable taste. The supplement has 4g of glutamine, 5.5g of BCAAs, and 24g of proteins. Its biological value is very high, including its nutrient delivery. All this is thanks to the whey peptides since they bring about an insulinogenic response.
They did not use salt, heat, or harsh acids when making the supplement. MuscleTech uses multi-phase filtration to remove all the impurities. Thanks to cold filtration, the lactose and fat content in the supplement reduce significantly. The supplement is an excellent fit for both men and women, and will undoubtedly have a positive impact on your performance.

12

. Universal Nutrition by Animal


There's nothing better than having the freedom to use whatever recipe you want to make you're your shakes. That is precisely what you'll get with Animal's Universal Nutrition supplement. You will have the most comfortable time mixing it with other ingredients, and its taste profile is exemplary. Its formulation ensures that you always look forward to a great tasting and smooth drink whenever you need a boost. You will also not experience issues such as bloating or other kinds of stomach discomfort.
The whey sources are of high quality, and it has digestive enzymes to make it work more efficiently. Not only will this protein powder work quicker, but it will also get absorbed immediately you take your drink. The brand refers to the product as 'muscle food.' Therefore, you can be confident that it has high bioavailability. They are so confident in their product that they assure all their customers that they will definitely help make them bigger and stronger. According to Animal, their Whey has all the building blocks that one would need to achieve their goals.
It has significant amounts of supplements, vitamins, minerals, and carbs, to ensure you get the necessary nutritional balance for optimal muscle development. You can have some after your workout, to help repair your muscle tissues. The shake will also help relieve you of any soreness you'll get afterward. The brand offers eleven flavors including brownie batter and frosted cinnamon buns.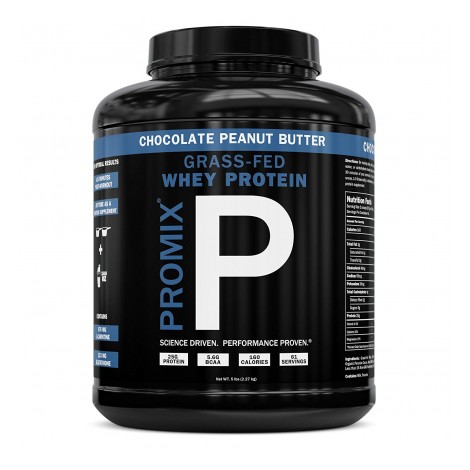 Looking to bulk up? This whey protein from ProMix Nutrition is a great tool to help you get there. Each serving has all of the nutrients that your muscles need to fuel your workouts as well as repair afterward. Plus, it comes in a lot of unique flavors to satisfy your much neglected sweet tooth!
One scoop provides about 25 grams of whey protein. You can feel good about what you put into your body because 100 percent of this whey protein comes from grass-fed cows from a Northern Californian farm. Plus, it is non-GMO and free of chemical additives and hormones.
One serving of this mix has about 160 calories, which is just slightly higher than average. This blend is designed less for those that want to slim down and more for those looking to bulk up. Flavor options include chocolate, chocolate peanut butter, vanilla, and unflavored.
If gains and muscle are what you want, this whey protein is worth a look. It is derived from ethical sources that do not put any unwanted chemicals or additives into their formula. Plus, it gives you all of the nutrition you need for a great workout and even better recovery.



Cellucor is an American brand that proudly stands by its supplements. For over two decades, the company has invested in research and development, not to mention the accurate and thorough testing of their products. That is why they can offer you a satisfaction guarantee. They have ensured that the supplements are of the highest standards and will definitely meet all your training needs.
In 2013, this product was the "Breakout Supplement of the Year," according to Bodybuilding.com. COR-Performance has always lived up to the expectations of its users and the reputation given by the online fitness hub and retailer. It not only has outstanding flavors, but its entire premium flavor is worth investing in.
The supplement has an Informed Choice certification. What this means is that it has undergone third-party testing, and quality assurance to deem it safe for consumption. You can rest easy knowing that there are no traces of banned substances and that the nutritional supplements are clean and trustworthy. The brand offers six flavors that are inspired by desserts. They also come in two different quantities.

15

. BodyBuilding.Com Signature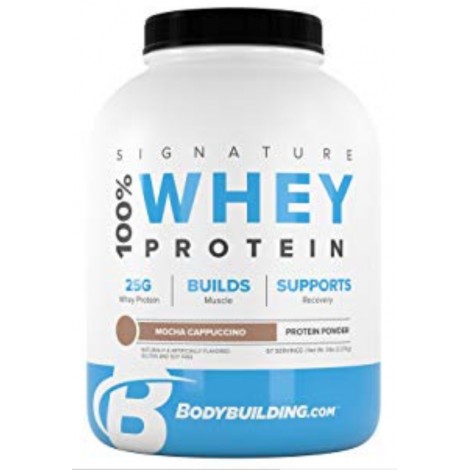 BodyBuilding.Com whey protein powder is a brand that makes this list complete. The brand identifies itself as an all-around solution to people's fitness goals. They help offer nutritional advice, supplement expertise, and training support, among other things. Their supplement has the required whey isolate, hydrolysate, and concentrates so that you can attain your goals effectively.
It has digestive enzymes to help increase your blood's amino acid intake. You have the option of taking it during different times of the day. Although, the best time to make sure you always have your shake with you is usually after workouts. The shakes are also excellent early in the morning, and in between meals. All the ingredients in the supplement are gym-proven and time tested.
They are very transparent when it comes to their ingredients, to ensure that their customers always know what they are ingesting. Personalize your experience by trying out their flavor selection and experimenting on the liquid level you prefer. It will also help you modify the supplement's consistency in your shakes.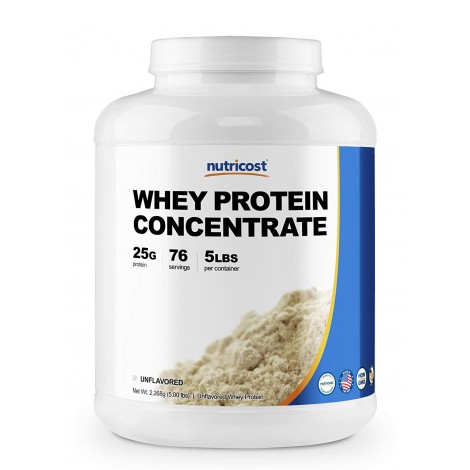 Simplicity is the name of the game when it comes to this whey protein from Nutricost. It is a blend that is free of any unwanted chemicals or additives. It doesn't even use any artificial sweeteners. If you want to get your daily recommended dosage of whey protein without anything else, this is a really great option worth checking out.
One scoop of this whey protein offers up about 25 grams of protein, which is pretty standard when compared to other options. This concentrate is non-GMO and gluten-free. Plus, it only has 130 calories per serving with only 2 grams of carbohydrates (which is about 2 grams less than average).
Flavor options are a little limited, and only include the basics of chocolate, vanilla, and unflavored. The taste of this formula is a little bit on the sweet side, which can cause an unpleasant aftertaste. It also clumps together when mixed into water or milk.
For those that are in the market for something that is simple and easy, this whey protein from Nutricost is a really great option. While it may not taste exactly like a vanilla milkshake, you know exactly what you are putting into your body. Plus, it is light enough that it will not weigh you down or make you feel overly full.

Subscribe to our Newsletter