Best Books on Podiatry For Students & Laymen Alike Reviewed
last updated
Mar 21, 2019
In this day and age of information overload, or so it can seem sometimes, we may tend to forget the importance of finding this same information (with more detail) within a book. Books specializing in any area are significant in value, and the overall knowledge we gain can be worth more than the cost we may spend on purchasing. For the most part, the greatest of books (knowledge-wise) have hours upon hours of research associated with them. This can further lead to more books with even more details, and our mastery over the subject becomes closer by each turning of the page. As such, there can be no substitute for this newly-gained awareness and comprehension of study.
In a Hurry? The test winner after 6.5 hrs of research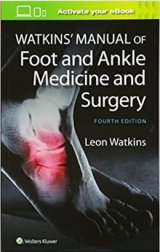 Watkins' Manual of Foot and Ankle Medicine and Surgery
Why is it better?
Comprehensive
Easy to Use
Search Software
Sharing of Notes
Electronic and Paperback Versions
In a
Hurry? Editors choice: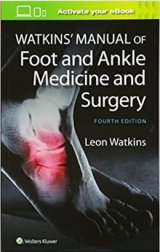 Test Winner: Watkins' Manual of Foot and Ankle Medicine and Surgery

7
Researched Sources
143
Reviews Considered
6.5
Hours Researching
10
Products Evaluated
Accuracy
Advanced Features
Apps
Ease of Use
Materials
By Default
In Depth Review Top 10
Watkins' Manual of Foot and Ankle Medicine and Surgery
McGlamry's Comprehensive Textbook of Foot and Ankle Surgery
Principles and Management of Pediatric Foot and Ankle Deformities and Malformations
Foot and Ankle Radiology
Lower Extremity Soft Tissue & Cutaneous Plastic Surgery
External Fixators of the Foot and Ankle
The Plantar Fasciitis Plan
Sarrafian's Anatomy of the Foot and Ankle
The Ultimate Guide to Strong Healthy Feet
The Foot Book
Table of contents
Criteria Used for Evaluation
Other Factors to Consider
Frequently Asked Questions
Sources
10 Best Books On Podiatry
1

. Watkins' Manual of Foot and Ankle Medicine and Surgery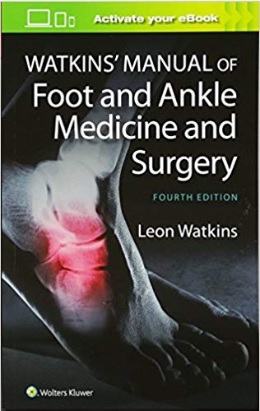 Comprehensive
Easy to Use
Search Software
Sharing of Notes
Electronic and Paperback Versions
A bit pricey
Better for residents
This manual is in its fourth edition and is ready for residents to have on hand. It contains podiatric abbreviations, glossary, a print edition bundled with software which allows you easy research, cross-linked pages, references, and a highlighting tool. This is a must-have book for residents or anyone looking to expand their knowledge in podiatry.
Read more
Cross-links and search tools (with smart navigation) help you grab information from the web, the book, and even your notes. This takes ease-of-use to a whole new level. Furthermore, you are able to share your notes with other colleagues and/or can be the recipient of notes. It is truly an environment for learning and mulling over ideas between other residents and/or doctors.
The content is in-depth and accompanies color illustrations. There is quick-reference tabbing, which serves to save content for later recall. The color illustrations contain pictures of most-utilized instruments and dermatologic conditions. Created with a list format, this book works well at making an environment conducive to easy learning and long-term comprehension.
Content contains anatomy, disease prevention, microbiology, pharmacology, and the management of many disorders. Whether you are a resident looking for the right book (for easy access to information) or a victim of these issues, this is one item which can benefit both. Moreover, the concise and comprehensive manual covers trauma, implants, wounds, arthritis, and so much more.
2

. McGlamry's Comprehensive Textbook of Foot and Ankle Surgery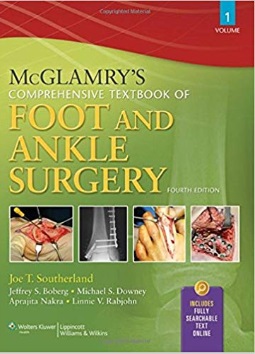 3000 Illustrations
Volume 1 and 2
Expert Advice
Walkthrough of Procedures
Enhanced Detail
Whether you are the one heading into surgery, work in the field, or are a student readying for an upcoming exam, this reference manual could be what you are searching for. Examining perioperative management to postoperative complications and considerations, this covers anything from routine trauma to surgeries involving compound deformities. In other words, it addresses nearly everything you can imagine in related surgery.
Read more
This guide serves well for residents, students, and surgeons alike. It is the fourth edition of this manual and the contents are truly comprehensive. Furthermore, this edition contains new and innovative techniques in the field of expertise and helps to prepare for nearly any scenario. Moreover, it is a step-by-step manual from leading authorities, which in the thick of it, they give you the best advice for the surgical procedures they perform.
3000 illustrations walk you through each and every step of the most common of procedures; as well as, unusual surgeries. The color format highlights key anatomic structures and surgical approaches, and as such, the end result is better retainment and understanding of the procedure in question.
This is one of those products which can broaden your already vast knowledge of treatment and procedures, or can bring a student up to speed in a fairly quick amount of time. Furthermore, with the knowledge of proven and successful surgeons in their respective field, you can be certain the information therein is knowledge worth the study.
3

. Principles and Management of Pediatric Foot and Ankle Deformities and Malformations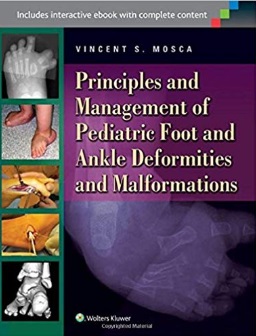 In-depth Information
Procedures and Techniques
Note-sharing App
Quick-reference Tabbing
Search Tool
Whether you are a student just entering the field or a long time practitioner of the arts, this manual is perfect for those in pediatrics. This is an in-depth look at the surgery and procedures of pediatric feet and ankles. Along with treatment recommendations, this contains illustrations, bullet points, and tables for easier readability and quicker access.
Read more
This contains enhanced navigation with how-to guides for bone and soft tissue procedures. There are detailed descriptions of each with treatment recommendations, thereof. The pages even cover special topics, such as rare iatrogenic and idiopathic deformities. Moreover, the illustrations appear with surgical instruction.
Quick-reference tabbing allows you to mark areas of interest for faster recall and navigation. Also, there is an app which allows you to collaborate with colleagues by sharing the notes taken, so as to get the most out of your research and to give the best to your patients.
We really like the search tool function, as it pulls information from the book, your notes, and the web alike. This really adds to the overall functionality and importance of this manual.
4

. Foot and Ankle Radiology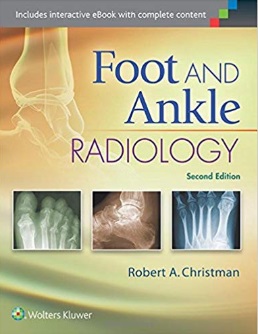 In-depth Coverage
Adult/Pediatric-friendly
Cross-linked Pages/References
Highlighting Tool
Quick-reference Tabbing
For those entering the field of radiology, this is a highly in-depth look into the elements of feet and ankles radiology. The contents cover the principles of radiographic interpretation, systematic evaluation of bone and joint disorders, normal and variant radiographic anatomy, bone/joint abnormalities, and overall development. It is a comprehensive, yet practical approach to the field.
Read more
There are over 1000 color illustrations and radiographs. Furthermore, this manual helps to analyze radiographs with efficiency and accuracy using a systematic approach. It has content on MR, CT, PET, SPECT, and musculoskeletal ultrasounds, as well as easier identification of the conditions which are considered to be intrinsic to the feet, or that represents manifestations of an extrinsic disease.
We like the fact this covers over postoperative conditions and evaluates them with the possible complications that can arise. This gives a better understanding when evaluating during a radiographic interpretation.
Furthermore, the radiographic interpretations cover over both adult and pediatric fields. This adds to the already high value of this particular book, as it examines both parties in a no-nonsense and practical approach.
5

. Lower Extremity Soft Tissue & Cutaneous Plastic Surgery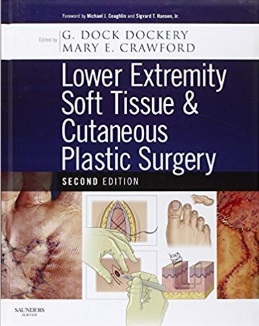 1300+ Color Illustrations
Step-by-Step Instructions
Latest Techniques
Sutiable for Surgeons
Plastic Surgery Specific
High Price
This is a surgeon's manual for plastic surgery. It contains illustrations and step-by-step details on techniques. The second edition contains four new chapters covering information related to cutaneous anatomy and its surgical implications, leg ulcer management, dressings and postoperative care, and aseptic techniques. This product progresses through the most basic of information to the more complex of scenarios.
Read more
1300 full-color illustrations help to clarify the details of diagnosing and treating, within the realm of plastic surgery, its instruments, procedures, and post-op care. It contains everything from suturing to incisional and excisional procedures. Moreover, the information within is extremely comprehensive and covers the latest in technique and procedure.
This is a great reference manual for the experienced podiatrist looking to expand their knowledge in technique. Furthermore, it helps to create a practical environment in that each procedure covered is handled with the best and proven techniques available.
Everything from cutaneous flaps, grafts, reconstructive, and plastic surgical techniques are found within these pages. It is full of detail and leaves nothing out. That is, this item takes on a no-nonsense approach with its content.
6

. External Fixators of the Foot and Ankle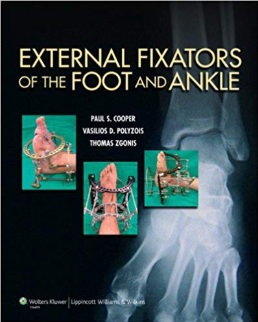 Reference Manual
Step-by-Step Instructions
Authoritative Perspectives
External Fixator-specific
Better for Student/Surgeon
In-depth Examination of Tools
Covers Relevant Anatomy
Very few of us consider the importance of fixators when we think of surgery. But with corrective surgeries, fixators may very well be an integral part of the healing process. Just as braces and retainers work to correct our teeth, so does fixators do the same for our feet and ankles. Within this reference manual, you will find the much-needed information involving fixators for podiatry care.
Read more
Authoritative perspectives are found within the pages; leading personnel in the field to help give better advice to technique, and with a better understanding of why the technique should be employed versus other procedural notions. Furthermore, a wide range of procedures is coverable with step-by-step instructions, in order to give the best chance for the grasp of the material.
We love how the pages within take complex problems and break them down into their simpler forms. This makes learning a bit easier with faster ability to retain the knowledge within. Plus, 1,300 illustrations help to give us the surgeon's eye view with a unique perspective.
Overall, this is a reference manual worthy of any surgeon's or student's library. Whether it be for quick reference or for a deeper understanding of technique and postoperative care, this is certainly worth taking a look at.
7

. The Plantar Fasciitis Plan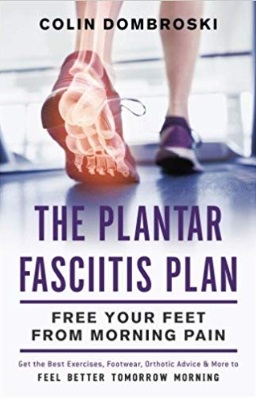 In-depth Study
Pain-relieving Techniques
Budget-friendly
Focuses on Solutions
Plantar Fasciitis-specific
A self-help book, this is told through the eyes of Dr. Colin Dombroski. It examines plantar fasciitis symptoms, causes, and pain. It is available in electronic and paperback versions and does a great job at handling acute and chronic conditions. Furthermore, the context covers the worst part of plantar fasciitis, the early morning. In other words, if you struggle with the condition, this may be the perfect book.
Read more
Although there are many causes to plantar fasciitis, one of the main causes is the tearing of the fascia ligament, in the form of microtears along the area where it attaches to the heel bone. It was once believed that heel spurs were the blame but now it is understood that heel spurs are, indeed, a result and not the cause.
Dr. Colin Dombroski does a fine job of explaining the details and, moreover, explains how to treat the condition with the best results. We really like the way he helps us to learn how to get the best results from the treatments we undergo. That is, Dr. Colin Dombroski works with the medical field and not against.
Lastly, this reading is quite in-depth with knowledge and information. It is not a book by someone looking to get rich off of those who are in need, but instead, it is a reading with a design to improve the quality of life for those who suffer.
8

. Sarrafian's Anatomy of the Foot and Ankle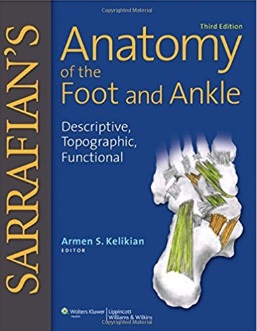 High Detail
Hardcover/Electronic Available
No-nonsense Writing
Good for Students/Surgeons
Covers Complex Situations/Information
Pricey
Lacks Collaboration Software
In its third edition, this textbook is a perfect fit for students learning anatomy. It is available in both hardcover and electronic versions. Covering elements such as applied anatomy biomechanics, cross-sectional and functional anatomy, this is a must-have read which remains updated as new and more information becomes available.
Read more
Applied anatomy biomechanics covers sports medicine. A theoretical framework, it is utilized as an assessment tool to analyze and validate evidence-based modification to the body. It further evaluates how performance can gain the optimum status for an athlete through technique.
Cross-sectional anatomy is "the study of the relationship of the structures of the body by the examination of cross sections of the tissue or organ," according to the Free Dictionary, by Farlax. This examination occurs through actual slicing or imaging. The slicing, as it were, runs parallel to the vertical or long axis.
Functional anatomy is, well, functional. It is a relationship between the body part and its functionality. This text examines overall functionality. Moreover, this book examines everything from fetal development to diagnostic imaging. It is a textbook, so there are a lot of terms and medical knowledge within. It does, however, lack personality within the writing style. In other words, it is a no-nonsense style of writing with high importance to detail.
9

. The Ultimate Guide to Strong Healthy Feet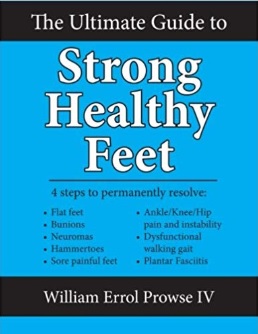 Money-back Guarantee
Easy Read
Informative
Low Pricing
This is a how-to guide utilizing a step-by-step approach. It focuses on relieving pain via the advice of William Errol Prowse IV. This could be considered an alternative medicine book, per se. It is not validated by any medical association and does not come with any software for easier navigation and cross-reference research. In other words, this is an advice book and not an actual medical journal or manual.
Read more
Sometimes, the best advice we can receive is from others who have lived the same experience we are facing. William Errol Prowse IV examines everything from plantar fasciitis (a condition he suffered) to the walking gait. He further backs his program up with a money-back guarantee; not to bad for a self-help book.
The contents cover plantar fasciitis, flat feet, dysfunctional walking gait, hammertoes, neuromas, bunions, and pain (involving the ankle and feet). One of his key points for recovery is to avoid sitting down, as this can weaken the feet, as it were. This part of the program can become quite difficult for those of us who work in an office setting and are not allowed to stand, per se.
In essence, we are then forced to overcompensate the day's journey with a heavier dose of exercise. But then again, exercise is a good thing, even after hours at the office while mentally exhausted. That is, the key element in pain reduction is the exercise to strengthen those areas which have become weak. And as with any exercise regimen, we should always consult our doctor, first. So, this is a decent self-help book but should be accompanied by a doctor's advice.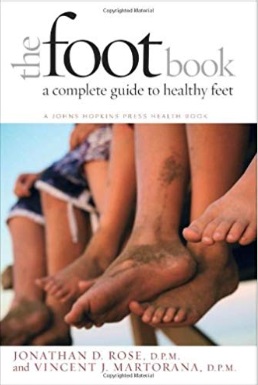 Easy Read
Informative
Basic Care
Adult/Pediatric Sections
Lacks Researchable Software
This is that book you might find at the doctor's office, as it were. Within the pages, Jonathan D. Rose and Vincent J. Martorana examine and evaluate everything from diagnosis to treatment, professional to self-care, and beyond. This is a rich environment for resources involving information on disorders, diseases, and injuries.
Read more
This another one of those books that take complex information and break it all down to an easier understanding of guiding principles and elements. Whether you are a seasoned veteran in the field or are just a beginner, this book covers all aspects. Furthermore, the flow of the book is great in helping those, even with little understanding, become more adept on taking care of your feet.
Not all pain can be addressed in the same way; nor, can one treatment work for everyone, as we are all different. This book is unique in that it helps us to identify underlining issues and then convey these questions to our doctor with more precision. As such, treatment becomes easier on a one-to-one basis and we are able to find better treatment, which may be healthier for our individual needs.
This may be okay as a quick-reference for seasoned surgeons and podiatrists, but more times than not, this book is better for those with little to no understanding. It is an easy read and does not overly bog you down with medical terminology, which can become confusing for those not in the field. For a common sense approach to care, this is a nice guide.
Criteria Used for Evaluation


Accuracy
Accuracy falls into two categories: absolute and practicality. Absolute accuracy is an accuracy that holds to the truth of the topics within the book. In other words, when speaking on a condition, per se, does the author(s) convey absolute truth? Secondly, practicality in truth is a number which defines the level of usability for the given subject. In laymen's terms, if you are reading a book on plantar fasciitis, does it give you accurate information in terms of pain relief, lifestyle changes, treatment options, and so on?
A book with a high score in accuracy performs well in both areas. A reference manual may have a really high score in absolute accuracy, but more times than not, it will have a lower score when evaluating its practicality of information for ease of use and to the reader. Let's face it, not all of us are doctors and can, therefore, decipher medical terms with ease.
But this same manual may, indeed, retain a high score (practicality score) if the reference is intended to its target audience (i.e. doctors, residents, students, etc.). To keep things fair, we evaluated both of these scores with the intended audience in mind.
We all hope that every book we read will be 100% accurate in both of these areas. Unfortunately, the opposite is true. But the inaccuracy is sometimes a mistake and not an intended direction from the author. Most of the time, however, academic books will be nearly perfect in the accuracy score. This is because they undergo heavy scrutiny by the professionals in the field of expertise, and are corrected when mistakes are made. After all, these are books utilized by universities and other forms of higher education.
It is the area of self-help books where we find the biggest fluctuation of accuracy, as we have previously defined it. It is not necessarily an evil author out to get us when truths are not so truthful; but instead, their personal experience may cloud what may actually be the truth. When considering a self-help book, especially as this applies to your well-being in any way, be certain to consult your doctor before attempting any recommended treatment, lifestyle change, or exercise regimen. In this, you can better monitor the 'truth' found within the pages against the knowledge of your healthcare professional.


Apps
Apps are a great way to accompany a great book. Some of us are familiar with the 'cheater's way' of reading, the audio version. But this is not a consideration when determining apps for our purpose. After all, audiobooks have their purpose and can help us learn a great deal while pursuing a busy life, as it were. For this purpose, we are considering multiple facets of apps. The apps we pay the closest attention to, are the apps that take an already great book and enhance it to further greatness.
Enhanced navigation is by far the single most important app when discussing podiatry material. There are cross-reference links which navigate within the book, itself. This makes studying a lot easier and can further a deeper understanding of a given topic if linked correctly. Quick-tabbing is another small app (part of the larger enhanced navigation) which allows us to return to pages of interest. Quick-tabbing is an essential part of any good enhanced navigation system.
The note app is, also, a winner. It allows collaboration between parties, so you are able to share your notes or read from someone else's notes. This has huge implications between students and teacher. But, also, peers in their respective field can troubleshoot a rare disorder with greater ease. To say the least, the sharing of information is why the electronic age booms.
A search tool can really bump up the ante, as it were. The best search tools will automatically search the book, your notes, shared notes, and the web. For a surgeon, this can really raise the chances that a patient's upcoming procedure will be met with success, both during surgery and postoperative. Finally, the highlighter tool is always nice to have. The best ones work well with the search tool and are a part of the quick-tabbing feature.
At the end of the day, the scores which rate the highest in the apps section are the ones that contain all of these features. If purchasing a paperback or hardcover, there may be a link to a download for an electronic version of the book or the electronic version may come on a disc.


Advanced Features
Advanced features are found in two areas: the book and the apps. Advanced features are elements such as illustrations, step-by-step instructions, bullet-point presentation, and whether or not apps are present.
If illustrations are present, then are they in full color, or do these illustrations appear like a three-year-old has sketched them out? If it is the latter, then the score drops. If it is the former, the score rises to the heights intended.
Step-by-step instructions are a necessity when evaluating procedures and techniques. After all, it is one thing to read about a procedure and the techniques utilized, but it is quite another to see it all in action. Books that teach us, rather than preach to us, these are the ones which will usually contain step-by-step instructions. And for the student and surgeon alike, this is a must-have quality in the field of podiatry.
Bullet-point presentation makes information clearer, as it were. This, usually, means that complex material has been broken down into its simpler parts, and then it is placed upon a page for our brains to digest in a quicker but more efficient way. A bullet-point presentation isn't a make or break piece of our advanced features, but for certain materials, we believe it to be necessary, as can be found within more intensive reading, such as a reference manual.
The books which contain all or most of the advanced features are the ones with the highest of scores. And remember, the score, also, includes whether or not apps are present.


Ease of Use
When determining ease-of-use, we examine readability, app usability, and whether or not the instructions are easy to follow for the author's intended audience. Take, for an example, a book which is written at a fifth-grade level. If this book is targeted at second-graders, then the ease-of-use plummets drastically. But if, on the other hand, it is directed toward seventh- and eighth-graders, then the ease-of-use rises. We always consider the target audience when determining this number.
A book full of medical terms, such as one that can be found within a reference manual, may have a high ease-of-use number when directed toward the target audience (i.e. surgeons, students, etc.). This is because the book may have a bullet-point presentation, quick-tabbing, advanced search tools, and so on.
If the book, however, is targeted to the average public, and every other paragraph is loaded with medical terms (which we must look up and it now seems we are frying our brains in the process), then this will have a low score in the ease-of-use scenario.
App usability is another key factor in determining the ease-of-use factor. Just because we receive a disc of apps with our newly, purchased manual, does not mean that the apps are easy to use. In fact, there are times, unfortunately, when the apps are so cumbersome to use, that it is easier to just thumb through the book or search for more information in another search tool.


Materials
Obviously, materials are the content within. But more than this, materials are in relation to other elements, such as advanced features, apps, ease-of-use, and accuracy. A book with a low rating with this characteristic may, indeed, be spot-on in the area of accurate information, but it may, also, lack considerably in other areas.
Consider a hefty reference manual with no app presence. Well, it might look great on your shelf and may get opened a time or two when you are not busy, but more times than not, it will just look good sitting there. The best reference manuals will be accompanied by apps to help with collaboration and study. Furthermore, a search tool to further understanding should always be present.
What about a self-help book? Well, for the most part, accompanying apps will not be present; nor, will these apps be necessary. So, the lack of apps will not lower the score, per se. With that being stated, a heavy emphasis will be placed upon the actual content and whether or not the book conveys the content with general ease. For example, if the book is written as a four-step program, but there are twenty steps between each step, then it isn't really easy to accomplish, nor is the contents matching what the book initially conveys. This would, then, receive a low score.
At the end of the day, the materials are an accumulation of all criteria with special importance placed upon the actual content. The books with the highest scores satisfy the material element in a grand fashion.
Expert Interviews & Opinions
Most Important Criteria
(According to our experts opinion)
Experts Opinion
Editors Opinion
Users Opinion
By Default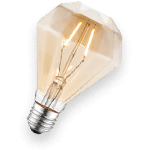 Always Check Credibility
Make sure that what you're reading has a board certified, experienced author. If it's a medical textbook then you want peer-reviewed sources- and lots of them! This is to ensure your safety as well as the accuracy of the information presented.
Did You Know?
There are 26 bones in each of your feet. All of them help to enable the right amount of flex and support it needs.
Other Factors to Consider


Compatibility
We may not consider compatibility when thinking about our reading. But the truth is, we need the book to be compatible with our needs. If we are searching for a book, which can help relieve pain, with bouts of early-morning spurs and plantar fasciitis, then a book focusing on external fixators is probably not what we need. And although this may seem a bit over the top, as it were, the idea here is to think about our needs prior to searching for the book we are after. In this, when we are bombarded by thousands of books at once, we can better sift through the mess to determine the right one for us.


Effectiveness
Effectiveness may not be such a big deal for those books which are mandatory by the university we may be attending. That is, we really don't have a choice in that one. But effectiveness, in general, is in relation to a book we see that catches our eye. The cover looks good, the title grabs us, and then we become indecisive about the actual purchase. The best way to determine a book's effectiveness is to check the reviewers who have read it before you. This can be the single most important aspect of determining a book's effectiveness.


Release Date
Release dates are, also, important. Is the book written with knowledge from the 1950's? If so, can it be applied to today? The main thing here is to check the date of the publishing. It can, usually, be found within the first few pages. Secondly, a book written in 1950 may be up to date, per se. If it is in its sixth edition, more or less, then you know that the information is probably updated to match with the current knowledge and information readily available. Again, check the date of the last edition change.
Frequently Asked Questions
q:

What are the best books for plantar fasciitis pain, deformity, or postoperative discomfort?

a:

Any book which is specifically directed at a problem is a good place to start. In this case, we want a book which focuses on the given problem. We will use plantar fasciitis and the issues which may arise as a result of this infliction. Now, that we have a clear understanding of this part of our search, we now need to become even more specific. There are plenty of books which focus on pain management and are, also, directed toward plantar fasciitis. But the best book would be one that focuses on multiple solutions to the pain, as each individual may require a different solution for their pain relief than the next person in line, per se. Also, always consult your doctor prior to changing any pain management techniques, as he/she may be able to further this change with even more sound advice.
q:

Should I buy a reference manual?

a:

Well, this depends on why you are searching for books involving the feet and ankles. Surgeons and students should always be the first to add to their growing and extensive collection of books within their respective field. But for the general public, unless you are a connoisseur of the medical field in the art form, a reference manual may be too expensive and difficult to understand for the required need.
q:

Do I need software?

a:

If you are serious within the fields of orthotic and podiatry, then, yes, absolutely! Students and seasoned surgeons alike can benefit greatly with accompanying software; especially, software which allows collaboration between parties, such as a note app.
q:

What are the best how-to manuals for self-care in podiatry?

a:

Always remember to consult a doctor prior to treating a condition yourself. In this, you are promoting a healthier lifestyle, in terms of decision making. With that being stated, the best how-to guides will break complex problems down into their simpler forms. After this, a step-by-step process with illustrations is the best.
q:

How do I choose good books from a bad one, in terms of advice?

a:

Start with the author(s). Are they proven within their field of expertise? Consider the sources they cite. Are these sources reputable and do they back what the author(s) is trying to convey? Also, consider the edition number. Is this book utilized in universities, as to warrant updated information in conjunction with better learning techniques? The best advice will always be followed by, "Consult your doctor, first."