Best Blowfish Shoes Reviewed So You Can Look Your Best
In a Hurry? Editors choice: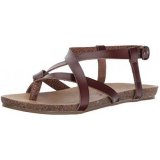 Test Winner: Granola

Blowfish holds to the importance of fashionable footwear with the notion of keeping everything affordable. This means we gain the benefit of a
wide selection
of summer, spring, fall, and winter wear with the added bonus of mixing and matching to our heart's content. After all, who doesn't adore the idea of being able to purchase a pair for each and every wardrobe choice in our closet?
There are a wide plethora of choices including sandals, heels & wedges, sneakers, boots & booties, and flats. There are, also, choices for kids and toddlers, as well! In other words, there is something for nearly everyone, and when we say, 'something,' we mean a vast array of styles and models.
Standout Picks
Criteria Used for Evaluation
Model
As previously mentioned, there is a vast array of models to choose from. The list is mountainous and there is no shortage of options for the seasons. Below is a sneak-peek of this extensive list.
Bilocate: the Bilocate allows you to remain chic during the fall season. It features a buckle strap around the ankle and has a round-toe bootie design. This is perfect for jeans and casual wear.
Chimmi: the Chimmi is a knee-high boot which is slip-on. It is made of faux leather and is perfect for those cooler days. This is a stylistic choice which can work well with dresses, skirts, or jeans. Moreover, with the rubber outsole, it is practical for days in which you may find yourself in light, snowy conditions.
Crazee: this slip-on sneaker has a wonderful casual appeal and makes for a great fall choice. It is made with a canvas upper and, thus, contains a very, comfortable feel while you walk. The vamp has elastic and further ensures a great fit throughout the day.
Glo-B: this is a pair of flats which looks good just about anywhere you go within a casual setting. It is great for summer and there is a wide variety of uppers to choose from.
Furthermore, there is a crisscross strap across the toe area which brings unique personality to the selection.
Playwire: the Playwire is great for being a bit more dressed up or to remain casual, per se. It is a sneaker which holds to a sporty, yet vibrant feel. It has the signature eyelets and elastic for easy to slip on and off; a great functional shoe.
Salinas: this product is a wonderful night-out bootie. It works well with jeans, dresses, and just about anything you can imagine. Moreover, there are a variety of upper selections to choose from.
For the Kids: follow the 'K.' There are many selections and varieties which follow the adult models. An example of such a model is the Playwire model. For kid's version, the model lists as the Playwire-K. It has the exact same features, as the adult model. Moreover, there are 28 varying models; ranging from sneakers to flats, to booties and more!
For the Toddlers: in the same mindset with the kid's selection of models, the toddler choices are listed with a 'T.' Doosie-T, for example, is a great sandal for summer with a unique style. There are ten total models to choose from, and they range from sandals to booties and everything in between.
Materials
Shearling: Found in the "Katti-K" and "Stassies-T" models, these are made of shearling. Shearling has a suede surface on the outside with fur on the inside. This footwear is comfortable and provides decent flexibility. Moreover, you can dress up or dress down your little ones, as the bootie style is fabulous!
Textile: There are fourteen models utilizing the textile material; a material which has an interlacing fiber design. They include flats, sneakers, and booties. Textile is known for its lightweight characteristics and overall durability.
Cecilia PU: This is faux leather at its finest. With the polyurethane (PU), you gain an aged look. This, in turn, allows you to really showcase those skinny jeans, as it were.
Knit: Inter-looping of the yarns, knit provides flexibility and strength. It allows you to move more freely during each step. Knit is great for slip-on footwear, as it works well with elastics.
Velvet and Suede: Made to give you a more unique look, both of these materials are naturally breathable. Velvet and suede work well with jeans, dresses, and skirts. Moreover, these materials have decent longevity associated with them when cared for properly.
Canvas and Denim: Great for casual wear, canvas and denim provide a wonderful day-out feel, so to speak. You can match canvas and denim to many wardrobe choices, and for the most part, cleaning can be easier than some other materials.
The aforementioned materials are only the tip of the iceberg. Everything from leather to flannel is available in many of the varying models. In other words, some models contain both vegan and non-vegan stylings. At the end of the day, there is something for nearly everyone, in terms of preferable taste and stylistic choice. Blowfish can almost be considered a one-stop-shop for women and girls of all ages!
Style
The style choices encompass what it means to be original, yet maintain on-trend integrity. California-based, as a general rule, the stylings feature the latest in trend while retaining comfort at the forefront of design. There are many styles to choose from, in terms of different footwear with multi-option availability. Color change always converts the feel of any footwear; as well as, the ability to choose varying wardrobe solutions, as a result. Many of the products available have varying color solutions.
One of the more unique advantages of Blowfish design is the ability to change the upper. Some models will provide varying uppers which allow you to widen the horizon of wardrobe matching. This, in turn, gives you the advantage of changing the look and feel of your favorite model. After all, how many times have we all said, "I love this shoe but I wish there were more style choices?" Well, with Blowfish, that is one of the concerns they address so eloquently. Moreover, they do a great job of it.
You can find booties with or without buckles, sneakers without laces but having eyelets for effect, and there are sleek, knee-high boots for cooler days but holding to the desire of sexiness with a pop, so to speak. The wedge footwear is done with a lot of taste and adds to the overall appearance of the shoe as a whole. That is, they are not wedges just to be wedges, but are made accordingly because the design demands them to be. With each step, every accent, color, feature, and overall makeup brings this footwear to the top within its division. The style is, definitely, not an afterthought when it comes to these designs.
Application
Blowfish shoes are more than just for casual appeal, they are functional as well. More known for summer apparel, believe it or not, there are products for all seasons. Sandals for the summer, booties for the fall and winter, and classic flats for the spring, there is something for everyone and for nearly every occasion. Furthermore, you can rest assure that each and every pair will have you feeling comfortable, as well.
For day-to-day activities in the fall, you might consider the Baldwin; a wedge bootie with branded buckle detailing and various color choices for the upper. This bootie is wonderful for dinner or all-around shopping at the mall. Or if you need a nice summer sandal, the Granola-B is a great choice. It is made with an adjustable strap with braided detailing at the vamp. And with the cork footbed, you are ensured hours of comfort. This is is a sandal which allows you to easily traverse the beach walkways to casual shopping. That is, they look good in everyday places, so to speak.
The Camper style is perfect for cooler evenings. It has wide laces for a distinctive look and can be great for casual wear, such as jeans, hoodies, or tees. Maybe you are in the market for something more prestigious or sexy in appeal? If this is the case, then the Berkeley, Doranne, Paulo, or Bonnie might be what the doctor orders. If, on the other hand, your day is filled with a sandy beach, then you might consider the Granola-B or Balla. Both of these are a popular choice.
At the end of the day, most of the gear available has practical use associated with it. Just be mindful to not wear the right shoes to the wrong place or at the wrong times. It would be horrifying to wear your new velvet shoes during a full day of torrential downpouring of rain. That would be disastrous, to say the least. Wearing them out to a nice night of dinner, on the other hand, would make for a great night, indeed!
Breathability
A shoe that breathes is critical to providing the wearer a comfortable and healthy experience when sporting a pair of shoes, sandals or boots. A lack of breathability will create a wet and humid foot, leading to discomfort and possible fungal or bacterial infections that are painful and difficult to cure.
How does a manufacturer ensure their product will allow maximum airflow? There are several ways to achieve this, including using special fabrics in the upper of the product, lining the midsole with moisture-wicking technologies and finally, the good old use of perforations of holes throughout the product.
If a product scores high on this metric, the buyer can rest assured that the manufacturer has used some or all of the above techniques to ensure the wearer a comfortable and dry wearing experience.
Top 10 Picks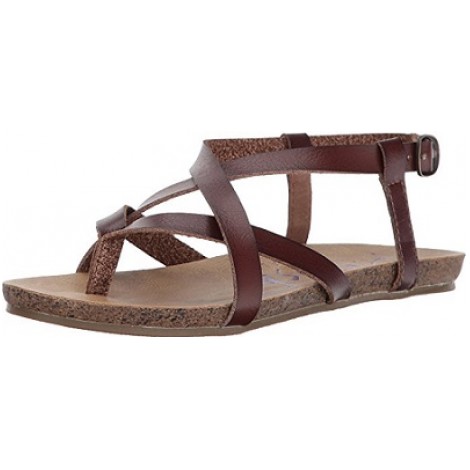 Stunning and adorable, this pair of sandals amp up the atmosphere. They are made with a faux-cork midsole and faux-leather upper. The toe post is comfortable, so no worries over rubbing and irritation. In addition, for those with higher volume feet, these are perfect. The crisscrossing straps will fit snug and will hold you in the comfort you deserve!
Faux Leather Upper
The upper is made with faux leather. Moreover, there are many color variations to choose from. This adds to the overall appeal and raises your ability to match to your favorite wardrobe. In addition, the crisscrossing style is both casual and practical.
Faux-cork Midsole
Have you ever wondered where most of the comfort comes from in a pair of shoes? The midsole is the answer. With the faux-cork midsole, you can be certain of hours of comfort while you enjoy your warm days out on the town.
Cost and Value
These are color and size-dependent, in terms of cost range. Ranging from low to high, these compare nicely to other products on this list. After it's all said and done, the sheer quality and overall design make these a great summer choice.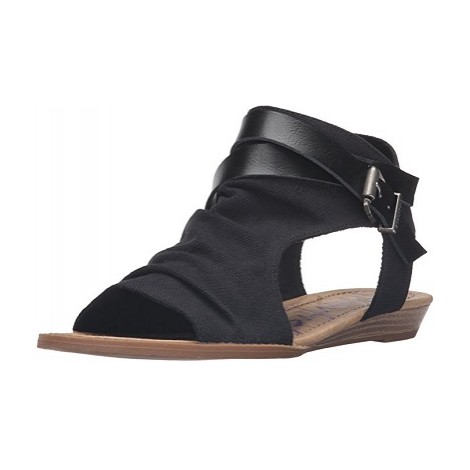 We love the Balla for its sexy appeal. It shows off the toes, sidefoot, and rearfoot while maintaining covering over the top. With crisscross straps made of faux leather, these have a bootie feel to them, in terms of visual appearance. Furthermore, the stacked wedge heel is great for giving a heel look without the height, so to speak. At the end of the day, these are a great grab for an addition to any wardrobe.
Fabric Upper
The fabric upper gives you a lightweight and cool feeling while you traverse the day. Additionally, it looks excellent with the crisscross faux leather straps and further promotes healthier feet.
Stacked Wedge Heel
Sometimes a heel is just too much but is still desired. With the stacked wedge heel, you gain the best of both worlds. That is, you gain the look of having a heel without all of the pains associated with the balancing act.
Cost and Value
Size- and color-dependent, the cost ranges from low to high. Comparable with other products on this list, these are worth every single penny, in terms of quality, design, and overall functionality. In other words, you don't want to let these slip by you before you add them to your footwear collection.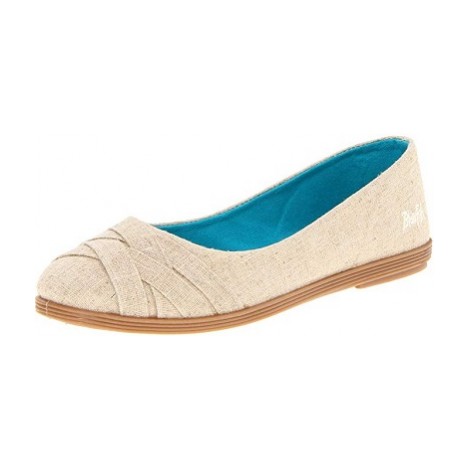 This pair of flats is wonderful in appearance. They have a simple, yet practical feel to them. In addition, these are made with a rubber outsole for better traction and have a closed toe to help keep those toes a bit safer. Furthermore, having a design with a textile upper, these flats are great at giving you a bit of support while remaining flexible, as well.
Textile Upper
Flexibility and comfort come to mind when thinking about the textile upper design. Moreover, these look great in shorts, jeans, and skirts. Perfect for an outing with your friends and family, this is a pair worthy of the word, 'casual.'
Slip-on
We adore the idea of easy on and off, especially when considering just how faced-paced life can be at times. With the slip-on functionality at your beck and call, you can concentrate more on that wardrobe choice you have in mind, and less on the frustrations of buckles, laces, and straps.
Cost and Value
When considering the other footwear on this same list, this pair remains budget-friendly. They are an ideal choice for those going out on short excursions with friends or just to wear around the house. You, most definitely, cannot go wrong with this purchase for the price point.



The Marley is a wonderful choice for that rugged look. Great with jeans, skirts, hoodies, and tees, this is a pair which solidifies what it means to remain casual. The upper is made of canvas and furthers flexibility with comfort. In addition, the rubber outsole has decent traction for those less than desirable surfaces and the crisscross elastic bands helps to ensure a great fit every time.
Crisscross Elastic Bands
When a snug fit is desirable, this design is what you want. With the elastic bands in place, you are certain to have minimal movement within the shoe while you walk.
Distressed Canvas Upper
Jeans and hoodies need a specific look when fashion leads the way. Not to worry, as the distressed canvas upper has you covered. Now, your casual wear will pop off of the page, as it were!
Cost and Value
These run average with other products on this same list. They are built well, have decent longevity, and there is nice flexibility with them. This means you can wear them throughout the day and enjoy yourself, as it was always meant to be.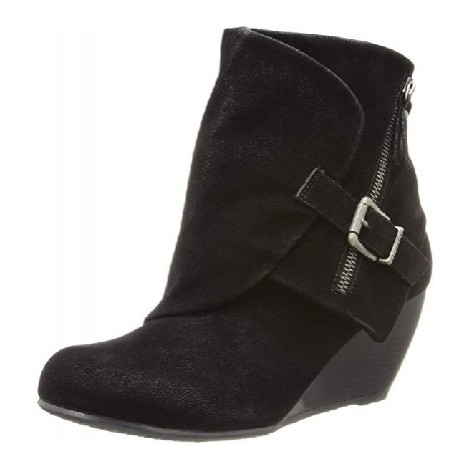 Do you want to make a statement, yet remain sexy while you do it? Great, then this is a pair of booties for you! The fold-over panel really helps to set these off. Add to this, the buckle closure and the side zipper, and you are left with an amazing feel; both inside of the footwear and within your fashion soul, as it were. Head out and make a night of the town; own your life with attitude!
Fold Over Flap
The fold-over panel brings a solid attitude to the table. Additionally, when combined with the buckle closure and side zipper, it works to secure your feet in place for a more comfortable fit.
2.75-inch Heel Height
This is a heel height which is perfect for long hours of wear. It is not too high as to warrant removal after a few hours. But more importantly, it helps to give you the height you need to match the beautiful attitude that comes with them.
Cost and Value
As far as booties go, this is a pair which is budget-friendly. Furthermore, these are made with great quality materials and have decent longevity associated with them. More importantly, they are comfortable and are more than ready to be added to your footwear collection.



If you are looking for a pair of sneakers which will help to make those skinny jeans pop, then these are the perfect pair for you! This pair has a rugged, worn look and does well at enhancing styles involving jeans, hoodies, tees, and etc. Furthermore, these have signature eyelets, a signature outsole, and provide you with the ability to slip them on and off. Overall comfortability is not too bad, either!
Signature Eyelets
We adore this look for the classic, yet modern feel. In addition, this is on par with laceless, slip-on technology and performs well with the right choice of size.
Padded Insole
The insole is great at giving you a more comfortable experience with each and every step. Made with the idea of keeping this pair lightweight, the padded insole does great at handling comfort levels throughout your day.
Cost and Value
This comes in at the low to midrange of cost association. Furthermore, they are a great asset, in terms of casual wear and will look great with almost anything. That is, you don't want to pass these up.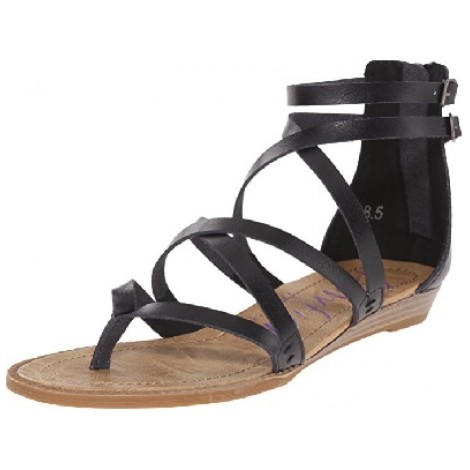 We all love it when our feet gain the benefits of the natural air. This is why we choose barefoot or sandals during those wonderful and dreamy summer days. We, also, generally enjoy the feeling of being lovingly wrapped within a gentle but snug embrace. Well, these sandals give you all of that. They are airy enough for the flow of the natural breeze to make you smile, and the dual straps with buckle closures hug with a gentle and snug feeling.
Duality
These are made with dual crisscrossing straps. In addition, there are dual buckle closures, as well. This ensures you gain a great fit while, also, enjoying the feel of the air around your feet.
Height
With a 3.97-inch shaft height, 0.25-inch platform height, and 0.75-inch heel height, you can live larger than life while wearing this pair of amazing sandals!
Back Zipper
For a bit more personality and a secure fit, the back has a zipper. Showcase it with shorts, skinny jeans, or a skirt. Ease of in and out is made even easier with this zipper in place.
Cost and Value
Running around the midrange of cost, this pair of sandals is a great investment. They have a great build and works well with many wardrobe options. As such, you do not want to deny yourself this awesome selection of gladiator sandals!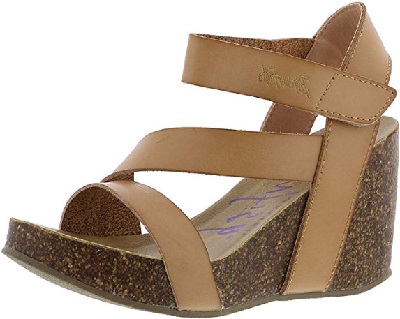 This is a pair of wedge sandals having 3.25 inches at the helm. With asymmetrical strap detail and Velcro for securing your feet in place, these are great for a trip to dinner or for a short excursion out on the town. The open-toe design helps to accent the lovely feel and the overall appearance is natural. This means you can match these with everything from jeans to a dress!
3.25-inch Wedge
For those who are uncertain or are new to heels but would like to try out what it is like, the wedge is a perfect choice. Furthermore, the 3.25-inch design helps to add a bit of elegance while retaining stability.
Adjustable Loop Closure
Made with Velcro, you do not have to worry over the hassles of those pesky buckling systems. Additionally, the strap is set to not only secure your feet into place but, also, adds to the visual aesthetics of the asymmetrical design.
Cost and Value
At the upper end of the cost range comparable to others on this list, this pair is worthy of the investment. They are a pair you can utilize on warmer evenings and will look great with many wardrobe solutions. At the end of the day, if you are in the hunt for a good pair of wedge sandals, this is a pair worthy of your attention.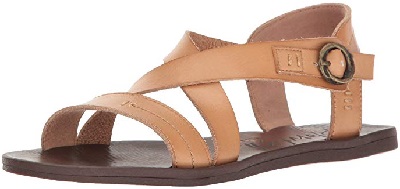 Made with the natural, simple style, this pair of sandals is great for warm days out with friends and family. They have an adjustable, buckle closure and provide a good fit with the crisscross straps. Furthermore, the footbed is flat and provides a lightweight and easy experience while walking. In addition, with the open-toe design, you can showcase those beautiful toes with that new pedicure you just received!
Adjustable, Buckle Closure
With the buckle closure system in place, you are certain to achieve a great fit; no more worrying over slipping and sliding within your sandals, as it were.
Signature Footbed
The signature footbed provides comfort while remaining lightweight in both performance and feel. Additionally, the footbed is flexible enough to allow your feet greater ease of movement within a more natural manner.
Cost and Value
Running about the midrange of cost association, this pair of summer wear is an ideal choice for heading out to the beach or the poolside. Furthermore, the quality is good and the investment is a worthy decision for adding to your footwear collection.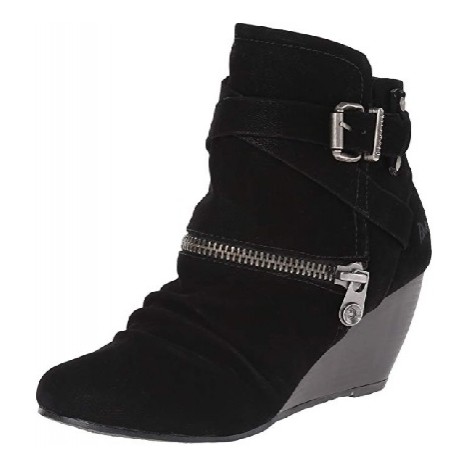 This pair of booties has decorative appeal in the form of the buckle and front zipper. This gives them a unique personality, as it were. There is, however, a side zipper for practical use; making these a great selection, in terms of both grit and overall fashion sense. These will look great in jeans and take casual wear to a whole new level.
Side Zipper
For ease of in and out, a side zipper is in place. It is the actual functional zipper of the two and provides a secure fit for those eager feet ready for the day or night.
Decoration
The buckle and front zipper are decorative; thereby, giving you a unique style to showcase that gorgeous wardrobe choice you may have in mind. Furthermore, there is a sense of attitude with the visual design.
Cost and Value
This pair of booties is cost-efficient when compared to other booties around. Moreover, they have a great visual aesthetic to them and can make a pair of jeans stand out. Better yet, this is a pair of footwear which will make you stand out among the masses!

Subscribe to our Newsletter