Best Ahnu Boots & Shoes Reviewed for Performance
In a Hurry? Editors choice: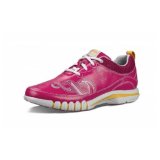 Test Winner: Yoga Poise

The great outdoors can provide such a relaxing and fulfilling experience. The feeling you get when you reach the summit of a mountain is unmatched. Enjoying the sounds of the birds, scurrying things, the wind making the leaves of the trees dance above you. It's such a magical experience. Pain in your feet can really ruin these moments and make your outing less enjoyable. A pair of Ahnu boots can definitely ensure you have the best possible hiking experience.

Ahnu boots are an extension of Teva footwear, made specifically for the outdoor hiker in mind. Below you'll find our top list of Ahnu shoes and boots, from low top to mids, suitable to get you going on the trail!
Standout Picks
Criteria Used for Evaluation
Comfort
The most important aspect to consider when shopping for footwear (especially if you're going on a hiking trip) is the amount of comfort it offers. You'll want to get the best possible model for you, which may take a bit of time. This is why we recommend trying shoes on before purchasing them. If you're unable to do this due to shopping online, it's crucial that you try on the shoes when they arrive and wear them around the house for a bit of time. This will allow you to pinpoint any fit issues that may cause problems with outside wear.
When purchasing shoes that are supposed to offer comfort, it's highly recommended that you look at the cushioning technology included in your Ahnu boots. Ideally, they'll have a shock-absorbing midsole, most often made with EVA foam. This material is lightweight and is capable of providing protection to your muscles and bones by preventing excess shock from affecting them. In the long run, this results in much less fatigue, as well as a lower likelihood of joint pain.
Another aspect to look out for is the amount of support provided by your new footwear. How much you require will depend on your foot and arch shape. If you have flat arches or tend to overpronate, you'll need something more supportive. If your arches are of normal height, you'll do well with most models listed. You may particularly benefit from Ahnu's Numentum Technology which encourages a natural stride and foot balance. If, however, you have very high arches and underpronate, you will need to focus on cushioning a bit more, seeing that your foot won't be doing as much to absorb and disperse shock.
Another important aspect of a comfortable pair of boots is how much they weigh. Now, if you're only wearing your Ahnu shoes to run errands, this won't affect you too much. But, if you're on your way to a hiking trip, you'll want to go as lightweight as possible in order to prevent fatigue. Do keep in mind, however, the lighter the shoes, the less protection they offer, so try to find the best balance possible. For some, this will mean purchasing more pairs of footwear for different uses and weather conditions, but in the long run, this translates to better durability as well.
Materials
One of the things that makes Ahnu boots such a good choice for a variety of activities is the fact that the company pays close attention to the types of materials they use in creating their footwear. Consider this: Ahnu footwear comes in all styles - from hardcore hiking boots made for snow and rain, to flexible cross-training sneakers ideal for gym use, and to sandals which are comfortable, but stylish enough to be worn on a daily basis.
All of these different uses require completely different materials, so if you're shopping, the best thing to start from is to decide how exactly you're going to be wearing your new footwear.
If you're looking for something rugged that will work for hiking or bad weather conditions, we'd highly recommend investing in a waterproof model, ideally made out of leather or synthetics. These will stand up better to wear and tear and can be efficiently treated to be waterproof, so you won't have to worry about water or snow getting inside your shoes.
If, however, you're after something to wear while working out, a mesh upper would work much better. This type of material encourages moisture management and breathability, allowing sweat and heat to escape the foot chamber and keeping you cool and dry.
For those who're looking for durable sandals with a good amount of support, leather choices are available as well. The great thing about this natural material is that it breaks in to fit your foot shape, so you can enjoy a comfortable wearing experience.
Other materials to look out for are the ones used in the outsole and midsole. For the outsole, you'll want something durable that will stand up to waking on concrete and other rough surfaces. As for the midsole, look for cushioning materials that won't flatten to easily with wear.
Breathability
Everyone knows the sensation of having their feet in a microwave. We've all made the unfortunate mistake of buying completely sealed shoes at some point. Breathability is one of the features you can't lack on any shoe, not to mention outdoor ones. Luckily for us, almost all shoes feature breathable materials nowadays.
Having a consistent flow of air through the shoe is important. Some waterproofing technologies make the mistake of sealing the upper entirely. Waterproof protection is important, yeah, but not at the cost of breathability, which Ahnu have kept in mind. Technologies such as GORETEX offer absolute waterproof protection while still maintaining decent breathability. This is due to a breathable membrane that allows vapor to leave the shoe without allowing water to breach into it.
The upper side of an outdoor shoe must always use breathable materials. The best shoes apply materials such as mesh in combination with strong leathers. The places where heat concentrates the most are the sides of the shoe, the toe box, and beneath the tongue. Mesh panels are often applied strategically around those areas to prevent overheating without using too much mesh. The issue with breathable materials is that they're much thinner, thus more delicate. Due to this, they must work in combination with tougher fabrics, some of which you'll find on Ahnu boots.
The lack of breathable materials in a shoe will result in overheated feet. It's especially important to have breathable shoes in hot environments, as they contribute to heat accumulation. Overheating can get to a point where you're no longer able to perform due to extreme uncomforting. In fact, it goes beyond discomfort; the concentration of heat will irritate your feet.
Our extremities, such and hands, and feet, are the parts of the body that release the most heat during exercise. Think of closed shoes as sealed leather gloves; nobody wears them on a sunny day. If this heat is sealed inside the shoe, you'll boil your feet with their vapor.
Traction
The grip is the most important element of the outsole, and probably the whole shoe. The grip determines the quality of the contact between the shoe and the surface. If the grip is loose and there is no traction, the shoe slips. When doing outdoor activities, shoes should have as much traction as you can get. Multiple sub-factors contribute to the value of the grip.
For a better grip, we encourage the use of your natural feet and toe strength along with proper technique. However, technologies such as heel brakes make it easier by reducing the chances of the outsole slipping or sliding. Never rely on such technology as the base of your grip – it works as assistance. Other contributing elements are lug patterns on the outsole. Lug patterns dig into the surface (mud, rocks, grass, dirt), helping your feet make each motion smoother.
The deeper the lugs are, the better traction the Ahnu shoe will have. But, you should always consider the kind of activity you're going to perform. For trail running, deep lugs are not the ideal choice, as they'll dig too deep into the ground. This would decrease the running performance, as each gait would require more effort and running would be difficult.
As things get tougher, you'll need more grip. For instance, the grip is the number one priority when hiking in your Ahnu boots at steep elevations (or descents). When doing heavy activities, your Ahnu footwear must be able to grip to any surface you encounter, which is why you'll find Vibram outsoles on many Ahnu shoe models. Each step needs to be confident and firm, and that can't happen if you can't get a good grasp of the surface.
Durability
There's a little bit of a difference when it comes to the durability of an average shoe vs. an outdoor shoe. The main difference is that you can use your outdoor wear like walking shoes – and look good while doing so. But it doesn't work like that the other way around. Using your casual walking wear will make you look more like a newbie, not to mention that those shoes are going to get totally wrecked.
It's as simple as this: regular shoes can't endure outdoor activities, which is why Ahnu boots have several different styles for your varied needs. You need materials that resist rocks, scratches, water, and heavy-duty usage. Think of it as placing a big motor in a small car, and the other way around. The small car still works with a larger engine, but the big one can't run with a smaller one.
When going on outdoor adventures, you'll encounter roots, mud, dirt, water, debris, rocks, and another bunch of obstacles. The issue is not what you encounter, what is important is that your shoes are prepared for it. We know outdoor shoes are not cheap, which is why we gathered a list of durable shoes that feature resistant builds. Nobody likes throwing money down the drain, just like nobody likes having to replace shoes after one month.
You have two options when it comes to durable materials: leathers and synthetics. The toughest one is unquestionably reverse full-grain leather. However, other factors such as weight, waterproofing, and versatility play a role when choosing materials. For camping and other light outdoor activities, rubber shoes are also a great choice, along with mesh uppers as these will remain breathable as well as offering waterproof or quick-drying properties.
10 Best Ahnu Boots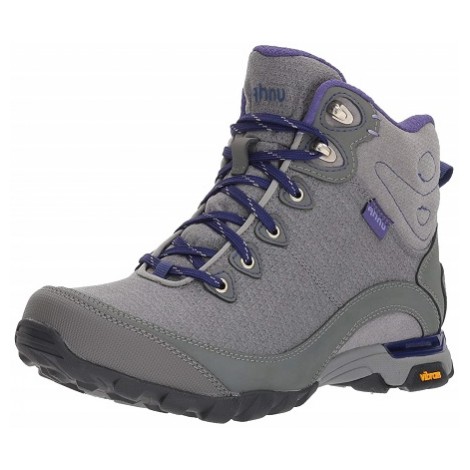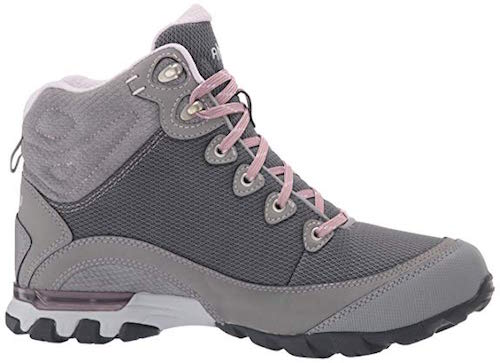 While color options for this boot are limited and the style definitely screams "hiking boot," the Sugarpine II didn't become one of Ahnu's most popular boots for aesthetic reasons. Rather, it became popular because they are packed with a breadth of features that allow them to shine on technical trails. Most prominent are the Vibram outsole and waterproofing features, which we'll go over in a little more detail after the jump.
An Italian company that has been around since 1937, Vibram is known for its top-of-the-line rubber outsoles. Originally designed for mountaineers, these outsoles have become a staple of many kinds of outdoor shoes, including Ahnu models. In fact, this particular outsole was custom made by Vibram for this purpose. The rubber is made to be durable and take a beating, while the traction pattern provides strong grip in a multitude of environments.
Speaking of varied environments, waterproofing is also a highly desired feature in hiking boots. Waterlogged shoes are one of the worst things aside from stepping on a Lego. Not only can it be incredibly uncomfortable and take away from you being able to enjoy your hike, but wet shoes are also breeding grounds for bacteria and other unpleasantries. These can cause odor as well as irritation, so waterproofing is important for these Ahnu boots.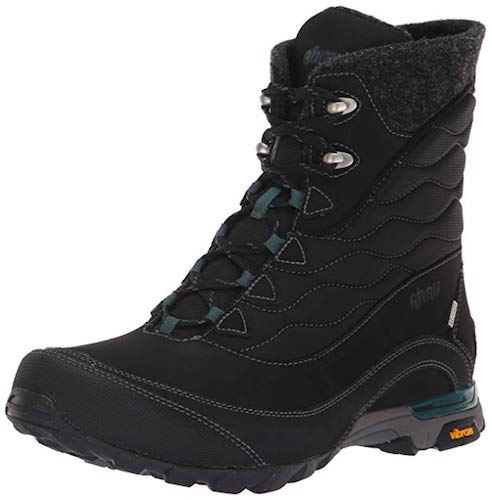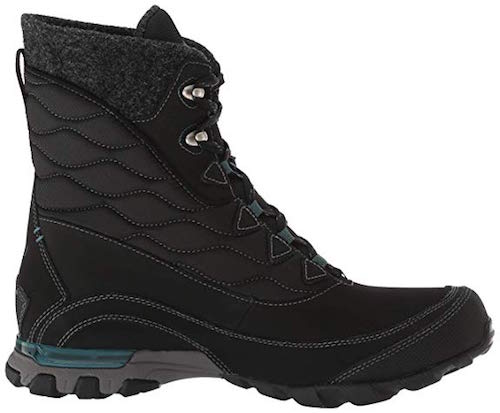 This is a pair of snow boots, ideal for those who need a great winter option that's both comfortable and warm. This pair is both insulated and waterproof, which makes it an excellent option for all types of wear, including hiking. This model can be purchased in a simple black version which goes well with most outfits, meaning you can wear it on casual occasions around town.
The upper of the Ahnu Sugarfrost is made with PU-coated leather and textile for a comfortable wearing experience. It's one of the most durable materials by Ahnu, so if you're looking for a product that's going to last, the Sugarfrost is an excellent choice. The entire boot is seam-sealed to prevent water from entering the foot chamber, keeping you dry regardless of the weather. It also features 200g of Thinsulate, which is lightweight, doesn't create bulk, but still allows you to keep your natural body heat inside these boots. It's also not too warm, so you can wear these to work or when running errands.
The outsole of the Sugarfrost features a Vibram IceTrek outsole specifically made for slippery winter conditions. The Vibram rubber doesn't become affected by low temperatures, and prominent lugs help gain traction on even the most difficult surfaces, including ice. The type of support in these boots will be completely adapted to your personal needs thanks to the Numentum technology which encourages the foot to move in a natural way, supporting it without altering its balance or stride.
As for cost association, this pair of footwear ranks high on this list, and may not be suitable for everyone's budget. Nonetheless, if you're after something appropriate for freezing conditions, it's a great investment, considering the protection you'll receive from these.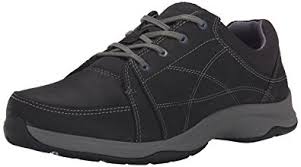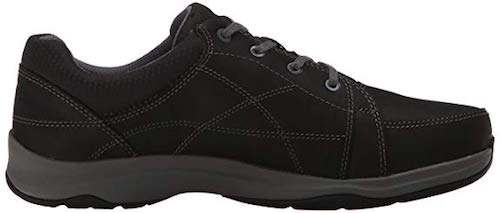 Stability and support are the foundations of the Taraval. When you want to do day hiking these shoes provide the stability hikers need. Trails can be uneven and unpredictable even in the tamest hiking environments. These unassuming hiking shoes are integrated with Numentum Hike technology, dual-density Ethylene-vinyl acetate, and integrated nylon shank and arch support. All these features come together and create a thoughtfully designed for hikers who want a sturdy pair for their outings.
The EVA Plugs of this style provides support for the medial and lateral sides of the bones in the foot to provide support for the foot and increased stability in the heel. They also added in an integrated TPU shank and arch support in this Ahnu shoe, providing torsional rigidity provides support at the ball of the foot and in midfoot. This is a very sturdy design making walking feel very natural and balanced.
This design has a shock dispersal plate in the front of the foot which absorbs and distributes shock from rough trails. The shock dispersal plate helps prevent bruising in the foot. The dual-density EVA is soft, flexible and crack-resistant giving the pair extra heel and arch support as well as comfortability. This style also has a heel clip integrated into the design keeps the foot in a neutral position and provides extra stability.
This Ahnu shoe is an excellent design for daily use and day hiking even with a light pack. It is very affordable for the average consumer on a tight budget. This sneaker is thoughtfully designed has some waterproof protection and some breathability. It offers superior support and comfortability for daily hike trips and can even be worn as an everyday design when running errands or walking around your community.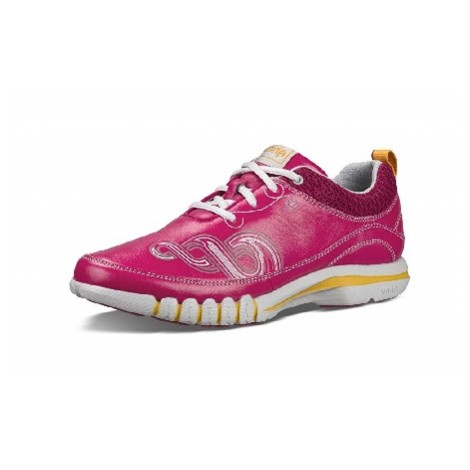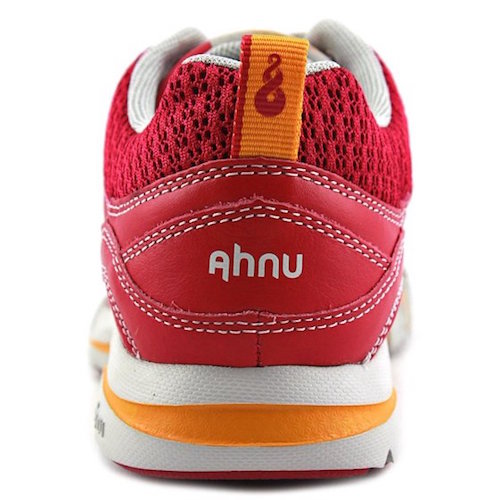 When you think about Ahnu, chances are outdoor and hiking boots come to mind. Did you know they make trainers as well? While they aren't Ahnu's signature product, the Yoga Poise take the quality and durability that Ahnu models are known for, and put it into a lightweight and comfortable trainer.
Let's take a second and talk about durability. This is one of the most important parts of any shoe. You can buy the most comfortable shoe in the world, but if it falls apart quickly it isn't worth the investment, especially given how expensive good shoes are. The outsole is typically the first part of a shoe to show signs of wear or damage, so Ahnu outfitted these shoes with a resilient rubber outsole and synthetic upper.
In addition to durability and overall comfort, support must be considered when looking at trainers. The right support can make all the difference in your workouts, and the wrong support can ruin your workouts and make them far less enjoyable. This pair of sneakers offer the right kind of support, especially for those with high arches.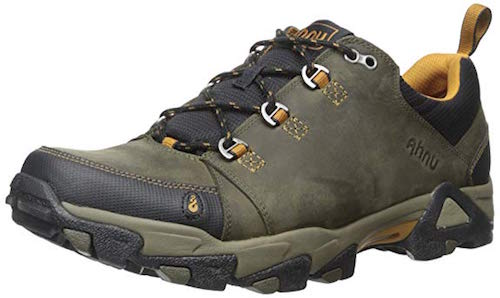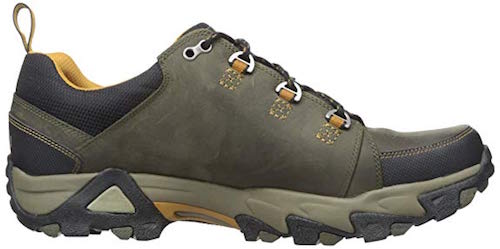 This pair of Ahnu footwear was designed for work, everyday wear, and light hiking. It's a very versatile design for the working consumer who doesn't want a pair that looks clunky and awkward. The removable insole makes this style friendly for people who wear orthotics.
The TPU Shank offers added support without sacrificing flexibility; still keeping this option lightweight. This will help keep your foot from fatiguing when being on a worksite or hiking. The neutral design of these shoes positions the foot in a natural way for added fatigue resistance.
The Coburn is surprisingly light-weight. This is due to the outsole being dual-density compressed EVA. What also gives this shoe a light-weight feel are the thoughtfully designed other parts of the shoe. They kept the materials for the insole and TPU shank light-weight while still managing to create an Ahnu shoe that provides support and comfort.
Customers rave about how The Coburn has kept their feet from feeling tired after a long walk or hike. These shoes aren't designed for runners so it isn't recommended for that particular activity. Vigorous walking and hiking are okay with these shoes and they are excellent for all-day wear. The combination of the dual-density EVA midsole, removable insole, TPU Shank for arch support, and neutral design: come together to create a design that keeps your feet from feeling fatigued.
This pair also has a shock dispersal plate integrated in-between the midsole and outsole which absorbs and redistributes shock on the job or on the trails. The eVent material on the outside of the style gives this pair some breathability and keeps the foot cool.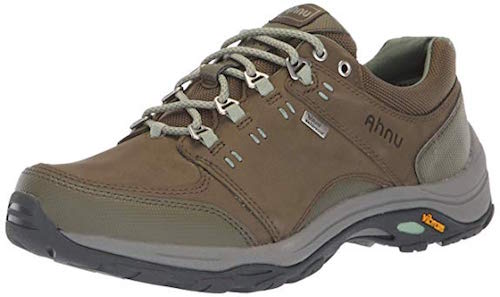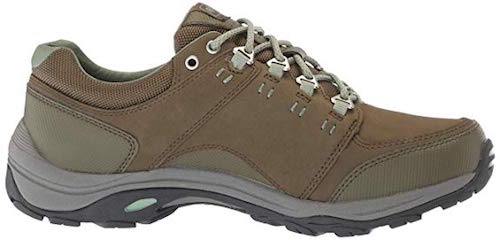 This cheery Ahnu shoe is a sturdy low cut design, and an upgrade from its predecessor model, the Montara II. As with most Ahnu shoes, this one is made for hiking and trekking, from tackling the toughest of trails and scrambles, to gentle gravel paths. It's packed full of technology to help lighten, protect, and give the utmost enjoyable ride. With several great colors in this model, you're certain to find one that speaks to your style.
At the base of this Ahnu shoe is a Vibram Megagrip Outsole, providing traction like no other, and helping to keep the shoe durable for the long haul. Lugged pattern sole helps you tackle rocks and debris with ease that you may encounter along the trails. Dual-density midsole is EVA constructed, and has Ahnu shoe's Numentum technology, made to help properly position your foot in a neutral stance. This helps add stability, and promote proper gait.
Uppers on the Montara III are a waterproof nubuck leather, which helps ward away leaks and moisture, gives more durability to the shoe, and also gives it a fashionable look. D-ring lace-up vamp is rugged against wear and tear, and allows for a proper fit to your unique foot. Pig leather lines the inside to give some cushion and softer on-foot feel, while a padded collar helps add to comfort during use. This Ahnu shoe is sure to win your heart over after one hike!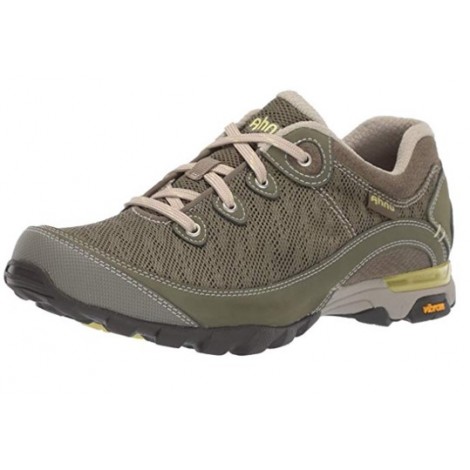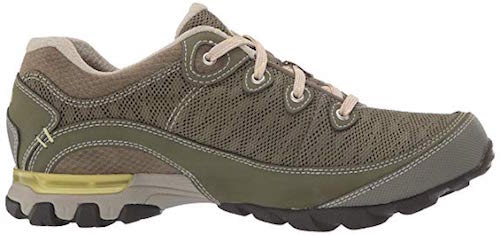 If you aren't familiar with Ahnu, they are part of Teva's brand line of comfortable shoes, more so created for hiking and outdoor activity than Teva's sandals are. The Sugarpine II Air Mesh is the low cut, lighter version of their hiking boot, but still maintains all the durability you'd expect for hiking footwear. With a Vibram outsole for durability and superior traction, you'll be hiking the trails in no time with this Ahnu shoe.
Uppers on this Ahnu shoe are textile and leather, making it both durable, and keeping excellent breathability for those longer hikes where you start to sweat. Having mesh uppers contributes to the shoe's overall lightweight characteristic, with each pair weighing 21 ounces. Ahnu keep traction at the forefront of their designs, using Vibram outsole and lugged pattern sole.
Antimicrobial treatment to the Sugarpine II Air Mesh helps ward away bacteria if your feet start sweating or the shoe is damp. A padded collar adds to the comfort of this Ahnu shoe, helping to prevent irritation on the heel or ankle when walking. A lace-up vamp provides a snug, yet adjustable fit, and a rounded toe box provides ample room for toe splay when running or walking. It's a solid Ahnu shoe option to consider for your next new pair!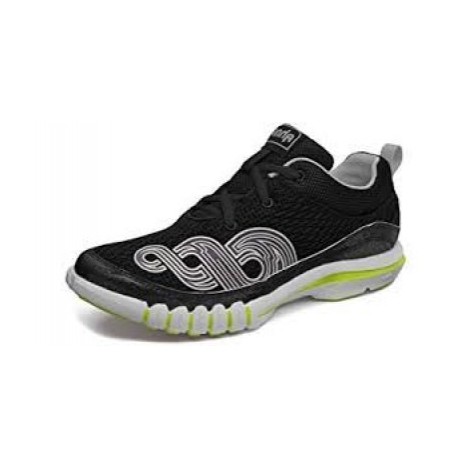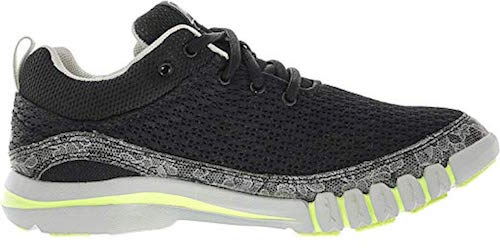 The Yoga Flex is designed with high-intensity workouts in mind. This Ahnu shoe provides comfortability, flexibility and a memory foam footbed for extra comfort. The second density heel pod provides extra comfort and support. The injected Eva makes these sneakers very lightweight. The Spider Rubber Outsole allows the shoe to grip with high friction and allows added protection against slipping. These are one of the best shoes for HIIT workouts.
The Yoga Flex has a very comfortable memory foam footbed to provide comfort and flexibility. The forefoot Flex zone provides the flexibility you need for cross-training, while the second-density heel pod provides extra shock absorption. The mesh and lightweight synthetic uppers allow the foot to breathe and move during high impact workouts without being stiff and clunky. The lacing system is shortened, giving this style a comfortable fit that allows for flexibility as well.
If you enjoy taking your exercise outdoors this Ahnu shoe provides excellent traction. The Spider Rubber Outsole is designed to maintain grip in slippery or wet environments. The injected Lightweight EVA gives this sneaker shock absorption without any extra weight added.
The Yoga Flex provides affordable pricing and unmatched comfortability. Finding the right lightweight fit that still offers flexibility and breathability can be challenging. These allow your foot to breathe and the spyder rubber outsole offers traction for a variety of environments.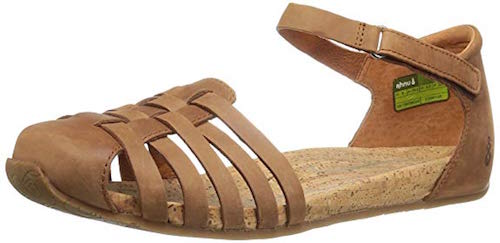 This fisherman inspired fashion sandal is great for strolling through the mall mid-day or for late-night walks on the boardwalk. These Ahnu sandals marry fashion with comfortability and functionality. The footbed is uniquely wrapped in cork which is naturally antimicrobial. The footbed also has an EVA midsole for extra support and cushioning.
The Malini Mary Jane Sandal is comfortable enough to keep your feet from blistering on vacation. It is a very stylish closed toe fisherman inspired sandal by Ahnu shoes. The comfort comes from the EVA midsole which isn't typical in many fashion sandals. This kind of midsole aligns the foot naturally and adds extra arch support and comfort.
Being on vacation or walking around any city in the summer, your feet are exposed to all kinds of dirt and grime. Two things aside from comfort you're going to want a sandal that keeps your feet feeling fresh. The cork-wrapped footbed is naturally antimicrobial. The closed-toe and heel design add extra protection from the elements and the open sides allow the feet to breathe. These sandals are a little more expensive than a typical sandal. Thankfully they aren't your typical sandal.
This Ahnu shoe was built for comfort and to last longer than typical sandals. They can stand up to the miles you'll put on them with added traction and the antimicrobial cork footbed keeps your feet from feeling grimy in a variety of environments.




Alamere Mid Hiking Boots are great for all-weather hiking. They are comfortable and stable with a removable footbed for orthotics. These hiking boots provide reliable traction for every adventure and dual-density EVA for extra support.
These shoes mold to your feet thanks to the compression-molded EVA midsole and integrated nylon shank, which provides arch support and torsional rigidity. The cushioned collar and tongue add extra comfort. These hiking boots were made for wider feet in the front and give extra room for thicker hiking socks as well.
The mid-ankle support is perfect for hikers with weaker ankles and who are hiking on rougher terrains. Ankle injury could be a big issue for longer hikes and these boots are made to keep the ankle comfortable without added stiffness. The ankle area is cushioned making these shoes a perfect fit around ankles without being too tight. These hiking boots have eyelet lacing which makes lacing fast and secure. The Shock-dispersal plate keeps feet safe while walking trails that are uneven and rocky.

Subscribe to our Newsletter