Best Wooden Shoes Rated For A Solid Aesthetic
In a Hurry? Editors choice: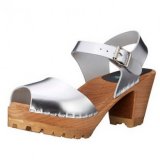 Test Winner: MIA Greta

Wooden shoes are a blast from the past. Japanese and Dutch cultures have dawned this footwear for centuries, with majestic geishas and rugged sailors indulging in luxurious, man-made clogs and sandals.

This underrated, environmentally friendly, alternative boasts superior balance and is surprisingly soothing for tired feet. Not only does the trendy tree-based foot-tech of today provide functionality it also has been intertwined in the designs many have come to know and love. Fabricators of this modern era have been cleverly and tirelessly innovative, integrating well-known customs with modern construction modification.

The list below looks at the highest rated wooden shoes currently available for purchase. You'll also find extensive information about what to look for in this type of footwear, as well as a FAQ section that'll answer all of your questions. This way, you can enjoy an easy and satisfying shopping experience.
Standout Picks
Criteria Used for Evaluation
Durability
There are so many options out there when choosing wooden shoes. The best options will synthesize longevity and timeless fashion. This will make a shoe wearable for years to come.
Genuine materials will have more longevity than synthetics. There is strength associated with wooden shoes that get a bad rap for in-flexibility. Below are some aspects that can be expected for the long term with this kind of item.
Simple Care
Easy Cleaning
Can be used daily without materials degrading
Provided balance
Unchanging Support
All of these aspects come together for seemingly endless use. Many want the look of times that have passed but the structures of today. Modern manufacturers carry many styles of wooden shoes for anybody looking for an authentic appearance. Fabrications with synthetic materials can be flimsy and uninspiring at times. Liven up your closet with colors that pop and durability that is unmatched.
Comfort
When it comes to wooden shoes you don't immediately think of comfort. And while it's hard to imagine walking on wood being comfortable, you should think again.
The important thing to look for in a wooden shoe is a contoured footbed. With a footbed that is ergonomically designed, your feet will be much more comfortable than on, say, a flat wooden plank. Most of the options on our list have a contoured footbed that will create the most comfortable walking experience possible.
Another thing to look for is a cushioned footbed. Some wooden shoes have an additional shock absorbing footbed on the sole to make sure your feet have some cushioning between your foot and the wood.
Other than that, make sure you pay close attention to manufacturer's size charts, as wooden shoes lack the flexibility of regular sneakers, and, if possible, always try on a model before purchasing. You should know that a pair may break in in the upper, but seeing that the sole is made out of wood, you should never go with a model that is uncomfortable underfoot.
Support
Foot support is very important in any shoes you purchase so you can take your steps without putting unnecessary strain or pressure on your feet.
An anatomically shaped footbed is also a great thing to have in your wooden shoes. Most wooden shoes try to create soles are designed to conform to the natural shape of your foot, giving you a great amount of support through the centering of your heels with each step you take. You might also find EVA footbeds that are also anatomically shaped, specifically in the arch part of the foot providing excellent support and preventing pain, especially for people suffering from flat feet related pain.
If you know you have flat feet, or if you prefer to wear more supportive footwear, look for wooden shoes made by companies such as Dansko which carry the APMA seal of acceptance, and which provide plenty of comfort features, including those that improve alignment and overall foot health.
Style
When searching for footwear made with natural materials it's important to keep in mind certain aspects that can really impact the individual experience with that particular product. Assessing the best fit for your lifestyle will have the greatest impact when making a definite choice. There is no need to break the bank while choosing with a specific intention. Let us take a look into what aspects will affect your lifestyle
If tender-footed structured footbeds may feel too hard
Softer feet should use insoles
Specially molded surfaces are great for proper alignment
Helpful with weight distribution to ease joints
Eco-friendly and biodegradable
Architecture is enduring there is no need to constantly replace
Although grain footbeds have come in and out of style, a great looking, unique structure is sure to impress those who are fashion forward. Funky colors and quirky bellbottoms can be dressed up to look very chic and give the wearer an accouterment that is enviable. Many of the wooden shoes of today are formed to look sleek instead of clunky. This makes it an easy choice for shoppers.
Value
The price of a pair of wooden shoes can sometimes be a deal breaker. That's part of the reason why footwear manufacturers invest time and energy into creating cost-effective technologies to incorporate into their shoes to make them durable, long-lived, versatile, and inexpensive.
Durability & Longevity
Wooden shoes, usually, lasts more than a few months, because shoes that are going to fall apart after a few months of use aren't worth the investment of more than a few dollars. Leather and synthetic overlays can be used to make the shoes more durable without sacrificing flexibility. Firm leather or synthetic uppers provide durability and support.
Maintenance
Good footwear is easy to maintain and clean. Wooden shoes don't require a lot of expensive shoe treatments or time-consuming upkeep. Shoes that need a lot of effort, time and money to maintain, don't sell as well as shoes which are easier and cost less to keep.
Cost
A hefty price tag can be a deal-breaker for people on a budget. That's why many wooden shoes can be found in the low-to-middle price range. They're affordable, and if they are priced a little higher than others, then they offer many features to make the footwear worth the extra investment.
10 Best Wooden Shoes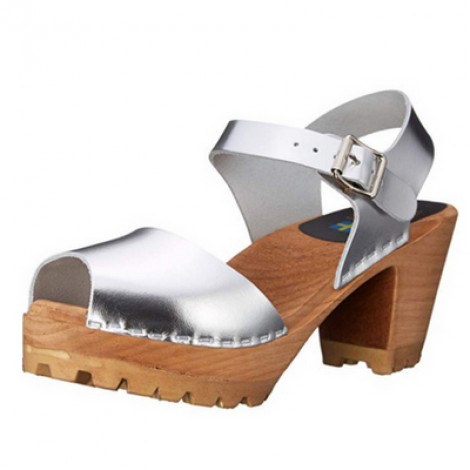 Finding a perfect pair of wooden shoes for flirty dresses or skirts is an amazing rush. This artistic creation features a fun peep toe and firmly designed ankle band. The craftsmanship has remained consistent for over 40 years. These are never bulky and give just the right feminine touch to any drapery of your choice. This showcases a well-structured body and chunky 3-inch heel.
Throughout life, the wear and tear of improper shoes can be detrimental causing irreversible joint pain. Aside from a cushioned insole the only protection against this is a hearty outsole. Merchandise that features elements which take in shock and safely return this energy is invaluable. Stylistic footwear seldom offers this component. It's a gracious improvement that generates interest around the functional nature of casual footwear.
A cozy fitting shoe can be very comforting. Creating a cozy experience for avid shoe-lovers without treading in the realm of tightness is a delicate balance to strike. Any creator marrying cutting-edge design with time-honored materials has groundbreaking abilities. The entire product must work synergistically. This distinct advantage is formed with a molded footbed, firm outsole, and sound ankle fastening. This composition has been a definitive factor in the positive response to such versatile footwear.
The MIA Greta is a pair of wooden shoes that offers all of this, and more. With a price point that's also slightly below average, it comes as no surprise that this is one of our favorite models available today.

2

. Swedish Hasbeens Katja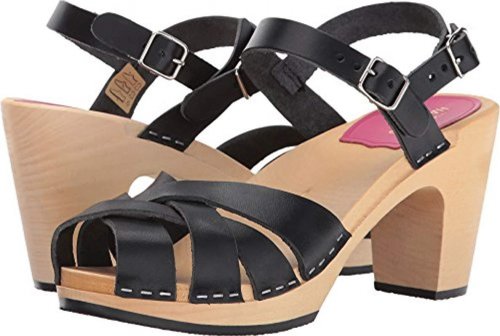 Rubber soled for an unassuming stride, the Katja Sandals are a favorite among fashionistas. The outlay of these wooden shoes can be hard at first because it is crafted in the most natural and virtuous manner. In a few days, however, the fit will soften and be more giving. The lime-tree used is reliable for routine outings.
Chrome-Free natural grain leather that is the most durable and unique material anywhere. This is a very high-grade fabric. This is also the most natural process for tanning and produces less waste. The processing is derived from only the strongest of hides which means any unique markings will show up on the finished article. The outerwear of each platform will be individualized providing every person who buys them with a one of a kind shoe.
Swedish Hasbeens have become a world-renowned company because of their solid mission and atmosphere of artisan-inspired folk-shoes. This pair of wooden shoes incorporates superb stapling for a lasting constitution. The shape isn't burdening for weak ankles and maintains its likeness for years to come. The detailed uppers are crafted with precision growing more beautiful and enjoyable with time.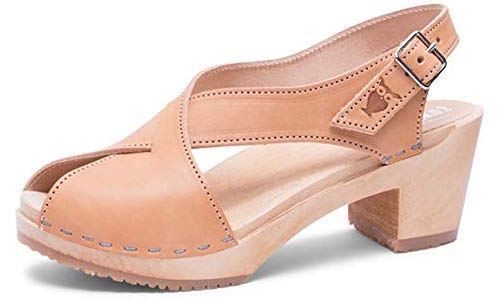 The Morocco is a pair of wooden shoes by Sandgrens that's ideal for occasions when a pair of clogs wouldn't do, but you still want to reap the benefits of an open design. The peep toe works perfectly with the slingback style to bring you a pair of footwear you can easily wear on casual occasions, and that won't feel out of place in slightly more dressed up environments either.
The heel strap on these wooden shoes has an adjustable buckle that allows you to get the perfect fit, something that can be tricky on this type of footwear. Not only does it allow you to get the amount of space you require in terms of length, but even more, it secures the shoe to your foot, which results in a more comfortable walking experience.
The uppers of the Morocco are available in several color options and use one of two kinds of leather. Black and grey versions are made with nubuck - similar to suede in that it's soft to the touch but more durable - while the nude, red and cognac versions use vegetable tanned leather that'll be more resistant to abrasion, and will provide the best durability.
Compared to other wooden shoes listed in this guide, the Sandgrens Morocco ranks average, but seeing its versatility, it becomes obvious that it's an investment definitely worth making.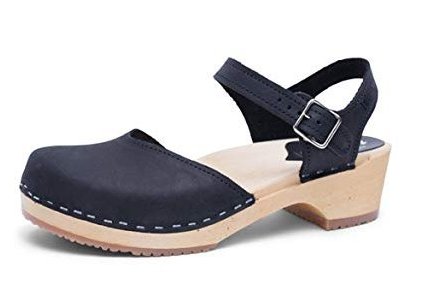 Sandgrens has come out with some seriously comfy wooden shoes. Made from natural materials and hand-crafted in Sweden, these clogs are durable, comfortable, and stylish. A NUBUCK leather upper is soft and similar to suede but with much more durability. With extra padding on the heel and toe, you'll be sure that your feet will remain comfortable all day.
Company culture dictates the outcome of productions. Something that is reproduced and uninspired will be quickly and cheaply made. The goal is simply to turn a profit as quickly as possible. The environment around the assembly of this pair of wooden shoes inspires trust. Values such as longevity, creative-crafting, and options like vegetable or supple imported leather, make for a defining commodity.
The all natural wood and leather materials that went into the design are durable and easy to clean. The NUBUCK leather is similar to suede and has a soft texture that is comfortable on the skin. Additionally, the open heel and instep encourage breathability, while the covered toe provides protection in both natural and urban environments.
You'll find that wooden shoes by this brand cost more than average, but on the whole, they're always worth investing in.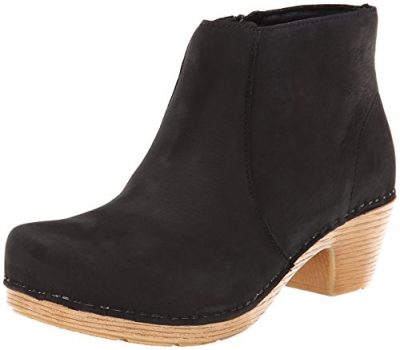 Creature comforts are no longer just for the home, and adding distinctive outerwear to your closet that clandestinely leaves feet feeling at ease is enjoyable. Nobody will ever know how involved the architecture of your footwear is. Dansko is American Podiatric Medical Association accepted. This is a badge for superior orthotic footwear. This particular pair of wooden shoes is made of materials that are easily cleaned. The structure is supportive and durable.
The Dansko Maria is a pair of wooden shoes designed with thought. With a stylish upper, you'll find that these booties are easy to pair with any of your autumn outfits, and the leather upper will prove to be supple enough for all foot shapes. Additionally, the zipper closure allows easy on and off, which makes these so much more appealing to anyone who needs to be out the door in a hurry.
As for the sole on these wooden shoes, you can expect a supportive experience thanks to the steel shank as well as the chunky heel. The footbed is cushioned and wrapped in leather, and you'll find that the outsole has a grippy traction pattern ideal for all weather conditions.
On the whole, this is an averagely priced pair of wooden shoes, and if you're after something you can wear during the colder months, then we highly recommend it.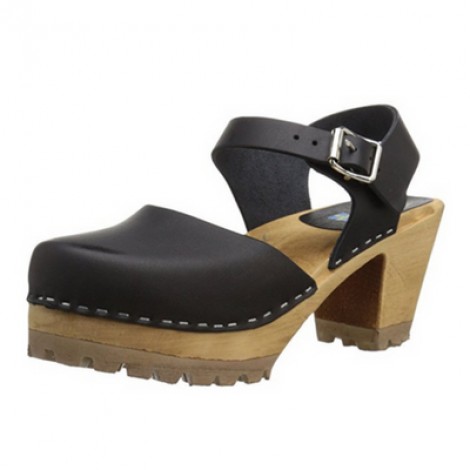 MIA is a brand born of 70's flair. They look to modernize the groovy craze of the hippie era. Wood-embedded designs dominated these times. The leather ankle strap and lugged sole on these wooden shoes create steadiness in a variety of circumstances. Hand-crafted for a customized feel and closed toe for protection. You can dress this adorable slingback up or down for everyday embellishments.
A seductive lift can give the impression of longer legs. This 3-inch heel is thick enough to provide much-needed support and still award a fashion-forward appearance. The outsole on these wooden shoes is lugged for more grip on various surfaces. The footbed is stable and capped toe is spacious and protects freshly manicured nails.
Owning apparel that is authentic to the hippie era while being able to translate to modern times is a magnificent discovery. Adaptable ankle strap holds its form for security and no sliding. The pigmented genuine material on the exterior adds an extra pop for favorite accouterments. Channel your inner disco dancer while feeling at ease in these wooden shoes.



This simple model strips away all the bells and whistles associated with today's footwear. These wooden shoes are charming and can translate for casual work attire and gardening. Wood-based shoes are remarkably comfortable for those who strive for supportive footwear. This material breathes and is uncomplicated to clean. The pricing is right on target for first time buyers who may be a little weary of an uncommon product.
These wooden shoes give you a simple silhouette that is perfect for wearing around the house and garden. The upper is made with quality leather that is durable, protective and easy to clean, and you'll find that some breaking in will quickly make it into your favorite pair of footwear.
With a genuine look and feel, this is the best choice for those who want a pair of original wooden shoes. Not only do these clogs look the part, but they also offer the functionality associated with that type of footwear. You'll find that the outsole provides modern-era levels of grip, making these an excellent choice for all surfaces.
As for price point, these are affordable wooden shoes that will fit almost anyone's budget, so if you want to try this style without breaking the bank, this is great place to start.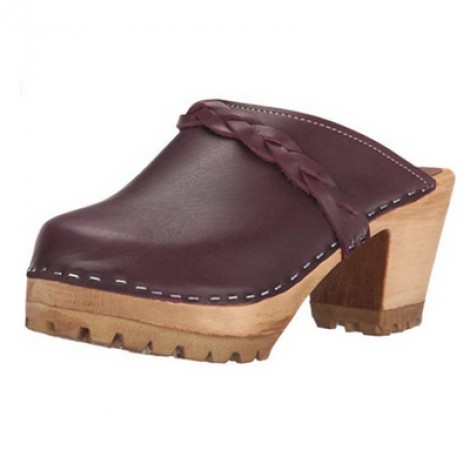 The Elsa Mule is a trendy and up to date wood-based embellishment. These wooden shoes are easy on the knees and the eyes. There is no reason why distinct beauty and a balanced form-fitting product can't co-exist. Construction can be easily overlooked in a world where vanity rules. This is the perfect pair with an ingenious braided accent. The wine hue is a stand-alone awe-inspiring element.
Proper posture and alignment make this a very practical pair of wooden shoes. When knees and ankles are misaligned, it can affect the entire inline of the body. This can give rise to a general feeling of unease and make routine activities intolerable. The form helps with proper alignment of knees and ankles relieving pain with sturdy support.
The adorable braided integument is something you won't find anywhere else. It is securely attached and sits just below the cuff. The nude outer sole allows for smooth sailing and protection against falling thanks to the grippy traction pattern. For tender feet, these wooden shoes may prove to be a bit too hard, but the problem can be easily solved by adding a simple insole.
As for price point, these wooden shoes rank around average, and offer a stylish take on the classic clog, making them the perfect pair for casual wear.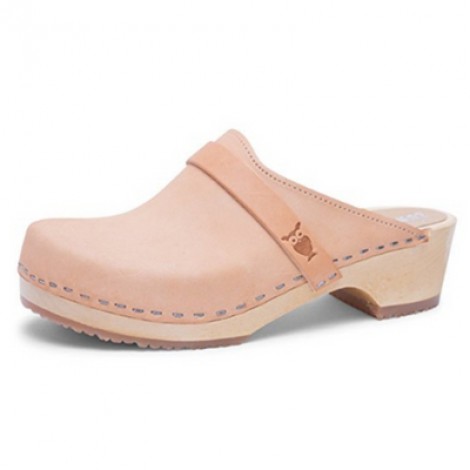 Reminiscent of bell bottoms, tinted shades and groovy tunes these wooden shoes are reimagined for the modern era. Nostalgia wrapped in supple fabrics and authentic form. The Tokyo Low Heel Mules bravely go where many are wary to tread. This is a quality crafted product that has been raved about by many.
In a world where everyone is in a rush, slowly constructed shoes are the pinnacle of luxury. It's easy to rest easy knowing care has been imbued with the design of your attire. Artisans have worked with precision to create a work of art with each pair of the Tokyo mules. There may be slight variations in the textile but this only adds to the charm associated with this footwear. The differences also mean that every shoe is one of a kind.
Typically handmade products will feature one to three available colors. This is why it's so impressive to find an item that offers 24 shades. These wooden shoes can go with any ensemble. The imported leather is color treated using only natural means and easy to care for with a real horsehair shoe shine brush. People with a need for sturdy soles can rest assured the support they need will be provided for. These shoes are known to be reliable for years.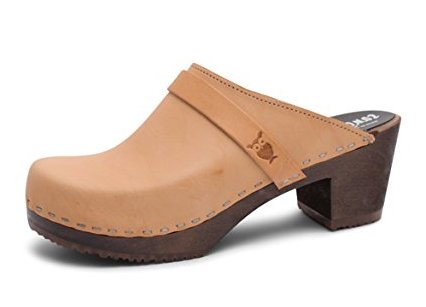 This is one of Sandgrens' flagship productions. These classic clogs have a contemporary 2-inch lift and a 1-inch platform. Stylish enough to translate to the modern era while valuing customary fashionables. The Dublin wooden shoes feature a vegetable tanned leather and were hand-crafted in Sweden.
It's easy to purchase a cheap alternative that will fall apart after long-term use. Longevity is a valuable asset for any attire. The genuine leather uppers are enduring and with time stretch enough to keep the wearer comfy. Stapled construction is trendy and made for routine use without tearing. Contoured midsole lends leisurely assuage to the construction of this piece.
This is not a bargain for a shopper on a tight budget. The hand-crafted natural materials are made to last, so if you can swing the purchase, these wooden shoes will last you quite some time.

Subscribe to our Newsletter