Best Shoe Glue for Repairs Reviewed & Rated for Quality
last updated:
Jun 19, 2019
We can all agree that there are some pairs of shoes that we value and treasure more than others. In this, should anything ever happen to these shoes, we would be kind of sad and bummed out. There is one magical tool that can completely transform your life and repair your shoe as if it was brand-new. That's right, there is such a thing as glue designed specifically to repair your footwear.
For many, this may be a high sigh of relief – and for others, an eye-opening moment, appreciating the advancement of technology in today's age. Whatever your thoughts may be – we support you. We took the time to comb through dozens of different shoe glues and assessed each product based on a list of criteria and standards that we developed.
In a Hurry? The test winner after 8 hrs of research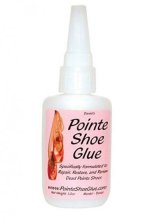 Daniels 1 Oz. Pointe
Why is it better?
No-Clog Bottle
Focuses on Restoration
High-Quality Formula
Holds for Long
In a
Hurry? Editors choice: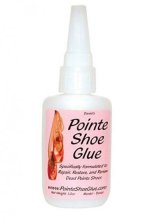 Test Winner: Daniels 1 Oz. Pointe

4
Researched Sources
1478
Reviews Considered
8
Hours Researching
10
Products Evaluated
Materials
Use
Speed
Durability
Value
By Default
Our Favorites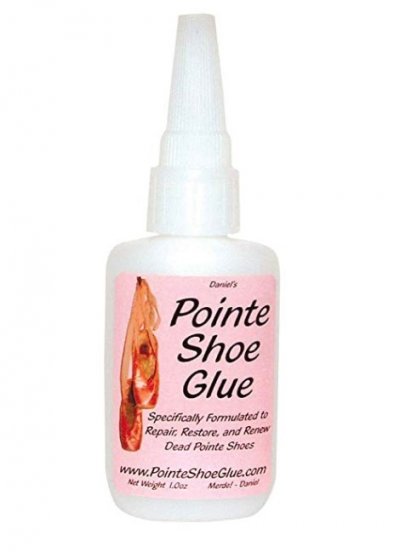 No-Clog Bottle
Focuses on Restoration
High-Quality Formula
Holds for Long
Only for Footwear
Lengthy Dry Time
The Daniels 1 Oz. Pointe is a great formula for repairing footwear that is slightly damaged, whether on the outsole, the interior part, or even the upper. The product itself was originally designed for ballet pointe shoes; however, the restoration formula can suit and help in many cases.
This is actually the first time that a company focused on the design of their bottle – making it clog-proof. What we noticed with other companies is the frustration of their consumers because their bottles are subjective to clogging. You now can wish those problems goodbye and say hello to stress-free restoration!

The whole purpose of this formula is to restore and repair a design to its original condition. This is precisely what this product does – no gimmicks, nothing more, nothing less. While it can take some time to dry – at least you can have the peace of mind knowing it will hold.

The Daniels formula is priced slightly higher than a few other products on today's list; however, it comes with the benefit of a higher-quality formula and bottle design. If those are things that you care about, this product is worthy of consideration.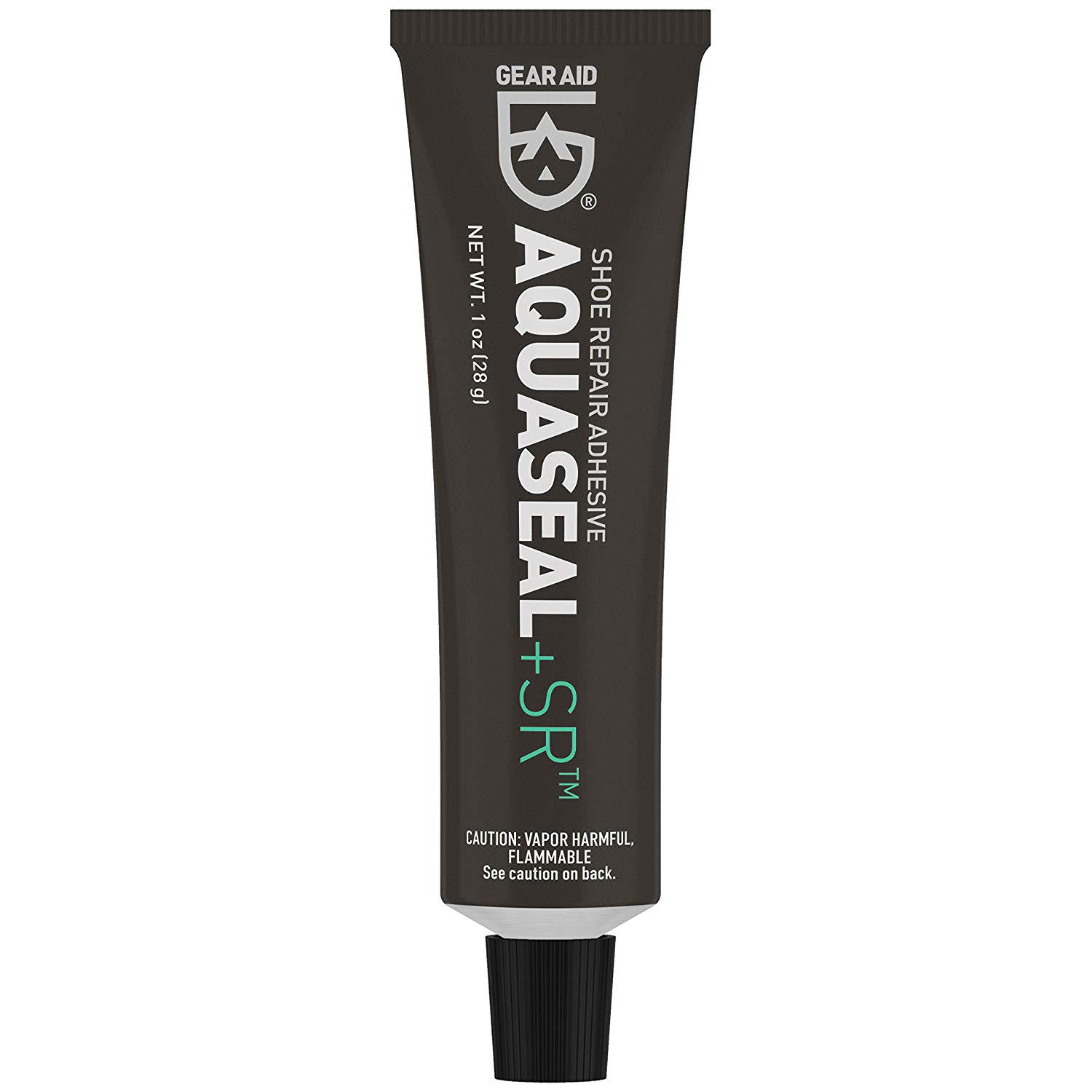 For All Footwear Types
Quick-Drying
Provides Water Resistance
Does Not Shrink
Not Fully Waterproof
Expensive
As far as footwear repair is concerned, the only other brand that can compete for the number one spot is Gear Aid. Their Aquaseal is widely popular and known to be one of the strongest and fastest drying products. So, if you are hiking, running, or even walking around the mall and you notice that your footwear tears, this formula has you covered.
The whole purpose of a glue is to get two different parts of a shoe to become whole again, right? This specific brand has enhanced the rebonding process, making it easy and simple. Whether it's the toe box, heel, or other rips in the soles, this product can do it all. Additionally, Gear Aid focused on creating a quick-drying formula so that you can have your footwear ready in less than 2 hours. Amazing!

As far as cost is concerned, the Aquaseal is one of the most expensive on our list. In fact, this is one of the biggest downsides to the product; however, its value significantly overpowers its price tag. For those who are looking for top-of-the-line repair formula, this is it.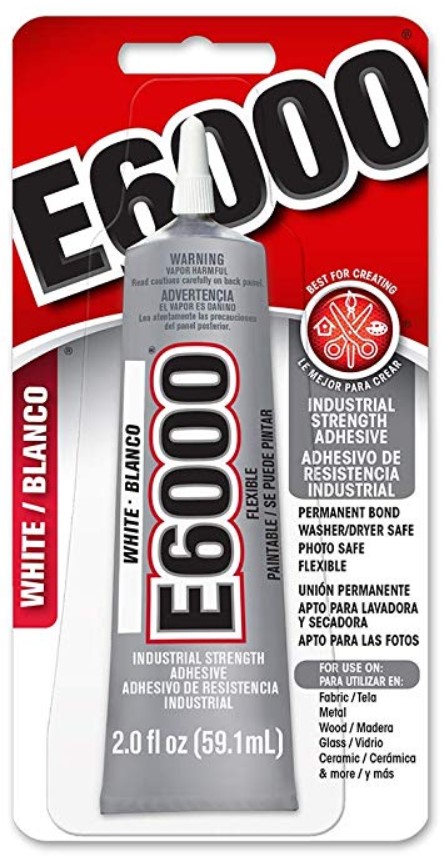 For Many Different Materials
Non-Flammable Once Cured
Clear and Paintable
Temperature Resistant
Washer & Dryer Safe
With the E6000 Craft Adhesive, we're adding another industrial strength formula to our arsenal. This product is not only for footwear but also for materials such as glass, wood, plastics, ceramics, cement, metal and more. It is made from premium ingredients that are non-flammable once cured, so you can be safe in the knowledge that nothing bad will happen with the materials glued with the E6000.
This formula dries clear, which we all appreciate when it comes to footwear. No one likes obvious glue stains on their favorite shoes. What's more, the Craft Adhesive is also paintable, meaning you can easily color it if you choose to apply it to some other surface. This product is resistant to high temperatures, so you can easily use it on your summer footwear, and it is safe to use in the washer and dryer as well!

The E6000 Craft Adhesive is a formula which creates a permanent, flexible bond that you will enjoy for months, if not years to come. With this product, you will definitely extend the life of your footwear, and possibly of some other items around the house as well!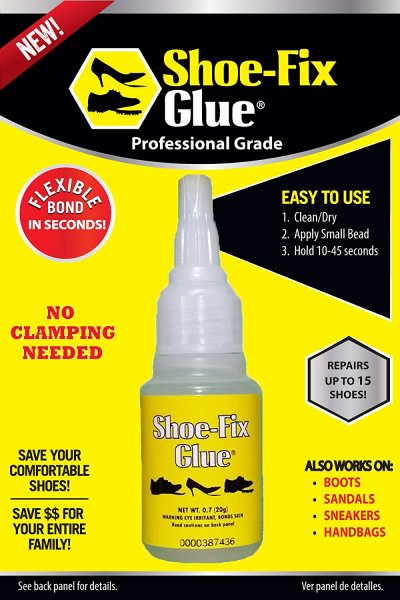 No Clamping
Instant Drying
Weather Resistant
Safe and Non-Toxic
If the last product you tried did not dry quick enough, the Shoe-Fix Professional has the solution for you. How does "instant" sound to you? That's right – this product was designed to instantly fix and repair your footwear, regardless of the weather. If you are looking for a quick repair, this is the product for you.
With an instant bonding feature, all you need to do is apply this formula to the desired area, and the magic works by itself. With no clamping and just a small hold – you can get back to walking, running, or hiking in no time. In efforts to stand out in this market, Shoe-Fix made their specialized formula resistant to different natural elements, including the cold weather, rain, and even heat. Additionally, the formula used for re-bonding is very durable and can last for many months, or even years, if taken care of properly.

The biggest selling point – and where the value of this formula comes from, is that consumers no longer need to wait two hours - or more in some cases - for their shoe to be repaired. This is instant – and that comes at a cost.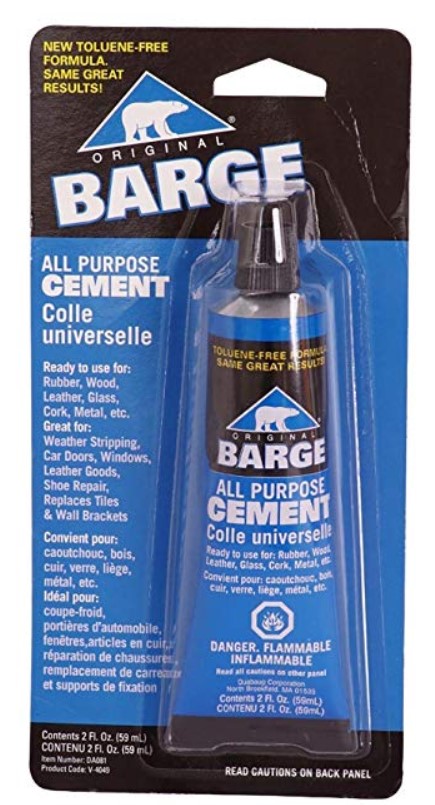 Waterproof
For Many Different Materials
Neoprene Base
Toluene-Free
Super Flexible Bond
Develops a Yellow Color
Not for Splits or Cracks
When the name of this product says All-Purpose, it literally means all purpose. The Barge formula is not only good for footwear, but also for car doors and windows, leather goods, and even replacing tiles and wall brackets! With this product, you will be getting a multi-purpose glue that you can use even to make your own DIY footwear!
The Barge All-Purpose has a neoprene base, which makes it amazingly waterproof. Dab a little bit of this on your boots, whether they be for the fall, winter or even snow, and you will be sure that your feet will stay dry all throughout! The bond that the All-Purpose provides is super flexible, so you won't have any problems with stiffness or chafing in your glued footwear. Finally, the formula is toluene-free, making it incredibly safe to use!

We're in awe at all the features that the Barge All-Purpose offers. It is especially valuable given its versatility - you can use it on leather, wood, rubber, glass, cork and many other materials and it will be just as effective on all of them! What an amazing deal!
6

. Shoegoo Repair Adhesive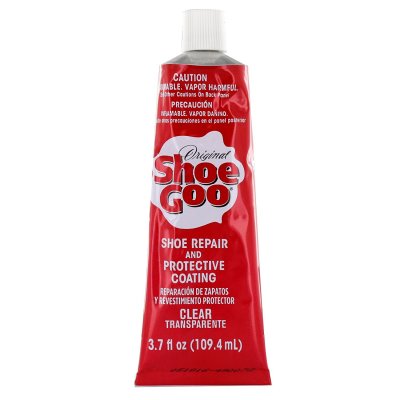 Great Price Point
Permanent Repair
Waterproof
Natural Traction
Tube May Burst
Strong Odor
When it comes to taking care of an old, worn shoe, there is no better type of repairing glue than the Shoegoo Repairing Adhesive. Not only is this brand the best in the industry – their product is far superior to the rest of the competition. It is designed from some of the strongest, most durable ingredients that it can even act as a sealant!
One feature that we particularly enjoyed was that the ingredients used to make this formula have unique properties that make it waterproof. Now, this is an impressive and useful feature. Should you be walking outside and it happens to rain, footwear repaired with this brand's product will find themselves still walking comfortably.

If you are looking for a permanent repair – this product is the one to do it. This heavy-duty adhesive is known to create the strongest bond – whether your heel fell apart, or you need to patch a small hole somewhere else.

The Repair Adhesive is not only incredibly cost-friendly, but you can purchase numerous tubes of this formula in different sets. It's one of the only products on the market that can model as a sealant and provide the assurance that almost any consumer is looking for.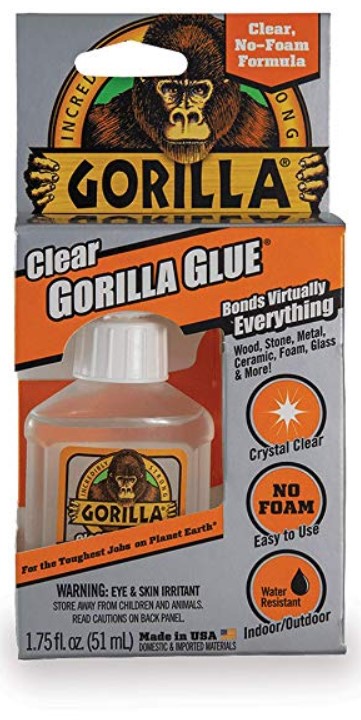 Bonds Most Materials
Water Resistant
No Color or Stains
Incredibly Strong Bond
No Foaming Formula
Requires Clamping
Long Drying Time
The formula that bonds virtually anything, Gorilla Clear is definitely going to work on your torn footwear. This is a clear glue, non-foaming, and it can be used on a variety of materials and surfaces, barring polyethylene or polypropylene plastics. (Which you will have a hard time finding in footwear, anyway.) This water-resistant option is just what you need for all of your indoor and outdoor repairs.
The Gorilla Clear is best used at room temperature. It is easy to use and it leaves no color or stains behind, meaning it is perfect for footwear. The materials you can bond this with include wood, stone, ceramics, glass, and others. It is water resistant, making it good for intermittent exposure to moisture, but not a constant soak. The bond that the Gorilla Clear creates is unbelievably strong and will last for quite some time.

The downsides to this formula are that it requires clamping, and approximately 24 hours to be fully cured. However, if this is not an issue for you, and you wish for something that will definitely work regardless of the drying time, then reach for the Gorilla Clear without hesitation!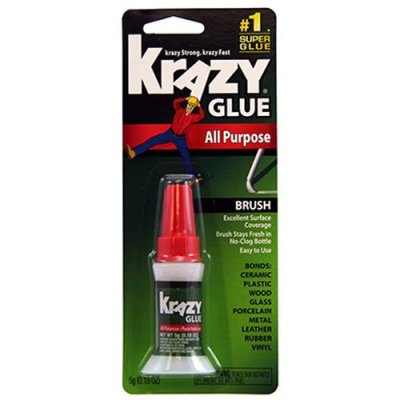 Easy to Use
Good Coverage
Quick to Dry
All Material Types
Dries in Tube
Brush is Ineffective
Nestled in the middle of the competition, we have the Krazy Glue Instant – one of the most famous brands in the instant glue market. This company created one of the best formulas to help bond together nearly any type of material, including any shoe you might own. Without further ado, let's check out the product's highlights.
If you are familiar with glue, chances are, you have already heard of this company. This specific item is great at helping weld together wood, metals, rubbers, and even leather! With that being said, no matter what your footwear may be made of – this tool can do the repair job. When it comes to repairing your footwear, you need a product that is not only going to hold together the broken parts but also be easy to use. No one wants to purchase a formula that is difficult or frustrating to apply. This item rises up as one of the easiest to use – and it is quite gratifying.

The reasoning behind the cheap price of this product is that the bottle or tube is relatively smaller than most on today's list. That is why this brand offers a wealth of different sizes and packs for you to choose from. They even offer a 5-gram version of this product!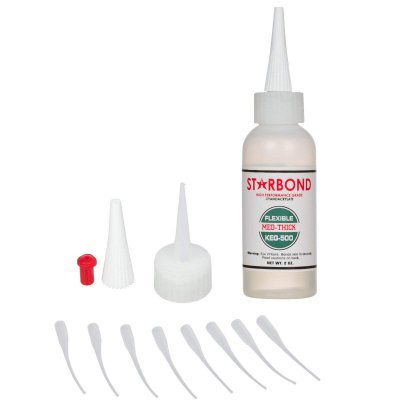 High-Quality Repairs
Flexible Formula
Industrial-Grade Ingredients
Long-Lasting
Warranty Policy
Costly
Long Drying Process
Another great option is the Starbond KEG-500. This could be considered a heavy-weight contender given its industrial power and grade materials alongside flexible formula properties, which is why so many consumers and businesses have flocked to this specific repair tool.
Most of the products on our list are great for commercial use. This specific item takes it a step further with industrial grade materials, including ethyl cyanoacrylate. For those who are not familiar with chemistry – this stuff is the real deal for fixing and re-bonding a shoe.

What captured our attention with this item was that the brand had a subtle warranty policy that we wish to highlight. The KEG-500 is designed to last up to 60 months. If the product does not work for that long – you can return the product and get a new one, for free!

While it's most certainly not the pinnacle of prices – the Starbond KEG-500 comes at quite a steep cost, given the size of the bottle. However, this product is nearly twice as effective as some of the other options and requires less of the formula to do its job. In other words, the value is there for those willing to pay.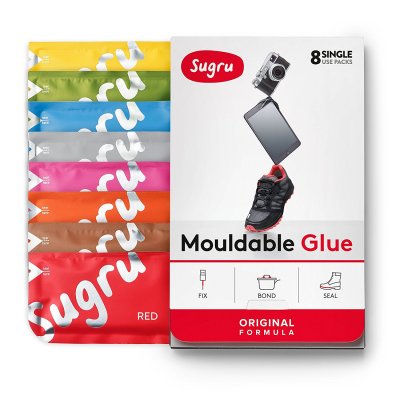 Different Color Sets
Waterproof
Resistant to Temperatures
Good Bonding
Advanced Technology
Small Quantity
Quickly Expires
If you are looking for a unique and fun product – the Sugru Moldable is the spice you are looking for. This is the first moldable set of glue that actually transforms into rubber before your eyes. This advanced technology has captured the attention of footwear lovers around the world – and now it's your turn.
What you are looking at here is the first moldable repair glue that will magically become a specialized rubber during the application process. The advanced technology used in creating this formula allows for it to bond quite rapidly to just about any part of the shoe – or anything else, for that matter. The Moldable is not only fully waterproof, but it can also resist different temperatures – making it one of the most durable options on this list.

Now, while the price point for the Moldable may be high, it really is a valuable choice to consider. It comes with 8 different packages of the moldable glue, all of which come in different preset colors. Additionally, the formula is quite strong – making it a worthy consideration.
Criteria Used for Evaluation

Materials
When it came to generating a list of criteria – the absolute first standard that popped up was the type of formula that the product offers. Now, if you have never heard of shoe glue or purchased this type of tool before, let us share some insight with you!
Each product is going to come with a unique formula, typically specially crafted from the maker. These formulas include different materials, which help for varying circumstances and situations.
With that being said, as we evaluated each product, we carefully looked at the different types of materials that were used in the formula. We tried to only highlight items for today's buying guide that were focused on the following:
Bonding
Sealant
Protection
Traction
Synthetics
In order to purchase an effective formula, you absolutely do not have to know all the chemical names to the compounds and their properties! All you should consider is the above list of qualities a glue may have, and make your choice based on what you feel is best for your type of footwear.

Use
Second to the quality and type of formula is the functionality of the product. What this means is that we carefully looked at what the product offers as far as usability goes. To do this, we asked ourselves a series of questions that went a little something like this:
Can the product be used with:
Leather footwear?
Vinyl footwear?
Canvas footwear?
Rubber outsoles?
Mesh or polyester?
In addition to this, we looked at a few other factors that we want to share with you when it comes to functionality.
We wanted to see if the products could be used for other purposes, aside from footwear. We were quite surprised to find out that many types of glue have a wide variety of uses, ranging from clothing repair to sealing holes, to even creating traction for skateboards.
In addition to this, we also wanted to highlight glue formulas that were made from waterproof properties as they tend to offer the best functionality.

Speed
When studying the market for this type of product, one thing that we learned was that many companies, while designing high-quality sealants, created formulas that took many hours to properly bond and hold. Now, we understand that consumers might not always have hours upon hours in order to wait for the drying process to occur.
While there are a few products on our list today that have longer dry-times, we carefully tried to only include those that came with quick-to-instant dry times.
If you're looking for an instant-type of solution and don't care for waiting around the whole night in order for your footwear to be successfully repaired, then definitely don't hesitate to sort the products according to this criterion. Choose off the top of the list, as there lie the quickest-drying formulas we included, and your shoes will be as good as new in no time!

Durability
For many consumers, one of the most important aspects of this type of product is ensuring that it will keep your shoe together for a long period of time. You don't want to glue the outsole – just to find out that, in a few days, it rips again. That would be frustrating, and a waste of money.
Consumers need to carefully look at the formula and the properties that it offers. We studied the formulas and looked for those that came with sealant-like properties.
Typically, glues that act more as sealants are designed from higher-quality materials and compounds. They hold longer, no matter where you apply them, and you are likely to get many more seasons of wear out of your footwear.
Additionally, we wanted to make sure that the glue was waterproof as this is critical for everyday walking shoes. You don't want your footwear falling apart at the first sign of rain just because your glue wasn't of the right type.

Value
Let's talk about one of our favorite criteria that we often use when evaluating different products: the cost and value. This is one of the only criteria that does not necessarily concern itself with the product, but rather understanding the relationship between the price tag and the value embedded in the formula.
When we started off this buying guide there were a few different steps that we took – at first, to understand what type of industry we were looking at. We looked at all the different price tags for shoe glues and kept track of the highest priced products, as well as the lowest. From there, we drew an average, which was then used as we further analyzed each product.
Moving forward, per product that we analyzed, we answered a few questions regarding the value:
Does this product offer anything valuable?
What are some of its unique features?
What is the return on investment for the consumer?
In answering these questions, we were able to draw some conclusions regarding if the product is valuable. The last thing that we did was use the average price that we found earlier and compared the value of the product with the price tag. If the price point was higher than the value, the product was passed-on. We only wanted to highlight the very best glues.
Expert Interviews & Opinions
Most Important Criteria
(According to our experts opinion)
Experts Opinion
Editors Opinion
Users Opinion
By Default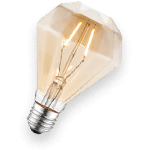 Renew Old Shoes!
Sometimes you just can't part with that pair of old favorites. And, to keep them going, sometimes shoe glue is your best friend for repairing soles. For a minimal cost, you can fix your old favorites instead of investing in a fresh new pair for a bit!
Heat And Weather Resistant Glue
It's important that when you do use glue on your shoes, that it's something that has heat and weather resistant properties to it. Regular glue will not hold the soles of shoes together after being wet more than once, and heat can simply melt regular glue and make the fixed are more pliable again.
Always use something certified for the materials you're glueing together, and that can withstand the elements.
Other Factors to Consider

Bottom Line
So, as you have learned throughout today's buying guide, just because your footwear has ripped or broken apart – doesn't mean you need to freak out.
Depending on the type of material that your shoe is constructed from, there are specialized products to help repair and refresh the footwear. Whether you have a hole in the upper, a broken heel, or whether your sole is separating from the upper, there is a formula out there that can help with anything!
With that being said, it's quite important that, before you purchase just any item, you carefully observe that it is crafted to handle your particular shoe. This market has so many different choices – it's important that you pick the right one. Therefore, we hope that our Criteria section helped in providing you with additional information on this topic. If you have any more questions, make sure to check out the FAQ section below!
Frequently Asked Questions
q:

Will these products work on wooden shoes?

a:

This is a tricky question, mostly because not every single formula is going be effective on wood. In fact, there are several products on our list today that will not perform well on wood specifically. With that being said, before you purchase any type of shoe glue, it's important to know the materials that you are working with – and then look for products specialized for that material.
q:

Will these work on hiking boots?

a:

Yes! Our products here will most certainly work for hiking boots. While these boots are typically one of the strongest and most durable types of footwear – there are formulas that can really help to re-bond the most important parts. Don't forget to choose a waterproof option!
q:

What's the difference between water-resistant and waterproof?

a:

This is a great question, as a few different products on our guide were designed with a waterproof property. Now, this is different than those that come with water-resistant properties.

When a company mentions that their product is waterproof – it means that the material, once dry, is impermeable to water. This is often preferred. Water-resistant simply reflects a product that can resist small amounts of water – and that's it.
q:

Will shoe glue actually add traction?

a:

This entirely depends on the type of product that you purchase. There are a few specific brands that have designed their product so that, when it dries, it adds traction to the area where the glue was applied. If this is something you are looking for, be sure to pick a product from our list which has this feature.
q:

Do you need to clamp in order to properly secure the shoe?

a:

For first-timers, it's important to know that the way to properly secure the shoe with the glue will depend on the brand. There are a few items on our list that will not require the traditional clamping technique.

With that being said, we highly advise all consumers to follow the instructions given with the product. Don't assume that one way works better than the other. Also – always look at what previous consumers have said about clamping.
Subscribe to our Newsletter