Best Wetsuits for Surfers, Divers and Swimmers Reviewed
In a Hurry? Editors choice: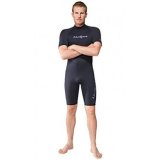 Test Winner: Neo-Sport

Surfing, whitewater rafting, diving and other forms of water sports are fun, social, and physically engaging ways to spend your free time. Wearing wetsuits while engaging in these activities will provide you with; thermo-insulation, buoyancy, and protection from harmful UV rays. If you're going to be in the open waters, they also provide abrasion protection as well as some shielding from stinging of marine life.

Having the right wetsuit can mean the difference between having a great time in the water and spending some time in the Emergency room. There are few considerations to make while purchasing one; the length of the wetsuit, the temperatures it can handle, what activities you can use the suit for, and many other factors. Here are ten of the best wetsuits for your consideration that will make your search easier.
Standout Picks
Criteria Used for Evaluation
Style
There is a place for every wetsuit.
Just like with your everyday clothing, some wetsuits are best suited for particular environments. There are different types in these apparels; some specialized too much for the diving enthusiast to mule over. Nevertheless, the three main types you should care about are explained below.
Farmer John:
This type comes in two separate sections. The upper part of the jacket is sleeveless, and the bottom part extends from your waistline to your ankles. Free divers like it because their shoulders are freer and they can maneuver easier.
Shorty:
This type is primarily made for moderate temperatures in tropical like conditions. It is cut below the knees and has short sleeves. Many prefer it since they feel more agile when the warm water contacts their exposed body parts. The shorty wetsuits are ideal for water sports like; skim boarding, body boarding, and general swimming.
Full length:
The full-length type covers most of your body except your hands, feet and of course, head. It is popular with many surfers because it provides more protection and retains heat better than other variants. It's recommended for diving in deep waters where it's colder while shielding you from harmful marine life like stinging jellyfish and abrasive coral reefs.
Materials
A lot goes into making a good wetsuit
These products have come a long way, ever since they came into the fold in the sixties. There have been many iterations since then, geared to make your dive even better than before. Manufacturers try to combine the best materials to achieve suitable properties in your wetsuit. Some materials are too many to mention, but they always converge to some similarities in what is applied. Below are what is most commonly used and how it affects your user experience.
Open cell neoprene: This material is of the highest value because of its softness and flexibility. Its level of insulation is superior, meaning it keeps you warmer than other fabrics. The open cell neoprene achieves its properties by providing suctioning against the skin. Additionally, it conforms well to your body.
Closed cell neoprene: This is the most commonly used fabric. It is just as flexible and soft as the previously mentioned type. However, it doesn't trap heat as good, since water moves freely between the suit and your skin. Then again, that's ideal for tropical climates, but not for extremely cold environments. Besides, it costs less to make it with this fabric, which trickles down to you, the end user. Because it's cheaper to use, manufacturers add more thickness, for it to provide more warmth. However, with thicker the material in a wetsuit, the more restrictive and buoyant it will be.
Lycra: A wetsuit made of this material makes it very light. The level of insulation provided is questionable. Therefore, it's ill-suited to use one made of this fabric in cold environs. Nevertheless, it is suitable to shield you from harmful sun rays as well as providing little resistance against warm waters.
Size
A wetsuit that doesn't fit you is of no use
Those who have used wetsuits before- understand how important it is to find the best fit. They also remember how uncomfortable it felt to wear it the first time. It can be an awkward feeling to wear something that encapsulates your body as much as a wet suit. However, it becomes an afterthought after regular use.
Get a wetsuit that fits snug to your skin to prevent water flushing through openings in your leg, neck, or arms. If water penetrates your gear, you will be uncomfortable and cold water will get to you, beating the purpose of keeping you warm. A wetsuit that's too tight will feel restrictive, and that's even after you get a chance of putting it on. A good fitting gear traps a thin layer of water, which is warmed up, as a result retaining your warmth.
Constantly being distracted by pinching in an inflexible gear or feeling cold will make your vacation a forgettable experience. One thing to note is that newbie divers think their wetsuit is too tight, not knowing that it loosens up after immersing themselves in the water. Check out your height and chest size, for men's, women's and kid's versions of a wetsuit, making sure the measurements concur to the apparel. The manufacturers in this review have detailed instructions on how to measure yourself.
Features
Wetsuits have many characteristics and designs, meant to keep you comfortable
There all many terminologies manufacturers use, which can be a little confusing at first. Here are what they mean and how it affects the wetsuits use.
Stitches
By having many panels joined together, these garments have lots of seams, needing suitable stitching. You should accordingly get a wetsuit with overlock, blind, or flatlock stitch. The types of sewing won't rub or irritate your skin as you meander through the water.
Overlock stitches are typically on the inside, so you won't see the stitching on the outside- thus giving off a good look. However, water sips through overlocks easier than in other versions. Because of that, a wetsuit with overlocks is best utilized in warm water conditions. Flatlocks are more conspicuous because of being used on the outside of the garment. Nevertheless, they are more comfortable in comparison to overlock stitching.
Blind stitched suits are similar to flat stitching. Additionally, the seams are glued, reducing the chances of water seeping through. As a result, they are the best and incorporated for apparels used in icy water conditions.
Another new version for bringing the panels together is welded seams in high-end models. Even though not being a seam per se, this design creates a watertight garment for the coldest of conditions.
Zippers
When it comes to zippers, you will find back or chest zip mechanisms. Most divers prefer having zippers on the back, which presents new sorts of challenges. Zipping on your back can be difficult because assistance is not always available. But then again, it's much easier to get into a garment with a long zip, and some have a leash to assist in doing just that.
Additionally, the back zip mechanism stretches all along the spine to the collar. By elongating for so long, this also increases the chances of water penetration into the garment, especially near the collar.
There are a niche wetsuits with a flap across the chest. Even though it improves flexibility and water doesn't penetrate easily, getting into this type is challenging. Another iteration is zip free design. This type is watertight, lightweight, and warm. However, getting into such a model is very hard.
Insulation
The thicker the wetsuit, the warmer it is
These garments have different thicknesses, separated by just a few millimeters: 7mm, 5mm, 3mm, and 2mm. More density increases what sort of temperatures your wetsuit is suitable for. If in warmer temperatures, a thinner garment is appropriate, and the opposite is true for colder temperatures.
You will find some terminologies like 7/5. This figure essentially means the different thickness in the torso and extremities. The first figure (7), implies the thickness on your chest area, and the latter is thickness your other body parts. To keep it simple, a garment with 4mm thickness and below is suitable for temperate water. A wetsuit with at thickness above 4mm is appropriate for colder temperatures.
Consider where you'll be taking a dive, and which apparel will suit such a place. Some places even increase temperatures as you dive deeper, so consider those. Also, remember that the neoprene material used in most wetsuits shrinks with depth. Consequently, you lose some insulation and buoyancy as you go deeper.
Top 10 Picks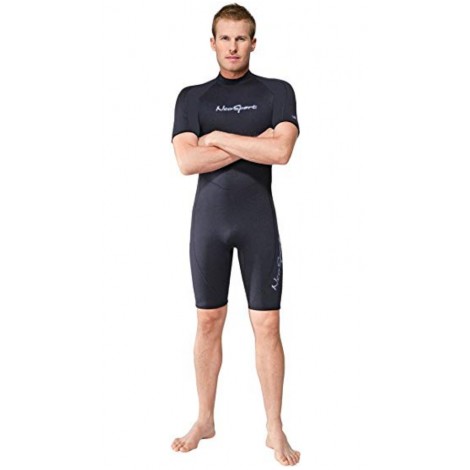 Neo-sport wetsuit shorty is designed to anatomically fit your body so well that it feels like a secondary layer of skin. It is warm, durable and protects you from the sting of UV rays, jellyfish among other irritants. Its design features short sleeves and pant legs that give a measure of comfort in hot climates. Neo-sport also has a tear away sizing tag, which reduces the hustle one goes through when shopping for a new suit.
The Neo-sport wetsuit has an adjustable Velcro collar for a comfortable fitting neck, and the entire suit is made of super-stretchy neoprene. These features combine to make it less confining and restrictive, allowing a fuller range of motion. The arms and legs have Lycra trimming and heavy duty YKK zips for added ease in putting on and taking off the suit.
There is an internal zippered pocket for stashing keys and other essentials as you dive. This suit is constructed from 3mm neoprene, which makes it comfortable in both humid and chilly weather. The neo-sport has excellent seaming that prevents irritation and water from sipping though. The manufacturers have added reinforced seam tape at intersecting seams for additional durability.
The neo-sport is practical for nearly all water-related recreational activities including tubing, snorkeling, paddling, watercraft, rafting, and many others. Their product comes with a one-year warranty for any defects.

2

. O'Neill Wetsuits Reactor Full Wetsuit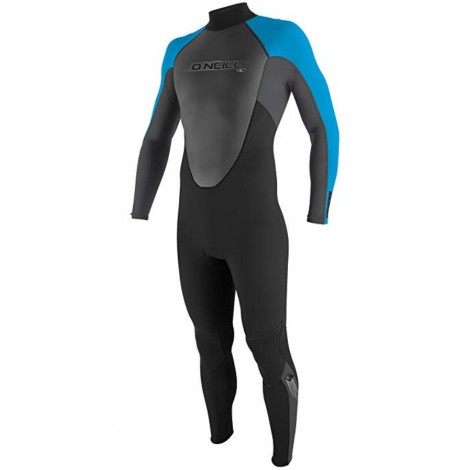 O'Neill is a well-established manufacturer of wetsuits and various other quality active marine clothing. They offer both budget and high-end wetsuit that meet your expectations. Their products are made of 100% Ultraflex DS Neoprene, a material that gives users flexibility as it stretches to allow for natural body movement.
The O'Neill reactor has an adjustable Superseal design that ensures a snug fitting neck without making you uncomfortable. This also works to prevent water from accidentally infiltrating the suit through the wrist and ankles. The suit also has a back zipper and a hidden key pocket.
The O'Neill reactor also features a combination of FluidFoam and FluidFlex material that provide abrasion protection and heat retention qualities. It is available in three thickness grades; each offering varied levels of protection for climatic conditions and seasons of the year. The reactor has a 3/2 millimeter rating, which means that your body deals with water more natural when compared to other wetsuits.
The full wetsuit has what O'Neill call Flatloc stitching that incorporates breathable seams and seamless padding in some areas for a comfortable experience. They have also worked in Krypto knee padding to protect knees from soreness and rash that is prevalent when surfing. This full-length suit is excellent for the beach, lake activities, Surfing, paddle boarding and diving.

3

. Seavenger Odyssey Neoprene Wetsuit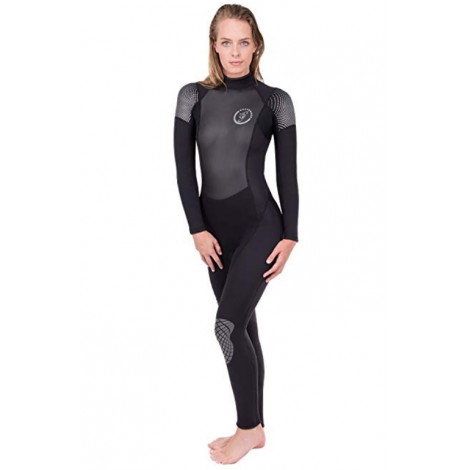 The Odyssey by Seavenger is a high-quality wetsuit with moderate thickness. It has strategically placed padding to prevent abrasion from the elements, to counter chafing and to provide all-day comfort. It has a sturdy #10 YKK zipper backed by a neoprene gusset that makes donning and doffing a breeze. The knees and shoulders can also stand up to the rigors of extreme sports thanks to reinforced anti-abrasion padding.
Surfers are sure to enjoy the extra-durable sharkskin padding on the chest area that protects them from impact when they flop on their chest or get hit by high-velocity waves. The wetsuit also has flat-lock stitching laid flat to reduce bulk to enhance durability. The Odyssey features extra stretchy panels at the armpits, sides, crotch, and knees for greater versatility in movement.
Seavenger has implemented an extra-long zipper leash on this suit that makes reaching and a securing it by yourself an easy task. The collar has a double tap, "loop n hook" tie down design to protect the neck against leaks. The wetsuit is also quite stylish with its JP5 sleek design reminiscent of the golden surfing ages.
This suit comes in black with bold colors trimmings like salmon and aqua. It a snug fit that's sure to turn heads when you take it out to the beach. It comes highly recommended for surfers but can go well with any water sport or water-related activity.

4

. Hyperflex Voodoo Fullsuit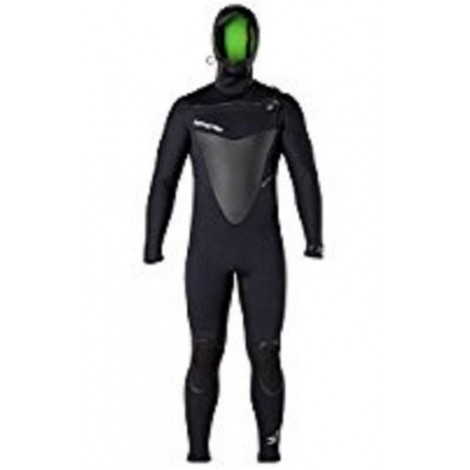 The Hyperflex Access is designed to serve as an entry-level swimsuit for pro-level suffers. Scuba divers and surfers prefer it for elastic 3mm neoprene material it's and water sealing quality. It is warm, even in the coldest conditions while being durable enough to counter the most abrasive elements.
The Access is anatomically cut to a form-fitting effect that's comfortable, stretchy and allows for a fuller range of motion. The Velcro collar ensures a perfect fit as well as total closure to prevent water from coming into contact with your body. It has a seamless underarm gusset and flatlock seams that reduce irritation, maximize comfort and enhance durability.
Hyperflex has also incorporated "storm force knee padding" that prevent abrasion without inhibiting movement. The back of the wetsuit features durable zippers that move up and down quickly for an easy time putting the suit on as well as taking it off. This suit is specialized for surfing and diving, but you can use it for any marine related activity, especially in cold climatic conditions.

5

. Cressi Shorty One-Piece Wetsuit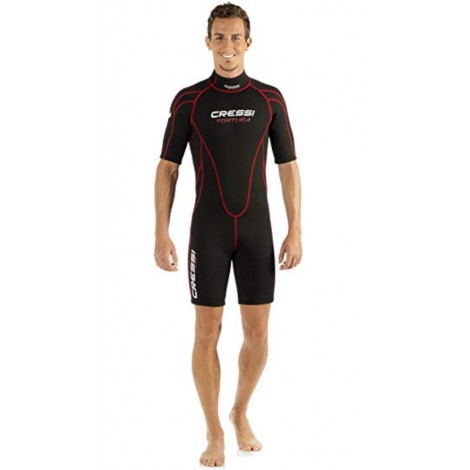 The Cressi Tortuga is a single piece shorty wetsuit made for water sports in tropical sea conditions. The Tortuga so aptly named, has design trimmings to the back and front that bare subtle hints of a turtle. This aesthetically captivating wetsuit come in fitting for men, women, and children.
This one-piece wetsuit has a 2.5mm double-lined neoprene fabric construction that makes it comfortable and allows ease of movement. It has a flat neoprene chest area for enhanced elasticity, water, and wind resistance. The wrists and legs have insertions that minimize water infiltration.
The sleeves of the Tortuga feature a double fold seam-sealed construction that effectively reduces wear and tear. The collar has adjustable hooks and fasteners for closure and comfort. Donning and doffing this suit is easy since it has a back zipper and a leash with a pull-tab.
The Tortuga offers UV protection in the areas it covers, but you will have to use sunscreen on the areas of exposed skin. This suit is perfect for tropical waters, diving snorkeling, swimming, sailing, and water sports in general.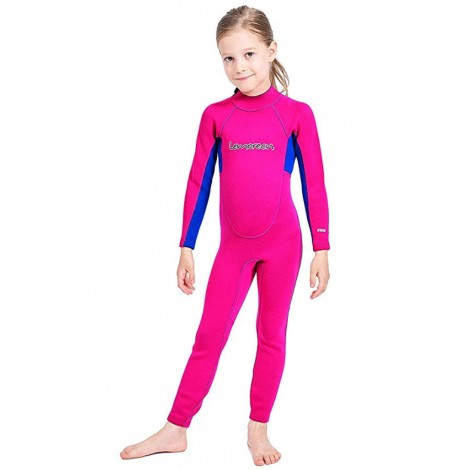 The Lemorecn youth wetsuit is a lightweight option ideal for summers on beaches, lakes or riversides activities. It is a shot front suit, the fabric stops at the elbows and above the knees and it contains a 2mm neoprene material that's light and very breathable. It's a kid's wetsuit suitable for all summer long water sports like surfing, rafting, scuba diving or just chilling by the beach.
It's very affordable and high quality compared to other options. It's fair since your kid will outgrow it in some years. It offers +50 UV protection, which means you can use less sunscreen or other forms of sunblock. The suit features a zipper on the back designed specifically for children's short limbs so that they have an easy time putting on and taking off this youth wetsuit.
The suits 3/2 neoprene material insulates warmth without compromising on flexibility. There's also a 3mm chest panel for wind form-fitting and abrasion protection. The sleeves feature a 2mm material that allows for less restricted arm movement
The Lemorecn youth wetsuit runs in smaller sizes than most brands. Please consult the sizing chart to get the perfect fit. The neck strap is comfortable and not restrictive. Therefore your child can comfortably adjust without help.

7

. Bare Velocity Super-Stretch Wetsuit for Men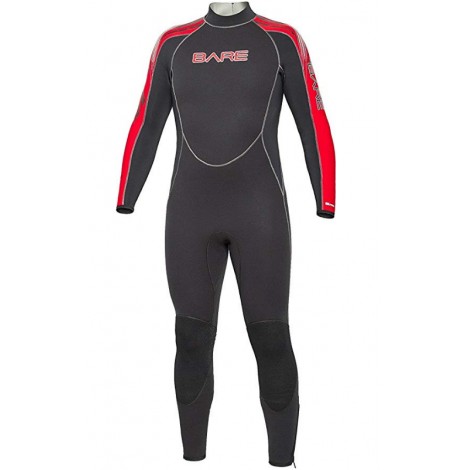 The velocity swimsuit uses three elementary fabrics to create a stretchy and insulating experience. It is light, fits appropriately and moves with your body to allow for a broader range of motion in the water. The velocity comes with 3mm, 5mm, and 7mm thickness options and a wide selection of colors for both men and women.
This wetsuit features a full-stretch nylon II neoprene material and unique stretch panels in vital areas like the knees. This fabric is 100% super stretchy, comfortable, and flexible, allowing a more extensive range of motion. Flat-seams and anti-lock stitching enhance the durability of this suit.
Additional features include rolled glide-skin on the collar, ankles, and wrists to secure them and seal in body heat. The collar also has Velcro for adjustment and proper fitting. This product also has a heavy-duty back zipper that features an anti-flush guard. The bare velocity wetsuit has a temperature rating of 60 degrees that makes it great for use in cold weather. This rating makes it appropriate for diving, surfing, and other water-related activities.

8

. Phantom Aquatics Men's Wetsuit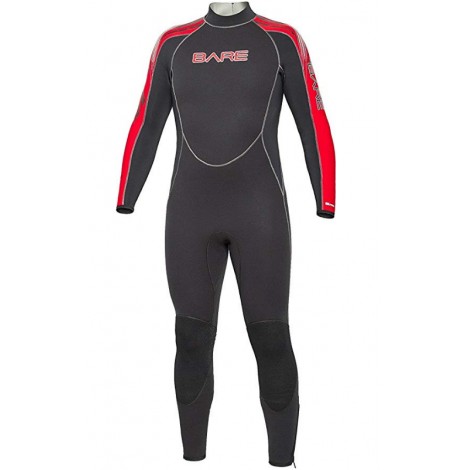 The Voda shorty wetsuit is comfortable, warm and well cut to fit the curves and contours of any body type. This wetsuit is made of Ultra-flex super stretch 2.5mm neoprene material. Flatlock seaming improves the comfort of this suit and enhances durability.
A high friction seat reinforces the rear and helps reduce slips on wet surfaces. The shoulder area is also reinforced for additional protection from abrasive surfaces, water, and wind resistance. The wetsuit's neck closure has micro-teeth Velcro for fastening, adjustment and to prevent water from flashing into the suit.
The Voda has a Durable waterproof and rustproof zipper that has a self-donning leash. Therefore, you can put on or take off the suit without assistance. Even though this is a shorty, the area that covers the skin offers UPF 50+ protection that guarantees protection from the sun.
When done using the wetsuit, rinse it off in fresh water and line dry in the shade to enhance its life service. This product offers value for money and comes with a two-year warranty.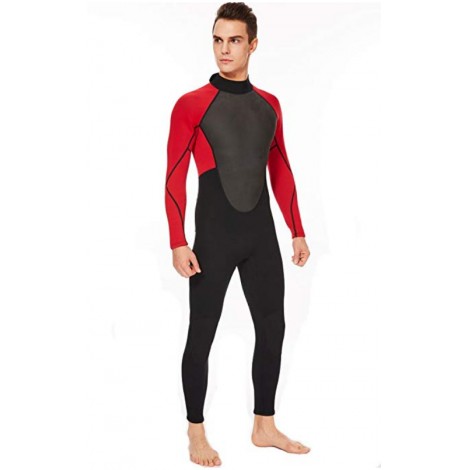 Realon makes premium wetsuits for the entire family. Their wetsuits feature fine quality CR neoprene and stretchy nylon that combine to give; excellent waterproofing, UV protection, chemical resistance, wind and water resistance, anti-microbial properties, ozone shielding, as well as enhanced physical and mechanical properties. It is a full body surfing and diving wetsuit that utilizes classic color matching to give customers options that fit their expectations.
It comes with a sturdy and reliable 10V heavy-duty zipper that is gusseted it from flushing, clipping to the skin and slipping open. The Realon also comes with an extra-long fastener on the back for conveniences in donning and doffing the wetsuit. The compression fitting of this full body wetsuit is made with active form-fitting specifications that ensure the suit conforms to your body for maximum comfort and to counter chafing.
The Realon provides more freedom of movement in confined spaces in water surfaces as well as underwater activities. While snorkeling or diving, it offers more buoyancy and water pressure release. Its extra soft and stretchy material is hand-washable after the drips dry quite fast, this extended the wetsuit's life and service.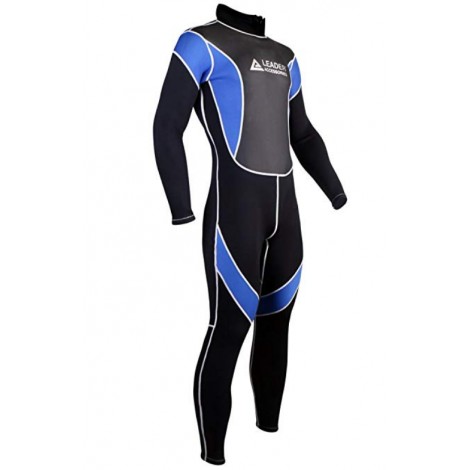 The Leader Accessories 5mm is a heavy-duty wetsuit with a full body jumpsuit design. It is specially designed for scuba divers but is also useful in an unlimited number of water and underwater activities. This suit comes in many colors, fittings and design trimmings fit everybody's taste and body type.
This diving wetsuit is made of a thick 5mm nylon laminated neoprene fabric that will keep you warm in icy conditions. This material fits perfectly, conforming to all the contours of your body. This fitting enhances freedom of movement while in the water, effectively reducing water resistance.
For easy donning and doffing this suit comes with a sizeable, sturdy back zipper as well as comfortable grips on the neck, wrists, and ankles. The collar can also be adjusted for enhanced comfort and minimal water entry. The suit features kneepads that offer further protection from bruising.
This wetsuit also features a ring seal layer for the wrists and ankles to minimize water seepage. There are also smooth back and chest panels to increase wind resistance and for additional warmth. This Leader accessories product come with a limited 30-day money back guarantee.

Subscribe to our Newsletter