Best Wanted Shoes Reviewed & Rated
In a
Hurry? Editors choice: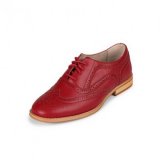 Test Winner: Babe Oxford Shoe

Swaying into any season with a shoe that embodies personal style with a fun twist will gift an added boost of confidence. This kind of garb will draw in compliments and award freedom of authentic personal expression. This is the fun shoe company that cuts across all age and cultural barriers with beautiful pops of color,
rustic appeal
, and unique detailing.
Wanted Shoes is a multinational brand that has been featured in countless magazines, such as; O Magazine, InStyle, and many more. This is a
world class brand
that is sold all over the world in every major market. The pricing is typically affordable for such a
durable shoe
. This company values creating
comfort footwear
regardless of the heel or shape of the shoe. The emphasis is not only on a well-made product but also on filling a void for fun designs that offer quality construction.
Standout Picks
Criteria Used for Evaluation
Materials
When contemplating different styles of shoes there are a number of aspects to consider. Depending on the frequency of use, comfort needed, any foot ailments, traction, and support will determine what is the best shoe to purchase. Having a wide variety available can be overwhelming and exciting at the same time. Determining if the pricing is fair will depend on the longevity and quality of the outerwear. These aspects all come together and will be helpful when navigating the best shoe for personal use. Below are some major aspects to consider:
Outsole traction: when navigating various environments this is something to consider.
Sizing: It's important to determine if the item is true to size, small, larger, wider or more narrow. This will determine if you would like to size up or down for a perfect fit.
Calf Sizing: Using a cheap tailor's measuring tape can determine if the shaft of a boot will be too large or small for your calves.
Support: Many affordable shoes will be lacking in support. Determining if purchasing insoles will be necessary for the best experience. Also, any notable foot ailments you may have will be helpful.
Construction: Stitching is the heart and "sole" of the shoe. The stitching along with quality materials will determine the longevity of any shoe.
Keeping in mind these aspects will help to determine what the best footgear to purchase for personal use will be. This is an excellent brand for variety and fun designs, without breaking the bank.
Style
Determining the best style to purchase will be a decision based on use and lifestyle. Shoes that will be worn infrequently may not need extra support or outsoles with any more than minimal traction. Deciding the environment and season a particular shoe will be worn during is something to consider. Warmer weather may need more breathable material, rainy seasons may need more protection against wetness while winter may need more grip.
Paying close attention to what the use of the footgear will be will help choose the best style. There are styles that are great for everyday use. If working in an office a cute but not too casual sneaker could be an option. Flats are always a great option for comfortable business attire but many do not usually offer a supportive footbed. It may be wise to purchase shoes that have padding or memory foam at the very least extra room for insoles.
Feet that get tired quickly may want lightweight options for easy all-day wear. Boots and knee highs with a low heel are wonderful for casual nights out. The interior with lining can assist in keeping feet warm during cooler months. This paired with adequate lugging creates an excellent winter or fall shoe that is sure to impress friends or dates.
Breathability
A shoe that breathes is critical to providing the wearer a comfortable and healthy experience when sporting a pair of shoes, sandals or boots. A lack of breathability will create a wet and humid foot, leading to discomfort and possible fungal or bacterial infections that are painful and difficult to cure.
How does a manufacturer ensure their product will allow maximum airflow? There are several ways to achieve this, including using special fabrics in the upper of the product, lining the midsole with moisture-wicking technologies and finally, the good old use of perforations of holes throughout the product.
If a product scores high on this metric, the buyer can rest assured that the manufacturer has used some or all of the above techniques to ensure the wearer a comfortable and dry wearing experience.
Outsole
The outsole, or more simply, the sole of the shoe, makes direct contact with the ground and therefore supports the entire foot and body when in motion. Needless to say, a poorly-constructed outsole will lead to discomfort, slipping and foot or other bodily injury. For this reason, many manufacturers use materials that are water-, weather-, heat-, and impact-resistant.
Depending on the type of footwear, one will often see outsoles made from natural or synthetic materials, such as PVC, EVA, rubber and leather. Each of these has their advantages, depending on the shoe's purpose; however, as a general rule, they each are resistant to the aforementioned factors. They are also flexible enough to support a proper foot cycle when in motion, but they are not so flexible that they feel like a pair of socks.
A sole made of the materials above tend to score higher on our product evaluations, as they are not only comfortable, but also support other criteria, such as "support" and "durability".
Upper
The insole is the proverbial foundation of the entire shoe. The sock liner lays on top of the insole, which is then fused to the midsole, and finally the outsole. A firm insole will give good structure to a shoe and increase its stability and durability, but it will also increase the weight of the overall product and be less comfortable.
A softer insole might be more comfortable, but that comes at the expense of stability and durability. We tried to balance these weights when evaluating our products, but each reader and wearer is different, so be aware of this trade-off.
The final word on insoles is that the higher the score the product receives, the firmer it will be; however, it might also mean the insole experiences one of the trade-offs discussed earlier.
Top 10 Picks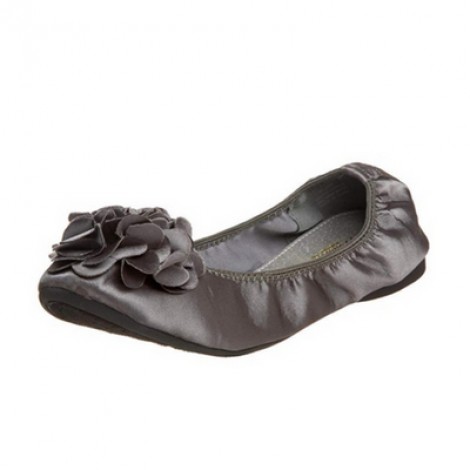 This is a lovely construction for such an elegant shoe. This is made from real satin and is very soft to the touch. They wear well and last for quite a while. The top being elastic helps to keep this item firmly on feet without ankle slippage. The inside is comfortably lined for a extra relief. The bottoms have a very nice outsole for a firm walking stride that inspires confidence.
Sturdy Build
These may look like an average flat at first glance but these happen to be exceptional. The outsole is made to be very sturdy and provide extra support. The small heel is also a nice touch for a very professional look while adding extra structure in the foundation. The elastic band has a great hold and keeps the foot firmly in place. The interior lining is very soft.
Adorable Look
The construction of these is superior flats is unassuming. They will keep feet comfortable all day long. The satin flower detailing is beautiful and enticing to the eye. The interior stitching holds exceptionally well and will last before any breaking down. The interior lining adds comfort to this shoe.
Cost and Value
This is a very fairly priced product. The construction and quality are superior and the look is elegant. The outer sole is thicker to provide some support while still looking sleek. The stitching is well placed and very strong. The footbed is attached to the outer sole and keeps in place over long periods of time. The elastic holds very well and keeps the foot in place without slipping.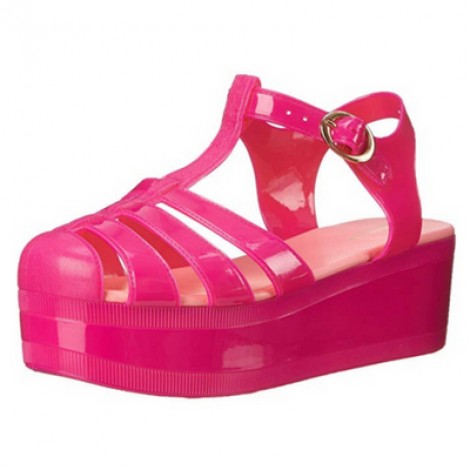 This is a very niche shoe that was very popular from the 80's through the 2000's. They can be hard to come by now but with such a wide range of styles available, this company shines. The bottoms are very stable without feeling stiff. The colors are vibrant and pop even under blacklights. These are perfect as a stand out piece for raves and festivals. The straps are adjustable but the sizing was created for narrow to normal feet. Those with wider feet may want to order a size up for maximum comfort.
Painless Walking
Outerwear that has a platform typically are known for being easy to walk in. These stay true to that standard, yet are more comfortable than most styles like this. The footbed feels cushioned and isn't really hard on the bottom of the foot. This makes it easy to enjoy the added boost and miles of walking effortlessly.
Secure
The ankle strap is very secure but may feel a little tight at first. It may be better to walk around the house in them for a few days before taking the plunge and dressing up with them. The straps do tend to cut into the ankle at first this is one reason for taking a little time to break these in. The toe area is shaped like a cage and adds extra protection for toes still remaining breathable.
Cost and Value
These shoes are inexpensive, especially when compared to other items that are a similar style. They are well made and can become a favorite long-term before wearing out and needing to be replaced. They look very cute on feet and the colors really stand out and never fade. They dry quickly if they get wet but it isn't advised to be used at pools or beaches. The outsole doesn't have enough traction for environments that are very wet and slipping could be a major issue.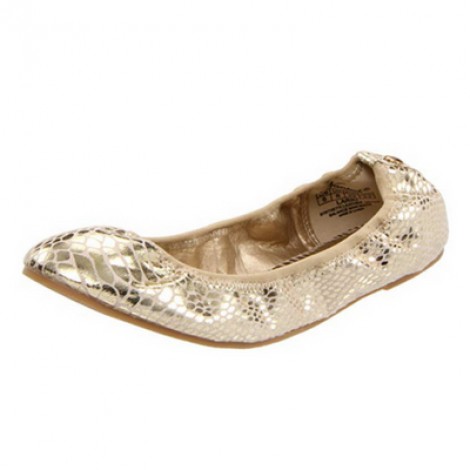 The footbed on this flat offers an amazing amount of alleviation for tired feet. The elastic bands on the top need a bit of breaking in, usually no more than a couple of days. The snakeskin pattern makes these an instant favorite without looking gaudy. The elegance makes them easy to pair with outfits for work or they can be used to dress up a great pair of jeans.
Vegan
Many are switching to vegan or animal-friendly wear. Even switching out leather materials for plant-based or manmade ones. The style of these is sleek, modern and the material is supple. They hold their shape very well and work well for all-day wear. They are also very light for all-day wear.
Luxurious Feel
This garment is raved about due to its ability to provide superior comfort. They do have a short break-in time during which they may need some time to stretch in order not to rub and cause blisters. They do tend to run about half a size too small for some and because of the way the toe box is constructed they can feel a little tight in the toe area. They do cover toes completely, however. The footbed is lightly contoured and padded to keep feet feeling serene.
Cost and Value
This is a very well made shoe for such an inexpensive price. The footbed is cushioned just enough for easy walking all day. The rubber outsole is enduring and the snakeskin detailing is beautiful and classy. The elastic band around the top keeps the shoe in place on the foot. The interior is also lightly padded for a supple feeling.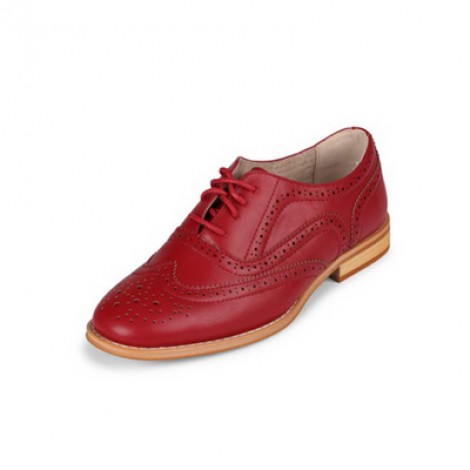 Oxfords are a staple in menswear fashion. This company offers a completely vegan leather product with many color combinations. The feminine detailing creates a shoe that is absolutely lovely for menswear. The outsole is nicely built but the insole offers little support so it is wise to buy insoles if choosing to wear these for long periods of time. Due to the nature of this shoe being narrow it may also be best to choose a half size larger.
Variety
The color combinations for this beautiful footgear are vast. They also have some very unique red, silver, gold options and much more. The faux leather tends to be very stiff and doesn't stretch or give the way regular leather does. The creation of this style tends to be very narrow as well this is why it is recommended to order slightly larger.
Enduring
These are tough enduring shoes for long-term wear. They are very well built and stand up against scuffing and environmental stresses. They do not rip or scratch easily. This oxford does tend to feel quite stiff because of the sturdy structure. This is why for those with wider feet especially ordering a half size or a full size up would be a necessity.
Cost and Value
For smaller feet, the price is very fair but for sizes that are considered normal for most individuals, the cost goes up. They will last a long time but the comfort just isn't present for those who need arch support or have wider feet. They are beautiful, fully vegan, and very sturdy. These may need insoles for extra support and comfort.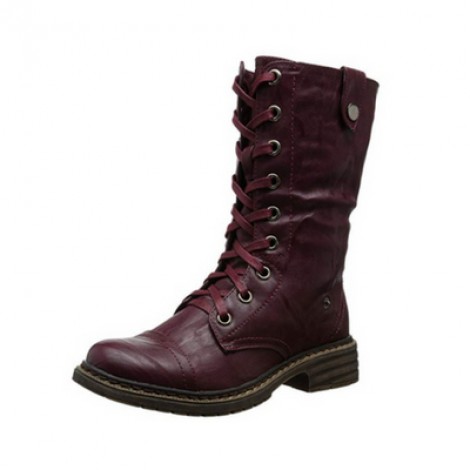 These boots are wonderful for autumn. The colors are earthy and unique the feel is very warm and comfortable. The lugging at the bottom provide extra sturdiness and traction for the occasional wet day. These are not hiking boots and were not designed to withstand mud and environmental stressors. They are fashionable and sturdy enough for casual wear and to keep feet warm, however. These have a very convenient zipper in the back that allows for perfect lacing and easy on/off.
Roomy
These boots were made with extra room. This is great for wide feet and toes that normally get cramped, having extra space for comfortable walking. Those with narrow feet may need to order a half a size or a full size down for a tighter fit. These only require lacing up once and after can be easily zipped up for a wear and go appeal.
Good Traction
The grip of these boots is wonderful for fashion wear. The lugged outsole is a standard for many boots but fashion-wear doesn't tend to have this kind of durability. This makes this boot a wonder among the various products available on the market. The exterior is moderately durable but can be scuffed if abused. The interior is very warm and even folds down for a different look.
Cost and Value
These are fairly priced but certain colors may cost more. If extra support is needed these boast plenty of room for insoles. They have a long-lasting lugged outsole with a cute heel. The inside material is very cozy to keep feet warm on cooler days. The easy on and off is a wonderful feature for busy individuals. Overall for the price, these are very thoughtfully designed boost that will stand out with many warm autumn outfits.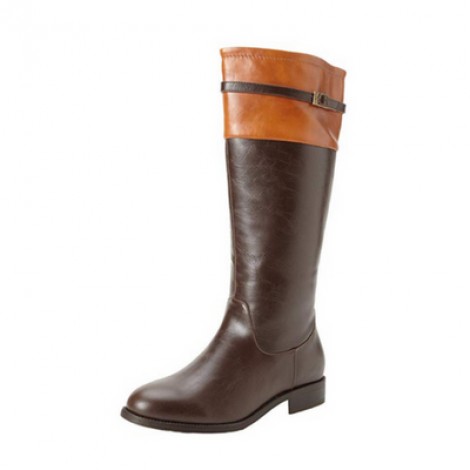 These are absolutely adorable. The look is simple with clean lines and strong materials. They look so much like real leather that many people don't realize they aren't. They are made from fully synthetic materials and zip up easily. These hold up very well even in the rain keeping feet warm and dry. The bottoms don't wear out quickly and have traction for stability on various surfaces.
Molds to Calves
This comfort wear offers a rugged casual look for long-term wear. The top of the calf has an interior elastic band to stretch to hug calves. They may be a little lose on skinnier legs but were created to withstand the elements and keep their shape over long periods of time. The ankle area can feel looser but since this boot is structured it will not fold down or fall off calves.
Water Resistant
Although nowhere in the description does it say these were made to be water resistant many have raved about the surprising resistance to water. Some wear these almost exclusively as rain boots. The material is very sturdy and made to withstand fall weather. They also are very warm and the outsole is thick enough to be resistant to wear and tear and keep feet warm for a long time.
Cost and Value
These are very affordable boots for smaller feet. As the sizing goes up the price goes up but the cost is moderate. This is a very well made product so it's worth the price. These will last through water and wear. The exterior does scratch easily and is not resistant to scuffing. The best thing is to use them as casual wear that is tough enough to protect feet in moderate rain. The styling is classic and clean. The colors don't fade over time so ultimately this is a wonderful product for the price and could potentially last for a long while drawing in many compliments.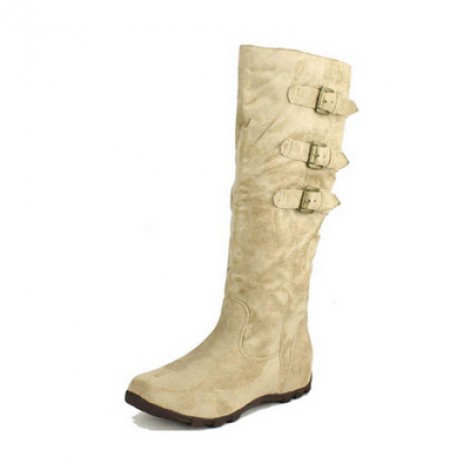 These knee highs have a rugged look with a lugged outsole to help against slipping. Although they possess a rugged look they are not made for outdoor activities and the suede look is very pleasing to the eye. The buckles do tighten and the side zipper makes them a little easier to get on and off. This footwear pair great with a leather jacket or blazer and jeans for a casual look. The calf area measures about 16 inches and it may be best to measure calves before purchasing.
Lugged Outsole
The Outsole is lugged for extra traction and protection against embarrassing slipping. They may hold up okay in the rain but to chance it could ruin the exterior. The bottoms also are fairly thin and do not offer an extravagant amount of support. It is possible to order a size or half size up for those who need to add insoles for support and contouring.
Triple Buckles
The triple buckles are strategically placed near the top of the boot for adjustability. Measuring calves is still important because although these offer some modification it's not enough if the size is off more than an inch to half an inch. The buckles are also a really cute detail and give the feel of a much more expansive look for a fraction of the cost.
Cost and Value
These offer various pricing for different sizes. They are made to hold up for use all winter without the need to replace. They are priced a little higher at times than what the quality of this boot offers. The outsole although flexible and good for protection against slipping may not be durable enough to hold together for years on end without cracking or wearing out.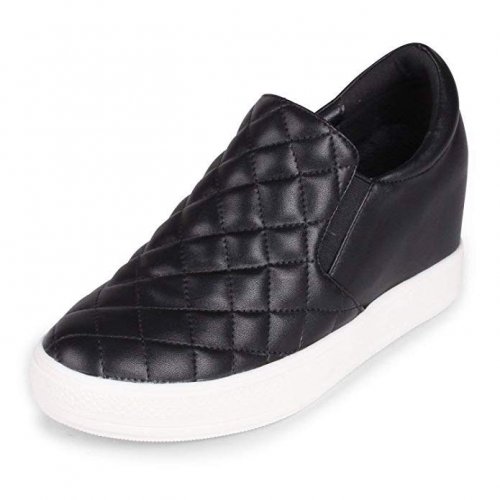 These are lovely slip-on sneakers that are easy to wear and created with comfort in mind. The quilted pattern is on-trend and they look more expensive than they actually are. The exterior has that coveted quilted pattern and has the look of leather but is actually faux leather. The elastic side goring makes this item easy to get into without the backs getting squished down and losing their shape. The outsoles boast excellent traction.
Luxurious Appeal
The exterior is well made and has a quilted look. The colors range is not wide but each one is something to behold, making it hard to decide which will be the best pick. The insole is padded for added comfort but does need a little time for breaking in. The side goring, cushioned tongue, and easy on/off make this a luxurious fitting sneaker.
Spacious
The interior of this product is spacious for plenty of wiggle room for toes and is friendly for wider feet. Every aspect of these was constructed for those who want an easy wearing experience without sacrificing style. The outsole is thick for some shock absorption and protects against slipping. These are a must-have for fashion-forward casual wear.
Cost and Value
Comparable products may be double the price of these sneakers or more. They are a great buy featuring attention to details that are favorable. They are an easy wearing item and are well made to be lasting. The cushioning seems to envelop the entire foot. They are lovely and well constructed. This makes them an easy choice.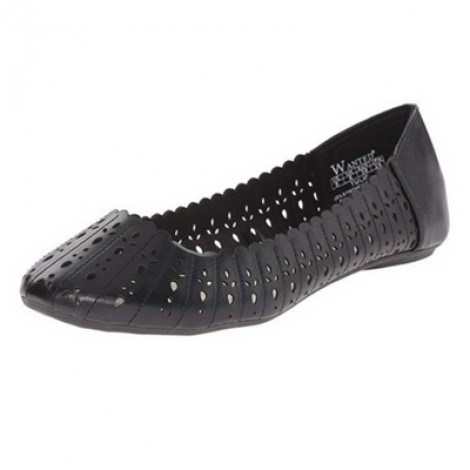 This flat is made for comfort and breathability. The styling is really beautiful and pairs well with flirty skirts or favorite jeans. The laser cutouts do stretch a bit and the footbed is a tad bit wide. This could be problematic for some which is why sizing down half a size may be a good solution. Especially since this particular design tends to stretch with prolonged use.
Breathability
The tulip laser cutouts are a nice touch. The toe and heel areas are covered and protected and the side cut out offers a good amount of airflow for hot days. The cushioned footbed is a nice touch for easy all-day wear. This material does tend to stretch with use and this could become problematic long-term. An easy solution is sizing down or using lightly. These are hard to not wear, however, because they are so adorable with almost any outfit.
Cushioning
The cushioned footbed is a nice touch that many flats fail to have. It is lightly padded for added comfort. They are not made to be thick and were constructed just for a little added comfort during long days of walking. The small heel is a nice touch and the bottoms are surprisingly durable as well as lightweight.
Cost and Value
This attire is affordable for every budget. The styling is up to date and easily becomes a favorite to wear daily. The selection of hues is encouraging and with such inexpensive pricing, it's very hard to not buy two or three pairs of these. There are some sizing concerns. If feet are more narrow then ordering half a size to a size down may be the best bet for the perfect fit. These are created for ease and will stretch with prolonged use, this is another reason to order down half a size.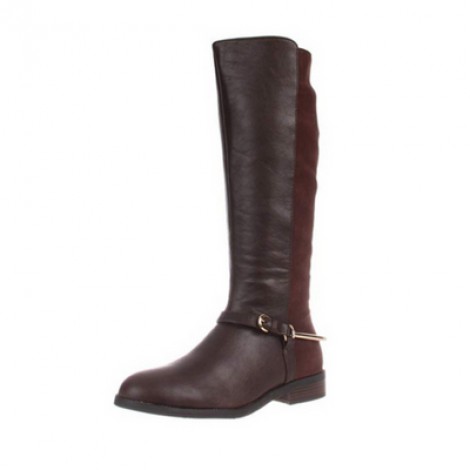 This styling is classic for an equestrian look at an affordable price. These are made to be worn with many different styles. The classy gold stir-up at the heel is a wonderful contrasting element. The material attached to the back of these knee highs is thin and elastic adding a little extra stretch for calves that need some room. The low heel is a nice feature for a full look.
Stretch
The front of this item is a very sleek faux leather. The front material holds up well to dirt and is easy to clean with just a damp rag and water. The back, however, is a synthetic material that is attached with secure stitching. This element provides stretch for more defined or larger calves. The strap around the ankle is adjustable but it's more a decorative aspect.
Secure Stitching
The outsole is securely stitched to the uppers. The stitching is also very secure for long-term wear. The attached back of this boot is a different material that looks very nice but also gives a little for larger calves. Stitching is the heart and soul of footwear. If this element is not secure the rest of the shoe will fall apart and look sloppy. This is a very welcoming and well-executed feature that makes these a must-have.
Cost and Value
The pricing is very inexpensive and widely available for anybody who wants quality knee-high footwear. This is a good choice for those who want regal looking attire. These have a unique look and are well made. The zipper is the full length of this footgear and that makes it easy to zip and go. The outsole isn't lugged and doesn't provide a phenomenal amount of grip-ability but it's enough for casual wear.

Subscribe to our Newsletter