Best Toe Separators For Dancers Reviewed & Rated
In a Hurry? Editors choice: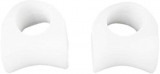 Test Winner: Roful Gel Toe Spacers

Is your
dedication to dancing
causing you pain? Do you worry about the appearance of your feet after years and years of hard work? Worry not, toe separators are here to help! They help your feet slide into the right position, saving you from all kinds of ailments, ranging from corns to bunions. They also help you perform better - instead of thinking about the pain you are experiencing, all that will be on your mind is the hypnotizing flow of music. So, you will
save both your health and your talent
. Read on and find out just how you can start saving your feet!
Standout Picks
Criteria Used for Evaluation
Comfort
Of course, toe separators should be comfortable before all else. They are supposed to make your life much easier, and how can that be achieved if they bother you every step of the way? Their comfort depends on many things, but it mostly depends on the materials, the thickness, and how well they align with your feet.
We should first look at the shape of toe separators. Imagine if the shape of the spacers resembled a box or some other non-anatomical shape. How well would that fit in with the rest of your toes, and more importantly, how would it do what it's supposed to do? So, correcting their shape to accommodate your toes would be the best option for you to feel comfortable. Regular, small toe spacers attach to your big toe and fall between the big toe and the second toe, helping the big toe remain in its natural position. The sides of those spacers are curved, allowing the toes to lean on each other, without the spacers causing any discomfort. When it comes to sleeves, which cover your toe and the ball of your feet, their shape is curved, and there is a slit between the big toe and the second toe, which helps keep it in place. This sleeve cushions the balls of your feet and keeps the big toe in proper position. Every other separator we mentioned here does the same thing - they are all ergonomically shaped, ensuring you get a lot of comfort.
Besides their shape, some spacers have additional features that help with comfort. Plenty of the spacers have gel arch cushions. These cushions help guide your feet to their right position, alleviating pain and aches. The gel component is light, contorts to the shape of your feet, and doesn't create unnecessary bulges. But, there is really no need to add cushions to spacers, because that would make them thicker, and they wouldn't fit in your regular dancing shoes; instead, you would need to buy new pairs, and that can be a hassle! They are quite comfy on their own, considering they are gel or silicone!
Materials
The materials toe spacers are made out of play a big role - the right kind of material can help immensely, while the wrong type can mean a world of pain. First things first, toe spacers should be made out of medical-grade items, considering they will be in contact with your bare skin all of the time. This ensures you don't get any type of irritations, infections, or fungus growing underneath it. Spacers must breathe, and they must bend easily, otherwise, they will only inhibit you from performing well. The material also has to be light, because the additional weight would only drag you down.
Silicone is a type of plastic that you might think would not find its place in the world of toe separators. But, you would be very wrong - most of the spacers on our list are made out of silicone! To be more precise, they are made out of medical grade silicone, not just any old silicone, it's important that what touches your skin on a regular basis does not harm you. Medical grade silicones are the types which have been tested for biocompatibility, meaning they will not cause your health any trouble. This silicone is used for tubing, drains, menstrual cups, scar treating, and many other things, all that help us feel better. They even implant the silicone into the skin and check whether or not it will cause internal problems, and if it does, it does not pass the test, so the spacers you will get are truly helpful. These silicons show superior compatibility with our tissues and fluids. Besides being our trusting partner, silicone can also withstand sizzling temperatures, meaning it won't change its shape when your feet heat up. It's soft and pliable, making it optimal for contact with our skin.
Flexibility
Toe spacers should always be flexible. Their flexibility is influenced by the materials they are made out of, and nothing else. Since we already explained what spacers are made out of, we will not waste time explaining that again. Instead, let us mention how important it is for spacers to even be flexible.
Observe your feet while you walk, or jump, or perform any kind of movement - do the toes stay rigid, locked into place, or do they move and bend, harmonizing with the rest of your legs? Flexible toe spacers allow our toes and feet to move naturally. Without that, they would lose their sole purpose, which is to align our toes and help with other foot issues. If toes spacers were rigid, they also wouldn't be able to fit into your dancing shoes nicely. They would be a bother, causing blisters, corns, and squeezing your toes together, which is the complete opposite of what they are meant to do! So, always make sure that your spacers bend enough for your needs - bad, stiff separators will feel like cages around your toes and will affect your act!
Use
A lot of people have seen these nifty little tools, but have brushed them off, because they were uncertain about how to use them. There is no need to stress about this, it's not rocket science, and if you ever do go wrong somewhere, your body will tell you ahead of time! So, put simply, toe separators spread out your toes. Shoes made today are shaped to look sleek, slim, nice to the eyes. This fashionable shape only looks good, but it feels like shackles. It squishes our toes together and doesn't let hem wiggle and break free, forcing them to stay huddled together. After enough time spent in fancy shoes, the foot starts to change its appearance in order to adjust to the shape of the shoe. These deformities look bad, but they feel even worse! Some of our toes even begin to overlap, and these overlaps are the cause of both bunions and bunionettes, corns and calluses. When the big toe begins its journey to the rest of our toes, the mighty flexor tendon starts to pull it inwards, bowing the metatarsal further out creating bunions which worsen over time. And what's the solution to this problem? You might be upset thinking surgery is the only way out, but think again! Toe spacers are here to save the day.
At first, the feeling of having your toes spread out like that might feel unnatural. But, take a look at your hands - are your fingers hugging each other tightly, or are there spaces between them? These spaces are normal, and they should be present between our toes too. But, it does feel strange, and it will hurt at first, so you might want to start out slowly. Use your separators in small doses, and increase the duration over a period of time which suits you best. For an example, start with just one hour per day, indoors (walking with them might feel even weirder, so leave that for when you are comfortable enough to have them on inside the whole time). After you are comfortable within that hour, start adding more and more, until you can wear them whenever you please. The reason why they will feel uncomfortable is due to the fact that the tissues surrounding your toes are used to being squeezed so much that they changed, and now what's normal will feel abnormal for them. After you regain some mobility in those tissues back, the separators will be easier to use, and the more mobility you gain back, the easier it will get! And, lucky for us, spacers are cheap and available anywhere, so you can try out many pairs and see which ones fit you the best.
You can wear toe separators even when you are asleep! Just pop them around your toes, turn off the lights and enjoy effortless aid. Also, you can use them more than once. They can be washed easily, using hand soap and warm water, and you can use talc if they rub you or cause friction. They can find their place around your toes when you are relaxing in your own home, or you can wear them inside your shoes if your ballet footwear makes you uncomfortable!
Effectiveness
We have covered just about anything that might pop into mind about spacers, but you still might be a skeptic - do they even work? How effective are they? Well, you should rest easy knowing that they do quite a good job at keeping your feet healthy. As we mentioned, they dissipate the pressure your foot joints feel, and they make sure your toes remain in their natural positions.
One of the best parts about wearing these little silicone wonders is that they make our toes stronger. Spacers cheer for our little buddies, encouraging them to move. The toes will then begin to bend and flex and begin to explore new positions which were unavailable to them before. This toe dance makes our foot muscles tougher, which in turn helps us be more stable and balanced. And dancing is all about balance and stability! And, your arch support will improve, allowing your feet to bend more.
Toe spacers help get rid of hammer toes too. Hammertoes are deformities which make the toes bend in a way they are not supposed to, and they look like they are curled, or hammered. Flexible hammertoes exist, which are not painful and don't look that bad, and there are unsightly, really painful hammertoes which interfere with our daily lives. Even corns can form on top of the toes, making the problem bigger. This is where spacers come into play. Besides surgery, they are also a viable way to correct the crooked toes. The separators keep the tendons and muscles around the joints limber and elastic. They stretch us out and encourage the surrounding tissue to stretch as well. This loose tissue is relaxed, and it helps the joints pop back into their original place, restoring the toes to their former glory.
Bunions can be seen quite commonly in dancers. Ballerinas tip-toe all the time, and that motion forces the big toe to cower under other toes, bending it more and more until it decides to stay there. This musculoskeletal condition is unsightly, painful, and even more troubling when you wear shoes. Extreme cases cannot be fixed with separators and will require the hand of a skilled surgeon to help the toe get back where it's meant to be. Milder cases, however, can be helped with the spacers, as they will promote the tissues and the joints back into their natural place, shape, and size.
Dancing can also stress out the muscles of our feet and toes. Just like any other muscles, the muscles in our feet also like to be stretched out and relaxed, but that can be troublesome, because when our feet truly stretched out and relaxed? Welcome spacers, here to rescue your achy muscles! Pop them on when you go to bed or sit down to relax, as they will pull your toes and ensure your muscles get all the rest they need!
Top 10 Picks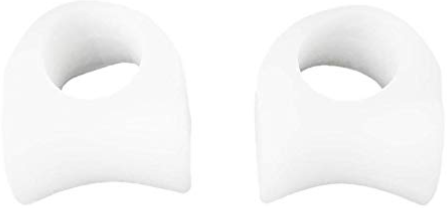 This set of bunion toe separators will get their job done no matter what you throw at them! You might think that they would be appropriate for wearing only inside your home, as you are sitting down and relaxing, or heading for a good night sleep. Surprisingly, they are small and thin enough to be worn in any kind of shoe you like, even dancing shoes! They won't affect the way you perform, in fact, they will only help you do better! The soft, flexible gel will only aid you in the quest of your best act, and will not let you slow down.
Is the thought of having to do surgery scaring you? Say goodbye to cosmetic surgeons, and say hello to the toe spacers! They will keep you out of hospitals and will fix your problem in the comfort of your own home. You will feel immediate relief, and you will be able to continue on with your regular daily activities. The spacers were created after consulting top podiatrists, which guarantees that you will get maximum pain relief and comfort. You should know that these are not a miracle cure - if your condition is bad, you will probably need surgery, but these spacers can also be a great tool in recovery!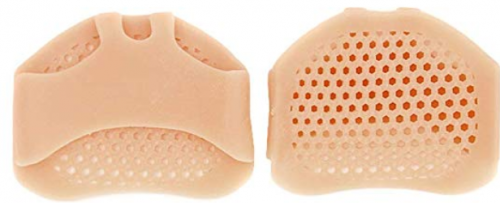 These little wonders may look like plasters, but be sure they do so much more! The waffle-like holes might be the very first thing you'll notice. Since the sleeve wraps around the balls of your feet, those perforations will come in handy, considering how sweaty feet can be. The holes help our skin breathe and the sweat evaporate, which also helps prevent bad odors. The soft and flexy silicone it's made out of will caress your skin and make it feel like you have nothing on.
A soft, flexible gel arch cushion exists. This arch cushion will act as support, so it will prop you arches up even if you wear the flattest of shoes. Proper arch support is quite important, as it helps our feet stay in the right position, alleviating pain and aches. It also allows our muscles to move and bend naturally, promoting correct gait and posture. Its curved design will prevent extrusion and it will promote circulation, improving your health every step of the way. You can wash it by hand and re-use it whenever you like, and since it's durable, you will be able to use it for a very long time!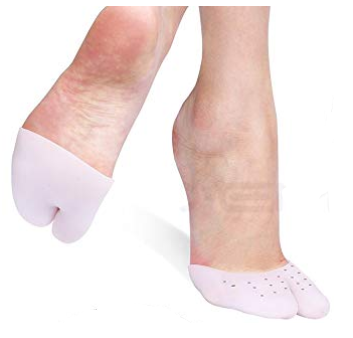 These metatarsal pads were just made to go along with your ballerina shoes. They will protect the tips of your toes, cushion them, and will keep your toes separated and joint-issue-free. You can notice plenty of air holes distributed all around the surface. These perforations promote airflow, so your feet won't cook inside them. They slip onto your feet like flip-flops and will stay in place thanks to the separator.
They were made to fit any kind of foot shape, and they will stubbornly hold onto your feet. They are non-skid, so you won't fall and injure yourself if you decide to go barefoot. If you don't desire to keep your toes closed off though, you can choose the pair which has open tips. They are very stretchy and will accommodate any type of foot you throw at them. Of course, you can wash them whenever you like, so they will be clean whenever you need them to be.

4

. ILefun Bunion Corrector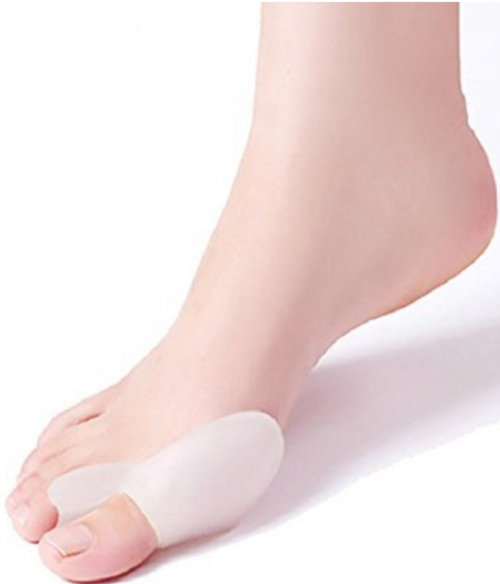 This sleek bunion corrector will help guide your toe back to its rightful place! It's made out of a soft, pliable gel, making it easy for your toes to get used to it. The bendy structure of the gel also makes it easy for any shape or size to fit inside there, so there is no need to worry about sizing. This versatile separator can be used whenever you like, whether you decide to dance or to stay at home to watch TV!
The curved design hugs your toes gently, conforming to the shape of your feet. The curved design also helps the spacer stay in place, meaning it won't slide down while you dance around or walk, and it will always do what it was meant to do. Their shape will also promote your blood flow, keeping every inch of your tissues well supplied with all they need. Your bunions will be slowly forced to straighten out, and if you keep wearing them every day, eventually you will get rid of the problem altogether! This nifty spacer also absorbs shock and prevents friction, meaning you won't get blisters or aches while you wear it! And, you can use it as much as you want, just wash it by hand as soon as you're done and you can use it again whenever you're ready!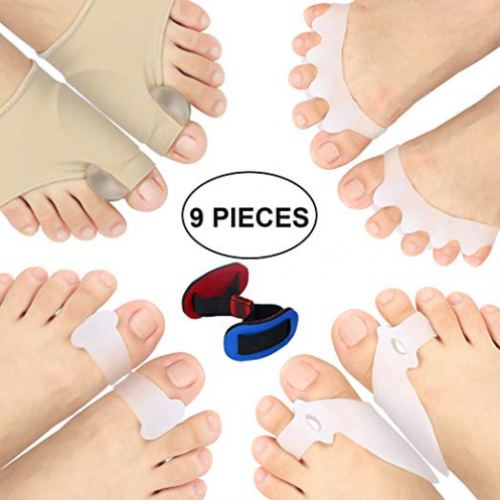 Now, this is what a true value pack looks like! You will get not one, not two, but nine pieces to help you start your journey towards better foot health! The first thing you should get excited about is the big toe strap. Now you might not be able to wear this in your shoes since it's really not made to be worn! You wrap it around one big toe, and push the other toe through while lifting it in the air - this way, you stretch out your muscles and relax your joints! The nest part is a gel pad held together by lycra, which stretches out a lot to accommodate your foot. The gel pad between the toes straightens out your big toe and prevents bunions.
Regular spacers, spacers with a bunion guard and gel separators can also be found in this marvelous pack, all lining up to improve your health. The adjustable velcro bands mean that feet of all shapes and sizes will be able to wear these helpful products. You can wear all of them indoors, and the smaller ones can be worn inside footwear, keeping your toes in the correct pose all the time. You can wash them by hand whenever you feel like it, so you always have that feeling like you just took them out of the box!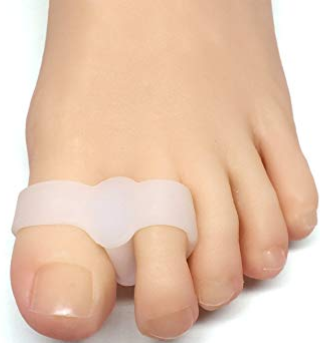 This lovely double loop will keep your toes at a good distance, so you never experience rubbing and nails cutting skin again! When you push your feet inside those dainty ballerina shoes, they do get squished so much that you can barely tell one toe apart from the other. If you don't wear spacers, your skin will rub together, and your nails will dig into the skin, opening ways for infections and blisters. These spacers will make all of that a thing of the past!
No latex was used to create these, only high-quality silicone, making them hypoallergenic and safe to use. Besides keeping the toes spread, they also help push your big toe back into its proper place, alleviating the pain you might feel from bunions. Address your corn and callus problem before it even begins - keeps the toes away from each other, and you won't have any issues! The no-slip fit means that they won't slip out of place and require spending time fixing them and getting them back into place. And, you will get two sets for a cheap price, which can be reused until they fall apart, so you will eve save some money while helping your feet!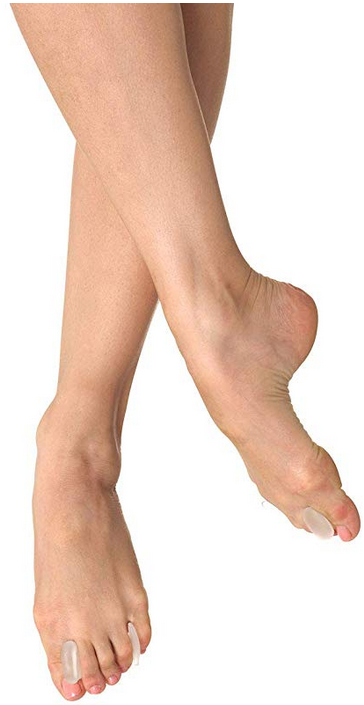 Bloch also helps all the bunheads dance their best, and they never let them slow down! These space enhancers were specifically made to be worn inside ballet shoes, so you can rest easy knowing they won't rub you the wrong way or cause any friction. They were not made out of silicone; instead, they are made out of fibers which will not rub you and cause blisters and irritation.
Since their size varies, you can place them between any two toes. Their squishy surface will prevent nails from hurting adjacent toes, which will, in turn, keep infections and pain away. You can always wash them by hand in warm water, removing any dirt that has piled up, making them look as good as new! If you don't like the way they look after being washed and wish to make them stay in one place, dust them lightly with talc and you can rest easy.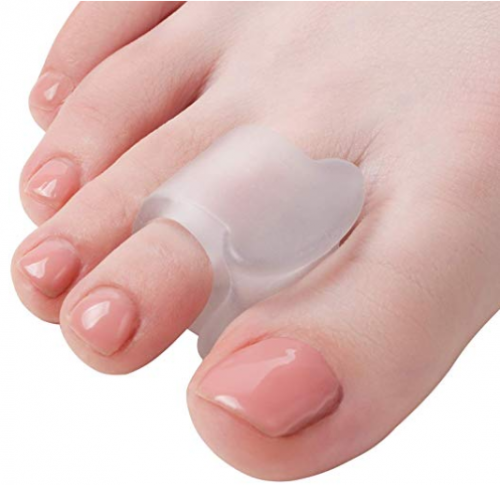 These gel spacers help protect you from bunions and bunionettes alike. They made it their sole mission to help your crooked toes stand up straight again! The soft gel material feels comforting and caresses our skin, improving the comfort. Since it's very squishy, it acts the way our skin and muscles do, enhancing the balance and stability we need. Their shape and size follows our anatomy closely and doesn't bulge or rub us in the wrong place.
The gel is also odorless, and it breathes a lot, so it will remain odorless! Their universal size means you don't need to spend a lot of time consulting confusing online charts, just order a pair and you will be fit to go! You can use them as much as 120 days, but since they will be used inside dancing shoes, be prepared for them to fall apart faster. Always choose a shoe that is half-size bigger than what you're used to when you wear them - after all, the extra width will need to be accommodated some way!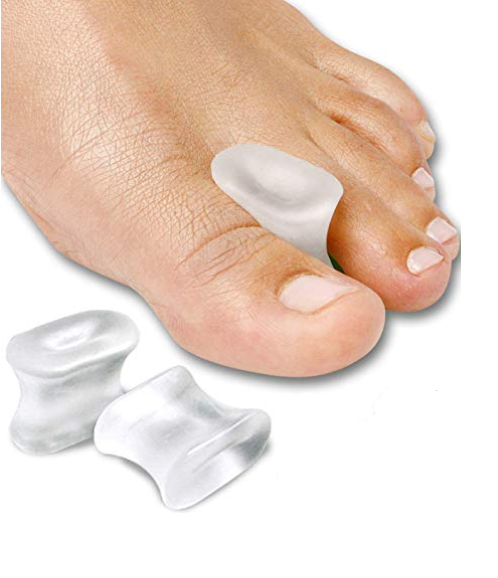 The NatraCure toe spacers are simple gel cushions that resemble small, stumpy columns. These squishy cuties go between your toes and are held in place with the help of your skin. They act as a border, keeping the toes apart and preventing rubbing, nail cutting, corns, and joint bending. Their anatomical shape helps them fit between the toes better, ensuring they do their job well.
They are made out of, smart gel. Smart-gel is a formula which combines all the qualities of gel and improves it by adding a moisturizing component. This component is made out of aloe vera, vitamin e oil and shea butter, all known for their healing properties. So, not only will your toes look their best, but your skin will too! Since they are so small, they can fit inside any shoe you have, and will not take up additional space, so you won't need to change the size!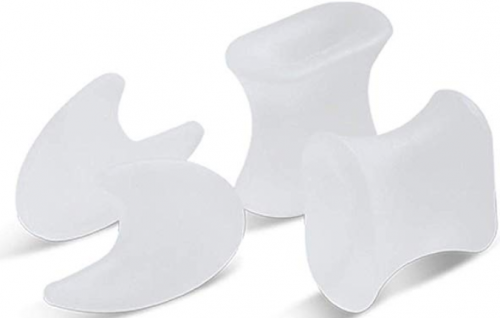 Capezio is a company known for creating items that will immensely help dancers achieve their goals. These tiny spacers are no different! They go between your toes and stay there until you are done. Their purpose is to keep your toes away from each other, and nothing else. There is nothing worse than when you feel your nails cutting the skin open, and seeing blood-stained socks and shoes after you take them off. So, these handy separators will prevent all of that from happening, and also keep you safe from hammer toes and bunions!
They are made out of high-quality silicone gel, which does not irritate the skin, and stays put. It's also light, and it breathes very well, and all of that will help you perform even better. They are versatile, as you can put them between any toe you like, and they will do their job right! They can be hand-washed, and if you don't like the way they feel after you've washed them, you can always dust them lightly with talcum powder.

Subscribe to our Newsletter