Best Ingrown Toenail Correction Tools Reviewed & Rated
In a Hurry? Editors choice: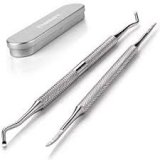 Test Winner: Familife L07

Ingrown toenails can be an excruciating condition that can influence your daily life to a degree where you may be dissuaded from doing the things you'd otherwise take for granted. It happens when the side or corner of the toenail grows into the soft tissue around the nail instead of growing upwards. If left untreated, it can cause infection so you will need to pay close attention to any symptoms such as burning, redness, swelling, and irritation around the nail. However, they can be easily treated with just a few tools at home. We reviewed the top 10 ingrown toenail removal tools and rated them for effectiveness. Additionally, and with a little patience, using these tools can save you hundreds in medical bills. However, should you attempt to remedy the situation yourself but to no avail, it is best to seek medical attention before the toenail becomes infected.
Standout Picks
Criteria Used for Evaluation
Use
Actually using the tools: You can purchase any tools you come across. However, tools that are not easy to use won't get used. Most people won't even open the instructions to something and read about how to operate the item correctly and safely. That is why we examined these tools for ease of use.

The typical flow of sequence is, purchase a product, open the product, examine the product, and decipher how to use the product; if the product does not work as expected some will resort to video instructions by searching online. A small percentage of people will then read the instructions. However, the rest will give up and toss the tool(s) in a drawer.
Types of tools: In terms of nail products, and depending on whether it is a kit or a single tool, it is best to wash all of the tools first. This can be done with soapy water or isopropyl rubbing alcohol (please read manufacturer instructions to determine if the tools are safe to get wet). There are nail clippers, toenail files, nail lifters, cuticle scrapers, and scissors; they seem to be the most common tools whether sold individually or as a set. All should be self-explanatory — moreover, excise caution when handling and using the scraper or lifter. You don't want to overlift the nail and cause infection. Furthermore, when using the cuticle scraper, be careful not to stick it in under the cuticle. You risk injury to the nerve and nailbed with improper usage.
Easy to reach: Lastly, when using the tools, people do not want to be a gym enthusiast. If the tools do not make it easy to reach the feet, they serve no purpose. Becoming a contortionist is the last thing someone wants to do to find relief. The tools should be large enough to reach the toes without much strain on the individual. No one wants to put more effort into getting to the toes than helping the toes.
Value
Individual Tools: There are advantages and disadvantages to purchasing tools individually. When you buy them individually because you only need one tool, you have not wasted money on tools you don't need. Secondly, you can experiment with different brands of the same type of tool to see which brand you like best.
Prepackaged Sets: If you don't know exactly which tools you will need or you think you will need more than one tool a prepackaged set is a good idea. They generally have the most common tools needed for this issue and for overall nail health. Purchasing the tools as a set is sometimes more cost effective if you need more than one tools. Usually, the sets have a better price point than if you were to buy them all separately. Sometimes the sets come with a carrying case which makes it easier to keep up with all of the tools.
Safety Hazards
When evaluating the tools, it was important to find tools that were easily cleaned with water and soap, alcohol, or spot wiping. Tools that you cannot clean are not a good purchase. That means any bacteria that is on your foot from using them this time could remain on the tool the next time you use it. That is unsanitary and can re-spread the bacteria to your foot or someone else's that uses the tools after you.
Most of the tools we evaluated were surgical steel or stainless steel. Others were metal of some sort. These are easy to clean and sanitize so you don't have to worry about the spread of germs or bacteria. Furthermore, that adds to the durability of a tool compared to plastic or synthetic counterparts.
Materials
When shopping for any type of tool to use in contact with your skin - especially when there's a risk of injury (even a small puncture can lead to infection), you need to ensure that the tool in question is made with adequate materials that will ensure your safety, as well as the safety of those who may share the same object with you.
For any type of scissor or blade, the best possible material is definitely surgical grade steel. This is a material that won't be as susceptible to rust as other types of metal, thus can be properly cleaned between uses. For the best at-home result, disinfect your tools with alcohol, or if using water, make sure they're thoroughly dry before putting them away. Water can cause degradation that could result in life-threatening infections should you puncture your skin the next time you use your scissors.
Another thing to consider is the hardness of the tools, as a dull edge won't be as effective as a sharp one. If you're purchasing a pair of toenail scissors, you will want a better quality metal that's harder, and won't require frequent sharpening.
Furthermore, consider your own comfort when using these tools, as sometimes a product made entirely out of metal can be painful to handle. Some of the items listed above have features such as padding or plastic which make them easy to use even for those with more sensitive hands.
Durability
More often than not, pedicure sets are made without actually considering their durability. Nowadays, you can purchase such a set for less than a couple of dollars, but that's usually not the best way to go about this type of tool. To ensure you've invested your money in something that should last a lifetime, you'll want to look at how the set or tool was made to ensure you've chosen a quality product.
First and foremost, consider the materials used. As already mentioned above, the tool in contact with your skin should be made with surgical steel that's hard and won't become blunt after just a couple of uses. You also need to pay attention to all movable parts, as these are often areas with the most durability issues.
If your chosen product has plastic, leather or any other types of grips, make sure that these aren't cheaply made or glued on, as this way you risk them breaking or falling off, making the entire thing useless.
Last but not least, before investing, take some time to read the reviews left by people who have already purchased the product to determine whether it's the right fit for you. This way, you will be aware of any possible flaws, but may also receive some useful tips and tricks that'll make getting rid of your ingrown toenails so much easier.
Top 10 Ingrown Nail Tools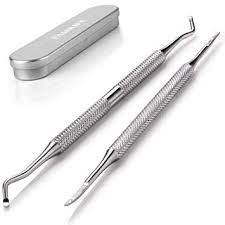 This ingrown toenail removal tool is perfect for those who need an all-in-one product, the Familife L07 contains 2 separate tools that have all been carefully designed to address your nail and toenail care routine. Made with 100% heavy-duty stainless steel, it won't rust or dull even after years of use and can be properly cleaned after every use in order to prevent bacterial or fungal infections. It also includes a detailed user guide that will help you with any issues you may have, and give you instructions on how to best use each of the tools.
Organized and convenient, this set is packaged in a faux-leather case that makes it perfect for storing, as well as for travel. It'll ensure that the metal on the tools is not damaged due to clinking around in your bag, and will help you stay organized, always knowing where each tool is. It looks great too and can be a good gift for family and friends who love personal care sets. The Familife L07 includes 2 tools intended for manicure and pedicure use.
Averagely priced for this type of set, you will definitely make the right decision if you opt for the Familife L07 - not only does it contain everything you may need, but it also comes in a great case that'll ensure your tools are always accessible and ready for use.

2

. Zizzili Basics Clippers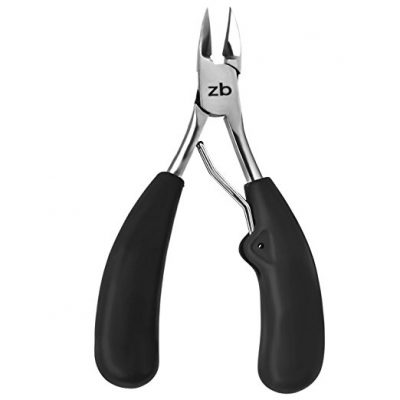 Zizzili makes clippers that are nicely designed and contoured to fit your hand shape. They are a nice length which makes gripping them easy for most hand sizes. The handles are a rubberized material which helps prevent slipping mid cut when it is most important. They are made from heavy-duty stainless steel which means they are rugged and durable.
Once you are done using your clippers simple wipe clean with an alcohol pad or cotton ball, then let them air dry before placing in storage. Cuts down on bacteria and the spread of fungus. Make sure to cover the blades back up when finished to protect someone from getting cut accidentally as well as to prevent damage to the blades while being stored.
These clippers fall right in the middle price point of our price range. This makes them a good value as they are not any more expensive than most of the others in the category. The comfort grip and safety cap are nice additions that some of the others do not have.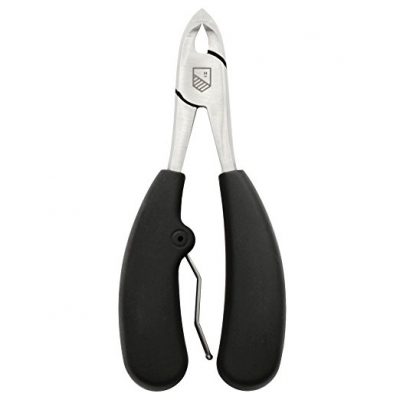 These clippers are a perfect idea for those that require grips on the handles. Sometimes the metal handles are hard to hold and these with the grips remedy that problem. Furthermore, the clippers have a very sharp and pointy end which allows you to trim the cuticles and stray hangnails with ease. The blade is angled at just the right degree to firmly fit against your nails and skin without clipping you by accident.
If you are a person with thick toenails (or fingernails) then these clippers make a great choice. They have strong blades that cut through thick nails with ease. If you need more than just metal to grip on to then these are the clippers for you. They have a thick coating applied to each handle that makes holding and clipping a breeze.
These clippers are in our middle to upper price range. However, you are getting a pair of clippers that are highly reviewed for durability. The strong stainless steel will last for a long time if properly used and taken care of. The thick grip of these clippers makes them stand apart from the rest of the category.



Bcabo has put together a very well made nail kit that you can use for everyday foot health. The kit has 6 tools that will keep your toenails in prime shape and help when you have any problems. The tools are made to assist you in alleviating the problematic nail with ease.
Each tool is made from a high-quality stainless steel. It is easy to clean and care for. Also, they are strong and durable which means you won't have to worry about them breaking. This kit comes packaged nicely inside of a custom carrying kit for you to keep up with your tools. It also makes it easy and convenient to transport your tools should you need them while traveling.
This kit is thorough and prevents you from having to buy all of these tools individually, which could cost more if done that way. The price of the kit is in the middle to upper end of our price range but it does include 6 tools, not just one. It also has a carrying case which protects your investment.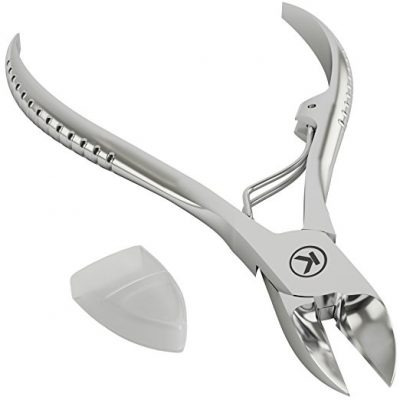 These clippers are ergonomically designed to give you the ultimate grip while you are working on such a delicate area. You won't have to worry about awkwardly trying to hold these clippers. They are a generous 5 inches in size which means they easily fit into almost any hand size with precision. They are highly rated for the ability to use them and they work effectively at removing stubborn nails.
These are made from a premium grade of stainless steel. They are trusted for safety and durability. Also, the stainless steel makes them easy to clean; just wipe with alcohol or soapy water and let air dry before storing. They are tailored to fit the shape of the hand so no fumbling around. Furthermore, the handles have a texture that makes holding them easy. Finally, a nice 5-inch size means almost anyone can hold with ease.
For such a highly-rated and valuable tool, these are rated number one and come at a nice price point. Clippers this durable are made to last a very long time; therefore, you will get years of usage. The price is in the middle of our price range, especially when compared to others in the category.

6

. Zizzon File and Lifter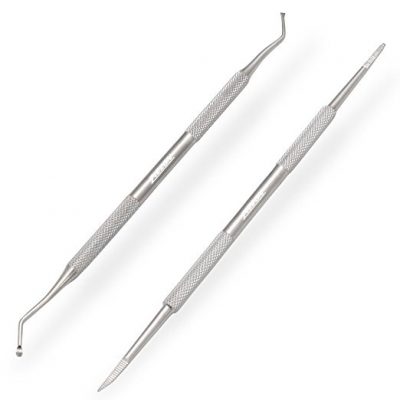 The Zizzon file and lifter comes packaged together nicely as a set. These are two very common tools: a file and lifter, they pack a 2-for-1 punch. They have been made from a very strict hardening process which will ensure the ends of both tools do not deform or lose shape. Finally, the grips on the two tools will help you to keep a firm grasp while you are working to relieve your pain.
Using a surgical grade stainless steel means the tools are of the same grade that professionals use in their offices. The lifter and file are going to be very durable and strong to withstand many years of use. A generous 6.5-inches is how long both of these tools are. This helps you to reach your foot easier and also gives more leverage from the tool itself when you are working on your toenail.
These are one of the lower priced units in the category. That is great value because you are getting two tools for that price. They are also very strong and specially hardened to ensure durability and longevity. Finally, they are easy to clean. With proper care and usage, you should have a very long life out of these tools.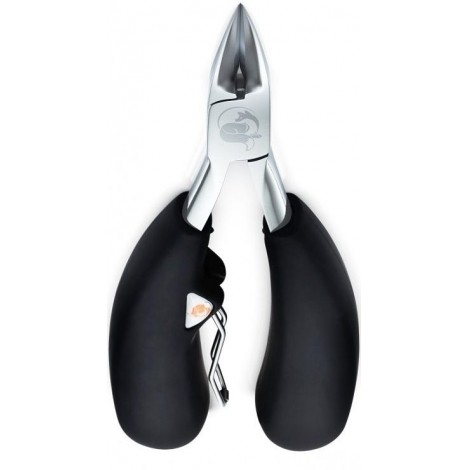 Trusted brand Fox Medical produces these very sharp and precise nail clippers. Not only are they a top producer of nail cutting products they have built a name for their brand based on dependability and durability. Their blades are hand-honed so they ensure the utmost precision of the cutting range. Furthermore, this helps the blade stay sharper for longer.
The materials used in these cutters are the same as the materials used by trusted medical professionals. The steel and grips are sure to not let you down with their performance. The blades are super strong and very sharp. This is due to the blades be finished by hand. It also adds to the life of the blade and the sharpness during the lifespan.
For such clippers that have very high remarks and characteristics, the price is not reflective of that. These clippers fall right in the middle of our price range, especially when compared to other clippers. These are going to last a long time and you will have no issues out of the blade or the steel.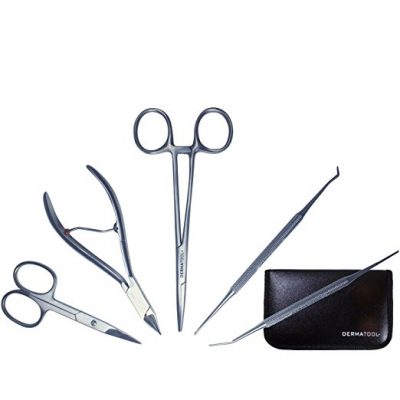 This is most definitely a nice kit to purchase if you are looking for a one-stop shop. It has everything you need to take care of your feet on a regular basis as well as when a problem arises. The kit is very complete with 5 tools and a carrying case.
This kit comes with a nice storage case to keep your tools all in one place. Also, a breeze to travel with. The case has straps that keep all tools secured as well as folds open 180 degrees flat. You will get everything you need for proper foot health. The kit includes an anvil head toenail nipper, an angled & straight toenail file, a toenail lifter with a packer and cleaning tip, a straight nail scissors and a hemostat clamp.
For such an excellently packaged kit that includes 5 tools, this is a great value. You won't have to buy each tool at an individual price which could end up costing more than purchasing a prepackaged kit. The tools are very durable and well made. Clean and air dry after each use and you will have a kit for a long time to come.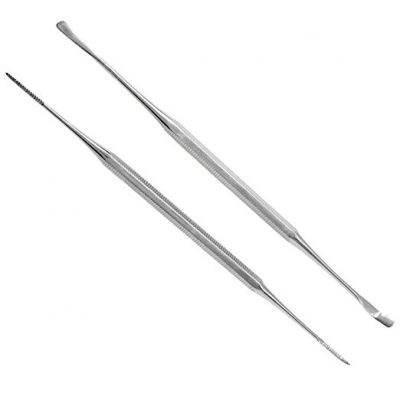 Kohm is a well-known producer of nail supplies. They have produced this 2-piece tool set that makes taking care of problematic toenails a cinch. If your case is minor you should have no problems utilizing the lifter and the file the eradicate or lessen the nail issue.
The stainless steel used for these tools is premium grade. That is very strong and durable. Plus, stainless steel is very easy to clean with alcohol or soapy water. Dry completely before storing. 2 tools with separate ends mean you are getting 4 separate tools in the space of 2. Utilize each of the ends for different situations and to have more options when you do have a toenail issue.
These two tools are at the lower end of our price range. What makes it an even better value is the two tools are sold together. If you purchased them separately it would probably be for more than the price of this set. They are also rated nicely for durability so you should have no issues with your set lasting for a long time.

10

. Satin Edge 2 Sided File



While this is a simple looking tool, don't let the looks fool you. The two separate ends of this tool each have their own distinct purpose. However, they work together to give you ultimate results; so long as the situation is not severe. Use this one tool to alleviate minor issues.
One end, the rounded one, gently slides under your nail and helps easily lift it out of the embedded skin. Then, use the file end to softly file down the end of the toenail causing the issue. The main body of the tool has a very strong textured grip. This will help you to work with confidence and ease as the tool won't slip as easily from your hand.
This tool is actually the Best Value choice in the category. What that means is you are getting a great product for an even better price. It is one of the lower priced tools in the category and it most definitely will not break the bank to purchase it. It is easy to clean and does not require a lot of space so you can keep it around for a long time.

Subscribe to our Newsletter