Best Smoking Slippers Reviewed & Rated
In a Hurry? Editors choice: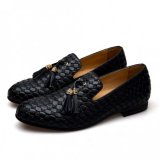 Test Winner: Jitai Noble Loafer

The smoking slipper is a classic style that carries an air of elegance for anyone who wears them. What began as a glorified slip-on, designed for entertaining guests in the comfort of their own home in the 1800s, has reemerged as a beloved trend of fashion lovers everywhere. The first resurgence of this iconic closet staple began in the 90s, when high fashion designers started sending models out to strut the runway in rich loafer-style designs, revamping the old classic. The results were gorgeous, and the current revival of these luxurious slippers could not have come at a better time.

Standout Picks
Criteria Used for Evaluation
Versatility
With the revival came the opportunity to experiment with how this style is worn. It is no longer a look exclusive to fancy parties of the upper echelon. This aristocratic style combine some of everyone's favorite design elements. They are ultra comfortable and easy to wear, while also serving up an unforgettable look. Smoking slippers can be dressed up or down, worn as business or casual attire, and can add a much-needed pop of color to a humdrum outfit. There are few styles with this kind of versatility. With a variety of fabrics and adornments to choose from, the possibilities are truly endless.
This relaxed, yet sophisticated, style is accessible to everyone and anyone, no cigars required! Easy to slip on and off, you're only a quick slide away from stepping out in serious style. Whether going for a night out on the town or entertaining your friends for a fun night in, you're sure to be a knock out in any of these fashion-forward options.
Use
For any loafer, you want their features to be an accessible option to add into your wardrobe. However, it is just as important to be able to embody both a comfortable slip-on at home, as well as functional footwear out on the town. From choices with collapsible heels to twin gore, just having a shoe that can slip easily on and off to complete your outfit can be a real life-saver. Add in the desire for support and versatility, and this style offers the perfect solution. A pair that can transition seamlessly regardless of the situation is a must-have.
Functionality is key, from soft linings which allow you to skip the socks, to flexible soles to save you the pain of having to break them in. You want to find a pair that will work both indoors and outdoors, without sacrificing any wearability in either setting. The convenience of slipping on a shoe is great, but even so, there is an air of sophistication that should come every time you put them on. A balance between casual comfort and gorgeous design is necessary for any versions versatility of this classic shoe.
Style
Smoking slippers are not one style fits all, and their diversity is part of what makes the iconic style so appealing. With so many gorgeous options to choose from, it can be hard figuring out which is best for you. Unique design elements can ensure you are stepping out with a serious look whichever pair you choose that is best for you. Many of them accommodate the wearer in comfort, so when shopping we want to look for fun additions to an already great pair.
Rich fabrics are one way to bring your loafers to the next level of fashion. Brocade style textures and quilted fabrics really brighten a wardrobe and enhance any look. Different materials such as textured or dimpled leather, and soft velvet, will have your feet in a lap of luxury. Details like delicate embroidery are also coveted. Hardware can add a nod to the shoe's designer, but also adds to the stylistic appeal of any footwear. Horsebit style With so many different embellishments to choose from you can ensure a unique addition to your outfit whatever you choose.
Materials
Most importantly, it isn't enough to look glamorous and be an easy wear item. Smoking slippers with high-quality construction and carefully selected materials are absolutely ideal. From striking hardware to supple insoles, you want a shoe that is as ready for anything as you are. This list contains multiple leather lined options. That is because leather regulates body temperature, it is as if it is your loafer's personal thermostat. So, when you have a particular pair that you are wearing home and on the town, you want the insoles to be able to keep you cool when working up a sweat, and also keep your feet warm when cuddling up with a good book.
Another feature that can add to the consistency of satisfaction with loafers such as these is being man-made or manually constructed. Attention to craftsmanship allows less chance of imperfections and integral issues. This list contains multiple options that have a quality control check through multiple stages of production, as well as some that are handmade from start to finish. Because these are worn both indoor and outdoor, we also want to pay careful attention to the soles, the material, and the traction. A rubber sole is ideal because it will hold up better against wear than other, more soft, options.
Fit
We all know how hard it can be sometimes to find the perfect pair of shoes that we not only love, but that also fit snugly and comfortably. With so many styles, brands, colors and models, how can one compare hundreds of supposed "size 6s"?
To assess for trueness-to-size, we considered the opinions of thousands of wearers from across the globe to find out the answer to the ultimate question: do these 6s fit like a 6? While some things can give you a hint as to whether they will fit true, small or large; like brand name, shoe type and year of make; we believe that the opinion of buyers cannot be wrong. If they say the shoe doesn't fit the way it's supposed to, then you won't find it in our 10-best list.
Top 10 Picks


A brand famous for their large selection of loafers, oxfords, and boots, Giorgio Brutini has made their name offering the perfect balance of luxury and comfort. The brand gives a nod to both current trends in footwear, as well as beautiful executions of old classics. With a large selection of rich colors and quality fabrics, Giorgio Brutini creates timeless fashion staples for anyone with an eye for design.
Cushioned Insole
Smoking slippers evoke luxury, but that should never be at the expense of the maximum amount of comfort. This style by Giorgio Brutini embodies the look of a dress loafer with the comfort of a lined slipper. The slight heel gives them a gorgeous profile and supports your arch. This in addition to the fully padded lining, ensures your foot is going to thank you. Whether you wear them to a gala or the bar, you'll feel at ease and look great.
Flexible Sole
While many dress options will often need to be broken in, this versatile smoking slipper is ready to wear straight out the gate. The perfect choice for an event, such as prom or homecoming, this style will allow for hours of movement that your feet won't suffer for later. We all know the suffering that can accompany a new pair of shoes, and a sole such as the one on these Brutinis can help ease that discomfort. This feature means this style is an amazing dancing option, but is just as perfect for lazing around the house.
Cost and Value
This smoking sipper looks regal and somewhat costly, but in all actuality is an affordable option to add to your wardrobe. The detail in the embroidery and the soft lining make this style feel as luxurious as it looks. The sheen of the velvet and gold detail add a touch of elegance to this beautiful, reasonably priced pair of smoking slippers.

2

. Journey West JW068 Crown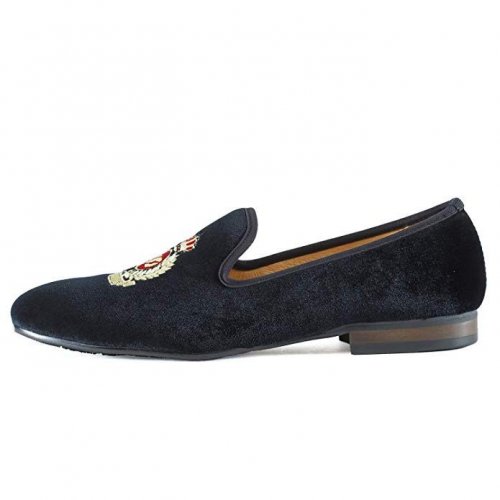 Journey West is a company committed to accommodating their consumers. Dedicated to affordable footwear and reliable service, they produce multiple loafers and slip-ons for any occasion. The company is making a name for themselves through great service and reliable quality. Journey West truly cares about the buyer's experience and makes sure every purchase puts a smile on their buyer's face. The attention to detail and dedication to their customers puts Journey West on the map as a lesser known brand making a name for themselves.
Supple Leather Lining
This Crown loafer by Journey West has a genuine leather insole. A great option for keeping your feet comfortable and dry, as well as holding up to wear with or without socks. Many more affordable options will have mostly synthetic materials, which don't offer quite the same luxury of soft, genuine leather.
Easy to Clean
This lovely velvet embroidered footwear can be wiped clean simply using a damp sponge. Once wiped, just allow to air dry, and your pair of Journey Wests will look like new. Many loafers with the same look may have complicated maintenance, but this fabric can be maintained with ease. The convenience of an easy clean loafer is great, it removes the worry of affecting the fabrics look or integrity during the cleaning process!
Cost and Value
Since Journey West owns their own factory, they are able to produce high quality, manually produced footwear at a lower cost to the buyer. With wear-resistant outsoles, easy to clean upper, and real leather lining, you are getting the amenities of a luxury item at a lower cost. This choice is worth every penny, and you'll soon realize that when compliments pour in over their exceptional quality.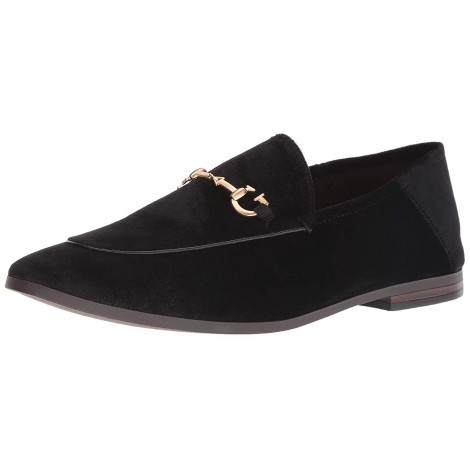 The Marciano brothers came from France to the United States in hopes of bringing their European influence to fashion lovers everywhere. They began making their name for themselves with denim, but soon branched out and quickly made a name for their innovative brand. Borrowing from both European elements and the relaxed culture of California, their brand because synonymous with cool, young, and iconic looks. This foray into shoes has been well received by the industry with open arms.
Collapsable Back
This is not a hard style to wear, but the Marciano Brothers took another step in making this pair especially easy to throw on. Their collapsible back allows for easy on and off without risking the integrity of the structure of the shoe. You can slide in and either pull up the heel or let it be, sans worry about ruining your lovely new loafers.
Sophisticated Horsebit Hardware
The Edwin3 has a unique Horsebit styled hardware across the instep that is both interesting yet refined. The contrast of the gold hardware featuring their iconic logo against the smooth velvet of the shoe is a testament to Guess' grasp on design in the footwear industry. The Edwin3 demands attention, while still looking sleek and reserved. The cool gold fixture is a fun update on the plain leather versions of this iconic classic.
Cost and Value
The Guess brand has made a name for itself, so you would expect to pay big bucks for any of their styles. This design, however, delivers all of the Guess look consumers have come to love at a lower price point. Its beautiful lines and convenient construction allow for a product with an optimum amount of both comfort and aesthetic at a great price.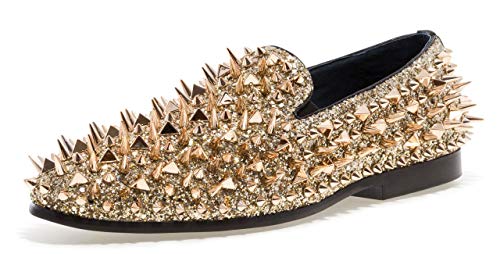 This fun pair from J75 by Jump is evocative of the brand itself. In late 2009, the brand Jump decided the world needed more cutting-edge shoes. The solution? Launching their brand J75 by Jump, they wanted to showcase unique and conversation starting details. This punk influenced loafer has a lot of attitude, with a spikey, sparkling upper. Jump was determined to offer casual styles that offered comfort and sophistication, as well as fun! They did just that with this beautiful pair of loafers.
Breathable Leather Lining
The leather lining of this Lord from J75 by Jump is designed to keep your foot cool and comfortable. This style may look tough on the outside, but it is lined with supple 100 percent genuine leather. The contrast between the soft, forgiving interior and the edgy and fun exterior is a combination you can't beat. They often say beauty hurts, but this allows you to be fashion forward painlessly.
Twin Side Gore
The twin side gore panels on these luxurious slip-ons will guarantee a custom fit for any foot. Twin side gores are the small panels often on laceless sneaker options to allow easy on and off. While you see it often in casual leisure wear, it is a useful addition to this already standout dressier style. On this loafer, the feature allows for giving that adjusts to your foot's needs. This ensures a comfortable fit and can accommodate varying widths.
Cost and Value
Shoes with similar design elements are often exclusive to runways and couture fashion shoots. This pair by Jump has aspects of supreme comfort, as well as that incredibly on-trend look. The price tag reflects the unique construction and dazzling hardware. This fun spiky look has elements of both casual and formal wear, giving you a style you're sure to love with a feel of luxury. A perfect shoe to show off at a party, it's sole has heavy grip, and the double gore keeps your feet comfortable and feeling great.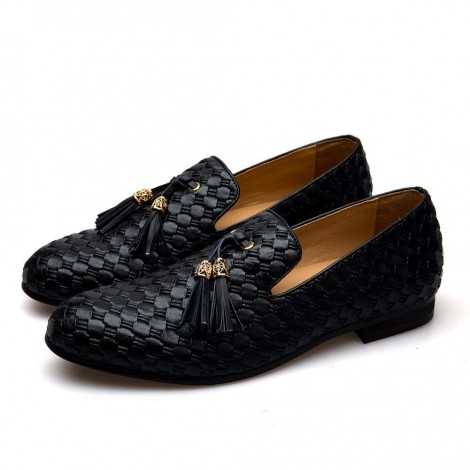 Another beautiful shoe constructed by Jitai, it just affirms their slogan of beautiful life beginning with absolutely breathtaking footwear. This ornate smoking slipper is an update of a true classic. With woven details and a tasseled adornment, this Noble Loafer is an ode to both their simplicity and elegance. As all Jitai's products are handmade, you can be sure you are receiving quality in every pair they ship out. The brand has a wide selection of color options in almost every style as well, so you can find which best suits your mood, or just buy them all!
Woven Upper
This Noble loafer has an intricate upper with a woven pattern that is truly breathtaking. Light and comfortable, it makes a statement while still having a simple, classic look. Its weave achieves a sleek appearance, with gold accents on the tassels that give a stark contrast to the textured upper. This upper gives the look of supreme craftsmanship. Woven smoking slippers often have a harsh hardware, but the juxtaposition of the complex pattern and the soft tassle makes for a stunning combination.
Water Resistant Outsoles
With genuine leather lining, you may worry about treating your shoes or wearing them out in various weather. These wear-resistant and water-resistant outsoles help you transition from relaxing to exploring, regardless if you're taking a stroll through the city on a muggy evening, or warming up inside after a long day. You can show off this pair of smoking slippers wherever you go, whatever your plans, in any weather.
Cost and Value
As always, Jitai offers beautifully handmade shoes at an extremely affordable price tag. High-quality materials and construction make this brand an outstanding choice for luxury within a reasonable price range. This woven design, with their low block heel and wear resistance outsole, is a wonderful option for any fashion aficionado on a budget, or anyone looking for a great deal.

6

. Giorgio Brutini Chatwal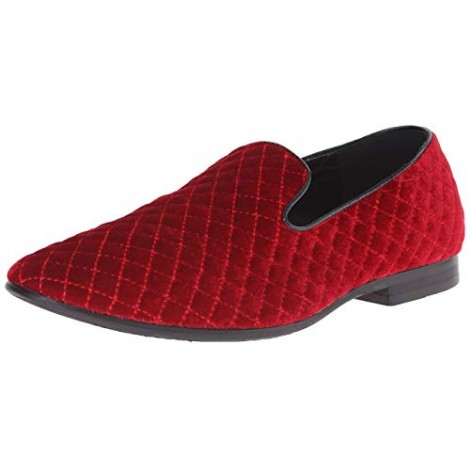 This quilted Chatwal from Giorgio Brutini evokes the brand's standard of revitalizing old classics. The most traditional of the loafers on the list, this pair would fit right in with trousers and a luxurious blazer to match. Giorgio Brutini is known for design elements that call back to a time of rich colors and fabrics. Truly a beautiful example of modern footwear with a classic look.
Padded Insole
The quilted upper gives the appearance of pillowed comfort, and the insole does not disappoint. Slip your feet into these, and you'll think you're wearing a bedroom slipper. The Giorgio Brutini Chatwal are meant to evoke ease and comfort, without skimping on a trendy look. These Chatwals know how to maintain the delicate balance between a slipper and loafer in these shoes.
Gripped Sole
These loafers just might become your new favorite dancing shoe. This style is great for comfort and a sleek look, but this quilted velvet pair also has a sturdy grip. Whether you relax by hosting a dinner with friends or by going out dancing, you're sure to feel secure in your Chatwals for hours on end.
Cost and Value
This cushioned velvet upper may look expensive, but it has nailed the look of sophistication for a fraction of the price. The padded insole gives you comfort, while the grip and stacked heel have a substantial feel when wearing them. Their flexible sole allows for a more slippery feel than another traditionally structured option but still supports you with a durable stacked heel.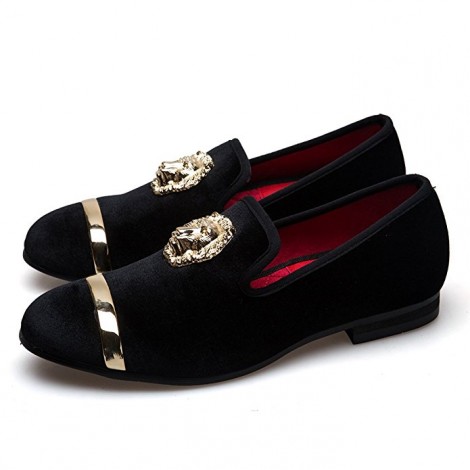 "The beautiful life originated in nice shoes." That is what Jitai believes, and if you take a look at their multiple styles, it is easy to see why. A company with simple values but elegant designs, Jitai offers unique additions to your wardrobe. The golden arch blocking off the toe box makes for an elegant detail on such a bold but beautiful design. This embellished velvet style accurately represents the luxury of Jitai's brand. Making a fashion-forward and cutting-edge style for both men and women sets this company apart from others who play it safe.
Handmade
To maintain quality and consistency, every pair of Jitais are handmade. This gorgeous design was crafted with care and attention to detail. From their lion's head embellishment to their sharp gold arc across the toe, this design was made with fashion in mind. Shoes at affordable price points are not always inspected individually due to mass production, so with sophisticated styles, it is always a welcomed feature. Classic, yet inventive, design coupled with hands-on craftsmanship is a combination that is sure to please.
Wear Resistant Outsoles
Because smoking slippers can be worn as leisure wear inside or outside the house, not all smoking slippers have a rugged sole. That is not the case with the Penny slip-on by Jitai. Their rubber wear resistant sole will hold up beautifully to consistent use. With a slight heel and cushioned leather insole, they have the perfect trifecta to accompany you anywhere, at home or at play.
Cost and Value
These Penny slip-ons may look luxurious and sophisticated, but you wouldn't know it by their price tag. This design is affordable without skimping on detail. The gold additions to the velvet black upper are regal without breaking the bank. For a handmade, leather lined choice, they are more than worth their price.

8

. Steve Madden Rock Snake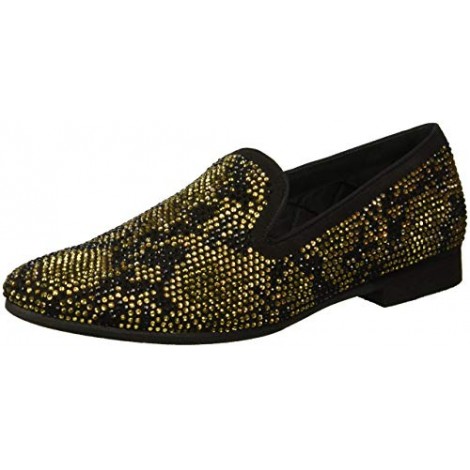 From humble beginnings in Queens, New York, Steve Madden has become a leading producer of footwear all around the world. With a brand as recognizable as Steve Madden, you can expect all their designs to be the epitome of trending fashion. An emphasis on individuality and authenticity brings buyers unforgettable looks into their everyday wardrobe.
Unique Sequined Detail
This is a true show-stopper. The snakeskin patterned all over sequin design is sure to make anyone do a double take. The sequins are laid in a snake line pattern that will turn heads but is subtle enough to not overshadow the overall sophistication of the design. A stylish option for any event, this loafer will be a crowd favorite as an accent to any outfit. Wear them as a subtle accent to add glam to an outfit, or dress up an already extravagant look with a little extra sparkle.
Classic Almond Toe
This on-trend option from Steve Madden gives you the classic almond toe shape of loafers you love with the bold elements you've come to expect from the brand. The silhouette is sleek and recognizable, but it is given its edge by the intricate sequined pattern. These classic elements in combination with the striking patterns on the upper make for a winning combination.
Cost and Value
With a slightly higher price tag, Steve Madden delivers a consistent product with every design. The beautiful embellishment and construction makes this shoe a stand out and is a moderately priced option for any event. Definitely designed with flair in mind, this is an opulent look for someone with expensive taste who wants a competitively priced choice.

9

. Salvatore Ferragamo Flori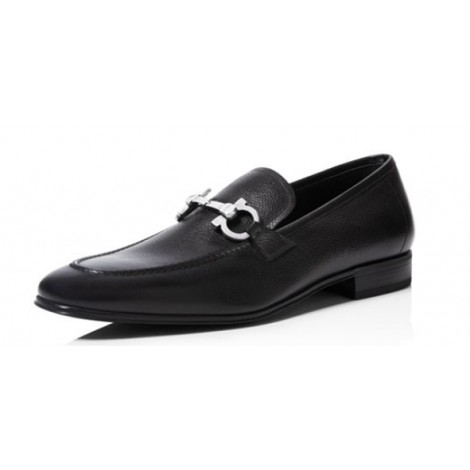 Salvatore Ferragamo gained popularity as a brand during times of glamour and elegance in Old Hollywood. Ferragamo had a desire to create the most beautiful footwear in the world, and the legacy he left behind did just that. The Italian shoemaker began on Hollywood Boulevard with a boot shop, and soon became a staple of the stars. He was particularly inspired by none other than Marilyn Monroe, and his shoes are evocative of a time in Hollywood history of extravagance and luxury.
Double Gancini Bit
This gorgeous hardware adds shine and uniquely adorns this classic design. The contrast against its textured upper exudes class. A signature design element, the double gancini bit is an ode the brands recognizability and legacy. The accent catches the eye without overpowering the gorgeous simplicity of the rest.
Made in Italy
A true Italian loafer, this fully leather pair has impressive construction. Imported from Italy where the brand began, it brings the elegance of Florence straight into your footwear collection. Timeless style and unforgettable quality are two elements that won't be forgotten when you slip on this design.
Cost and Value
A brand of luxury, these Ferragamos have a higher price tag, but the value of them is undeniable. Imported from Italy, these fully leather smoking slippers have impeccable stitching and construction. The beautifully textured leather and accent hardware compliment each other with such harmony. The Flori 2 is a true example of a perfectly executed design in fashion.

10

. Guiseppi Zanotti I860015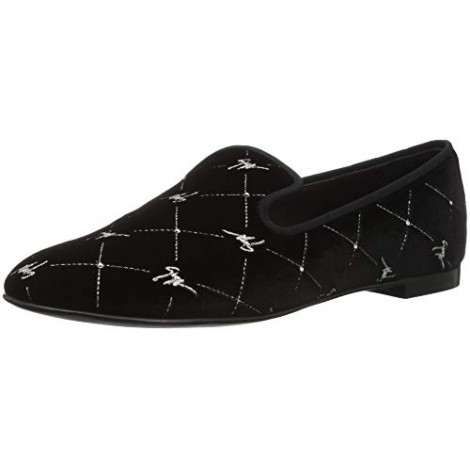 Each Guiseppi Zanotti design begins with a sketch. Every shoe is drawn by hand while being conceptualized, and soon becomes an innovative piece of art for your feet. Zanotti promises high-quality footwear and distinct signature laden final products. The Italian shoemaker displays his unforgettable eye for detail and fashion with every pair they create. Show-stopping elements coupled with breathtaking craftsmanships, it is hard to not fall in love with this brand.
Swarovski Crystal Detail
This pair of Guiseppi Zanottis has a gorgeous pleated stitched detail adorned with real Swarovski crystals. Dripping in glimmer, this slipper is a true testament to the extravagance of the brand. The Zanottis serves to remind the wearer of the brands luxurious roots with every step. The eye-catching and original adornment fits perfectly into the rich pattern on this fashionable loafer.
Classic Embroidered Logo
Most Giuseppi Zanottis contain the signature of the man himself, but on these, it is perfectly incorporated into the style. White stitching on a quilted black upper, every other intersection of stitch is accented with the designers signature. It makes a subtle statement on your feet, as well as giving a nod to the designer who created the artistic staple. When the brand began, the designer took specific care to ensure quality embroiderers were hired to perfect every shoe, and they clearly still maintain the same outlook.
Cost and Value
A brand this coveted produces high-quality shoes at a high price, but when you look at the fine details, it is easy to see why. From leather lining and velvet upper to their cushioned insoles with an embossed logo, the Zanottis ooze glamour at all hours. Imported from Italy, these lightweight beauties with their square heel can be worn dressed for business or pleasure. Genuine Swarovski crystals complete the look and make this black shoe with white detailing a sultry option for any trendsetter.

Subscribe to our Newsletter