Best Scented Socks Reviewed
In a Hurry? Editors choice: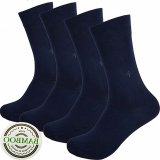 Test Winner: Anatolian Bamboo

It's a fact that nobody likes
smelly feet
. Unpleasant odors can develop for millions of reasons, from poor hygiene to too much heat and humidity inside the shoe, to low-quality footwear materials to bacterial and fungi infections. Sometimes regularly showering and washing your feet isn't enough to get rid of the smell, and you need a little extra something to help you.
Enter scented socks! These products are exactly what their name says - socks which are infused with a scent, a pleasant aroma that replaces the potential bad odor of the feet. These top ten choices will help you feel confident about taking your shoes off in public again and make you relax and wiggle your toes happily wherever you happen to be. Enjoy!
Standout Picks
Criteria Used for Evaluation
Features
The main feature of this type of product is definitely the scent. Here, we will talk a bit more about it, what types of aromas we have on our list, as well as which are good to use in which occasions.

One of the most common smells we have encountered in our research is that of fresh cotton, like in the case of the Bath and Body Works Oh-So Cozy, the Mimgo Cashmere cozy and the bamboo designs. There is nothing better than that breezy, clean smell of newly-laundered sheets when you spread out on top of your cotton bedding and breathe in the energizing scent, which is what these products tried - and largely succeeded - to mimic. This type of aroma is subtle and suitable for any event where you're expected to take off your shoes.

Next in line, we have the ubiquitous lavender smell. Whether as essential oil or as part of an article of clothing like this, lavender is a soothing, floral aroma, one which has a myriad of benefits. It helps calm the nervous system, eases anxiety, stress, and fatigue; it can relieve nausea or motion sickness, as well as headaches. Additionally, lavender helps with sleep, relaxing the body and the mind. If you want to reap all these benefits, then go for the MinxNY Chenille or the SWM Lavender.

Finally, there are also smells associated with food - peppermint, an aroma which raises alertness and helps reduce pain and stress; chocolate, sugar, and even - quite unbelievably - pizza! The last three aromas, especially the pizza one, are meant to be playful and quirky, more for making people around you laugh as they try to catch a whiff of your feet than to offer any real health benefits. Products infused with these - the Living Royal series and the Psockadelic Pizza - are great gift ideas, and amazing for house parties where you want to leave an impression of someone who doesn't take themselves too seriously, and who likes to have fun.

There are so many more aromas to choose from once you truly dive into this wonderful world of perfumed items! Which one you will end up taking home is entirely up to you and your preferences. Just make sure that the smell isn't so strong that it starts giving you a headache after a while, and you should have no trouble picking out your favorite!
Style
Perhaps the style of your socks is not as important as the style of the shoes you're wearing, but it's all a matter of perspective and situation. Do your pant legs ride up when you sit? Are people going to catch a glimpse of your ankles? Are you perhaps wearing a skirt or a dress? Are you expected to take off your shoes? In all of these occasions, the style is important, as you don't want to embarrass yourself by wearing a design which doesn't fit the mood of the event or match the rest of your outfit.

We could easily divide all of the items on our list into two groups: serious and funny.

The first category - the serious designs - are the easiest to wear. These are monochrome options, like the Anatolian Bamboo or the SWM Lavender, which come in one color and thus make it super easy for us to pair them with any look we want. They are also suitable for 'serious' events, such as business meetings or formal gatherings.

However, don't make the mistake of wearing a low-cut trainer sock such as the SWM Lavender with a formal suit, say at a wedding reception. Even within this category, there is the question of formality to consider.

Funny designs, on the other hand, are meant to lighten the mood. They can be worn as a touch of whimsy with your slacks and a button-up shirt for a more casual business look, or with the purpose of matching the occasion, such as reindeer or Santa patterned designs for a Christmas party. With these options you can do no wrong - they are meant to attract attention, and if you like compliments and cute accents, you should definitely wear them to an event they're suitable for.

One last thing regarding style should be said for no show designs. These are hidden in our footwear, such as ballet flats or loafers, and actually, make it seem like we're not wearing any socks at all. The Corner4Shop Bamboo No Show is invisible in standard footwear, and thus it doesn't really matter what the style is - unless you decide to take off your shoes.

Similarly to the type and the intensity of the aroma, we also feel like style is a highly subjective category. What is suitable for one person may not be suitable for another, and all that matters here is that you find something you're happy with. Choose either a classic design or a fun one, and enjoy showing off all the cool colors and patterns on your feet!
Materials
In our guide, a lot of attention has been aimed at the materials that go into the construction of the products. Indeed, when it comes to this article of clothing - there isn't much else. Materials are what make a sock comfortable, breathable, soft or rough, supportive, even durable and colorfast. They determine practically everything about it, and thus it is important to purchase something that is made out of high-quality materials.

So how to know what to look for? We'll present you with a brief outline of each type of material found in our list, their pros, and cons, and let you decide for yourself which one is the best choice for you.

Bamboo: We're starting the list off with a bang, with one of the easily most beneficial materials used in the making of these products. Bamboo has it all - it is one of the softest fabrics out there, incredibly moisture-wicking even when your feet are sweating excessively; it is antibacterial, hypoallergenic and extremely environmentally-friendly.
In case you have been wondering if it is too good to be true - at the same time it is, and it isn't. The downside to bamboo is that it is expensive. Products made out of bamboo are more of a luxury than, say, cotton ones, but even that is slowly changing for the better. If you have an opportunity, you should definitely go for bamboo whenever you can.
Cashmere: Cashmere is a type of wool, but not from a sheep. Rather, it is obtained from a cashmere goat and is, therefore, more expensive than standard wool.
Cashmere is a fabric that is insanely soft, and really a pleasure to wear. Not only that, but it is also insulating - providing warmth retention in the winter, while not being too thick or constricting at the same time.
In the same way as bamboo, cashmere is also a luxury fabric, and will likely remain pretty costly in the future.
Cotton: Out of all of the materials listed, cotton is by far the most commonly used one. It is decently soft, breathable, and suitable for those who have sensitive skin.
It retains moisture, and while this is not a problem for casual wear, it becomes an issue if you're using cotton while you're exercising. Through its absorbent qualities, cotton socks become like wet washcloths around your feet, which is not a comfortable feeling at all. This is why cotton is not a fitting choice for high-impact activities.
A couple of more disadvantages to cotton are that it doesn't retain color as well as other materials, especially polyester and that 100% cotton products tend to shrink in the wash.
Elastane: Elastane is also called Lycra, or Spandex. It is a stretchy fiber with properties similar to rubber. There are no products made entirely out of elastane; rather this fabric is only used in a small percentage, like 2% or 5% in each design, because that is more than enough to provide the necessary elasticity.
Items with elastane deliver a snug fit that easily moves with your foot, and neither constricts you too much nor slips down the leg as you go about your day.
Polyester: After cotton, the second most commonly used fabric is polyester. While cotton is a natural material, polyester is entirely man-made. It is extremely durable and will last for a very long time if properly cared for. It is also more colorfast than cotton.
However, polyester comes with some breathability issues. While this fabric dries quickly, it also makes the feet sweat at the same time. Furthermore, polyester isn't biodegradable, meaning that it poses a serious threat to the environment.
We understand if all of this information is a bit much to take in all at once. After all, it seems like the material type is one of the most important factors here. (And it is.) However, it is not a matter of life and death. If you're unsure of which material to pick out first, choose the one which sounds the best to you and for your purposes. If you find it lacking for any reason, you can always go for a different one next time!
Comfort
Material type is one of the key things in determining whether or not a design is comfortable. The fabric can either be gentle on your skin or itchy and abrasive, even causing hot spots or blisters when combined with footwear. Other than this factor, there are a few more that go into determining a product's comfort, such as the fit of the design, and its overall construction.

You may think that there isn't much to this simple item of clothing - but rest assured that even it has several ways of being sewn together. Look at the seams, for example. Does the design have them? Or is it a seamless option, such as the Anatolian Bamboo? If there are visible seams, are they flat, or are they protruding out of the surface? If it's the latter, this may cause a problem of a seam digging into your skin, especially if you intend to cover long distances on foot.

Additionally, the fit of the design is also important. The sock shouldn't in any way limit the movement of your foot. It shouldn't cause indentations in your skin, and definitely should not, by any means, cut off circulation.

In the same vein, a design also shouldn't be too loose. It should stay snuggly fitted to your foot, not sliding down your ankles and not causing your feet to awkwardly flop around. Find a size which fits without constricting you and without any excess material hanging off - this bunching of the material may also cause chafing problems down the line if you're aiming to spend a lot of time on your feet.

If a design has traction pods on the bottom, make sure that those don't hurt when you walk on hard surfaces, and that they don't press too much into the soles of your foot.

Lastly, make sure that you can comfortably wiggle your toes. This is a similar situation as when you're trying on new footwear - your toes shouldn't be squished together or going numb, and you should be able to easily spread them without the material holding you back.
Durability
A good question you may be asking yourself is - how long are these products going to last? How many times can I wash them before they start turning threadbare and perhaps even get a hole? What about the smell? How long is that going to last? All of these are valid concerns, and we're going to answer them here.

As you have already gathered from our Materials section, the durability of the design and practically everything else is riding on the quality of the materials. Some are more durable than others, such as bamboo and polyester, and some are not so lasting, like cotton. Keep this in mind when you shop so that you know what to expect when you bring a new pair home.

The same goes for colorfastness, or the ability of a material to retain color and keep it vibrant even through many washing cycles. Polyester is extremely good at this and will remain vividly colored for a long time to come. Cotton, again, is not so colorfast, and the colors on it will likely start to fade relatively quickly.

Since we are talking about products which are scented in this guide, we have to mention how this particular aspect of design - its specific smell - doesn't last forever. In some examples, it lasts for only a couple of washings, while in others it may last for up to 10, but it does disappear sooner or later. That is, unfortunately, the nature of the product, and there is no way around it.

All that being said, what is good about this type of product is that it is inexpensive! Even if you purchase an item that turns out to not be as durable as you'd hoped it would be, you can always go right back out and get yourself a new, different one. Shopping for things that don't put a significant dent in our budget is a delight, and if for whatever reason you end up unhappy, there is a better design waiting for you just around the corner.
Our Favorites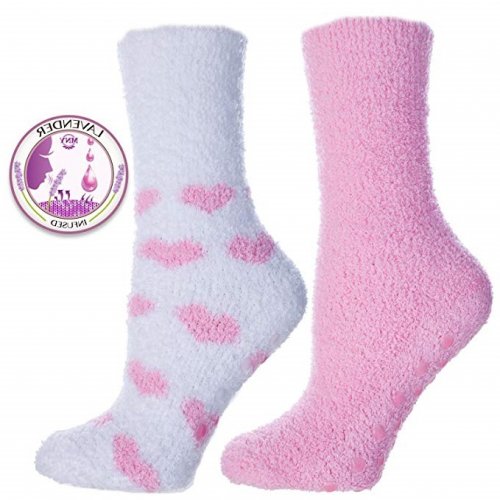 MinxNY is a brand which is dedicated to the concept of Hygge (hoo-gah), which is a Danish word for intimate, cozy and special moments. And intimate, cozy and special are just the right words to describe the Chenille, a design which is as cute as it is fuzzy, and one which you won't be able to resist, not least because of its amazing lavender scent.
The MinxNY Chenille is made from 98% polyester and 2% spandex. Polyester is a water-repellent fabric that is extremely durable and also colorfast. The color on these designs stays vibrant for a long time! The spandex is there for a bit of stretchiness and a snuggly fit that doesn't constrict.

The Chenille comes in a range of color options and patterns, in a pack of two, and all of them are infused with the smell of lavender. This is a soothing, subtle aroma that will remain even after several washes, thanks to a microcapsule technology. We are specifically in awe of the special grip-em treads at the bottom, which increase traction on all types of surfaces.

The MinxNY Chenille is truly something else. It is wonderfully adorable and cozy, and it will keep you warm as well as refreshed and relaxed with its lavender smell. What more can one possibly ask for out of such a great design?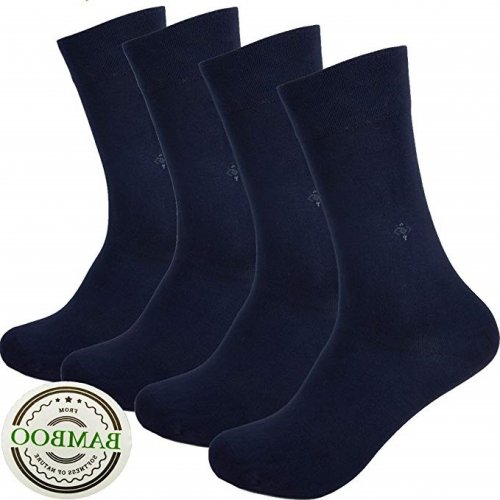 While most scented socks are fun and funky, meant to bring a smile on someone's face and to cheer them up, there are also those designs which are more serious, and more practical. This is where the Anatolian Bamboo option comes in. This is a collection of four pairs of socks in varying colors, which are made from bamboo fibers, and are breathable, moisture-wicking, antibacterial and naturally scented at the same time.
The Anatolian Bamboo comes in black, light grey, dark grey and navy, and thanks to the natural sheen of the bamboo fiber, it both looks and feels soft like cashmere. Bamboo is truly a luxury material for this type of product - a naturally grown fiber which eliminates bad odor and replaces it with a fresh, breezy smell. Furthermore, it kills bacteria and fungi, making it ideal for those with sensitive feet, such as for people suffering from diabetes.

The Anatolian Bamboo is seamless, meaning that there are no unwanted seams digging into your skin as you walk, and it is also easy to maintain. It can be washed in the washing machine, either cold or warm, and its scent lasts even after several washes.

If conventional socks are not for you, if you need something gentle, safe, antimicrobial and hypoallergenic, then the Anatolian Bamboo is definitely the perfect design.

3

. Bath and Body Works Oh-So Cozy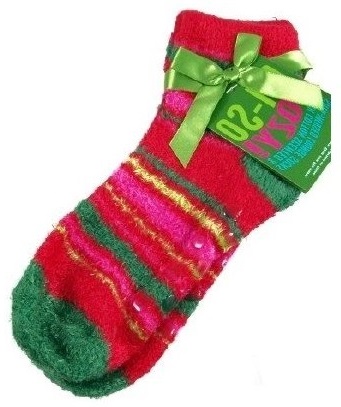 With the Bath and Body Works Oh-So Cozy, we have not only a scented design, one which smells fresh like newly washed cotton, but we also get a moisturizing one, which is infused with shea butter. The Oh-So Cozy is the perfect pampering product for the feet that makes them smell nice, feel nice and hydrates the skin at the same time.
This design is made from 99% polyester for long-lasting and colorfastness, and 1% stretchy spandex. The colorfastness is important because the Oh-So Cozy is a wonderfully colored option - with red, green, pink and yellow stripes. You would definitely want these vibrant hues to remain saturated as long as possible.

What made this design earn a place on our list is the fact that it smells like fresh cotton and continues to do so even after 8 - 10 washings! The Oh-So Cozy also comes impregnated with shea butter to take care of the rough skin on your heels and feet, and to make them soft and smooth to the touch.

Who needs expensive SPA treatments and foot baths when you can have the Bath and Body Works Oh-So Cozy? This gloriously versatile design certainly has it all - the scent, the moisturizing effect, the coziness, the warmth, and even the color, and we can't think of a more well-rounded option than this one.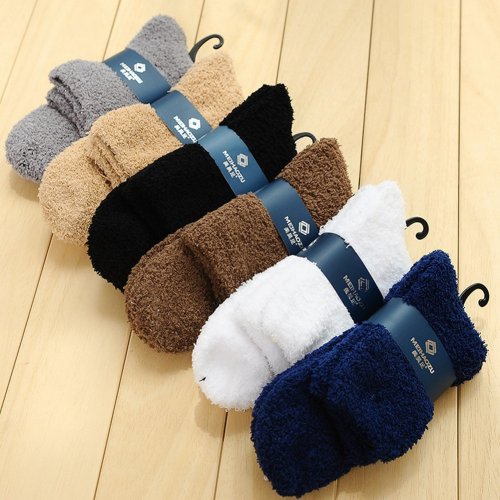 When wintertime rolls around, thin, simple socks no longer cut it. We need something fluffier, something that will keep us warm and cozy both when we're in hard boots outside and when we're going shoeless in the comfort of our own home. That's where Mimgo's Cashmere Cozy steps in, a design so many levels of fuzzy that you won't want to take it off even when it's laundry time.
This option is made out of a combination of cashmere and spandex. Cashmere is a luxury fabric by all standards, mostly because of how soft to the touch it is, and how comfortable it is to have it against the skin. It is also insulating while being light at the same time, meaning that it preserves warmth even in the coldest of days. Spandex provides a stretchy, close fit and elasticity, and this is what helps the design stay up around the ankle for support.

This super soft, super fluffy option comes in a variety of colors and is suitable for all ages and gender identities. The Mimgo Cashmere Cozy will your go-to choice when you need something to keep you warm and to soothe your feet, while having a light, clean scent at the same time. A great deal all around!

5

. Living Royal Reindeer Peppermint



Living Royal is a brand of wonderfully unique products, which has a whole of three items on our list. Their socks are worn by celebrities all over the world, including Miley Cyrus, Gigi Hadid, Hilary Duff, and others, mostly thanks to their unique offer to print people's faces on the material. Here, however, the accent is on the smell and the perfume, and this is why we have the Reindeer Peppermint option.
These are 100% cotton items, meaning that they are breathable, washable and durable. The downside is that cotton shrinks in the wash, which is why you will have to take extra care and wash them in cold water. The Reindeer Peppermint is richly red, with candy canes and reindeer faces all over. It comes with a refreshing peppermint aroma that you won't be able to get enough of come festive season.

The Living Royal Reindeer Peppermint is whimsy, playful and amazingly wintry! You can pair these up with your favorite casual outfits, but can also go a step further and wear them with slacks and dress shoes, for an unconventional party or semi-formal look. Everyone will want to know where you got these, and you'll be confident that your feet smell perfectly minty.

6

. Corner4Shop Bamboo No Show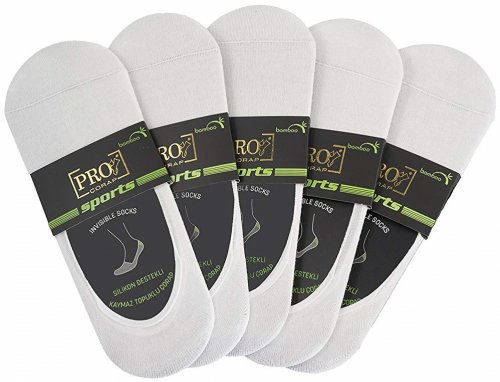 Similarly to the Anatolian Bamboo, a collection of Corner4Shop Bamboo No Show designs is meant for those who have sensitive feet. If regular materials are too irritating for your skin, if you are allergic to a certain type of fabric, if you suffer from diabetes and need to pay special care to your feet - then this cute, summer design is just the right one for you.
The reason we say summer is because no show options are the best for warmer weather. They are very low, barely going over the toes, and perfect for wearing loafers, ballet flats and other footwear that is more open than the typical sneaker, but still not a sandal.

The Corner4Shop Bamboo is made from 80% bamboo, 15% polyamide, and 5% elastane. Bamboo comes with all of its hypoallergenic, antimicrobial features, while polyamide and elastane are there for durability and colorfastness, as well as a stretchy fit. The scent of this design is a natural one, which eliminates unpleasant odor in your footwear, and replaces it with a fresh, subtle smell.

When it's time to stow away your boots and your sneakers and reach for footwear that allows your feet to breathe more, you need socks to match! Go for the Corner4Shop Bamboo No Show to ensure that your feet smell clean, and to be comfortable and chafe-free in all of your outfits.

7

. Living Royal Gingerbread Sugar



Come holiday time, we all like to dig into our favorite recipes and dishes, and indulge in comfort foods. Cookies, cakes, hot chocolate and marshmallows, gingerbread houses and gingerbread people, decorations galore - all that marks the beginning of celebration and the season of gaining weight. However, if you're on a diet, if for some reason you can't eat as much sweets as everyone around you, we offer a compromise in the form of the Living Royal Gingerbread Sugar!
This item is sugar scented, meaning that it gives out that sweet caramelized sugar aroma that fills the kitchen when it's time to decorate the cookies. It is also bright green in color to attract attention, and peppered with happy, smiling gingerbread people. If you can't have cookies in real life, you can definitely have them on your feet!

As other Living Royal products, the Gingerbread Sugar is also made entirely out of cotton. Cotton helps promote air flow and allows your feet to breathe, while also being wonderfully resilient to frequent washing.

With the Gingerbread Sugar you will be the star of any holiday event, and your feet will never smell as sweet as they do with these smiling gingerbread people on.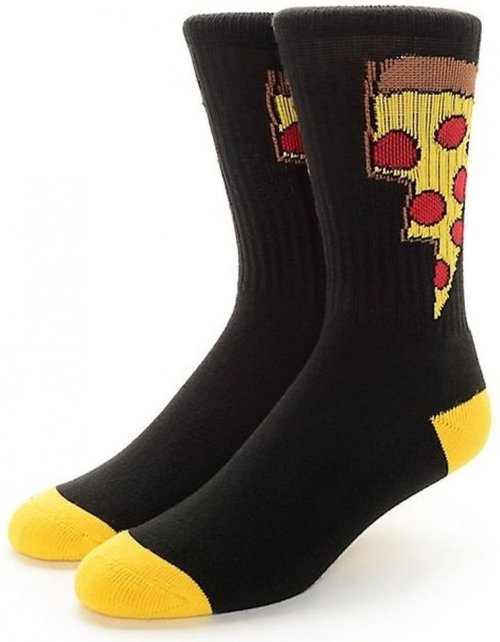 While most options in this guide are scented with relaxing, attractive smells which invoke images of flower fields, spring mornings and the comfort of grandma's cookies, in this case, we have something a little bit different. Namely, the Psockadelic Pizza is a product which, as its name suggests, smells like pizza. We're not sure how the manufacturer managed to achieve that, but we're fairly certain that no pizzas were harmed in the making of this design.
The Psockadelic Pizza is a black option with bright yellow toe and heel areas. It has a print of a pizza slice on the side, meaning that it is every bit as weird-looking as it is weird-smelling. It is made out of 85% cotton, 10% spandex and 5% elastic. While cotton provides ventilation and spandex provides elasticity, the elastic is a rubber or a spandex core which is covered in nylon for extreme - and we mean very extreme - stretch.

The Psockadelic Pizza is unconventional on so many levels. It is not exactly a cute design, but it is a conversation starter, especially when people get a whiff of an Italian dish from your feet. If you feel like making someone in your surroundings laugh, and/or having a secret of wearing funky socks while you sit at your desk and go through your work, we can't recommend this option enough.

It is hilarious, it is unusual, and it will make your day!

9

. Living Royal Santa Chocolate



We're continuing the trend of sweets and indulgent food choices that we started with the Living Royal Gingerbread Sugar. In this case, we're going a little more specific than sugar and focusing on chocolate. That rich, decadent scent when there's a cake in progress when chocolate chip cookies are getting nice and golden inside the oven. Our mouth waters, and now yours can too, with the Santa Chocolate design!
The Santa Chocolate is soft blue in color, with images of hungry Santas eating cookies, as well as just cookies floating about. We can't help but envy the Santas, as we also want to eat cookies as much as we can. This product comes with a chocolate smell to make everyone around you crave for this sweet, and they are also nice and cozy, being made out of 100% cotton.

The Santa Chocolate is a perfect Christmas present, both for yourself or for someone else. As all other Living Royal items, it also comes in a unisex size, and can be equally worn by both men and women! You can wear these even at the workplace, barring that you don't have any important meetings, in which you will look a bit ridiculous wearing Santas who eat cookies.

Get your holiday cheer on with the Santa Chocolate design right away!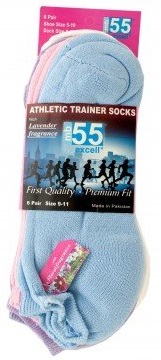 Among these choices for staying warm in winter or for staying fashionable in summer, even for looking cool at school or at work - we have a design which is meant to be worn during exercise. The SWM Lavender is an athletic trainer sock, which is simple and minimalistic, and also scented with lavender.
The SWM Lavender is made from 80% cotton, which allows your foot to breathe even when you're performing high-impact activities, 18% polyester, which makes the design durable no matter how often you wear it, and 2% spandex for a touch of elasticity. When you're working out you need to be able to move naturally, and the same goes for your feet - the spandex is most welcome in this regard.

Finally, as its name suggests, the SWM Lavender is infused with the scent of lavender, one that will ease your mind and make all the tension ebb away, even after a hard day at the gym. This design will keep you comfy and supported, while not distracting you from your razor sharp focus as you work towards achieving your athletic goals. The perfect sports option!

Subscribe to our Newsletter