Best Romika Shoes For Ladies On The Go Reviewed
In a Hurry? Editors choice: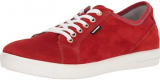 Test Winner: Nadine 10

Finding comfortable, sturdy footwear can sometimes prove to be a monumental task. Many manufacturers create shoes that look good, that
enhance your beauty
, but they don't take comfort into account, or how long the pair will last. So you end up with a trendy pair that is an absolute nightmare for your feet, only to fall apart after a few months, leaving you sad and disgruntled. One company decided enough was enough, and they set out to create an enduring, comfortable shoe and Romika is their name. So if you are looking for a maximized pleasure without the need of choosing poorly designed footwear – you've come on the right place.
Standout Picks
Criteria Used for Evaluation
Comfort
Comfort is one of the first things we look for in a shoe. It can help us alleviate all kinds of foot pain, and can also help our mental health because we won't lose a lot of our energy thinking about that very painful ruptured blister, or the piercing pain in our heels. It helps us concentrate better on what we are supposed to, like walk, run, or just stand in place. Romika understands that, so they worked on cushy comfort, helping us better ourselves every day.
One way they have done this is by bringing molded footbeds to the game. A molded footbed does not rely on cushioning that much - instead, it is anatomically inverted to the shape of your foot, supporting it right where it's supposed to be supported. It has an arch ridge, which props up your arches, and that is especially helpful if you've got flat feet. It gives your feet some rest and saves you from back pain. The heel and toe areas are like valleys, creating space where you need to press your heels or toes into, allowing your legs to roll naturally.
A Terry insole was one more bright idea realized by Romika. Terry insoles are removable and have a terry cloth surface as the name suggests. This type of insole helps cushion your feet and is very helpful for people that have problems with bad odors and sweaty feet. The terry cloth has great absorbent properties, drying you in an instant. The latex bottom is specially treated to eliminate smell, so you will be as barren as the desert and as divine smelling like a rose.
Cushioned suede footbeds are also an option. The first thing we should discuss is the suede part. Suede is a special kind of leather, known for its luxurious finish and fluffy, soft feel. So, if you went barefoot with them under your soles, you would experience a whole new dimension of softness. When you put cushions into this equation, you get a perfect result for premium comfort and painless feet.
Durability
Durable footwear is a blessing, and not in disguise! When you shop for durable items, you are investing in your future. What good is a pair that will not see you through at least two seasons? Romika has the same feelings, so one of their main concerns was making sturdy pairs. And since they created shoes during WW2, be sure they know what they are doing.
Their durable soles are one way they managed to increase the life of their footwear. Most of their soles are made out of PU. PU, or polyurethane, is a lightweight material and very abrasion resistant. These two qualities make it ideal to create the soles of shoes meant for hard work, but that is not their limit, because many stylish pairs created by Romika sport this material. They also have good elasticity and are water resistant and prone to oxidation. One flaw of PU is that it starts to crumble after a long period of time, so you should take all necessary steps needed to help it last as long as it can.
One more way Romika managed to enhance their endurance is waterproofing. Most of their pairs are water resistant, and some are even waterproof. That means there is a special layer on top that keeps moisture outside but has enough room for sweat to escape. This is possible because sweat had smaller water particles that the water outside. By keeping water off of the upper, it's life is significantly longer, because it will not crack or peel. So, the shoes will remain with you longer, and you will be a happy, satisfied customer
Style
Romika has adapted their excellent craftsmanship to create various different styles of shoes, fit for many occasions. Ranging from boots to slippers, you will anything you desire, in various colors and with interesting details
Sandals are one of the most common models that Romika creates. Their sandals have molded footbeds, small platforms, and sometimes come with a wedge or a block heel. Varying numbers of straps and adjustable buckles help you create a better fit, and also bring different choices to the table.
Slippers are a good choice as well. Romika creates trendy models, with or without added height. The uppers can be leather, textile or a number of different materials, which all add to the unique tone they have. Their slip-on construction makes it easy for you to put them on, as the name suggests. But be careful, the fit is usually not that snug.
Ankle booties are their go-to style for winter weather. They keep you warm and snug. They also have various details and colors, all meant to improve your look. The upper is usually premium leather, waterproofed to help keep you dry. They can also be rubber, protecting you even more.
Canvas sneakers are a way to impress the youth and to stay in trend. They are low tops, and they look a lot like vulcanized skating shoes. Canvas is the material of choice, as it has better airflow, flexibility and takes color well, so the choices are endless
Materials
The materials chosen to create footwear can have a lot of influence on their quality and look. Romika is well aware of that and chooses premium grade options to make their products.
Premium full grain leather is a common choice for uppers, along with suede and rubber. The way it differs from regular leather is because this kind is taken from the top layer, closest to the hairline, which makes it super hardy and resistant. Suede is also popular, for uppers and insoles alike. Suede is soft, has a luxurious look, and is very flexible and durable. It's just regular leather turned upside down, and a thin layer cut down to reveal that plush goodness.
Rubber appears on boots and is natural. It's super dense, so no water will get through that, and very flexible, twisting around itself multiple times. It can have trouble with airflow, but that is solved with textile liners and combinations with leather or synthetic materials.
Fit
The fit of the shoe is the way a pair goes along with your feet. A lot can affect the overall fit of footwear, including their style and your physique. Finding footwear with a proper fit should be important because it doesn't cause any pain or discomfort that way. Romika has many ways to their models fit better, and we will discuss some of them.
The very first thing we can notice about their products is the insole. It has padding, but that is not in the spotlight in this case. As we already mentioned, they are specifically molded to fit perfectly to your fit, ensuring a snug fit and cushy comfort.
Adjustable straps also play a role here. Besides making sandals look fashionable, they also keep them secure and hug than to your ankles. A buckle can be inserted, so you can adjust them to your liking whenever you need.
Sometimes people struggle with the fit around the arches because it can be too snug and feel way too constricting. This is solved by inserting an elastic gore. A gore is a little piece of fabric inserted to the sides, that help shoes stretch to conform to your feet better while you walk and your foot naturally widens. So this tiny piece can sometimes mean a world of difference, especially for people with wide feet!
Top 10 Picks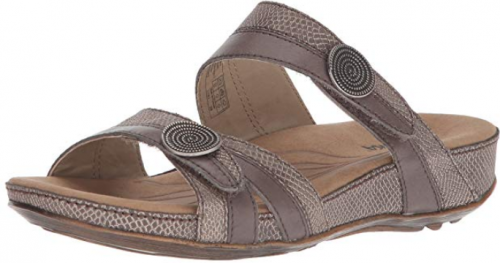 The Fidschi 22 is a comfortable sandal made to hug your feet on summer days. The upper is leather, meaning they are sturdy, flexible, and fashionable. A print is visible on some parts, reminiscing exotic reptile leather, giving them a luxurious tone. Small circular details with spiral shapes etched onto them are an interesting way to break apart the continuity of leather, and our eyes like to look at change! The soles are synthetic, ergonomic and fight away sweat and bad odors. The sandal style is also a great way to give your feet all the air they need, and to let your feet bask in the sun.
A small heel is present, giving you a little bit of height. The heels also make them more stable, and less painful due to increased arch support. The leather they are made out of is full grain, taken from the top layer of the animals' skin. This makes them resistant to the harsh weather, giving you the chance to enjoy them as much as you like.
The outsoles are also sturdy, and very flexible, so you can bend your feet the way you are supposed to. They are rubber, meaning they have slip-resistance and great traction.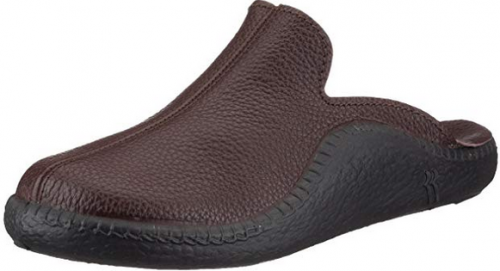 The Mokasso 202 is a casual slipper, fit for both outdoor and indoor wearing. Rarely are slippers made out of full grain leather, and this model serves to prove that it can be done. Their slip-on construction makes them the easiest to put on and take off, only taking a fraction of a time. The soles are PU, or polyurethane. PU is a type of material that is lightweight, durable, and offers a great amount of protection. It can sometimes crumble, after being used for a long time, so you should take good care of it!
The insoles are terry cotton, giving you a soft touch and offering moisture wicking and odor control. There is a firm arch in the soles, meant to give you support while you walk or stand. This is ideal for people with flat feet, as they do what you cannot - support your back and joints, and allowing your muscles to work the way they are supposed to.
The outsoles are rubber, but they have an interesting detail - the bottom part has a pattern that looks like a foot! This foot pattern offers maximum support and makes it feel like you are walking around barefoot. A smooth leather heel patch helps relax your heel into an ergonomic position.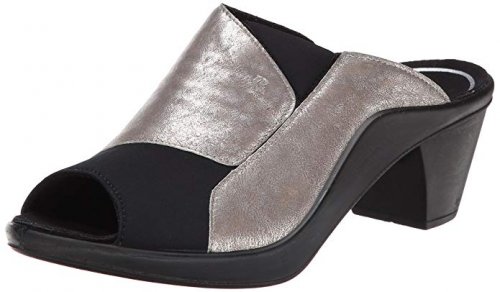 Treat yourself with a pair of chic slippers sporting heavenly comfort! The two-colored upper combine full grain leather with stretch fabric. This makes them a versatile fit, going along with just about anything you have in your closet. It also keeps your feet snug and secured, while stretching enough to make room for your feet even when they swell up. Lining made out of microfiber engulfs your delicate skin, showing you how amazingly soft they are, while sucking up moisture like there is no tomorrow. You will be dry and cool, all while having clouds strapped to your feet!
A cushioned footbed makes them easy to wear for hours on end, and the strategically placed cushions alleviate burning and painful feet. The direct-injected PU outsole helps your arches the best way possible, while also making the construction sturdier and stronger. Their slip-on construction means you won't spend time and energy tying down laces and strapping yourself into shoes as if you were going on a ride - just pop your feet in and you are good to go!
The outsoles are rubber, and they feature Romikas signature tree design. Besides being an eye-catcher, the tree design also gives them better grip, so you won't slip around that easy.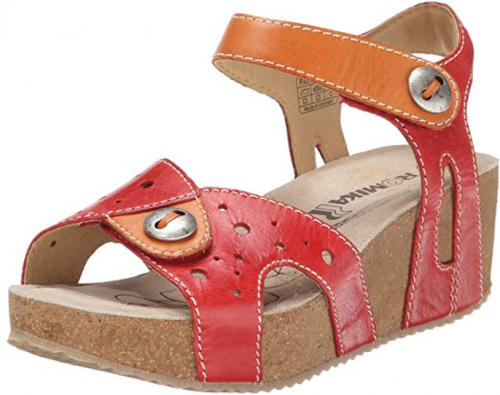 No wardrobe is complete without at least one pair of vibrant wedges, ideal to spruce up your summer outfits. The Florida 05 is just that! It has a premium full grain leather upper, making them sturdy and elastic. The two color combos make them chic and flirty and open up possibilities to combine them with many different clothing styles. Laser cut details decorate the upper, along with silver two-holed buttons, serving as a perfect reminder to never forget your fun side. The heel strap secures your foot and prevents it from sliding out, and the movable ankle strap only enhances this feature.
The very first detail anyone notices about this particular pair is the wedge. The wedge, combined with the platform, measures around three inches, taking your style to new heights. Wedges are a great way to add height and style, without damaging your feet and joints, and with added balance, comfort and arch support. The footbed helps with cushioning. It's made out of suede, known for their delicate texture and fluffy looks.
This is just what the skin on your soles will experience once you slide into them - you won't want to ever part ways with such beauty! A rubber outsole decorates the wedge, with wavy patterns underneath helping you stay upright and balanced.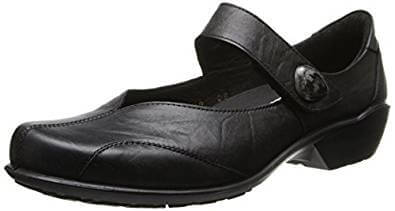 The Mary Jane style flat is known for the comfort it provides the wearer, even after hours of standing on your feet or walking around town. The Citylight 87 by Romika is no exception. Crafted with premium full-grain leather on the upper and lined on the inside with a soft leather, you'll be able to look good and feel good, all day long.
Whether you are wearing skirts or slacks, the Citylight 87, available in black, gray or brown, can add a touch of class and simple elegance to your personal image. The stone accent on the strap complements the clean lines and attention to detail found in the stitch of the leather.
The outsole is synthetic, making the shoe highly durable, and the leather upper offers a decent amount of water resistance. The tread on the bottom of the 87 provides strong traction and grip, meaning when you're late for work, you can run for the subway or streetcar without fear, even in the rain!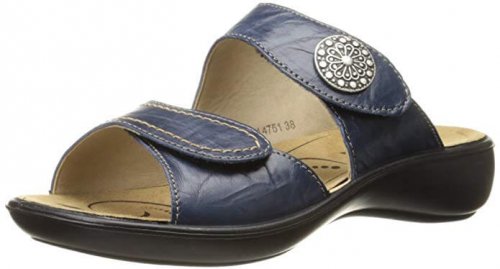 Who doesn't love summer and sporting a great pair of sandals that not only let your feet breathe and feel free, but also allow you to show off your latest pedicure. Aptly named the Ibiza 64, Romika captured the spirit of the island off the coast of Spain. Featuring a beautiful upper made from textured leather, combined with a leather footbed, you'll feel as if you're walking down the esplanade of a sunny beach town the second you put them on.
A modest heel height of about 1.5 inches adds a slight lift to body, as does the 0.75 inch platform. The Velcro straps on the Ibiza 64 ensure a comfortable and adjustable fit that accommodates the wearer. The top strap is adorned with a flower button for an extra touch of style.
The outsole is a synthetic, durable rubber that affords the wearer stability and support when walking on the sidewalk, the beach or wherever else. There are also words of inspiration found on the bottom of the outsole; a unique addition to such an elegant sandal.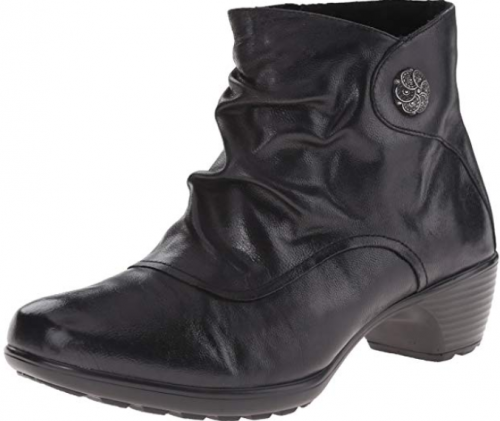 The Banja 02 will make you feel like you are young again, giving you the much-needed kick to your step. The upper is made out of premium leather, which has water-resistant properties and is very durable and elastic. This means the more you wear it, the more it will accustom to your feet, making it the perfect fit over a short period of time. It's also scrunched up, for a trendy urban style. A small silver button accentuates their elegant line, making your feet dainty and chic. The sides have a zipper, ensuring you effortlessly put them on and take them off. A mid-heel makes you taller and provides support for your arches.
The lining is fabric, making the Banja 02 lighter and more comfortable. The fabric is soft and warm, heating up your frozen feet when the days start getting shorter and colder. The footbed is padded in the right places. You can wear these all day long, and you will feel like you walked barefoot, without any arch or heel pain!
The outsoles are rubber, durable, with a tread pattern that makes you resilient to slipping and falling! It also bends with your feet, allowing you to walk and run the way you were meant to. With all of these features, and the overall stylish appearance of the boot, you can't go wrong with the Banja.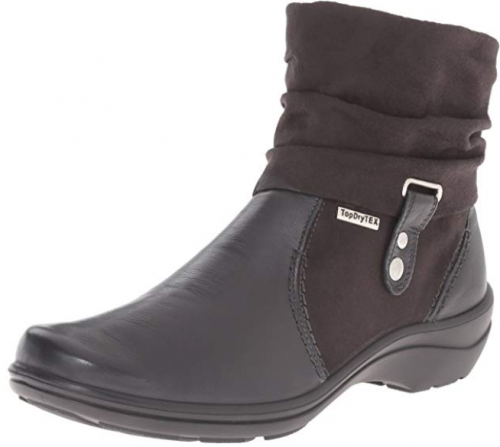 The Cassie 12 is a comfort-focused winter boot meant to heat up the coldest of toes. The upper is almost completely made out of synthetic materials, combining rubber and leather for warmth and water resistance. The leather around the ankles is folded in a cuff with a stylish belt securing it to the rubber. This gives you a trendy winter look and a versatile detail that looks good with tights and jeans alike. A zipper on the side helps you put them on quickly, the soft fur lining warming you up instantly.
The insoles are padded, cushioning your feet and making the rough snowy terrain completely undetectable. You could walk over a boulder and you would barely feel it! They are removable, so you can wash them as much as you like, and change them up when they get worn down.
The topdry tex liner fights water, leaving you drier than the Sahara desert, but also odor and sweat free. This also negates the chances of frostbites, as there will be no water to stick to your toes and chill you down! The outsoles are flexible rubber that follows the bend of your feet, with a tread pattern helping you conquer snow!



Sunny weather is here, and what better way to welcome it than by gearing up with cute sandals? The Maddy 11 has a suede nubuck. Suede is great because it is flexible, durable, and has a deluxe and fluffy look. Suede is just regular leather upturned and a thin strip cut away to help the shiny pattern appear. Small perforations on the side, besides the already open sandal, help air flow undisturbed, cooling down your feet and dissipating sweat. An adjustable mary jane strap that goes over the arches secures your foot and keeps it in place so it will not slide and wiggle around the sandal. The stitches reinforce the construction, but they also follow a chic line giving the Maddy 11 a trendy feel.
The insoles are cushioned, making up for the lack of heel. You can remove them whenever you like, to wash them and remove odors and bacteria, and all the filth from your socks and feet. If the insole does not work for you, you can always replace it and put in whatever you like and whatever suits you best, making the Maddy 11 a great versatile shoe. The outsoles are rubber and super flexible, allowing your heel and toes to roll naturally!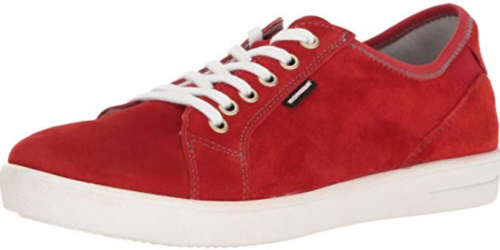 You can never go wrong with cute canvas sneakers! The Nadine 10 model is what every young adult and teenager have at least one of in their closet, renowned for its style and versatility. The upper is suede, colored in many attention-grabbing colors, matching them up with virtually anything you can think of. The lace-up style and the low top makes them look like skate shoes, and they offer the same amount of motion control and adjustability like them.
The lining is soft, a combination of leather and textile, It manages moisture, keeps odors at bay, and cushions your fragile feet. The outsoles are made to look like they have been vulcanized, accentuating their skating look even more. They do have ground feel like them though, so you'll always know just what you are walking on.
Rubber keeps you standing upright, and the tread pattern below enhances their grip and makes it easy to tread even on glass! The collar on the sneaker is flexible, due to the small elastic strip that is added in it. This makes it easy to put them on, negating the need to lace them up and down whenever you desire to take them off or put them on.

Subscribe to our Newsletter