Best Options from Payless Shoes For Women Reviewed
In a Hurry? Editors choice: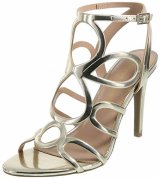 Test Winner: Gold

There's no denying that we all love low prices. Money is hard to earn and stupidly easy to spend, and thus we are all drawn to discounts, inexpensive alternatives, and items which won't leave a significant dent in our budget. Thanks to the Payless ShoeSource - or simply, Payless - quality footwear at an affordable price is not a chance occurrence anymore. This retail company was founded in 1956 in Topeka, Kansas, with the sole purpose of providing reasonably priced designs for the entire family, in a self-select environment.

So without further ado, scroll right on down to see the top ten Payless options we picked out for you. They are chic, elegant, wearable and, above all, they are probably the cheapest footwear you will ever see.
Standout Picks
Criteria Used for Evaluation
Style
While Payless offers a range of different brands in their stores (such as Champion, AirWalk, KangaROOS), they also collaborate with different designers, such as Christian Siriano, for example. You may have first heard his name on the popular designer show Project Runway, hosted by Heidi Klum, where this young man distinguished himself from the rest with his eye for detail, elegant aesthetic and classy-with-a-twist designs.

All of the items in our guide are created by Christian Siriano, and bear his trendy, runway-ready outlook on fashion.

We can easily spot footwear which is meant for every day - that perfectly versatile flat, such as the Delilah, which will take you from the office during the day to a fancy dinner date in the evening.

More classic, timeless pieces like the Habit are a go-to option for really any occasion. In terms of style, everyone needs that one pump in their wardrobe which is comfortable to wear and easy to pair with any outfit, and which you can simply throw on when you're in a hurry and achieve that sophisticated, put-together effect.

For a formal occasion, a gala or a wedding reception, one where you need to look your best, Christian Siriano outdoes himself with designs such as the Gold, the Collins, and the Kenni. These simply radiate gracefulness and poise, while not shying away from glimmer, rhinestones, and metallic colors. If you wish to be the main attraction, definitely go for one of these.

Finally, when it gets cold outside but you'd still like to look drop-dead gorgeous, there is a unique choice in the form of the Samiya, Maerys, Yesenia and Ripley. This collection of boots rides that thin line between style and practicality, but it somehow manages to achieve both, while keeping you comfortable at the same time.

Whatever your personal style is - whatever event you need new footwear for - one thing is for sure: with the Christian Siriano by Payless collection there is no lack of sophistication. No matter what footwear type you land on, you can be sure that you will be on-trend, and that everyone will envy you on your flawless fashion taste.
Comfort
When you buy gorgeous footwear, it is only reasonable to expect that you can wear it for as long as you want to, no? At least that you can enjoy it for the entire duration of the event you're going to, until the end of your workday, or until you get tired of browsing through all of the stores at the shopping mall.

In order to truly make the best use out of your footwear, it needs to be comfortable.

Unlike some brands, such as Nike, Rockport, Caterpillar and others, Payless footwear doesn't come with any special technologies when it comes to comfort. They don't have a team of innovative-thinking people behind a high-tech system that is just perfect for all-day wear, though that is not to say that their designs are in any way less comfortable than those which use advanced features.

It actually doesn't take much for a wearer to feel comfortable, as long as the design and construction of the shoe are right. There are a few features you can look for in an item, which can give you a hint of how good you will feel while wearing it:

Footbed:
One thing we encountered in absolutely all of the items in our list is that they have padded footbeds. This is incredibly important in all shoe styles, especially when it comes to flats and high heels. Cushioning in the footbed provides us with support and absorbs impact. That way, instead of sending the shock of every strike of our heel up towards our joints, further aggravating our ankles, knees, and hips, this padding instead distributes the force along the sole of the design, and thus minimizes the strain put on our legs.
This is important in flats since ballet flats usually don't offer much support, especially in the arch area, which leads to foot fatigue and medical conditions such as flatfoot, or pes planus.
But this is also important in heels as well. Padded footbeds in high heeled designs alleviate pressure off of the ball of the foot, enabling the wearer to spend more time in their favorite pumps.
Toe Area:
There is a fair share of pointy-toe designs in this guide. However, we have to admit that, while they are indeed the epitome of elegance, these are not the most comfortable when it comes to all-day wear. Pointy-toe silhouettes are too narrow at the tip, and as a consequence they pinch the toes, causing them to cramp up and hurt, and more often than not creating an unseemly image such as toe-cleavage.
If you want to make sure that your toes can wiggle happily inside the design, that they won't be crammed or get any blisters, then definitely opt for round-, almond- or square-toe shaped footwear.
Heel:
We will talk more about the comfort of high heels in our Heel section below, but for now, there is one essential thing to keep in mind: The higher the heel of a shoe is, the more it will hurt.
Value
One thing that is a key feature in all Payless footwear is that they are sold at a price below the average. This is actually a point of pride for the retailer, as they do their best to serve their customers with quality designs that are more than affordable.

So when deciding on the criteria for evaluation for our list in this guide, we thought that value should also be an important one. After all, as we mentioned before, we all love to see low prices and inexpensive choices when we go shopping.

So are these designs really worth it? Sure, they are cheap by many - all - standards, but is it cheap in the sense that you will have to change your favorite flats every season, or can they last longer than that?

We're not going to lie, the durability of Payless designs is not the most outstanding. They are all made out of synthetic materials, which come at a lower cost but are also not as long-lasting as genuine leather and suede, for example.

However, each review we have come across in our research stated that these options were absolutely worth it. Some more than others - hence the ranking of our list - but when it comes to amazingly inexpensive footwear and its quality, this retailer definitely leads the pack. With Payless footwear, you will have a comfortable, fashion-forward choice that may not last you years, but it will definitely keep you company long enough for you to say that it was money well spent.
Heel
Since there is a number of high heels in our selection, we felt the need to also rank the designs according to their heel height and type, or mainly, according to how comfortable they are for extended periods of time.

As we touched upon in our Comfort section, high heels are, although elegant, slimming and undoubtedly classy, also not the most pain-free of footwear choices.

There are a couple of factors which go into determining whether a high heeled design will give us pain and cramps, or if it will provide us with an unforgettable experience regardless of the event we're attending.

Height: We are expanding on our previous statement that the higher the heel is, the more pain it will cause, and adding that heels over four inches in height are the ones most responsible for discomfort. No matter how much cushioning these designs have, after about two hours of walking, dancing, or perhaps even just standing in heels of four inches or higher you are bound to start feeling pain.

For that wearable comfort - especially if you have to go from the office to a dental appointment to picking your kids up from soccer practice - definitely go for lower heels. Three inches is a classic height that is suitable for most workplaces and events, even formal ones, and with a little bit of practice, it won't hurt at all.

Similarly, two-inch heels, otherwise known as kitten heels, are as comfortable as though you are walking in flats, no matter how much time you spend on your feet.
An exception to the rule would be platform heels. These come with a high heel in the back, but also with added height underneath the front of the foot. This bonus height reduces the angle between your toes and your heel, and thus makes you feel like you are walking in heels which are far lower than they actually are.
Shape: Heel shape determines whether or not your steps will be stable and secure, and whether you need to worry about losing your balance. The main culprits in accidents which result in ankle sprains are stiletto heels. These are too thin, narrowing down to a point and thus not providing you with a good base for walking. Additionally, stilettos force all of your weight to move forward to the ball of your foot and consequently cause pain in this part of the foot.

The most comfortable heel shapes, those you can expect to spend a lot of time in without any hurt, are chunky heels, those which are blocky and sturdy, as well as wedge heels. These don't put as much pressure on the front, and also have the added bonus of giving you a solid foundation so that you don't accidentally stumble and injure yourself.
Versatility
The best footwear option is the one which can be worn with almost anything we have in our wardrobe. We love a good flat which goes well with our pantsuit, but also with jeans and a blouse for a lunch date with our friends, and even better if we can also match it with a mini dress for a date night out!

Due to Christian Siriano's more formal-oriented aesthetic, some of the choices in our guide are not so versatile. A strappy, rhinestone-encrusted sandal like the Kerr, for example, is not suitable for the office, or very comfortable for a shopping trip, or any occasion which isn't a prom, a wedding or a fun time at the club.

On the other hand, there are also some designs which are appropriate for nearly any situation, such as the sophisticated Delilah flat.

If you need a design for a special occasion, a sparkly heel or a gleaming sandal, then definitely shop accordingly, and go for the most appropriate choice that still fits your personal style. There is nothing worse than being underdressed at a formal event.

However, if you are not shopping for anything in particular, then consider the versatility of all the choices before you. While that metallic gold sandal is definitely striking, think about how often you'll actually be wearing it. If it's only once a year or not even that much, then maybe it's best to put that money into a design you'll wear more often.

After all, even the most inexpensive of shoes are not worth it if all they do is collect dust in the depths of a closet.
Top 10 Payless Shoes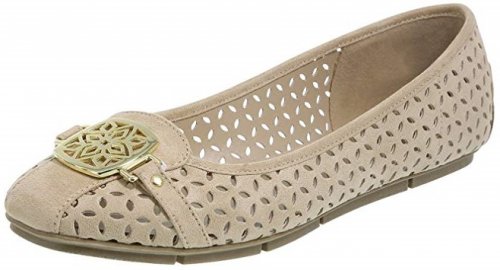 Another ballet flat on our list, the Delilah is decidedly different in design and overall effect than the sweet, feminine Annalee. The Delilah is more business than cuteness, more posh than playful, and it is definitely one refined shoe.
As it is expected out of a Payless design, the Delilah is made from entirely synthetic materials. It has a square-toe front which adds seriousness to the silhouette, as well as a medallion detail for a sense of expensive luxury. This flat comes in two color options, the black and this tan one which also happens to have laser-cut perforations all over the upper.
These perforations are definitely there to bring some interest, but they also serve a purpose. Namely, holes like these are perfect for promoting proper air flow in and out of a shoe, and thus the Delilah helps maintain a healthy foot climate even in the hottest of weathers.
For that all-day comfort, there is a padded insole which gives you a plush, cushioned feeling, and a jersey lining that gently hugs your foot and protects it from abrasions.
The rubber outsole of the Delilah provides you with slip- and skid-resistance no matter where you're going. We are in love with this versatile design because it is that perfect office-to-leisure shoe, one which goes well with a pantsuit just as it does with your new sundress. In the Delilah you will feel poised and extravagant and still insanely comfortable at the same time.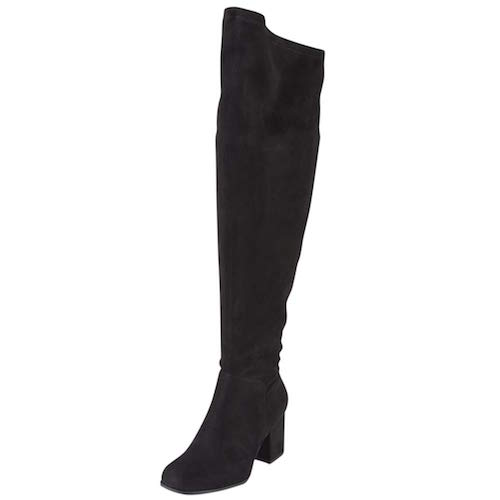 For dry and yet chilly days, when you're in the mood for something different, something bold and unconventional, there's the Samiya over-the-knee boot to make you feel like you can take over the world. It will keep your feet warm, as well as your legs, and will turn you into a fearless, stylish wonder woman.
The Samiya is made out of synthetic materials which are soft and fit like a sock, but also super stretchy so that you don't have any trouble pulling it over your knee. What's more, there's a zipper in the inner side to make it easier for you to slide in and out of this design. It comes in three color versions - charcoal, black and chocolate, the traditional winter colors.

What we're particularly thrilled about when it comes to this boot is its heel. It is three inches high, meaning that it is amazingly comfortable to wear all day long if necessary, but it is also blocky in shape. The thick heel provides a good foundation for your steps, and no matter what the weather conditions are outside, you can be sure that you won't slip or stumble.

We understand that this design is not for everyone. It takes a special kind of confidence and fashion aesthetic to rock these fierce boots, but you can't deny that they are practical as well. After all, thanks to the Samiya you can now also wear shorts or short skirts in winter-time without fear of your legs getting cold.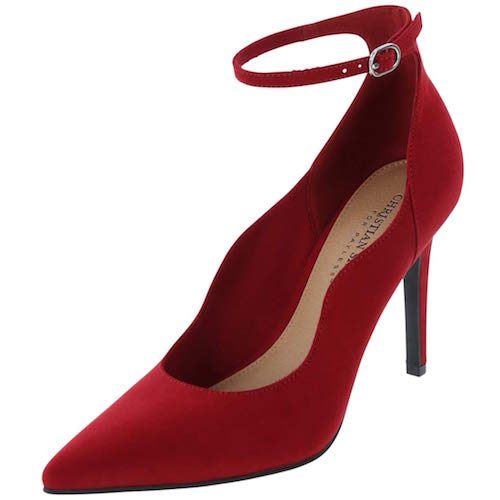 This ankle strap heel is the perfect pair of footwear for special occasions. Not only is it a classy pump, but it's also made with a 4 inch heel that is tall, but not too much. The model is made with a suede-like upper, and comes in three different color options, including black, red and a mixture of black and gold.
The cut of the Kenni is perfect if you want to compliment a cocktail dress or a gown. The pointed toe is absolutely classic, while the sides feature a slight curve that makes the instep appear higher, giving your feet a more feminine line. The ankle strap is not just decorative - it also contributes to fit security and stability during wear.
The materials used to make the Kenni are effective and well-chosen. The upper is made with a synthetic suede, and is lined with soft jersey fabric that increases breathability and enables wear with or without hosiery. The outsole is made with the same compound that's used on most Payless shoes, ensuring a durable product. Being a versatile pair of footwear, the Kenni is definitely worth the investment.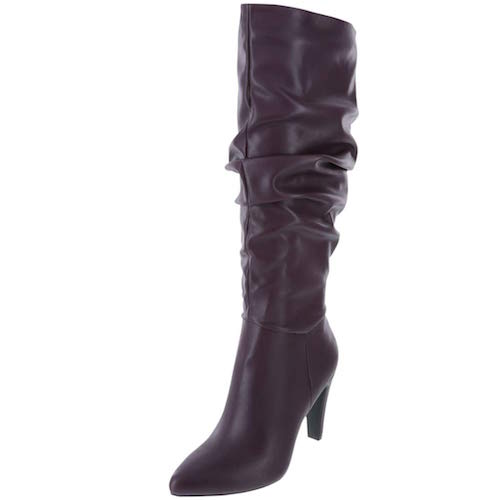 A tall slouchy boot, the Maerys is ideal for cold weather wear when you want to keep warm, but still want to look sexy. This option was designed by Christian Siriano, and is the perfect choice for those who tend to have a problem with the calves of their boots being too tight, seeing that its a shoe meant to be worn in a certain way. It's available in two color options - black and black violet.
The PU leather used in the construction of the upper has numerous benefits. First and foremost, it is durable and easy to keep clean, so you won't have to worry about polishing, conditioning or special cleaning procedures. The heel is slightly thicker than other models listed, and this adds to the overall stability of the boot.
As for functionality features, it is important to mention the side zip closure, as well as the 3 ¾ inch heel. The lining is soft for maximum wearability. The price point is quite surprising for a pair of boots, and is definitely one of the most affordable products of this type you'll be able to find.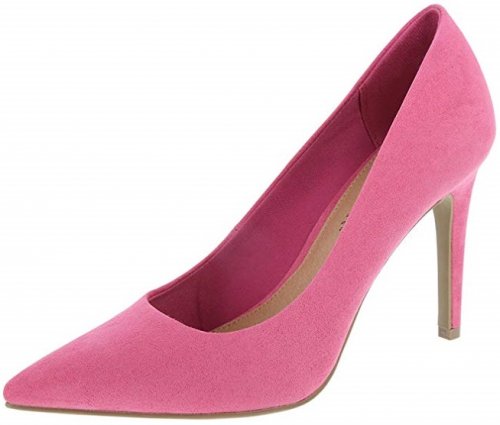 A classic pump with a fitting name, the Habit will make it easy for you to turn wearing this chic, versatile style into a regular occurrence. Thanks to its elegant pointy-toe silhouette, low-ish heel, and timeless style, this pump is suitable for any number of occasions. In it, you can go from the office to cocktail hour, to a fancy dinner date with your significant other, all without changing your footwear in between.
The Habit has an upper made entirely of synthetic materials. It comes in a wide range of color options, from a classic black, to nude, to floral prints, and finally, this watermelon-toned faux-suede which can become a breath of fresh air in your wardrobe.

The wrapped stiletto heel of the Habit is a little more than three inches in height, which makes it just a touch above the most comfortable height for everyday wear. However, thanks to the padded insole, you will have more than enough cushioning and support and will be able to walk for extended periods of time.

Inside this pump, there is a smooth lining that will be gentle on your skin and won't cause any blisters or abrasions, and there is a sturdy outsole on the bottom. This outsole protects you from slipping and skidding on a multitude of surfaces, but it also makes the design last longer.

The Habit is truly a pump that everyone needs. It's that go-to option for when you need to look your best, but be comfortable at the same time. You won't regret getting this design for yourself, as it will surely become a staple piece in your closet.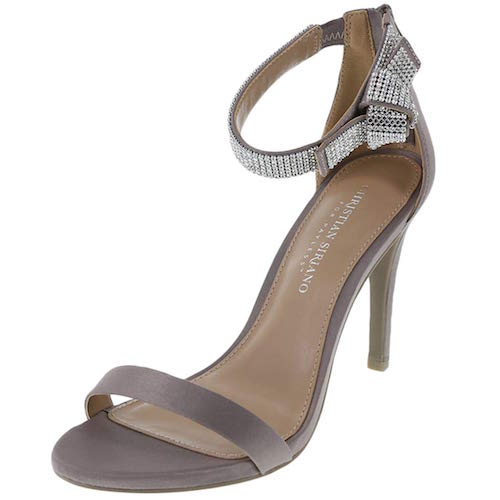 A dress sandal ideal for summer occasions, the Collins is definitely a shoe you'll want to own. It is classic in style, with the addition of rhinestone embellishments which make it perfect for formal events and parties. Available in three classic colors: taupe, red and black, this model will easily go with any of your existing outfits, so you won't have to worry about getting the perfect match.
The material used to make the Collins is a satiny textile that not only looks luxurious, but is also quite effective in keeping you comfortable. It will easily mold to the shape of your foot, and it allows for plenty of air flow, which means you won't have to worry about sweaty, slippery or swollen feet.
The closure on the Collins is a zipper at the back of the heel that makes on and off very easy. Additional features include a lightly padded footbed, a 4 ¼ wrapped heel and a well tractioned rubber outsole. As for cost association, this is another averagely priced model by the brand.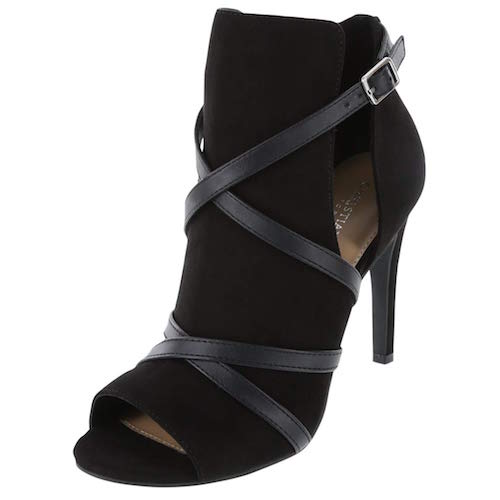 This is another model designed by Christian Siriano for the brand. Developed as a mixture between a sandal and a bootie, it features a unique design that provides plenty of coverage, with open details that make it suitable for transitional weather. It is available in a single color - black, making this an excellent choice of footwear that goes with any outfit.
The detailing on the Imma is quite interesting, mainly due to the functional design features. The open toe and ankle sections increase breathability and comfort, while the straps serve a dual purpose - they both elevate the style and ensure adjustability and a secure fit around the ankle.
The outsole on the Imma is made with durable materials, and can be worn on any surface. The 4 ¼ inch heel is quite high, and may not be suitable for everyday wear, but nonetheless, this is a great choice of footwear for special occasions. The price is affordable, as expected, which makes it an easy buy.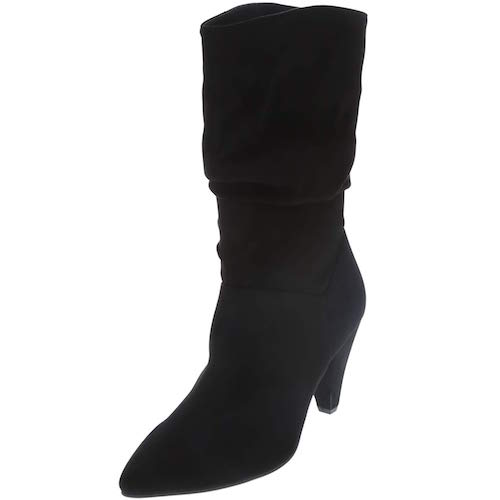 Another boot style, the Ripley slightly mixes things up, this is a short slouch boot, which makes it great if you're looking for something you can wear with both trousers, jeans and maxi skirts. It is available in two upper variations - smooth or suede synthetic leather. The only color option is black, but this is always a good choice as it's easy to combine with anything else.
One of the stand-out features of the Ripley is the almond shaped toe which is far superior in terms of comfort and health to the typical pointed toe found on this type of footwear. It doesn't constrict the toe area, and allows for natural movement, even despite the 3 ½ inch heel.
The shaft of the Ripley is 11 ½ inches tall, and on and off is made easy with the short side zipper. The lining on the model is soft to the touch, and the insole is generously padded for a cushioned feel underfoot. The outsole is made with a rubber compound that features a good traction pattern. As for cost, this is one of the more expensive models listed here, but is still quite cheap.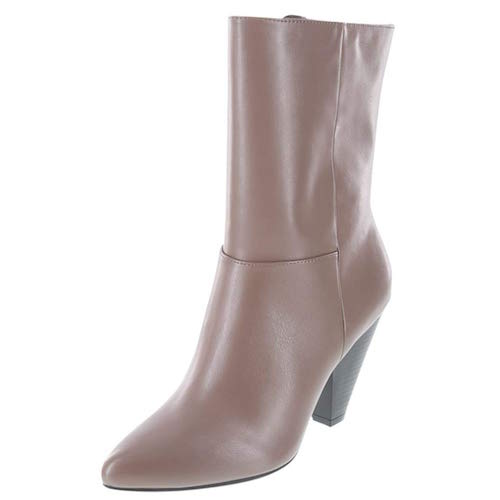 A low heeled boot the Yesenia is ideal for those who want to purchase something different. This pair of boots provides a good mix between weather protection, design and ease of use, and is an overall good choice due to the affordable price and versatility it offers. It's available in two color options, black and taupe.
The shaft of the Yesenia reaches mid-calf, and is constructed so as to create a smooth line from top to bottom. The zipper closure on the side ensures easy on and off, and the synthetic leather used in the upper ensures a comfortable fit.
The heel is 3 ½ inches tall, and is cone shaped. Because it is thicker at the base, it takes pressure off the heel and ball of foot, allowing you to wear this model for longer periods of time, without experiencing discomfort. Another feature worth mentioning is the padded insole that maximizes shock absorption and support underfoot.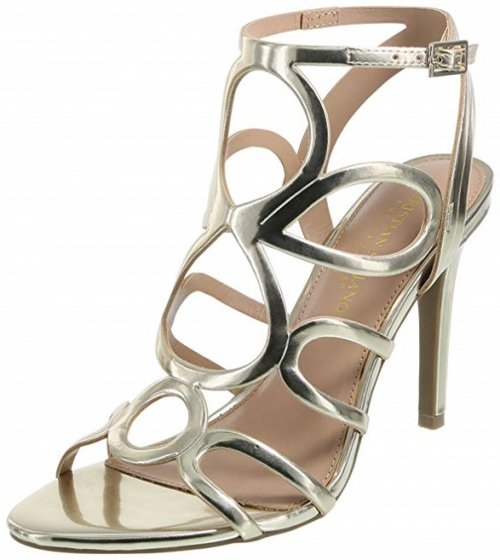 A sandal with a simple name and not-so-simple design, the Gold is a definite show-stopper. It is what fashion icons wear to after-parties, what celebrities choose to pair with their sparkly mini dresses and bold makeup. The Gold sandal is anything but subtle, and we're absolutely in awe with this metallic option.
As other designs on this list, the Gold is also made from synthetic materials. It features an upper that is essentially a cage of thin straps, forming elegant shapes across your foot. There is an ankle strap which keeps your foot in place, and which also has an adjustable ankle closure which you can tighten or loosen to your liking.

The Gold comes with a soft lining that doesn't rub your skin the wrong way. However, it also has a stiletto heel of over four inches in height, which might require some practice walking before you venture outside of your home; these gorgeous sandals are unfortunately not for extended wear.

That being said, this design surely won't leave anyone indifferent. No matter where you decide to wear these heels, whether to a party, a wedding or a prom, you can be sure that you will be the star of the event!

Subscribe to our Newsletter