Best Netball Shoes Reviewed & Rated
In a Hurry? Editors choice: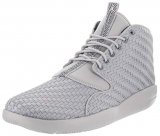 Test Winner: Nike Jordan Eclipse

A great netball shoe supports your foot, keeping the mid-foot stable during those pivots and quick stops. If you come down hard on the sole, it must give you even cushioning and support for the entire foot. The toe should bend comfortably for your personal style of play. Some people like the flexibility around the ball of the foot, while others need bend throughout the toe. Different shoes won't make an enormous difference in your abilities, but they could have a lot to do with your level of comfort while you are playing. If your netball shoes feel like they could come off under any circumstances then you are wearing the wrong ones!

Below we've comprised a list of the top netball shoes on the market right now. All are suitable for court use, and with technology to help you perform at your best.
Standout Picks
Criteria Used for Evaluation
Traction
Multi-directional traction is essential in preventing slipping, skidding, and injury during a game.
One of the main things you will need to consider before investing in a pair of footwear you'll be using for playing netball is the traction said footwear will provide you with. Played both on indoor and outdoor courts, you might even need two pairs, as not all outsoles can take the demands of both wooden flooring and concrete.
During a game, you will be expected to make quick stops and starts, as well as to change direction rapidly, which means that a good traction pattern is a must. It needs to work just as well during lateral movement as it does when it comes to forward and backward motion, and it needs to stick to the court, but without limiting your range of motion.
Outsoles made for basketball would be ideal, as they take all of these motions into consideration and should allow great performance. Alternatively, you can look into volleyball shoes for indoor, as well as tennis shoes for outdoor play. Running footwear will offer the least appropriate results in these situations, so try to stay away from them if you're playing at a higher level.
Another specific thing to keep in mind is that the sport may require you to pivot and turn, which is where a pivot point comes in especially handy. Some of the models on our list make use of this feature, and if you know that it would suit your playing style, then definitely go with such an addition.
Furthermore, you may want to take outsole flexibility and durability into consideration. Some players will need more bend in their footwear, and some models simply do not allow this. Others, especially those playing outside, will prefer a more durable (thus harder) design that won't need to be replaced too often, saving their hard-earned money.
Support
An external cage and arch support are what you need to consider before you make a purchase.
Almost all sports require a supportive shoe, but the part of the foot that needs to be kept stable varies from discipline to discipline. In netball, the type of movement you will be doing is similar to basketball or tennis, where you'll have to quickly move laterally, as well as forward, so a netball design that locks you in and prevents any internal movement is crucial.
Most models on this list will have some internal or external cage structure. The main reason for this is to wrap the foot from the arch to the instep, keeping it secure and supported and preventing it from sliding inside the shoe when you make a quick stop.
Leather and synthetic footwear provide the best results in terms of stability, but technological advancement has allowed for some innovation as well, so you may see knit or mesh models that have a supportive cage that works just as well.
Another thing to consider is arch support, which is important not just during sports activities, but also in everyday life. As you'll be jumping and running, the tendon at the bottom of your foot will need to do a lot of work to keep your foot comfortable and to help absorb shock. A great netball option will offer some level of arch support in order to prevent this tendon from working overtime, allowing for you to play with less fatigue, and preventing pain at the end of the day.
Last but not least, you may want to consider the amount of ankle stability you require from your footwear. Some players prefer high tops, seeing that they hold the ankle, however, it's not advised that you opt for best basketball shoes.
The main reason for this is that they may give you a false sense of stability, preventing your muscles from doing their job, thus resulting in unwanted sprains or injuries. If you do go with a pair of basketball kicks, your best bet would be to get some low tops, as these have all the benefits of traction and shock absorption without the overbearing height and motion control.
Shock Absorption
The right amount of shock-absorption (or cushioning) for you depends on your foot anatomy and style of play.
All athletes need shock-absorbing footwear since their training sessions and games are difficult and they put much more than normal amounts of pressure on their feet when performing.
Every time you land from a jump, or your foot hits the ground when running or walking, a large amount of shock is generated that is supposed to be absorbed by your arch. However, since you're not simply walking but performing strenuous exercise, this shock is often much larger than what you should be putting your body through.
The best athletic footwear will have some components that will absorb this shock, especially with netball footwear. These components will prevent the shock from running up your legs, and will even provide some amount of bounce back or energy return to make the next step or jump easier.
There are a lot of materials used to provide shock absorption (also known as cushioning), and they can all do a great job - from EVA foam, GEL pads, Air units or specially designed materials - all of these can prove to be the best option for your next pair of shoes. Note that what works for one person may not work for another, as the amount of cushioning needed often depends on our anatomy, including weight, pronation, arch height and style of play.
If you're a veteran, if you compete and you practice for long hours, then you should definitely go with as much cushioning as possible, as it will help reduce recovery time and will save your feet in the long run. If, however, you are an amateur or enthusiast who plays a couple of times a week, then you won't have to shell out hundreds of dollars on the most cushioning designs, as more budget-friendly shoes will do just as well.
Brand
If you can't find netball-specific footwear, look for suitable alternatives in footwear for other sports.
You may expect the quality to be dependent on the name on the side of your shoe, but the two are not always related. You are probably aware that all manufacturers, especially those who make sports equipment, cater to large audiences, and they will often make footwear at different price points to make their products available to everyone.
For the lower-end models, this often means cuts in quality and technology, which may not make a huge difference to recreational players, but can seriously impact the performance of pro athletes.
When it comes to netball footwear, there are very few manufacturers who make shoes specifically for this sport, and these are limited to ASICS, Gilbert, and Mizuno. They're often very difficult to find, and are not always available in all countries, so players who don't like the few available styles need to look elsewhere.
If you are having trouble finding a pair that meets your specific requirements, you may want to look at equipment made for other sports, such as basketball, handball, volleyball, tennis, or even running.
Determine what it is you require in terms of traction, support and cushioning, and you may be lucky enough to find the perfect pair of shoes. You may end up with something completely unexpected that works perfectly for your playing style, making you a better athlete.
Breathability
To manage moisture during practice, opt for breathable footwear and moisture-wicking socks.
Last but not least, any type of athletic footwear needs to do a good job at providing your feet with adequate airflow to prevent overheating, excessive sweating and unwanted issues such as blisters or athlete's foot.
As you'll be moving a lot for a prolonged period of time, you need to be aware of the fact that your feet will inevitably sweat. A perfect netball shoe will wick this sweat away from your foot and allow all moisture to leave the shoe, keeping you as dry as possible.
The best way to ensure this is to go with a style that has some form of a mesh or knit in the upper. These are not only lightweight and breathable but also allow a great amount of flexibility to the foot. To ensure a supportive fit, make sure there's a support cage in the netball design as well, and you'll be good to go.
If, however, you opt for a sturdier model, such as those made with leather or synthetic uppers, you'll want to check whether there are any ventilation inserts. A few over the toes can be sufficient, and your comfort can be ensured by wearing the right pair of socks - preferably ones made for athletic wear, with a good amount of of moisture management that won't retain sweat, and won't allow bacterial and fungal overgrowth.
Our Favorites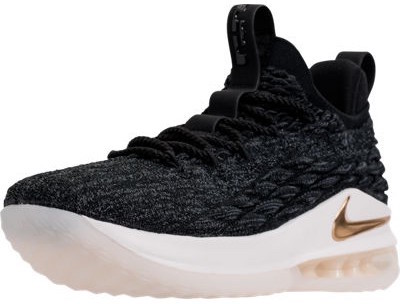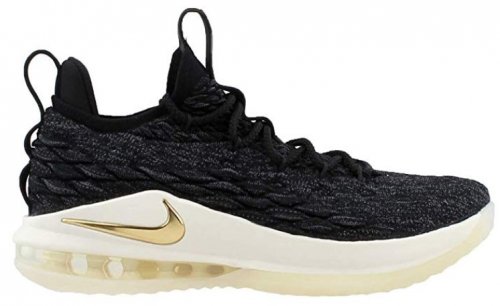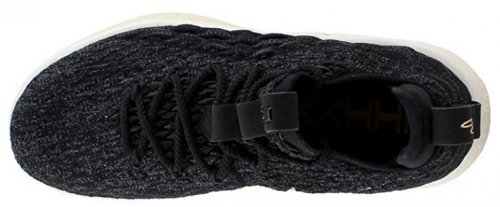 The latest basketball shoe by Nike was inspired by and developed with one of the legends of the sport, LeBron James. However, this is not a typical basketball shoe - most evident in the low shaft height - which is why it makes this list of top netball shoes. It combines a lightweight, breathable and flexible Flyknit upper with explosive cushioning, both of which will work to make your game so much stronger.
The latest version of Flyknit, BattleKnit was developed specifically for the demands of basketball where more support is needed for fast starts and stops, as well as lateral movement. Reinforced with Flywire cables throughout the midfoot, this is a design that's going to lock you in, while still giving you a lot of flexibility and airflow. Another great advantage is that it's a lightweight model that won't hold you back.
The LeBron XV features cushioning both in the forefoot and rearfoot, with different Air units in both parts that allow better shock absorption and energy return. A Zoom Air cushion will take care of the forefoot, while a Max Air heel cushion takes care of the landings. Combined with a rubber outsole that's made for multi-surface traction, you've got yourself a design that'll work both on indoor and outdoor courts.
Nike footwear always retails at a higher price than that made by its competitors, and the LeBron XV is no different. Though it has a high cost, in a market where shoes made specifically for netball players are scarce, this is a good investment. Not only will it perform well, but it will even look good, thanks to Nike's colorways that are always on point.

2

. ASICS GEL-Netburner Ballistic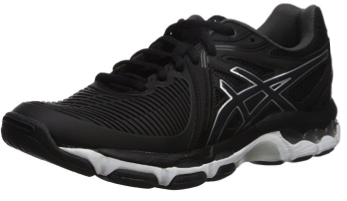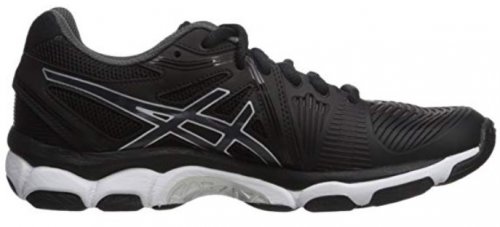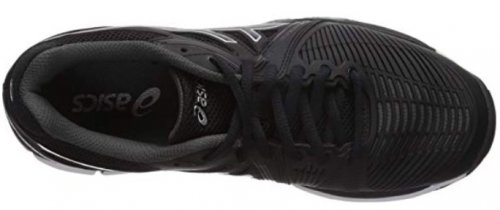 Since ASICS has been selected as the official footwear brand for Australian Netball we know they are doing something right. New technologies have provided lighter, stronger designs with plenty of comfort and protection built in. ASICS started as a basketball footwear manufacturer, making it a natural supplier for netball shoes. New tricks and lots of experience make this a good brand to check out.
The low top design of the Netburner Ballistic is just right for wooden court play and ASICS uses a lot more rubber in the sole than traditional sports shoes. Synthetic materials make them light as a feather. The Gel Cushioning Systems protect your foot, front and back, throughout the complex movements of your feet during play. Midsole protection comes from Fluid Ride's excellent padding and keeps you square on the floor.
Nice at any price, the Netburner Ballistic is an absolute bargain when you consider all the technology that goes into it. Add to that resilience and comfort and you can't beat this high tech pair.

3

. Nike Zoom Vapor 9.5 Tour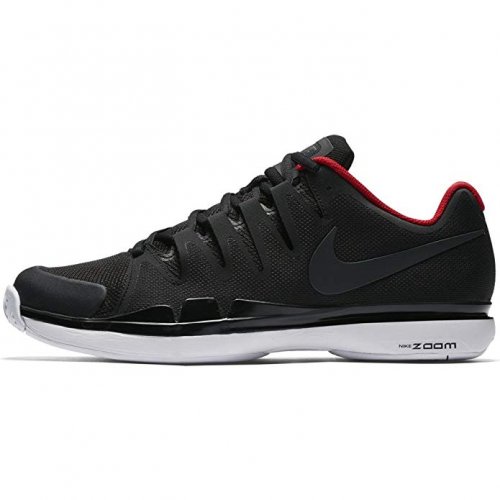 Nike's most popular tennis design, the Zoom Vapor is a favorite with the pros and its comfort and structure work just as well on the netball court. A midsole foot frame provides stability for the foot and heel and a low profile allows you to make perfect contact with the court surface, indoors or out.
Nike's Dynamic Fit system assures you a secure fit with quick and easy breaking in. The mesh upper of this design will keep your feet cool, making these a good choice for healthy feet, ankles, and knees. A tennis shoe designed for hard court play, the Zoom Vapor is considered nicely grippy for side to side movement. The Extra Durable Rubber or XDR tread makes for a very light outsole.
One of the most costly options on our list, this is an excellent design with the kind of engineering you need to guarantee physical stability and last longer than most.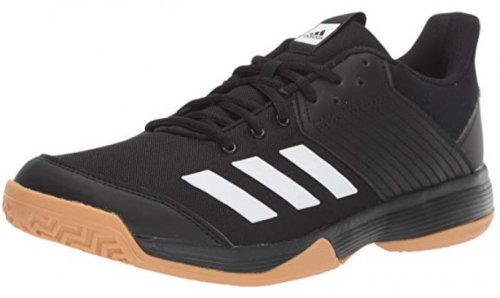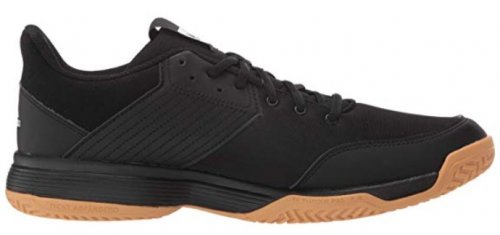 While originally meant for volleyball, the Ligra 6 from Adidas is, as the brand itself says, excellent for a wide range of indoor sports, including netball. It has an upper that consists of breathable mesh and supportive synthetic leather, a cushioned midsole, and a durable outsole that doesn't leave marks on the indoor court. The Ligra 6 will keep you comfortable and secure in your offense as you take home the win for your team.
The Ligra 6 boasts synthetic overlays that keep your foot securely locked in, while the mesh allows for ventilation and a sweat-free ride. There are reinforced loopholes that improve the durability of the laces. The outsole of the Ligra 6 is made with Adiwear technology, making it amazingly durable. The mesh lining improves breathability and the midsole is made from EVA. It is amazingly light in weight and it will absorb shock and keep you cushioned as you dominate the court.
Meant specifically for indoor play, the Adidas Ligra 6 won't last very long on rough outdoor terrain. However, it has everything you need out of this type of footwear: security and support, comfort and cushioning, as well as unparalleled traction on indoor surfaces. What more could we possibly ask for?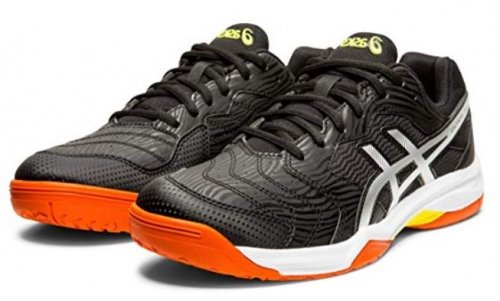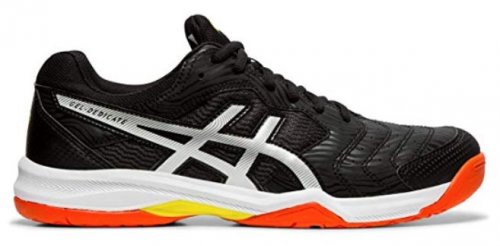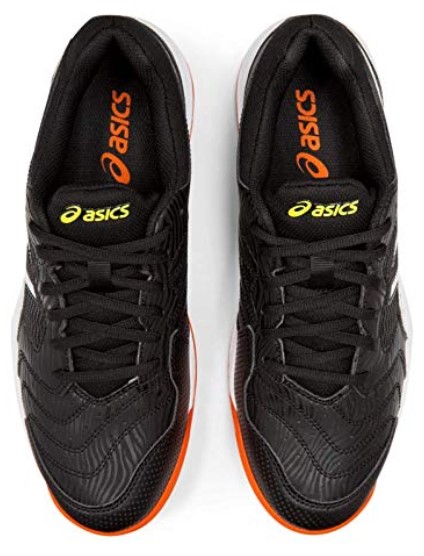 When it comes to netball shoes, you can't escape from ASICS. The Gel-Dedicate 6 is built for tennis, but thanks to its numerous advanced features and construction benefits, it is certainly a great option for the sport that is featured in this guide. The Dedicate 6 comes with the TRUSSTIC SYSTEM technology as well as GEL technology for improved stability and enviable shock absorption, respectively.
The upper of the Dedicate 6 is made from a combination of mesh and synthetic leather for breathability and support. It has California slip lasting which adds stability and comfort to the overall build. The EVA midsole provides shock-absorption and energy rebound, while an EVA sock liner ensures that you have a soft, comfortable feeling underfoot.
The GEL technology we mentioned is for bonus cushioning, and the TRUSSTIC SYSTEM adds even more stability. The latter technology also controls torsion, making the Dedicate 6 great for quickly changing directions.
The ASICS Gel-Dedicate 6 may not be the netball-centered design you're looking for, but if you're not a professional, it will certainly make you feel more confident in the game. Its special multi-directional traction system will keep you agile and fast, while your feet will be grateful for the extra cushioning all throughout.

The GEL-Nimbus 20 is designed as running shoes (and a very popular one at that) but there are a lot of great fit and construction points that make it a good choice for a netball hobbyist. A perfect fit and lightweight materials added to super comfort make a great choice on and off the court.
These netball shoes are light and breathable with a lining to manage moisture and mesh to allow it to escape. Laces are designed to lace up without applying uneven pressure no matter how hard you play or run. These ASICS running shoes unique Heel Clutching System holds the back of your foot right where it belongs without rubbing. Soft tongue and cushy linings add to the comfort and perfect shock absorption and energy return every time your foot hits the floor.
More than reasonably priced, the Nimbus 20 is perfectly suited for our featured sport but is a great design to take out for a run as well. That's two for the price of one!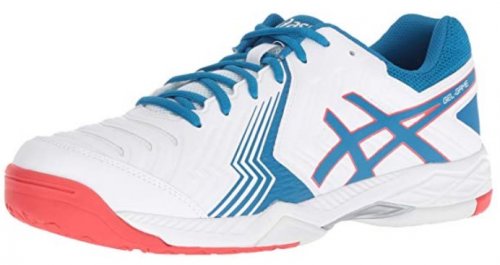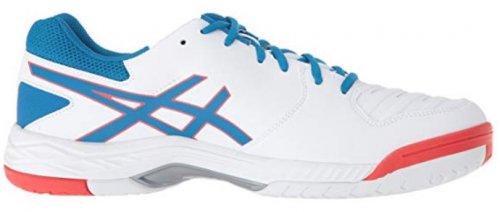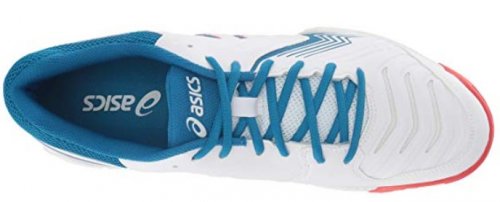 Although developed for tennis players who need durability on hard courts and good traction and support for lateral movements, the GEL-Game 6 by ASICS transitions well as a netball shoe, especially if you'll be playing outside. The simple synthetic leather upper is both resilient to tears and flexible, and it'll allow a great fit over the entire foot, especially after a few wears for breaking in.
While it's not the most breathable design on this list, the GEL-Game 6 features mesh in all the right places, including openings over the toe, a padded tongue made out of mesh, as well as the lining, so as to allow a good amount of airflow and a more comfortable ride. The entire sole of the GEL-Game 6 was made to provide ample cushioning and shock absorption, while keeping the weight to a minimum. The Trusstic System technology is a lightweight solution that helps the shoe reduce weight, without sacrificing integrity and durability.
With an average cost, the GEL-Game 6 is a great option for those who will be playing on outdoor courts, and who want their footwear to provide more lateral stability and durability in the upper. It's going to provide a good amount of cushioning, especially in the forefoot thanks to the GEL inserts, while the entire shoe should fit comfortably, shaping to the wearer's foot after a few hours.

8

. Nike Air Zoom Pegasus 35
Nike has been making footwear for sports since 1964 when the track and field arena made jogging and marathoning a recreational activity. They've remained competitive even today with upgrades in technology and materials. It's a brand we all know and continue to trust for a good reason. Though the Air Zoom Pegasus isn't netball-specific, it is perfectly suitable for court and asphalt play at recreational levels.
The Air Zoom Pegasus 35 is marketed as a running shoe and it certainly works well for that activity, but Nike is a major manufacturer of basketball footwear, too. Air Zoom is a great all-around design. Nike knows how to keep your feet safe and comfortable on the courts. Super breathable and responsive, these netball shoes are a comfortable ride, very protective of the knees and ankles.
You pay for the Nike name as much as their know-how but these are certainly worth the investment as a great all-around option. Nike makes footwear to last.
Another volleyball option on our list, the Upcourt 3 from ASICS is a great choice for all indoor sports. Not only that, but it is a perfect beginner model as well! The Upcourt 3 has a modern look, a midsole made from SpEVA, and a removable sock liner for maximum customization of the fit. The upper is made with mesh inserts, and the outsole is solid rubber for avoiding slips and skids.
The Upcourt 3 brings a good balance of support and ventilation with its synthetic leather and mesh upper. We love the fact that its sock liner is removable, as that allows you to insert your own orthotics if you happen to need or want some. The SpEVA we mentioned is a midsole material that improves bounce-back and at the same time slows down the degradation of the midsole.
The Upcourt 3 has received the APMA Seal of Acceptance, meaning that it improves foot health and helps you move easier and feel less pain and/or fatigue at the end of the game. Whether you're into just netball or also other indoor sports such as volleyball, tennis and/or badminton, you won't regret investing in the Upcourt 3 from ASICS.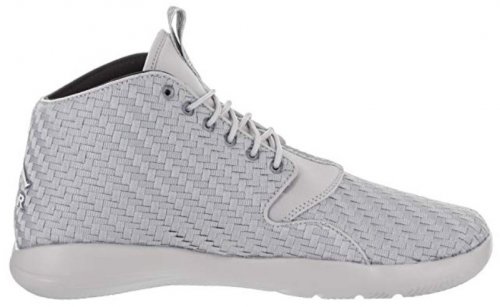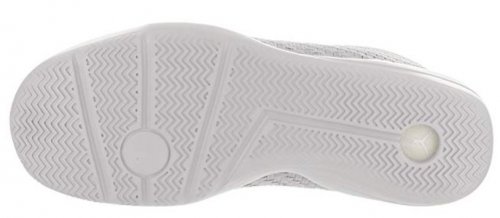 With some inspiration from the Air Jordan 3, the Jordan Eclipse has that great Air-Sole unit in the heel for extra padding. The midsole encapsulated air unit spreads the pressure evenly and the upper is built with comfort in mind. Not just a more expensive tennis shoe, this is a netball design with a lot of technology upgrades.
Excellent materials come together in this option engineered for comfort and stability. Everything feels light, like the mesh upper and the neoprene tongue inspired by Jordan 7 to keep lace stress even. The outsole has a herringbone pattern for extra traction and responsiveness. Super cushy with the Zoom Air in the midsole but, at 3.3" from the arch, they're higher than most footwear of its type.
Not just an imitation of Nike's Roshe Run, there's a lot more technology in this one. These can be pricey but the comfort is a huge factor and well worth the cost.

Subscribe to our Newsletter