Best Medieval Boots for a Renaissance Fair Reviewed & Rated
In a Hurry? Editors choice: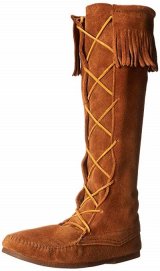 Test Winner: Minnetonka Knee-High

Food stalls; beautifully handcrafted jewelry gleaming with different colored gemstones; small theater performances; soft, playful string music – all of that and more on a specially decorated fairground, a place tucked away from everything fast and urban. It is no wonder that so many people enjoy Renaissance fairs, events where time passes slowly, where outfits are
elaborate
and less practical, and where one can pretend, just for a moment, that the stress of modern life can't touch them.
Standout Picks
Criteria Used for Evaluation
Comfort
When you're going to be at any all-day event, especially one that's outside, you don't want discomfort or pain getting in the way of enjoying yourself. This is why, even with trying to stay in character, you should choose your shoes carefully and with comfort in mind. Consider your own unique comfort needs when making a decision; after all, a lot of arch support won't help you much if you have flat feet. In fact, it might make things worse.
Durability
Renaissance fairs are one of those outdoor events that doesn't concern itself too much with the weather. Unless conditions are dismal, the show will go on, through rain or snow. The elements can take a toll on your clothing and shoes, so it's important to look for durable items. There are a few things we need to focus on in particular when it comes to durability.
Colorfastness: The last time I went to a renaissance fair it rained the entire weekend. While I had a cloak and assumed I would be alright, the dyes from the cloak started to bleed and it became a big mess rather quickly. This can also happen with shoes. Not only does color bleeding impact the look of your shoes, but it can also stain lighter surfaces. My cream shirt didn't stand a chance against that brown cloak.
Outsole: The outsole is almost always the first part of a shoe to show signs of wear and tear. While this is normal after Lots of use, the last thing you need is the outsole starting to separate while you're away for a weekend. Before leaving, inspect your shoes closely to make sure they are in good condition.
Upper: WhIle leather was the material of choice in the Middle Ages, nowadays boots can be made of almost any material. Synthetic materials have become more commonplace, thanks to their lower price point and easier maintenance. However, leather is still one of the most durable materials.
Weather Resistance: As I mentioned at the beginning of this section, renaissance fairs will continue even in rainy or snowy conditions. As a result, we would highly recommend looking into weather resistant shoes, be it leather or something treated with some sort of water protection.
Ease of Use
In olden times there haven't been many sophisticated ways of getting in and out of your shoe – there were pull-on designs, buckles and straps, and maybe lacings. Zippers were still very much an invention of the future, though that doesn't prevent us from using them in our costume looks today.
Pull-on: Easily the least complicated way of getting into your boot – just pull it on and you're ready to party the medieval way! However, there are many people who have trouble with this way of sliding into their footwear – mainly, it is inconvenient for those who have thicker ankles, thicker calves or generally more weight in their legs. Other types of closures might be more suitable in these cases.
Lace-up System: We will admit that we love lace-up systems. They offer the most adjustability out of all closures – you can tighten the shoe or loosen it up however much you want, so you don't feel too confined, but also that you're not losing your footwear all over the fairground. We are particularly grateful for laces that go all the way up to the knee, as they make it easy on those of us who have trouble slipping into other designs.
Buckle and Straps:Not only are buckles a great way to customize the fit of your shoe – as long as there are enough holes on the straps – they also represent a great accent for your costume. Buckles can be silver in color, gold, brass or anywhere in between, including a more rusted hue for an older look. They can also take various shapes, like the creatures of the deep sea, or more ornamental designs to represent high class and aristocracy.
Zipper: While historically inaccurate – the first zippers didn't exist until the nineteenth century – zippers are a godsend in the modern age. They are easy to use and they make squeezing into our footwear a lot quicker. These boots can have zippers on the inner side, or at the back, and usually, these are well concealed under a cuff or behind decorative laces to help give the design a more authentic look.
Materials
During the time period we are interested in, shoes were mostly made out of leather. Genuine leather, of course, because artificial leather wasn't invented until the nineteenth century. The quality of the leather used for footwear in the medieval era varied over the centuries. In the beginning, the material wasn't very durable, while high-quality leather found its way into production only later, when Europe began trading with the rest of the world.
Nowadays, while we can, of course, get period shoes made out of genuine leather, those made out of synthetic materials are more common. The main reason for this is that the faux leather is less expensive than natural leather, but there are also other differences to consider.
For example, faux leather is easier to clean. It is less porous than genuine leather, and any stain can be easily removed with a damp cloth. In contrast, genuine leather absorbs liquids, spills, and even odors. However, precisely because of that porosity, natural leather is very breathable, while synthetic leather is not – your feet are far more likely to sweat in hot weather in faux leather shoes.
As far as durability goes, natural leather is tearing and puncture resistant and with proper care, it can last for years, even decades. It becomes softer with age, but it can also fade – especially when exposed to sunlight – and needs constant treatment to prevent its aging. Synthetic leather is less durable, but it also doesn't fade over time.
And lastly, synthetic leather is animal-friendly, making it the perfect choice of material for vegan shoes.
With all of that being said, it remains up to you which type of leather you will choose for your medieval boots. Think about how often you will wear them, if you really need them to last you for a long time, or whether you would be satisfied if they endured only a season or two. And don't forget about the cost, and about how much you're willing to spare for a pair of shoes to round up your medieval costume.
Style
We have already mentioned that in this era, men were mostly wearing mid-calf and knee-high boots. Exceptions were made for men of high standing who wore early designs of plain lace-up shoes and plain oxfords.
The appearance of the boot itself depends on your personal taste, and how well the design will fit your outfit. Two most prevalent types we have in this guide are cuffed and uncuffed boots – those which have a top line that can be folded over and those that don't. Cuffed designs work best for pirate looks, for the role of people who are involved with sea trade, naval officers, or even for musketeers. Uncuffed boots are more straightforward, less fancy, and consequently less eye-catching as well.
When it comes to the height of the shoe, we can distinguish different types:

Ankle boots are practical if you're the type of person who doesn't like feeling restricted by the upper reaching up to your knee. They are also convenient in warm weather, as they leave most of your leg exposed and you don't have to worry about overheating in them.
Mid-calf and Knee-high:
Higher boots are more common than ankle ones, as they are more historically accurate. They are comfortable to wear and look dashing in any combination. However, it might be a bit difficult for someone with thicker calves to fit into a design like this, especially if the boot is pull-on and doesn't have any adjustable closures on it. Additionally, if the event you're attending is set in colder months, you will appreciate the way higher boots cover you up, as well as the fact that you can wear long thick socks underneath without any problems.
Top 10 Picks
1

. Funtasma Renaissance 104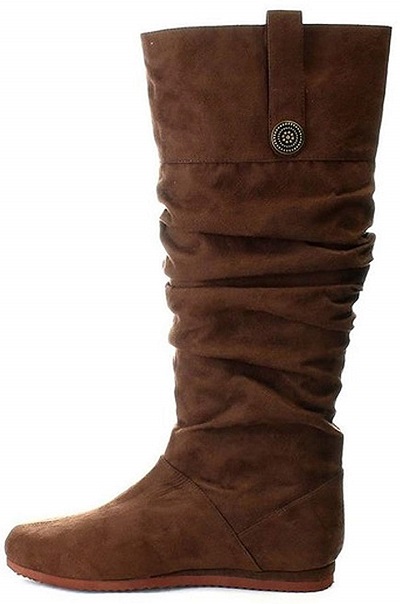 The Funtasma Renaissance 104 has that classic, simple medieval look, as its very name suggests. This design is constructed out of soft, man-made microfiber material and has an aged appearance for a touch of authenticity to your costume. The footwear is a mid-calf boot that you can simply pull on, and there is a zipper closure in the side to ease your way in. The whole design is about eighteen inches tall, with a flat sole for a smooth, medieval ride.
Microfiber
Microfiber isn't only good for cleaning. This polyester and nylon material is utilized in a wide variety of ways, one of which is for footwear. The upper of the boot is soft and gentle on your skin, and you can be sure that you will be safe from any blisters or painful abrasions.
Pull-on Design
This boot does have a zipper in the side which allows you to slide your foot in more efficiently, but the best quality is that you don't have to mess around with it too much - simply pull the shoe on, and be on your way!
Cost and Value
These boots are in the lowest of ranges when it comes to cost. It doesn't offer you much more than a solid, visually appealing medieval look, but for that price we don't expect it to. If you're not interested in spending too much money on your costume, this straightforward design is the perfect option.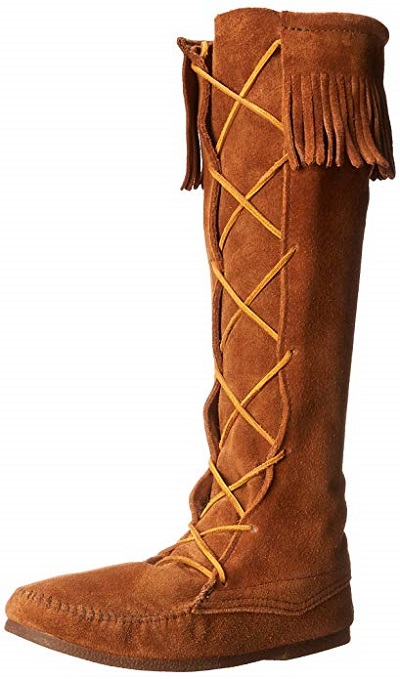 If you're looking for exceptional handcrafted quality, only the finest materials such as deerskin and moosehide, and authentic decorations such as fringe, embroidery, and beading, then you shouldn't look further than the Minnetonka Knee-high Boot. From a fourth generation, family-owned business comes this moccasin-inspired design made out of genuine suede, with a lace-up system that goes up to just below the knee, and a fringed topline. To round up the look there is a padded insole for extra comfort and a textured rubber outsole to prevent any slipping or skidding across different terrains.
Genuine Suede
Suede represents a type of leather with a napped finish. It is a natural material that is quite durable, flexible and soft to the touch. Suede has the ability to mold to the shape of your food, amping up the comfort levels.
Winter Boots
The Minnetonka Knee-high Boot will keep you warm even in the harshest of winters. If you get half a size up, you can even comfortably wear your favorite fuzzy socks to double up on the coziness and make the most out of your winter footwear.
Cost and Value
The Minnetonka design is one of the pricier ones we have encountered. However, we feel like it is absolutely worth the cost, with its natural, high-quality materials, meticulous hand-finished detailing and authentic appearance. This boot will last you a long time, and you won't regret investing a little bit more money in it.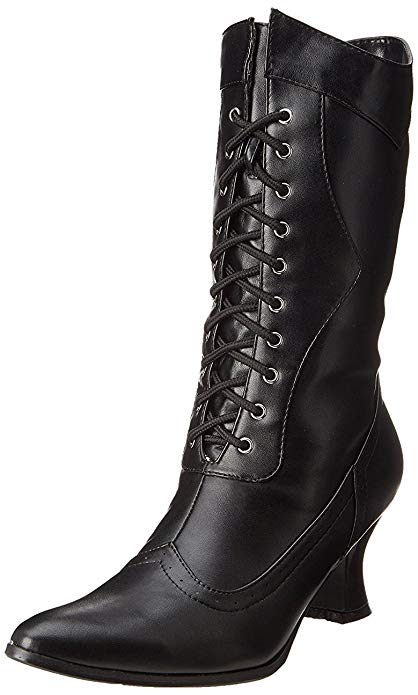 Sone renaissance fairs will feature more "modern" aspects such as pirates, who are well-known for their distinct and elaborate dress. These boots from Ellie's Amelia series are perfect for this, with their wingtip-esque style and stacked heel.
Polyurethane Upper
The upper of these boots is composed of polyurethane, which is a material often used in the electronics industry to seal fragile components. While it is an uncommon material in terms of shoes, polyurethane ensures strong durability and weather resistance without impacting overall weight or style.
Leather And Rubber Outsole
Renaissance fairs are rain or shine events and don't easily bow down to the whims of the weather. Of course, this can (and often does) lead to slick conditions, where you run the risk of slipping and falling. Whether that means ending up in a puddle, messing up your costume, or hurting yourself, Slipping and falling due to rain is never fun. That's why these Amelia boots feature a rubber and leather outsole; the rubber promotes traction and prevents slippage, while the leather reinforces weather resistance to keep water out of the shoes.
Cost and Value
Prices vary based on size and color options, though the shoes fall in line with the rest of the products on our list. Where these stand out is the polyurethane upper And combination Outsole that protects both the shoes and your feet from the elements.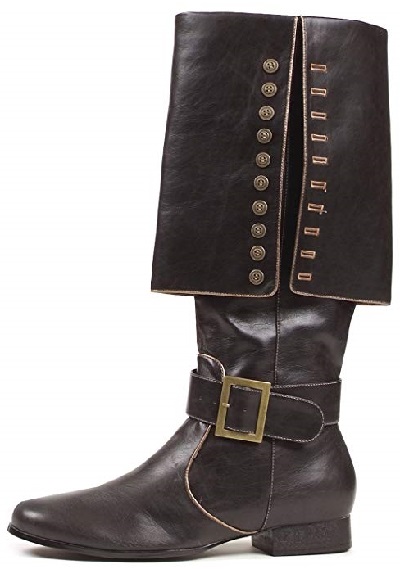 With the Ellie Shoes Captain you get to play the role of a high-class medieval gentleman, someone of royal blood, or simply a wealthy pirate who earned their fortune looting trade ships. This lux-looking boot is made out of dark chocolate PU leather, folded over and with a row of elegant brass toned buttons along the slit of the cuff. It has a wide strap around the ankle and a decorative buckle, as well as a zipper down the inner side for easy entry. With the Captain you don't have to limit yourself to only one period costume - the options are endless!
Elegance
The Ellie Shoes Captain is not for playing the part of a peasant. This design - with its refined, polished leather look, with the row of sophisticated buttons along the cuff and an all-around elegant appearance - is meant for a rich member of aristocratic society.
Versatility
The fact is that by treating yourself with the Ellie Shoes Captain you don't have only one period look in your closet. With this design, you can create as many medieval outfits as you'd like, as this lux boot matches more than one historical era!
Cost and Value
The Ellie Shoes Captain costs as expensive as it looks. We understand that it's not ideal to cough up a lot of money for a shoe which you will wear only occasionally, but the Captain is bound to last you for quite some time. By getting this one design, you are set for at least several different costume options in the future.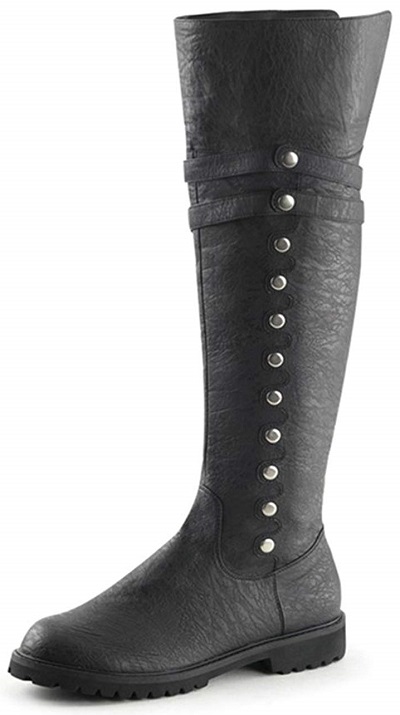 A design which works for pirate looks, for regal outfits, which even goes well with kilts - the Funtasma Gotham 120 is a hard hitter. From a distance, this synthetic leather knee-high boot looks like it's made of genuine distressed leather, and has a row of decorative buttons in the outer side for a tougher, military look. You can keep the top up so that it comes over your knee - which is great if you are wearing tights - or you can fold it over and assume the role of a battle-worn pirate captain. Either way, the Funtasma Gotham 120 is a great, uncomplicated choice of footwear for all of your needs.
Multi-purpose
As we already mentioned, the Funtasma Gotham 120 isn't a great choice for just a medieval look. This design is historically accurate for several time periods, from the Elizabethan era to sixteenth-century pirates, and even serves as an awesome addition to a steampunk outfit.
Hidden Zipper
Zippers didn't exist until the nineteenth century, but that doesn't mean we can't use them for our own convenience in recreating looks from the past. The zipper on the Funtasma Gotham 120 is hidden from sight in the inner side, making sure that your classical look isn't spoiled by a technological advancement uncharacteristic for sixteenth-century England.
Cost and Value
The Funtasma Gotham 120 is not an inexpensive design. However, we are in love with all the options it brings with it, the different ways it can be styled and how easily it fits with multiple period costumes. It is a solid boot, albeit without any special accents, but we feel quite worth its price.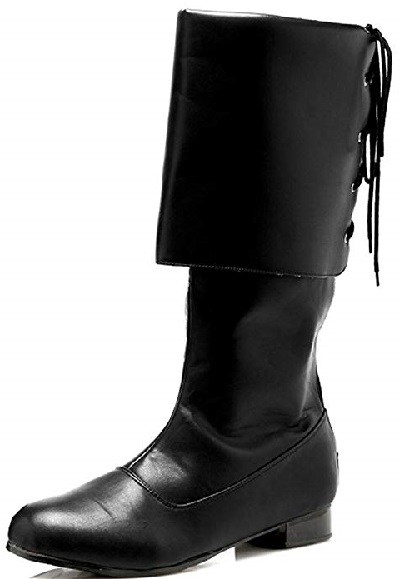 Now here is something for a medieval gentleman. The Ellie Shoes Sparrow is a knee-high boot made out of synthetic leather, though by its smooth, polished shine you would never be able to tell that it isn't genuine. It is a cuffed boot, minimalistic in appearance, with a heel approximately one inch high. There is a lacing detail in the back of the cuff, as well as a zipper closure for ease of access, hidden well underneath the fold-over. The Sparrow is ideal for pirate costumes, Elizabethan fairs and cosplays alike.
Heel
Flat soles might be comfortable for a while, but they also bring their fair share of foot ailments, such as arch and heel pain. This is why we love the fact that the Ellie Shoes Sparrow comes with a small heel. It is still comfortable to walk around in and it doesn't cause any major medical issues.
Lightweight
You might not think it when you first see the Ellie Shoes Sparrow, but this boot is actually quite light. Quite often wearing this type of footwear can be tiring and painful for your shins and knees, but none of this will be a problem with the Sparrow.
Cost and Value
The Ellie Shoes Sparrow is one of the least expensive models on our list. Visually, it is a great option for a medieval look, with its folded cuff and lacing decorations - however, its construction is not that great. We fear that if you intend to wear this boot for longer periods of time, it won't last very long - proportionally to its low price.

7

. Funtasma Carribean 299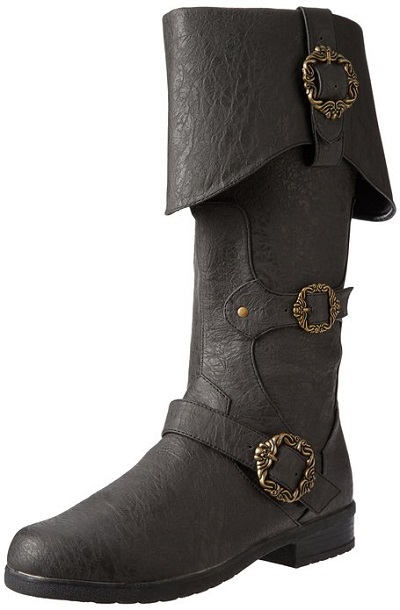 While it does invite images of big pirate vessels, skull and bone flags and treasure chests, the Funtasma Carribean 299 can also work very well for an Elizabethan look. It has a mid-calf, cuffed design with three buckle decorations which can be adjusted for a better fit. The shoe is entirely synthetic, although it appears as though it is made out of whale or shark skin. It has a heel of 1.25 inches and half an inch platform in the front. Its design is sturdy, rugged, one that reminds us of strong generals on the battlefields and capable military leaders.
Adjustable Straps
The three octopus-shaped buckles at the side of the Funtasma Carribean 299 are a great accent, but they are not there only for show. With these buckles, you can adjust the width of the straps quite a bit to get that perfect fit.
Flexible
The material of the Funtasma Carribean 299 is not too soft, but not too rigid, either. In fact, it has just the right amount of give to make you comfortable and help you wear these boots without the need to break them in first.
Cost and Value
Price-wise, the Funtasma Carribean 299 is leaning towards the high range. It is not too expensive, however, and we feel that its cost is more than appropriate for the solid quality of the construction and the detailed, elaborate design you get for it.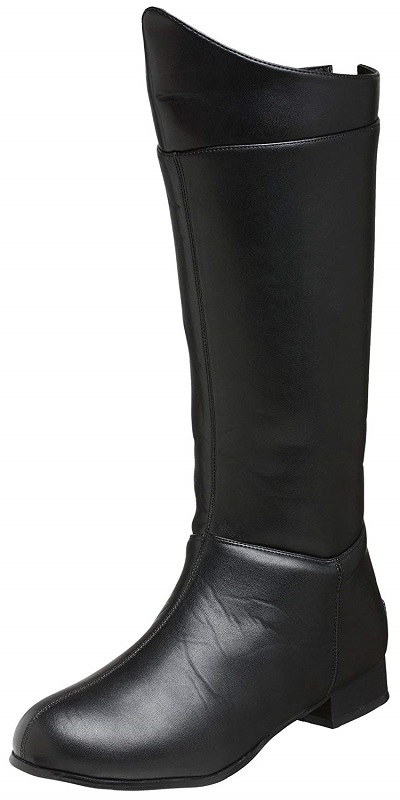 The Funtasma Hero 100 is a design which at a first glimpse doesn't look like a classical medieval boot. However, it is made out of synthetic leather which has a smooth, shiny finish, a rounded toe, and an asymmetric collar which works perfectly for a medieval look, especially one of a knight out of his armor, an army officer, or a nobleman about to embark on an extravagant hunting ride. The Hero 100 has a sixteen-inch tall shaft, a one-inch heel and a zipper in the back for easy entry.
Solid
The Funtasma Hero 100 is a very well-constructed design. You can wear it for as long as you'd like without worrying that something will tear, unglue or break - this solid boot will definitely last you for many seasons to come.
Perfect Fit
Even though it can't be adjusted, the width of the shaft of the Funtasma Hero 100 accommodates all calf sizes. Those who have thicker legs might need to wear thinner pants, but in general, this boot ensures a snug, comfortable fit.
Cost and Value
The Funtasma Hero 100 has a standard, middle-range price. It is a sturdy boot, one that is good for not only medieval looks but also for superhero and Jedi cosplays, and it won't fall apart in record time. If its sleek, polished appearance is what you're searching for, then look no further!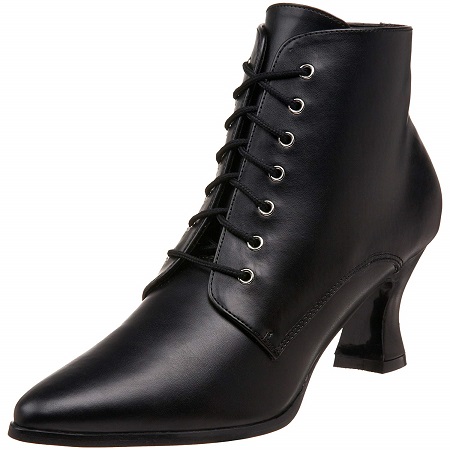 Sometimes a renaissance fair ensemble will call for a more aristocratic look. These ankle boots from Funtasma's Victorian series fit the bill perfectly, thanks to their leather-like synthetic upper and Modest 2.5" heel. These shoes will make you look and feel upper-class without burning a hole in your wallet.
2.5" Heel
Heels are not always the most practical of shoes, even if they are visually appealing. Fortunately, these boots are made with a 2.5" Heel, giving you a little extra height without being uncomfortable. The heel portion is also quite thick to assist with balance.
Rubber Outsole
Renaissance fairs are often rain or shine events, and your shoes ought to reflect that. This is where rubber outsoles come in. Rubber is the most common outsole material thanks to its durability and being inexpensive to produce, but it also comes with the added benefit of additional traction in poor conditions.
Cost and Value
While prices range depending on size and color options, these boots are right around mid-range. Where these shoes shine is their modest heel and sophisticated lace-up style, giving them an air of royalty without breaking the bank.

10

. Funtasma Robinhood 100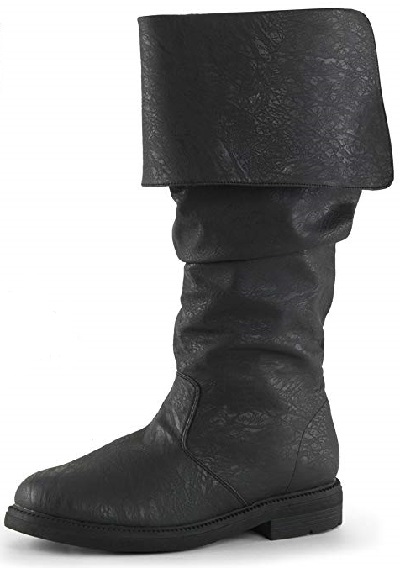 Chanel your inner outlaw with the Funtasma Robinhood 100. This simplistic knee-high boot has two color versions - the brown and the black - and there are also two ways you can wear it - either folded over for that confident buccaneer look or leaving the top up for a more sleek, aristocratic appearance. It is made out of synthetic materials, though the upper has the appearance of aged natural leather. The boot comes with a one-inch heel and, while it does look like a pull-on design from afar, it actually has a zipper closure in the side for an easier fit.
Versatility
We love that by getting one pair of shoes, with the Funtasma Robinhood 100 you actually get two! You can now vary your medieval looks and mix and match your costume pieces with both the cuffed and the uncuffed version of this versatile design.
Side Zipper
Not everyone has calves which are thin enough to fit into a pull-on boot. In the Funtasma Robinhood 100, there is a zipper in the inner side to allow all calf shapes and sizes to slide into this knee-high design.
Cost and Value
The Funtasma Robinhood 100 is a model which comes at a middle-range price. It is a decent medieval boot that you can wear in more ways than one, and we feel that you won't be disappointed by getting yourself a pair of these rebellious shoes.

Subscribe to our Newsletter