Best Harley Quinn Shoes Reviewed For Daddy's Little Monster
In a Hurry? Editors choice: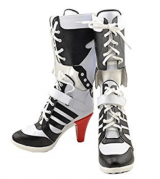 Test Winner: Chong Sheng Boots

Arguably the wildest of the Gotham City Sirens, Harley Quinn has become a household name for both her spunky personality and cute two-tone look. Introduced to us through Batman: The Animated Series, Harley Quinn has become a beloved character that is indispensable to the DC Universe. Sassy, but vulnerable, she has a look for every occasion with the moods to match.

Truly beauty and brains, before the Joker corrupted the latter, Harley is super flirtatious in both what she wears and the attitude she wears it with. From psychiatrist at Arkham Asylum to patient, a backstory like hers deserves some attention. If you want to dress like an iconic villain with a twisted history, while looking good doing it, she is most definitely your girl.

The options are endless, plus, since the character has undergone multiple outfit overhauls, you can find a Harley to fit your tastes. Then all you have to do is practice her accent, and maybe find a Puddin' to tag along on your Arkham adventures!
Standout Picks
Criteria Used for Evaluation
Comfort
While we have picked for streetwear and cosplay, we want everything you wear to be ultra comfortable. Most people who have a love affair with Harley Quinn are committed to the character, and extremely likely to have a recurring date with dressing up as Dr. Quinzel herself. So for them, we require each choice to be comfortable enough to wear for long periods of time.
If you are cosplaying on a convention floor, you will be hounded for pictures. Whether they be ensemble photos when you find your Joker counterpart, or a sick battle scene of you challenging Batman himself. We want you to have fun, and it is hard to have fun if your feet feel miserable.
The solution is simple, harlequin style shoes that you'll love wearing as much as you love the shoe itself. With padded insoles, platforms to lessen heel height, and sturdy soles, you won't be dying to leave the costume party early or dreading heading out to explore your favorite convention. Really, that is all anyone can ask from the footwear that completes their ensemble.
Accuracy
If no one knows who you're cosplaying, what is the point, anyway? There are a few officially licensed products here. DC having their hands in the pot when designing these shoes means accuracy.
Harley has a ton of signature looks, and you want to make sure you get them right whichever ones you choose. Let's make that happen. We rated accuracy in a few ways.
One is in terms of recognizability to the character herself. Classic diamonds? Check. Spot on color schemes? Check. A style that fits every adaptation? Check.
Sometimes the shoes make the outfit. If you are looking to really tie a look together from the feet up, there are great options here for you. You don't want to be mistaken for just any old court jester, so let's make sure you're putting that best clown foot forward!
Color
Quinn is a style icon, whether she is sane enough to realize that or not. What is the most recognizable thing about her though? Yep, you called it, her color scheme.
From the black, white, red, and blue suicide squad Quinn, all the way to her OG red and black, colors are key. There is a pair of shoes or booties for every imagining of our favorite girl. If you choose her original look? We have you covered.
If you want a more graphic novel style, the white and black boots from Funtasm are the perfect fit. The flat tricolor, high rise boots on this list are perfect for a Gotham Sirens Cosplay, accompanied by your main squeeze Poison Ivy, and the dangerous Catwoman. Colors count here, and if you want to mix it up as a different Harley at every event, we want to make that possible.
A basic black combat boot is perfect for the punky skintight blood red and black Harley. In her tough girl vest and darkest color scheme of all, you won't be left in the dust in not finding a shoe to fit which version you love the most. Every color combo she has ever worn is here, for your convenience.
Style
Harley Quinn might be a little off her rocker, that much is true. What is undeniable still is that the girl can DRESS. Always to the nines, our girl loves turning heads and flirting up a storm. Your footwear should reflect the character you're wearing it for, so we kept her spunk in mind.
From the flirtiest of cutouts on the Chong Sheng Boots to the absolutely adorable black and red Ellie Shoes booties, Harley may be laughing, but this style is no joke. The heeled options here are beautiful regardless of the nod to our Arkham cutie.
The DC Comics slip-on, and Bioworld flats are hot street-wear options, even if not in full costume. The Converse All Stars can be rocked in plain clothes or jumpsuit. We want styles that are sexy, wearable, and downright to die for. It is plain to see what is lovable about these choices, you definitely won't feel trapped once you've committed to one of these pairs.
Versatility
As you have probably noticed by now, I am a little infatuated with this character, so I personally wanted to make sure our list catered to the unique Harleys in us all. There are a lot of Harleys, according to the Joker even, who claims she is one of many sidekicks he has tricked into loving him over the years. For all intents and purposes, we want to recognize each unique imagining of her character.
From the DC Comics where she is dark, playful, and slightly damaged, we have neutral options such as the Daily Shoes and Converse picks. Batman: The Animated Series had its own Harley. In a full-blown jester costume, and the Ellie Shoes booties are as close as you get to her footwear. Suicide Squad dressed her up in short shorts, bedazzled dresses, and high heeled boots. Multiple picks are near replicas to her big screen feature.
Then for those who want to create a Harley all their own, we have the Padgene Wedge, which is edgy and comfortable, and perfect for a teen Harley look. The deep red Shenn combat option could be for a decidedly goth Quinn, skull adorning the heel for that extra oomph. Not to mention, if you're anything like me, these shoes will fit right into our wardrobe.
Top 10 Picks
1

. Funtasma by Pleaser Referee-125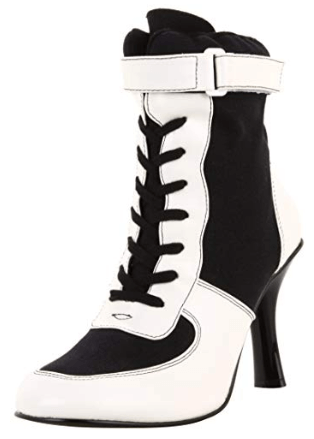 Pleaser, a Southern California company established in 1993, has paved the way for edgy, sexy, unique shoes. From their creepers to their ballerina spikes, they have items for dancers, clubbers, cosplayers, and everyone in between. Super-inclusive and dedicated to providing a product worth loving, Pleaser has multiple iconic brands that specialize in a vast array of styles. Funtasma is known for cosplay wear and thematically inspired options, and this Referee-125 calls to the edgy, alluring Harley we have seen in recent years.
The Referee 125 by Funtasma is vegan-friendly and has a 3.75-inch heel. The material is soft and plush and will feel great all night. The heel is a bit high, but Pleaser has long had a foot up on the competition if you will, when it comes to heels that can be worn for extended periods of time. Their brand wants every pair to prescribe to fashion and function, and once you lace these babies on, you'll feel the difference.
This black matte and white leather option tend to be a bit more expensive than a throwaway event shoe, but that is because they are much more than that. The bottoms are padded and ultra comfortable, and the black and white style is subtle enough to wear costume or not. Sharp black contrast stitching on the white faux leather makes for a sleek upper. Flared out heels add a bit more balance to this trendy style.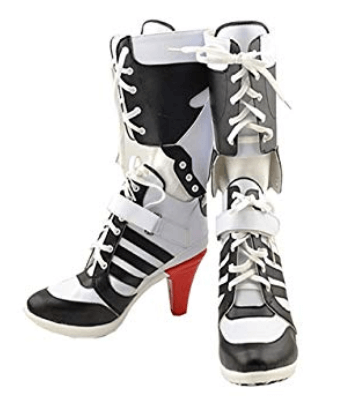 This seller gets their name from a manga, so you know these fans will treat their fellow fans right. This look is more modern day Harley, and closely resembles her boots worn in Suicide Squad. With a shin guard revealing a peekaboo cutout, as well as several fine details, these boots are spot on to the edgy Harley we love.
With a thick heel in a devilish red color, this boot has the potential to wear going out in a cosplay or wearing with a fashion-forward ensemble. Comfortable despite their height, these will treat your feet right for hours, fit for venturing around all corners of the Comicon floor, or a costume party that goes well into the wee hours of the morning.
A near replica to the shoes worn in Suicide Squad, it would be exceedingly difficult to even notice the slight differences if you're all done up as the harlequin queen herself. A little pricey for a one-time wear costume, depending on your budget, for synthetic boots, these would still be considered low price. Handmade detailing is in every pair, and quality assurance guarantees a solution if there are any issues with this gorgeous design.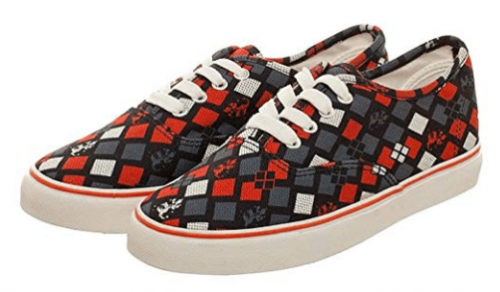 While many brands churn out topical products when the mood strikes, Bioworld specializes in pop culture references and products that put a unique spin on your favorite fandom. Creating all licensed apparel, anyone who purchases from Bioworld is supporting the characters and franchises they love the most. With over 120 designers whose biggest goal is to deliver products as distinct as the inspiration for them, Bioworld is in a realm of its own.
The Lo Pros have that distinct, laid-back feel of a leisure sneaker, but with a print of harlequin diamonds. In red and black, this cute sneaker pays homage to Harley no matter how you want to wear them, as an accent to your basic streetwear or to top off a fantasy outfit. Official DC licensing means that this is an official Harley Quinn product, and the authenticity of design shows.
With a durable vulcanized rubber sole and thick canvas upper, these sneakers will help you show off your DC love for years to come. White painted metal eyelets adorn the shoe with a short lace-up section but secure fit. As an official product, these sneaks are extremely affordable and are a great addition to jazz up any wardrobe. Extra thick padding makes this shoe ultra comfy for seeing your favorite band or going to a museum, definitely a shoe for a day on the town.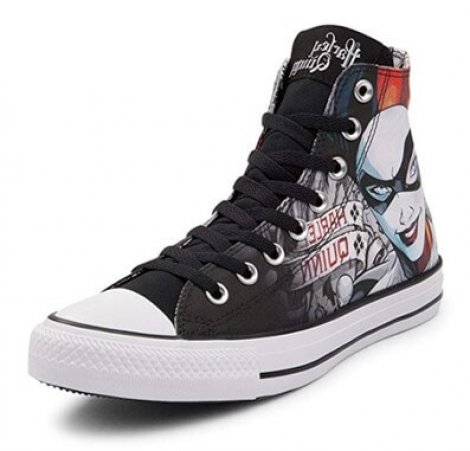 These hi-tops will have you sporting your favorite DC characters, hero or villain, including the lovely Harley Quinn. With all the quality and comfort you'd expect from Converse brand, this pair sports Harley Quinn print from the outside around the heel to the instep of the sneaker. Tagged with Harley Quinn on the tongue, it flaunts the dark Gotham spirit and mischievous nature you'd expect from her!
Rubber sole on this hi-top will keep you comfortable and provides good traction. Typical Converse design keeps the white toe cap, and long lace up closure as many of their hi-tops have. Canvas uppers keep it breathable for summer time heat, and a foam padded insole provides ample cushion for extended wear.
The Harley Quinn print wraps around the outside of the shoe, providing onlookers with a smirking profile of Harley, and on to the back of the heel and instep. Along the instep is another image of Harley, in an acrobatic handstand pose, ready to flip her way out of trouble. All and all, this shoe embodies the character in her best!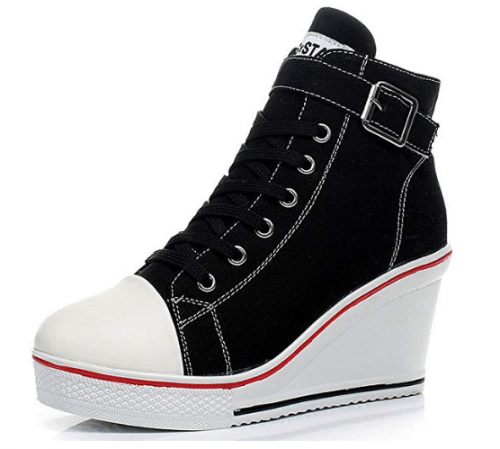 Padgene is a company that mostly specializes in technology and technology accessories, but they bring their same commitment to customers and product consistency to their foray into clothing. Rich product assortment and multinational e-commerce experience has allowed Padgene to grow to meet customer demand, and bring their innovative products and strategies to their consumer's doors at affordable prices. This wedge is a playful, nontraditional Harley Style that can add an urban flair to your costume.
With an all-star look and sporty style, this wedge, in red, black, or white, can perfectly finish off your favorite Harley outfit. This wedge has a canvas upper that looks like a sneaker but with a whole lot more edge. Made with cattle hide and canvas, these are breathable and soft, so no breaking in required, and you can wear them comfortably straight out of the box. The rubber sole is skid proof and high but platformed to still have a sturdy feel.
This slick design has both an inner zipper, and functional lacing, which gives the wearer a more customized fit and allows to adjust a bit for the width of foot and instep. The wedge has a perfect arch to provide some support for even the pickiest wearers. At a low price, these cute shoes are a great choice for every day as well as a costume, and they are cool enough to work with so many different styles. Their buckle around the ankle gives a little extra oomph to this style.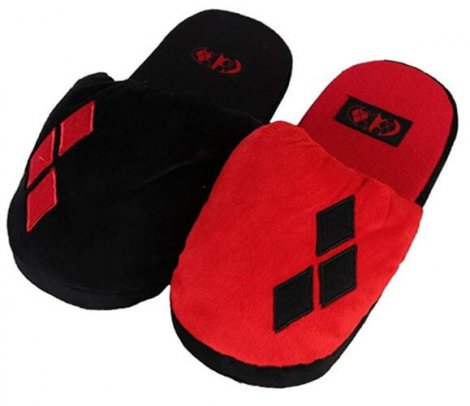 Now who says that our beloved Harley Quinn doesn't deserve some down time to relax? These Concept One Harley Quinn slippers will have you kicking back turning on Suicide Squad or relaxing with DC comics. A combination of polyester and other man made material keep this slipper feeling plush and soft during wear. After a long day of causing trouble on the job, they're the best option to relax in while admiring your handiwork.
These plush slippers come with triple diamond emblems on each slipper, as well as on the heel. Slip on style makes them easy to slide right into, and the plush soft feel will leave your feet feeling cozy. One slipper feature contrasting black base with red emblems, and the other keeps a red base with black emblem, typical of Harley Quinn's unique style.
If you're in search of a great pair of slippers that flaunts your love of Harley Quinn, look no further! These plush, soft, slippers are officially licensed, and super comfortable after a long day at the office. Rubber non slip soles help make these tractionable, and even suited for some gentle outdoor use.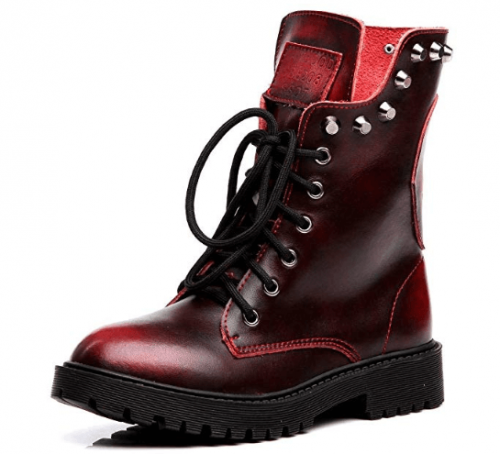 Shenn wants everyone to be able to be themselves. Step one in that process, offering uniquely gorgeous styles that bring out your independence with every outfit. Sourcing fabric from all over the world, Shenn wants to give you pieces you'll love. Hoping they make something that will become a closet staple for you. Harley herself would gush over these burgundy boots with studded detail. This combat style is absolutely made for a punk Harley cosplay, and these tough chick boots can be styled any which way to give you whatever final product you desire.
First, we need to talk about the amazing stitched detail on these beauties. The back of each boot has a skull pattern made from the same vegan leather as the boot itself. They definitely add even more attitude to an already sick design. The studs around the top opening are subtle but eye catching, and make for an unforgettable silhouette for the wearer.
These military style boots are equipped with an all terrain sole. That means these lovely combat boots are completely slip resistant. The vegan leather is extremely durable, and gives the appearance of genuine leather with none of the guilt. You can't find a boot like this for a better price, and that is in part due to its material. These are really gorgeous, and will perfectly accent your cosplay harlequin look, but are just as wearable anywhere else. For the price, you will get a long lasting addition to your closet that you won't regret.

8

. Ellie Shoes Quinn Boot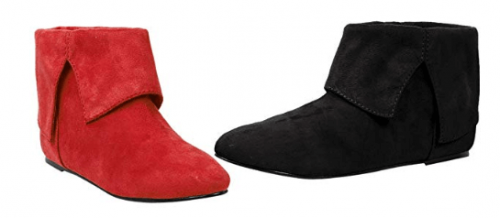 18 years ago, Ellie Shoes was founded by Ellen Renger with a special focus on sexy styles, and bedroom options, for ladies. Halloween heavily inspired the family owned and operated brand to expand to create thematic options for the rising popularity of enticing Halloween outfits. They have since expanded to offer both children's and men's options, especially in their Halloween collections. Ellie is a fun, current brand that really goes out of their way to offer something different, and tries to closely match iconic costumes being manufactured for a seamless result.
Anyone who is a fan of Harley Quinn at her inception knows her classic harlequin style. Skin tight, and split between red and black, her jester inspired jumpsuit is as fun as it is comfy and easy to pull off. These boots are made for just that. One red and one black, these are nearly identical to the earliest outfit of the DC villainess, and will effortlessly top off your costume or cosplay. These cute ankle boots are made of suede and have a velvety soft appearance, as well as the ability to keep you warm regardless of what weather you're dressing up in.
These classic jester style sneakers will be your new favorite cosplay item. Sweet but sassy, a perfect ode to the first Harley to ever exist. These are comfortable and slip on, so they are easy to wear, and they are affordable enough to serve a one night only wear. This relieves some of the guilt that can be associated with purchasing for a specific outfit! After putting these on, you will probably want to find an opportunity to wear them again anyway.

9

. Pleaser Victorian-120 Boot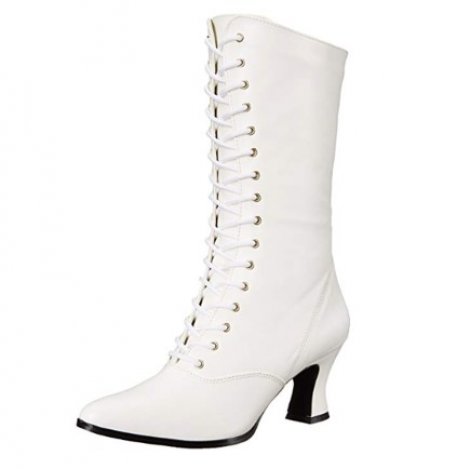 Every now and again, we catch Harley Quinn in an outfit that surprises us. Her typical dress style utilizes reds, blacks, and blues, most times in different stripes or playing card emblems. This boot by Pleaser brings a little bit of a different style to the table. Pair them with ripped fishnet stockings and shorts for a Harley Quinn look, or even add your own diamond emblems at the top for a bit of flair.
The Victorian-120 by Pleaser features a short, stacked heel, wide enough to give ample balance and stability. A slightly pointed toe gives the boots a nice structure, while a long lace up closure to mid calf gives them that Gotham feel. An inside zip allows you to lace up to your comfort, and then makes it easy to get in and out of the boot.
The toe cap of this boot shows delicate stitching, and a black synthetic sole helps to keep you stable. Heel measures 2 ¾ inches, keeping them comfortable for longer periods of wear. And, if white doesn't suit your Harley Quinn style, the boot also comes in brown and black colors!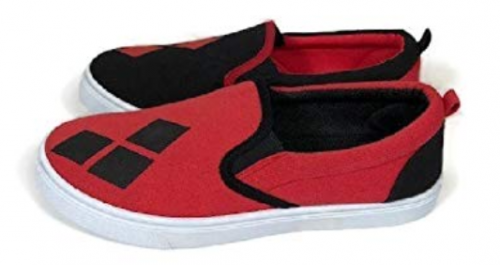 A product from the creators themselves, DC made this adorable slip-on with the fan in mind. DC is obviously frontrunners in DC themed products, and this pair is no exception. With iconic characters that are embodied in every accessory produced, few can do the Harley Quinn look better than these guys. For the comic lover and the style lover, these sweet slips are super fun for an event or casual wear.
The screen-printed three diamond pattern that we love to see on Harley Quinn comes to live with these slip-ons. While they don't fit a specifically cosplay, these can be worn to a unique take on the classic character. These would probably do best with the first wave jumpsuit Harley, but however, you wanna show your fan status would definitely work beautifully. There are padded and cushioned for the wearer, and are easy to get on and off, making this one of the more effortless shoes on the list.
Harley fans will gush over this precious pair, and the official licensing makes them a genuine souvenir for your love of this Arkham Siren. With pricing so low that it is almost unbelievable, this item is a great way to casually get into geek gear, or for an easy last minute outfit or cosplay.

Subscribe to our Newsletter