Best Funky Shoes For Retro Vibes Reviewed
In a Hurry? Editors choice: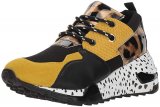 Test Winner: Steve Madden Cliff

There comes a time when we all want to break out of our bonds a little. We get tired of the same old designs, silhouettes, the same sensible colors which go well with everything. Perhaps you wish to refresh your personal style a little, to reinvent yourself and present a new image of yourself to the world. What better way to achieve that than to indulge in a pair of funky shoes? Indeed, why not reach for a design that doesn't conform to fashion rules, that stands out either in terms of construction or color, or both? If you're the type of person who wishes for something bold, something that will draw attention and make you fearless in your style, then a quirky footwear design is just the right way to go.
Standout Picks
Criteria Used for Evaluation
Upper
The entire point of this guide was to look for footwear that is unusual in some way. We looked for funky shoes which are outside the norm, which make us keep glancing their way, thinking wow those are some shoes. This funky element can be achieved in two most common ways: through color and through construction.

Unorthodox color is probably the easiest to achieve. Manufacturers take a regular design, one which we know and love, such as the Crocs Clog for example, and infuse it with vibrancy, with loud, bold hues that demand attention. This is also the case with the Sam Edelman Loraine, the Steve Madden Cliff, and the Birkenstock Arizona, among others - all of these funky shoes can also be found in regular color variations, aside from these crazier ones.

When it comes to wackiness in terms of construction, that is where things get a little trickier: never-before-seen silhouettes are hard to come up with, mostly because almost everything has already been done before. Original ideas are few and far between - leading footwear manufacturers know how to recognize them and use them to their advantage, and as a consequence, this originality carries great value.

Designs which are funky in construction are those such as the Dr. Martens Jadon and the Calvin Klein Fernanda. These funky shoes come with an unexpected silhouette that we might not have encountered before, and they pique our interest, make us wonder how this shoe was built, who made it, and where we can get one of those, too.

The purpose of footwear like this, which is unconventional either in color or in construction, or both, is to freshen your looks up a bit. It is meant to revamp your style, to help you express your quirky personality, and to make everyone around you smiles when they see how daring you are in embracing new and innovative footwear choices!
Comfort
Having a pair of funky shoes is all nice and dandy. It may find a special place in your heart, and you may find a place for it in your wardrobe, but what happens if it's uncomfortable? What if your beloved new footwear choice pinches your toes or has a seam which digs into the side of your foot, or causes blisters?

This is why we put just as much emphasis on the comfort of a design as we do on how wacky it is.

There are several different things you should be looking at, when you're in the process of figuring out if a pair of funky shoes is comfortable for you or not.

Footbed
The footbed is arguably the most important part when it comes to footwear comfort. It can be cushioned, either with memory foam or EVA or a similar type of material, and like that it provides cloud-like comfort to your steps, as well as shock absorption. Shock or impact absorption is necessary to protect your joints from too much impact force when you strike the ground with your heel. This type of force can cause long-term damage to your ankle, knee and even hip, and a cushioned footbed helps distribute it evenly through the shoe, preventing the damage.
Another feature that a footbed can have are contours, or molds. This we see most prominently in the Birkenstock Arizona Papillio, which is famous for the contours in its footbed. This type of comfort ensures that your foot is gently cradled within a shoe, and that it is supported from all sides as you walk.
Something that should also be mentioned in relation to a contoured footbed is that it can also have arch support, which is another amazing feature. Arch support reduces foot fatigue when you want to cover long distances on foot, and it also helps prevent medical ailments such as flatfoot.
Materials
The reason materials are important when it comes to comfort is because they come in contact with your foot, or even your skin if you are not wearing any socks. If the material isn't suitable, it can rub you the wrong way, cause chafing, abrasions and blisters, and overall provide quite a painful experience.
If you want to avoid these unpleasantries, something as soft and as malleable as leather or suede would be the best option. Genuine is better, but there are examples of synthetic leather which is just as comfortable, like in the Birkenstock Arizona. Lightweight materials, such as canvas, textile and mesh are also good choices for your funky shoes, since they are gentle on the skin and don't cause any friction.
Heel
Finally, since a few of our funky shoes have high heels, we feel the need to mention this aspect in relation to comfort. Heels make us look elegant and elongate our figure, but they are also not very comfortable to wear for longer periods of time. However, there are things you can keep in mind when you're choosing the best heel for yourself.
Firstly, go for heels which are thick and chunky in shape. These provide stability and a good foundation for your steps, reducing your chances of stumbling and falling. The second aspect is that, if you want that all-day wearability, you should opt for heels which are three inches or lower in height. These don't put too much strain on the front of your foot, and enable you to remain standing (and walking, and even dancing) for longer. Heels which are four inches and higher, and especially stiletto in shape, cause pain within the first two hours of wearing.
Style
As you undoubtedly noticed while going through our list, there is no shortage of different styles when it comes to funky shoes. We have boots (the Ariat Fatbaby, the Dr. Martens Jadon), sandals (the Jessica Simpson Joselle, the Birkenstock Papillio Arizona), sneakers (the Steve Madden Cliff), and chic, business-appropriate flats such as the Calvin Klein Fernanda and the Sam Edelman Lorain.

We also included a water shoe (the Crocs Clog) and a Mary Jane (the T.U.K. design). There is literally a pair of funky shoes out there for everyone!

Which begs the question: how to choose the right one?

Fortunately, this comes with an easy answer. All you have to do is to think about what the purpose of this footwear will be. Where will you wear it? To work? To the beach? For a casual shopping trip with your friends? On a date night out?

Wherever you're going, make sure to keep in mind the potential dress code of the place, as well as your level of activity, and to put together an outfit accordingly. If your workplace is strict, perhaps open toes are not the best idea; if you want to be comfortable, choose flats instead of heels; if you're going to spend time in wet conditions, definitely choose water-friendly footwear.

The second thing you should take into account when shopping for funky shoes is what the season is. If you are looking at colder months ahead of you, those which will be filled with rain or even snow, then boots are the way to go. Especially the Dr. Martens Jadon which will keep you dry in the worst of rain showers.

But if you're in the middle of a sweltering summer, then definitely reach for open toe funky shoes, for maximum exposure of the foot. When you're wearing confining footwear in hot and humid climates, you're running the risk of developing bacterial or fungi infections. Lightweight, breathable and open footwear is what you need to prevent this and have happy feet all summer long.

Lastly, after considering the purpose of the design and in what period of time you will be wearing it, don't forget to match the style of the option with your own personal style. Think about what you have in your wardrobe, and match the new pair of shoes accordingly. Even if you are going for more eccentric than your usual choices - it is still important to stay true to yourself and to put together an outfit that is well-balanced between standard and funky.
Versatility
When you have footwear that is all sorts of interesting and fun to wear, you are probably going to want to wear it anywhere you can, no? And we can't blame you - when we're in love with something, we want to have it with us as much as possible, and a great pair of shoes is no exception.

Versatility is thus another quality that we looked for in the funky shoes on this list. We wanted to make sure that you can enjoy your new shoes whenever and wherever you can, which is why we rated all of the designs according to this characteristic.

It is no surprise that the Steve Madden Cliff is the one which came out on top. Sneakers are ever the ubiquitous style, which you can easily match with any type of outfit - jeans, shorts, skirts or dresses - you name it! Sneakers work for practically any event, from the most relaxed of weekends all the way to an important business meeting, if it is a dress sneaker style.

Casual, laid-back designs like the Cliff, like the Birkenstock Arizona, the Sam Edelman Loraine, the Dr. Martens Jadon, are usually the types of funky shoes which are more versatile than those clearly constructed for special occasions. These options are comfortable and can be worn in most situations, with most outfit combinations.

Less versatile is the Jessica Simpson Joselle. Its sexy, open style as well as its high heel don't make it so practical for everyday wear, and you'd most likely enjoy this heel better in a fancy, party setting.

Of course it is a given that versatility, as many other criteria here, is a subjective matter. Nothing should stop you from wearing the funky shoes you want on an occasion you want to wear it on, as long as it is appropriate and won't get you sent home from school or something similar. We encourage you to experiment, to push the boundaries a little, and to learn which footwear styles work best in which situations.
Durability
As the last part of our Criteria section, we feel that it is necessary to explain a bit more about what makes a pair of funky shoes durable. Why do some items last longer than others? Is there anything that you can do to increase the lifespan of your shoe?

Durability depends on several factors: the type of materials a design is made of, the methods used in its construction, as well as how frequently you're wearing it and how hard you're being on your footwear.

Generally speaking, natural materials such as leather and suede are quite durable. They require a bit of care in the form of cleaning and conditioning, but footwear made out of these materials can last up to a decade.

Synthetic options, such as faux leather and suede, vary in durability. The Birkenstock Arizona, for example, is a very durable synthetic leather option, while most others are not, and are prone to creasing and flaking which no amount of conditioning could repair.

Lightweight materials, like canvas and textile, are even less durable; they fray easily, and tend to lose their form over time. In contrast, rubber and Croslite are extremely long lasting, and this is why rubber boots and Crocs remain in good shape for years.

Given that none of the funky shoes in our guide are meant for high-impact sports, you don't have to worry about them wearing out too quickly. With regular wear, these options will last for a decent amount of time, especially those made from genuine leather. Don't be afraid to use the most out of your refreshingly unique footwear! A shoe gets damaged sooner or later, there is no way around that, and you should enjoy it as much as you can before that happens.
Top 10 Funky Shoes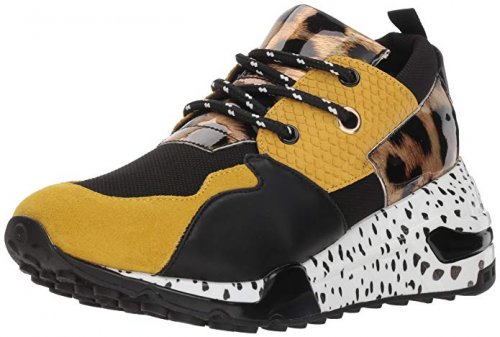 Even at first glance, it is obvious that the Steve Madden Cliff is one wacky sneaker. This designer does not shy away from experimenting, from combining classic with trendy and bold, as evidenced by this unusual pair of funky shoes. The Cliff features at least two different prints and two colors, which sounds like it would be over the top, but it surprisingly works very well for this design.
These funky shoes are made from a combination of genuine leather, fabric and synthetic leather, depending on the color option you go for. It has a lace-up closure at the front for maximum adjustability and a soft twill fabric lining on the inside which doesn't cause any chafing or blisters.

The Cliff comes with a bit of a platform sole, with a 2.5-inch heel in the back and a half an inch platform in the front, for a slightly elevated yet still comfortable ride. There is a rubber sole on the bottom which provides traction on a multitude of surfaces.

This pair of funky shoes is definitely not meant for those who just want to blend in. The Steve Madden Cliff is a daring mixture of prints and color blocking, one which will definitely draw attention to itself wherever you go. But! Seeing as the purpose of unconventional designs is just that - to shake things up a bit, we feel like the Cliff is a great choice for that.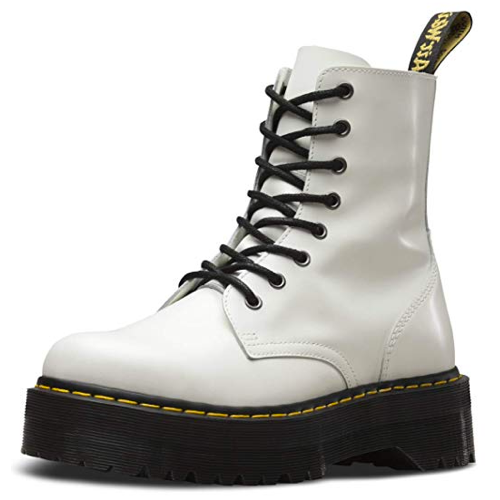 The Jadon by Dr. Martens is definitely the pair of funky shoes you want to go with if you want to stand out, without losing out on comfort and practicality. Inspired by the original 8-eye Doc Martens boot, this model adds a chunky 1 ¾ inch platform for a look that's sure to catch everyone's eye. It can be purchased in a couple of color options, including classic black, but our top pick definitely has to be the white version which will go perfectly with your retro outfit.
The upper of these funky shoes is made from smooth polished leather which is very durable and which both looks and feels premium. It features an 8-eye classic lace up closure, but the inside of each boot has an added zipper closure for easy on and off. The back of the heel sports the recognizable Dr. Martens pull tab, and the lining uses a combination of leather and textile for a breathable and comfortable wearing experience.
The sole portion of these funky shoes utilizes the air cushioned rubber unit which made Dr. Martens boots famous. Not only is it one of the most comfortable soles you can get in a pair of boots, but it's also oil, fat, slip and abrasion resistant for secure footing anywhere you're headed. As for cost association, these funky shoes cost more than the average pair of footwear listed in this guide, but considering the fact that they'll last you for years, it's an investment worth making.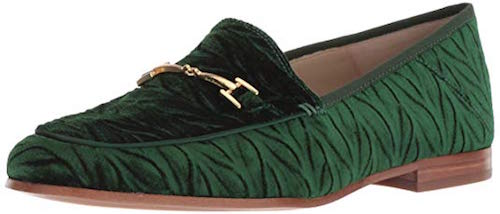 Very few pairs of footwear bring the same level of sophistication to the table as a bit loafer. The Loraine by Sam Edelman is probably the best choice you can make when you're after funky shoes that are also elegant, and that can be toned down by making a few simple adjustments to your outfit. It's a model that comes in a huge variety of prints and colors, from classic black leather, to silver versions, to suede, patent, snake and plaid. But, if it really is funky shoes you're after, you will not want to miss the velvet edition of these loafers.
There are a few color options for this pair of funky shoes when it comes to velvet uppers - you can choose from black, buffalo brown, emerald smock or paprika. The textile upper will ensure a soft feeling over the foot that'll break in quickly, and the leather lining will provide air flow and breathability which are essential in any pair of closed toe shoes.
The footbed of these funky shoes is padded for maximum comfort, with a .5 inch heel which ensures an optimal heel to toe difference. The almond toe provides a good amount of space in the forefoot, and the synthetic sole is flexible and lightweight, although it won't provide much in terms of surface grip. The price of these funky shoes is slightly above average, but not too expensive, making them an excellent choice for those who want something retro inspired, that will still fit right in in a contemporary setting.



While most of the funky shoes on this list are categorized as such because of their wild color or print, the Fernanda is that due to its unusual silhouette. Calvin Klein is all about minimalism and simple beauty, which is what we can see in the Fernanda, but we can also see a construction that is not often found in any type of footwear.
This is a sandal made entirely out of genuine leather. It features a two-part upper in neutral, earthy colors combined with a snakeskin pattern. There is a thin strap around the ankle, with a buckle closure which you can customize to a width that you like. Other than this business chic version, this pair of funky shoes also comes in black, and white/yellow color combinations.

In terms of comfort, the Calvin Klein Fernanda has a lightly padded footbed for that all-day wearability and a low, square heel of about one inch in height. The rubber sole on the bottom ensures that you remain well-balanced no matter what surface you find yourself on.

While this pair of funky shoes does belong in the open toe category, we feel like this is a sufficiently covered design to be appropriate for wearing around the office. It is anything but standard, and it will serve as a great way to elevate both your business and your party looks while keeping you comfortable at the same time.

5

. T. U. K. Kitty Anarchic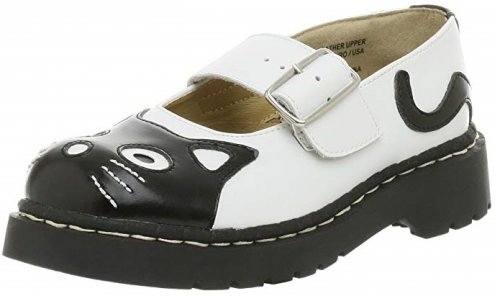 At a first glance, the T. U. K. Kitty Anarchic may seem like a kid's shoe. And it does have features that a nice kid's shoe would have - a comfy round toe, a wide strap across the instep, an overlay of a cartoon kitty at the front and its cute tail in the back. However, the Kitty Anarchic is not a kid's option, and now you can too enjoy this quite unusual feline pair of funky shoes!
This Mary Jane is made from genuine leather for a smooth, breathable experience. It has overlays with a cat theme both at the front and at the back and a polyurethane lining inside. There is a wide strap across the instep of these funky shoes, with a silver-toned buckle that you can adjust to however tight or loose you'd like it to be.

The Kitty Anarchic provides an elevation in height as well, with a one and a half inch heel and a one-inch platform to make prowling more fun! The outsole is made out of rubber, with a playful pattern which makes sure that you don't slip or skid on any type of surface.

While the T. U. K. Kitty Anarchic can easily be interpreted as childish, there is also something undeniably grunge about this almost-creeper. It is dark, but also adorable, and if that is your aesthetic and you are finding it hard to dig up footwear that matches it - we are glad to say that your search is over! Slip on the Kitty Anarchic to be both rebellious and deceptively sweet at the same time!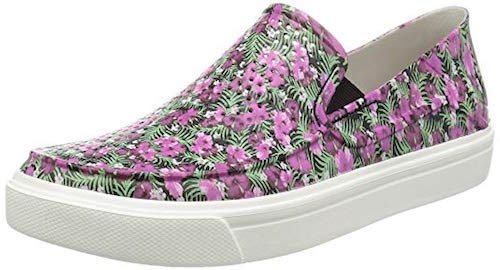 This pair of slip ons is perfect for those looking for funky shoes that aren't too loud. Designed by Crocs to offer users a mix between the comfort provided by their clogs, and the aesthetic and functional features of slip on sneakers, this is a model you can comfortably wear around town without worrying about whether you're making a fashion faux pas. These vintage inspired shoes come in a couple of color options, including navy and black, but our favorites definitely have to be the printed floral designs that add a bit of funk to standard footwear.
The uppers of these funky shoes are made from a perforated foam material called Matlite. This is a soft material that doesn't irritate the skin, and the perforations ensure breathability as well as moisture control. Each shoe has two elastic gore panels for easy on and off, as well as to ensure you're getting the best fit without any pressure on the instep.
The sole of these slip ons is made with Croslite, the material that made Crocs a household name. These funky shoes offer a great amount of cushioning that doesn't flatten with wear, and which supports the foot in key areas such as the arch and heel. The traction pattern on the bottom is highly efficient on all surfaces, and you'll find that these shoes are incredibly easy to clean. As for cost association, these rank average compared to the other funky shoes listed, so if you're looking for something that fits this look, the Crocs CitiLane Roka may just be the perfect choice.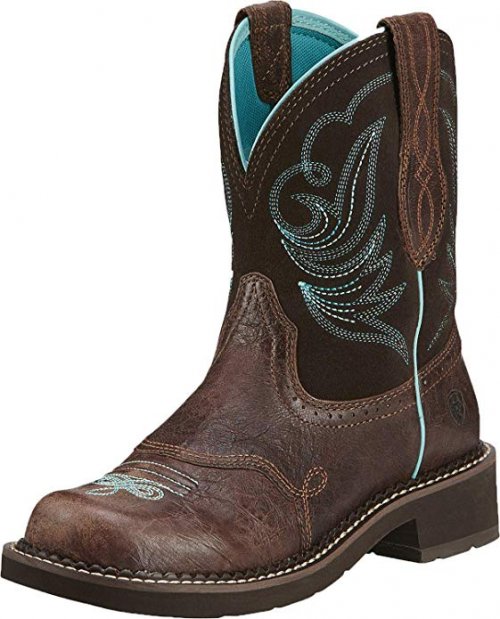 Ariat is a brand dedicated to equestrian athletes. It focuses on technology and innovation to deliver balanced, high-quality footwear and apparel for this noble sport. The Ariat Fatbaby is one of their bestselling funky shoes, a cowboy boot which outdoes itself in terms of design. We attribute its funkiness to the intricate stitching detailing all over the upper which immediately catches the eye with its bright blue color.
The Ariat Fatbaby is made from leather for both the upper and the outsole. It has that classic western style which is great for a fun day out, and it also comes with a special comfort system that is unique to this brand. Namely, the Fatbaby has a 4LR footbed with four layers, a stabilizing lightweight shank, and which provides all-day comfort and performance.

On the bottom of this pair of funky shoes, there is an Everlon outsole. It combines the cushioning effect of EVA with wear resistance of rubber for a flexible, lightweight experience that doesn't suffer from compression over time. Despite the fact that Ariat is famous for equestrian designs, the Ariat Fatbaby is not approved for horseback riding.

However, just because you can't take these funky shoes out on the saddle, doesn't mean that you can't enjoy them for your other casual outings. The Ariat Fatbaby breathes that western appeal into your looks, and you will easily pair it with jeans and a denim shirt. Why not even go all out and get a cowboy hat as well, for a full-on western adventure!

8

. Birkenstock Arizona Papillio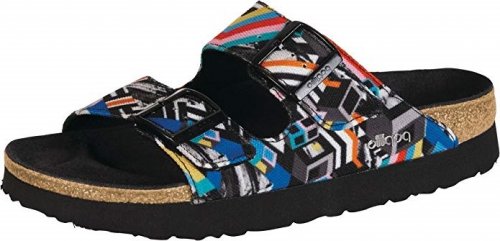 You have probably heard of Birkenstock, a German footwear manufacturer that has been in operation for almost 250 years! Their trademarked sandal is recognized everywhere in the world and widely lauded as one of the most comfortable footwear styles in existence. The same is true for the Arizona Papillio, a version of the famous sandal that is a bit more colorful than usual.
While Birkenstocks come in a great number of colors and patterns, this pair of funky shoes doesn't hold anything back with its vibrant print of geometric shapes and vivid colors. This sandal has an upper made from Birko-Flor, which is a Birkenstock patented synthetic leather. It is gentle on the skin and very easy to clean with only a damp cloth.

We are also in love with the two straps with buckle closures which you can adjust to fit you the way you'd like.

The best feature of this pair of funky shoes, however, is its footbed. This is where centuries of honing the craft of footwear production come into play. The Birkenstock Arizona Papillio has a cork footbed, anatomically molded to fit the contours of your foot sole. Cork is a wonderfully pliable and moisture-wicking material; it needs a little bit of break-in time, but once it takes the shape of your foot, you won't know a more comfortable sandal.

The Birkenstock Arizona is a legendary design. It is not the most fashion-forward, that is true, but there is something endearing in its practical style, that makes countless fashion bloggers flock to this sandal. You can try it out as well, to see what the fuss is all about. We promise that you won't regret it.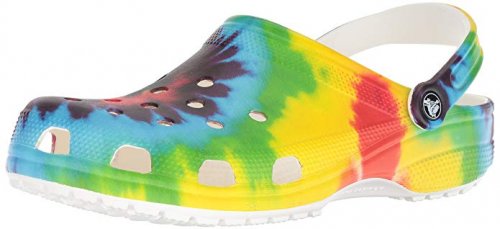 We are well-aware of the world-famous Crocs Clog silhouette, but for this guide we are introducing it in a print which hasn't been seen before - a tie dye graphic version of the Clog! It is loud, it is a little crazy, but also a lot of fun at the same time. You won't be able to resist going to the beach in these colorful funky shoes!
The Crocs Clog is built out of a material called Croslite, developed by the Crocs brand itself. Croslite is a closed-cell resin foam material, that is similar to both plastic and rubber and yet is neither of those. It makes sure that you are properly cushioned on all sides, and that there are no bad odors after a long day of traipsing around the city in these funky shoes.

This design comes with large holes on top and in the sides, which serve to provide breathability and as drainage ports, in case you decide to swim in the shoe.

This pair of funky shoes is water-friendly. It won't stretch out or lose shape in wet conditions, but it is also exceptionally lightweight; in case you lose a clog in the water, rest assured that it will float to the surface and slowly drift back to the shore. There is a strap in the back to secure your foot inside the design, but in case you're not a fan of this, you can always rotate it to the front and wear it as a slipper.

By talking any longer about the Crocs Clog we would be venturing into gushing territory. This really is the go-to option when you're planning on spending a lot of time on your feet in hot weather. It keeps you sweat- and odor-free, is amazingly comfortable, and with the tie-dye print, it also throws a party for your feet!

10

. Jessica Simpson Joselle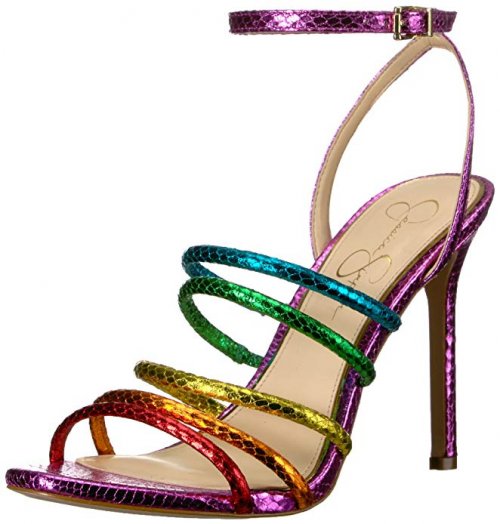 Jessica Simpson is a fashion icon known for her playful, flirty, and somehow still down-to-earth style - a perfect representation of the sweet yet sexy girl next door. It is no wonder then, that she pours her vivacity and feminine style into her designs as well, as evidenced in the Joselle strappy sandal! While this pair of funky shoes comes in several different color options, we went for this vibrant rainbow which best showcases funkiness.
The Jessica Simpson Joselle is entirely man-made. This is an open toe sandal with straps across the instep in the form of a cage which holds your foot in place. The cage prevents it from sliding forward as you walk, and your toes from spilling over the front edge of the sandal. There is also an ankle strap with a buckle closure to help make the fit right.

The heel of the Joselle is a bit high - four inches - and stiletto in shape, not making it the most comfortable to walk on for extended periods of time. However, what this pair of funky shoes lacks in wearability, it certainly makes up for in looks and the wow effect it leaves on the surroundings.

The Jessica Simpson Joselle is not a design for every day. Rather, it is for a special event, such as a night out at a club, a party, or even a formal gathering - a wedding or a prom - as long as the rainbow gleam isn't too distasteful for the hosts. While the heel height will take some getting used to, we can't imagine a sassier statement pump than this one.

Subscribe to our Newsletter