Best Biking Shorts and Cycling Shorts Reviewed
In a Hurry? Editors choice: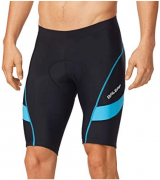 Test Winner: Baleaf 3D Padded

A good pair of cycling shorts can enhance your experience to levels you did not think were initially possible. In the past, cycling apparels were more similar to regular casual wear. However, thanks to technology, present riders can push their limits further without compromising on their comfort. The best cycling shorts have largely contributed to performance boosts from cyclists around the globe.

If you don't want to be left behind, you can use this guide to further your knowledge on the topic and get hold of the some of the best the market has to offer.
Standout Picks
Criteria Used for Evaluation
Fit
Some brands offer size charts to help make the process easier
Finding the perfect fit is not always easy. To be on the safe side, you need to have various measurements before you start shopping. Make sure you know your waist size, your height, and even your weight in some cases. You also need to be keen on the measurements, because not all of them come in US sizes.
One of the things you should be mindful of is the length of the shorts. They do not come in a standard size. Therefore, your choice will entirely depend on your personal preferences. Some people are comfortable with those that are just above the knee. Others prefer them shorter because they want to avoid tan lines; that way, they have nothing to worry about when they switch up to casual attire.
However, there is a risk of wearing an excessively petite pair. You could end up rubbing your bare skin on the nose of the saddle when riding. The length of the waist is also essential to look into. The front should be low so that you are not restricted whenever you want to bend forward. Its back should be higher, to ensure that your skin is always covered whenever you bend over while riding.
You should also ensure that the pair you select has enough panels. Panels enhance the overall fit and ensure the shorts conform to your body. That is why you are better off choosing a pair with as many panels as possible. A good example is that of duos, which have up to eight panels. These kinds of models are incomparable to those that have fewer panels.
If you are purchasing a pair for the first time, there is a slight chance that you may be tempted to get a baggy fit. Baggy options are better for casual cyclers. They are a good fit for people concerned with their appearances. Additionally, they are a better fit for people who don't spend a lot of time on their bikes.
More experienced riders are better off with tight-fitting alternatives. Their fit is aerodynamic, and they are more comfortable for long distances. They are an excellent choice for riders who prioritize speed.
Materials
Get fabric suitable for the occasion
Bike shorts often consist of polyester, nylon, or tricot. Polyester options are often more colorful and tend to be softer than the rest. They are the best option for people who ride throughout the year. Reason being, they have moisture wicking capabilities. As such, you will not feel sweaty when riding in them. They will also keep you cool throughout.
Nylon varieties offer an excellent fit; however, they tend to be more rugged. These kinds of models are also long lasting. So, if you are looking for a durable pair, you must make sure that it is made of nylon. Manufacturers tend to blend the two kinds of fabrics with Lycra spandex. Spandex is the fabric mostly responsible for the stretchiness of the garments.
Spandex tends to be supportive, as well. Ideally, a good pair should have at least 15% of spandex. The higher the spandex content the clothing has, the better off you are. People who want compression support should also focus on the spandex content. There are many benefits to the compression offered. You will feel less fatigued, which is fantastic for long distances.
The blood flow to your muscles will increase, and you will have a consistent supply of fresh blood. You will hardly experience any fatigue.
Style
You need a comfortable ride on a long trail
Not all cycling shorts are the same. There are those specially made for mountain bikes, road bikes, or BMX.
Mountain bike options are suited for rough terrain and ride much slower most of the times. Their seat is more prominent, so you do not need much padding on your saddle. Besides, you'll be riding in an upward position, giving you comfort most of the time. Riding in a mountain bike gives you the option to ride on the pavement too. However, you won't be as fast, compared to road bikes. If you fall under this category, you don't need to be too critical about the shorts you get. You have the exception of wearing garments that even go past your knees.
Road bike cyclists need the best apparels available to take their riding experience to another level. Even though such bikes shouldn't be used on rough surfaces, you will be riding them in a dropped position. Maintaining this streamlined position might be uncomfortable unless your clothes have some padding. These types of models reduce chaffing, friction, and enhance your comfort.
Some brands have unisex padding. However, it is best to consider a gender-specific type of apparel, especially if you will go riding for extended periods. Ordinary shorts are typically loose fitting, made of lightweight materials and have outward seams. These features are not suitable for top-notch performance. You should also get a pair that matches your style.
Comfort
Breathable fabric is essential when working out
Coziness is critical when it comes to these attires. That is why you must select materials, which are breathable to avoid getting excessively sweaty. Sweat causes discomfort and can even lead to bacterial infections. To counter such effects, you need to make sure that you always have proper ventilation.
Suitable cycling apparels must also wick moisture away and must promote breathability. Some brands have minuscule holes in the fabric to let cold air in, and warm air out. Some have a chamois fabric, which is soft, moisture wicking, and most importantly, breathable. The stitching of the material must not brush against your skin. For that reason, the stitching is either placed outside the cloth or flat against the fabric.
Features
Choose apparels appropriate to your circumstances
The chamois is crucial to these kinds of garments. It is the feature that helps determines how comfortable you will be on your bike. Most chamois has padding inside, while others have gel-like substances. They also have anti-microbial properties, which are essential. Unlike older models, you won't have trouble when taking a bathroom break. Manufacturers are nowadays trying to incorporate designs that let you wear and remove them faster when nature calls.
In recent times, big brands are paying attention to the demand for breathable and loose-fitting attire. When selecting such models ensure that they do not border on the baggy end, which might sag and reduce your mobility. It should be fitting enough, and able to protect your thighs and knees in case of a fall. There is a wide range of these apparels, with different lengths and colors: depending on your preference.
10 Best Cycling Shorts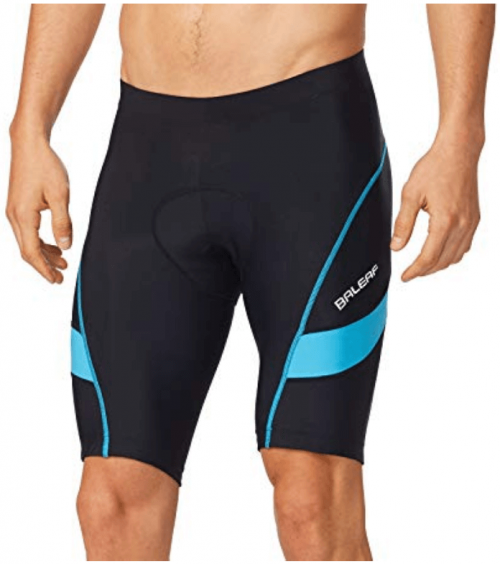 Baleaf is one of the best cycling shorts on the market because it has a whole host of dependable features. For one, it is reflective, meaning you will be safer riding in low light conditions, than with other models. The Baleaf design team is comprised mostly of professional cyclists: that's why the cycling shorts consist of everything a pro would want.
The pair cycling shorts has unique stitching, which gives you more comfort compared to its counterparts. Moreover, the embroidery makes it more durable, since they won't come off freely while washing or stretching. The fabric wicks away moisture effortlessly, so you can ride for longer without getting sweaty. The breathable fabric also ensures you keep cool and comfortable.
Grippers help secure them in position, preventing cuffs while riding up a hill. The 3D padding conforms well to the saddle and your rear for cushioning. As a result, friction and chaffing on the thighs will be kept at bay. Furthermore, the padding also ensures that your blood flows better. For this reason, your legs won't tire out as fast. The gel padding also helps minimize vibration.
They come in six different size options; small, medium, large, X-Large, and XX-Large. As a result, anyone can find the perfect size of cycling shorts. Its 4-way stretch fabric also gives you better maneuverability.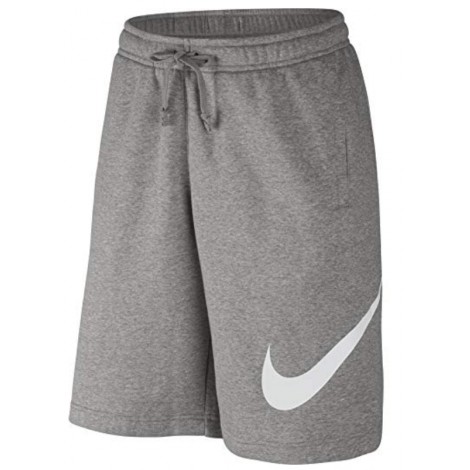 Nike offers some of the best multipurpose alternatives. They have deep pockets, so you can carry your essentials without worrying that they will fall off. The fabric is also plush and has a comfortable feel on the skin.
This cycling shorts model is quite sturdy and does not wear out quickly. If you have been looking for a long pair, Nike offers such alternatives as well. Even though pro cyclists do not favor such options, it is always best to opt for the design that you are most comfortable with. They have an elastic band and a thick drawstring to keep them from sliding off.
They are also warm, making them an excellent fit for mountain bike adventures. Their inseam is of marvelous quality and does not lap outside compared to those of inferior biking shorts brands. Looking at the overall value they offer, the price is truly a bargain. You can get them in eleven color combinations and sizes.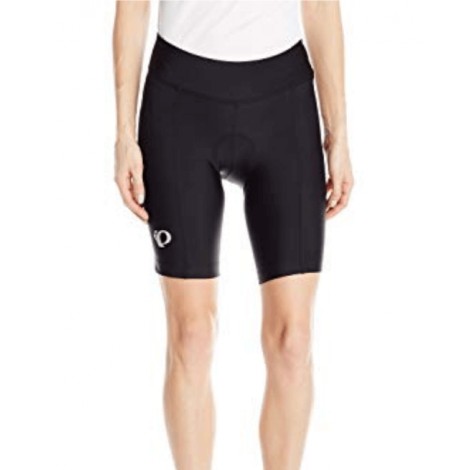 Pearl iZUMi has some of the most sought after cycling overshoes, so why not get these apparels to match up. The pair of biking shorts has some excellent features like reflective materials and award-winning moisture wicking properties. These cycling shorts have set the pace on what other brands should be doing.
The brand offers options in three different variations for novice, intermediate, and pro. Most others only have one version of saddle padding. Their proprietary design in the seat spreads moisture evenly across the fabric, to precipitate high evaporation. Even the novice version easily beats many other regular releases in the market. Besides, they are competitively priced, probably because they have so much demand; thus, they can mechanize the production costs better.
For the female shorts, you can find two size options and five color options. For the male variant, you have more size options (5), but only one color to choose from currently. The chamois leather used is durable and of the highest quality, similar in all iterations of the product.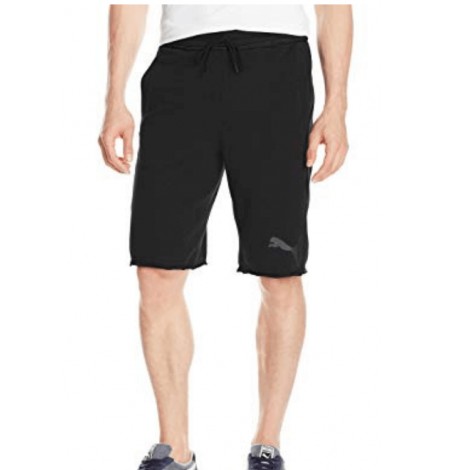 PUMA cycling shorts do not need much introduction when it comes to the sports apparel industry. They have a wide range of fashionable shoes and other apparels. If you own a pair or two, then you should definitely get these kits to match.
Quality is never an issue with this biking shorts brand since their products are always of the highest standards. These apparels are versatile and usable in different sporting activities. Buyers wear them casually or when they want to make a fashion statement. The pair stands out because of the embroidered cat logo on the left side.
The blend of fabrics in these cycling shorts makes them able to provide reliable protection during summer or winter seasons. The welt pockets are deep enough, so your possessions are safe from getting lost easily.
They are available in seven size options and four different colors. The variety in sizes is considerable so that buyers can find their perfect fit. Their four color choices all border on the dark side; they are black, dark grey, pea coat, and medium grey. The hem below tapers, for a modern type of fit.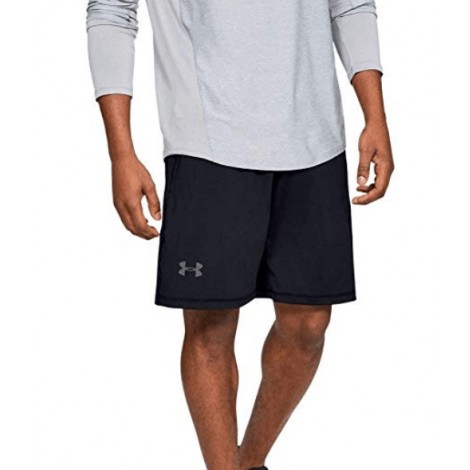 Under Armour Raid biking shorts has endearingly met the expectations of its consumers. It ranks highly among some of the top brands in the industry. They have even started producing some of the best rated Under Armour running shoes as well. Their shorts are reliable: holding their own when things get strenuous. You should not be afraid to experiment since this pair has a 4-way stretch construction. Meaning, the chances that they would be ripped apart are next to nil.
You can choose one of the 23 color options available. Alternatively, you can get a pair of these biking shorts for every day, since they also look suitable for casual activities. Their material wicks away moisture, so you will hardly get drenched in sweat. The polyester fabric also has antimicrobial technology. The tech helps keep foul smells at bay.
People who love BMX and parkour also love these pair a whole lot since they could be riding one minute, and lazing around in them the next. They dry up faster than other apparels, so you can count on even when there are unexpected light showers. They have a UPF 30 rating, which means that they block over 96 % of harmful ultraviolet light from the sun.
The feature comes in handy, especially since you will be out in the sun most of the times. Some apparels have a cord floating around in the front, after closure. The tie in this pair has an internal drawcord, effectively countering the issue of having a string hovering around. They also have deep mesh pockets, ensuring a safe place to stow your stuff and for additional ventilation.

6

. Louis Garneau Fit Sensor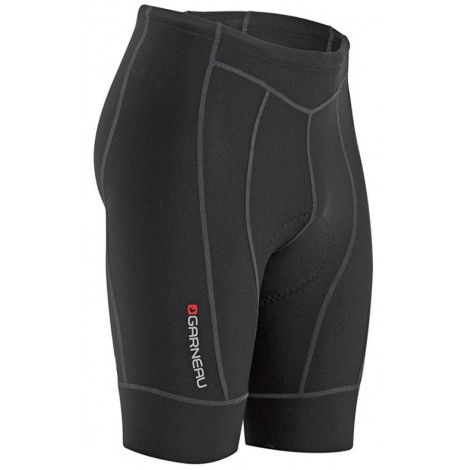 Louis Garneau is a brand based in the USA. The company has dedicated lots of research to delivering what pro cyclists want and need. The fit sensor two is an upgrade of the first version, which was perfect in every way. How do you surpass perfection? Well, in time, people demand more, and market trends change. They have thus built upon previous experience and success for flawlessness two.
The chamois fabric in these wicks moisture fast, and is shaped well to ensure you have a smooth ride. You will hardly feel any chafing, even after extended periods on your bike. They stretch out to adequate levels: even the drawstring is elastic. Because of this, you won't feel restricted, no matter how hard you flex on your bike.
While others are still trying to find ways to manage how seams rub on users skin, Louis Garneau literally thought outside the box. The seams on these biking shorts are on the outside fabric, rather than inside, solving a problem that has been existence for many years, in a quick swoop. Besides, the external stitching makes it feel like a designer pattern, further adding to the pair's aesthetics.
The accents reflect light very well, so you are safer riding around in low light conditions. Experienced riders also vouch for them, claiming they can push themselves even further than they used to. They attribute their success mostly to the brand's near-perfect design and structure. You can choose a pair or two, in five different sizes. Some people find this brand costly; however, you do get what you pay for.

7

. Adidas Training Designed-2-Move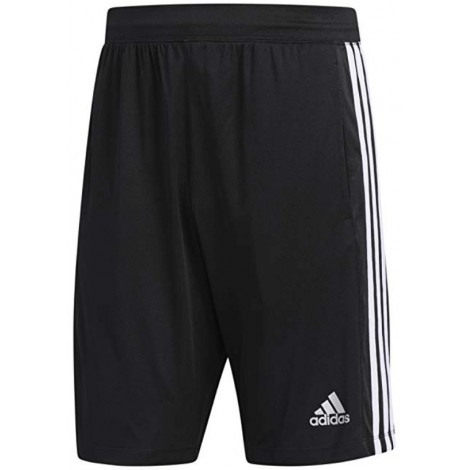 All day I dream about sports, a play of words genuinely suitable for this powerhouse brand. Their shoes are iconic, and almost every sports enthusiast has owned a pair. The shorts also have the legendary three stripes on the sides, showing other cyclists that you did not come to play: you mean business.
The 100 % percent polyester fabric gives it some excellent properties. For example, it wicks away moisture efficiently, and you can wipe dirt from it quickly or just toss it in the washing machine. It also dries up quicker than most fabrics. When it comes to the design, Adidas are always leaders in innovation.
They set up a drawstring closure, so that everything looks neat and tidy, no matter how far you stretch yourself on a bicycle. The flat knit elastic waist further adds to the appeal. The shorts are not restricted to cycling alone. You can wear them anywhere, including the gym or comfortably chilling around the house. Buyers can choose a pair from the seven different sizes and 37 color options.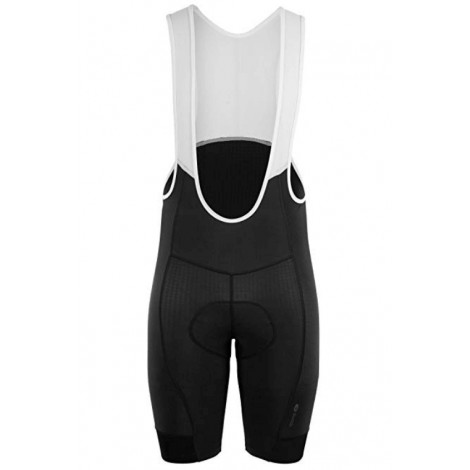 These are the best midrange cycling shorts, for those who want to test the waters of professional cycling. The design is perfect for those who like to sit up, as opposed to lying in a streamlined position like a pro: pressure on sit bones is higher when sitting upright. The padding is more extensive to accommodate the transition phase. Besides, they are quite affordable, and you can step up your game or continue to use them for many more years.
You can choose from five different sizes and five assorted designs, with the webbing coming over the fabric. The silicone web grip, just near both knees is more extensive than usual. This design makes the material flow well over your leg. It does not form an uncomfortable tight lining compared to other models.
The male and female version of these cycling bibs have different chamois designs, each particularly suited for either gender. The consensus though is that their functionality is extensive. They also have moisture wicking properties and high breathability.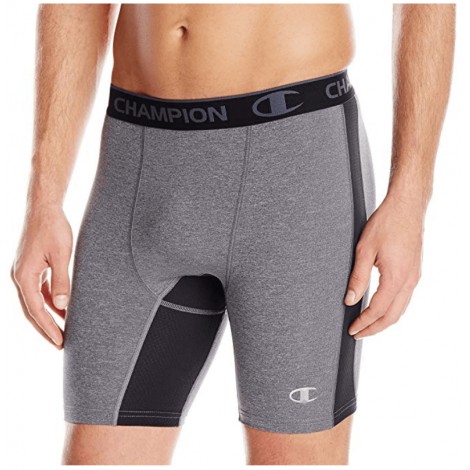 The C logo on the model's lower left side is a mark of quality. The compression shorts offer superior comfort, thanks to their fast drying technology. Its four-way stretch fabric gives you enhanced mobility for better performance. You can wear them on their own, or stack another garment on top of them.
They help compress and support your muscles, without you worrying about them losing this attribute. With the targeted mesh ventilation in certain areas, you will remain cool and push yourself longer on the trail.
There are five different size options available to accommodate everyone. Even stout people can now take advantage of the double X large size, to get the benefit of adding such apparels to your cycling routines. You can choose from nine different colors, to match your gear. One of the colors available is reflector green, which ensures visibility in low light conditions.
The seams are flat locked to reduce the possibility of chaffing. If you're tired of rashes on your inner thighs, these cycling shorts will solve the issue. It takes some getting used to, but when you get past that, you are well on your way to unrestricted mobility.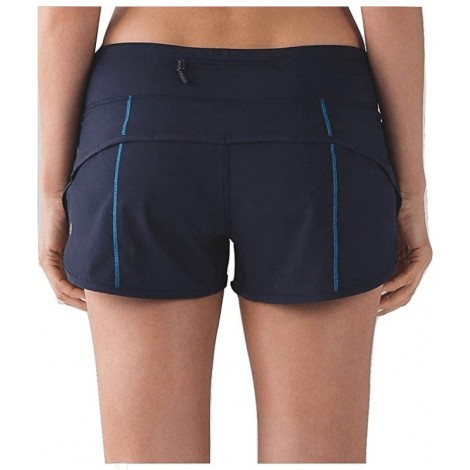 Even though initially designed for casual running and training, many people have assimilated these shorts into cycling. By doing so, they have taken advantage of the cooling effect they provide, due to their minimalistic nature.
The pair primarily consists of recycled materials, making them an eco-friendly alternative. It conforms to your body thanks to the LYCRA fiber reinforcement. You also get three pockets, for plenty of storage options. The best part about it is the unique pouch design since it's so hard to see, yet so accommodating.
You can choose from five different sizes. However, it's advisable to get a size up for a comfortable fit. These multipurpose apparels do a fantastic job in almost any sporting activity. However, some people shy away from them because they are too abbreviated while others like it that way. The pair is available in five different colors.

Subscribe to our Newsletter