Best Machines for Cardio Reviewed
In a Hurry? Editors choice: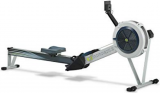 Test Winner: Concept2 rowing machine

There are a variety of ways one can experience and efficient cardio workout session from the comfort of their own home. Home gym cardio machines can come in handy when the weather outside is too cold or when for running. Another advantage of owning
home gym equipment
is you can say bye! Bye! To gym membership fees and cues for specific equipment.
Cardio home equipment
comes in all shapes, sizes, and price point: meaning there's something for even the pickiest of consumers. These machines can also target various muscle groups and offer varying levels of resistance. Granted, it takes a keen or trained eye to pick the best equipment, but with this guide, you too can know what to look something suitable to your needs.
Below is a mixed collection of the
best cardio machines
that the market has to offer.
Standout Picks
Criteria Used for Evaluation
Effectiveness
A treadmill is the most advisable piece of cardio equipment found in the market. It allows the body to move freely, reducing the shock of running or walking on rough terrain. By adjusting the speed or inclination, you can mimic real-life situations as you enjoy your work out. You can customize your workout schedule with timed speed intervals that can change during your session.
By adjusting the speed, you can use it in times of recovery from an accident. Its versatility will keep you walking, leading to a full recovery. Most of these machines don't offer wholesome body work out. Some models have built-in workout timetables. Treadmills may be challenging to use for people with knee problems.
A rowing machine is effective in burning calories compared to other exercise machines. It stimulates crucial muscles in the body. Also, it raises the heart rate quickly as it offers a full-body workout. Always remember to use the correct technique to avoid injuries.
Use
Ask what you intend to achieve.
After deciding on the type of workout machine you want, consider how often you wish to use it. Getting to enjoy the exercise means regular use of the device. Therefore, you should always pick one that will enable you to do your favorite activity.
Ensure whichever type of machine you go for it is suitable for the kind of exercise you want to do. Using an exercise machine for training purposes as is often the case, look at how the exercise transfers in real-life situations. Treadmills and stair steppers help train how to run, endurance and output increase.
If your only interest is for cardio purposes only, then a simple treadmill will do. For training, get a machine that is relatable to your needs. Also, follow the instructions as directed on the manual to avoid injuries and damage to the device.
Advanced Features
Technology has come a long way in recent years.
Some of the machines mentioned above have excellent features added to them compared to regular ones. The high-end devices give you an option to connect your phone via Bluetooth. Others have a cooling fan to keep you going without stopping for towel breaks to wipe off sweat. Modern treadmills have a small LED display on them, allowing you to watch videos as you exercise.
Some models have a console that can be attached to your heart rate tracker: it records your stats as you work out. Depending on your budget, a model with hydraulic cylinders can be an option. It creates smooth stepping motion reducing shock on your knees.
Size
What's your mode of working out.
An exercise machine used to be bulky and heavy. Companies have now come up with smaller and easy to store exercise machines. Some have wheels that make it easy to move when not in use or after use. With the wheels, you don't have to lift the machine.
Depending on the type of machine you choose, a cardio machine can have a lock system to detach it into two parts. The two parts can be stored in small spaces. Most devices don't need tools to separate them, saving you precious time.
Some of the designs have thin frames but are durable and can lift certain weights. Check the maximum weight your desired machine can lift. If you exceed its weight capacity, order a bigger exercise machine.
Ease of Use
Adjustability
Some machines have adjustable footrests that enable you to get a comfortable position as you exercise. Ergonomic handles, allow you to have a firm grip on the device. You can control the level of resistance thanks to an adjustable flywheel and, keep the noise level of the fan down.
Some seats adjust to the user's preferred position. Moving up, down, forward, and backward, it allows you to choose a comfortable spot.
Accessories
Some advanced cardio machines have a small LCD screen that is easy to use. It allows you to check your performance data. Additionally, you can also track the speed, time, distance, and calories burned. The screen can also be used to view the motivational programs pre-installed in the machine.
Going through the user manual will also guide you to understand the type of exercise machine you have.
Top-Rated Best Cardio Equipment Reviewed
1

. Concept2 rowing machine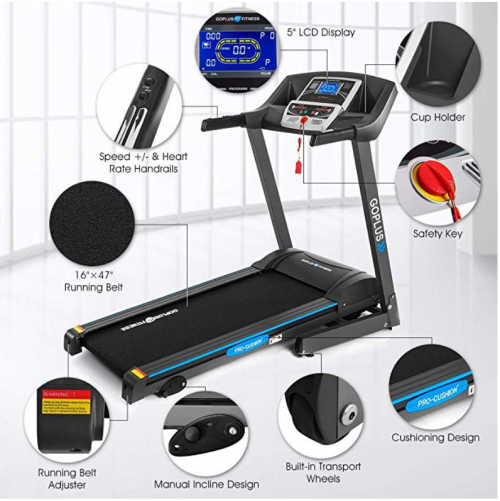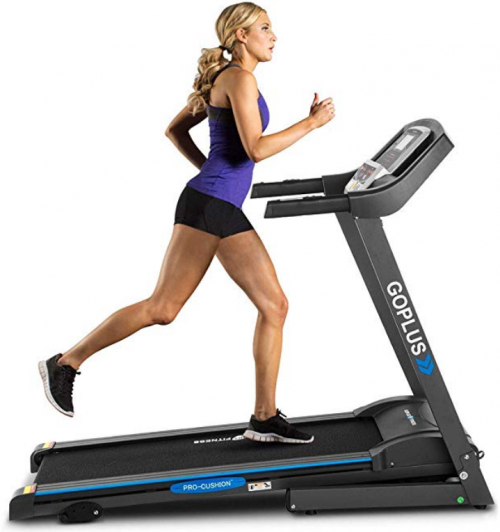 Concept2 has established itself as one of the most reputable brands when it comes to the design and production of rowing machines. This company has enjoyed 40 years of success and has kept improving upon each subsequent model. The concept2 model D is not an exception to this rule; it has gained rave reviews and broad market coverage.
Like all stationary rowing equipment, model D provides a challenging yet effective full-body engagement and a low impact. This efficiency makes this model ideal for athletes that want to add a little cross-training to their workout regimen. You also get to enjoy the bikes high standard of quality for longer because of the sturdy construction.
This rower also comes with a sophisticated monitor that keeps track of all your vitals and displays them neatly. This equipment attains a full-body workout because it mimics the motions and resistance of rowing a boat. The display also comes with controls that you can use to adjust parameters like speed and strength.
Concept2 has well-thought-out ergonomics with comfortable handles and an adjustable footrest, which enhances your comfort as you work out. The model is compatible with RowPro software, which helps you get even more out of your workout. The flywheel and the bumper are also adjustable to control resistance and lower the level of noise the machine makes.
A low profile design makes the machine highly portable, thus, easy to store. The low impact effect of the device also makes it ideal for when you don't want to stress your ligaments. It comes at a justifiably high price point but is worth every penny.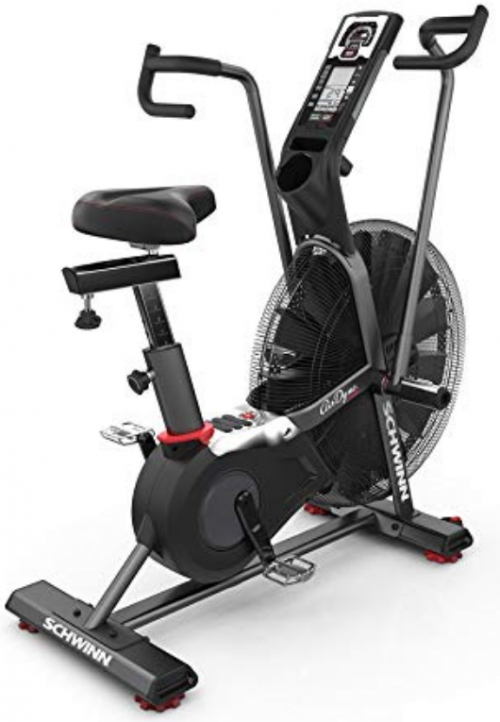 The Schwinn Airdyne Pro exercise bike is ideal for working out even in the most stuffy of indoor environments. This exercise bike rewards you with a cooling breeze the harder you work out. What's more, you produce the power needed to run the bike as you keep cycling.
This bike is easy to assemble, which means you can get to your exercise faster. This factor also adds some convenience every time you want to store the bike after use. You also get to enjoy a smoother ride thanks to the fan wheel. The user's safety is enhanced through features such as well-balanced paddles that have secure straps.
The Schwinn Airdyne Pro exercise bike has a monitor that displays your RPM although it is not backlit so visibility can be an issue. This exercise bike provides a low impact workout and is suitable for those recovering from injury or surgery. The Schwinn Airdyne Pro exercise bike is one of the most affordable pieces of equipment within its class.

3

. Sunny health and fitness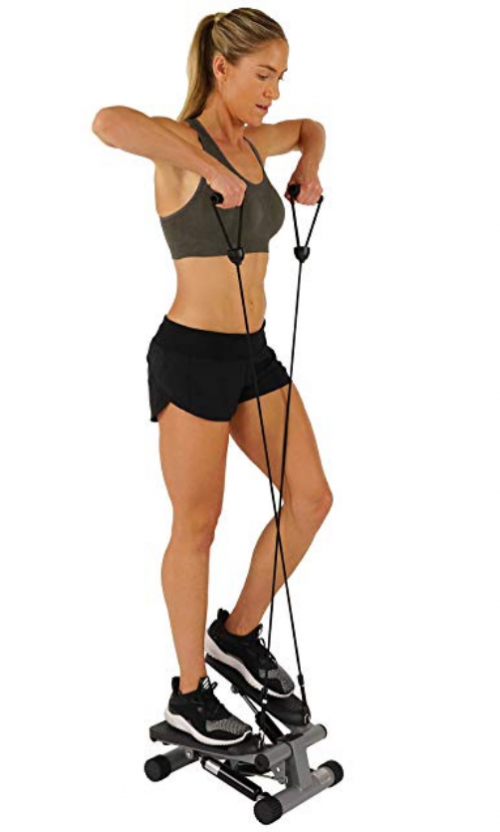 This product is ideally suited to the needs of fitness enthusiasts due to the level of engagement and resistance. This device may have the most modest appearance on this list, but it delivers a lot more than you can imagine. The sunny health and fitness stepper targets many muscle groups in areas such as the tights, arms, hips, and buttocks.
This stepper gets your heart pumping as you tone those glutes, and calves. Unlike larger steppers, the Sunny Health and fitness stepper allows for natural arm movement. This natural motion serves to enhance your workout with arm swings. A stable build quality provides more support for steady climbs and sprint workouts.
The focus on the lower body makes this device ideal for cross-training. You also have the option of an upper-body workout with the addition of resistance bands. There is no setup or assembly required all one needs to do is place it on the floor and get stepping.
You can adjust the level of resistance to an appropriate level. The sunny health and fitness stepper also has a silicone fluid that makes operation silent and smoother. This device may come at a high price range relative to its size, but it is highly effective and sure to last for a long time.

4

. Bodycraft SPX indoor bike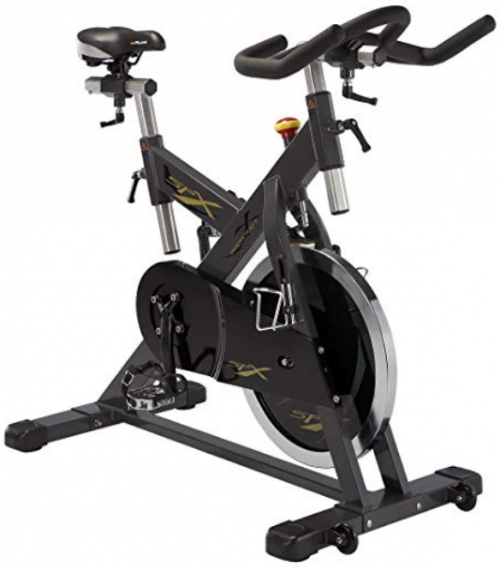 The Bodycraft SPX is one of the most highly-rated indoor cycling bikes for home as well as gym use. This indoor bike comes with a belt drive that pushes a heavy flywheel for heavy friction and resistance. It has a comfortable seat, ergonomic peddles, and a bottle holder: to ensure that you are comfortable and hydrated.
The Bodycraft SPX offers a low cardio output and the type resistance cycling outdoors can't provide. The frame is made of a sturdy steel material that prevents the bike from wobbling or flexing as you exercise. There are also two coatings of powder paint to stop the bike from rusting as you sweat.
The 46-pound flywheel oscillates around an SKF sealed set of bearings, which gives you a natural cycling motion. The seat and handlebar can be moved vertically and horizontally. This adjustability allows this device to accommodate users between the heights of 5 ft. 2 inches and 6 ft. 7 inches. The Bodycraft SPX comes at a reasonable price point considering that it is among the best in its class.

5

. Assault fitness AirBike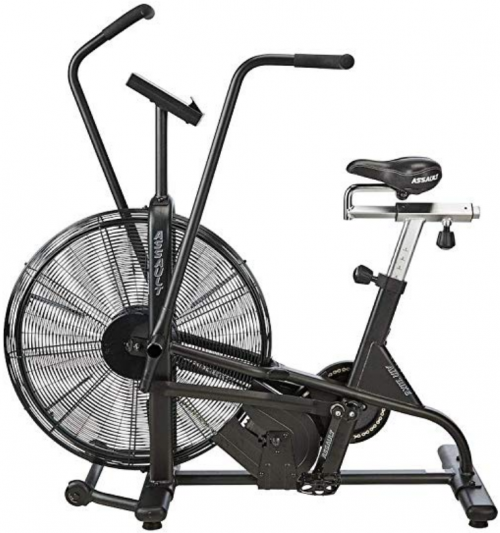 The Assault Fitness AirBike may have some ancient design aesthetics but wait until you mount it and feel the burn. This air bike gives a high level of engagement that will knock the wind out of even the toughest of all athletes. This bike doesn't feature a motor and provides wind resistance through the front fan wheel.
The harder you paddle, the more wind resistance you generate. This high level of resistance and muscle engagement is ideal for users that are in search of an intense high-calorie expenditure workout. The Assault Fitness AirBike has a durable steel frame that has stability and provides a smooth ride.
The computer display on the console shows information such as watts, intervals, heart rate, distance, and time. The tilt-able seat also adjusts vertically as well as horizontally to accommodate people of diverse body heights. The Assault Fitness AirBike has a 110-pound weight profile and supports users of up to 350-pounds.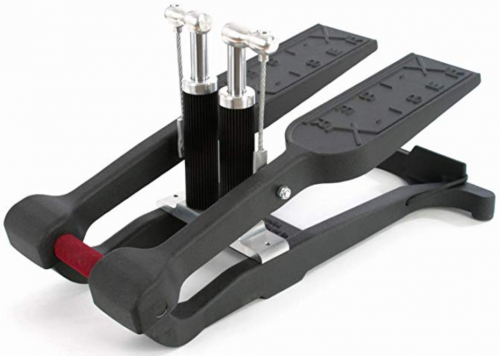 The Xiser commercial mini stepper is a compact and highly portable alternative to conventional stepper machines. This compact design allows you to use this device wherever you please and reduces storage space. It comes at a higher price point when compared to other steppers within its class.
The Xiser commercial mini has fail-safe durability to it thanks to aircraft-grade aluminum material. Your steps are also smoother thanks to tall hydraulic cylinders that create a fluid motion. The only drawbacks to this model are that it doesn't offer a full enjoyment or any resistance adjustability.
The Xiser commercial mini is ideal for users that don't have the space to fit a full-sized stepper. Despite the size, you get the same benefits a full-size option provides. The adequate resistance, durable construction, ease of use, and portability give this model a very high value for money score.

7

. EXERPEUTIC recumbent bike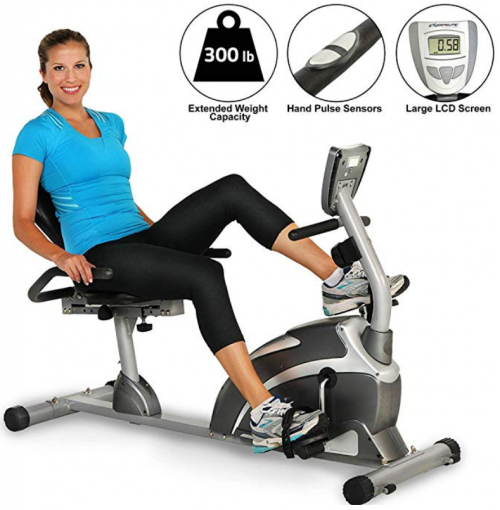 The Exerpeutic 900XL recumbent bike is a practical, sturdy, and budget-price cardio workout machine. This recumbent bike comes with all the bells and whistles, which includes a handgrip heart monitor. This device is durable and features user-friendly ergonomics that make it easy to climb on and off the saddle.
Even though the Exerpeutic 900XL recumbent bike only weighs 63 pounds, it accommodates users that weigh up to 300 pounds. Aside from that, this device has a lower center of gravity as well as leg stabilizers, which enhances stability. The outsized seat featured on this model is padded for extra comfort.
This bike also features large footpads on the paddles that accommodate a wide range of foot sizes. Eight levels of magnetic resistance provide you with a variety of exercise options, and it features a transport wheel to ease mobility and storage. Although the Exerpeutic 900XL recumbent bike comes at a budget price, you get a whole lot more that you spend on this practical device.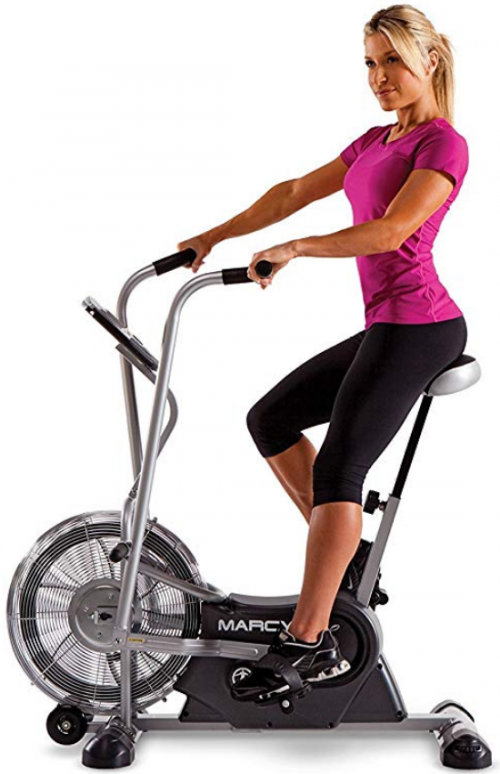 The Marcy Air1 fan bike is one of the most affordable cardio machines within its class. This fan bike has a sleek design, and its monitors are simple but effective. This equipment uses fan-based technology to provide resistance for a robust workout session and at a fraction of the price.
You get a full-body engagement when you work out on this fan bike as it targets diverse muscle groups. The resistance level can be adjusted to suit those new to cycling as well as seasoned pros. The frame is a little flimsy when compared to higher-end models, but it's fair considering the low price point.
The Marcy Air1 fan bike is easy to assemble and use and has a basic monitor that displays your vital data. The information displayed includes calories burned, heartbeats, speed, and distance covered. Despite coming at a low price point, this bike delivers all a high-end model does at less than half the price.

9

. ANCHEER elliptical machine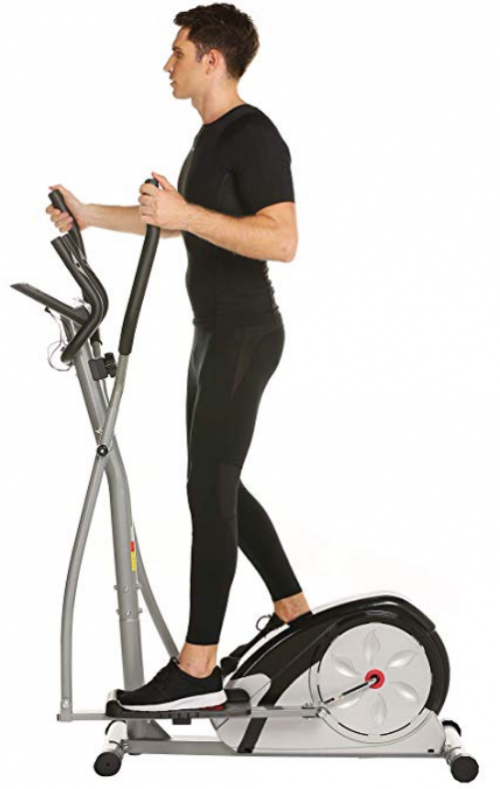 Ancheer is one of the most enduring fitness equipment brands in the market. Ancheer produces all kinds of fitness equipment like steppers, power towers, trampolines, elliptical, and many more. The Ancheer elliptical machine is just part of this legacy of excellence in innovation.
This elliptical has a heavy-duty frame that supports a weight of up to 250-pounds. The drive system featured on this elliptical is driven by a v-belt and offers eight resistance levels. The flywheel and belt drive are well balanced to provide a smoother and quieter operation.
An onboard LCD monitor tabulates and displays vital information like calorie expenditure, speed, time distance, and heart rates. The Ancheer elliptical has slip-resistance paddles that have a 13-inch length to accommodate divorces users. The front-wheel also acts as this cardio machine's travel wheel.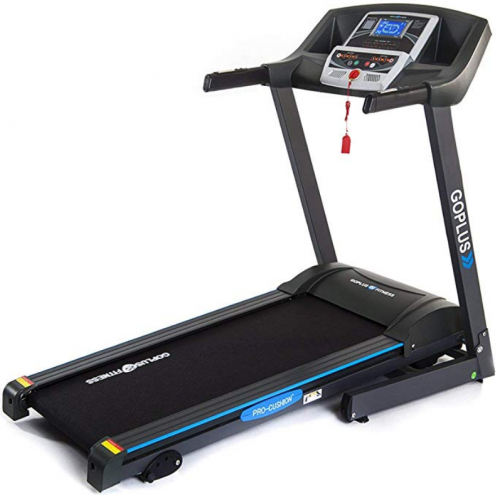 The Goplus 2.25HP is one of the best entry-level foldable treadmills that feature motorization. This compact treadmill feature built-in wheels that allow you to roll it out of storage whenever you want to take a run. This treadmill has a 47in X 15.5in running belt, which is wide enough to accommodate tall users.
A 5-inch backlit LCD monitor allows you to control aspect like speed as well as track vitals like speed, elapsed time, and distances covered. The console also features a handy gadget dock that you can stash an Mp3 player, tablet PC, or your mobile phone. The only major drawback to this model is the 0.5 mph minimum and 7.5 mph maximum speed that is too low for intensive training.
The Goplus 2.25HP also comes with a safety clip that attaches to clothes. You can unclip the safety clip should you be unable to reach the console. The Goplus 2.25HP is a bit highly-priced for an entry-level treadmill, but it has fantastic features and high durability.

Subscribe to our Newsletter