Best Home Gym Equipment Reviewed
last updated:
Nov 13, 2019
You may desire to gain better flexibility, lose weight, and improve your health. However, monthly gym fees and the hustle of commuting not to mention parking space can present an obstacle. Fortunately, there is an alternative: home gym equipment.
With such apparatus, you can say goodbye to monthly gym fees. You can train at any time of the day or when the mood strikes. There's no long commute, and you don't have to wait for your turn to use a piece of equipment like you would at the gym. Here are the best home gyms that are sure to help you meet the necessary fitness goals.
In a Hurry? The test winner after 9 hrs of research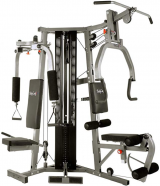 Bodycraft Galena Pro
Why is it better?
Versatile applications
Attachable leg press
Corner fitting built
In a
Hurry? Editors choice: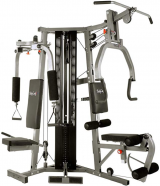 Test Winner: Bodycraft Galena Pro

5
Researched Sources
12000
Reviews Considered
9
Hours Researching
10
Products Evaluated
Size
Use
Effectiveness
Safety Hazards
Stability
By Default
10 Top Rated Home Gym Equipment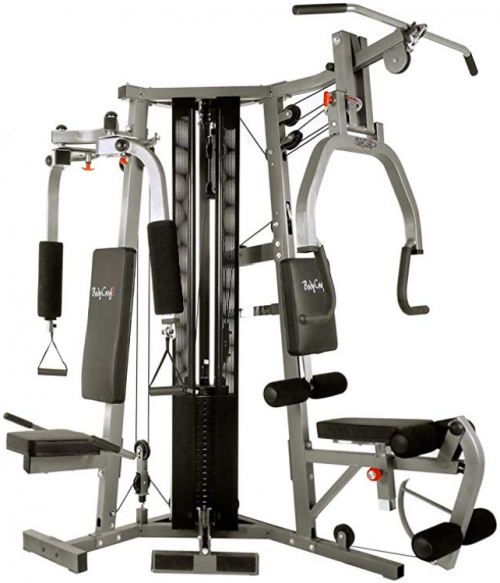 Versatile applications
Attachable leg press
Corner fitting built
Resistance limited to 200lb
Bodycraft is a staple brand when it comes to home gym equipment. The Galena Pro is one of their most popular models. This machine's design aims at providing a lighter and more versatile workout while economizing on available space.
The unique aspect of the machine's general design is that it fits into the corner of a room. There is a default weight stack of up to 200 pounds and an additional 300 pounds with the leg press attached. Very few alternatives can offer what this machine can provide.
You can perform over 50 different exercises on the galena pro even without attaching the leg press. It features; a chest press, pulley station, leg extension, dual-function pec dec, lat pull, low leg curl, and abdominal crunch, which means that all the major muscle groups can be strengthened within a short amount of time.
Galena Pro's size and design make it a versatile option. Its corner design comes in at a length of 72", a width of 58" and a height of 82". It's also fairly easy to use and install, it takes less than 4 hours for one person to install the machine, and a simple instruction manual is included with your purchase.
Aside from the installation manual, learning how to use the machine is also easy. A conclusive workout DVD featured in the packaging has videos with great work out ideas and standard form exercise. It also comes with a well-illustrated poster for motivation and workout reminders.
Unlike most machines, the Bodycraft Galena Pro has a lifetime warranty on both the frame and parts. This warranty only covers manufacturer's errors, but with appropriate use and proper care, the Galena pro is sure to serve you for years to come.
2

. XtremepowerUS Fitness Station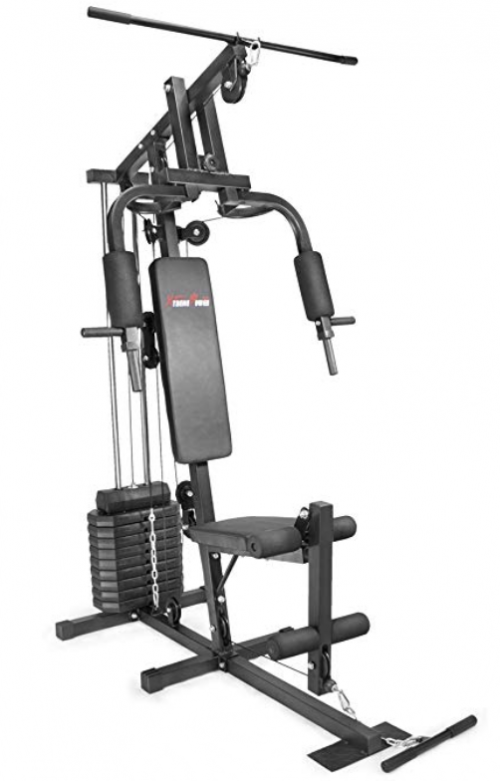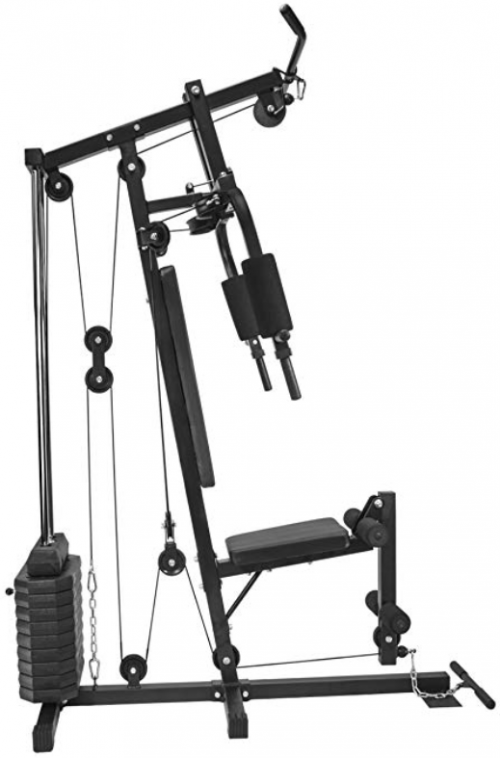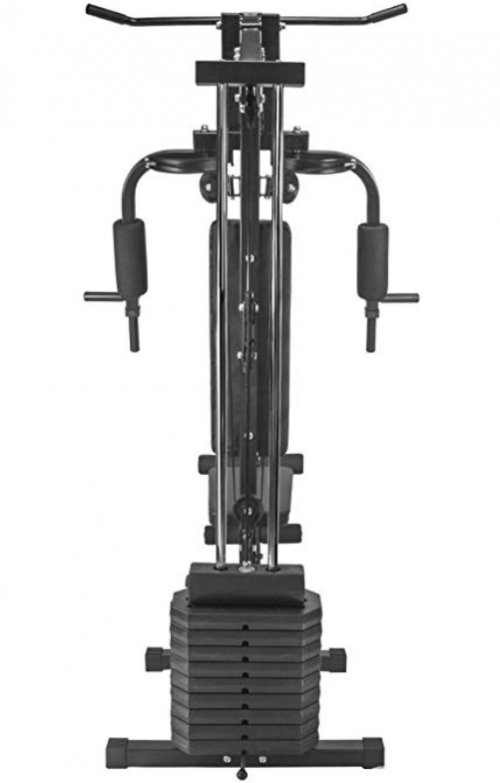 Minimalistic design
Bicep pad included
Easy arm workout
If you are looking for a simple, affordable machine that is easy to assemble, then XtremepowerUS fits the bill. It is light in weight and doesn't take up much floor space in your house. It may lack the essentials professional weightlifters like, but it can help improve general fitness.
The XtremepowerUS has a durable steel frame. The machine's weight stack is just 100 pounds since it features fewer workout stations that most alternatives. You also need to lay the device on a rubberized mat since the non-adjustable stabilizers rest on plastic caps.
The machine has an unspecified loading weight limit, but the seat is stable enough for users who weigh up to 300 pounds. The preacher pad can accommodate loads of up to 100 pounds if you want to use barbells instead of the low puller for preacher curls. The XtremepowerUS has a footprint of 68″L x 40″W, and you need to factor in 2' clearance space for both feet and a 3' safe operational distance.
The machine's backrest and seat are screwed on and not adjustable. The seats have a comfortable 2" foam padding and also have a durable and easy to clean vinyl upholstery. This padding allows you to sit for hours without getting muscle strain.
The XtremepowerUS is designed for arm exercise and for individuals used to doing pushups, necessary legwork, and pullovers. It has a rustproof frame, and it takes one person less than 2 hours to assemble. The maintenance is also simple all the machine requires is periodic checks, pulley lubrication and tight the nuts & bolts.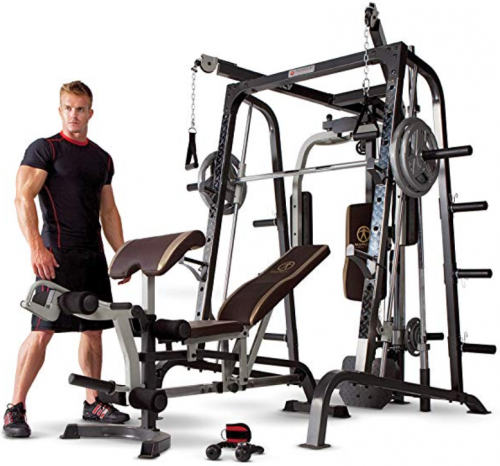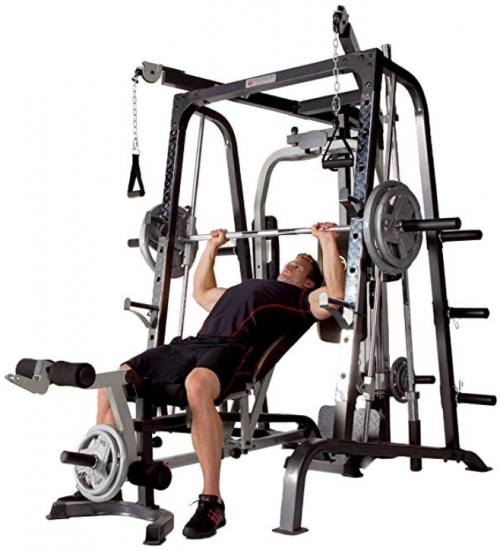 Ultra-durable
Doesn't require stoppers
Adequate safety features
Noisy without lubrication
The Marcy smith cage workout machine combines three different home gym apparatus. You can work out your whole body with this machine. It's a bit on the bulky side as it weighs 600 pounds and takes up a total footprint of 95″ by 79″ by 86″.
The rack has heavy-duty tubular steel construction and comes with plenty of additional implements that affect various muscle groups. These implements include; A 6 part dual-action foam leg developer, a 4-post angled squat rack, an Olympic free weight rack, a weight bench, multi-function pulleys, butterfly press arms, and other extra attachments.
If you have a lot of workout experience, you will have an easy time navigating your way around the Marcy. However, if you are new to such machinery, you will need to set aside some time to be acquainted with the various parts of the machine. The cage accommodates different everyday home gym exercise routines from beginner to advanced levels.
Marcy workout cage places no limits on the types of exercises that one can perform on the machine. Depending on what part of the body you want to work out, the device can accommodate over 100 different activities. No other contraption on this list offers such versatility in work out options.
As you would expect with any complex piece of equipment, some attention to maintenance and care is required. All moving parts require some light oiling from time to time, and you need to wipe the machine clean as often as possible. Checking if the nuts, bolts, and screws are on tight before you work out is also a great idea.
The Marcy workout cage comes with a 2-year warranty. This guarantee covers any issues that may arise from the use of the machine.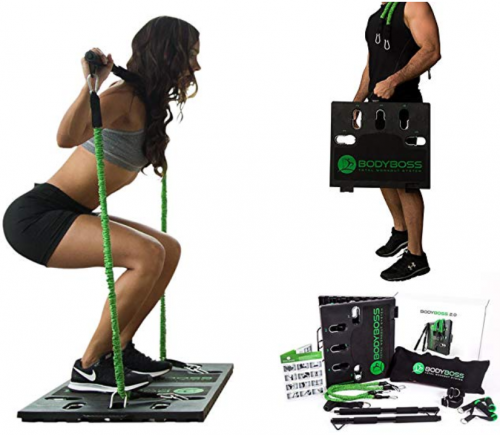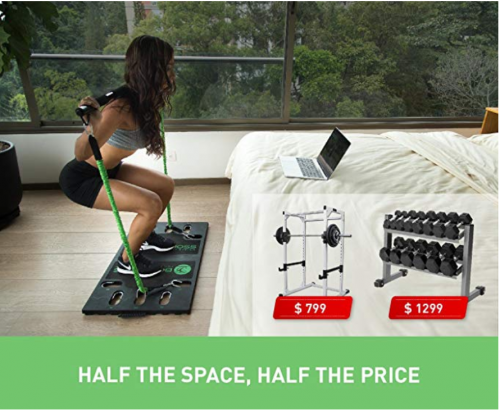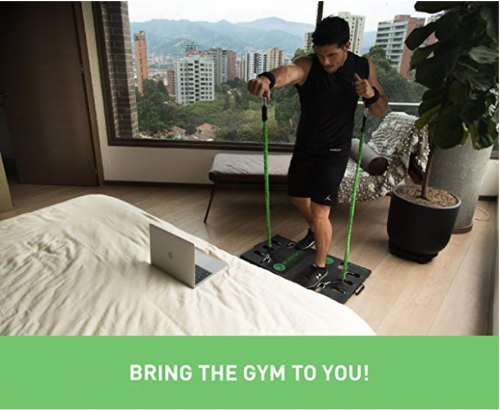 Non-slip base
Portable
Collapsible bar
Inappropriate for tall people
The BodyBoss home gym 2.0 packs all the features of a conventional gym into one portable device. This fitness platform is based on an extremely compact VectorFit system. With some creativity, this revolutionary machine will enable you to perform over 300 different exercises.
This space-saving machine takes up 22.5 x 18.75 x 4.5 inches when flipped open. Strategic anchor points have been worked into the design; you can clip flexible resistance straps for a variety of exercises. These anchor points can also flip to 180 degrees to allow you to attach heavier bands, which can stretch to 7 feet in length.
The resistance bands have handles with wrist and ankle straps that allow for more stability, which is vital for effective toning workouts. The straps also allow users to perform bun blusters, cardio boxing, and a variety of other specialized exercises. The BodyBoss also connects to a fitness rod that extends in length to allow you to mimic the effect of training with dumbbells.
You can also use the bands at high positions workouts that affect the triceps and lat pulls. Furthermore, the BodyBoss enables a user to undertake yoga exercises, Pilate exercises, muscle tone training, free weight training, and so much more.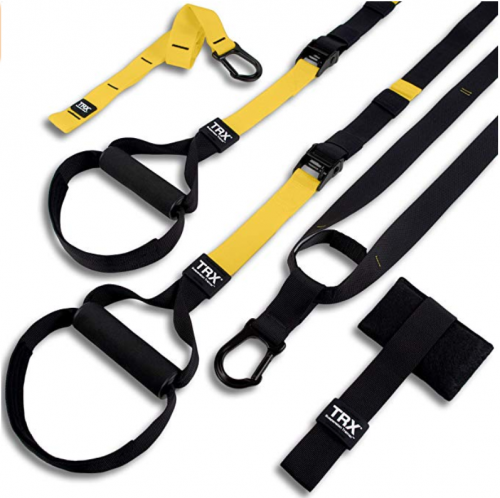 Easy setup
Works outdoors
Sturdy construction
Presents challenging learning curves
TRX (Total Resistance Exercise) All-In-One is the invention of renowned Navy Seal Randy Hetrick. Randy put his understanding of the human body's versatility in various battlefield conditions and high capacity training into this suspension trainer. The THX has a well-designed set up that allows for enhanced resistance training only with the weight of a user's body.
The THX suspension trainer is a unique product that has dense foam handles, which are set up to manage two anchor points. This device has an intuitive set up that makes it easy to use anywhere, anytime, whether indoors or outdoors. Additionally, there are six downloadable PDFs and a free THX fitness app that offer top-tier workouts, which also tracks your progress.
It takes 60 seconds to set up, and it has a capacity of 1300 pounds. This suspension fixture also has adjustable cradles and firm rubber handles that optimize your workout. This trainer uses a simple, durable cord to encompass all cardio and core workouts.
Another aspect of the THX All-In-One is its durability. Its industrial-strength cords and straps can be used for years before they start ripping or creaking. This sturdy construction is the reason why the THX suspension trainer comes with a 1-year guarantee.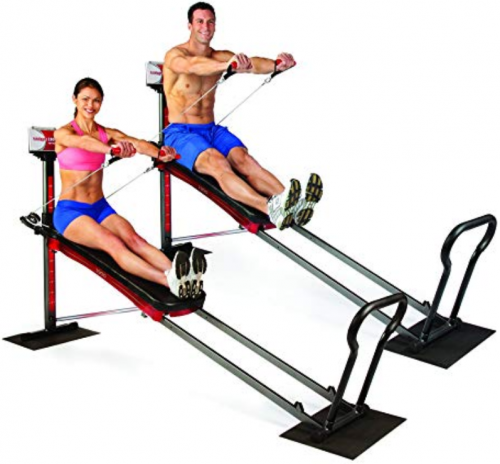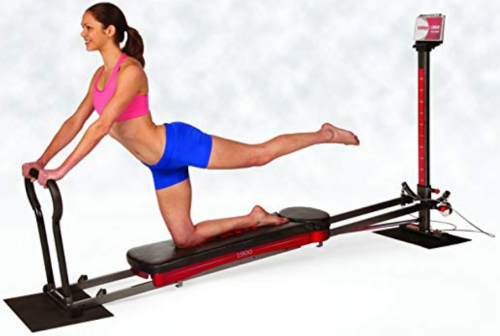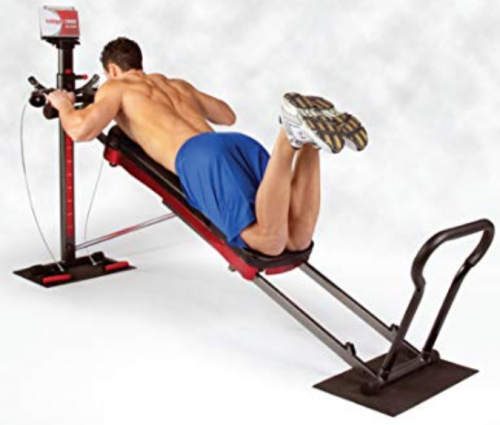 Compact and foldable
Built to last
Plenty of accessories
The Total Gym 1900 Deluxe is a compact, versatile, and robust alternative. This machine can help you meet your cardio and core strength training at the comfort of your home. You can do 60 different exercises that target all the major muscle groups.
This bench-like design saves on space as it can be folded to a vertical profile for secure storage on a corner or in a closet. The bench also adjusts to a variety of heights, resistances, and angles for an optimal workout experience. This machine is the best option for people who don't like to spend too much time working out or those who are continuously on the road. A total body workout takes only 10 to 20 minutes.
The Total Gym 1900 Deluxe comes partially assembled, and it only takes up to 60 minutes to set up from the box. It comes with a variety of accessories that include; a Dumbbell Set, A Lat Bar, a Low Row Bar, Cable Handles, Resistance Cords, and a Row/Bicep Curl Bar. These tools enhance an already powerful workout machine.
The machine features additional safety features like hitches and pins that lock the position you set the machine. These safety features prevent unsupervised kids and pets from being caught in the machine. The Total Gym 1900 Deluxe comes with a workout DVD, nutritional guide, exercise guides, and a 1-year warranty.
7

. Body-Solid Multi-Station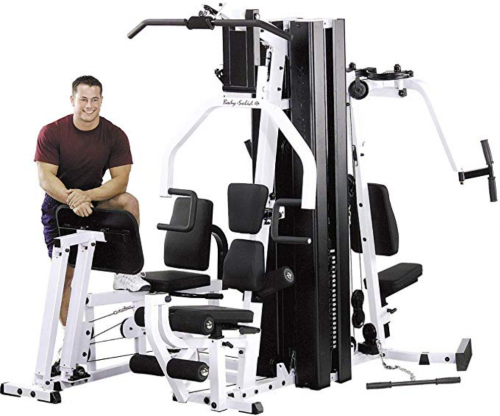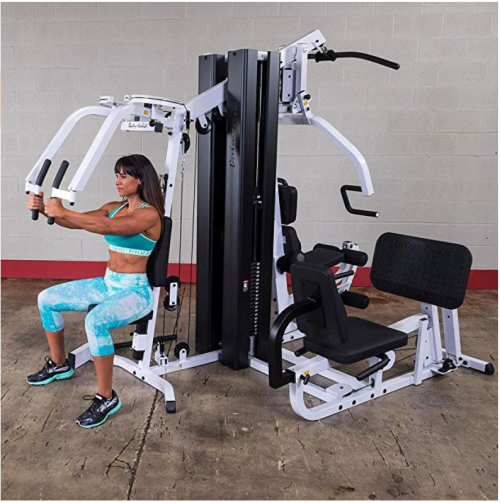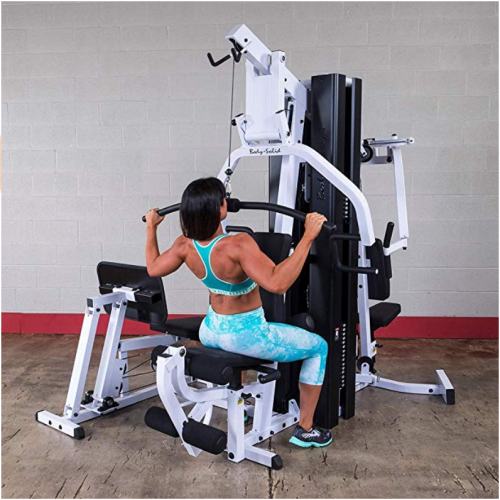 Supports three users
Offers lumbar support
Lifetime warranty
The Body-Solid Multi-Station is as a light commercial gym but can work just as well at home. The product comes with seven unique workout stations that can accommodate up to three simultaneous users. The light weighs commercial home gym comes with a 210-pound weight stack.
Another unique feature is that you can work out three muscle groups at the same time. You can do a wider variety of exercises and get faster results if you are determined enough. The Body-Solid Multi-Station also features an arm press that enables chest-supported drills as well as shoulder press, incline press, and bench press.
The Perfect Pec Station featured in this model has limiters that allow for deep muscle penetration. It also comes with a low row station and a leg press. The Body-Solid Multi-Station has heavy-gauge steel construction with DURAFIRM padding on the back for lumbar support.
The weight stacks are within reach of a sited user for safer and easier handling. The machine has a non-slip footplate to prevent accidental slips. This machinery comes with a lifetime warranty.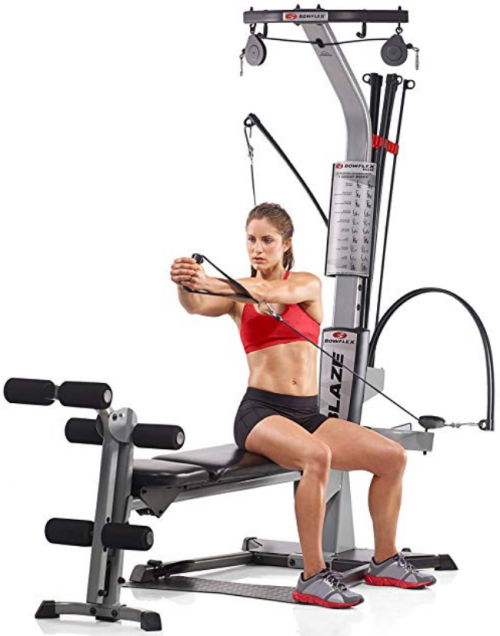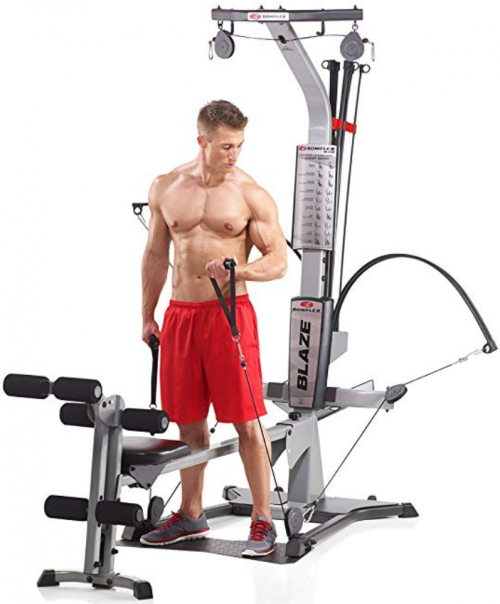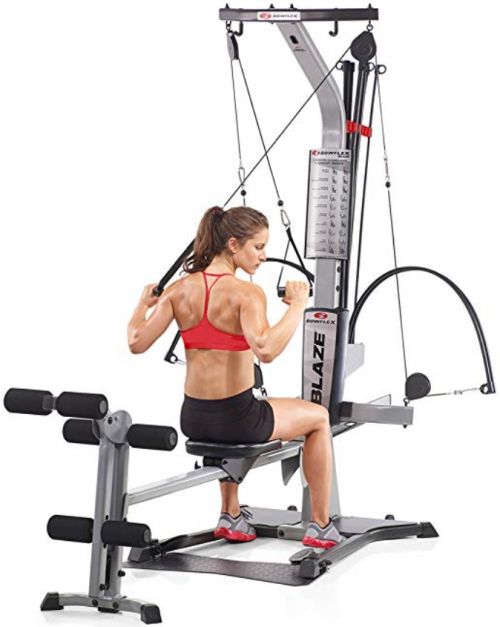 Features travel wheels
Sliding rail seat
410-pound resistance
Complex assembly procedure
If you are in search of apparatus that will tone your body and help you lose weight, then the Bowflex blaze is the machine for you. This product allows you to perform a versatile number of exercises from beginner to advanced level. It comes with a standard 210-pound weight stack that you can upgrade to 410 pounds with additional weights.
The blaze has a lower squat station that enables users to work on their glutes and quads. It also has a lat tower and lat bar that will allow for a vast range of shoulder exercises. The machine has an 83 feet height profile and can be folded to 38 X 52 inches of more convenient storage.
The blaze comes with the essentials and extras like the mat are bought separately. Regular checkups, cleanings, and lubrication, will help keep the machine looking new for longer. The rods featured on this model come with a lifetime warranty.
Bowflex offers a five-year warranty on the frame and replacements for worn out parts like the rod free of charge.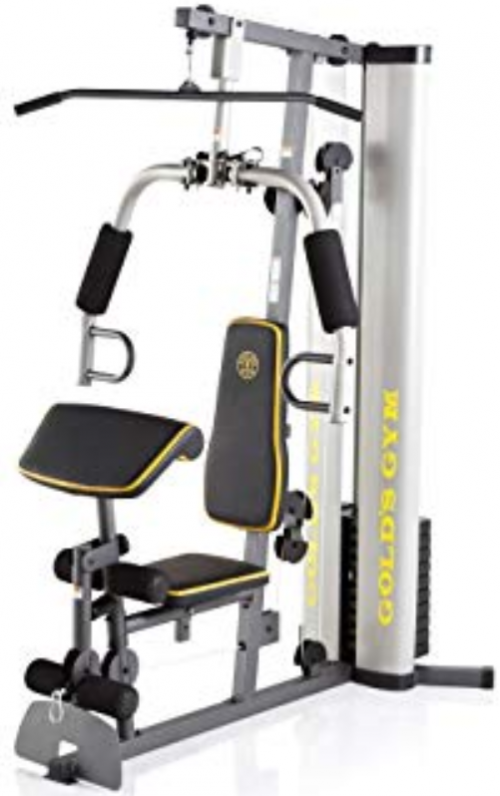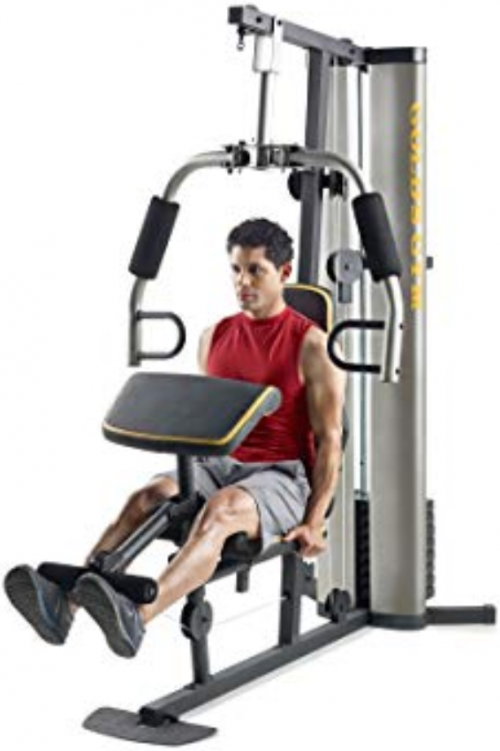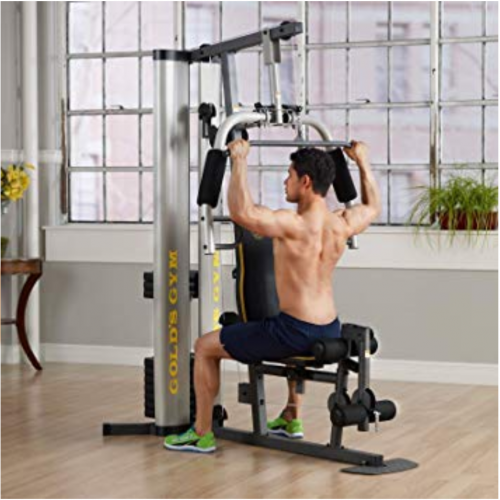 Value for money
Versatile application
Intuitive assembly
If you're in search of simple, affordable workout equipment, then Gold's XRS 50 can be a viable solution. It is relatively easy to assemble and has a compact design that easily fits in a small area. The XRS also allows for a variety of exercises.
This practical machine delivers both upper and lower body workout. This exercise impacts the ham strains, glutes, thighs, arms abs, as well as the chest and back. The machine is shipped with a 112-pound weight stack, but the pulley system can be set to handle double that amount.
It has an intuitive setup system with straightforward assembly instructions. However, it is a bit of a squeeze for users taller than 6 feet. Off the box, one can easily use the lat pull down, leg extension, and chest fly/chest press stations.
The pulley is also set up to allow for adequate shoulder, triceps, and bicep workouts. This machine comes at a very reasonable price point considering the versatility nature of its application. Gold's gym is a reliable Amazon retailer, and their product comes with a 2-year warranty.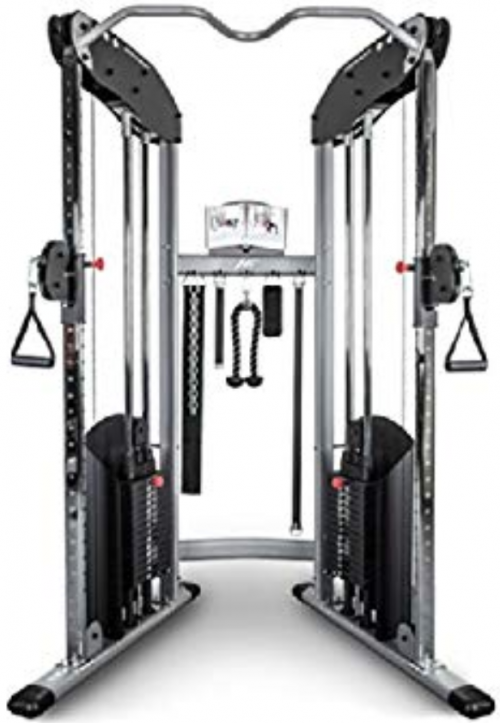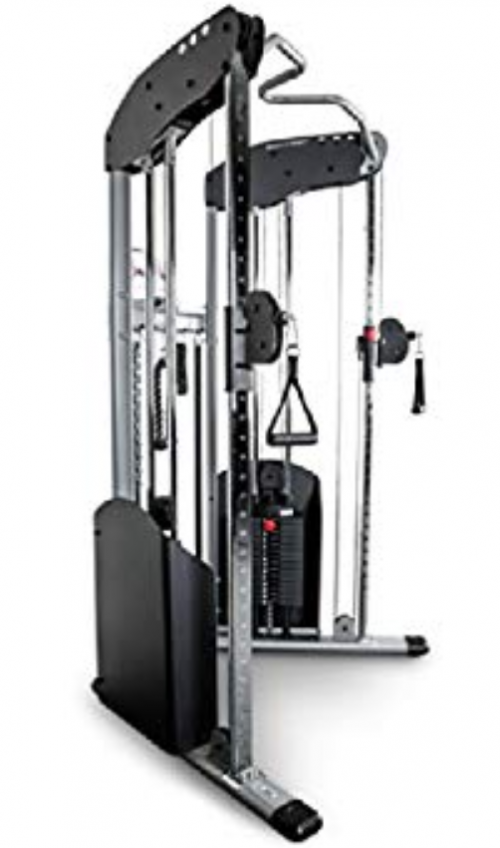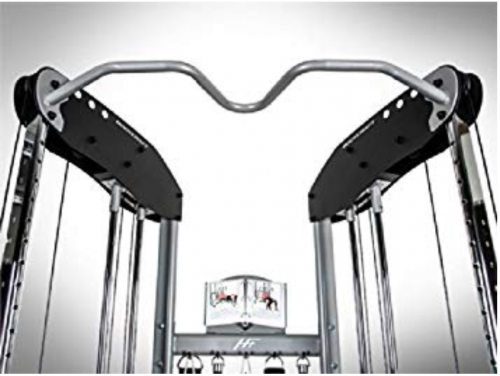 Adjustable pulley system
80-page workbook
400lbs user weight
When it comes to home gym equipment, very few offer the technological advancements that the HFT home gym provides. The sophisticated machine has endless resistance training options fit for any age or fitness level. It comes with a mounted book that illustrates over 70 exercises.
The HFT features an integrated multi-chin bar, triceps Rope, sport stick with bearings, long Bar equipped with ball bearing end, ankle cuff, two chains, and handy DVD shows. The HFT suspension framework has a 2:1 cable ratio that lifetime coverage.
This machine comes fully assembled with all components pre-attached by the manufacturer. There are brochures and online tutorials detailing the assembly of small parts. The HFT has a good build quality, requiring minimal care and maintenance.
The manufacturer also didn't go short on aesthetics; the stable framework has a platinum grey finish, textured black powder coating, an elegant chrome upright cut plate. This machine has a 40" Lx 55″ W x 82″ H footprint, weight stack of 150-pounds, and a user weight limit of 400 pounds.
Criteria Used for Evaluation

Size
Getting any exercise done is hard when crowded by your gadgets.
When shopping for workout equipment, the first consideration is if you have enough space. Taking measurements of potential sites is a good idea. Most online sources will have recommendations on space, but you can talk to a sales representative for the best results.
Most of the information will be on the dimensions of the machine, i.e., its footprint. You should also factor in additional space for safe operation and a stretching area. There needs to be plenty of space so that in the event you fall off the machine component won't cause additional injury.
Another critical factor that is overlooked by many potential users is the ceiling space. Pulley systems and other components often rise higher than the fixtures' height profile. You should also look into storage space in case you are unable to dedicate a particular area in your house.
If you have a partner or family member that often fights for the same workout space, you can look into a machine that accommodates more than one user. Devices like Body-solid's EXM-3000LPS and the HTF advanced workout system are viable options.

Use
The contraptions design has the most impact on how you will use it.
Home gym equipment falls into a variety of categories. These classifications include treadmills, stationary bike, and many other devices. This product list focuses on strength training machines.
Free weight stations are movable but accommodate heavy usage. They have an adjustable bench and feature other equipment like round plate weights, racks for barbells and dumbbells.
Portable equipment combinations - some manufacturers sell workout equipment as a kit with assorted accessories. This assortment usually includes a workout bench, abs worker, dumbbells, steps mats, mats, and many more. You can extend this type of system by purchasing more accessories.
Steel-based multi-gyms like Bowflex are an excellent example of such machines. They feature a flexing band that creates the resistance.
Total gyms combine sliding seats, adjustable height, and a user's weight to create resistance. Total gym 1500 is a prime example of such machinery.
Weigh stack-based multi-gyms are the most common configuration on this list. They employ stacked weights, cables, and pulleys to create mechanical resistance. A peg located by the legs helps you set the mechanical resistance of the device.
Free weight plate multi-gyms are similar to multi gyms but feature round weights that are fitted manually to barbell extensions.
Multi-combination Smith machines are like free-weight stations. However, the mechanism in Smith concept machines constrains the bar to a single vertical plane. These machines also allow for additional attachments for a more versatile workout.

Effectiveness
How will your gadget help you attain fitness goals?
Every fitness and expertise level put a particular set of requirements on home gym machines.
Light users and beginners
If you have simple fitness ambitions like enhancing flexibility, weight management, toning muscles, or general fitness, then an aerobic step can suffice. You also need an apparatus that comes with an adjustable bench, dumbbells, and resistance bands.
Multi-gyms make a great option, as they are compact and straightforward to use. They are quite affordable and offer a lot of flexibility.
Intermediate level trainer
If you are serious about strength training, muscle development, and enhanced fitness training, then you will need more resistance out of your gear. A viable option would be a quality exercise bench, barbell rack, and a complete set of dumbbells, plates, and barbells.
A more viable option to that would be an advanced multi-gym system like the HFT, Total-gym or Bowflex. You can also get a less sophisticated multi-gym and add some free weights to increase the level of resistance.
Advanced level trainers
Can only use home gym equipment to supplement training in a commercial gym. It is hard to replicate the exact number of tools used in the gym set up down to the smallest detail. If you are an advanced trainer, a free weight station with a quality exercise bench will do.
You can also amass a collection of dumbbells, plate weights, barbells, and any other accessories that can optimize your workout.

Safety Hazards
An excellent motto to live by is safety first.
The confidence boost that comes with a fit well-shaped body, the numerous health benefits, and a variety of other reasons are why people commit time and money to exercise equipment. A few factors make for an unsafe workout, thus turn it into an unhealthy activity. Here are a few such hazards and advice on averting them.
Infections from your devices are probably the last thing you would want on your path to better health. The sweat you leave on the machine makes an appropriate breeding ground for various bacteria and fungi. You should wide down the equipment as soon as you're done using it, sit on the bench with a towel, and consider a shower before and after working out.
Stumbling off the machine is an occupational hazard when it comes to any training. Wet surfaces are the leading cause of common gym accidents so care should be taken in ensuring the equipment is as dry as possible. You should also take care not to overload the weight stack and culture good storage practices, especially for loose gear like dumbbells.
Inappropriate use of equipment can lead to personal injury. Putting too much weight on the machine can cause pressure on your joints, knees, or back, causing injuries. Watch online tutorials, workout DVDs, and consult widely on ways to use the machine more effectively to avert such injuries.
Equipment malfunction is common in machines that have daily usage. Proper care and constant maintenance is the best way to prevent breakdowns. In the case of manufacturer errors and complex problems, it would be a good idea to cash in on your warranty.

Stability
Steadiness reduces the risk factor.
Fitness equipment can come with thousands of pieces and various components. When picking a machine, make sure that it comes with some parts pre-assembled and with an intuitive setup guide. It's good to note that most of the devices listed here have easy to follow instructions and some of the HFT need no further assembly.
You can also look into the tools needed for assembling the contraption. When looking for home gym equipment also consider safety features like base padding and lockable joints. These features will make your workout safer and prevent curious kids and pets from being injured.
Expert Interviews & Opinions
Most Important Criteria
(According to our experts opinion)
Experts Opinion
Editors Opinion
Users Opinion
By Default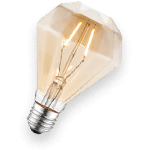 Enhancing Your Experience
Most of the products on this list offer an adequate set up for strength and core building with versatile exercises. Before committing to a purchase, consider how the features fit your fitness and health goals. However, don't forego a machine that doesn't tick every box; you can buy extra equipment that will help you reach your goals.
For an enhanced muscle work out consider purchasing additional resistance bands and adjustable dumbbells. If you want more cardio in your workout, a high-quality jump rope is one of the cheapest solutions. Abs wheels can supplement machinery that doesn't give a good mid-section workout; ab wheels are portable, easy to store, and can be used anywhere.
Built to Last
When scouting potential equipment, the material used in construction can give the best clue as to the durability of the machine. The most widely used materials are stainless steel, aluminum, steel, and foam or rubber padding. Machines made using these materials have proven to last for decades with proper use and maintenance.
When evaluating an equipment's durability, one should also factor in the quality of individual pieces of equipment, which includes the bands, cords, handlebars, the weights, and even the screws. Look at reviews for hints on the general finish, coating, and quality of insulation.
Other Factors to Consider

Bottom Line
A home gym machine that offers adequate options for weight and resistance training, as well as bodyweight exercises, is an excellent starting point. A pull bar attachment area or a permanent pull up feature as well as a station that can be used for triceps dips is also another quality feature to look for in a machine. Most of the devices featured on this list have these handy features.
If you are an experienced user or a fitness professional, you can extend the use of the machine beyond what it was built to handle. An exercise bench can double up as a station for a variety of other exercises that involve sitting, squatting, and some additional presses. You can include the equipment and an extra level of challenge to your exercise routines.
The lack of a professional trainer should also not be a discouraging factor when using home gym equipment. You can also find online sources that can help you get the most from your device. You will get results if you have some commitment to learning and advancing your fitness goals. There's also no certification required for the effective use and maintenance of a home gym. While at it, why not complete your gear with a pair of top-drawer workout shoes.
Frequently Asked Questions
q:

Is home gym machinery adequate for building muscle mass?

a:

With a commitment to realistic training goals and the use of home equipment, it is possible to build up muscle mass. The resistance offered by the machines and three weekly sessions that last at least 45 minutes, could enable you to attain this goal. The fact that there are no commutes to the gym, intimidating instructors and queues for specific fixtures eliminate any excuses not to reach your goals.

The gadgets featured on this list come with DVDs, charts and some have Apps that show you a variety of exercise you can do on them. There are also a wide variety of online videos and other online tools that you can use to enhance or optimize your workout sessions. When looking at such resources, keep a keen eye on duration, intensity, and affected muscle groups to get a productive exercise session while avoiding injury and strain.
q:

Can a room in the second-floor host home gym equipment?

a:

While it is not as ideal as a basement, garage, or ground floor, you can use an upstairs room if you lack another option. The live load-bearing capacity of the deck is the first thing to consider; a well-built upper floor can safely bare 50 pounds per square foot. Theoretically, a 100 square foot room has weight total bearing capacity of 5,000 pounds.

Setting up the machine on a floor joist enhances the floors bearing capacity. You can minimize risk even further by setting up the apparatus atop a weight-bearing wall. Another helpful consideration would be to get the lightest possible machine; anything that weighs less than 300 pounds will work in most upstairs floors without causing structural damage.
q:

Is having home gym equipment better than joining a commercial gym?

a:

Having a home gym removes the monthly costs of gym memberships. There's a lot of packing, traveling, and waiting when using a public gym but with the machines on this list, you can work out at your convenience. A home gym also eliminates competition for equipment so you can set exact workout times and attain your goals with ease.

An overstated advantage of having personalized gadgets is the ability to workout whenever you want. The time of day or night doesn't matter so you can maintain a busy schedule and still have time to exercise when you get home. Once you work out challenges like space, the cost of acquiring the machine and minimize the distractions, then the advantages of home equipment become more apparent.
q:

How small can you make a home gym?

a:

With a little imagination, even a small apartment can host a home gym. The first thing to consider is acquiring the right equipment. Consider getting a foldable workout station with plenty of free weights and racks for dumbbells and barbells; this will minimize space use.

Detailed workout plans can also minimize the space taken up by the equipment. If you are having a leg day or an arm day, you can store any accessories that will not feature in your training. Tools like kettlebells, resistance bands, and dumbbells are small enough to fit under a bed.
q:

How do you clean the home gym equipment?

a:

This question represents a common concern for most home gym owners. Maintain clean equipment maintains the working machine condition and prevents microbial growth that can cause infections. Cleaning the equipment, floors, and walls around your station, once a week is highly recommended.

You should also keep cleaning supplies close so you can wipe down the bench, accessories, and the machine after each use. You should use cleaning products that aren't abrasive to avoid peeling the finishing off your equipment. Personal hygiene is also vital; showering before and after workouts, using clean towels as well as avoiding having meals or snacks on the machine is a sure way to minimizing fungi and bacteria.
Subscribe to our Newsletter