Best Dumbbells Weights and Dumbbell Sets Reviewed
In a
Hurry? Editors choice: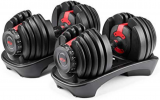 Test Winner: Bowflex SelectTech

Training with dumbbells gives you the ability to practice functional fitness or movements. Incorporating dumbbell weights into workouts such as squats, stimulates, and strengthens your body to perform such routines with more ease. They are a slow way of getting a stronger core, but they also offer the safest and surest way to enhance overall fitness.


Dumbbell weight sets are durable and come in sets offering a wide range of resistance levels/weights. There is an option that suits every fitness goal and level of experience. Whether you want to sculpt a specific muscle group, enhance a routine, or stay in shape, dumbbells can assist you.


The current market has an influx of such products with varied pricing points and construction qualities. This list provides you with a pick of the ten best. Please keep reading to find an option that suits your needs.
Standout Picks
Criteria Used for Evaluation
Weight
Weight can also help settle on a product that fits your fitness needs.
The weight of a particular dumbbell or set is the first aspect to consider when shopping for these products. If you get an option that is too light or heavy for the need of your workout program, you will feel frustrated. When shopping for the optimal weight, your current, form, core strength, and fitness goals can be your guiding light.
Novice level
If you are very new to gym workouts, the recommended setting is 2 X 20 pounds. This weight selection eases you into the use of dumbbell weights and can be used for a variety of exercises. You can work your way into 30-pounds and 40-pounds options eventually.
Intermediate level
Slightly experienced users can use 20 to 50 pounds options. Adjustable models best serve this versatility in weight requirement. If you need a heavier or lighter weight, you can go for fixed-weight models.
Expert level
50 to 70 pounds weights can serve the needs of more proficient weight trainers and professional athletes. This weight choice requires a lot of resistance, and superior form and less experienced users run the risk of injury if they attempt using such weights. This weight is beyond the scope of adjustable dumbbells, but some models feature extension kits to enhance the weight resistance.
Style
Dumbbells come in various shapes, sizes, and adjustment options.
There are many different types. Distinguishing the subtle differences can help you settle on an option that meets your specific needs. This section will help prevent you from being overwhelmed by the wide variety of these exercise tools.
Fixed
This option features a non-removable/ adjustable weight at the end of the dumbbell. These models feature construction from various materials, but rubber material is the most commonly used. They can withstand regular use/abuse, are widely available in multiple colors, and weight option.
Hex
These products feature a hexagonal shaped weight that prevents them from rolling. Many gym and home surfaces are not very flat; when a dumbbell weight spins away, it distracts your workout session and can cause injuries. Many home and gym owners prefer them because they are easier to store, give a higher value for money and functionality compared to round models.
Round
These round models are commonly found in commercial gyms because of their durability, versatility, and the protection they offer. They often feature a rubberized finish, which allows you to drop them without damaging the floor. They also have more agronomic handle options when compared to other variants.
Adjustable
These adjustable tools allow you to adjust the weight by removing or adding different plate weights. Some models feature advanced options that will allow for more continence when switching back and forth between weights. An excellent example of such models is Bowflex, which has a locking mechanism in either end that you can reposition to add or remove weights.
Plate set
These options look a lot like a miniature version of barbells and barbell plates. They feature a sleeved handle to which you can slide on various plate weights. These sets take up less space than adjustable dumbbells but more space than sets of fixed ones.
Studio
Studio models are primarily employed in certain types of classes that are taught by instructors. They feature a lower weight designation when compared to other classifications. They feature fixed weights and have textured grips, which makes them ideal for incorporation into cardio training.
Multi-user
These models are found in commercial gyms and learning institution like high school or college gyms. A rack with a sable holds several round weight weights for ease of use. Multi-user options take up a lot of space, cost more, and are damaged over time.
Spin-lock
These adjustable dumbbells have treaded sleeves instead of a clamp. To adjust the weight, you slide the plate onto the sleeve and secure it using spin-lock. The spin-lock is then tightened until it reaches the plate weight.
Kettlebells
Kettlebells look more like cannonballs with handles affixed to the top. Their unique shape facilitates diverse swings necessary for a ballistic workout session. They are usually made of iron or steel that has a rubber coating.
Effectiveness
Dumbbells have various physiological effects.
Dumbbells offer a more effective way to enhance your maximum strength when compared to other types of gym equipment. These tools also allow you to focus on specific areas and muscle groups. To help you select the best kind of weight, here are a few of the physiological effects that these handy tools have to offer.
Mechanical and metabolic overload dumbbells provider these two types of overloads that lead to muscle expansion. Mechanical overload occurs when muscle contractions cause damage. This damage stimulates repair processes that lead to larger and studier muscle tissue.
Metabolic overload occurs when you work your muscles to fatigue. This fatigue forces your body to adapt muscle cells capable of storing more glycogen that make the muscles larger. You can use heavy weights to create mechanical overloads and high reps combined moderate-weight dumbbells for metabolic overload.
Inter and intramuscular coordination can be created using dumbbell weights, which lead to higher muscle activation levels. Intramuscular conditioning is the ability of a variety of muscle to work in coordination to develop and stabilize a joint motion while intramuscular coordination is the effective activation of muscle, motor units, and attached muscle fibers inside a specific muscle.
Incorporating these into multiplanar, compounds, or multipoint motions patterns enhances the coordination of different muscle groups. Heavier options increase the number of activated muscle fibers within a particular muscle.
Enhanced muscle elasticity: Training using dumbbells enhances the contractile element and elastic constituent of muscles. The contractile element is an active-muscle protein that allows muscles to slide off each other to lengthen or shorten the muscles. The elastic components are the connective tissue and fascia that connects every muscle fiber or groups of muscle fiber.
These components store mechanical energy whenever muscles are lengthened, then they release this energy when muscles are shortened. Training with these weights enhances the capacity of the contractile element. A combination of multiplanar movement and lightweight weights heightens the strength and resilience of the elastic component.
Targeted muscle training: dumbbell weights enable you to focus on a specific limb at a time. This muscle targeting allows you to gain more strength using a heavy overload. This type of workout is the safest way to enhance your strength training.
Materials
Dumbbells come in a variety of materials to match your personal preferences and budget.
Urethane options are popular for various types of fitness classes and usually come in different weights up to 10 pounds. They cannot rust, meaning you can wash them anytime. They offer the cheapest solution and don't roll, this makes them easier to use and storage.
Rubber is a natural compound with shock absorption qualities that give it great grip-ability. Rubber coating prevents equipment from scratches and structural damage. Rubber also gives off a sleeker and more appealing finish.
Chrome models are chrome plated for a shiny finish and enhance wear resistance. All the types feature chrome options. They also offer an impressive amount of weight resistance.
Neoprene is a synthetic material with a rubbery consistency. Dumbbell weights made from other material like iron are usually coated in neoprene to enhance grip-ability. An advantage to neoprene-coated equipment is they won't slip when your hands get sweaty, so you don't need a pair of gloves.
Cast Iron dumbbells are the most popular option for many athletes and fitness enthusiasts. These tools consist of a cast-iron mass that coated with powder or semi-flat enamel paint. With time, the coating fades with constant use and oxidation.
Steel options are also popular since they are affordable, easy to maintain, and impressively heavy. Some Adjustable and fixed models feature steel as the core material you must keep steel models indoors to prevent rust.
Shock Absorption
The ideal dumbbell needs to have high grip-ability and resistance to damage.
The coating used in the construction of dumbbell weights determines how much shock the equipment can absorb on impact. Coated and rubberized spacers and handles prevent your hands from fatigue during strength training. You can also use straps and gloves for the same purpose, but rubberized components also prevent damage.
Grip-ability often goes understate. However, it is a vital aspect since it determines how the weight feels in your hands and how well you can handle it. If you sustain calluses or another kind of injury, it might present a severe problem in your progress.
The design and ergonomics put into the equipment also determine the level shock absorption. Some grips fit perfectly into your hands while others are contoured and textured for slip resistance and secure handling. These features also prevent the equipment from slipping off your hands whenever you sweat.
Top 10 Picks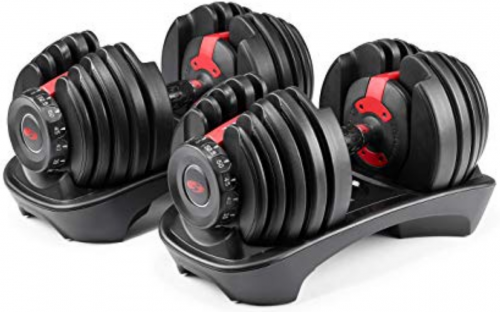 If you are looking for a durable, affordable, easy to adjust, and high performance exercise tool then the Bowflex SelectTech 552 adjustable dumbbells are right for you. All fitness levels from beginner to advanced can take advantage of the features that this tool has to offer.
The Bowflex SelectTech 552 comes in two dumbbell setrs that have a gunmetal color with red accents. This set features metal plates surrounded by durable molding. This construction makes lifting the set very smooth as well as relatively noise-free.
This product comes in pairs, and there is an optional stand, which offers convince when storing or setting the weight. The weights can be adjusted from 5 to 52.5 pounds. This adjustability comes in 2.5 pond increments until you reach 25 pounds .s; a 25.2-pounds Weight enables you to set it to the maximum.
Adjusting this set is intuitive and smooth; its design is excellent for changing weight when you are in between workouts. This model has a simple dial on the handle and weights for adjusting the total load. This system is convenient since there is nothing to unhinge or unscrew when adjusting the weights.
The wide range of weight means you can practice more varieties of exercises from raises to lunges and squats. Bowflex has a free to download App, which offers plenty of instructor lead workouts for all fitness and resistance levels. You can also use this app to journal your progress as well as create custom workouts.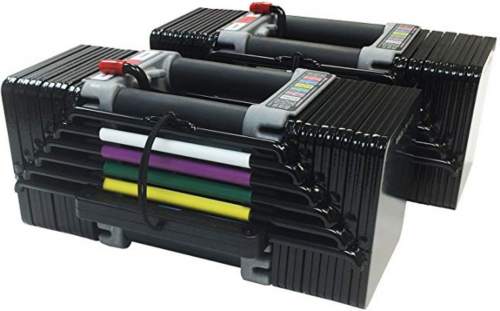 The PowerBlock elite set is one of the sturdiest adjustable dumbbell set that the market has to offer. What sets this model apart from other options is the unique four-bar design. This layout provides more balance in weight distribution when compared to other brands.
This set has two lower bars that enable you to stack additional weights. It also has two top bars that also functions as wrist guards. This innovative layout helps prevent users from bending their wrists unnaturally while lifting loads.
The PowerBlock elite set is available in three different weight ranges. These weight ranges are Elite 50 (5 – 50 pounds), Elite 70 (5 – 70 pounds) and Elite 90 (5 – 90 pounds). This wide range of loads ensures that everyone from the novices to veterans has an option to serve their needs.
Adjusting the weight is a breeze; one uses the magnetic selector pin to set the desired weight. However, this selector pin only works in 10- lbs. increments, which can be too much for less experienced users. Increments lower than five ponds require you to pause and add the weights manually.
This set is impressively durable and makes for a versatile training partner. The PowerBlock elite can also withstand heavy collisions without suffering damage thanks to its sturdy construction. What's more, this set is backed by a 10-year home warranty.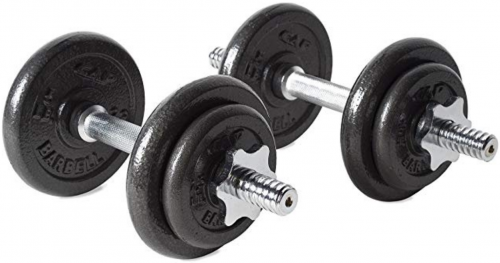 The CAP Barbell is a 40-pounds Weight set that comes in a neatly organized case. This set and case provide users with ease of access as well as a continent way to store and carry the set of weights. This heavy-duty plastic case features handy placeholders for the weights and secure lockable lid with a handle for carrying.
The Cap Barbell set consists of two handles that weigh five pounds. This set comes with four '2.5pounds' weight plates and four '5pounds'. These plate weights allow for weight ease of adjustment in the respective weight increments.
This dumbbell set features a sturdy and durable cast iron construction that makes this set easy to maintain and hard of wearing. The handles have threaded collars that lock and secure the plate weights in position.
The barbell handles are ergonomically designed to provide a knuckled grip for stability and security when lifting the sets. This feature allows you to use the dumbbell weights with your bare hands or suitable weightlifting gloves. This set makes an excellent tool for beginners to pros because of its weight adjust and affordable price.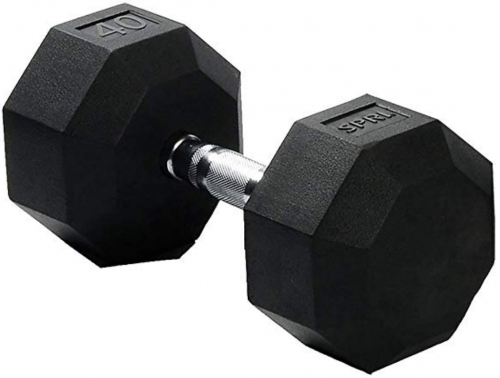 The SPRI Deluxe is a set of hexagonal-shaped dumbbells that have a thick rubber coating. This set is ideal for particularly clumsy people since the rubber coating provides them with extra grip. The SPRI deluxe is also suitable for use on any surface, as this set will not damage floors on collision.
This rubber coating also enhances your overall performance, as the weight is well balanced and less strenuous on your wrists. The set also features chrome contouring on the handle that maximizes on the set's aesthetic appeal as well as provides a perfect palm grip and fit.
The Hex design features on the SPRI deluxe rubber dumbbell weights enhance durability. This design also allows you to optimize on available storage space through stacking the dumbbells on top of each other. The overall effect is a more compact and balanced product.
This set is easy to clean; all you need to do is wipe it after use. The SPRI Deluxe is one of the most affordable non-adjustable set you can find on the market. This model even comes at a fraction of the price of similar products from leading brands.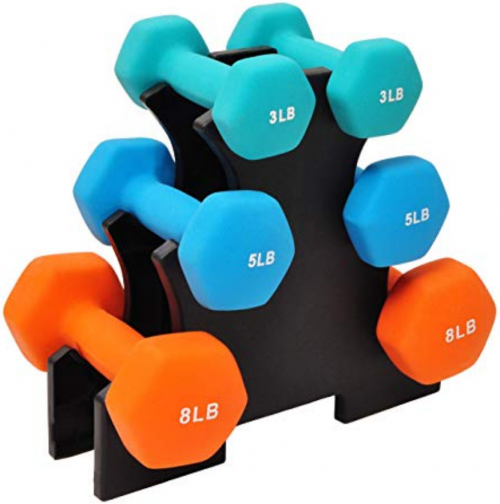 BalanceFrom GoFit All-Purpose is a set of studio dumbbells that feature a neoprene coating. This model comes with a stand that holds three differently weighted itmes. 18 pounds is the maximum weight combination offered by this brand, which makes this set inadequate for intense strength training.
This quality studio set has neoprene coating for high grip-ability, to prevent slips and scratches on floor surfaces. The BalanceFrom is available in 15 differently weighed packages. You can opt to buy a pair in any size or the 3 pound six-pack, and there is a 20 pound six-pack version.
This dumbbell set has a hexagonal shape that prevents them from rolling on the gym surface. The handles featured on this model are also contoured for added ease of use. The manufacturers have included an assembly tool for convenience when putting the stand together.
The six-pack assortment comes with a plastic stand that makes storage and uses more convenient. However, the built quality of the stand is a bit flimsy, and lack of set up instructions only compounds the problem. With that said, this set makes for a great purchase because of the fair price point.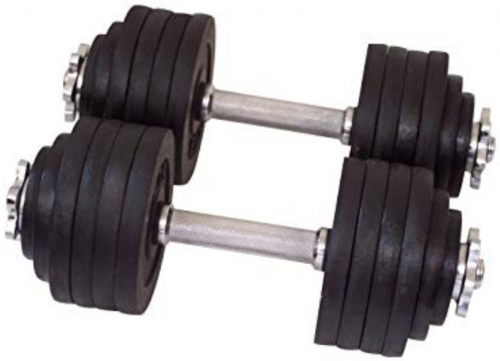 The Unipack cast iron adjustable dumbbells are ideal for all fitness levels, especially for athletes that have reached a plateau. This set offers an impressive maximum resistance of 105 pounds (52.5 pounds x 2). The Unipack also offers adjustment with various sets of round plate weights in 2.5 pounds increments.
When you open the box, you get two handles, two collars, 16.5 pounds, four 2.5 pounds, and four 1.25 pounds weights. This assortment of weight represents a significant reduction in the storage space needed when compared to other brands. This versatile and adjustable set also allows you to perform a wider variety of exercises using these weights.
The handles in this set have a diameter of 1.5 inches and a length of 16 inches, which fits in comfortably in any hand. The silver-plated chrome handles are as aesthetically pleasing as they are ergonomically. These handles are also beveled for a more comfortable, secure, and slip-free grip.
The spinlock collars featured on this model have treaded ends. This design provides a convenient on and of mechanism. This traditional adjustable option is compact, affordable, and highly durable.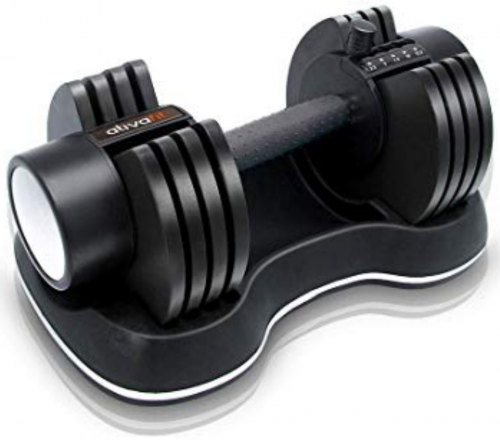 ATIVAFIT's branding mission statement to its customers is a commitment to providing unique product experiences. This brand has certainly done exactly that by providing supportive information, reliable products all matched with the latest technology. The ATIVAFIT adjustable dumbbell set delivers on that promise to the delight of many avid customers.
This set offers a maximum load of 27.5 pounds x 2, which is inadequate for hardened users but appropriate for less experienced users. Aside from the weight, the rest of the features are worth drooling over. This model has a push and slide mechanism that makes setting weights both quick and easy; you can go from 5.5 pounds to 27.5 pounds in an instant.
The chrome-plated handle is not only durable, but it also features a knuckled design that makes it easy to grip. A single set is equal to four differently weighted weights all in one compact design. However, you should ensure that the dumbbell weights is securely housed within the tray before adjusting the weight.
The compact design also makes storage and handling easy, even for little kids. The overall design is also very eye-catching, which would make any proud owner prominently display it for all to see. This set makes a great addition to any commercial or home gym.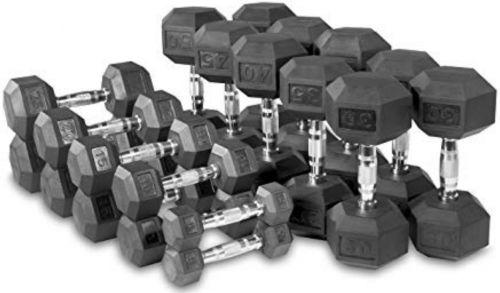 The XMark Fitness 550 pounds Premium hex dumbbell set is one of the best investments you can make towards your strength training, physical fitness, and health. This set comes with a heavy-duty steel rack with three neatly arranged tiers for storing your weights. This option may look like an imposing purchase, but you have the option of buying every component separately.
Each dumbbell weight has a hexagonal shape that prevents rolling and slipping. The weights are also coated in superior quality rubber for added shock absorption, to prevent damages to gym surfaces. The tilted rack makes loading and unloading weights intuitive and fast.
The construction of this model features cast iron heads pressed, fitted, and welded to the handle resulting in a sturdy one-piece unit. This model has an ergonomically designed chrome handle that fits comfortably in your palm. This product is also an ethical purchase as all the rubber elements are made from recycled rubber, which may have a slight odor that dissipates over time.
The individual weights range from a weight of 5 pounds to 50 pounds that makes this option perfect for all. The rack adds convenience to your gym layout as it will prevent the area from being overcrowded by dumbbells. This model makes the best possible purchase on this list for anyone who has the enthusiasm and space to workout.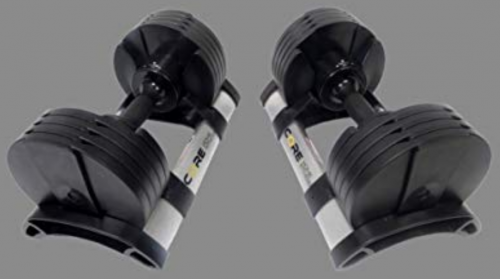 Core Fitness adjustable dumbbell weights are ideal for all types of users. The core fitness has a stunning, almost futuristic design. This model offers a minimum load of 5 pounds and a maximum load of 50 pounds you can adjust the weight load in convenient 5 pounds increments.
Unlike most dumbbells featured on this list, the adjustment is made using a quick dial mechanism. This twist-lock technology allows you to adjust the weigh with one hand, which saves a lot of time when you are in between reps. The set also includes cradles for secure storage and safety when adjusting the weight.
The plate weights have a plastic coating to reduce noise, prevent surface damage, and to enhance the durability of the product. The handle is textured, soft, and contoured for a more comfortable grip. To top it all off you each purchase of this product entitles you to a 2-year warranty on all parts.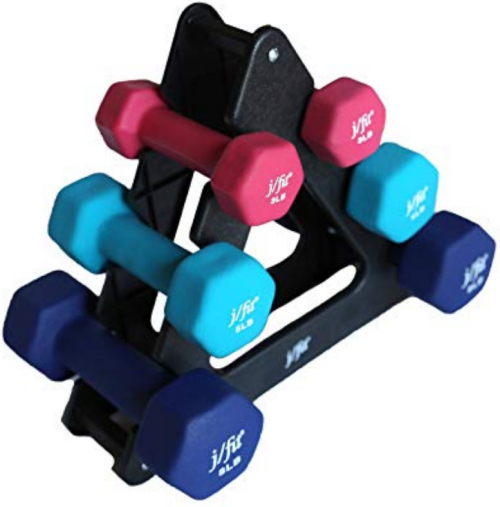 The J/FIT studio dumbbell weight set is ideal for senior citizens, instructor-led fitness classes, as well as beginners. You can opt for an 18 pounds set or a 74 pounds set if you are an advanced user. These are color-coded each weight having a dedicated color.
The set also comes with a handy storage rack that holds the hexagonal shaped dumbbell weights neatly in place. This model is coated in a double neoprene material that protects the steel material from chipping away or accumulating rust. It is handy to note that the steel used in the construction of this model is almost indestructible.
The wide range of available weight makes this option great for all fitness and weight-resistance levels. These options also enable users to apply these tools to a variety of fitness-related activities like Pilates, varied bodyweight training, and physical rehabilitation. The J/FIT studio dumbbell set offers excellent value for money and hassle-free storage.

Subscribe to our Newsletter