Best Dumbbells Weights and Dumbbell Sets Reviewed
last updated
Aug 15, 2019
Training with dumbbells gives you the ability to practice functional fitness or movements. Incorporating dumbbell weights into workouts such as squats, stimulates, and strengthens your body to perform such routines with more ease. They are a slow way of getting a stronger core, but they also offer the safest and surest way to enhance overall fitness.
Dumbbell weight sets are durable and come in sets offering a wide range of resistance levels/weights. There is an option that suits every fitness goal and level of experience. Whether you want to sculpt a specific muscle group, enhance a routine, or stay in shape, dumbbells can assist you.
The current market has an influx of such products with varied pricing points and construction qualities. This list provides you with a pick of the ten best. Please keep reading to find an option that suits your needs.
In a Hurry? The test winner after 9 hrs of research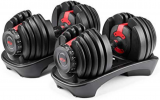 Bowflex SelectTech
Why is it better?
Very portable
Advanced design
Easy weight adjustment
In a
Hurry? Editors choice: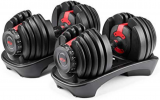 Test Winner: Bowflex SelectTech

5
Researched Sources
14000
Reviews Considered
9
Hours Researching
10
Products Evaluated
Weight
Style
Effectiveness
Materials
Shock Absorption
By Default
Criteria Used for Evaluation


Weight
Weight can also help settle on a product that fits your fitness needs.
The weight of a particular dumbbell or set is the first aspect to consider when shopping for these products. If you get an option that is too light or heavy for the need of your workout program, you will feel frustrated. When shopping for the optimal weight, your current, form, core strength, and fitness goals can be your guiding light.
Novice level
If you are very new to gym workouts, the recommended setting is 2 X 20 pounds. This weight selection eases you into the use of dumbbell weights and can be used for a variety of exercises. You can work your way into 30-pounds and 40-pounds options eventually.
Intermediate level
Slightly experienced users can use 20 to 50 pounds options. Adjustable models best serve this versatility in weight requirement. If you need a heavier or lighter weight, you can go for fixed-weight models.
Expert level
50 to 70 pounds weights can serve the needs of more proficient weight trainers and professional athletes. This weight choice requires a lot of resistance, and superior form and less experienced users run the risk of injury if they attempt using such weights. This weight is beyond the scope of adjustable dumbbells, but some models feature extension kits to enhance the weight resistance.


Style
Dumbbells come in various shapes, sizes, and adjustment options.
There are many different types. Distinguishing the subtle differences can help you settle on an option that meets your specific needs. This section will help prevent you from being overwhelmed by the wide variety of these exercise tools.
Fixed
This option features a non-removable/ adjustable weight at the end of the dumbbell. These models feature construction from various materials, but rubber material is the most commonly used. They can withstand regular use/abuse, are widely available in multiple colors, and weight option.
Hex
These products feature a hexagonal shaped weight that prevents them from rolling. Many gym and home surfaces are not very flat; when a dumbbell weight spins away, it distracts your workout session and can cause injuries. Many home and gym owners prefer them because they are easier to store, give a higher value for money and functionality compared to round models.
Round
These round models are commonly found in commercial gyms because of their durability, versatility, and the protection they offer. They often feature a rubberized finish, which allows you to drop them without damaging the floor. They also have more agronomic handle options when compared to other variants.
Adjustable
These adjustable tools allow you to adjust the weight by removing or adding different plate weights. Some models feature advanced options that will allow for more continence when switching back and forth between weights. An excellent example of such models is Bowflex, which has a locking mechanism in either end that you can reposition to add or remove weights.
Plate set
These options look a lot like a miniature version of barbells and barbell plates. They feature a sleeved handle to which you can slide on various plate weights. These sets take up less space than adjustable dumbbells but more space than sets of fixed ones.
Studio
Studio models are primarily employed in certain types of classes that are taught by instructors. They feature a lower weight designation when compared to other classifications. They feature fixed weights and have textured grips, which makes them ideal for incorporation into cardio training.
Multi-user
These models are found in commercial gyms and learning institution like high school or college gyms. A rack with a sable holds several round weight weights for ease of use. Multi-user options take up a lot of space, cost more, and are damaged over time.
Spin-lock
These adjustable dumbbells have treaded sleeves instead of a clamp. To adjust the weight, you slide the plate onto the sleeve and secure it using spin-lock. The spin-lock is then tightened until it reaches the plate weight.
Kettlebells
Kettlebells look more like cannonballs with handles affixed to the top. Their unique shape facilitates diverse swings necessary for a ballistic workout session. They are usually made of iron or steel that has a rubber coating.


Effectiveness
Dumbbells have various physiological effects.
Dumbbells offer a more effective way to enhance your maximum strength when compared to other types of gym equipment. These tools also allow you to focus on specific areas and muscle groups. To help you select the best kind of weight, here are a few of the physiological effects that these handy tools have to offer.
Mechanical and metabolic overload dumbbells provider these two types of overloads that lead to muscle expansion. Mechanical overload occurs when muscle contractions cause damage. This damage stimulates repair processes that lead to larger and studier muscle tissue.
Metabolic overload occurs when you work your muscles to fatigue. This fatigue forces your body to adapt muscle cells capable of storing more glycogen that make the muscles larger. You can use heavy weights to create mechanical overloads and high reps combined moderate-weight dumbbells for metabolic overload.
Inter and intramuscular coordination can be created using dumbbell weights, which lead to higher muscle activation levels. Intramuscular conditioning is the ability of a variety of muscle to work in coordination to develop and stabilize a joint motion while intramuscular coordination is the effective activation of muscle, motor units, and attached muscle fibers inside a specific muscle.
Incorporating these into multiplanar, compounds, or multipoint motions patterns enhances the coordination of different muscle groups. Heavier options increase the number of activated muscle fibers within a particular muscle.
Enhanced muscle elasticity: Training using dumbbells enhances the contractile element and elastic constituent of muscles. The contractile element is an active-muscle protein that allows muscles to slide off each other to lengthen or shorten the muscles. The elastic components are the connective tissue and fascia that connects every muscle fiber or groups of muscle fiber.
These components store mechanical energy whenever muscles are lengthened, then they release this energy when muscles are shortened. Training with these weights enhances the capacity of the contractile element. A combination of multiplanar movement and lightweight weights heightens the strength and resilience of the elastic component.
Targeted muscle training: dumbbell weights enable you to focus on a specific limb at a time. This muscle targeting allows you to gain more strength using a heavy overload. This type of workout is the safest way to enhance your strength training.


Materials
Dumbbells come in a variety of materials to match your personal preferences and budget.
Urethane options are popular for various types of fitness classes and usually come in different weights up to 10 pounds. They cannot rust, meaning you can wash them anytime. They offer the cheapest solution and don't roll, this makes them easier to use and storage.
Rubber is a natural compound with shock absorption qualities that give it great grip-ability. Rubber coating prevents equipment from scratches and structural damage. Rubber also gives off a sleeker and more appealing finish.
Chrome models are chrome plated for a shiny finish and enhance wear resistance. All the types feature chrome options. They also offer an impressive amount of weight resistance.
Neoprene is a synthetic material with a rubbery consistency. Dumbbell weights made from other material like iron are usually coated in neoprene to enhance grip-ability. An advantage to neoprene-coated equipment is they won't slip when your hands get sweaty, so you don't need a pair of gloves.
Cast Iron dumbbells are the most popular option for many athletes and fitness enthusiasts. These tools consist of a cast-iron mass that coated with powder or semi-flat enamel paint. With time, the coating fades with constant use and oxidation.
Steel options are also popular since they are affordable, easy to maintain, and impressively heavy. Some Adjustable and fixed models feature steel as the core material you must keep steel models indoors to prevent rust.


Shock Absorption
The ideal dumbbell needs to have high grip-ability and resistance to damage.
The coating used in the construction of dumbbell weights determines how much shock the equipment can absorb on impact. Coated and rubberized spacers and handles prevent your hands from fatigue during strength training. You can also use straps and gloves for the same purpose, but rubberized components also prevent damage.
Grip-ability often goes understate. However, it is a vital aspect since it determines how the weight feels in your hands and how well you can handle it. If you sustain calluses or another kind of injury, it might present a severe problem in your progress.
The design and ergonomics put into the equipment also determine the level shock absorption. Some grips fit perfectly into your hands while others are contoured and textured for slip resistance and secure handling. These features also prevent the equipment from slipping off your hands whenever you sweat.
Expert Interviews & Opinions
Most Important Criteria
(According to our experts opinion)
Experts Opinion
Editors Opinion
Users Opinion
By Default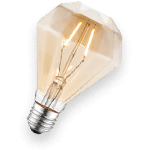 Relax
Strength training is an endeavor that engages all your muscles, burns calories, and puts a bit of strain on your body organs. You need to stay relaxed so that you can focus on the essentials of the workout at hand. This composure builds a better form and prevents unnecessary strain and injury.
Pay some attention to your breathing, as relaxed breathing is the best way to avoid tense muscles. You should also relax your muscles by intentionally trying to make them limber. You can also vary your grip to release or create tension as you work out. When lifting, clamp the handle and when lowering release some of this tension.
Control your movement
Whenever you work out to music, it's easy to be swayed by the beat and start moving to the momentum, forgetting to control the dumbbells. Thrusting and pumping your hands means that you're moving too quickly. Rapid movements don't utilize your maximum range of motion or resistance, and this means you are wasting time.
Slower reps are the key to taking full advantage of the resistance that dumbbells have to offer. You can also find a variety of speeds to engage minor muscle groups. Always remain in complete control of the tools to build a proper form to get the most out of your training.
Other Factors to Consider


Bottom Line
The general assumption is that dumbbells can only be used for raw muscle development. However, as you can see the potential applications of these fitness tools goes way beyond that scope. The compact design, portability, and adjustability of these tools make them ideal for a versatile range of application.
There is "a school of thought," which favors D.I.Y dumbbells- because they assume purchasing commercial options is a waste of funds. However, these homemade alternatives don't have a balanced weight and lack other vital features that enhance your safety. As you can see from this review, commercially available dumbbells won't break your bank and offer far too many advanced features to be ignored.
When selecting a potential purchase, the weight, materials, and the padding provided should act as the guiding principles. The aspects above can also determine the durability of dumbbells. You can also go for aesthetics if the earlier criterion is also satisfied.
Frequently Asked Questions
q:

How do you choose dumbbells?

a:

Selecting a Dumbbell or a set may look like a simple endeavor; however; the vast array of models may be confusing. These tools typically come in hexagonal or rounded shapes. Many prefer hexagonal shapes because they can be used in variations of press-up workouts and don't roll.

The constituent materials are also an essential fact as they have a direct effect on the ergonomics and durability of the tools. Metal options look cool, but they can destroy wooden floors and loose concrete. Rubberized models are more comfortable to grip but can leave skid marks on the floor; selecting the right option is a subjective your needs and gym surface can help you settle on the best choice.
q:

How do you care for dumbbell weights?

a:

The best way to ensure that your dumbbells serve you for longer is proper storage and cleaning them regularly. You need to store your dumbbells in a dust and moisture free indoor environment. Such a storage space eliminates most of the natural elements that degrade the materials used in making dumbbells.

Small amounts of dish wash soap can be used to wipe the metallic parts of the tools using a damp piece of cloth. You can use the same process to clean the rubber parts, always ensuring that the dumbbells are dry before storing them. Spray any chrome-plated sections with WD-40; let it settle a bit then wipe with a dry piece of cloth.
q:

How do you eliminate the stick from rubberized weights?

a:

Natural rubber stinks because it starts to thicken and degrade once bled from the rubber tree. It's not a sign of product inferiority so you should be patient and take the following measures to reduce this reeking smell. When your dumbbells are new, leave them outside in the sun to allow the rubber to gas off.

You can also wash them with a specialized soap like murphy's oil or PineSol; they wash away the smell and leave an oil coating. An old-school way of dealing with this problem is to cover the rubber with baking soda and kitty litter. It may sound gross, but these two substances are highly effective at absorbing and soaking up malodors.
q:

What types of exercises can you use them for?

a:

The most amazing thing with dumbbells is that they can be used in a variety of exercise because they affect nearly every muscle group. The weight distribution on these tools allows you to incorporate them in a variety of bodyweight exercises such as lunges and squats. Such activities have motions that affect the arm, lower back, and thighs with the additional load that the tools provide.

Weight lifting also employs the use of this equipment in a more extensive manner. Free weight bench pressing, basic curls, lateral raise, and hammer curls are a few of the exercise that you can do using these tools. These tools can also be used together with weighted vests and wrist straps in advanced weight resistance training.
q:

What's the difference between dumbbells and Kettlebells?

a:

Both tools are suitable for fitness and strength training; however, they cannot be used for the same exercises. Some key differences in design, construction, and use set both tools apart from the other. For starters, there is ample space between the handle and load when it comes to Kettlebells. On the other hand, dumbbells have a grip and weights are next to each other.

The load is placed squarely on the wrist when you use dumbbells while kettlebells spread it across the forearm as well. This natural alignment also allows you to do more reps when working with Kettlebells while dumbbells require a more gradual pace, which builds higher resistance. Both tools also support varied motions when working out this gives each a unique range of mobility and flexibility to warrant having both in your gym.