Best Rowing Machines Reviewed
In a Hurry? Editors choice: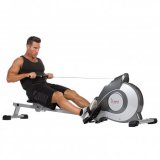 Test Winner: Sunny Health & Fitness

When building a home gym, adding a rowing machine is an excellent tool for building muscle and losing weight. What's makes a rowing machine so great is that it is a very low impact workout that gets your heart pumping while being kind to your joints. Plus, it will not take up a whole lot of room in your home gym.

The rowing motion is deceptively difficult, and tones muscles in your arms, legs, and back. Working out for a mere 30 minutes a day can burn anywhere from 200-350 calories! If you want something that is a little different from the traditional treadmill or elliptical, a rowing machine is an excellent option that is low impact.

In this guide, we have compiled a list of some of our favorite rowing machines that will help you burn calories and build muscle.
Standout Picks
Criteria Used for Evaluation
Materials
The materials that were used to make each rowing machine was one of the very first things that we considered.
Materials used can dictate quite a few things. First, it will tell you how long a device can be used before wear and tear starts to set in. Secondly, it will indicate how easy it is to use and if it will be comfortable.
We have broken down the different materials used for the various components of many of the devices out there on the market. Each option has its distinct advantages as well as disadvantages.
Track design: The track is the long and narrow piece of metal that you glide upon. Once you pull out the line, the natural motion will cause you to glide along the track. It is important that you maintain as ease of movement along this track to ensure you get the most out of your rowing machine.
We preferred devices that used solid steel for their track. Solid steel ensures that the track will be less prone from getting bowed or dented with prolonged use. If the track sustains any damage, it means that the seat will snag in certain places on the track.
Aluminum options were also something that we considered. Aluminum isn't as strong and heavy duty as steel, but it is known for preventing the dreaded squeak that can occur! Plus, aluminum is also much lighter than solid steel, which makes moving it or putting it into storage a lot easier.
Line design: The line used to pull yourself along the track in another really important aspect to any rowing machine. Depending upon the tension that you set your machine, this line takes a lot of heat. It is pulled and yanked over and over again, so it needs to be made from a really tough material!
We preferred lines that were composed of tear-resistant nylon. What makes nylon ideal is that is really is resistant to tearing, but it is also unaffected by any outside contaminants such as dust, dirt, and water. If your line gets a little wet, nylon is an excellent moisture wicking material that will not absorb any moisture into its fibers.
Ease of Use
There are three different styles of resistance out there on the market, and they all have their advantages and disadvantages.
We made sure to include all three different styles to let you decide which feature is better suited to your rowing needs.
We have gone into a little bit of detail below of the three different styles of tension, and the reasons they are beneficial, as well as talk about some of their shortcomings.
Water resistance: We found that water resistance was one of the most popular options out there on the market. These rowing machines have a central chamber that you fill with water that creates the same type of tension that you get when rowing in the water.
As you take each stroke, you can actually hear the water splashing around in the chamber! That means that if you close your eyes, you can pretend that you are out on the lake, even in the middle of a cold January morning. Users love not only how these options sounds, but it also has an interesting look to it as well.
However, there are a few shortcomings to this design, and it can be a real dealbreaker. Most of the water rowing machines out there on the market are difficult to adjust the tension. Instead of turning a knob to increase the intensity, you actually need to drain or fill it with water to make your adjustments. This process can be tedious, and it means you cannot change intensities in the middle of a workout.
Magnetic resistance: The magnetic rowing machines have picked up in popularity in recent years. These options work by using magnets in the tension line to create a natural resistance. What is so great about the magnetic options is that they are excellent for creating high tension in the line, and they hold up well with continued use.
To switch up the intensity of your line, simply turn a resistance knob at the base of the unit. This option is great for those that want to start off easy and work their way up to a challenge towards the end of their workout.
The downside to magnets is that they remain the same no matter your speed. With air and water designs, the tension becomes easier or more difficult the faster your travel. With magnetic options, the resistance remains the same no matter how fast you travel.
Air resistance: The air resistant models are one of the oldest designs, but it is also one of the most effective. The air rowing machines work by housing a fan in the central chamber. As you pull on the line, the air resistance of the fan adds more tension to the line.
This means that if you have a slow pace, there won't be as much tension on the line. As you start to pick up the pace, more tension is added to the line. Users like this option because it allows them to adjust the difficulty without turning a knob or draining water.
The downside to air powered rowing machines is that higher difficulties aren't really an option. From what we found from our research is that one of the biggest complaints about air powered rowing machines is that even at pretty high speeds, the tension is still on the weak side.
Features
Added features are great for staying on top of your game.
With just a few added design features, you have the option of tracking your progress as well as increasing the intensity of your workout. Below, we have listed some of our favorite features that we made sure to include on our list.
LCD screen: Almost all rowing machines out there on the market have an LCD screen of some sort mounted to the front of their design. Each LCD screen indicated a few things. First, it is able to tell you how many minutes you have traveled, which is great if you just want to squeeze in a quick 30-minute workout.
It is also able to indicate how many calories you have burned, as well as how far you have traveled. Some designs only offer a very small screen at the base of the unit that can be a little difficult to read at the back of your stroke. We loved options (like the design we saw in the Schwinn Crewmaster) that provide a very large screen that can be adjusted to land right at your eye level.
Heart rate monitor: There were a few rowing machines that we found that included a heart rate monitor that you pair with your LCD screen. A heart rate monitor is an excellent tool to have on hand when engaging in any type of cardio. You should always workout at about 80 percent of your heart rate for maximum result. To calculate your maximum heart rate, simply subtract your age from 220.
Comfort
Keeping comfortable while you train is the key to success!
We wanted to select rowing machines that offered comfortable components to ensure for a comfortable ride. We know that if a piece of gear is uncomfortable, you are less likely to use it regularly. We have broken down some of the key features that we considered to keep you comfortable from start to finish.
Seat: The seat is one of the most important aspects to ensure that you stay comfortable. From what we found, padded and upholstered seats are not the norm. While there were some that had padded seats, most opted for the plastic curved designs.
The reason many companies skipped the padding is that after a few uses, the padding will wear down quite a bit. Hard plastic may not give your behind much relief, but it holds ups better over time.
There are a few design features in the seat that provide a comfortable ride, however. We wanted to make sure that we selected seats with a curved design that hugged your body and reduce the level of pressure points.
Handles: We wanted to make sure that the handles were coated in a material that would feel comfortable in your hands as well as provide a secure grip. Our favorite style of the handle was the ones that used a softer foam. This soft foam not only feels great in your hands, but it also serves to wick away sweat so that the handle doesn't slip right out of your hands as you start to sweat.
Pedals: Keeping a secure footing is another key aspect that we considered. The most popular styles of pedals were the ones that pivot as you engage different muscle groups. Pivoting pedals take the pressure off of your lower back and place it in your upper back and arms.
We also made sure to select large pedals with high lips to ensure that you feel don't slip out of them as you start to fatigue towards the end of your workout. Straps the keep them in place is a must! We liked options that offered easy straps held in place with velcro or buckles.
Size
Rowing machines are made to take up as little room as possible, but not all options are created equal.
While there are some options that are incredibly small and compact, there are others that may even take up as much room as your treadmill!
If space is one of your biggest concerns, we suggest skipping out on the water rowing machines. Not only are these designs heavy, but they have a flat tank instead of a vertical fan. This means that water rowing machines are sometimes twice as big as other options!
The good news here if you are short on space is that there are some options out there on the market that actually fold in half. This feature allows you to fold up the track to lie against the flywheel. While it may not be small enough to fit into a closet, it will free up a lot of floor space in your home gym.
Top Rated Rowing Machines
1

. Sunny Health & Fitness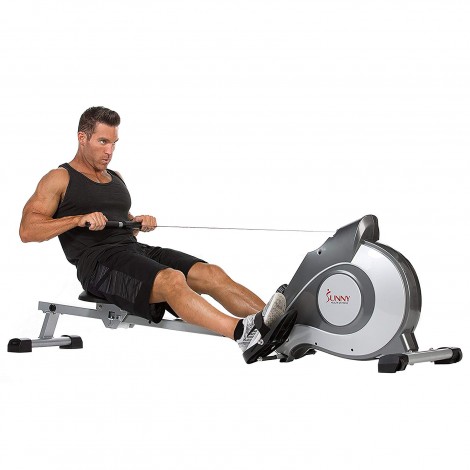 What we liked most about this rowing machine from Sunny Health & Fitness is that it is incredibly easy to use and set up. Plus, the super slim design means that it is something that can fit easily into even home gyms that lean toward the small side.
The very first thing that we noticed about this option is that it comes with an LCD screen that indicates how the reps as well as the time that you have traveled. You also have the option to select the mode you want with the buttons on the base of the screen.
This is a magnetic powered unit, which means that the tension on the line is powered by magnets. What makes magnets ideal is that it ensures for a very smooth ride, and it is something that will not lose durability over time. It has an incredibly comfortable seat that is perfect for long rides and secure hand grips.
If you are in the market for something that takes up very little space but has all of the features to help you burn some calories and build muscle in conjunction with proper nutrition, this is one of your best choices. It comes from a very trusted brand, and high-quality materials make it the last rowing machine you will ever buy.

2

. XTERRA Fitness ERG600W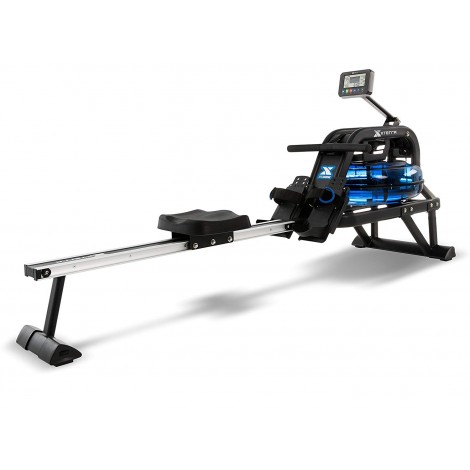 What we liked most about this rowing machine from XTERRA Fitness it that it looks like something right off of a space station. While the unit sits low to the ground, it has an LCD screen that it is mounted at eye level. It allows you to keep excellent posture while still easily tracking your progress and time.
One of our favorite features of this home rowing machine is that it uses actual water to create tension on the line. This gives you the feeling that you are right on the water while at home. By using water in the tank mounted at the front, it also provides peaceful water sounds that relax you as you burn calories.
As we mentioned earlier, it hosts an LCD screen on the front of the unit that is mounted at eye level so you can maintain a stiff posture. The seat has a curved shape that is very comfortable on long rides. What users really like about this model is that the seat is mounted a little higher off of the ground so getting on and off is a lot easier than some of the other rowing machines.
If you want all of the peaceful sounds of water while in the comfort of your own home, this style of home rowing machine from XTERRA Fitness is one of your best options. It has a comfortable seat that is mounted high off the ground, and an easy to read LCD screen. It's an excellent tool for those looking to shed a few pounds.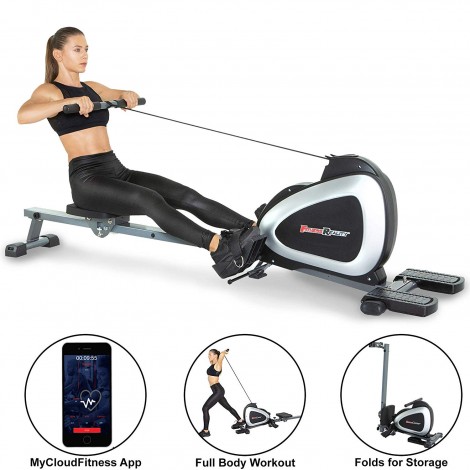 Simplicity and versatility is the name of the game when it comes to this rowing machine from Fitness Reality. It boasts a narrow design that fits into some pretty small spaces, and it has a few extra features that allow you to engage in more than one workout.
Instead of using a basic LCD screen, the Fitness Reality 1000 rowing machine offers a compatible app that you download right to your phone. When using your rowing machine, simply turn on your app to gauge the time, distance traveled, as well as calories burned.
It uses a magnetic tension system to create tension on the line. Using the dial on the base of the unit, you can adjust the tension to 14 different levels. It sports a curved chair for a comfortable ride and well-placed handles. It also has a pair of footrests at the front for arms work such as curls of overhead presses.
If you are in the market for something that is made from high-quality materials to provide a smooth ride, this rowing machine from Fitness Reality is a great choice. It can be used in more than just one way, and the slime frame will not take up that much room in your home.

4

. Stamina Body Trac Glider 1050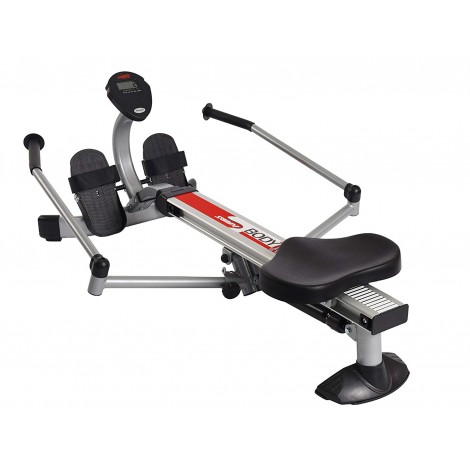 Really running low on space? If that's the case, this home rowing machine from Stamina Body is worth checking out. There is no cental resistance line or case that holds the line. Instead, it uses two rowing handles that can utilize hydraulic resistance that is very similar to using paddles in a boat.
The base of this unit host a very simple display screen. This screen provides users with the amount of time engaged, as well as distance traveled and calories burned. The entire unit is composed of solid steel construction that holds up really well over time with continued use.
This rowing machine provided a curved and padded seat that is great for long journies. Instead of using a tension line and handle, this option has a pair of padded handles along the sides for a wider grip. A wider grip engages more of your upper back, lats, and those smaller muscles in your arms such as your triceps.
If you are looking for a smaller design that will fit easily into a smaller space, you may want to give this home rowing machine from Stamina Body a look. It is a little different from some of the other tension line options, but it still burns calories and works for similar muscle groups.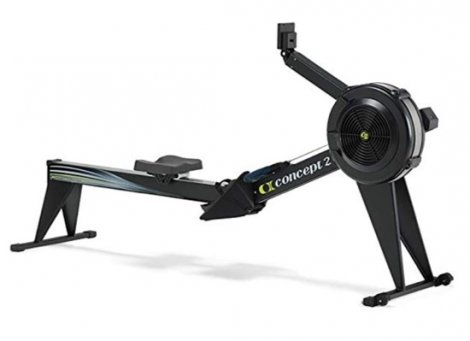 Another great option from Concept2, the Model E rowing machine is a little bit of an upgrade from the Model D, with beefier construction and a higher seat height. It has the same amazing PM5 monitor and connectivity you'd expect, so you can track your workouts and performance. And, not only will it track and monitor workouts, it has a USB port so you can store workout data should you so choose. Easily put together and easy to disassemble, it's one piece of equipment that will complete your home gym!
One of the things that we absolutely love about the Model E, is the raised seat height. Most rowers sit low to the ground, and for those with mobility issues or knee issues, the 20 inch seat height of this rowing machine allows for an easy start to your workout. Similar to the Model D on our list, it utilizes a flywheel to create air resistance, adjustable with a damper. And, with a hefty 500 pound capacity, rest assured this rower can handle anything!
Another great feature is the added protection to the chain, as it's nickel coated. This helps protect it from and dings and scrapes during use, extending the longevity of the rowing machine. The Model E is also back by a manufacturer warranty should anything happen which needs replacing. PM5 monitor allows for wireless connectivity to heart rate monitors or apps on your phone, and will keep you motivated with pre-set workouts and games to get in your best workout. It's a solid option to consider for your next rowing machine!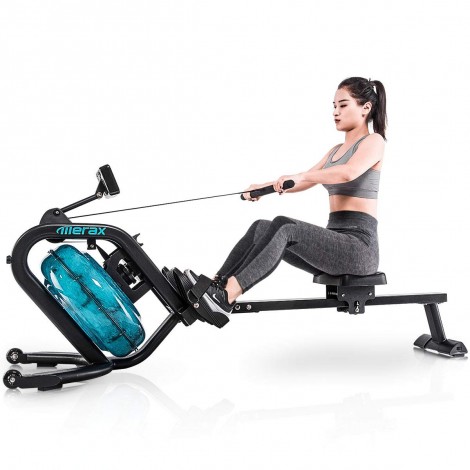 What we liked most about this rowing machine for home from Merax is that it has a slightly different design from many of the other water styles out there on the market. It is composed of high-quality materials which means it will hold up quite well over the years and has a narrow design that won't take up that much room on the floor.
The most important feature to note about this home rowing machine is that the water tank doesn't sit flat. The angled water tank means that it can achieve some pretty challenging tensions. While some water tanks often slack on tension, this design blows the others out of the proverbial water!
The frame of this design is made from very strong and sturdy steel. The angled water tank still provides the splashing water sound, but it isn't as loud as some of the other water designs! We also love that this frame is capable of holding an impressive 330 pounds!
If you are in the market for a sleek and simple design that is powerful enough to achieve fairly high tension levels, this design from Mexrax is a great choice! We love the angled water tank that is much quieter than other options and doesn't take up that much room on the floor.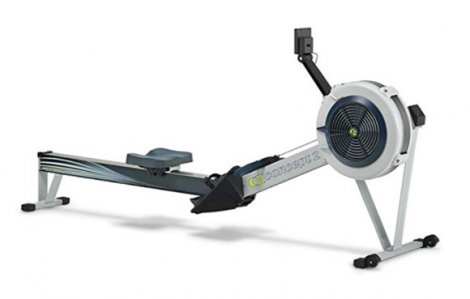 Concept2 has brought several different models of rowing machines to the market, and have become quite popular with enthusiasts just due to their high quality make and ease of use. It has the classic flywheel that utilize air resistance to give you tension for more intensity during your workout, with an adjustable damper along side. And, this rowing machine has Concept2's PM5 monitor, packed full of options and connectivity to help keep you motivated during your workout, and accurately record data.
The PM5 monitor shows you calories, distance, intervals and more for getting the most from your workout. It has options for games as well as pre-set workouts you can use to help mix up your workout or get you motivated to go longer. It also has connectivity for Bluetooth and ANT+, allowing you to connect to fitness apps and heart rate monitors. You can even join Concept2's online challenges or compete with others!
The Model D has a 14 inch seat height, and can easily be disassembled into 2 pieces without use of tools, and stored. You'll likely need about 9 ½ feet of space to use this rower, since it's a full 96 inches long. During use, it runs quiet and smooth, so you won't wake others for early morning workouts, or feel any extra resistance from the seat glide. There's a reason Concept2 rowing machines have been the most popular model in gyms, so why not bring one home for yourself instead?

8

. Sunny Health & Fitness SF-RW5639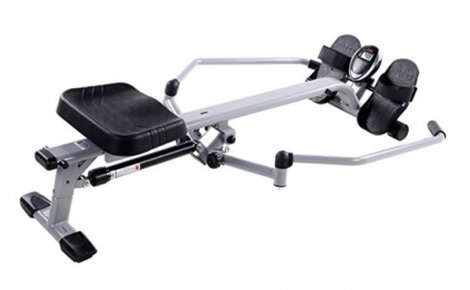 This unusual looking rowing machine from Sunny Health & Fitness is perfect for those who want that full body workout, but perhaps don't have the space for a full rowing machine. Different than other models that use air or water to give resistance to your rowing, the SF-RW5639 utilizes hydraulics to create an adjustable range of resistance. It also has a display monitor to help you track your workout goals, along with full range rowing arms. It's a unique design that can fit your smaller spaces to give you a solid rowing workout.
If you're curious as to where the monitor is on this rowing machine, take a closer look by the foot pedals and you'll see it! The display shows basic workout readouts like time, calories, and row counts. Slide rail has a total length of 40 inches, and a cushioned seat to help pad your tailbone and prevent any uncomfortable feeling. Two individual pull handles allow you to get the full range of motion in your rows, allowing proper shoulder rotations.
Hydraulic resistance is what makes the SF-RW5639 rowing machine different from other rowers too. It's adjustable with a quick turn knob, letting you go up to 12 different levels. It consists of one piston which activates when pull handles are pulled back at the start of the row movement. Foot pedals will firmly strap you in and handles also have anti-slip grips so you can pull to your heart's content. We'd recommend having some help with this product though, as it could take a bit of time to assemble!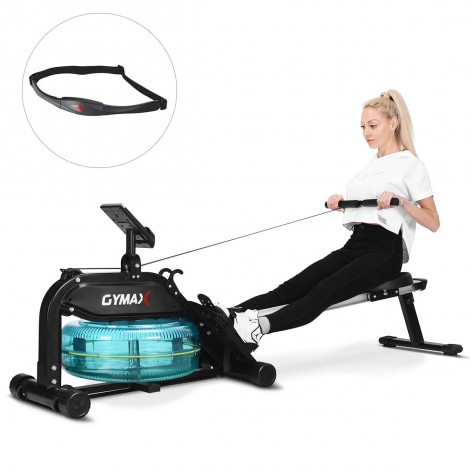 GOPLUS is a brand that has a wide range or workout gear that starts at yoga mats and runs all the way up to rowing machines. What we loved most about this design option is that the central chamber is filled with water to create a natural way of creating resistance. Plus, as you row, you can actually hear the water splashing around inside of the unit. If you close your eyes, you can actually feel like you are right on the water, even in the middle of winter!
As we mentioned earlier, the central chamber is filled with water to create resistance on the line. Simply add or drain water to change up resistance, and start rowing! It also has an LCD screen mounted on the front that tells you minutes worked, calories burned, and distance traveled.
The LCD screen is also able to tell you your heart rate. This home rowing machine comes with a heart rate monitor strap that you wear across your chest. The belt sends the information to the central LCD screen. By keeping tabs on your heart rate, you can raise and lower the resistance in the line to shoot for your ideal heart rate.
Using water as resistance is a great way to create tension in a natural way. Plus, water-resistant models hold up well with continued use. If you are in the market for a simple design that comes from a trusted brand, this rowing machine for home from GOPLUS is an excellent option.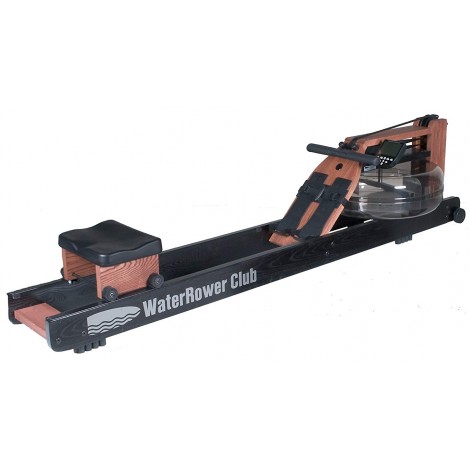 If rowing is your preferred method of cardio, you need to check out this design from WaterRower. Instead of using metals and aluminum for the base, it uses treated wood for a sleek finish. It also uses a central water chamber to create natural resistance that makes you feel like you are actually out there on the water!
For those that want to add a sharp looking piece of workout equipment to their home gym, but don't want the utilitarian steel design, this wood option is a great addition to any indoor space. Plus, it comes with an advanced display that relays quite a bit of information.
The display shows you time traveled, distance traveled, as well as your heart rate. This rowing machine comes with a heart rate chest strap that relays the information to the LCD display so you can always reach your targeted heart rate.
For those in the market for something with a sleek look and a smooth ride, this design from WaterRower will get you there! Users love the sleek wooden finish but keep in mind that it is quite heavy to move around or place in storage when needed.

Subscribe to our Newsletter