Best Bally Shoes Reviewed For Class and Style
In a Hurry? Editors choice: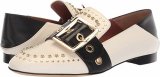 Test Winner: Janelle Suzy

It all began in a small town in Switzerland, in a – believe it or not – basement of a home. Inspired by a pair of boots he saw on a trip to Paris, Carl Franz Bally had resolved to start his own shoemaking company. Only six years later, thanks to his elegant designs and impeccable craftsmanship, this company was already expanding beyond the borders of its home country.

We hope that you will feast your eyes on the simple sophistication that is this brand, find something that is according to your tastes, and ultimately, that you will walk away from this guide with a brand new pair of shoes to complete your collection. Scroll on down and enjoy!
Standout Picks
Criteria Used for Evaluation
Features
We mentioned before how Bally is not just about the aesthetic. They also have sporty designs, sneakers which are created to support, keep comfortable, and even improve your athletic performance. After all, this high-end luxury brand helped many an Olympian bring home the gold with their innovative and downright revolutionary pieces.
Over the following decades, Bally had reshaped the way footwear was constructed. This company introduced the concepts of perforations on the upper, new types of stitching, as well as ribbon weaving. However, that is not to say that the brand is only fashion over function. To this day, one of the company's greatest achievements is the fact that the first man to conquer Mt. Everest, Sherpa Tenzing Norgay, wore a pair of Bally Reindeer-Himalaya boots.
If there is one brand which left a permanent mark on the history of shoemaking and altered the course of fashion, that is definitely Bally. This pioneering company has over 160 years of experience in crafting only the finest, most creative of designs, out of the highest grade materials that money can buy. Bally is a synonym for timeless style, expensive quality, and unparalleled luxury.
Versatility
Wearing Bally is a matter of prestige. A pair of their shoes represents class and wealth, and above all, elegance which withstands the test of time. While keeping a watchful eye on the fashion world and all the current trends, Bally goes beyond the craze, creating pieces which are contemporary and yet a clear reflection of the times gone by – designs which are relevant in any period of the modern age.
While comfort, material quality, and durability are all important aspects to consider when buying new footwear, you must also think about the purpose of that footwear, and where you intend to wear it. Do you need an option for every day? Something to stroll around the neighborhood in? Or are you looking for something more business-like, or even more formal, such as a pair of shoes that go well with a suit or a tuxedo? With Bally, there is something for everyone!
Durability
Often, an exquisite footwear design is likened to a piece of architecture. Everything about a model, from its quality to its comfort levels, its durability and even its price, is determined by the way it has been constructed. The brand we are focusing on in this guide utilizes no less than five unique techniques of construction, each of which comes with its own pros and cons and particulars.
The Goodyear
This particular construction method is thought to be one of the most prestigious there is. The reason for this is that footwear which is constructed using the Goodyear method can be easily repaired – the soles easily replaced – and thus the longevity of the design can go up to a few decades even.
The Goodyear technique is named after Charles Goodyear Jr., and it consists of several steps, starting with creating a 'rib' across the insole. This construction involves a last (a solid form around which the design is shaped) as well as a stitch sewn through the welt, the upper and the 'rib'.
This is truly a classic construction technique, and only the best of the best crafters use it in their production processes.
The Blake
The Blake stitch is named after Lyman Reed Blake in 1856, a few years after Bally was founded. This is a type of construction usually associated with bespoke footwear – with clean, polished designs and flexible shoes.
The Blake is actually a strong stitch which goes through the sole and directly joins it with the upper. Footwear crafted like this doesn't have many layers to it and therefore is quite lightweight, and just perfect for the 'busy gentleman on the move', as the company puts it.
The only downside of the Blake stitch is that footwear constructed like this isn't the most waterproof. However, this can be remedied by reinforcing the usually thin sole which comes with the Blake.
The California
As it befits a state which is always sunny, bathed in ocean waves and undeniably free-spirited, the California construction is a method reserved for casual footwear. It is especially common for sandals and other types of light, open styles.
This technique means that the sock, the upper and the wrapper of the shoe are all sewn together before the design is molded over a last. After lasting, all pieces are usually cemented for a sturdier finish. The result of this construction is footwear which has a cushioned feel and is comfortable to wear to the beach, to the park, the pool, anywhere you'd like!
What is inconvenient about the California method is that it doesn't allow for resoling of the footwear. This is why it's best if you go easy on your California construction designs so that they can last you for as long as possible.
The Moccasin
Believed to be the oldest form of footwear construction, the Moccasin originated among the indigenous tribes in North America, but is still widely used today. It is a method which requires patience, a meticulous attention to details, and deft hands. Those specializing in the Moccasin take years before they fully master this intricate technique.
Footwear constructed using the Moccasin has a single layer section which represents the vamp, the insole and the quarters. This one layer is formed upwards from the bottom side of the last, and then an additional element is stitched to the vamp, which is often called an 'apron'.
Moccasins are also commonly referred to as loafers, so what we get from this construction are shoes which are truly the epitome of elegance. They may not be as watertight as one would wish for, but we have yet to hear about someone purposefully taking their loafers out for a walk in inclement weather.
Value
Previously we spoke about the oldest and the most valued methods of constructions, and now we are going to focus on the most common – the Cementing. The reason this is arguably the most widespread method for crafting footwear is that it is quick, flexible, and cost-efficient.
While footwear constructed using Cementing isn't the most long-lasting – as resoling is impossible once the upper and the sole separate – it is quite affordable and practical. This technique is perfect for sneakers, chukka boots, and other designs which have rubber soles and don't require any elaborate stitching.
Because that is the entire point of the Cementing construction, in the end. The upper is attached to the sole in a way that doesn't involve any welts or stitches, meaning that it greatly reduces production time, as well as the initial price tag of the design.
Materials
The Bally label works with leathers, first and foremost. Given the luxury stamp on the brand name and the careful attention to quality and longevity of their designs, it is only natural that they opt for only the finest, most durable materials at their disposal. And leather is definitely that.
However, they do use more than one type of leather in their construction processes, from the commonly found ones to those which are far more exotic in origin.
Alligator – A type of leather which is extremely soft, and can either have a slight sheen, or a rich, nubuck finish.
Bovine – Bovine leather is thick enough to be used for boots and most casual designs, but it has a soft, sophisticated finish, which is somewhat grained and comes with gradual color shading.
Buffalo – Buffalo hide is one of the strongest types of all leathers. It has an irregular grain to it and is almost completely wear resistant in everyday use. Bally makes sure to tan their Buffalo leathers using vegetable-based chemicals, as these help the leather preserve its natural characteristics.
Calf – Calf leather is widely used in construction shoes for all purposes. The brand we are talking about here utilizes over forty different varieties of this material, including plain, grained and even printed, as well as all different levels of thicknesses.
Cordovan – Cordovan is another name for horsehide – an extremely rare form of leather, which is obtained from a subcutaneous layer of hide from the horse's hindquarters. While it can develop wrinkles over time, if properly cared for, Cordovan leather can last longer than an average human lifespan.
Deer – Bally offers no less than four options when it comes to deer leather, all of which have different degrees of tanning and fat content, making them either soft or more granulated.
Goat – Goat leather is one of the most luxurious versions of this material there is. Reserved only for the most elegant footwear, this leather is very fine, and yet durable at the same time. It comes in a high-shine, semi-shine or hand-polished version.
Kangaroo – Kangaroo leather is twice as strong as goat leather, and yet just as fine. The flexibility of this material makes it a perfect choice for sports sneakers, but also lifestyle designs which can be worn around the city. The only disadvantage of kangaroo leather footwear is that it needs regular care and maintenance, otherwise it tends to crack easily.
Lamb – Topping the list of delicate leathers, lamb hide needs to be treated with care. It is unmatched when it comes to suppleness and softness, and it offers an addictive sort of comfort to any design.
Nubuck – This is a term which refers to traditional leather that has been abraded to have a finish similar to that of suede leather. To achieve this effect, Bally uses a special device dubbed 'smerigliatrice', which means 'grinder' in Italian. It provides calf leather with that desired velvety texture.
Ostrich – A defining characteristic of ostrich leather is that it comes with large follicles from the bird's feathers.
Python/Serpent – Exceptionally strong and flexible leathers, those which come from snakes are purposefully non-uniform, so they can reflect the unique and colorful patterns of snakeskin.
Suede – Suede is the same as leather, only it is turned inside out, showing the reverse side of the animal's hide. It is most often made from calf leather, and it has a distinct, plush, velvety finish. While not any less strong than traditional leather, suede is markedly more prone to getting scuffs and other signs of wear.
Velour – Similarly to nubuck, velour is also a sister material of suede leather. It is produced by separating the upper layer from the hide, and it is exceptionally soft and malleable. What's more, velour easily takes in dye, making it a highly versatile material.
Top 10 Picks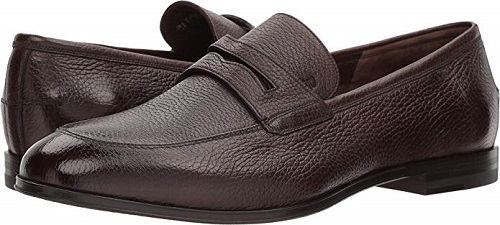 At first glance, the Webb loafer seems like any other classic loafer out there. And while it does come with a well-known silhouette, it is anything but ordinary. The material the Webb is constructed of is grained deer leather, famous for its strength and durability, and the design itself has been produced using the famous Blake Flex technique. To round this look up there is a penny slot detailing at the front, as well as a leather sole with a hint of a stacked heel. The Webb loafer is definitely what every gentleman needs in his wardrobe.
Deer Leather
Deer are strong animals, proud and beautiful in their natural environment. As a result of that, leather made from their hide has a distinct suppleness to it, but also a natural strength that hardly any other can compare to. Truly a material that is one of a kind.
The Blake Flex Construction
While we do discuss construction methods in the later sections of his guide, here we will mention that the Blake technique is reserved for the most lightweight and flexible of all footwear. The Webb loafer moves along with your foot and ensures that your steps are light and carefree no matter where you decide to go.
Cost and Value
It should be little surprise that the Webb is one of the most expensive options on our list. This loafer is made from a type of material not often seen on store shelves, as well as constructed using a technique that is utilized only for the most elegant of designs. Yes, it comes at a high cost, but we feel that it is definitely worth it.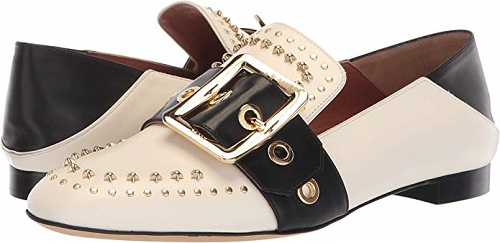 Coming from the iconic Janelle collection, the Janelle Suzy is truly a revolutionary design! It has a bit of an edge to it in the form of gold-toned studs and spikes, as well as a classic buckle embellishment across the instep, which inspired this entire line of footwear. The Janelle Suzy is made out of patent calfskin leather, and it has a special, babouche heel counter. To round up this versatile, quality design, there is a leather sole at the bottom and a slight heel in the back. We are utterly taken by the business-but-badass design of this flat, and we couldn't be more in love with it.
Babouche Counter
A babouche heel counter means that the back of the Janelle Suzy can be left up so that you can wear it as flat, or it can be pressed down so that you can wear it as a slipper. What innovation! This type of a design opens so many doors to experiment within one's style.
Buckle Accent
The eye-catching buckle at the front of the Janelle Suzy is there as an ornament, but it can also help you adjust the fit of the flat. Namely, this buckle is fully functional, and you can easily tighten the strap, or loosen it however much you'd like.
Cost and Value
The Janelle Suzy is mind-numbingly expensive. Seriously, it costs a lot of money. A lot. However, at the same time, we feel that this price accurately reflects the decades of tradition behind this particular design, its versatility, and the undeniable quality of its materials. If you have the money to spare, there is no better way than to invest it in the Janelle Suzy.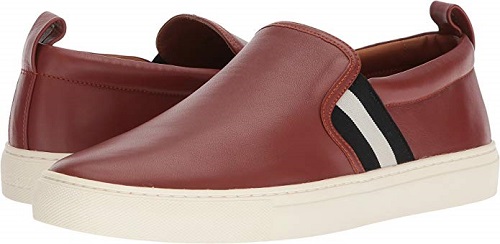 A streamlined, smooth slip-on trainer is what everyone needs come warmer weather. The Herald sneaker is made from soft lamb leather, with two elastic inserts in the sides, designed as trademarked Bally Stripes. It has a leather lining for superior comfort and a rubber outsole for slip and skid resistance. The Herald ensures an easy way in and out of the sneaker with a pull-on tab in the back. When you're looking for something quick to throw on but still want to look elegant on your walk through the city, this simple, stylish slip-on is just the right choice!
Lamb Leather
As we will go into more detail later on, lamb leather is one of the softest, most supple leathers there is. It is so delicate that it needs extra special care, but that maintenance factor is oh so worth it. There is hardly anything that beats the feeling of this gentle, perfectly malleable material molding to the shape of your foot.
Elastic Stripes
No slip-on design would be complete without elastic panels in the sides. These also serve as a decorative touch, but more importantly, they provide you with a customized fit. Regardless of how wide your feet are, or how high your instep goes, the Herald stretches out to accommodate any foot shape!
Cost and Value
It's somewhat shocking, how inexpensive the Herald sneaker is. This gorgeously simple slip-on is made from one of the finest leathers there is, constructed to ensure that you are comfortable and supported no matter how long you spend on your feet. And all of that for a ridiculously affordable price!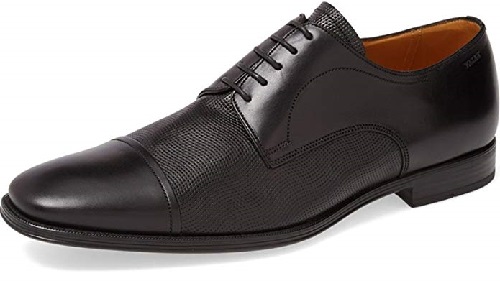 For a dapper gentleman, there is a rather elegant option in the form of the Tobby oxford. This is a classic, timeless design which is best for formal and semi-formal occasions, where one is required to wear a suit or even a tuxedo. It is constructed out of German calfskin, with a lace-up system at the front, as well as a textured panel and tongue for a touch of interest. The Tobby comes with a leather lining, but a rubber sole which ensures that you stay on your feet no matter what.
Calfskin Leather
Calfskin leather is most commonly used in genuine leather footwear, and with good reason - this material is amazingly soft and flexible. It comes in a wide range of textures, as evident in the Tobby oxford itself, which playfully showcases all that this material can do in terms of design. Keeping it simple and yet intriguing!
Effortless Elegance
If you are not a fan of getting ready for ballrooms and glamorous events, you will be pleased to hear that you don't have to spend a lot of time or effort to make yourself presentable. A well-tailored suit, a crisp white shirt, a tie to match and an elegant, polished oxford such as the Tobby - and you'll be ready to conquer the world!
Cost and Value
It is undeniable that Bally footwear, in general, is quite steep in price, however, in this case, we deem it worth it. There is hardly a more refined oxford that is still unique in design and comfortable to wear than the Tobby. If you are looking for that perfect option to bring out the suave in you, then look no further than this dashing oxford!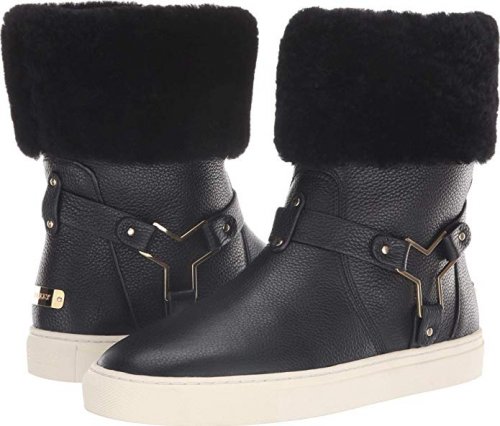 It may not seem like it at first, but Helisa is actually inspired by Swiss alpine footwear to brave the freezing cold and thick snow that blankets the mountain tops. The entire bottom of the design is wrapped around with rubber, to provide ample water and snow protection. The rest of the upper is constructed out of suede leather for that luscious, soft feeling, and there is a lace-up closure at the front for an adjusted fit. A pull-tab in the back allows for easy entry, and the overall high-top design of this boot supports the ankle as you explore the mountain slopes and enjoy your outdoor adventure.
High Top
The benefits of having high-top footwear in a cold climate are multifold: firstly, it helps preserve warmth, keeping both your feet and your ankles toasty for longer. Secondly, added support around your ankle prevents any wobbly movements and reduces the risk of injuries, such as a sprain or a broken ankle.
Water and Snow Resistant
Barring stepping into knee-deep puddles, the Helisa boot will keep you safe from any unnecessary moisture in your surroundings. No matter how much time you spend outside traipsing through water and snow, your feet will be as dry as though you were walking around your own house.
Cost and Value
When it comes to designs from this expensive brand, the Helisa falls somewhere in the middle range of cost. It is definitely not an option for hard-core hiking through snow, but it is good enough to keep your feet both warm and dry in cold, wet environments. It is made from fine materials which will keep you comfortable, and overall, it is a fine choice of winter footwear.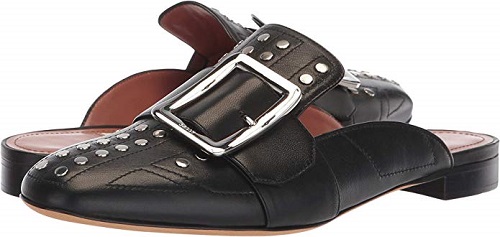 Another Bally staple design which gets reinvented season after season, the Janesse is what we can only describe as a rocker mule. Its easy slip-on silhouette is adorned with silver studs and a striking buckle accent at the front, giving an edgy vibe to the classic shape. The Janesse is backless, of course, and made out of smooth calfskin leather. Its sole is also leather, and it comes with a small, half an inch heel, as well as a lightly cushioned leather insole. We are in awe at the perfect blend of rebellious and timeless, and we are sure that you will enjoy this easy mule!
Mule Design
Don't you ever wish for uncomplicated footwear which you can just slip on and be out the door at a moment's notice? With the Janesse mule, it is so easy to put on your shoes and take them off, as all you need to do is slide your foot in, and you're good to go!
Rock'n'Roll
The edgy, punk rock detailing on the Janesse has us pining for these mules. It is a great option for when you want to be classy, but still, show off your own style. Embrace your attitude and announce to the world that you are someone not to be messed with in these hardcore mules!
Cost and Value
The Janesse is easily one of the most expensive designs in this guide. It is made entirely out of leather, and it certainly has a unique aesthetic, one that is difficult to get right. If you don't mind spending some extra coins on this unorthodox mule, then we can assure you that you will love every minute of wearing it!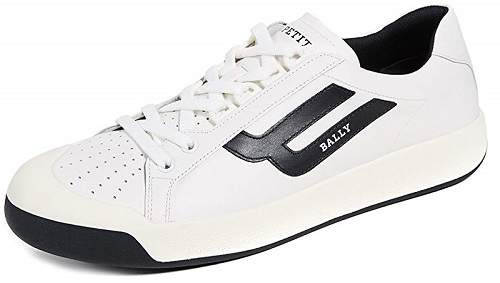 With this classic design that first graced the fashion world in the 1980s, Bally is making a retro statement. The brand has brought the Competition sneaker back in all its glory, complete with the same sole and the same lining as the original. The streamlined upper has a round-toe silhouette with perforations, and it is constructed out of soft, all-purpose calfskin leather. These trainers are stylish and comfortable for casual wear, and they come with a music video pedigree, as the famous artist Doug E. Fresh has been an avid fan of the original version back in the day.
Perforations
While they are an interesting detail in the overall design of the sneaker, the small holes at the front of the Competition also serve a purpose. These perforations promote proper air flow in and out of the sneaker, meaning that they protect your feet from sweating and potential bad odors that may result from that.
Sporty Lifestyle
We are not going to deny the fact that the Competition is not ideal for high-impact sports. However, it is a sneaker which will easily find its place in your wardrobe, as it is the epitome of that laid-back, sporty look that most of us revert back to in our free time.
Cost and Value
For a sneaker, especially a lifestyle one, the Competition is very high in price. However, when compared to other designs from the same brand, it is actually one of the least expensive options we've looked at. Considering the legacy of this sneaker and the high quality of its construction, we feel like its cost is not exaggerated at all.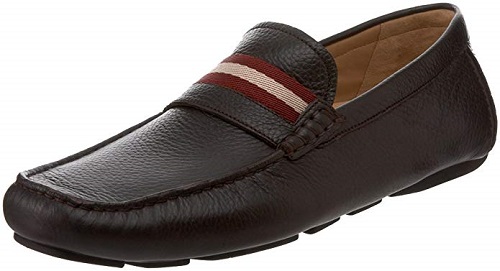 The Wabler loafer reminds us of deep blue pools, martini glasses passed around and all the refreshing luxury of a mansion overlooking the Mediterranean sea. This preppy moccasin has a classic silhouette and is constructed out of grained calf leather, with a woven ribbon detail across the vamp. The leather footbed is perforated for bonus breathability, as well as lightly cushioned for comfort, and the outsole is reinforced with rubber nubs for added traction. You stand to enjoy every single summer spent in the Wabler, as it takes you from expensive yacht lunches during the day, to the classiest of parties in the evenings.
Lightly Cushioned Footbed
If you intend to be on your feet for extended periods of time, every little scrap of comfort counts. The Wabler doesn't skimp on this factor, as it provides just enough cushioning in the footbed to keep your feet supported and to delay the onset of foot fatigue.
Rubber Nubs
Too often we find ourselves walking from sleek and polished ground to rough and textured terrain. All of these represent a hazard, as even the smallest of slips can result in a fall or injury. Fortunately, the added rubber nubs at the bottom of the Wabler provide the right amount of traction to keep us well balanced all throughout.
Cost and Value
All things considered, the Wabler is an inexpensive design. It still comes from a high-end luxury brand and it still costs a pretty penny, but when compared to other options in this guide, this simple, comfortable loafer is actually a good deal.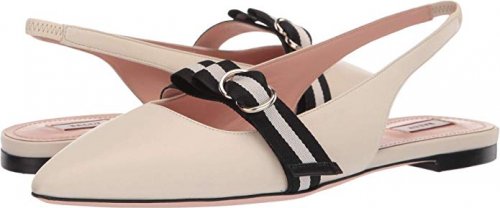 Described by some customers as an 'artwork of a shoe', the Ali flat is indeed gorgeous in design. It is a ballet flat made out of fine leather, upper to sole, and it has a smooth finish. Only one part of the sole - the heel - is layered with rubber, to ensure a confident, secure step. There is a strap at the front of the Ali flat, made from the same material as the rest of it, which adds to the gentle femininity of the design. This lovely option goes well with both casual and fancier outfits, and it brings a drop of floral romance to anything you decide to throw on.
Leather Sole
Leather soles are the ones which provide our steps with that well-known click-clack sound that we associate with elegance and formal footwear. Not only that, the sole of the Ali will adjust to the form of your foot as you walk, and provide you with the ultimate comfort all throughout the wear.
Versatile
We love a good, neutral flat, as it can pair well with absolutely anything! Whether you feel like going for jeans and a fancy blouse, or maybe a fun, flirty sundress you bought just the other day - the Ali flat will be ready for you to complete all of your looks.
Cost and Value
While we find it irresistibly cute and practical, not to mention comfortable and durable, we somehow can't help but feel that, for its price, a flat like this should offer more. It comes dangerously close to being costly, even in a guide of otherwise expensive designs, and there are definitely other options out there which would be more worth the purchase.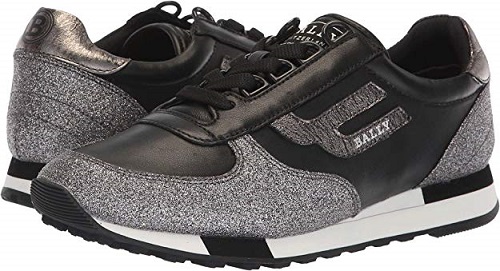 The Gavina sneaker will meet all of your standards when it comes to relaxed, weekend footwear. This design has an upper which is made from part leather and part synthetic materials, in an intriguing combination of black and shimmering silver. There is a lace-up closure at the front with reinforced eyelets for durability, a lightly padded leather insole, as well as a durable, non-slip rubber outsole. For an abrasion-free ride, the inside of the Gavina is lined with soft fabric, which will go easy on your skin and spare you any blisters.
Reinforced Eyelets
Too often a shoe starts falling apart at the laces, with the eyelets being the first ones to go. Fortunately, the Gavina comes with reinforced eyelets in its closure, meaning that no matter how hard you pull, you will have a hard time damaging this design.
Leather Insole
Despite it being a soft, supple material, leather also has the unique ability to change shape over time. The insole of the Gavina will fit the contours of your foot and provide you with that tailored comfort that you won't be able to get enough of.
Cost and Value
We will admit that we're having a hard time justifying the high cost of the Gavina. While it is a design from a high-end label, comfortable and cool in appearance, we feel that many other options in this guide would be a better choice for the same, or even a lower, price.

Subscribe to our Newsletter