Best Argyle Socks Of Every Style Reviewed
In a Hurry? Editors choice: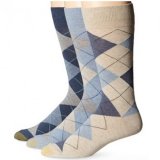 Test Winner: Gold Toe Carlyle Crew

Whether you work in an office, are
golfer
, or you just like the style, argyle socks can definitely become a staple item in your closet. The pattern originated in the county of Argyll, Scotland as an act of rebellion developed by the Clan Campbell of Argyll in the 16th century, and has become an
anti-establishment symbol
, worn proudly by Scots till this day.
This attire is available in an array of colors to express personal style beneath dark colored mundane business outfits. No longer just for the nerds, this kind of wear can be mixed and matched as a stylish act of rebellion and confidence. These are created in more neutral colors or can be mixed in to add a
bright pop
to any routine outfits.
Standout Picks
Criteria Used for Evaluation
Materials
So far, you've most likely noticed that the products listed above all feature blends of different materials. While a few decades ago, people raved about cotton, it's actually been proven that there are far better options for hosiery than that material (though it can still be present in a certain percentage to improve comfort).
Note that the price of a product will almost always depend on the materials used, as will the durability, and the way in which they can be washed, dried and worn. These are the most popular materials found in socks:
Wool: Wool is the ideal material to have in your socks as it's a natural material with a highly breathable construction, it's wrinkle resistant and retains its shape well. If you're after a really premium model, definitely go with Merino wool which is the best possible material for hiking. Not only is it anti-allergenic, but it also does well at providing insulation in the winter, and wicking away moisture in summer.
Cotton: Cotton is comfortable, easy to wash and highly durable. However, it does have a downside, which is that it retains moisture, which is why it has to be combined with other materials - simply put, spending the day with wet socks on your feet can lead to bacterial or fungal growth that result in bad odor.
Elastane/Lycra/Spandex: The best possible material to use if you're after compression or flexibility - these allow us the comfort that we've come to expect from modern day socks that stay up, don't bunch, and follow the shape of our feet to allow easy movement.
Polyester: A man made material, polyester is a hydrophobic (water repellent) type of fibre that will move moisture away from your feet, and provide you with the dry and cool feeling you need in order to make it through the day.
Style
This pattern is tied to a rich history and has been worn for decades being the standard of uncommon class. There are a number of colors and combinations that are available for purchase. These will range from very classic combination with more muted colors to the bright colors that people love to wear these days. In a business setting coordinating an outfit that stands out but isn't flamboyant looking is essential. How you look will be the first thing superiors and coworkers will see when you arrive. It's important to wear something that will leave a lasting impression. Muted colors and accents that are bolder will work in most business environments. If the client is conservative then choosing more primary colors would be the best choice, however.
In casual environments exploring fashion is liberating. This is the cornerstone of the industry. Wearing bright patterns even for sportswear is a great way to be expressive and explorative. Coordinating colors that go without introducing too many different colors is a good way to create a look that is pulled together. Also using bright footwear as an accent piece is a great way to pull eyes to the item that makes you feel most unique. Even wearing all white and bright argyle socks with a white backdrop is masterful and will showcase uniqueness and style.
Fit
Just like the size of your jeans, your shirts, or your shoes, the size of a pair of socks can highly determine how it'll feel on your feet, whether it will create any problems, and whether it'll lead to consequences. Ill-fitted socks can greatly contribute to blistering and rubbing, and may even cause fatigue if your feet have to work overtime to make up for the discomfort they cause. For this reason, taking a bit of time to evaluate the size of a certain pair can save you from a lot of frustration.
The ideal pair of socks will always fit just right: first and foremost, it'll be the correct length in the foot, so that it covers your toes and heel without bunching, or without pulling too much. Secondly, it should feel snug, but not restrictive in that it prevents circulation. Thirdly, it won't slip off your feet, especially at the calf, but will be securely held in place with an elastic, comfortably snug band.
Additional things you should definitely pay attention to are the seams that are located on the inside of the garment. Most models are made with a toe seam which may not pose a problem for most, but could cause potential issues for those with sensitive skin in this part of the foot. Though most manufacturers will make these seams as flat as possible, if you know they may be problematic, it's better to pay a few bucks more and get a seamless version that'll fit you better.
Compression
There are several reasons someone may want to have compression in their pair of socks. Athletes, for example, make use of the tighter fit in order to minimize recovery time, and to ensure the best possible performance they can. Other people will buy this type of garment because of possible health issues - they can prevent blood clots, help with swelling, alleviate pain or even improve circulation.
Of course, there are other reasons why you may want to purchase a sock with compressive properties: it can help on long journeys, especially by plane, can alleviate foot pain for those who stand or walk a lot, or even offer added support in key areas of the foot.
Built-in arch support in hosiery is a relatively new thing, but it's proving to be a popular and easy way of preventing tendon pain (and even inflammation) for those with either too low or too high arches.
If you want to get a pair of socks for work that will offer this type of benefit, our recommendation would be to go with a higher model - ideally one that reaches your knees, so that they do a proper job. It's also important to use them correctly, putting them on first thing in the morning and wearing them for as long as necessary.
Last but not least, you will find that any compression sock will lose its tight fit after a few months, so ensure that you replace them when needed, otherwise you won't be getting the benefits of this type of fit.
Durability
When you buy a pair (or pack) of socks, you definitely don't want to wear them once then throw them in the trash. This is why combing out the quality designs from those cheaply made ones is a difficult task. Sometimes, even an expensive pair by a reputable brand won't last as long as you'd like, and this can be quite frustrating.
The best way to ensure that the model you purchased won't give out after just one wear is to check the materials used during construction. Go with more durable blends that include a variety of materials, from wool, to cotton, polyester, nylon, lycra, spandex and others.
Another thing you should definitely pay attention to is the way you wash and dry them. First and foremost, it's never recommended that these are washed on high temperature settings, and some models may not even be machine washable. As for drying, it's best that you don't put them in the dryer as they may deteriorate, lose their shape or even shrink due to the high heat. Line drying them is always a much safer option.
Another thing you can do to ensure they last you long enough is to have several pairs that you can rotate throughout the week. Not only will this prevent them from getting holes as quickly, it can also help fight odors, as you'll be wearing clean ones on a daily basis.
Top 10 Argyle Socks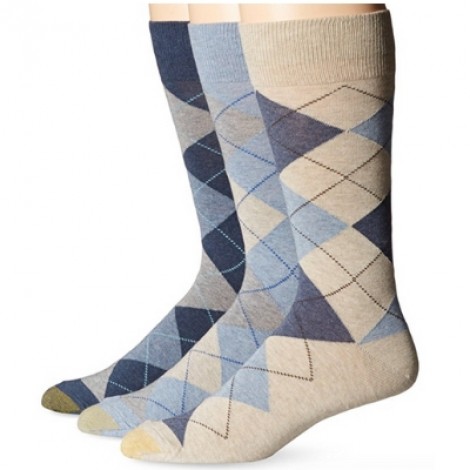 These are a very tame understated elegant footgear. They offer the traditional look with a little more elegance and uncommon appeal. These were created to be enduring in high-traffic areas of the foot like the heel and toe area. The blend of materials is balanced created a sock with enough stretch to fit comfortably but still is made with high quality combed cotton. This fabric is soft and keeps the foot fresh by wicking moisture. The nylon integrated into this sock creates a very strong item that will be enduring. It's important to pay attention to the care for this item because they will shrink if washed in hot water or dried at a high temperature.
Strong Material
This sock is made with high quality combed cotton, nylon, and spandex. The blend of these materials creates an item that will have longevity. It also will be stronger than other items and actually have a soft feel as well. These won't feel harsh on sensitive skin. The spandex material is a high volume comparatively. This may cause this sock to lose its shape. To keep stretching from happening it's important to wash on cold and dry on low.
Moisture Control
In warmer environments or when walking further distances, it's important to have footwear that can absorb and wick sweat. These socks are breathable and allow a good amount of airflow. The reinforced toe and heel area help to create a sock that will keep holes from forming in areas that rub more often. They don't feel tight on ankles or calves but feel comfortable and hug the skin without feeling constrictive.
Cost and Value
These cost a little more but do add value for the consumer by offering 3 pairs to a pack. Value-wise these are cheaper than most comparable items. These are elegant for those who want neutral adult colors for the uncommon mature individual. These are cozy for cool days and keep feet cool by wicking sweat on hot days. The spandex creates a sock that is structured but still very forgiving.

2

. The Tie Bar Cotton Blend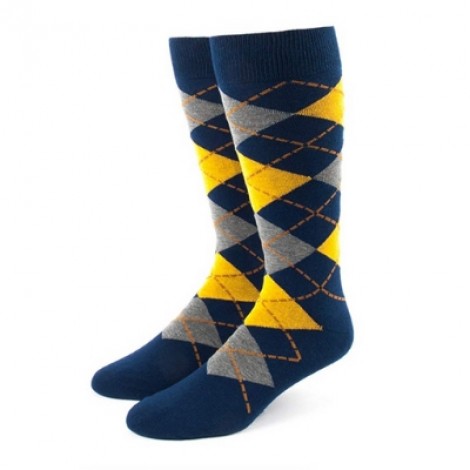 These have a seamless toe and boast a little more thickness than most dress attire. The Tie Bar is endorsed by GQ and known for good quality and unmatched style. The go well with a variety of fashion choices and are created with high-quality materials. These do stop right below the knee and are ideal for cooler environments or for those who need a little more support. These hold their shape very well and are made to feel serene for easy all-day wear. They are not thick socks but offer a little more thickness for an exceptionally luxurious feel.
Hand-Stitched
The hand stitching at the toe has a seamless appeal. This leaves feet unbothered during long days of walking. The company worked hard to ensure the stitching is strong but leaves feet feeling not bothered and serene. The seam is minimal and leaves feet unbothered. This reduces the chances of annoying rubbing and weird strings that can irritate the toes.
Good Grade
The thickness of this knee-high isn't quite mid-grade. It does, however, offer enough thickness to be more supportive than typical apparel of a similar look. They will offer air-flow but will not be thin enough to wear and tear easily. These are a great choice for cooler and warmer days. They are made to stay in place as well. The ribbing at the cuff is well placed, just below the knee and will not rub behind the knee. The combination of hues are bright and are created for longevity, being beautiful even after many years.
Cost and Value
These are inexpensive and have even been endorsed by GQ magazine. They are fashion-forward and do not look gaudy, yet still make a bold statement. The hand-sewn stitching is well placed and seamless for extra snugness. They also offer a little extra thickness for protection against premature holes. They also stay in place just below the knee and do not rub or move around. This ensures day long wear for thoughtless ease of use. The materials are of a great quality and unique to this brand. They will be supple for those with sensitive skin and stretch just enough to be a firm comfortable fit.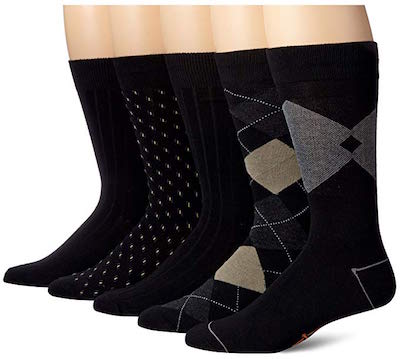 If you're after a value pack that'll give you several pairs of socks you can wear to work, the Dockers Classics is a great investment. It comes in two color options, black or khaki, and both feature five different designs that are fun, but still professional. With a design that's quite comfortable - without any problematic seams or tight top lines, these are a great choice for those who aren't too picky about fit.
Materials
The Dockers Classics are made with a blend of materials that includes 71% Polyester, 26% Cotton, 2% Spandex and 1% Nylon. What this achieves is a sock that's machine washable, retains its shape, is soft to the touch, but doesn't trap moisture in warmer conditions.
Reinforced Toe and Heel
If you plan on wearing these with dress shoes, it's very likely they'll be in contact with leather, which can sometimes be harsh on your socks. That's where the reinforcements on the heel and toes come in, protecting these from wearing out too fast in these problem areas.
Cost and Value
With a price point that's average for this type of pack, you'll find that at a cost of less than $3 per sock, these are quite affordable. They're a great investment for professional and casual wear, but we wouldn't recommend them for athletic activities such as running or training, as those require something a bit more durable.

4

. Statement Sockwear Wedding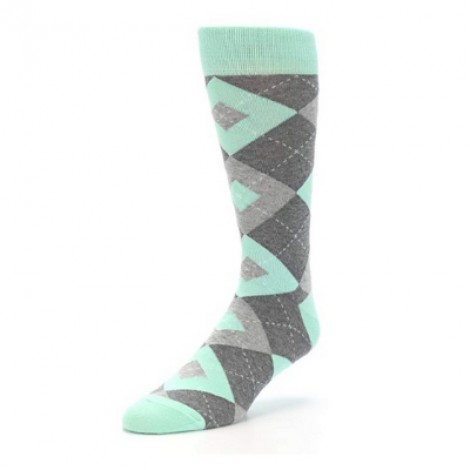 As the name implies these socks do make a statement with any formal wear. These are very supple to the touch adding an unsurpassed measure of serenity. These can easily be worn for hours without discomfort and were designed to keep feet dry. Even if dancing is a must at formal gatherings and wedding receptions this cozy garment is made to last. This garment is also socially responsible and with every purchase, a donation will be made to provide water to one person in Africa. These are fun coming in a variety of colors that will pop, as well as, being a purchase anyone can feel good about.
Plush Feel
The combed cotton is a very strong material and items that integrate this fiber are long-lasting. This fiber also is made to with only the longest strands and are woven tightly together after combing. This creates a product that is soft to the touch, resistant to fraying and more durable. Most of the volume of the cotton is removed leaving only the finest strands to create a top-notch product.
Enduring
These retro statement footwear are created for endurance. The toe and heel area are reinforced to protect against the formation of holes or tears in high traffic areas. The fibers are high grade and tend to hold their integrity long term. The fibers are made from high-grade materials to hold up well after washing. They also are resistant to fraying and becoming fuzzy after washing. They should not be washing in hot water because they may shrink and should be dried on a low heat as well.
Cost and Value
These cost a little more but are a very good quality item. They will certainly be one of the cheapest items of any formal attire. The cotton used is combed, ensuring only the most enduring fibers. These fibers happen to be very plush to the touch and are gentle for sensitive skin. This product is available is a large array of colors that are sure to appease any need. This is an item to feel good about because part of the proceeds goes toward providing water to one person in Africa.

5

. Eros Fun Colorful Crew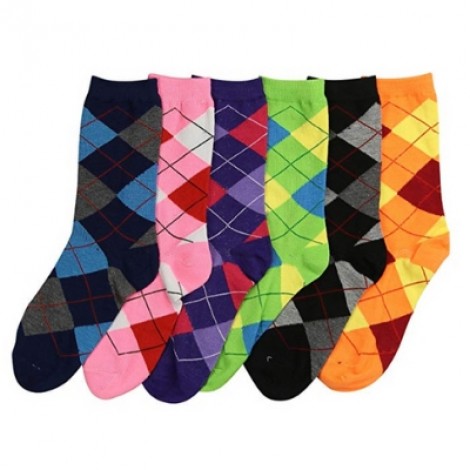 These are casual easy wearing retro apparel. They are sure to add necessary coverage over ankles and keep them warm when it gets cool out. These are created from enduring polyester and nylon, as well as, foot molding spandex. These are machine washable and aside from being easy to wash, they don't shrink in the dryer. These are also an easy buy, with a beautiful look and nominal price tag.
Vibrant Colors
It's to worst experience when color doesn't stay bright after a wash or two. These, however, are fabulous and remain vivid after many washes. They also don't lose their shape with multiple washes and will not shrink even in hot water and on high heat. The material is man-made but still soft and the coloring is persistent. This is great for those who want footwear that can last through multiple seasons. If the sock monster doesn't eat one they should last a year or so as well.
Air Flow
These are of medium grade and this is great for a variety of environments. They are thin enough to allow air-flow and cool feet. Yet, they are thick enough to still provide warmth in cooler environments. These also cover the ankles for extra warmth and protection. The ribbing at the cuff is good for protecting against slipping keeping these looking sharp.
Cost and Value
These are very inexpensive and happen to be very good quality. The grade is perfect for cooling and warming ability. The cuff is tight enough to stay in place and still feel cozy. These are machine washable and can be dried with regular clothes as well. They happen to retain their color as well. The nylon integrated into this item makes them stronger to be resistant against holes and premature tearing. These also have a high amount of spandex, about 10 percent, woven into this design which creates a product that molds to feet, holds its shape, and holds colors well.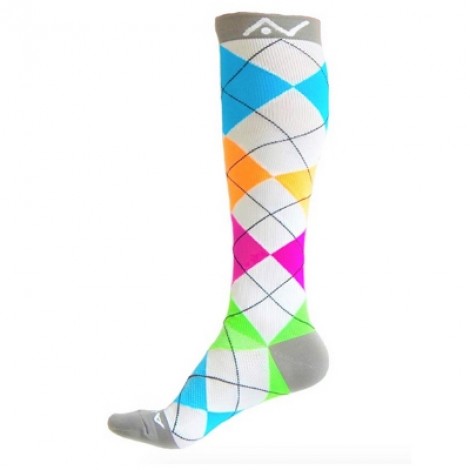 Bright colors will lift anyone's spirit and put a smile on everyone's face during dreary days. This compression attire is great for increasing circulation and inspiring joy. These are brightly colored and can be used to add a splash of color to sportswear or casual outfits. A-Swift is on a mission to provide products that are high-quality for sports but translate well into daily wear.
Alleviation for Long Days
Days can be long and feet can become tired and achy. Life can be unpredictable and feet are the foundation for busy lives. Choosing foot-gear that will be supportive and help with circulation will keep the busy individual on their toes. Keeping fatigue at bay begs for a product that is dynamic and biomechanically designed for long-lasting comfort. The material will wick moisture as well to keep feet feeling fresh, stopping the growth of bacteria and diminishing offensive odors.
Cooling and Warming
Certain seasons are confusing. Days can be warm and nights can be cool many will dress in layers with clothes coming on and off all day. It can be a lot of work. Socks should not make feet feel sweaty then cold. This is why choosing footgear that is temperature controlled is so important. This item was created with silver yarn fabric which helps to control temperature by warming foot when they are cool and wicking sweat in warmer environments.
Cost and Value
This product is absolutely vibrant inspiring confidence with unique patterns. This item is created with beautiful colors and biomechanical thoughtfulness for an affordable price. If feet are constantly tired and sore these will provide some alleviation by increasing circulation. These also will wick sweat, as well as, cooling and warming feet when necessary. These also are nifty for keeping not so pleasant odors at bay.



Funky sock colors aren't for everyone and aren't suitable for every environment. When looking to add diversity and personality to office-wear socks shouldn't typically look like a color pallet threw up on your footwear. Choosing foot-gear that is understated yet stylistic will inspire confidence and compliments. When you look good, you feel good and the devil is always in the details. This item is perfect for those who want style and comfort, with a high cotton content and enduring fibers mixed in as well.
No Rubbing
Blisters can be a big problem, especially when breaking in new shoes. Foot-gear that is ill-fitting can cause pain in feet. If socks are moving around and not firm they will rub and cause blisters. This footwear stays in place, covering ankles and providing a wonderful fit. These also have extra protection in the heel and toe area which will prevent premature tearing. These also have a Y-stitching in the heel area. This is important because it provides a snug fit and lessens the chance of socks fitting poorly.
Sweat-Wicking
Nobody wants to wear anything that makes feet feel hot and sticky. This can harbor bacteria and cause offensive odors as well at exasperate any foot issues, such as athlete's foot. These not only are good-looking attire but they allow feet to breathe. This is important for sweat-wicking capabilities and keeping feet dry all day long. Footwear that is reliable and consistent is important. This will ensure an unsurpassed wearing experience for professionals who don't have time to worry about the condition of their feet all day. Those who only was a good foot-feel and to know their toes are dry will find this item to be everything they are looking for.
Cost and Value
No one wants to over-pay for an item that does not live up to expectations. These will not quit for comfort and reliability. They are soft, breathable and fairly priced. The style is unique enough to be expressive without completely annihilating work attire with funky colors. The extra support in areas of the foot that typically wear out first is perfect for busy individuals. The breathable nature of this product keeps feet fresh over time and minimizes offensive odors. The toe is seamless so those weird strings don't get caught between toes or cause rubbing. This item as a whole stays firmly in place protecting against the formation of blisters.

8

. Easton Marlowe Patterned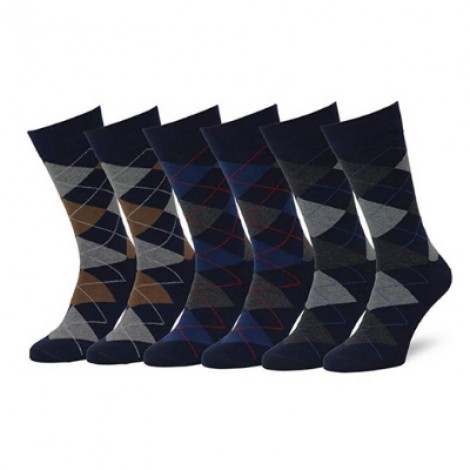 This product is elegant and classy. They use darker colors for the main color of this item but use brighter colors as an accent. This creates a unique classic pattern that doesn't look gaudy. The care of materials chosen for production shows strict attention to detail. The manufacturer took care to source only the highest quality materials and weave them together for a superior hypoallergenic item. These are wonderful to add a touch of uncommon appeal to tailored attire.
High Quality
Combed cotton offers superior softness and strength to footwear. These have interesting components in the fibers used. The cotton is high quality and strong but polyamide and elasthane are used as well which is rare. The polyamide can be natural or man-made, it is comparable to nylon but happens to have a high-temperature resistance, recover well from stretching and are abrasion resistant. This means your feet stay cooler, footwear stays in place, and the item will be very resistant to wearing out. The elasthane fiber is similar to spandex and makes this product stretch to the proper size while being able to come back to their original shape effortlessly.
Snug
This item is soft to the touch due to the high-quality materials. The other fibers help to create a fit that molds the product to the foot for a perfect fit every time. These do need more care than other items. They are strong but washing on the regular cycle can compromise the integrity of this footgear. They should be machine washed on cold and hang dried for longevity.
Cost and Value
This item is sold directly through the manufacturer resulting in a lower cost for such high-quality materials. These are European quality sourced from only the best fibers. These are very sturdy and surround the feet luxuriously. They don't lose their shape over time and when well cared for they will be last over long periods of time. These will be very supple for sensitive skin and are resistant to tearing.

9

. HSELL Multi-Colored Pattern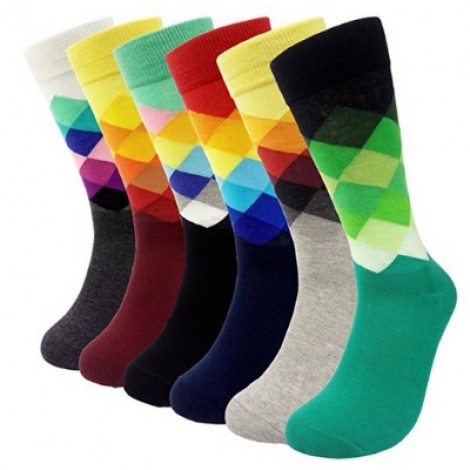 Bring some joy to your wardrobe with this colorful accent attire. These socks boast a very high thread count and luxurious feel. One size fits most, so worrying about ordering the correct size is not a concern. Simply check the size chart. If the individual size is within range it's easy to order and wait for a speedy delivery. The design of this garb is innovative and draws attention immediately to the ankle making a bold expression. The unique pattern is very innovative and designed with boldness in mind.
Fine Material
Combed cotton being used in this fashionable attire is a standard. What sets this attire apart is the 200 needle method used to knit this sock. This grade of cotton is strong and the processing used discards any shorter more breakable strands. The 200 needle method creates a stronger, denser, softer and longer-lasting product. This is an item that will surpass expectations for quality and durability.
Unique
This is one of the most innovatively designed items of this nature on the market. They bring a level of unique style and a beautiful bold color pallet. These are constructed with 90% of the cotton content for a cozy feel and very absorbent product. These are also easy to clean and are machine washable. They should not be washed in hot water or dried on high heat. If cared for correctly they will not shrink and will last for a very long time. It's time to get bold and confident.
Cost and Value
These are very inexpensive for a high-quality item. The colors and design offer a bold uniqueness. The 200 needle knitting provides a sturdy and soft structure. This item is constructed with high quality combed cotton, leaving only the strongest and finest fibers for production. The 90% cotton count makes these highly absorbent and may give them a little less stretch. They will be breathable. Although they will be durable ensuring the correct fit is important to ensure footwear that isn't too tight or too loose.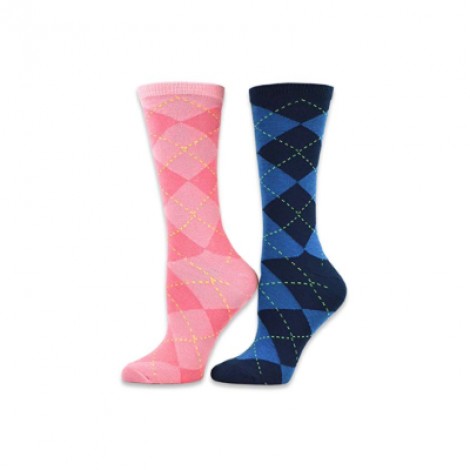 These socks are great for warmer months or warm professional places. They are made from man-made materials and happen to be strong. They are also easy to wash, being machine washable. They will dry without shrinking as well. They are a good choice for those who want an item that is easy to wash and wear without giving much thought to intricate care methods.
Strong and Flexible
This product has a barely-there feel while remaining strong overtime. Certain fibers may be strong but do not offer flexibility. This item is flexible not slipping but rather molding to the shape of the foot over long days. They also have a crew length that will cover ankles even when pants may rise a bit while walking or sitting. This makes them a good choice for those who want an item that offers some length without coming too high on the leg.
Easy Care
This item was made to wash and wear. They don't need any special care which is a huge benefit for those who want an item that isn't fussy. This product is strong enough to last over-time and after many washes. The color doesn't fade quickly, holding its hue over a long period of time. This is great footwear for busy professionals who lead full lives.
Cost and Value
This is a good product because of the number of pairs offered for a fair price. They are man-made and this could be an issue for those with sensitive skin. They also stretch enough to mold to the foot without losing shape over many washes. The color doesn't lose its integrity after washing as well. These are a wonderful option for people who need an item that doesn't require a lot of care. This footgear is strong, reliable and form-fitting.

Subscribe to our Newsletter