Best Workout DVDs for Women Reviewed
In a Hurry? Editors choice: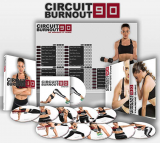 Test Winner: X-TrainFit Circuit Burnout 90

We live in a time where economic pursuits, technology, and social commitments take precedence over health and wellness. Fortunately, exercising has also evolved at the same pace as technology and other aspects of modern living. You don't have to spend as much time and money on
gym equipment
and memberships.
A robust set of workout DVDs for women can serve as a great alternative, right from the comfort of your living room. Workout DVDs in the market cater to a variety of needs from cardio, to self-defense, and everything else in between. Some even come with exercise equipment and accessories to help you
get the most out of your workout
.
Here are some of the best workout DVDs for women. There's also a handy buyer's guide help you zero in on the best workout videos for women.
Standout Picks
Criteria Used for Evaluation
Effectiveness
You purchase workout DVDs for women to get fit; not for their entertainment value.
Humans tend to get bored, no matter how engaging an endeavor is. When workout DVDs for women are tedious, you are likely to drop out of the course. That is why this list is packed with some of the most fun to follow workout DVDs for women to help you attain your fitness goals.
Your body is also quite adaptable, and repeated movements can be memorized easily. A Fitness program with a more varied range of motion is vital in preventing you from being stuck in a rut. Being stuck in the same routine can prevent you from enjoying the experience.
The workout DVDs for women on this list have workouts that consistently change to guarantee more versatility. This versatility helps you stay mentally engaged and excited about what comes next. It also encourages you to work out more every muscle group in your body.
Ease of Use
The workout program should be challenging, but the DVD should make it more accessible.
Workout DVDs should help you meet your fitness goals while challenging you to push yourself harder at every turn. However, workout DVDs for women shouldn't make the challenge impossible to achieve. The ideal workout DVD has easy to follow instructions and routines with a reasonable range of intensity.
Even extras like meal plans, workout calendars, and recipes should be easy to comprehend and relevant to your end goal. The routines should be easy to try out and memorize. Challenging exercises and complicated instructions can frustrate beginners into quitting the whole program.
Workout DVDs for women have specified levels of difficulty, ranging from beginner to advanced. You can find out the difficulty level of a DVD by looking at its press release or online reviews. This info makes it easier for you to pick on based on your level of experience.
You can also get several workout DVDs for women with varying intensities. These variations allow you to adjust your workout whenever you need more out of it.
Release Date
The release date of a Workout DVD for Women, says a lot about the relevance of the fitness program it offers.
The most recent release date is one of the strongest selling points for workout DVDs for women. However, some work trends can remain practical even as time passes. That is also true with some of the workout DVDs for women on this list and efforts have been made to shield you from unavailable releases and dated workout routines and apparel.
The core principles of most of these workout DVDs for women date back to the 60s when Television and the wellness movement took root. The basics haven't had a significant change over time. Trends only change aspects like resistance and intensity, but the core aspects like movement largely remain unchanged.
Selecting a newer release date is a personal choice based on aesthetics; this is because the overall content of workout DVDs takes from the same philosophies used over the ages. That's why you will notice some older release on this list.
Granted, the aspect ratio, audio, and general quality of older releases can be inferior, compared to newer ones. These differences have a marginal bearing on the quality of the lessons on the DVD. However, if Video quality ranks high on your list of priorities, perhaps a more recent selection would be a better consideration.
Some releases on this list were initially VHS tapes, but the timeless nature of their content made manufactures and distributors convert them to DVD. This restoration means that the lessons on these workout DVDs for women continue to meet the needs of many women even as time passes. With exercise, newer and flashier packaging doesn't always make for better content.
Use
The length of a DVD has a direct effect on your concentration span.
Time is a major factor these days, and that's the underlying reason why workout DVDs for women came into being. The latest research into fitness trends illustrates that shorter and more intense workouts have the same effect as longer routines. This concentration means that you don't have to take too much time on a workout when you could get the same results in a fraction of the same time.
Ideal workout DVDs for women are split into smaller chapters to make them easier to follow. These chapters allow you to schedule your workouts based on the little time you have available. These shorter chapters also enable you to evaluate your daily fitness goals and align them the content on the workout DVDs for women.
The workout DVDs for women on this list have chapters that run from 20 minutes all the way to one and a half hours. Pausing and rewinding instructions is another factor that can make an exercise run longer. If you catch on quickly, this may not affect your output. On the other hand, if you get bored quickly, you should consider a DVD with shorter chapters.
Longer videos also have the advantage of providing more versatility in their content; therefore, if you like more detailed explanations, they could be right for you. If you prefer consistency, there are singular courses that run for not more than 45 minutes. Singular courses may lack in variation but make up for it in their higher level of intensity.
Advanced Features
Workout DVDs for women also offer some juicy extras to optimize your experience.
Some workout DVDs for women include handy extras like training calendars, motivational posters, and diet plans. These neat extras help you get the most out of your exercise and reach your goals faster. These planners detail out multiple aspects of your training and give a clear picture of every milestone you can accomplish before you even start.
Some workout DVDs for women on this list come with a few added accessories that add a little challenge to your workout. However, you can also consider getting more tools like balance boards, jump ropes, or dumbbells to increase the level of difficulty. However, you can still achieve your goals even without these tools mastering the movements should be your priority.
These extra accessories make you work out more challenging without involving added complicated steps. If you like collecting memorabilia, they also make excellent additions to your collection. Overall, it's always nice to have a memento of every achievement you make.
Top 10 Picks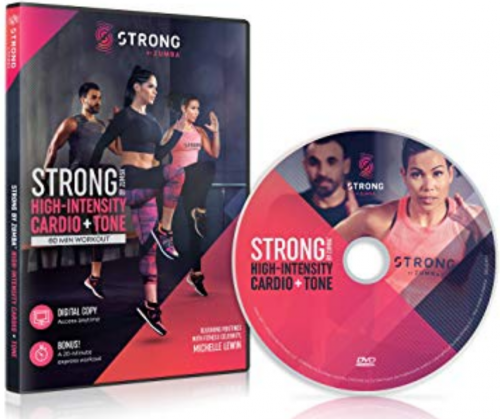 If you like to add a little party to your workout, then Zumba fitness Strong may be the best workout DVD for women on this list for your needs. It comes in five neatly packed disks. Also included with your purchase are a handy program guide, sole control wraps, and a nutritional guide.
Zumba fitness may look deceptively like a long format dance tutorial: nonetheless, it is highly effective in helping you burn calories while getting a full body workout. It is a series of 30-second high-energy exercises. When these routines are combined, they create a holistic program that has cardio, strategic muscle conditioning, and interval rating rolled into one fun course.
The producers of Zumba fitness recognize that dance is an activity that requires a lot of energy; that's why they have included a meal plan. The meal plans included in the package also have healthy eating tips and recipes. These extras ensure your energy levels remain at an optimal level throughout your workout. While at it, why not use a fitting pair of Zumba shoes in the routines.
The workout calendar can help you manage and plan a more effective workout. A system allows you to take the dance steps and arrange them in a manner that lets you focus on your calorie and fat burning goals. This workout DVD for women is a superb addition to women of all ages, and you can use it together with your significant other to stay fit and add some cool dance moves to your list.

2

. X-TrainFit Circuit Burnout 90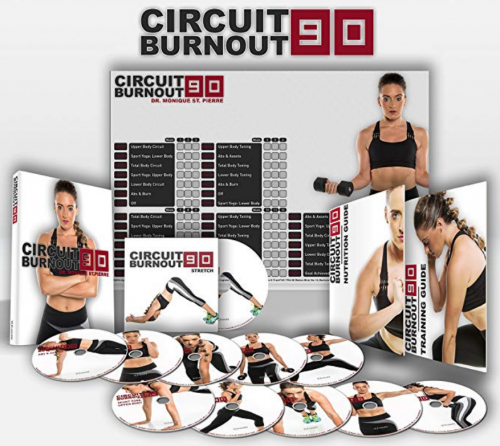 X-TrainFit at home workout is a complete set of workout DVDs for women that deliver a highly intensive exercise program. This comprehensive 90-day course is hosted by Dr. Monique St. Pierre and will put you through all the paces needed for you to shed some fat. Consequently, you will have a leaner build and better muscle definition.
The video is easy to follow, and it is split into sections that range from 42 to 81minutes. The workouts included in this program have elements of core workouts that impact the arms, chest, and back; plus yoga, total body toning and cardio fat burning exercises. Some of the routines require workout bands or light weights like Kettlebells and dumbbells.
The producers of these workout DVDs for women also included handy difficulty hints. Level one is the most straightforward and easy of beginners. The Circuit Burnout 90 goes up to level four for more advanced users. Dr. Monique also demonstrates every modification in an easy to understand manner. This presentation makes it suitable for every fitness level and age group.
The versatility of the workout routine makes the course just as challenging in each preceding level. The layout of these workout videos for women makes it easy to follow at each step of the course. Circuit Burnout 90 offers excellent value for money and delivers results in the promised time.

3

. Jillian Michaels Body Shred


Julien Michaels is a celebrity when it comes to workout DVDs for women. However, 30 days shred features on this list on the merit of the results and rave reviews from home users and experts alike. There is a lot to gain out of this short but impactful program.
Jillian Michaels Body Shred is a 30-day challenge, of only three workouts, each lasting 20 minutes, for a total body workout. Each session focus on ab workouts, cardio, and strength training. The exercises in this program are highly intense. You get zero breaks; you go straight from doing pushups to lifting weights, then do some cardio and finish with ab exercises.
According to Julian's fitness philosophy, keeping such a high pace burns more calories and tones muscles faster. The workouts fast pace makes them tougher than most long exercise. However, Julien stays with you through the DVD to encourage you.
These Workout DVDs for women have something to offer everyone, since they come with separate workouts for beginners to advanced users. This format allows you to know your progress and advance to a higher level when you are ready. The 30-day shred is the DVD course to go for if you need fast results and are willing to take the burn.

4

. Cathe Friedrich's Hard Strike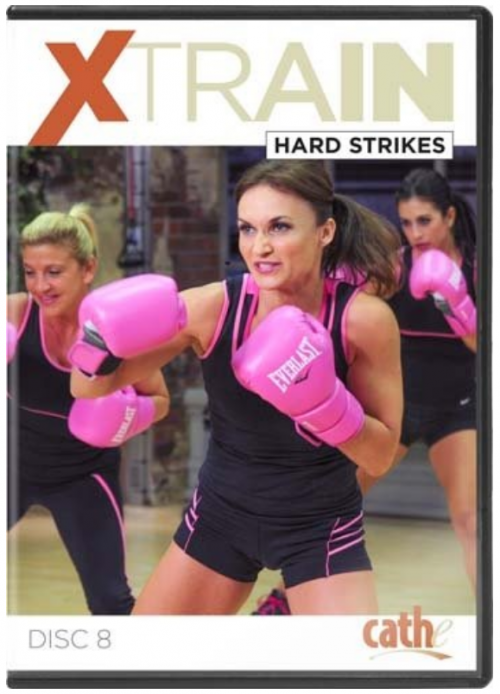 When it comes to workout DVDs for women, very few can pack such an outrageous amount of cardio energy into your TV screen. Cathe Friedrich's Hard Strike has a substantial infusion of boxing and cardio workout. It is fun to watch and use the moves, but they are by no means as easy as they may sound.
This 30-90 day program is divided into eight disks. Each disk is designed to work as a complete workout, which leaves you feeling sharp and like a professional boxer. Cathe's pragmatic approach and the pace of the routine leaves very little to feel bored or burdened by the intensity of the exercises.
Cathe Friedrich's hard strike will put you through your paces with exact boxing punch combinations, as well as some fundamental elements of kickboxing. Each session starts with a complete cardio workout segment followed by boxing conditioning drills that are so intense you'll be revving for a challenger.
There's a bonus section of heavy bag drills, which enhance your boxing experience. These drills also make your blows harder and surer. You will need 12-ounce boxing gloves for the cardio section and the rest of the training. The gloves are not necessary for the cardio section but come highly recommended.
The only drawbacks to this workout are its heavy dependence on equipment and space requirement. If you have a small space, you may want to consider moving things around or finding an alternate workout area. However, there can be no doubts about the results when you stick to the training.

5

. Ellen Barrett Fat Burning Fusion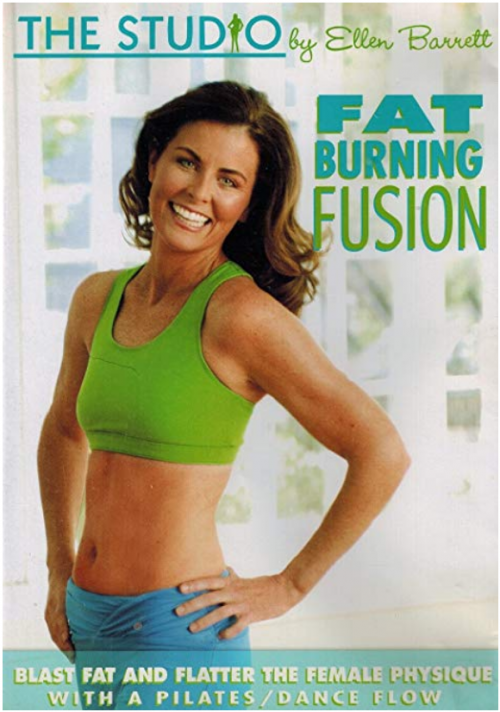 Fat burning Fusion is a great workout DVD for women. It guarantees that you will be able to blast fat and attain a flat physique in no time. Ellen Barrett hosts this DVD series, and she is one of the most renowned mind and body fitness instructors for women. Within just a few sessions, you will start feeling the fat burning away.
The runtime is about 3 to 4 hours long, and Ellen's fluff free approach makes every step have a more significant impact. The explanations are not preachy, and she gets straight to the point. Among the entire list of workout DVDs for women, this one is a gem for users that want to tone their lower body.
The moves are "love impact" are as subtle as they are impactful. The program encircles aspects of calisthenics, Pilates, and ballet. These ingenious routines workout and tone your muscles without building bulk. This training results in a slimmer physique.
There few other programs that can deliver such a perfect cardio workout without making you drip in sweat and gasp for breath. However, by the time you are done, your muscles are left feeling the burn. It also has some pleasant background music throughout the DVD.

6

. Ernest Schultz Weight Loss Cardio Kick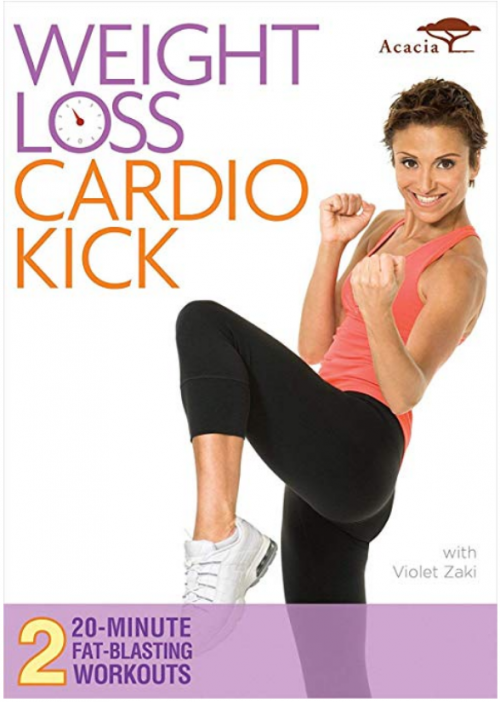 The Weight Loss Cardio Kick DVD is made up of two sessions that run for 20 minutes each. You can smoothly run through the entire 50-minute course because of the high-energy nature of the workouts. The fast-pace of this workout makes for a great cardio and muscle-toning alternative that will never bore you.
The DVD also has various workout options in handy submenus. These options include the whole 50-minute session, 2 X 20-minute workout sessions that have 5-minute warm-up and a 6-minute cooldown session. The complete 20-minute sessions take you through power sculpting and drills & combos.
The package also includes a 16-page book full of low-fat recipes that can show you how to do some light cooking. You have the option of doing combining both workouts at each session to maximize the results. The kicking and punching also serve as balance training for more flexibility, and you can defend yourself if the need ever arises.
The only downside is you will require a fair amount of space as kickboxing is not a sport suitable for tightly enclosed spaces. On a positive note, you will not need any additional equipment for this training DVD. However, you can get some light weights and resistance bands to make the exercises a bit more challenging. If you add in a little running, you'll be blowing through your fitness goals.

7

. Leslie Sansone Miracle Miles


If you like walking, Leslie Sansone's miracle mile workout DVD for women will enable you to stroll to fitness without leaving your house. It focuses on low-impact workouts that are suitable for every fitness level and age. It makes a perfect choice if you are on some travels and want to exercise from the comfort of your hotel room.
The workouts put you through foot, arm, and body movements, which target a variety of muscle groups. Each drill has different lengths and simulates walking distances that start at 1 mile, all the way to 5 miles. These workouts are engaging and are diverse enough to prevent boredom.
You may dismiss some of these moves as simple, but they are effective. The pace also changes as you advance in the workouts with an intermitted cardio boost. These cardio boosts as well as the use of resistance bands, intensify your workout and get you closer to your fitness goals.
The box also includes handy extras like the miracle mile exercise band that adds some resistance to your muscle sculpting training. There are 7-day quick start walk and meal plan with a 7x3 meal a day recipes and nutritional advice. A 1-year detailed workout calendar is included in the pack; this helps you track all your sessions on any given day and contains tips for users of all levels.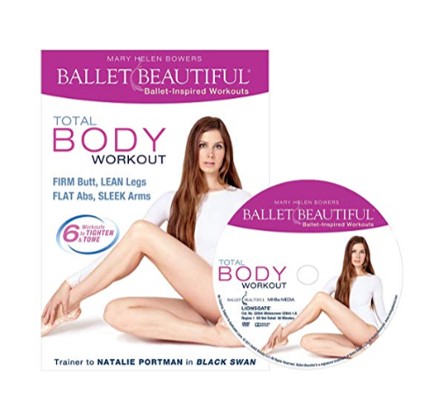 In this workout DVD for women, ballet is the focus! Have you ever seen how ballet dancers have strong, lean legs, flexible shoulders and hips, and overall poise? This is your opportunity to train like a dancer, building in strength, flexibility, and posture to your workout regimen. Mary Helen Bowers takes you through several different poses, exercises and stretches to help get you to a stronger and more flexible you. If you thought the gym was the only way to get a workout, you should give dance a try!
This single disc workout DVD takes you through a series of different exercises and poses for a 60 minute session. As a total body workout, it will take you through toning up legs, abdominals, glutes, and arms to shape leaner curves and strengthen muscles. Even those more experienced dancers or athletes will feel the burn with these movements, and can benefit from the stretching in the moves.
The Ballet Beautiful workout DVD also has a few other separate discs available for purchase, which are similar in length, but combine other moves for more targeted toning and strength. Starting off with the basics in this disc, Mary Helen Bowers will walk you through proper posture and poses for tighter buns and abs, while lengthening muscles. She's worked with countless celebrities, including the star of 'Black Swan', Natalie Portman. If you're in search of something a little different, give ballet a go for your workout!

9

. Body Groove Delicious Dance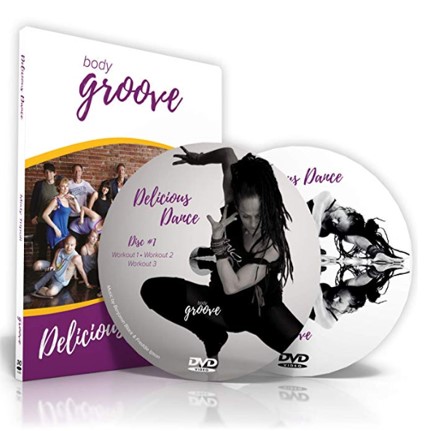 Another dance type of workout DVD, Body Groove is a series of workouts that will have your heart rate pumping, your muscles burning, and your face smiling. Delicious Dance incorporates different dance routines to keep your blood racing and your body burning calories, over a 30 minutes session. Each of the 2 discs in this set will have you toning up in no time, while enjoying your new found rhythm for dance! If you're bored of regular fitness videos and cardio, try out these dance workout DVDs instead!
Each of the workouts in the first DVD walk you through 5-7 different dance routines. Each routine will last anywhere from 4-9 minutes long, warming you up, burning calories, and cooling you down. In the first DVD, you'll find 3 complete 30 minute workouts, designed for elevating your heart rate. It's easy with Body Groove's Delicious Dance to fall in love with a new form of fitness, helping to keep you motivated to reach your goals.
The second DVD in this series has two bonus workouts, designed more to maximize flexibility and help improve your movements and range of motion. Combining these workouts with one from the first DVD will help you not only improve overall health, but will cool down muscles after a workout, and lead to better overall fitness. As a dancer, it's important to care for your flexibility during movements to get the maximal benefit from a workout. We're sure you'll fall in love after your first time using this workout DVD!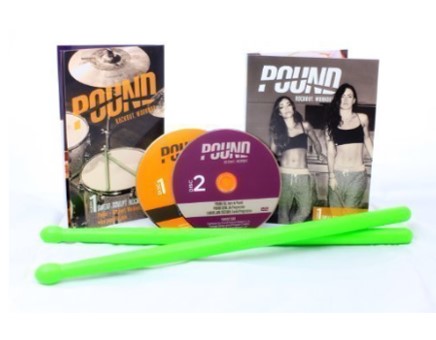 If you're unfamiliar with the brand, Pound has become something of a fitness craze over the last few years. They've developed movements which combine dance as well as engaging you to stay with the beat of the songs, making a fun, energetic, and engaging workout DVD. With easy to learn moves, you'll be shaking, pounding, and beating your way to a stronger, leaner you in no time. And, with alternative moves to keep it low or high impact, you can certainly keep up with the beat no matter what your intensity level.
With this workout DVD for women and men, you utilize drumsticks called 'Ripstix' that are weighted lightly to add some extra oomph to your movements. You'll find yourself drumming, squatting, crunching your way to upbeat music which will have your muscles on fire, and sweat dripping! It combines elements of strength, like lunges and squats, with cardio to have your pulse rate up and torching calories. And, if you don't want to purchase the drumsticks, just grab something similar or not at all to still get in a solid workout!
If you're tired of other kinds of workout DVDs and need a bit of fast paced excitement in your workouts, Pound really is an option to consider. In each 30 minutes session, the workout combines several styles of training, like isometric holds, and plyometric jump movements, making it engaging and fun. They walk you through basic movements, then combine them to create a workout you won't forget!

Subscribe to our Newsletter