Timberland Snowblades Tall Winter Boots
Sturdy, comfy, and stylish, there is little bad to ever say about the Timberland Snowblades tall winter boots. You'll struggle to find a more striking, more comfortable, and more sturdy winter boot.
But, of course, everyone knows Timberland makes impressive, quality boots; so, there's no surprise these Timberland winter boots come extremely well recommended.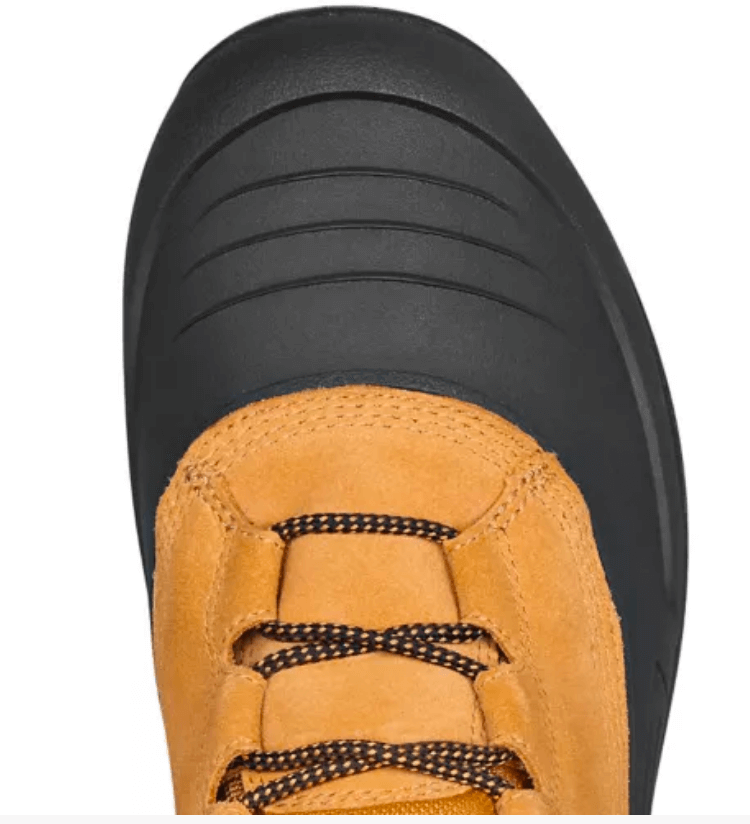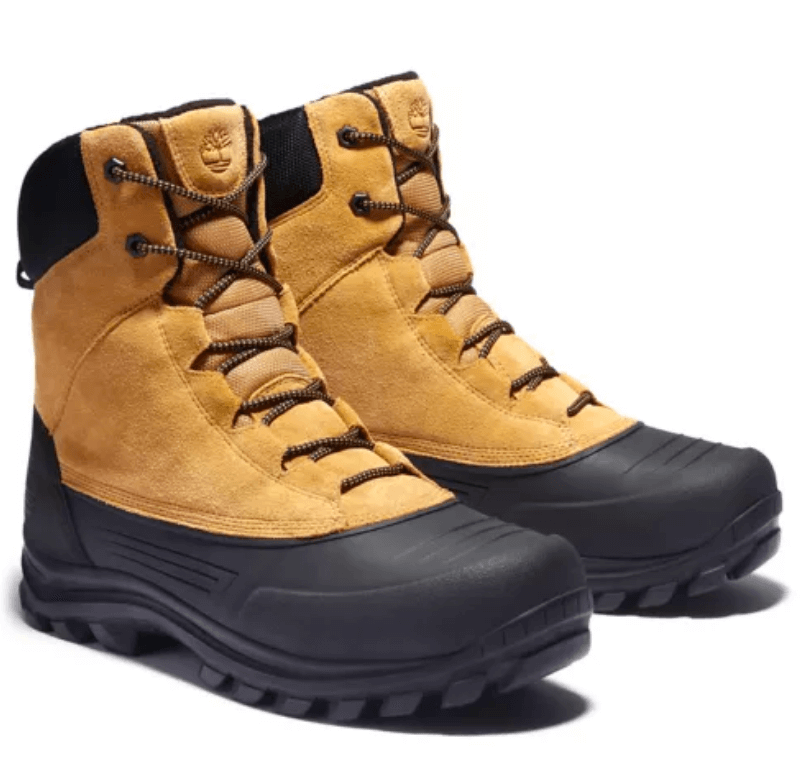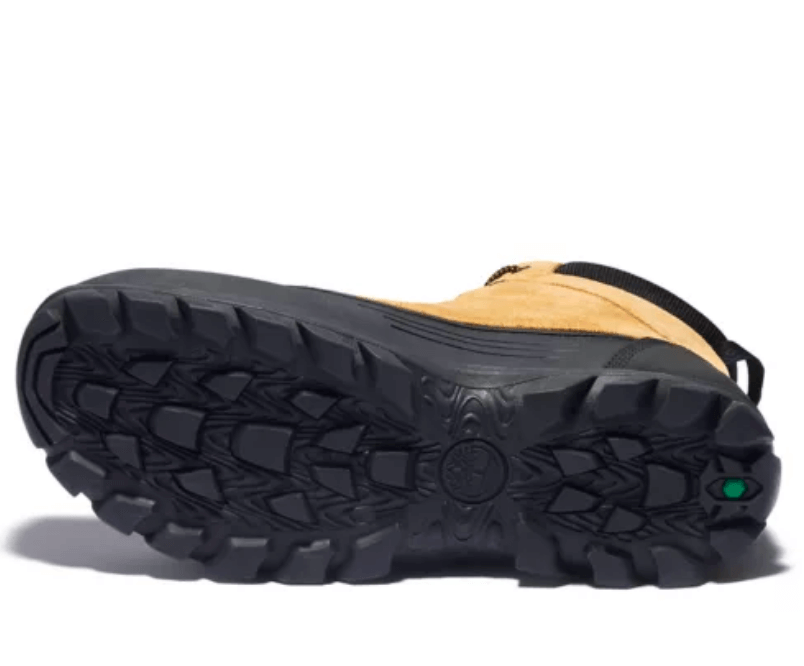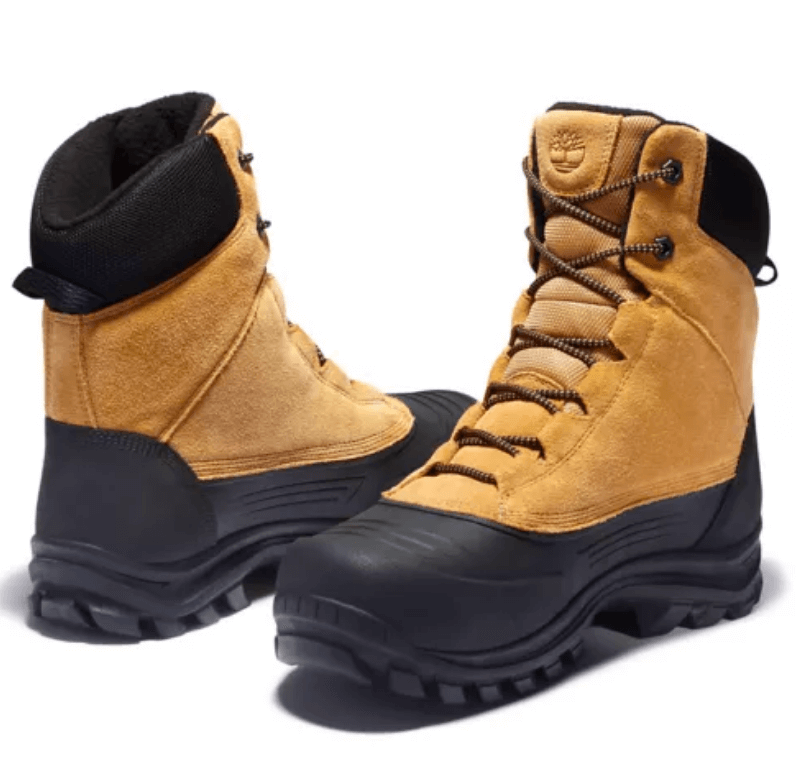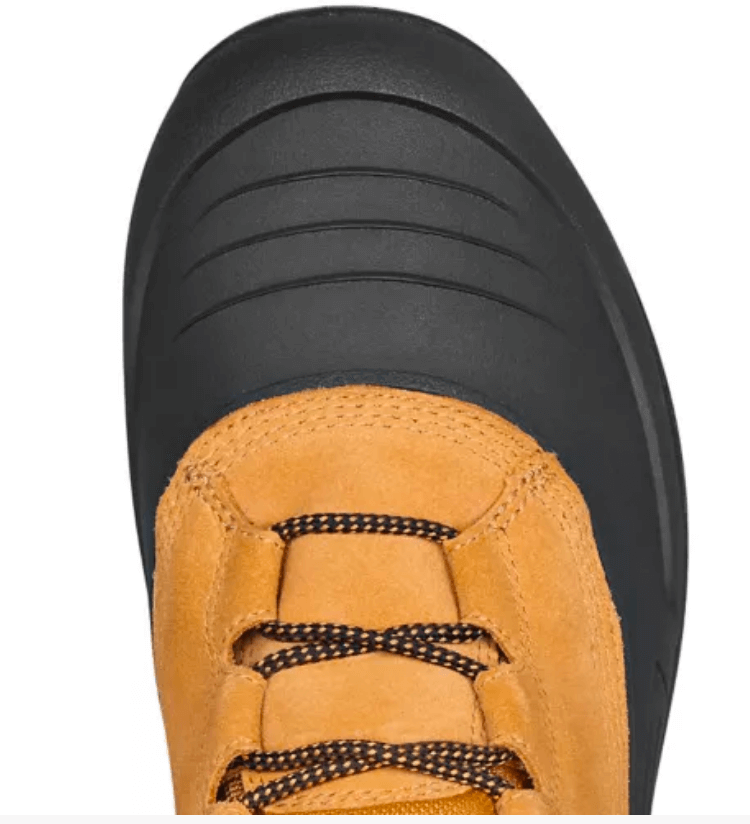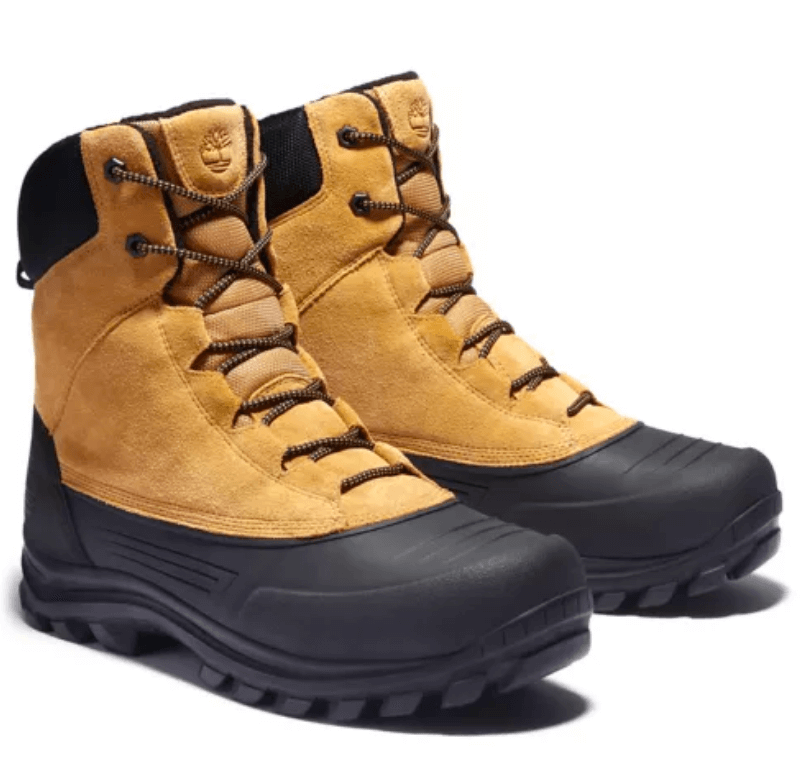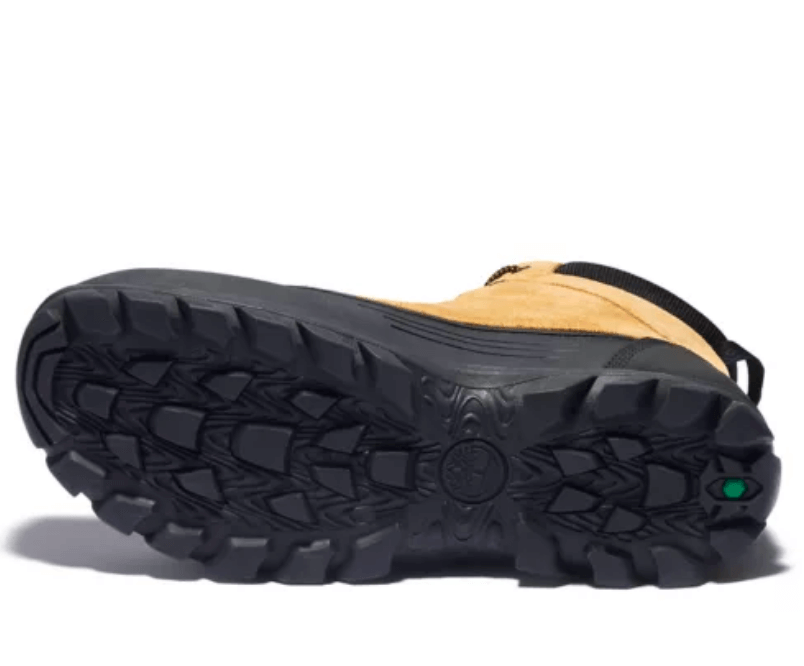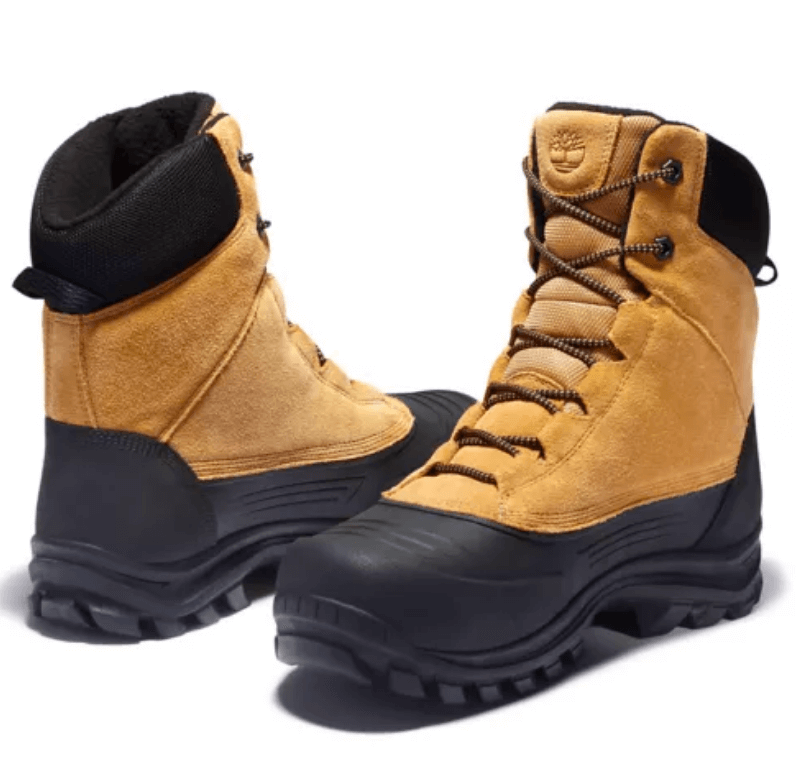 Our Conclusion
Are you looking for a winter boot that's super warm this winter? Well, the Timberland Snowblades are so warm and comfortable even in thick ice and deep snow due to superior insulation.

Are you looking for a waterproof boot too? No problem, the Snowblades are waterproof, keeping you dry in pretty much any grim weather.

Despite boasting incredible warmth and weather resistance, these winter boots are surprisingly light and less bulky than most similar winter boots.

Yes, this makes them incredibly comfortable, but this isn't the only reason these boots are so comfortable. The rubber rand, toe bumper and thick rubber sole also help keep your feet comfortable on the move.

I like these boots because they look good enough for the trail, casual around-town wear, or office work. This versatility is especially perfect for those in manual labor who also find themselves in and out of the office.

But carry on reading to find out more about these fabulous winter boots.
Pros & Cons
It might be too bulky for some
I would prefer more sustainable materials
Key Features
Key Features
Design
Whether you need a sturdy boot for all-day use, workwear, or to head out onto your favorite trail, the Timberland Snowblades make it easy for adventurers.
Rubber toe bumpers and rubber lug outsoles provide excellent protection, traction and stability for most terrains and snow walking. Yes, these winter boots look bulky and sturdy, but they are surprisingly lightweight.
But you would be right in thinking the sturdy nature of this boot makes them easy to trek over deep and dangerous snow. For example, extra stability comes from the firm high-top nature of the boot, which reduces the chances of ankle rollover.
These boots' design and construction also make it easier to stay warm and dry even in pretty much any snow and rainy conditions. Combining premium waterproof leather and waterproof membranes creates a boot that is nothing if not efficient in downpours and deep snow.
I also like the loop at the back, which makes the boots easier to pull on. Lastly, quick and straightforward laces make it easier to get a secure fit, which is essential for extra security.
Comfort
Just look at the other reviews for the Timberland Snowblades, and you'll see how people rave about the comfort these boots provide.
As mentioned before, the Snowblade uses a premium waterproof leather upper and TimberDry™ waterproof membrane, keeping you dry and comfortable even when you can't see in front of you for rain.
Snow boots
aren't much use if they're not snow-proof and warm. Well, as mentioned, the Snowblades are robustly waterproof but are also plenty warm enough.
Combining a robust leather upper, thick rubber sole, high-cut style and a mega 400 grams of PrimaLoft® insulation allows for exceptional warmth. So, whether you wear them all day for work or on the trail, you are insanely comfortable.
Timberland has thought of everything; there is even soft cushioning around the back of the ankles to ensure extra comfort. This padding is convenient because high-cut boots can cause rubbing and
blisters
.
Lastly, there is no issue with the fit and sizing, with nearly all reviewers finding the fit and size comfortable and just right. Most can even fit a thick pair of socks under their standard size.
Materials
Timberland doesn't need an excessive number of materials to create winter boots that are perfect for winter. Starting with thick rubber outsoles that contain superior and aggressive lugs, plus rubber toe bumpers add superior comfort and protection from slips, trips and falls.
The rubber lug outsoles are also made with at least 34% recycled rubber, which shows Timberland's attempt at sustainability. However, it would be nice to find Timberland using a more significant percentage of sustainable materials.
Further comfort comes from the boot's incredible ability to stay warm and dry. Using a massive 400grams of PrimaLoft® insulation creates fantastic warmth for those super snowy days.
In addition, use efficient premium waterproof leather from a LWG silver-rated tannery for the upper and a TimberDry™ waterproof membrane, which stops your precious tootsies from getting wet and icy.
Durability
You only need to look at these winter boots to see how incredibly well-made and robust they are.
Timberland certainly hasn't skimped on materials. Although these boots are surprisingly lightweight, their thick outsoles, thick bumpers, and premium leather upper allow for one hell of a long-lasting snow boot.
Not only are these materials super durable, but their natural waterproof nature will keep them performing as they should for a long time.
You ask anyone who owns a pair of
Timberland boots
, and they will tell you long they last. You can wear your Timberlands for years and years, and I don't think the Snowblades are any different.
Comparison to Similar Winter Boots
Most other winter boots pale in comparison to the Timberland Snowblades tall winter boots, but you may want to consider your options so you can find the best cold-weather staple.
The
Merrell Thermo Chill mid waterproof boots
, known as the 'winter overachievers', are an excellent choice for anyone looking for a similar boot in terms of performance and style, but with more of a hiker's style and slightly lower price.
With the Thermo Chill, you get weather resistance and comfort in its waterproof material and low-bulk insulation, keeping you warm and cozy. In addition, genuinely grippy soles make it easier to keep your footing even on the wettest, driest, or most frozen surfaces. However, the Thermo Chill are noticeably less stylish than the Snowblades.
If you're not too bothered about style and are looking for something that suits a budget, then
The North Face Tsumoru boot
could be an excellent option. This The North Face boot comes as a lightweight yet insulated and waterproof boot, available in a variety of four colors.
With the Tsumoru boot, you get warmth, comfort, and performance due to its rubber outsoles, fleece lining and mesh upper. This combination makes them perfect for most winter activities or just shoveling the driveway.
Verdict
I have struggled to find anything wrong to say about the Timberland Snowblades winter boots. It's rare to find a winter boot that combines so much in one boot, but Timberland manages it with the Snowblades.

Combining performance in snow or rain, insulated warmth, and robust durability in leather and rubber means this boot suits anyone after a stylish yet sturdy winter boot.

These boots don't look all that light, but they are surprisingly lightweight, ensuring extra comfort.

Subscribe to our Newsletter