Best Clear Plastic Shoe Boxes to Display Your Shoes
In a Hurry? Editors choice: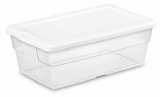 Test Winner: Sterilite 1642

For many, shoes aren't just something to put on your feet in order to facilitate walking, standing, and physical activity. It's fashion, style, personality… an art form. If you're one of those people, the way you wear your shoes dictates your entire look from head to toe. They can't be thrown in at random but must be the right pair for the attire and occasion.

However, this also means you'll end up with a large collection of different footwear in your possession, and though having so many options to choose from is great, it's less fun when it comes time to organize them. Even if you're not too picky, you're bound to have several different pairs for different activities and seasons, which need to be categorized and put away if necessary. To make this easier for you, consider investing in clear shoe boxes.
Standout Picks
Criteria Used for Evaluation
Features
Now, by shoe boxes, we don't mean the flimsy cardboard box that comes with your new shoes. We mean plastic containers with which you can store and organize your footwear to prevent them from gathering dust, accumulating odor, and from becoming a spiders' nest. Clear shoe boxes are the best option because there are no labels necessary and you don't have to rummage through each box to figure out where a particular pair of shoes are – at a glance, you know exactly what's inside each one, making them super convenient and practical.
With that said, there are containers specially designed for shoe storage, which are ideal. These often have a design that makes them easy to open and stack into a pile, as well as features that prevent odor and moisture. However, some multi-use containers are excellent for the purpose as well, especially if you prioritize a good, secure lid, or an easily moveable box.
Size
The most crucial factor to consider when purchasing a container for your footwear is the size that the container must be. You don't want it to be too small, because then you may need to squish the shoe in, causing the structure to be bent out of its shape. After long periods of time, this will change the shape of the shoe to cause discomfort to the heel and arches; and, of course, they will look all wonky when you put them on. As well, the lid may not fit over them if the box is too small, making it harder to stack them in a pile to save space. But with that said, if they're too big, that's also a problem. The shoes might have plenty of room, but it defeats the purpose of organizing if the box itself takes up too much space in the closet. The moral is: it's important to make the effort to get as close as possible to the ideal box size.
All containers are sold with their dimensions (their width, their height, and their length) as well as their volume (for example, 5 quarts) listed in the product descriptions or on their labels. It's super important to pay attention to this information. With the dimensions, you can take a measuring tape and hold it to the width, height, and length of your pair of shoes (remember, fitting them together in opposite directions and sides save the most space!). You can then determine if the clear shoe container will be too big, too small, or just right. Of course, ideally you would bring your shoes to the store to see if the box is of a good size, but when you're ordering online you don't have that convenience.
We recommend you purchase a container that is slightly roomier than the measurements of the two shoes. This way, if it ends up being a bit smaller than you thought, you can still make sure enough room is there.
Effectiveness
The way the container opens is also super important. Traditional plastic bins have a lid at the top that either snap shut over the base or is attached on a latch. The benefit is that the lid tends to be super secure, and nothing obstructs your view of what is inside it. However, when it comes to storing footwear, it can be a tad bit inconvenient. For instance, if you've got everything stored away and stacked up onto a neat pile just to realize that for an upcoming event, you'll need a pair that's in the bottom row… you risk having an avalanche in your room! Not being able to take the shoes out from the front means you have to take them out of the pile every single time, and that gets inconvenient.
That's why you might prefer a box that opens from the front with a front panel. These don't have to be taken out of their piles for their contents to be taken out, which makes them ideal for stacking up and organizing your everyday shoes. It saves you the time, effort, and prevents the risk of having the whole pile topple over. Often, the front opening panel can be found in storage containers specially designed to put footwear.
With that said, there are times when you might prefer a box with a traditional lid. Like we mentioned, the lid is more secure and is more likely to stay shut when handling. This means it is ideal for storing shoes when moving because the contents are less likely to be spilled out. They are also great for sealing away any footwear for long periods of time, such as for the next couple of seasons until the weather is appropriate for it again, in which case it's not likely that you'll need to take them out from the bottom of a stack until the time comes.
Protection
We all know too well that, after wearing them for some time, shoes will begin to smell. After a long day, it's not uncommon to slip them off to a whiff of unpleasant odor… Fortunately, that smell will go away once you set them aside for a while – but think twice before putting them away into a closed container.
When put into a box that has no ventilation holes, any leftover odor in the shoe cannot dissipate. Instead, it will stay in the confinements of the box, waiting to greet you when you open them again. Not only that, but any moisture that comes from perspiration or humid weather will be shut up as well, creating the perfect environment for harmful bacteria to grow and spread.
For this reason, we recommend you look for ventilation holes in the containers. A container with these holes can allow air to flow into the box, letting any leftover odor and moisture to dissipate into the air rather than staying within. This way, your footwear is kept fresh for when you next need them.
With that said, if the shoes you're storing aren't worn very often – for example, if they're the five-inch heels you save for photoshoots or the kitten heels you only wear to business meetings – no ventilation holes should be fine, too. Infrequent wear means there isn't much odor or moisture to be accumulated, and bacteria is less likely to grow.
Ease of Use
Something else you might consider is whether or not the boxes are foldable. Ths simply means whether or not they can be unfolded to become smaller and more space-saving when they are not in use. When you need them, they can be folded up to maintain their square shape to protect the items inside.
The advantage of this, obviously, is that when you don't need them, they don't take up much space for themselves. You can slip them anywhere you want and take them out when you need them again. They're great for storing seasonable things, like your winter boots or summer sandals, because during the off-season they don't become a nuisance.
The downside is that they don't tend to be very sturdy containers. Making them foldable and unfoldable means the sides of the container are of a fairly thin plastic. Because of this, they may not hold up well when their contents are heavy, or when they are stacked high and there is a lot of weight and pressure on the bottom boxes. As a result, they may be impractical for heavy-duty footwear or other heavy contents.
At the end of the day, it all depends on your situation. Foldable boxes are great for minimizing clutter at all times and for light summer shoes but don't provide the most protection for heavier footwear.
Top 10 Clear Shoe Containers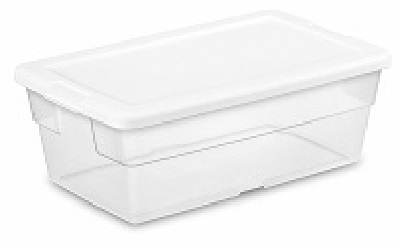 The first item we've chosen is not specially made for keeping shoes but is rather a multi-use clear plastic shoe box that's great for the purpose nonetheless. It is 6 quarts in volume, and its dimensions are roughly 35cm by 21cm by 12cm, making it ideal for storing shoes since it is big enough to accommodate most shoes without squishing or damaging its shape, but also compact so that there are minimal bulk and cluttering. Its white lid and clear base give it a clean, neat look.
Opaque Lid
The base of the box is all clear so that the item inside can easily be identified without having to take off the lid and rummage through it every single time. However, the lid is opaque, allowing any labels you put to be clearly seen, and it snaps firmly onto the base to ensure the contents are secure.
Handles
If you need the containers for moving, it's always best to have handles so that you avoid the need to hold the boxes in weird positions that leave your arms aching. Recessed handles are provided with this design, ensuring that lifting is made easy and convenient.
Cost and Value
Sold in packs of 12, the price for each box is reasonable and on the cheaper side compared to some of the other items on the list. The identical boxes allow you to organize your footwear in all the same containers, ensuring a result that is neat and aesthetically pleasing.

2

. IRIS High Clear Pull Down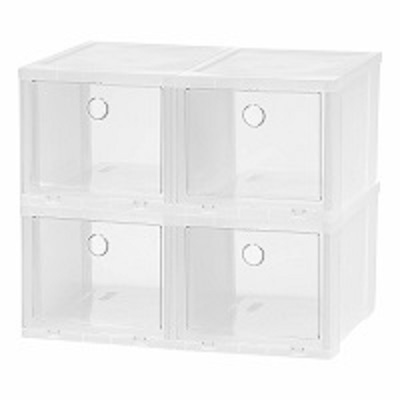 As a clear shoe box containers specially designed for putting away footwear, this next item is super convenient because of its untraditional way of opening and closing. The dimensions are roughly 14in by 11in by 7in, allowing them to fit men's shoes up to size 14 depending o their style. Airflow is also provided, and the fact that they are stackable means space can be conserved and used wisely in your closet. As the perfect choice for shoe collectors, they are definitely a worthy investment that will keep your footwear protected and organized.
Drawer-style
Rather than having a lid like most containers, these are opened by pulling it open from the front. When shoes are stacked up to conserve space, taking them out again is therefore made easy and convenient in a way no other storage containers could provide.
Odor Prevention
Not only does odor accumulate when you wear your shoes too often, it can also be trapped in if the shoes are shut up inside a box and not allowed to breathe. You don't want any harmful bacteria growing inside them! The ventilation holes in this design allow air to flow throughout, preventing smells from lingering.
Cost and Value
Unfortunately, their clever and practical design comes at a cost and a high one. They come in packs of four and six, as well as in both square and rectangular shapes. Though they cost a bit more per box compared to some of our other clear shoe boxes, their convenience justifies it.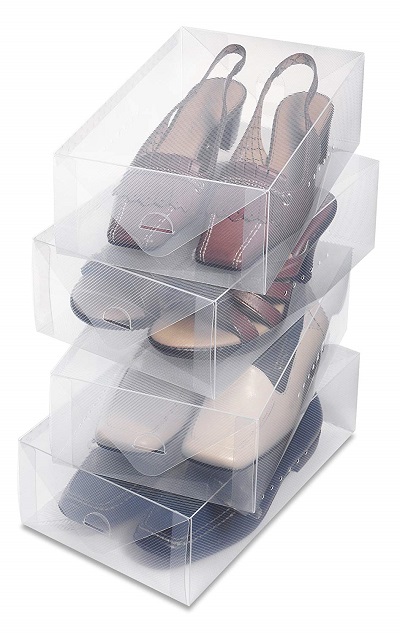 What's better than a storage box that makes storing footwear convenient, while also being easy to store in itself? Allow us to clarify: this item can be folded into a box, but can also be unfolded when they are not in use. With that said, they are still protective and durable thanks to their plastic material. They can easily be stacked up in your closet to avoid cluttering the floor with scattered shoes. What's more, they can even fit high heels up to five inches depending on their size. To take them out, all you have to do is open the front panel and slip them out - no unstacking or rummaging needed!
Ventilation
Like the last product, these have ventilation holes. Both moisture and bad odors are prevented from accumulating inside the container, allow your shoes to stay nice and fresh.
Easy Assembly
Unlike some of the other containers, these are convenient and space-saving on their own - they are folding construction clear shoe boxes that easily acquire and maintain their shape, but can also be unfolded and compressed to be put away when not storing footwear.
Cost and Value
You can get these in both packs of four and twelve, and on average each box is of a modest price. We highly recommend for their simplicity and practicality.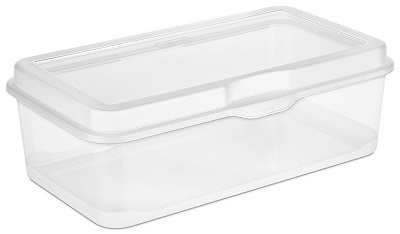 This product is called the Large Flip Top box. Its name comes from its lid, which has a simple yet practical closure design. The dimensions are around 13in by 6in by 4.5in. Because they are fairly long and rectangular, they may be able to fit boots that are of a small size, such as children's boots. Stack them up in your closet for easy and space-conserving organization. But do keep in mind that they aren't easy to open, so they aren't the most suitable for shoes you were often but need a place to put.
Latch Lid
Unlike the last container by Sterilite, the lid does not snap shut but is instead an enhanced hinge latch lid. Therefore, it's impossible for the lid to get lost in the clutter, or to accidentally open during transport.
Modular
Since they are modular, that means they can be stacked together with stability, letting you reduce clutter and save space. But remember that because their lids open at the top rather than on the front like some other ones specially designed for footwear, their contents cannot be taken out easily. Therefore, they are better for shoes that you don't wear often or that need to be put away for the season until next year.
Cost and Value
Sold in packs of six, their price per pack is fairly pricey when you do the calculations. However, they're a good pick if you have things that need to be put away long-term or for moving because although the contents aren't easy to access, the lid is nice and secure.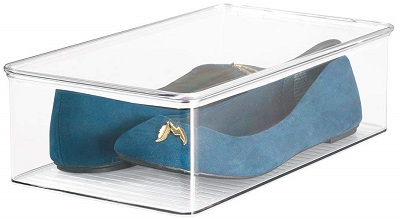 Simple and minimalist, this next product lets you stay neat while keeping your closets aesthetically pleasing. The clear shoe boxes have rounded edges and a flat clear lid, making them easily stackable and allowing you to see their contents crystal-clearly from all directions. The dimensions are around 7in by 13in by 4in, give or take a quarter-inch here and there, making them ideal for flat shoes of all sizes like loafers or your favorite sandals, though they may also fit other styles depending on their size.
Stackable
Although the lids open at the top, meaning the contents aren't easily accessible when stacked, the fact that you can see all their contents with no problem facilitates the acquisition of the shoes you want. Just spot the right pair and take that particular pair out of the stack.
Versatile
The flatness of the container makes them easy to fit under beds, in drawers, in the bathroom, and all kinds of other places. They can also be used to store other items when they are not used by shoes.
Cost and Value
The downside to this item is that they are quite expensive. Sold in packs of one, two, and four, they're not the ultimate bargain. However, their small dimension is perfect for when you've got summer shoes and don't need large containers, so their convenience counterbalances their high price.

6

. Hansi Naturals Storage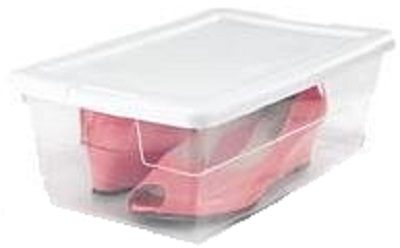 Organizing is made convenient and simple with this pack of 12 shoe storage boxes. With a dimension of 13in by 8in by 5in, they are big enough to accommodate shoes of nearly all sizes and style. Easily stackable, you can place them in your closet, in a storage room, or anywhere else to organize all the clutter. Plus, no labeling is required since they are all see-through so you know right away what's inside. Their usage isn't limited to footwear, either - use them to categorize clothing, books, and anything else you might think of. They're truly a versatile pick.
Packs of 12
Sold in packs of 12 identical containers, you can keep your storage nice and neat. No differently-shaped containers bought on-sale from different stores to make your closet look disorganized! Everything is kept orderly with this whole set.
Stable
Thanks to the shape of their lids, they can be stacked up to save space. They stay stable and won't be toppling over easily when you grab a pair from the bottom.
Cost and Value
When it comes down to the price per container, this pack is of a reasonable price. They're not the cheapest, but for their durable plastic outside and secure lid closure, we think they are worth it.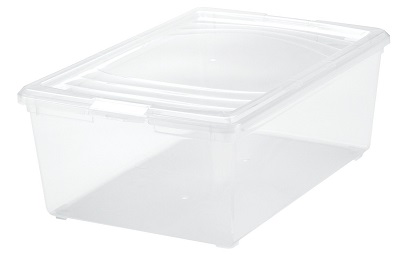 If you need something for your winter boots, the MCB-S modular box is sure to accommodate your needs. Their dimensions are super roomy so that most high-heeled or heavy-duty footwear should be able to fit with no problem. The lid is secure, and although the opening at the top means they aren't convenient to stack up and store your everyday shoes, they are super great for long-term storage, as the contents are nice and protected. A downside is that they are too roomy for one pair of shoes, but may not be roomy enough for two, which is why they are mostly only suitable for heavy or bulky shoes.
Roomy
The dimensions are around 16in by 11in by 6in. It is very roomy, and may not be particularly convenient for those with medium-sized feet, where two pairs don't quite fit in the container but one who be a waste of space. However, those with a large shoe size can be sure their footwear has enough space.
Secure
The lids are snap-tight, ensuring that they stay protective and secure during moving or when carried around. The downside is that there are no ventilation holes, so using them to store footwear long-term may result in the accumulation of odor, which is never desirable!
Cost and Value
Each pack comes with five individual boxes. When you do the calculations, the price for each is the most expensive on the list. However, they're also the one that's surest to accommodate all your heavy and bulky boots, so if they're really what you need, we say they're worth every penny.

8

. Greenco Clear Foldable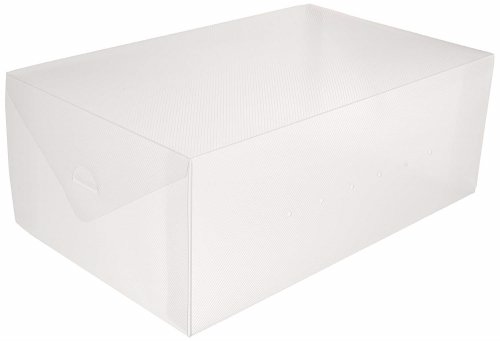 The purpose of storage containers is to save space, yet many containers take up a lot of space in themselves, especially when not in use. Thankfully, that's not the case with this shoe box thanks to their clever foldable/unfoldable design. The dimensions are around 13in by 8in by 5in, the perfect size for sandals, sneakers, and ballet flats, since the shoe is protected without too much extra space around it.
Foldable
Similar to one of our previous picks, these containers can be unfolded when not in use. This way, they can be tucked away until they are needed again, doing what they do best - saving space.
Ventilation
Since they are specially designed for storing footwear, they are made with holes in the plastic to protect the contents from moisture. This prevents odor, humidity, and the growth of harmful bacteria.
Cost and Value
They come in packs of ten identical clear boxes so that all your footwear can be stored in a neat stack of the same container. They are one of the cheapest boxes when calculating the price of each individual box in the pack.

9

. Life Story 5.7-Liter Clear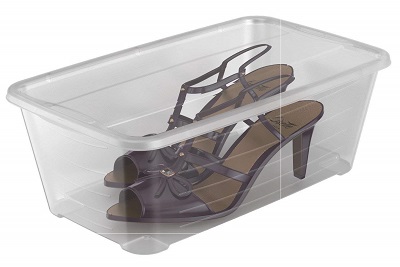 The 5.7 liter clear shoe box by Life Story is sure to keep your shoes protected and dust-free. Its dimensions are approximately 14in by 8in by 5in, making them a bit small for winter shoes but great for shoes of most other styles and sizes. The plastic isn't the sturdiest, but it should hold up just fine if you're not putting stuff that's too heavy inside them. Plus, one pack gives you plenty of containers, so even if a couple end up damaged, the rest can still be used just fine. The lids are easy to slip off so that you can put pairs that you wear often inside without having to worry about wrestling with firm lid closures the next time you take them out.
Closet Use
Tired of having your shoes strewn all over the place on the floor of your closet, with your everyday shoes mixed in with summer sandals you won't be touching for months? These containers are perfect for keeping the ones you don't need out of the way, perhaps stacked under those you do wear.
Packs of 20
Unlike all the other ones earlier on the list, these come in packs of twenty. Not only will you have enough for all your shoes (hopefully...), you've got some to spare for other items like scarves, clothes, or other accessories or random trinkets that you want to have organized.
Cost and Value
Sold in packs of 20, each box is at a lower cost than any other product we've previously mentioned. Unfortunately, some reviewers claim their plastic isn't the most sturdy or durable, but you've got a ton for a super affordable price - you've got quantity, so you can't expect super high quality. With that said, it should be sufficient.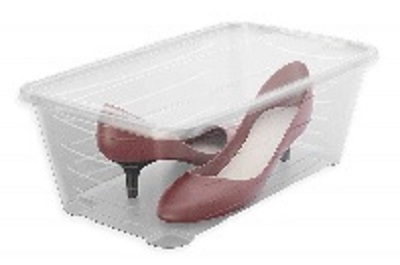 If you're not too picky, this container by Life Story should do the trick for you. Like all the other ones, they are clear so that you can see the contents without taking off the lid, saving you time when looking for the footwear you have in mind. Their lids render them easily stackable and steady in their piles. What's more, they are very budget-friendly and will not cost you too much for the set, making them perfect for folks who are pickier with money than with their shoes.
Packs of 12
Though the plastic is on the thinner side and is not of the best quality, the whole set includes 12 containers. If you haven't got super heavy shoes and handle them with care, they should serve you just fine.
Size
The dimensions are around 8in by 12in. They're not very roomy and may not fit high heels or shoes that are bulky or of a large size, but if you've got medium-sized feet they should fit perfectly with not much room to spare. As a result, they're ideal for when you've got a pile of summer shoes to put away for the season.
Cost and Value
When it comes down to how much each box costs you, the result is a super affordable price. With that said, you can't expect super high quality as well. But after all, at the end of the day, it's what's inside - the shoes - that counts, right?

Subscribe to our Newsletter