Best Tap Shoes Reviewed & Rated
last updated
Jan 31, 2019
Since its invention in the 1800s, tap dance has represented an impressive fusion of various cultural dance styles, proof that people from diverse backgrounds can use their differences to create something not only wonderful but also entertaining. Although its popularity has waned in the last few decades, tap dancing is still a fantastic activity for children and adults who love moving to catchy rhythms. Additionally, tap dancing has been proven to be excellent exercise–not only for the body but for the mind. Improving your strength, flexibility and cognitive abilities while having fun? That's the way to live!
In a Hurry? The test winner after 18 hrs of research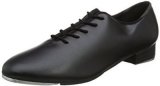 So Danca TA05
Why is it better?
Supportive, Cushioned Design
For Beginners
Lace-Up
True to Fit
Polyurethane Uppers for Stability
In a
Hurry? Editors choice: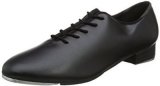 Test Winner: So Danca TA05

15
Researched Sources
1278
Reviews Considered
18
Hours Researching
20
Products Evaluated
Durability
Heel
Fit
Materials
Use
By Default
In Depth Review Top 10
So Danca TA05
Dance Class Mary Jane
Bloch Tap-Flex
Bloch Jason Samuels Smith
Bloch Dance Tyette
Capezio CG17 Fluid
Capezio 3800
Theatricals Lace Up T9500
Bloch Dance Now Economy
Miller & Ben Jazz-Tap Master
Table of contents
Criteria Used for Evaluation
Other Factors to Consider
Sources
10 Best Tap Shoes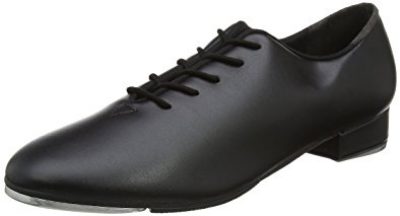 Supportive, Cushioned Design
For Beginners
Lace-Up
True to Fit
Polyurethane Uppers for Stability
So Danca originated in Brazil in the 1980s as a dance apparel retailer, and now provides quality products including shoes, to over 45 countries throughout the world. The TA05 is an entry level shoe, with alternative PU uppers giving more stability to the foot and ankle, great for starters learning how to use their ankles and feet for tap technique.
Read more
Design
The TA05 has lace-up styling to firmly hold the shoe in place, and a PU upper which give stiffness to the shoe, perfect for those starting with tap technique who are becoming acquainted with their levels of ankle and foot range of motion. Cushioned insoles and uppers give the foot padding for long days and evenings in the studio and at home practices.
Beginner Shoe
Designed with the beginner tapper in mind, the TA05 considers durability and safety while learning tap technique as opposed to a shoe that allows significant flexibility for the complexities of advanced tap dance. A semi-flexible shank allows for an individual style of movements, allowing the dancer to slightly bend the shoe, as opposed to pushing against a stiffer shank design.
Cost and Value
At an average price for beginner tap shoes, adults will love learning in the So Danca TA05. It has great styling, and the durability a beginner may need while getting accustomed to tapping techniques and movements. True to fit, the TA05 is a great starter shoe!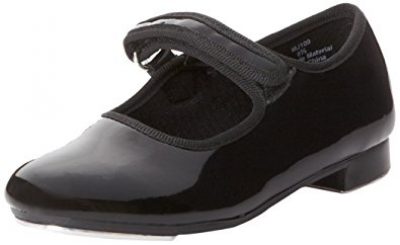 Arch Support
Velcro Strap for Snugness
Patented Leather Gloss Design
Synthetic Sole
Easy On/Off
Runs Narrow
Restrictive Toe
Who doesn't love a Mary Jane style shoe? Classic dress look combines with beginner tap comfort and design in Dance Class' Mary Jane. With easy velcro closure, shiny patent leather gloss, it's a functional start shoe for early beginners in dance. This tap shoe also comes in two colors, black and tan, so you'll be able to work with whatever outfit recital requires!
Read more
Early Beginners
Designed for those early beginners just starting out in tap, this shoe gives the needed beginner support and comfort when just getting into any sort of dance, especially tap. When beginners are still growing, shoes that have a bit of giving in the uppers, and are flexible on a budget are a necessity. Dance Class succeeds in making a functional shoe that delivers on those qualities.
Design
Consisting of a faux leather upper and synthetic sole, this type of material in the design will allow for some stability when learning new moves. The velcro strap indicative of typical Mary Jane designed shoes allows easy access in and out of the shoe. With cushioning in the footbed for comfort, and support in the arch for stability, it's perfect for those starting.
Cost and Value
On the lower end of the budget, this shoe is well worth the buy, especially when compared to non-dance shoes of a similar kind. The functional though presented in the design of the shoe will help support growing tastes in dance but still, allow for support and comfort.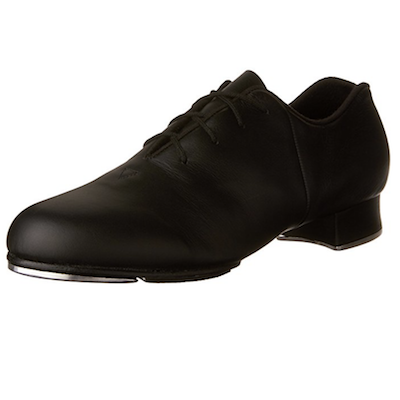 Heel Notch
Genuine Leather
Shockwave Plates
Moisture-Wicking
Cashmere Inner Lining
Bloch is a well-known brand of tap shoes, designed for those starting out to those who've mad dance a passion. The Tap-Flex shoe offers comfort in leather design, with a Cashmere lining to leave feet dry and wick away moisture. With several shoe design modifications to alleviate Achilles heel pain or allow freedom of movement, it's a solid tap shoe.
Read more
Options
Coming in two color options, the Tap-Flex shoe is available in full grain black or tan leather, depending on what your needs are. Suitable for studio or stage, the shockwave plates allow for maximal contact with the floor, and strong percussion sound. With an inner lining to help wick away dampness, you'll be able to maximize studio time without being uncomfortable.
Performance
For performance, Bloch brand shoes have designed an upper that allows the shoe to flex one way while giving resistance in the other direction. Lace-up design has your foot staying snug and in place when performing. A heel notch helps the Achilles tendon by alleviating pressure.
Cost and Value
A tab more pricey, but well within a beginner tap budget, the Bloch Tap-Flex shoe is a brilliantly designed shoe for the spend. The optional colors make it suitable for any style of dress on the stage or off, and durable leather quality allows the foot to be comfortable while the shoe longevity remains intact.
4

. Bloch Jason Samuels Smith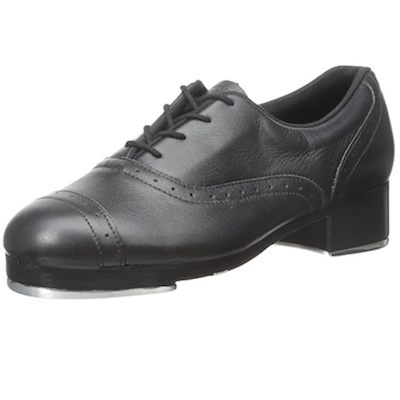 Flexible Leather
Adjustable Sounding
Soft-Grain Leather
Reinforced Metal Bonding for Hard Tapping
Bloch does it again with their professional tap shoe, the Jason Samuels Smith. Quality made, the construction of this shoe is designed for advanced footwork and flair, and will hold to even the hardest of taps. Soft grain leather allows comfort and flexibility while metal bonding reinforces tap and screw placement without the loosening of screw due to aggressive hard taps.
Read more
Quality
Without a doubt made for professional dancers, this shoe impresses with a triple stacked heel for durability, and an outsole constructed of hard leather to keep durability through the life of the shoe's use. A steel resonance plate lies between the outsole and tap, creating an amazing sound. With hard tapping, screws may come undone in other brands, but with a special procedure that bonds the metal, the taps won't become loosened unless it's by the wearer's hand.
Comfort
Soft leather wraps the foot and allows flexibility of the foot while still creating a level of support. Additional lining helps to wick away moisture leaving the foot dry for those long practice session. In addition to comfort, non-slip sole patches for safety come separately.
Cost and Value
More expensive than entry level shoes, but affordable compared to other professional and impeccably designed tap shoes, the Bloch Jason Samuels Smith is a budget-friendly option for professional dancers. Made with quality and functionality, an investment well worth your money!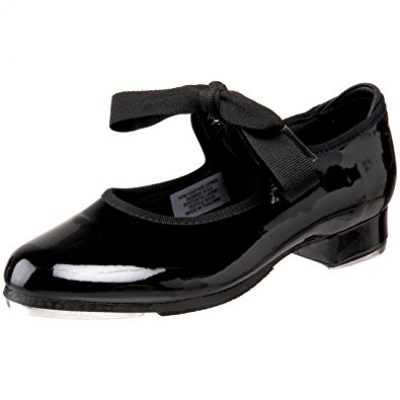 Balance Pad
Bow-Tie Style
Seamless Construction
Elastic Snap Closure
Cashmere Inner Lining
Cute and practical are two of the best characteristics for which anyone could hope in the same shoe, but it's especially wonderful to find it in a tap shoe. Shiny and classy, they come with a bow tied with a ribbon around the strap and inner sole specifically designed to provide as much comfort for your foot as possible, which is all the more important when you consider how much pressure you must put on it to dance well.
Read more
Stylish
You get all the functionality of a quality tap shoe, especially great taps and strong structure, without sacrificing aesthetic. The bow-tied ribbon hides an elastic snap closure which brings the uppers together and holds the foot to the shoe. Shiny synthetic uppers gloss up the performance look and come in two colors, black and white.
Functionality
Stepping up the shoe construction, Bloch has given this Tyette tap shoe a cashmere lining to help cushion and pad the foot, and a padded insole gives additional comfort. With no seam lines in the shoe heel or back lining, and extra leather securing the heel, rubbing and blistering from movement is minimized. A balance pad has been added to the outsole resin to help with weight transference during steps and movements.
Cost and Value
Great price for the value, the Bloch Tyette comes in average to slightly higher than average for a shoe of similar styling and design. For those who started at an early age, this is a great progressive shoe into the next round of tap dance, and a good next investment.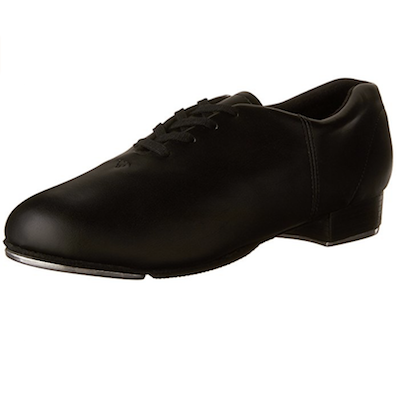 Lace-up
Moisture-Wicking
Suitable for Beginners
Synthetic, Durable Upper
Lightweight
Another great beginner tap shoe, and Despite what its name might imply, this shoe is actually excellent at sucking up any moisture that may accumulate in your shoe. What's more, its designers poured much of their efforts into making it strong enough to withstand demanding physical activity while being flexible enough to flow easily with your moves. Truly, this is a shoe for an athlete.
Read more
Comfort
A board shank in the sole is the secret to the shoe's ability to balance flexibility with sturdiness. While it provides the firmness that your foot needs, it doesn't keep you from moving the way you want. Known for its absorption capabilities, the microfiber in the sole ensures that your foot stays dry--so don't be afraid to work up a sweat.
Options
The CG17 Fluid is available in basic colors of black and tan, with synthetic upper designing. Lace closures allow you to strap the shoe on as tight or relaxed as you need. Attached taps are designed with the beginner in mind, but still, give a quality sound that will echo throughout the studio.
Cost and Value
Coming in a variety of sizes and widths, the shoe is suitable for any tapper, and moderately priced for shoes of similar style and design. For those just starting out, it's a quality purchase, even if a little higher on the price range than other beginner tap shoes.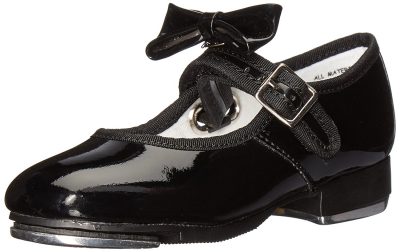 Removable Bows
Velcro Closure for Snugness
Rubber, Non-Skid Padding
For Beginners
Expensive Purchase for a Beginner
Back on our list is Capezio, this time showcasing the 3800 Mary Jane style shoe. Perfect for early beginner tappers, it has a clip-on bow at the toe that is removable but can be placed anywhere on the shoe for an added accent in style. With two color options and quality Capezio construction, it's definitely a hit on the dance floor!
Read more
Quality
Like many beginner tap shoes, these come with taps attached, and fiberboard mounted. A rubber non-skid pad helps increase safety when learning new footwork and moves, and the micro-rubber designed outsole helps support the foot while allowing moderate flexibility to move in the shoe.
Styling
The Capezio 3800 is designed with a velcro buckle and has a removable clip-on bow. The bow is an adorable feature, as you can place it anywhere on the shoe to add a little flair if needed. High gloss black patent or a subtle tan makes this shoe versatile for any dancewear needed for recitals or practice.
Cost and Value
For similar shoe styles, this one runs a little on the high side price wise. However, with the adorable styling option the removable bow provides, along with solid shoe construction for early beginners in tap dance, it's worth the investment.
8

. Theatricals Lace Up T9500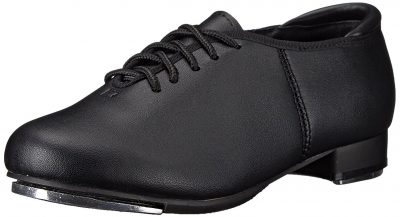 Lace-Up
Adjustable Sound
Rubber Sole Patch Prevents Skidding
Flexible
Cushioned Sock Lining
Here's a tap shoe that has it all--hardy leather material, great-sounding taps that are screwed firmly into the sole, laces that let you decide how tight you want them to fit around your foot, and just the right amount of room for your toes and heels to be comfortable. Whether you're a beginner or a veteran, this shoe is the perfect companion for your dancing adventures.
Read more
Durability
Made to endure through all the physical stress required to tap capably, the leather used to create this shoe is tough and yet flexible enough for you to perform all kinds of tricks without wearing down easily. Depending on the strain of your activity (and your personal preferences, of course), you can keep your shoes as tight or as loose as you want with the laces.
Technical
Adjustable sounding is possible to create the tone of your liking, with soundboard and screw on taps. Keeping you balanced is the heel counter, and you can safely try your more advanced tap skills with a rubber patch to prevent skidding. The sock lining is cushioned for extra comfort, to keep you going long after the studio closes!
Cost and Value
Compared to many other kinds of tap shoes you could buy, these are priced quite reasonably--another reason why beginners might find them especially appealing because you can start learning the art without breaking the bank.
9

. Bloch Dance Now Economy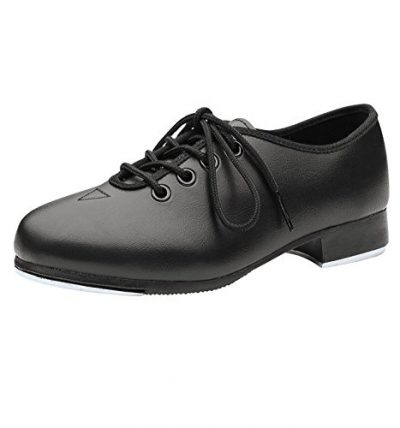 Blended Upper
Elastic Tap Ties
For Beginners
Non-Slip Padding
Adjustable Sound
The Dance Now Economy is a stylish, and versatile shoe for those looking to quickly change between performance pieces, or simply prefer a functional shoe that does a number of roles. With uppers made from combined synthetics and leather, it has a pliable feel, giving flexibility where needed. Non-slip pads allow you to pivot and turn while remaining firmly on your feet.
Read more
All-around
With elastic tap ties to add style and convenience, these are great for quick tying between routines. Riveted taps increase durability for longer-term use, but also give a better sound quality. Balance is maintained with a simple half inch heel, keeping you sturdy and confident in your footwork, and a non-slip pad to prevent any sliding.
Economy
The taps on this shoe are nailed into the sole. So whereas in other models, you can adjusting the sound by loosening screws, these are more suited to beginner tappers learning their craft. The Dance Now Economy also comes with elastic tap ties and ribbon for ease of use or additional flair.
Cost and Value
As the name states, the Dance Now Economy is available at an average price and made for beginner tap dancers. With additional features such as elastic tap ties and ribbon, the style can be adjusted to suit your needs and taste. It's a great starter shoe for those just getting into tap.
10

. Miller & Ben Jazz-Tap Master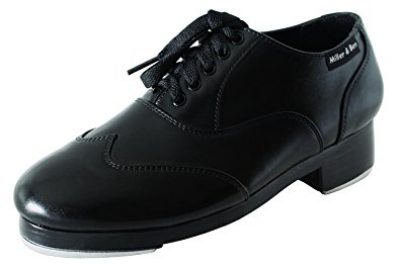 Genuine Leather
Wooden Heel
Leather
Rigid Sole
Counter Free Toe
One of the premium brands of tap shoe for the more advanced tap artist, Miller & Ben is a brand that developed out of a need for quality shoe design, sound, and percussion. Starting in Israel, Miller & Ben tested different materials for soles and uppers and handcrafted shoes for students in tap. They brought their impeccable designed shoe to the US in 2000 in New York City, and to date provide some of the best tap shoes around.
Read more
Quality
Wrapped in a high gloss leather with wooden heel and a rigid sole, this shoe is all about performance. The Jazz-Tap Master comes with a Low and Wide 'Jazz-Tap' heel, with taps installed. The shoe comes with tap wraps as a bonus. Leather uppers and a double leather sole help support and mold to the foot. A counter free toe allows the foot to naturally to mold the shoe over time.
Brand Name
Miller & Ben have been renowned tap shoes, due to their history of crafting tap specific shoes for students, and experimenting with shoe design, comfort, quality, and materials. Made for the more advanced tapper, these unisex professional shoes are the next step for those serious about tap. Once these shoes are worn, they may be the last pair you'll ever want or need!
Cost and Value
Quality here does come at a premium, and the Jazz-Tap Master comes in on the pricier spectrum of a budget. Only for those committed to tap as either a hobby or a profession, this shoe is one of the highest quality tap shoes around, and well worth the investment.
Criteria Used for Evaluation

Durability
You're more likely to find Oxfords when looking for tap shoes. The Oxford design is the most common, but you can find other styles as well, including Mary Janes, or shoes with a heel. More importantly, the design elements of the way the shoe was constructed can determine quality as well as style.
Construction and Stitching: The upper stitching will help note if the shoe will have more flex or durability. More stitches will give a stiffer and sturdier hold but reduce the flex of the upper. This can be concerning to some tappers. Those dancers just starting out may need a stiffer shoe for support, but more advanced dancers can sometimes require more flexibility in the foot for quick moves back and forth, or combinations that require dexterity of the foot to create the desired percussion.

Heel
Material: The heel on tap shoes historically was made from wood, but modern days it can be made from plastic, synthetic, material blends, or leather. Many entry-level shoes have a plastic or synthetic heel, usually half an inch to an inch in height. Plastic heels don't create the same rich, quality sound that a stacked leather heel can make, but they are inexpensive and more affordable.
Height: Higher heel height can also affect dance style in tap, and if too high, can cause discomfort by place weight more so on the toes than evenly distributed across the foot.

Fit
Support: The toe box design of a tap shoe can allow for a snug fit without pinching the foot, so it's important to understand your fit and foot width, for individual needs. A toe box that has a "cage-like" build can act to decrease flexibility, especially if the upper is designed with synthetic materials that tend to be less flexible than leather. A toe cage can be beneficial for beginners, as it helps alleviate foot strain when learning to use the muscles in your feet for tapping.
Comfort: Selecting a tap shoe with a comfortable toe box is crucial. Narrow or rounded toe shapes can cause discomfort for those with a wider foot or can cause pinching in those with normal width feet. Having a shoe made of leather or a leather blend can help with toe box fit while maintaining functionality, as leather tends to mold to the shape of the foot.
Topline: The topline is the portion in the upper's build that is the rim line of the shoe. Some tend to demonstrate a lower topline, while others a higher line. A lower line allows for greater ankle flexibility while an elevated line means much better ankle stability. Some designs have a cut out at the heel for the Achilles tendon. Occasionally tap shoes will also have top line padding, which cuts down on discomfort or blistering.

Materials
Leather: Several materials are used regularly in tap shoes, but the use of leather is highly practical to build a tap shoe. Leather is strong and hold up to a lot of use-and-abuse. Typically, the leather is usually cow skin, and quite resistant to water. Another type of leather commonly used is goat skin. Some of the most quality grade shoes utilize a process that has goat skin leather.
It's recommended to go with the least pliable material from which your shoes were made. A stiffer material or leather may take a bit of time to break in but will endure more pounding and use than a softer leather. Patent leather is another popular material, especially for performances, as it creates a luster unparalleled to other types of leather. For some tap dancers this is the greatest appeal they look for in a shoe.
Synthetics: Synthetic, synthetic blends or other fabric textiles can sometimes be used to design the uppers of a tap shoe. Though not quite as diverse as leather, each has its benefit when it comes to function and style.
Synthetic or synthetic blends: For those conscious of animal welfare, this can be a lovely option as PU or PVC don't contain any animal product. Be more careful with synthetic blends, as many incorporate some leather for aesthetic purposes. Synthetics can be more cost-effective, and usually, are found in beginner styled shoes. They provide a stiffer feel to the shoe at a reasonable cost, similar to more expensive leather designed shoes. However, the fit is less pliable and can cause soreness if not fitted properly.
Fabric or Textile: There are a few shoes out there that have a fabric or cloth-like feel and look for a tap shoe. These usually are designed for beginners or those who may not enjoy the stiffness of other tap shoes. Note that good tap work is usually done because the shoe has a stiffness to it, allowing for precise toe and heel strikes. So although footwork may not be the best, for those who simply enjoy dance or want to try tap, this is a less expensive option in shoe material to consider.

Use
Taps on the shoe are the what creates the noise due to ground contact. Usually they reside under the forefoot and heel.
Tap Material: Wooden soles were first responsible for tap, and leather soles incorporated later. Nowadays, metal taps are used, but this varies in quality based on the type of metal. Most modern tap shoes have an aluminum base or combine various composites to create lighter or heavier taps, depending on the dancer's preference. The lightest, and usually most popular metal is aluminum. Check that the taps are not made from steel, as they are heavier and typically not durable.
Tap Shape: The actual tap shape can vary to create different pitches and tones, and when combined with soundboards, adhesives, or specific sole materials, further adjust the sound that resonates from the contact of the tap with the dance surface.
Concave vs. Convex: Taps can be designed to have a concave or convex design, which can create vastly different percussion sounds.
Tap Build: Taps can also be designed to be smaller in relation to the shoe, or larger, based on the preference of the dancer. Larger taps can create a deeper tone, and smaller taps create a slightly higher pitched or snare drum-like sound.
Tap Fixation to the Sole: Taps can be fixed to the sole in several manners. Many brands now manufacture tap shoes with taps already attached.
Screws vs. Nail: Taps that are nailed to the sole are permanently fixed and create one sound and tone. These usually are found in beginner style shoes for those whose preferences to how the shoe sound has not yet been considered. Taps that are screwed into the shoe allow for how tight or loose the tap is affixed to the sole and can create varying tap sounds and tones.
Adhesive: Some taps may also use an adhesive instead of screws. There is some debate on how different adhesives may affect the sound quality, but those taps affixed with adhesive will have a fixed tone.
Soundboards: Many of the modern style tap shoes will have a soundboard to which the screws insert to keep the tap on the sole of the shoe. The material from which the soundboard is made is usually a fibreboard, but other materials can be used and can affect the weight of the shoe, or sound of the tap.
Expert Interviews & Opinions
Most Important Criteria
(According to our experts opinion)
Experts Opinion
Editors Opinion
Users Opinion
By Default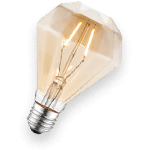 Building Better Mobility
Tapping does require that you practice and stretch your feet. Mobility in the ankles and forefeet are critical for advancing into more complex movements and combinations.
Take time after you practice to stretch out the Achilles Tendon, rotate the ankle for maximal mobility, and roll out calves and quads to help prevent muscle soreness.
Get Inspired!
Sometimes just seeing one of your favorite dance performers can inspire you to reach new heights in your tap endeavors.
For inspiration, throw on Fred Astaire films, Bill Robinson, or modern stars like John and Leo Manzari.
Other Factors to Consider

Support
Because tap dancing takes its toll on the feet, having a supportive and comfortable sole will do wonders for keeping your feet from injury. Because the soles are generally thick and supportive in tap shoes, a solution needed to be made for their lack of flexibility. Double-soled tap shoes tap much louder because of the added weight. With twice the thickness, the sole is also much more durable. You can go with leather or plastic soles, or if you know what you're doing, adding layers to the sole can be done by yourself, to get the perfect thickness and weight. Screws have even been known to be used to fix the tap onto shoes with very thick soles to prevent constant loosening.
Split soles: Split soles are now incorporated to allow flex in the area between the spit, giving the best of both worlds. The split sole allows the toe to point and flex, while still providing support to the ball of the foot for comfort and grip.
Insoles: Insoles can play a large part in overall structural comfort. A firmly structured shoe will be stable but lack the cushioning needed to be on your feet for extended periods of time. Most brands try to incorporate a cushioned or padded insole, but if on your feet for hours at a time, this may not be enough. Custom orthotics can also be utilized for specialized or additional comfort.