Best Spiderman Shoes For Marvel Obsessed Kids Reviewed
In a Hurry? Editors choice: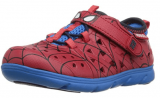 Test Winner: Stride Rite Phibian

There are very few superheroes loved by kids more than Spider-Man. The story goes that high school student Peter Parker was bitten by a radioactive spider, and takes on some of the arachnid's coolest features. From scaling buildings to high jumps, Peter web slings himself all around the city he loves to protect.

And if your child is one of the many that have been amazed by this story, we have made a list with one of the best footwear items available on the market of course, but this time themed with the Marvel's most famous superhero - Spiderman. A youthful hero with a sense of humor, it is easy to see why kids love this unexpected hero. My spidey senses are tingling and telling me you're going to love these awesome Spiderman shoes for kids and adults!
Standout Picks
Criteria Used for Evaluation
Accuracy
It is always a top priority for a themed shoe to look like whatever it is representing. We have all seen the weird, ambiguous characters that are hawked as our favorite hero or monster. Unfortunately, these designs will probably always be on the market. The best thing we can do is just avoid them at all costs.
So avoid them we do. We chose Spidey designs from Marvel and Disney, so the character looks exactly as we remember him. The collaborations between major brands and the franchise are well thought out and designed in an innovative way. If we don't see Spider-Man's iconic mask, we are admiring his web stretched across a toe box or his chest symbol on a sneaker tongue.
Comfort
Themed options aside, one of my biggest concerns about children's shoes is the level of comfort. Children will refuse to wear uncomfortable clothing, and with good reason! We don't want to hear the endless complaints a child can come up with if something is even slightly uncomfortable.
Comfort is important not only because it allows us to avoid complaints, but also because generally if something is hindering the comfort of a child's shoe, it suggests a greater problem with the shoe itself. Your child should feel good in whatever they are wearing.
We want them to grow and thrive, and a painful sneaker or sandal won't allow for that. We picked some of the comfiest brands in the business here. With options from Crocs, Havaianas, Adidas, and New Balance, your kid's favorites are all here and accounted for.
Durability
If we are buying our child a new pair of Spiderman shoes, we want something that will last. Sturdy rubber rain boots, light Croc foam, and guaranteed to endure hard wear Havaianas help make this a possibility. We chose shoes that not only can be sized up and worn in the future but also have protections around areas that become worn down.
With outsole guards, our sneakers on this list are sure to appease even the toughest tots. If they are the type to hit the ground running, or drag their feet, Stride Rite, New Balance, and Adidas are here to protect their little toes from scuffs or tears.
It isn't always easy finding something that can be loved long term by your little one. We took the guesswork out by offering up options for all seasons and all activities. Wearing a shoe that is appropriate for the weather and terrain also aids in their durability because they are made to hold up in that specific situation.
Ease of Use
Forever searching for anything to get our kids out the door the fastest, ease of use is a huge factor when picking children's shoes. Only two of our options are lace-up, and they're the ones equipped for actual athletic running. Otherwise, we wanted you to have velcro and slip on picks for optimum convenience.
The winter boots by Stride Rite are slip-on, with a generous opening to get on super easily. Once the boot is on, they have a feature to pull it tight and secure on the foot. Our sandal options are either entirely slip on, like the Havaianas, or they have two adjustable straps, making them just as simple to slide into.
Our rain boots are handled and pull on, or easy to grab for mom and dad. Even the adjustable options with velcro with pull tabs or attached tongues for the least amount of fussing imaginable to wear them. Shoes are one of the biggest battles with children, and we took that fight out of the equation entirely.
Flexibility
I simply cannot stress enough the importance of flexible children's shoes. Our children's feet are actually best barefoot, where nothing is hindering the growth or bone development. Of course, it isn't feasible to have them go barefoot all the time.
So what exactly is a caregiver to do? Look for extremely flexible options and soft materials to avoid restricting the foot. This is simple enough because many kids shoes are made with this in mind. However, a lot of brands that create just based on style ignore the individual needs of the child's foot.
A pick like the Flexonic is perfect for your growing child. We included Stride Rites because they understand tiny feet, and are constantly adapting their brand to be the best they can for budding heroes. Every shoe here caters to youth podiatric needs.
10 Best Spiderman Shoes for Kids & Adults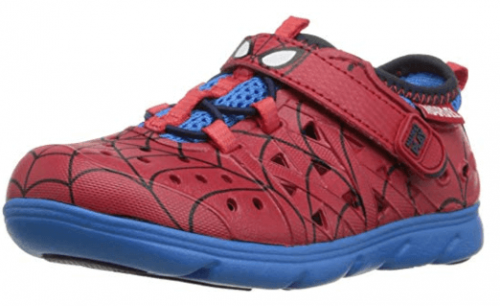 Stride Rite wants your child to play, grow, and have a great time in the process. Their brand is made specifically to meet the needs of growing children and their large array of designs ensures something for everyone. Working specifically with toddler's shoes, the brand knows what they're doing, and they strive to not only meet but exceed each parents expectation when it comes to amazing footwear. From sandals to sneakers, let Stride Rite show you how they made a name for themselves.
This Phibian is the ideal sneaker/sandal hybrid. It has an ultra quick-drying upper, with holes to aerate while still on the foot. Machine washable to simplify your job as a parent, you can't really ask for much more in an outdoor shoe. This particular style has rubber pods on the outsole that provide a steady grip. The upper is EVA, so it is flexible and soft for even the toughest tots. Spider-Man's eyes run across the shoe on the strap with adhesive closure, and mesh lining with stretchy laces is the final addition to this perfect fit.
Non-marking rubber outsoles on the Phibian make for an easier time of cleaning as well. The lining is antimicrobial, so it gives the foot a healthy environment. In addition to podiatric health, the lining is also kid-stink resistant. If you struggle with a child who has a problem with smelly shoes, these are the solution. The slip-resistant sole ensures any surface is one to be played on, and when you're done, you can easily hose them off! These are at a medium price point, and totally prepared to take on the job of a child's new Spiderman shoes.

2

. Stride Rite Winter Boot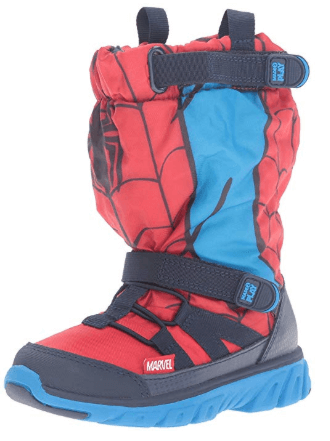 Since 1919, Stride Rite has been developing and testing various play options for our future generations. The brand totes their knowledge of kids and their simplest hobbies: playing in the mud, not understanding gravity, and dressing up as their favorite characters. Their shoes aren't just cute, they're made to hold up against all the pitfalls a normal shoe worn by a tiny maniac might not. Guaranteed they won't be like any other shoe you buy. "They're Better"
This winter boot is not only adorned with the "ultimate" Spider-Man, but it is also the ultimate winter boot. The water-resistant lining keeps snow out, and the soft, enveloping construction keeps feet warm. The best combo for a cold-weather boot, obviously. These particular boots are also machine washable, which is a lifesaver for anything worn in the snow and mud. Their opening is wide for easy on and off, but they have adhesive straps with rubber molded grips to adjust the boot and not allow for moisture to get in, or heat to get out.
These Spiderman snow boots may look a bit bulky, but they're actually easy to pack and collapsible. As with any Stride Rite, these are equipped with an antimicrobial, anti-stink lining. I cannot stress how important it is to have a healthy environment inside a closed boot such as this. Snow boots allow for some long-term warmth and wetness, and that can be extremely problematic for a child's foot. These have a toe-wrap for added durability, but my favorite part about them is that they are designed as Spider-Man's actual boots for his superhero suit. Priced at a medium-high point, these are the only snowboot around that your hero will want. Definitely one of my favorite picks aesthetically!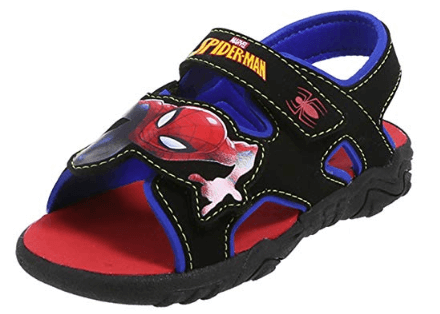 From the company that brings you all your favorite superhero stories, comes a pretty epic little sandal. Currently owned by Walt Disney, Marvel Entertainment has been bringing you the comics, toys, television, and animation of your favorite heroes for decades. Whenever themed gear comes into question, the first place to look is where the character originated, because nobody knows the character better than its creators.
These sporty kids sandals are cool and easy for your little one to play in. The insides are lined in super soft fabric, you won't be getting any complaints on scratchy materials, a common woe of our little ones. With two Velcro straps, these Spiderman shoes for kids are adjustable for any foot, whether wide or narrow and can even be bought slightly large to give your kiddie room to grow!
The durable outsole is ready for anyone hard on their shoes, which applies to most small heroes. The insole is cushioned for a nice foot feel. Spider-Man adorns the top of the sandal, with his hands in their signature position to activate his web-shooters. Both a great deal and a character forward choice that can be viewed from the child's perspective, these sandals will be a hit with your fan.



Disney has obtained multiple film studios and companies in recent years. From George Lucas Films and the Star Wars franchise to Marvel Studios, Disney has cornered the market on creativity. Disney is all about fun, and they make products that are reminiscent of their wholesome films and dreamy mentality. The company has become synonymous with innovation, and when they make a product representing one of their characters, they make it right.
Rubber rain Spiderman boots are always a sure hit. You can't go wrong with a durable pair of galoshes, kids love playing in the mud, parents love not having a huge cleaning hassle when they're finished. It would seem a waterproof, high rise boot is the perfect option. Well, that is because it is! This flexible rubber blue, black, and red boot is a game-changer for rainy springs. Handles on boots make these a breeze for your child to get on themselves, or easy for you to pick up on the way out of the house.
Wonderful traction makes this not only a cute pick but also a safe one. No more slips and falls in the rain! The web pattern on the foot of the boot is stylish, and the iconic Spider-man adorns the side of the boot in great detail. Sealed tight for no leakage, these are durable and sure to last any season. Priced a bit higher than average handle boots for kids, a really good option for purchasing with some room to grow.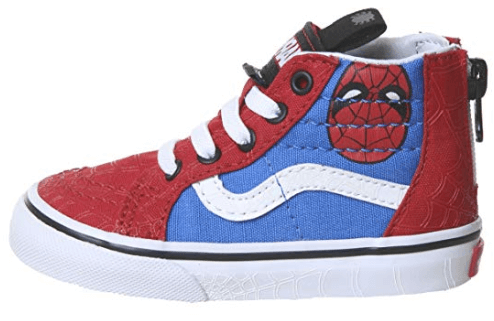 What most people don't know about Vans, is that they actually began as a small family-owned company. In 1966 the Van Doren Rubber Company came into existence, making sneakers perfectly fitted for Southern California out of cool canvas and sticky soles. The rubber soles are part of what made them such an iconic brand. Skateboarders gravitated towards this practical, low key style, and Vans quickly became a staple in any California girl or boys wardrobe.
This children's option has all the great features of the original Sk8 Hi, but with some seriously spidey additions! The classic "Jazz Stripe" that has become a Vans feature you can't miss, is in a spider web texture which adds an interesting feature to this already unique style. The heel is adorned with a zipper for easy on and off, but there are still laces to get that perfect fit. The heel and toe also have a web-like pattern on the red fabric, bringing the whole look together. Even the rubber outsole is a part of this webbed party!
Vans Sk8 Hi is known for its padded tongue and collar, and this tiny version is no exception. The padded collar around the ankle has an upside-down Spider-Man, to mimic his usual hanging around. Waffled rubber soles have great grip for your toddler, even if they seem to run around at lightning speed. The tongue has Marvel's logo, and from the tongue is a black pull tab decorated with a grey spider, this is to help get the Spiderman shoes for kids on and make sure the tongue doesn't get jammed into the toe when trying to zip it on. Durable construction and additional supports on the outsole gives these an edge on the competition, and they are affordable, but not cheap. However, these will be very well appreciated by any Spider-Man lover.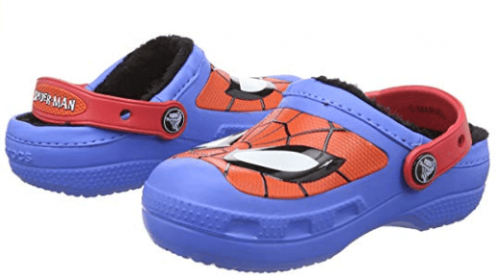 Crocs were initially a foam clog acquired from Foam Creations to utilize and market as a boating shoe. Many years later, they have become versatile work shoes, casual shoes, and house shoes for all ages and styles. Selling over 300 million pairs since 2002, it is fair to say that Crocs have made a big impact on the shoe market. Worn by previous Presidents and First Ladies, Crocs believe comfortable shoes doesn't have to mean complicated, and this ideology clearly works for them.
This lined Croc is good for all months during the year. The black sherpa lining is luxurious as heck, but also just a really fun fuzzy addition to an already precious little clog. Spider-Man's mask adorns the top of these, and the graphic is visible to the kiddo wearing it, a definite plus for themed wear of any kind. The upper of these Spiderman shoes for kids is easy to clean, it just wipes off, and is also water-resistant. These are not for summer and lack the ventilation holes of a normal Croc, but that means these are perfect for transitioning into fall all the way through winter.
The convertible backstrap allows these to be worn in two ways. Either as the classic Clog or as a slingback type of shoe. The strap can also be flipped to the front, and because it says Spider-Man, it adds another element of homage to the clog. Can be worn outdoors or as cozy slippers, this versatile Croc is going to be a big hit with your favorite fan. Priced very affordable, these won't hurt your wallet after checkout.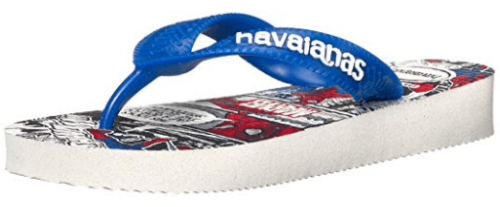 In 1962, Havaianas, which is the Portuguese word for Hawaiians, came into being. Their sandals are modeled after the traditional Japanese sandal known as the Nori. It is a woven sandal that utilizes rice straw for the sole. Havaianas rubber sole uses a pattern that mimics this rice pattern, which is one of the indisputably unique features of this flip-flop. Over the next two years, almost every worker in Brazil owned a pair of these sustainable sandals. Brazil loved the shoe so much, the government declared them a must-have for locals trying to avoid inflammation!
What makes this simple pair of Havaianas so special is that they look like any other thing, but outperform other casual wear with ease. Guaranteeing that the straps won't break or come apart, the base won't smell, and they will maintain their shape. While other flimsier picks won't be able to hold up very long to most kids' use, Havaianas truly stand the test of time. This comic book panel base is made up of soft, durable rubber.
The rice pattern sole isn't only a signature style of the brand, but it provides traction on wet surfaces. These are an awesome poolside choice, or great Spiderman shoes to pack and bring to the beach. A bit of a platform helps to prevent the common problem of flip flops with those who drag their feet. The sturdier base allows for walking carelessly without having to be concerned with the shoe bending and tripping your child. Extremely reasonable in cost, these are perfect for fun in the sun, or even work as a comfy slip-on for quick trips out.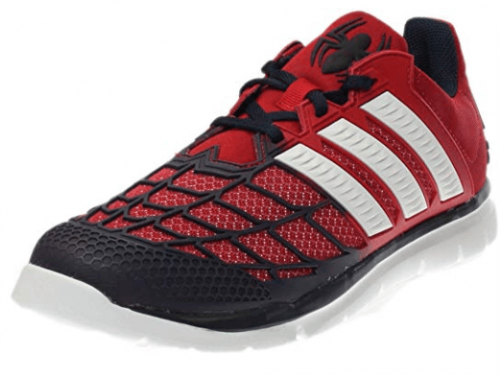 Registering their brand in 1924, Adidas has been, for quite a long time, one of the biggest innovators in athletic footwear. When the "Adi Dassler Adidas Sportschuhfabrik" company entered the market, their first shoe contribution displayed the iconic stripes that we all know and love today. Their shoes for football players, adorned with screw-in studs, were deemed partially responsible in a big win against an unbeatable Hungarian team. This brought the Adidas name into both German Hearts and homes, the rest is history.
First off, we need to talk about how cool this Spiderman shoes for adults are. The three-dimensional webbed detail on the toe box is so insanely cool. The injected EVA outsole offers flex and comfort for your star athlete. The honeycomb pattern on the toe guard adds another textural element that gives this style quite a bit of extra oomph. Then, of course, the iconic stripes. Topped off with the Adidas logo and name on the heel, and the traditional Spider-Man spider on the tongue, these incorporate an urban style into the classic superhero look.
Their ultra-flexible sole accompanies this sweet athletic design, and the upper continues with this lightweight theme in a soft and breathable mesh. Even the sole is fun! The white contrasting spider on a black sole provides traction and looks really cool doing it. These come in a blue version as well, but the classic red is definitely more evocative of our arachnid teen. These are such an amazing deal that should not be passed up! Adidas is bringing a high-quality athleisure style to you for much less than similar brand's children's offerings.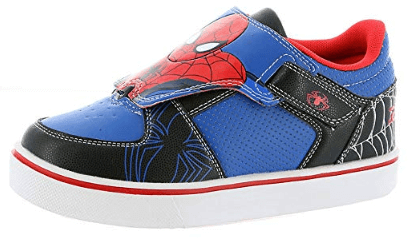 Heelys creator always loved skating. Strapping on his first pair of skates at only 9 months old, the love for the sport of skating continued well into adulthood. Sometime later, while hanging around Huntington Beach, he decided it was time for a new skating innovation. He cut out a hole in a sneaker heel, popped in a skateboard wheel, and created the first Heely prototype. These stealthy skates now have a removable wheel, and function as a sneaker without it, but pop it back in, and be prepared for a ride!
The Twister is equipped with both an elastic strap and a secure hook and loop closure, so your tot won't struggle to lace these on. A padded tongue and collar mean these will hug little feet and fit like a glove. These wouldn't be Heelys without wheels, and these have two removable wheels for maximum mobility. There is an abrasion-resistant brake pad on the sole of the front of these Spiderman shoes, and an insert for the heel well to wear as a plain sneaker.
Tread referred to as Heelys Ninja Grip provides amazing footing wherever your child may roam. One of my favorite features of this shoe is the "twistable tongue". The tongue featuring our young hero can be reversed, and the Twister shows off a totally different character image! Extremely durable outsoles make for a long-lasting shoe. While a little pricey, these double as skates, so that needs to be taken into account, they are a bit under the price point of a common, brand-name sneaker. Worth checking out if you have a hero eager to zoom around and save the world!

10

. New Balance Flexonic 99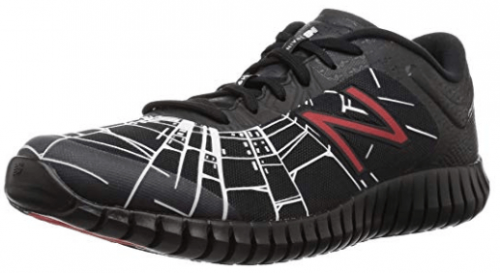 Innovation is one of New Balances largest goals. Since the company's inception over a century ago, they have wanted to reimagine the way we see and experience footwear. The brand believes we were born to move, so they want to outfit every individual in gear designed to make every movement possible. Their product integrity is matched by their company values, and every New Balance is made with function and fashion in mind. A brand that cares about their consumers and their communities, their footwear has become a hallmark in the industry.
The Flexonic 99 has a flexible midsole that moves with you. It is so important for young feet to be outfitted in flexible shoes because it improves growth and foot development. The outsole is one piece but has multiple divets that allow for an extreme range of motion, and a close to the ground feel with every step. Their tongue is attached to the upper, which makes these Spiderman shoes for adults that can be slid right on without trouble, but it has full laces for a great fit and secure wear.
These breathable uppers are styled two ways. There is the black with white web patterns all over the shoe, and there is also a blue and red version. A more "grown up" themed shoe, this is great for fans that love Spidey but want to feel a little more mature in their footwear choices. With cushioned insoles and a generously cut build, these feel as amazing as Spider-Man. These are in a bit of a higher price point, but they are truly kids running shoes and have additional pads on the heel and toe. These are an on-point pick for your budding athlete.

Subscribe to our Newsletter