Best Sock Organizers For The Disorganized Reviewed
In a Hurry? Editors choice: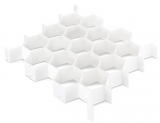 Test Winner: Whitmor

Let's face it, getting organized is hard. While some people may be naturally inclined to keep everything neatly in its place, the rest of us usually need a little bit of help. There is no one right way to store your accessories, but it helps to have a little guidance to find one that works for you. Our solution? Repurposed items and stylish organizers to turn the dull task of tidying up your accessories into a more engaging process and save you a lot of time. Here you can find something fresh to make your mornings, and nights, a little easier.
Standout Picks
Criteria Used for Evaluation
Adjustability
Sometimes we just can't predict the type of storage we will need. One day, you're living alone in a one bedroom apartment, then 6 months later your partner is moving in and you're trying to clear drawers. With all the ups and downs and cosmic shifts in life, very rarely are our needs staying stagnant.
That is where adjustability comes in. Perfectly customizable organizers and easy to swap cell sizes are an amazing step in the freeing direction of not having to replace all your houseware when expanding or minimizing your household. Not to mention with clothing donations or clothing acquisitions, most of us stylish folk need items that work for whatever our current needs are in terms of capacity and sorting.
Capacity
While it probably goes without saying, the number of accessories a product can organize definitely comes into account. Chances are, if you don't have much hosiery, you won't really be considering new ways to organize them. There is a variety of capacities here, but you'll notice the difference in capacity generally means a difference in use.
For something like the Perfect Curve hanging organizer, it is obvious it has a limited number of pockets, but what you sacrifice in the capacity for separated socks, you get back in spades as a convenient travel item. The Sockitumi only holds 10 to 12 pairs, possibly more if holding smaller items. That is included because it shines as a first of its kind dispenser for busy kids and parents.
Some people might need upwards of 40 cells, just due to the sheer volume of possessions. They may need less immediate tidying and more storage. Different lifestyles make for different storage needs. Let us help you find something that fits yours!
Ease of Use
Who wants to spend all day matching socks or organizing their closets? I think it's safe to say the answer is virtually no one. If it is a big project just to tidy up your personal space, it is hard to find the motivation to do it. With school, work, social responsibilities, or children, it is increasingly difficult to dedicate time and energy to cleaning.
With the current trend of working caretakers and full-time students with full-time jobs, we know there is a need for simplicity. Stress is made much worse by a messy, cluttered space. Disorganization is one of those habits that are easy to fall into when stressed, overworked, and overwhelmed.
With options like our Premium Home Essentials or Simple Houseware drawers or stand-alone cubbies, you have an option of adding extra drawers to the floor next to your bed or dresser or dividing spaces into your drawers. The Whitmor honeycomb style adjusts with accordion folds to any size dresser. The SockDock matches and washes your socks with ease. We even included the Sockitumi, which is designed specifically to dispense socks to those on the go. No one ever said keeping up with housework would be this hard! It's time we simplify it in any way we can.
Effectiveness
What good is an organizer if it doesn't organize? Not very, if you ask me. We picked items that may not be initially intended for organizing, but they all go above and beyond the standard of overstuffed drawers or lingering clothes baskets. When looking for products we love that we thought you would love to, one of the biggest deciding factors was if we would happily use the item ourselves to declutter our spaces.
We thought practically, about how we sort our own possessions and came up with some standards that were important to us. The items on our list all have a unique feature that makes them better suited to an individual need. If you don't like the look of door hangers, we have stylish bins that can be stacked when storing.
If you don't have the drawer space for a neat organizer, we have choices that hang in the closet. We want you to actually feel great about the way you arrange your living space, so some thought when choosing the products to help you do that matters.
Value
We all could use more space. The problem is, a lot of us simply can't afford to have more space, whether it be due to time, money, or a host of other reasons, It isn't a solution to pick up and move every time our closet starts to overflow. It isn't an option to rent a storage area or send a big old bin of winter clothes to moms. So, we get creative.
We find repurposed options that reutilize desk or tabletop space into a fun little accessory bar to hit on your way out. Affordable options combining multiple items to make organizing a little easier. The two for one price of the SockDock is a great value, and you won't feel guilty about getting a pair for each family member. A budget doesn't have to keep you from feeling free from clutter, we made sure of that.
Top 10 Picks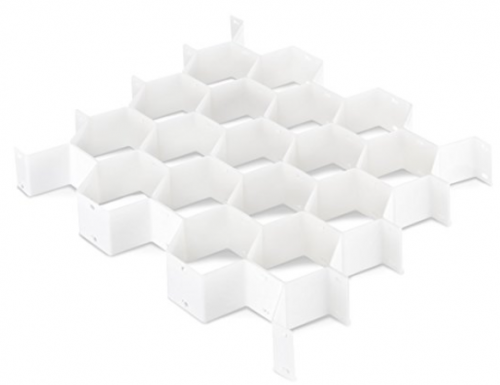 A company with a rich history, Whitmor has existed for 70 years to bring you the best home goods and products. They understand that most cleaning and organizing tasks are boring, they'd rather have you living life than folding and storing various items! Their solution was to create convenient products that make your routine a breeze because no one needs the added stress of running around bright and early. A brand that is motivated to motivate you, Whitmor has fun and practical designs you will love to put in your home.
Hives are places of true efficiency and organization. In any given hive, there can be 10,000 to 60,000. A larger number of bees also actually improves the function of the hive, much like this little organizer. Nice and neat with an interesting twist, this honeycomb patterned drawer insert fits into pretty much any size drawer. The ways you can use it are extremely diverse and easy. Any teen or young adult would love using this to clean up their space, as it is a funky design prepared to organize their even funkier hosiery.
This particular drawer insert expands and contracts like a tension fence, so you can fully expand for more pod space, or keep its little cubbies tight and small for maximum storage and use multiple of the compartments in one drawer. With a very low price, it is no issue to get duplicates of these for more items. Plus, the expandable and retractable size makes them able to hold large items like intimates and leggings as well as your socks, depending on how you arrange your storage.

2

. Premium Home Essentials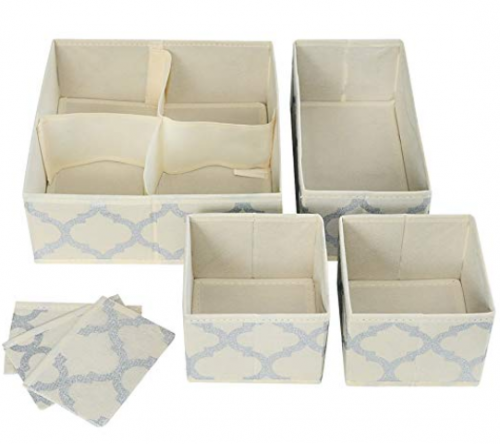 Also a fairly new company, this online-only brand has been shelling out houseware favorites for nearly three years. They focus on streamlined practical products in only a few areas to really perfect the products they make available. If you want a versatile organizer that is an updated take on the old standard, this will be the best option for you, hands down.
Mold-proof non-woven fabric is the first perk of this cloth organizer. From the outside, it measures 4.5 inches, but inside measures slightly more shallow at 4 inches, which is something to keep in mine. The expandable and light sections easy fit into multiple spaces, with one large square section followed by two smaller squares and a medium sized rectangular one. Each square is completely open but can be adjusted to have separations.
This set comes with four small dividers as well, the largest having velcro to stay put. The beige color features a beautiful design, which makes these easy to have displayed in a baby's room with toys, or tucked away in a chest with your favorite long johns and stockings. Versatile enough to store anything, this is an awesome choice for girls with a proclivity for accessories, especially given their delicate look. Really affordable and easy to integrate into your bedroom or closet.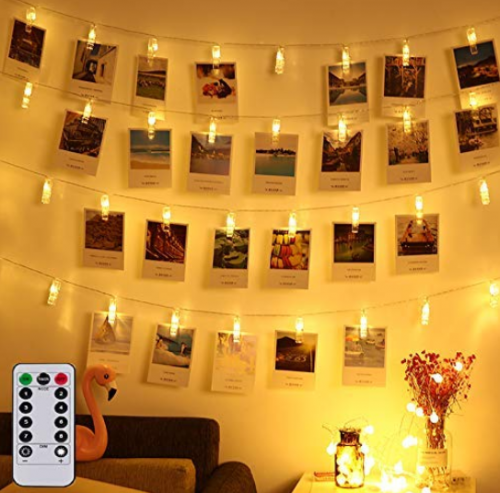 Magnolian is a jack of all trades, creating items to be used with crafting and DIY projects. All the way from lighting aids to jewelry kits, if you want to make it, chances are Magnolian can help. Their biggest goal is to bring out the creativity in everyone. Whether young or young at heart, they ask you to reimagine what you could do with simple items you may not think twice about prior.
These fun LED clips are really romantic. If you want some mood lighting, but also need to store or hang undies, headbands, or hosiery, this choice is the ultimate combo of everything you could want or need. The whole look is adorable. Very Stranger Things meets a John Green movie. For a teenager, this is probably the coolest organizational tool one could probably grab, for themselves or to receive as a gift.
The little clips are strung like holiday lights, so this can wash a room in soft, warm white light, or if you're looking for something a little jazzier, multicolor light. The lights are battery powered so no need to worry about an outlet, these would be amazing hung up in a little walk in. A remote control is able to pulse the lights, as well as create multiple other mind-blowing effects. The LEDs will last for quite some time. Spanning over seven feet, these won't only separate, but illuminate. They are slightly pricier for something only holding 20 to 40 items, but a part of the price is definitely the design element of this gorgeous clip strand.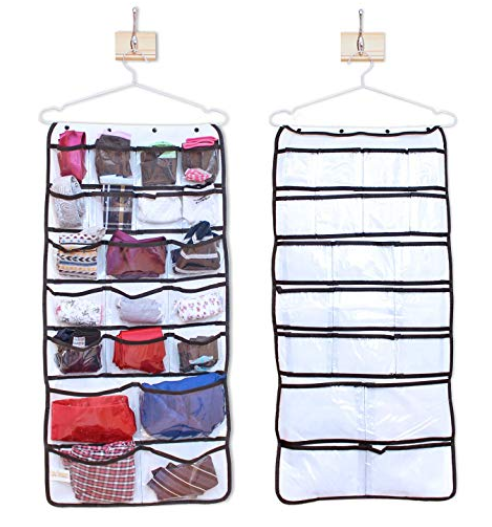 A new business taking the home goods world by storm, Alpha Houseware provides simple, practical items for the everyday family. If you're up to your elbows in accessories and don't know what to do with them, Alpha Housewares has a solution that works best for your space. If you can't find a way to organize your newborn's little booties and onesies, they have an adorable addition to your little one's room that will help keep mommy sane.
This organizer is amazing for so many reasons. Firstly, it is made with non-woven fabric which prevents mold and moisture. The clear pockets allow you to see everything in them, which saves so much time and effort when you're looking for a particular item to utilize or wear. The design includes no additional hooks or nails, it simply slips on to any hanger you have laying around. Talk about convenience! Black trim gives this a less sterile look, so you can keep it together in style.
With 42 pockets of varying sizes, this makes it super easy to organize socks, stockings, and leggings, or anything else you see that fits. It can fit so many items, you will never have to worry about running out of a clean pair when in the middle of laundry again. You can hang this on any hook in the house, a closet door, or even in your closet as you would an article of clothing. The durable fabric is able to easily hold its own weight, even when fully stuffed with your favorite accessories! This is a huge money saver and space saver, and the best bet for those with limited funds and space, based on the sheer volume of storage it provides.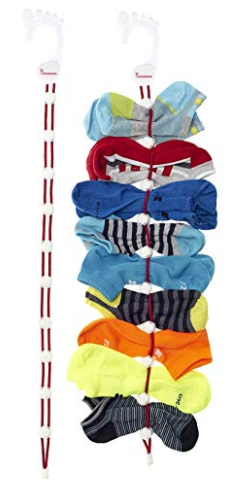 One of the most tedious tasks we find ourselves doing is sorting laundry. In fact, one of the most tedious pieces of laundry we find ourselves sorting is socks. Whether it be mysteriously missing mates after a dryer cycle or an impossible-to-match batch, no one wants to spend the time it takes to sort out life's laundry obstacles. SockDock is the answer. Kevin Bunn was just as tired of sorting as you are, and his invention is one of the surefire ways to never have to sort pairs again!
The SockDock is a hanging device that utilizes adjustable sliding pieces that secure pairs together. This device not only improves children's motor skills and motivation to keep themselves organized, but it decreases storage space needed for your smelly foot apparel. The process for using the SockDock is simple and so effective, the whole family will love it.
The adjustable hanging sections secure the pairs in, but how exactly would this prevent mismatches? Easy: the whole thing can be thrown into the washer AND dryer. No more sorting socks. Purchasing the SockDock includes two of them, one for dirty pairs, and one for clean. To differentiate for kids, you have the clean taken off from the bottom and the dirty placed back on the bottom. This great product comes with two in one order, for a price that will pay for itself considering you can say goodbye to lost mates!




Starting in 1994, Perfect Curve is a company on the cutting edge of innovative products for everyone. Offering a valuable and specialized service experience, they want to make sure every item they produce and market is perfectly suited to do exactly what they promise it will. Internationally recognized as a trusted brand for products helping with convenience and everyday life, Perfect Curve guarantees the ideal experience from the moment you purchase on.
An invisible organizer is a cool and modern twist on the old door hanging favorite. While many renditions of hanging organizers can end up looking a bit cheap, this updated version is able to create a stylish look perfect for a dorm room or apartment in the city. Super lightweight and easy to hang, with all pieces to do so included, this takes most the work out of redesigning your storage space. The pockets even snap on and off, which lets you decide how you want to hang your favorite things!
Amazing for travel, the way this is designed is super flexible. The see-through pockets are a perfect make to an overstuffed suitcase. Just roll it up with your socks, toiletries, and undergarments and throw into your carry on. You won't have to go digging for your accessories when packing and unpacking, plus its lightweight design is a breeze to carry around. Slightly pricier than our other hanging organizers, the design aspect as well as including all of the parts needed to hang make this a practical choice for someone looking to extend what little space they have.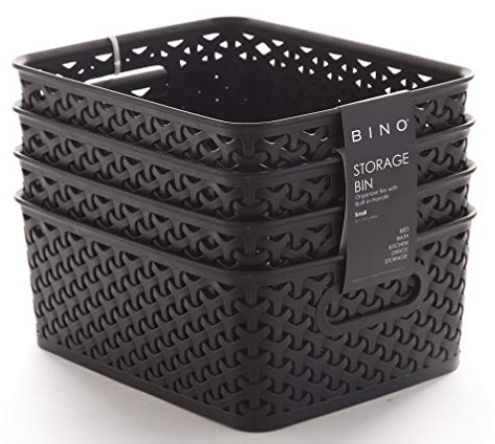 Staying stylish and high quality isn't the only two factors than Bino cares about, but they certainly are two of the most important ones. Houseware that is sharp looking but affordable generally isn't made in droves, which is why Bino set out to make it a little more common. On the hunt for better materials, methods, and designs, Bino wants to innovate and create to make home decor a bit easier for the everyday buyer. You can't go wrong with Bino!
First, let's talk about these cute bins. They look almost woven or like they are wicker, but they are actually made of a super durable plastic. Easy to switch up thanks to a wide array of colors and sizes, these are awesome for the interior design nut. Small, medium, and large packs of these woven bins ensure you can find the best fit for your home, closet, or children's room.
They are stackable to keep out of the way when not storing particular items, which is a great saver. I love these for washing smelly clothing, when you're separating to store, you can have one with the unmatched pairs, and the other collecting your finished product. When you're done matching, just stack the matched basket in the empty one, and voila! Handles help make them portable and the price helps make them a no-brainer.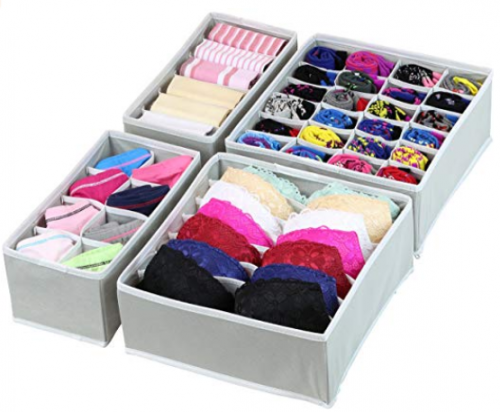 Simple Houseware began in 2016, offering modest plastic and cloth organizers for clothes. They have since expanded to include kitchen accessories for organizing multiple food items and utensils, closet accessories for laundry, and items to be used in an office or home office. The brand is young, however, they learned quickly to pay close attention to consumer needs and find a perfect fit for any task.
This super simple plain grey organizer set is perfect for your top drawer and will keep everything nice and sorted. Non-woven materials prevent against mold, so no need at all to worry about odor as a result of warm laundry. This set features four large bins with multiple cells, so they can be used in a variety of different ways, for all your underthings or more delicate clothing. This simple set is priced very affordable and can help you straighten your drawers out in no time.
For socks specifically, their one bin with 24 cells in a 6 by 4 set up is perfect. Depending on what kind of hosiery you're organizing, there is also a large bin with 7 cells that are long and narrow. This is a good way to keep your tights separate from getting mixed into your socks and undies. I know that having wooden drawers, delicate fabrics and sheer tights can get snagged on the wood inside on occasion. Having these organizational bins help to keep everything intact.




Obviously, this brand's purpose is simple and direct. They want to organize your socks. When founder Feeney was tired of the morning rush and digging through drawers for that last necessary accessory, he came up with a plan. That plan was a perfect little dispenser for your hosiery. If you need more space and convenience, this is a standout. A company only concerned with getting your socks to you fast and easy is probably one to trust when it comes down to it.
This funny little dispenser hands so it frees up a ton of drawer space. That isn't only a big deal to create more space in general to store more necessary things, but it also moves the pair up and into eye level so you can just easily grab them on the way out, making it a great children's option. The wide top opening makes this super easy to load. It is probably worth mentioning that it isn't necessary to only use this for your feet apparel. This would also work great with a variety of everything accessories!
Easily mountable with two-sided tape or screws, this saves space and makes your options visible with its totally clear design. The space down the middle runs the whole length, so while the bottom has a wider mouth for easy dispensing, you can also grab the color that you need for that day. This is great for little ones and messy teens, or to add to your mudroom/foyer for an easy grab on the go. The price is slightly higher than you would expect for a plastic item, but no one else is making a product so focused on convenience for the user.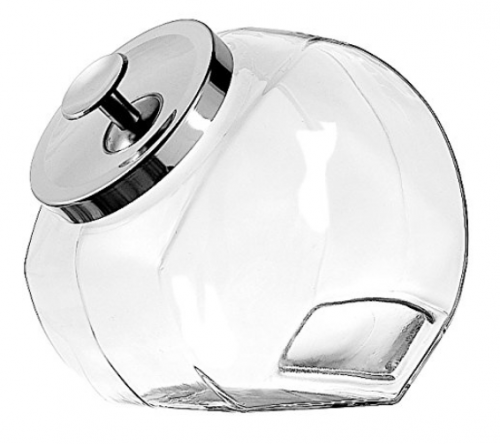 Since 1905, the Anchor Hocking company has been making glassware for a variety of uses. Anchor Hocking became a lead producer of depression glass, which was clear or tinted glass made available with very low cost to the consumer, or even no cost at all. From Lancaster, Ohio, the company prides themselves in craftsmanship and quality. Few glassware manufacturers have maintained their high standards and integrity like Anchor Hocking and they deserve to be recognized for their fine glass.
This obviously isn't a typical organizer. In fact, it isn't an organizer at all. Like we said before, there is no one right way to keep your favorite space neat and tidy. So, how can you best utilize this candy/food storage jar? Thinking outside the box, just simply balling your colorful knee-highs and throwing them in one of these, and having another next to it for white and crew pairs on your dresser would be super cute. You can even bedazzle or decorate the lid!
The benefits of using this as opposed to a cloth or drawer organizer are simple. Not everyone has rooms in their drawers for a million pairs of socks, obviously. Not to mention how much easier this is to clean. If you're using a cloth option or even a plastic option, you may need to be wary of moths or odor, that won't be an issue with glass. This set of two jars with thick, durable glass and a sturdy base is a little pricier than a cloth option, but it is dishwasher safe, clear to see exactly what you're grabbing, and looks super cute atop a desk.

Subscribe to our Newsletter