Best Shoes For BootCamp and Training For An Extra Boost Reviewed
In a Hurry? Editors choice: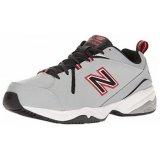 Test Winner: New Balance 608v4

Training or doing bootcamp means engaging in a variety of different physical activities at intervals. It is similar to
CrossFit
, except the prime objective is to increase one's strength rather than one's cardiovascular fitness. It can include jumping, running, and lifting weights, all of which are taxing on the body. It's crucial to ensure that all the exercises are done properly in order to avoid injuries and aches. Because of that, the footwear you wear is just as important as your form. We know finding the right ones can be a laborious process, and that's why we've compiled our list of ten of the best shoes for training and bootcamp. Including an equal amount of options for both men and women, we make sure that, no matter who you are and what you need, you can stride along your fitness journey with a good pair on your feet.
Standout Picks
Criteria Used for Evaluation
Outsole
When you're engaging in a diverse variety of exercises, the outsoles are responsible for keeping you comfortable and stable no matter what you're doing. As a result, the outsoles of this type of footwear tend to be quite wide. Often it will even expand beyond the width of the rest of the shoe. This way, more stability is provided when you are engaged in lateral movements, reducing the likelihood of twisted ankles and allowing you to focus on the moves rather than on keeping your balance.
Traction is another crucial characteristic of the outsole. This is a trait that's important for other activities, too – it doesn't matter if it's tennis, running, soccer, or engaging in any other physical activity, you've got to make sure that you can stay stable on your feet. Regardless of if you're doing boot camp in an indoor gym or an outdoor space, the outsole needs to provide the proper grip on the ground's surface to prevent slipping and injuries. Usually, the grip is provided by the grooves on the bottom of the shoe. The best kind of grooves is those that run in more than one direction – for example, a waffle pattern or a hexagonal pattern. To prevent the grip from interfering with your turning and pivoting, many models will also have pivot points in addition to grooves, which are designed to facilitate turning while also preventing slipping.
Breathability
This applies to train and bootcamp, but it can also be applied to all other types of workouts, physical activity, or sports. The right pair of footwear must provide sufficient ventilation for your feet to breathe. The most obvious benefit is the reduction in unpleasant odor (we all know that moment when you come home from a long day, slip them off, and catch a whiff… mhm, home sweet home.). But apart from that, there's also the decrease in moisture and the reduced risk of harmful bacteria growing on the nice comfortable insole of your shoes.
The best material to provide breathability is mesh. Mesh is a type of synthetic material that is very light and flexible. Air can flow through it freely so that when it is found in the uppers of athletic shoes, the moisture from perspiration and any unpleasant odor is quickly filtered out to evaporate into the air. Besides allowing the air to flow, it also keeps the overall shoe nice and lightweight. This way, when you're jumping around and working your butt off, you won't have extra weights weighing you down at your feet. Mesh also dries quickly, which is convenient when they get wet by accident.
Some trainers also have leather in their uppers. The main practical benefit of this is that they render the shoe more durable. After all, leather is a very tough and hardwearing material. When it comes to appearance, they obviously have a handsome and luxurious look about them. Even if working out isn't about having shining kicks to show off to your gym buddies, it can be good to know you're still dressed decently when sweating and panting after a good session – because everything else about you sure isn't impressive. However, leather isn't as breathable as synthetic materials. It is breathable to some degree, but it's not as efficient as a mesh. In turn, it is not a good option for those who tend to have sweaty feet.
Style
As you're scrolling through our list or browsing through the store, you'll notice that many models are for men or women only. Especially when it comes to athletic footwear, there seems to be hardly any unisex options. You may wonder to yourself, why is that? What makes men and women's feet so different besides their size? And are these classifications really necessary, or are they just another marketing strategy used by the big companies? According to researches that can be found online, it seems like the categories are reasonable after all.
Women tend to have narrower feet overall. But besides that, the proportions are also slightly different. The female ft typically has a more narrow heel to foot ratio compared to men. The result is more problems with stability. As a result, women need a more narrow shoe that can provide a secure fit to the sides of the foot.
Men, on the other hand, generally have a wider heel to foot ratio. The shoes made for them are therefore larger in width. If a woman were to wear a man's shoe in a smaller size, the result may be too roomy of a fit. By consequence, the proper arch and heel support aren't provided to allow the woman to keep her balance and stability.
In addition, researches show that women are more likely to suffer from foot injuries. Because there are slight variations in the skeletal structures of men and women, both move in slightly different ways when exercising. Over time, the way in which women exercise may result in a higher likelihood of injuries. The proper footwear is crucial in order to minimize this risk.
So in conclusion: yes, there is a reason why footwear is categorized by sex. The nuances in skeletal structure cause both sexes to have different footwear needs. This becomes especially important with athletic ones since exercising without the proper attire or equipment can result in serious injuries.
Comfort
If you've ever been to a sneaker specialty store, chances are you've been put through some fancy, sciencey machines to determine which kind of shoe works best for you. But why is that exactly need, why go through all that trouble just for a pair of sneakers? Is it important whether you pronate or not, how much cushioning you've got?
Even if you have gone through this process, chances are you still suffer from pain and discomfort. Your pronation does matter, but cushioning is where the key to a great run lies. The type of cushioning you need and where you feel the most pressure points is determined by the type of exercise you're doing.
Value
For exercise footwear, product pricing remains relatively high, as a general rule. Add to this a specific design, such as an item specific to long distance, and the price can rise even further. In addition, brand names will affect the outcome of pricing; as well as, shipping and other factors.
Generally speaking, the more technology we find within an object, the more costly it is to produce. Within this regard, the running world is no different. Because of this, the safety of our feet and the health, thereof, comes down to the funds we can afford. It is a frustrating, yet obvious truth. Cut a penny to save, and a potential onslaught of injuries during a run is certain to rise.
In addition, value sits in the realm of practicality. If we are beginners in the sport, then we may not understand the final avenue in which we may end up. That is, are we to become long-distance runners, sprinters, obstacle course racers, and so on? In this, there is no need for us to be specific until we do know. But for those of us already in a specific field, then the value is according to the specifics in our respective genre.
Once we have all of these elements in mind, we can better choose the best value for us. This is not a guarantee that we will get it perfect every single time out. But it is a guarantee that the more we learn, the more likely we are to make an informed decision. Experience and some knowledge can go a long way in helping us to become better at finding those grand values we may be searching for.
10 Best Shoes for Training and Bootcamp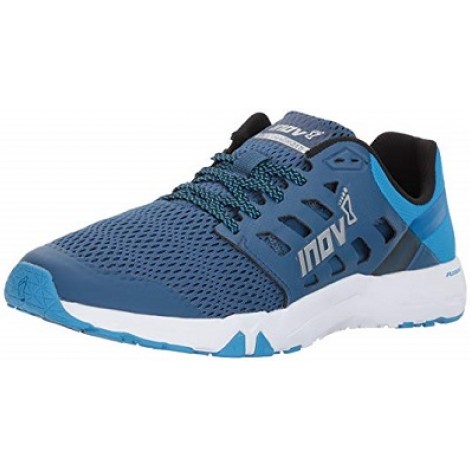 Climbing, sliding, running, lifting... these have got you covered. These men's trainers offer optimal support and comfort. With their sticky rubber outsole that includes special reinforcement at the forefoot, your every stride is sure and steady. Support is also provided by the geometric grooves for quick movements and turns. Besides that, the Fusion midsole compound offers a cushioning that's light in weight and incredibly durable, suitable for long, hard workouts. Energy return is also provided, and the new ADAPTERFIT met-cradle will adapt itself to the natural movements of the foot in motion and offer structural support. Plus, they are available in many different colors, some of which include dark green/red, blue, and grey/green.
Flexible
Footwear is meant to aid you in your movements, not to hinder you. The flexibility of the outsole and the upper means it can move naturally with your movements when agility and speed are required.
Multi-use
Of course, all trainers are supposed to be suitable for the wide range of activities required. But the versatility of this pair is emphasized. Wear them in circuit training, boxing workouts, plyometric training, and more. They aren't, however, suitable for rope climbs.
Cost and Value
You'll be glad to hear that this pair is actually very affordable. Besides, if you purchase one pair and are satisfied, you can always go back and get a second pair in a different color to switch up your look. We know working out is about building strength, not serving looks - but hey, you'll be hitting two birds with one stone!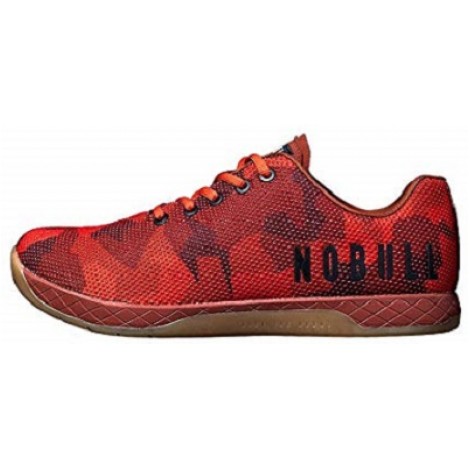 Like the brand's name states, you'll be getting NO BULL with these men's trainers. It doesn't matter if you're lifting, jumping, running, sliding, or doing any other activity, you can be sure you stay protected and comfortable. The rubber outsoles have a lug pattern designed for multi-directional movement, as well as all kinds of environments and grounds. This way, they can be worn both indoors and out with faltering in their traction and support. On top of that, the sockliner is molded to the natural shape of the foot to encourage the natural alignment of the toe, heel, and arches. The structural support keeps the feet healthy and prevents aches and foot issues in the long run. Even if you're working out where it's dark, you don't have to worry - the NOBULL logo is reflective.
Durable
The upper is made of a seamless, one-piece construction of SuperFabric. This fabric is super long-wearing and resistant to abrasion. The SuperFabric guard plates are put over a flexible mesh base, resulting in a durable shield protecting the foot.
Extra Protection
Still not enough protection for you? They've also got high carbon lateral and medial guards on the sidewalls, reinforcing the foot and offering increased protection.
Cost and Value
This pair is one of our more costly ones. You really can't blame them, though - with their whole array of practical features on top of their super fashionable look, you're getting an athletic shoe and a fashion sneaker at the same time. It's two for the price of one!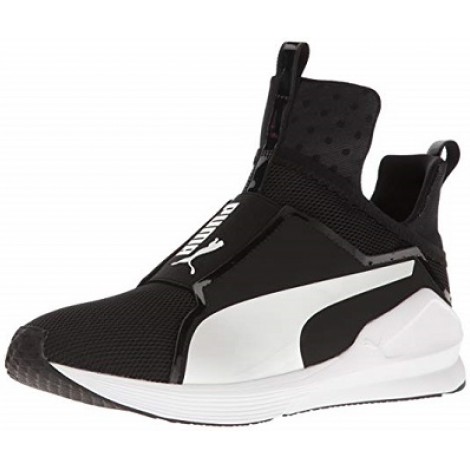 Looks and practicality can go together - and this pair of training shoes prove it. The PUMA Fierce Core is there for you when the workout gets intense. With a grippy outsole that features pivot points at the heel and toe, a quick multi-directional movement is supported. The midfoot lockdown is also optimized, strapping the foot securely in place. As well, flexibility is offered in the sole, allowing for comfort and agility. On top of all that, they are also super stylish. The demi-height bootie gives them a unique style. They are also available in many different colors, such as red/white, black/turquoise, peach/black, and white/silver.
Demi-height Bootie Construction
The problem with low-profile footwear is that they leave the ankles out in the open, which may result in injuries. The high collar in this design ensures a secure fit that keeps the feet and ankle safely protected...
Breathable
...while also making sure that what needs to comes out, comes out. The breathable mesh vamp keeps the feet fresh by allowing sweat and odor to evaporate into the air when it gets hot.
Cost and Value
As one of the more expensive picks on the list, you might be tempted to turn away after glimpsing their price tag. But don't be too quick to judge - if they truly do fit your needs, then they are worth the cost.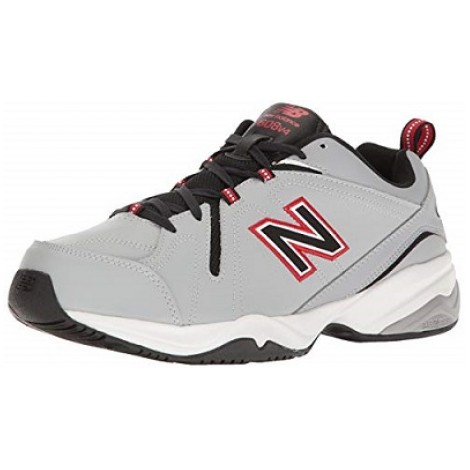 Our number one is a pair by one of the most well-known athletic brands out there. The men's 608v4 combines simplicity with practicality. With premium cushioning at the footbed and a foam collar, a snug and comfortable fit are provided. The non-marking outsole is practical and flexible. When it comes to the appearance, they have a leather upper that gives it a sleek style, as well as lots of different neutral color options, including but not limited to navy, grey, black, dark brown, and white.
Ankle Comfort
With a dual-density foam at the collar - meaning a softer foam is used in the front of the foot, and a firmer one at the back - the ankle remains nice and protected no matter how much you're moving around. The risk for irritation is reduced, all the while still allowing the ankle to be agile.
Flexible Cushioning
Cushioning is crucial for all athletic footwear, as it lessens the shock impact on the joints. However, too much can sometimes result in a stiff outsole - but not with this pair. Thanks to the injection-molded EVA foam that makes up the midsole, shock is absorbed while flexibility is also offered, giving you the best of both worlds.
Cost and Value
Though this is our best pick for quality, its price is pretty decent. They are on the more expensive side, but the cost isn't ridiculously high. Plus, you've got to remember that for a durable and versatile pair like these, every penny goes towards your everyday comfort!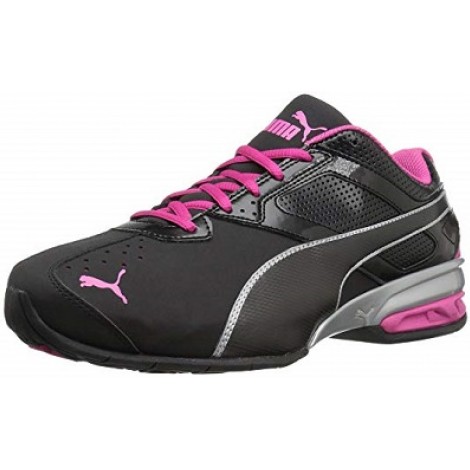 Number five is another great women's pair by PUMA. Not only do they have a sleek look, but they are also practical for working out, too. They are engineered to keep you comfortable and stable at all times. The midsole is cushioned and has a saddle design, creating a supportive fit for the arches. Shock is absorbed by the EVA heel pods so that the impact on the knees, ankles, and other joints is greatly reduced. In terms of appearance, they've got formstrips on the sides and the PUMA cat logo near the toe. The color options aren't abundant, but the overall shoe has a minimalist style that makes them stylish nonetheless.
Breathable
The synthetic leather upper has perforations that allow air to flow throughout the shoe. As well, the EcoOrthoLite sockliner is super breathable while also ensuring a snug fit. If you have sweaty feet, you need a pair of these for your workout.
Stability
The TPU shank results in increased stability. The snug fit provided by the midfoot saddle, sockliner, and lace closure also keep the foot strapped in place and stable.
Cost and Value
As a moderately-priced pair, you'll have to spend more or less the same amount for these as for other athletic footwear. If their features sound good to you and you like their appearance, we say you go for them.

6

. New Balance FuelCore NERGIZE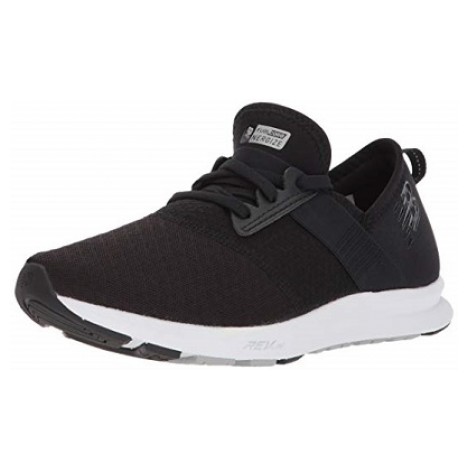 No, it's not a typo - this model for women really is called the FuelCore NERGIZE, not 'energize.' However, the latter would be an accurate name as well, since the features provided will make you feel pumped and ready for your workout. The REVlite foam in the midsole provides lightweight cushioning and shock absorption, keeping your every stride efficient. Though they have laces, the upper is flexible and designed so that the pair can be slipped right on with the laces simply as reinforcements. This saves the time and hassle of undoing and re-doing the laces every time you take them off or slip them back on. Besides that, they've got a memory sole insert that's removable to fit your preferences. With their minimalist, modern look and a wide range of color options, they can also be worn as casual streetwear.
Versatile
Though they are technically trainers, they can be perfect as everyday sneakers as well. Their simple and modern look means they can be paired with any casual outfit to make you look laid-back yet still stylish. Plus, it gives you a sporty vibe.
Snug Fit
The upper is made of soft textile while the midsole is cushioned and constructed with REVlite. Stay comfortable and look good, all while working your butt off at the gym.
Cost and Value
You won't believe us when we say it, but these are of a pretty inexpensive price, too. The fact that they are so simple and versatile just makes them an even better bargain.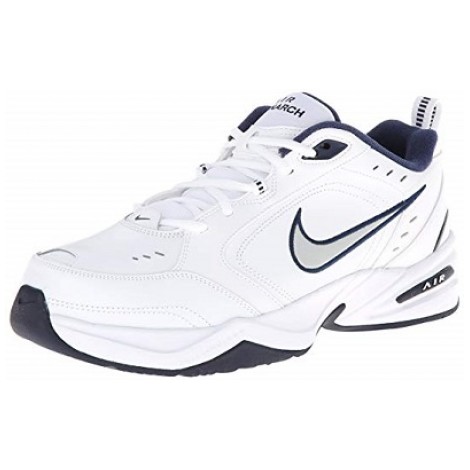 Of course, we couldn't make the list without including something by Nike, one of the most renown and well-loved athletic brands on the globe. All their products offer maximum satisfaction and practicality, and the Air Monarch IV for men is no different. The upper is made of leather that makes them durable and handsome at the same time. Overlays and perforations can also be found on the upper, providing support and airflow. The midsole includes a full-length Air-Sole unit, providing a cushioning effect while also staying lightweight. In addition, they have a simple exterior that comes in white, black, and a mixture of both, creating a minimalist and aesthetically pleasing appearance.
Lightweight
It doesn't matter how many cool features are used in the footwear to provide comfort - you won't feel them if it comes with a heavy-weight. Keeping the weight light means you don't have to carry so much bulk with you when focusing on your performance, and it's a good thing the materials used in their construction do just that - keep them nice and light.
Groovy
The outsole features flex grooves that result in enhanced flexibility and agility, as they make sure you stay steady and stable on your feet when striding quickly. With their aesthetically pleasing design, it's only self-explanatory that the term 'groovy' refers also to their appearance.
Cost and Value
They are quite reasonably-priced considering they are manufactured by Nike. We highly recommend you consider them as your next purchase - with their leather upper, clean design, and practical features, they're sure to serve you well.

8

. UA Micro G Limitless 2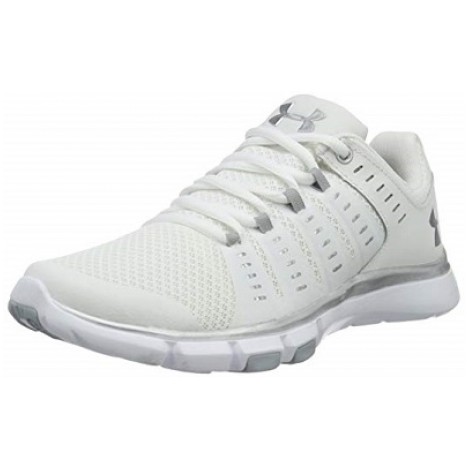 Last but certainly not least is our number ten pick by Under Armour. This brand has spread in the past few years and its logo can often be recognized on the street. This particular pair of trainers for men has a variety of practical features. For one, their construction includes an overlay of synthetic material on the lateral side and leather on the medial side. The result is a balance between lightweight protection and durability, both exactly where they are needed. Besides that, rubber traction on the outsole covers only the high impact zones for more efficiency. Added cushioning can also be found at the heel, and the grooves on the forefoot are strategically placed to suit the natural stride. To top it all off, they come in many different colors such as white, black, and blue, giving you more options to choose from based on your taste and style.
Snug Fit
With their form-fitting compression half-sleeve, a tight layer of support is provided. With the foot secured in place, you can move around in ease.
Return Energy
The full-length Micro G foam mentioned in the name of this model allows the energy of your landings to turn into a boost in your next stride. This is because the foam rebounds to its original shape after receiving impact, pushing you off with more power and efficiency.
Cost and Value
These are somewhere in the middle of the price range for the products on this list. They're not a mind-blowing bargain, but it's still decent.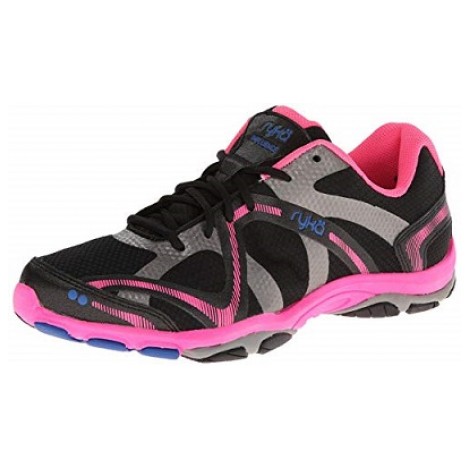 If you're a woman, then don't fret - we've got options for you, too. The Influence training shoe by Ryka keeps you on top of your performance no matter what physical activity you are engaged in. Support is provided by the Flex-Foil and Direct-Fuse layers in the construction. The textile lining and padded tongue and collar also ensure minimal irritation. Mesh is used in the upper to ensure airflow and prevent the accumulation of odor and perspiration. Though they may not be the most fashionable (or perhaps they could be, depending on your style), the support they provide is simply amazing. Plus, you're working out to feel good, not to look good in your gym selfie!
Energy Return
Regular cushioning provides enough absorption and elasticity to protect the joints - but these take it one step further. The dual density foam midsole uses high impact N-Gage EVA, which bounces back to its original shape after impact, using the energy of the footfall to boost you in your next step.
Easy Movement
Trainers, as well as those for circuit-training, must ensure flexibility and agility with lateral movements. The outsole provides traction on smooth indoor floors and also has a footprint design and Pivot Points that ensure stability when pivoting and turning.
Cost and Value
The price renders these perfect for any typical exerciser. They aren't what you'd call cheap, but they're an amazing investment considering their versatility and durability.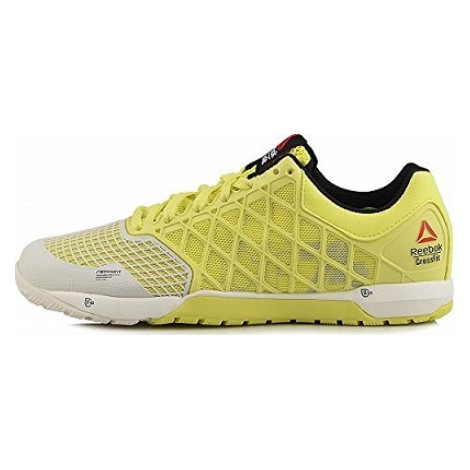 Reebok's another brand we couldn't leave out. No matter who you are, you've no doubt seen this brand a lot in the last couple of years, as it has recently been regaining popularity. The CrossFit Nano 4.0 is, surprisingly, originally designed for CrossFit, but since the activity is similar, they are perfect for our purpose as well. Starting from the bottom up, the outsoles have multi-directional grooves to prevent you from slipping at all times. The mesh in the upper is breathable and flexible, allowing for the full range of motion without coming in the way. Besides their practical features, they look great, too. They come in yellow, silver, blue, and red, and the diamond criss-cross patterns on the sides give them a unique and stylish appearance while also rendering them suitable for rope-climbing. It's a win-win for sure.
Outsole
When traction is provided by most footwear, it comes in the form of grooves in the outsole. These take it a step further - pun intended. Featuring both vertical and horizontal grooves, stability is provided no matter in which direction you move.
Comfort
The ETC linings are designed to prevent friction against the foot when you're working out. As a result, heat buildup is reduced, as well as the risk for blisters and discomfort.
Cost and Value
Though not cheap, you can be sure your money is being spent on a good investment. Reebok isn't a well-known brand for nothing. The durability of these kicks counterbalances their price and helps you save your pennies (and the time it takes to shop for another pair!) in the long run.

Subscribe to our Newsletter