Best Shoe Soap Reviewed
In a Hurry? Editors choice:

Test Winner: Ugg Accessories Cleaner

We love wearing our favorite shoes whenever we can - be it at work or during the weekend, we try to bring them with us wherever we go. They help us look stylish, or make us feel comfortable, and generally just make our lives a little easier.
But what happens when our footwear gets dirty? While this is a normal occurrence - nothing stays spotless forever - sometimes the stains are difficult to get out and we need a little extra help in
cleaning our footwear
. Which is where shoe soap comes in! Thanks to any one of these ten products before you, your designs will be clean and sparkly in no time, and you will be ready to proudly show them off to your friends and family once again. Let's dive in!
Standout Picks
Criteria Used for Evaluation
Effectiveness
The most frequent question you will ask yourself when shopping for a new cleaning agent is whether or not it works. Will this remove all the stains you have on your footwear? Will this work for your design, in particular? How good is it in removing dirt/grease/marker/pen/food stains?

Now, let's get the disappointing part out of the way first: there is no cleaning solution which is 100% effective. Even if a product has rave reviews, you might be among the few customers who end up dissatisfied with the final result. This can happen for a number of reasons: either there was a flaw in the product itself, the one which arrived at your doorstep, or the product is unsuitable for what you want it to do, or perhaps, you're not applying it the right way.

In order to make sure that you're getting the best formula possible, we ranked the items on our list according to their effectiveness. There are those which remove almost any stain that comes their way, such as the Bickmore and the Oakwood Liquid items and the Sneaker Suds Cleaner. And then there are others which are less effective, or perhaps more focused on removing a specific type of stain from a specific type of material.

Most products are meant to be used only on the uppers, which are easier to clean, but there is also one product, the Angelus Easy Cleaner, which is strong enough to get stains out of midsoles and outsoles as well!

Before you decide on a product, make sure to read over everything we have written about it, and to check out as many of the customer reviews as you can. All of this will clue you in on the effectiveness on the formula - for which materials it is best suited, which stains it is good at removing, and which still remain even after diligent cleaning.

The important thing here is to remember that if you don't succeed in thoroughly cleaning your footwear with one product, it doesn't mean that you should give up. Most of these items are easy on the budget, and you should have no problems turning towards a different brand and giving it a go. Sooner or later, you will definitely find an option that works for you, and you will finally be able to enjoy clean footwear whenever you want!
Materials
When we say materials here, we mean 'ingredients'. As you have undoubtedly noticed in our guide, there are a lot of different ingredients which go into these products, each one of them with different pros and cons. We will talk more about them here, and outline what you should be looking for for each specific footwear style and material type.

Natural Oils: For the purpose of this text, we refer to coconut and jojoba oils as natural oils, ones that are found in the Reshoevn8r Cleaner and the Ugg Accessories Cleaner. These are 100% natural ingredients which are safe for the environment and completely safe for your skin as well. Jojoba oil especially doesn't go rancid, and you don't have to worry about your footwear developing a bad odor or turning sticky.
Additionally, if either coconut or jojoba oil accidentally rub off on clothing, you will have no problems taking them out.
If you're looking for something that is free of chemicals and has no harmful additives, then an all-natural product with these oils (such as the Reshoevn8r Cleaner), is a great choice.
Lanolin: Lanolin comes from sheep, and it is also an entirely natural ingredient. It is used on leather goods to turn this material incredibly soft and supple. It has moisturizing properties, making the leather look smooth and shiny, and erasing any cracks or dry patches it might have.
However, some people claim that lanolin makes the leather too soft. While this isn't a problem in case of leather jackets or gloves, it might not be what you're looking for in footwear. If you want your leather boots or shoes to be more rigid, perhaps avoid lanolin as an ingredient.
Neatsfoot Oil: Neatsfoot oil is obtained from shin and foot bones from cattle. It is a conditioning ingredient, one which is used to keep leather products lubricated and soft, and to give them a shiny finish.
The downside to neatsfoot oil is that it is acidic. It can 'eat through' stitches if applied in high concentration, consequently damaging your footwear. Moreover, it also tends to darken the leather, which makes it a poor choice if you wish to preserve the color of your designs.
While we listed specific ingredients we found in the description of each product, it is important to keep in mind that these are not the only compounds a cleaning formula is made of. In fact, in some cases - like the Angelus Easy Cleaner - no one but the manufacturer knows what goes into a product.
If a formula contains natural ingredients but doesn't declare itself 100% natural - it most likely isn't. If a product doesn't have any natural ingredients, it doesn't necessarily mean that it is unsafe. Use your best judgement when making a choice, and don't forget to consider other people's experiences as well. Reviews are your friends.
Ease of Use
It would be absolutely amazing if we had the money and the opportunity to simply drop off our footwear at the cleaner's and pick it up the next day all shiny and squeaky clean! However, as that is not the case for most of us, we have to resort to doing the work ourselves.

Sometimes, this is an easy task which requires an insignificant amount of time and easy-to-get tools. Other times, it's a little more difficult than that.

You will find all of the products on the list ranked by how easy they are to apply, by how easy it is to get the equipment you need - if any - and how long it takes for your footwear to dry afterward.

In that regard, we have to applaud the Oakwood Liquid product, because it doesn't require even water! You simply wipe on the formula, scrub your shoe for a bit, wipe it off, and you're done! There is no other product which is this easy to use, but there are those which come with neat brushes and towels that help you do your work more efficiently.

Like the Sneaker Suds Cleaner, for example, which comes as part of a kit. In it, you have a brush that helps scrub dirt off your designs, and a towel which is great for wetting your footwear and wiping them off later. It really saves a lot of time when we don't have to look for additional tools ourselves, but already get everything packed and ready for us.

There is also the question of the form in which the product comes in. Most cleaners here are in liquid form, packaged in a regular bottle that you have to tip over to apply the liquid to the shoe or to a towel or a brush. In such cases, there is always a chance that you might spill some of the solution and get it in places where you don't want it.

If you want to avoid this, then a solid, tin-can form is a better option. With them, you need to figure out how to scoop out the product, but there is definitely no risk of spilling anything, as the formula doesn't flow.

Lastly, there is the factor of drying your footwear. This should be natural and never under the influence of a heater of any kind, which could potentially damage the materials of the upper. It doesn't take longer than 8-12 hours for a design to dry, and if you feel like it needs one more round of cleaning, make sure that it is completely dry before you go through the process again.
Durability
In terms of durability, in this guide, we're thinking of questions like: how long will this product last? These all seem like awfully small bottles and cans, how long will you be able to use it before you completely run out?

This is another very valid concern that anyone who really buys anything wonders. How long will I be able to use this for? Is it worth the price?

Fortunately, in case of practically all of the products here, the answer is - you will be able to use them for a very, very long time. The reason for this is that when you're applying any of these formulas on your footwear, you should keep in mind the good old saying, a little goes a long way.

With just a drop and a slightest dab, you are able to clean a whole sleuth of shoes without any trouble. If you accidentally use more, some of the solutions threaten to foam more than they should, and you might have trouble wiping the excess off later. More product doesn't equal a better wash, so pay attention to that.

Some of the items on our list, like the Jason Markk Premium Cleaner, measure their durability, or how long they last, in the number of sneakers they can effectively clean. While this isn't a widespread way of expressing durability, it certainly is useful, seeing as you don't clean your footwear every single day, and the measurement of time doesn't apply. If a product can clean 100 to 200 sneakers from one bottle - it's downright amazing!

An average would probably be around 60 to 70 sneakers, while anything below 50 would mean that the product isn't up to par when it comes to this quality.

Something should also be said about the consistency of the product, which we also mentioned in our Ease of Use part. Solid forms tend to last longer than liquid forms, mostly because you use less of them in a single treatment than you use a liquid form, even if you try to apply as little of both as possible.

While none of these products are exactly expensive - though this is a matter of perspective, as some of the items here can be quite pricey for their product category - it is good to know that for your money you're getting a cleaning solution that will last for a long time to come. It might even outlast some of your footwear, you never know!
Color
We understand that the color of the product you're using isn't of much importance. However, what is important is the color of your footwear, and the ability of the cleaner to keep it preserved or, less preferably, change it.

It is no secret that any type of formula you apply to your design has a chance of altering its color. It could make it lighter, as though you've applied bleach, but it could also make it darker, like the way leather footwear usually becomes darker with conditioning. It is in fact, a rare occasion that a cleaner or a conditioning product doesn't cause any type of discoloration. Even if the majority of customers claim that their footwear color remained intact, there will always be one or two unfortunate people who've had their shoes possibly even ruined.

If you're not certain how the product will react with the material of the upper and you don't want to risk damaging your footwear irreversibly, there is one thing you can do beforehand: take the smallest amount of product possible, and apply it to a place on your shoe which is hidden from view, say somewhere on the inside of the design.

'Clean' that tiny area as you would clean the whole upper, and then leave it to rest for a day or two. Come back to it and check out the results - if everything looks fine, you're free to use your product on that particular design!

For minimal damage to your footwear, it would be best if you could do this for every new design and every new formula, so that you are certain you won't accidentally destroy your favorite pair of sneakers or boots.
Our Favorites
1

. Ugg Accessories Cleaner



Now here is something a little more specific - a cleaner that is more or less geared towards one brand and one very famous design - the Ugg boot. Of course, you don't have to actually own Uggs to make use of the Ugg Accessories Cleaner. Any design which is made out of sheepskin and soft, plush suede will benefit from being cleaned by this lovely formula.
The Ugg Accessories Cleaner is made from natural coconut and jojoba oils, and is meant to clean, condition and restore all Ugg footwear - boots, shoes, and slippers - though it can just as easily be applied to other models that are made of the same type of materials.

Uggs guarantees that their Cleaner is non-toxic and biodegradable, which is a huge plus for the environment, and it is also free of animal products. It takes out all types of stains, from those caused by a downpour to persistent salt discolorations. At the same time, this Ugg formula doesn't cause any discoloration itself.

If you're a proud owner of Uggs - or other sheepskin footwear - then the Ugg Accessories Cleaner will make your life easier! It is quick and simple to apply, and the stains on your footwear will be gone in a blink of an eye. A great product all around!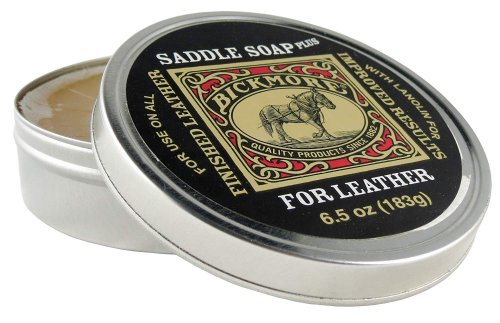 Bickmore is a brand which offers traditional formulas for all things leather since 1882. Their products are made entirely in the United States, with the purpose of cleaning, softening and preserving smooth finished leather goods. The same is true for this Saddle Soap as well, which is a nourishing formula that will rejuvenate your leather footwear and make it look brand new again.
This Bickmore cleaner is formulated with lanolin and neatsfoot oil that provides not only cleaning but also moisturizing. If your leather is dry and cracked in places, a dab of this cleaner will fix it right up! It is great for removing grime, dirt and salt stains from footwear, as well as for making the leather soft and flexible.

The Bickmore cleaner can also be used to remove stains on all other kinds of leather goods, while not altering the color in the least. The manufacturer here recommends using a conditioner after the product is removed for optimal results.

The Bickmore Saddle Soap restores, moisturizes, protects and does this all for a fairly decent price. Your leather footwear will enjoy being pampered with this cleaner, and you will enjoy knowing that you have a way of increasing the lifespan of all of your favorite designs. You shouldn't waste a second in getting this versatile leather cleaner.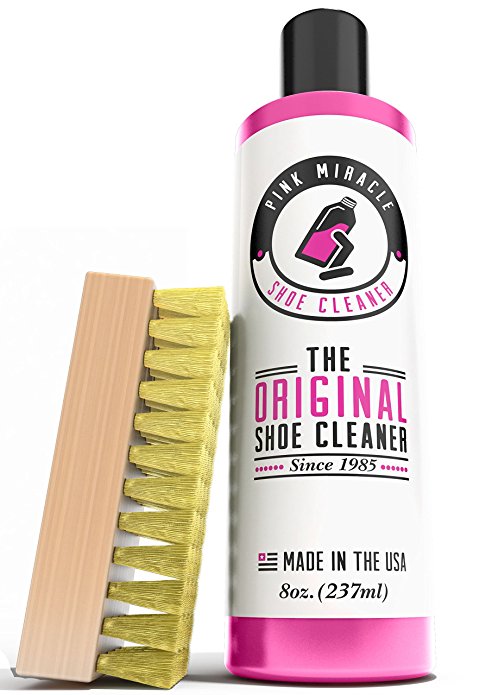 Most products on this list are fairly new in conception, and haven't been around for longer than a few years, ten at the most. The Pink Miracle Cleaner is an option which leaves all of these in the dust, as its original formula was first conceived in 1985, which is more than 30 years ago! Since then, it has remained on top of all the best footwear cleaner lists, including this one, and there isn't a sneakerhead in the world who isn't familiar with this formula.
The Pink Miracle Cleaner is a safe concentrate which contains saddle soap, gentle oils, and conditioners. It works on all washable leather (meaning leather which can get wet and lightly scrubbed), as well as vinyl, nubuck, canvas, cloth and more. It is entirely non-toxic, so you won't have to worry about skin irritation or environmental pollution.

One of the great things about the Pink Miracle Cleaner is that it is, as we've mentioned, a concentrate. This means that a little of this product goes a long way, and even though its price is somewhat higher compared to other choices, it lasts for an incredibly long amount of time. Furthermore, with it, you also get a neat brush which will help remove all the hardcore stains!

The Pink Miracle Cleaner is, indeed, a miracle. It is a formula which has been around for decades, and with good reason - customers simply love it, because it solves all of their footwear cleaning problems! Try the Pink Miracle Cleaner as soon as you can, and we promise that you won't regret investing your money in this superior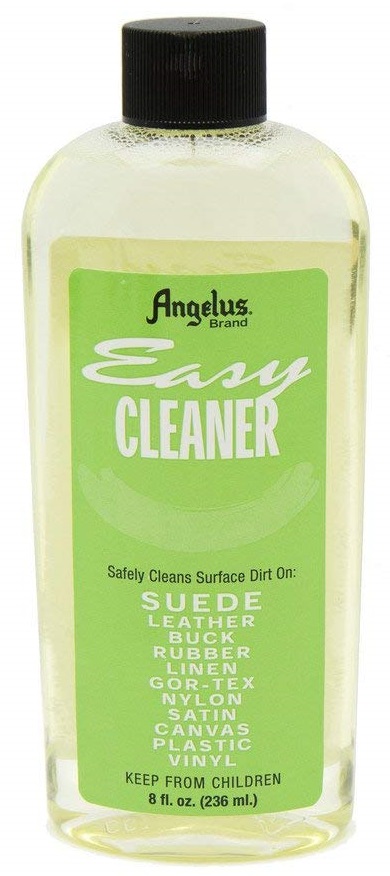 The Angelus Easy Cleaner is one of the few 'miracle' products we included here. It cleans almost all types of material and all types of stains, and it is also amazingly affordable at the same time! Indeed, the Angelus Easy Cleaner may just be the least expensive option on the list, while definitely not lacking in effectiveness.
This amazing cleaner removes dirt from smooth leather, nubuck, rubber, linen, gore-tex, nylon, satin, canvas, plastic and vinyl. The only material it doesn't have an effect on is suede, so if you're looking for a suede footwear cleaner, you should search for a different formula.

The Angelus Easy Cleaner is not only good enough to clean the uppers, but it is also strong enough to remove stains from soles and rubber bands and cap toes, such as in Converse. With this neat product, you can clean the entirety of your design in one go!

There is a disadvantage to the Angelus Easy Cleaner, however, and that is that no one actually knows what its ingredients are. They aren't listed on the bottle or on the manufacturer's website, so this, unfortunately, remains a mystery. Though the fact remains that, whatever this cleaner is made of works wonders, and if you don't mind the unknown ingredients factor, you're certainly going to love using this cleaner for all of your footwear!

5

. Oakwood Liquid Saddle Soap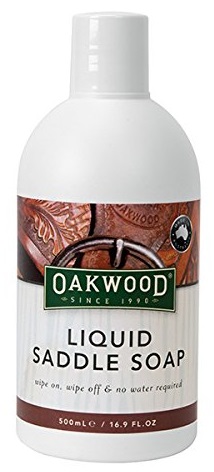 The Oakwood Liquid Saddle Soap is a, unsurprisingly, saddle soap in liquid form. It is easier to scoop up - or pour, in this case - than the classic formulas in a tin can. Like other products of its kind, it is meant only for leather goods, such as footwear, belts, purses, and saddles, harnesses and other equestrian equipment.
The Oakwood formula is fragrance-free, meaning that intense perfumes won't give you a headache as you work, and it also contains glycerine for gentle cleaning that doesn't strip the leather of its dyes or protective layers. It can even be used in stitching areas, for a complete cleaning experience.

This product is carefully put together to have a neutral pH value, meaning that it is safe for both sensitive hands and sensitive footwear. It is not too abrasive, and yet it will effectively remove dirt, grime, and stains. It is also incredibly easy to use, with only a wipe-on, wipe-off method, without any water required.

If you're tired of using the standard saddle soaps and would like to try something more efficient but with equal effectiveness, then the Oakwood Liquid product is the ultimate solution. This formula has everything you need, and it comes in a form that you can manipulate more easily than the solid one. What a great deal!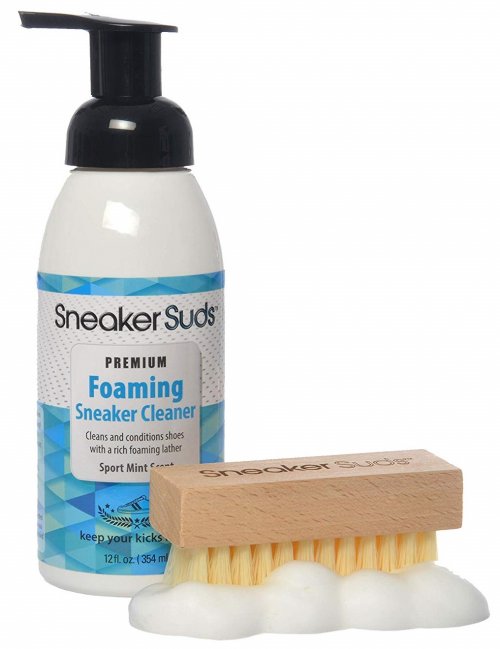 If you're desperate to get your sneakers clean, then there is no better option than the Sneaker Suds Cleaner! This product is definitely soapy, with an enhanced formula that reduces waste and works up a lather that your sneakers will absolutely love. It comes in a kit which contains a handy brush and a microfiber towel that you can use to pre-wet and to wipe at the end.
The Sneaker Suds Cleaner is made out of mainly herbal ingredients. They leave behind a wonderfully refreshing minty scent that many have complimented, and it also works wonders both on your footwear and on your hands! Seriously, this formula is so gentle that you can also use it to wash your hands with it, although we would recommend this only in the case of serious hand soap deficiency.

As mentioned before, this cleaner comes in a kit with a brush that helps remove all types of stains, even the most hardcore ones, and an eight-inch microfiber towel that is useful before and after the official wash. It is also packaged in a box that you can use for storing all of the cleaning equipment later.

The Sneaker Suds Cleaner leaves behind not only squeaky clean footwear but also a peppermint scent that you will enjoy even days after the wash. It is amazingly easy to use thanks to the video tutorial the manufacturer has on their website, and with it, you can do no wrong as you set about cleaning your favorite sneakers.

7

. Jason Markk Premium Cleaner



While some of the items on our list here are focused solely on leather goods, with the Jason Markk Premium Cleaner we have a product which works on pretty much any type of footwear. Whether it is leather, suede, nubuck, canvas, vinyl, nylon, mesh or any other - you can be sure that this formula will thoroughly clean it.
The Jason Markk Cleaner is a foaming solution which cleans and conditions but is also gentle. Its ingredients don't contain any harsh chemicals and are 98.3% natural - which is quite a high and a very specific percentage if you ask us. The formula is completely biodegradable, meaning that it is safe for the environment and won't contribute to already high pollution levels.

It is also safe to use on all materials and all colors, as it won't cause any discoloration or change in appearance. The quantity that you get in one 8 oz. package is enough to clean up to 200 pairs of sneakers! Wow!

The Jason Markk Premium Cleaner is a best-selling product for a reason. It cleans literally all types of footwear which can be found in your wardrobe, and it does it quickly and effectively, with minimal effort on your part. What more could we possibly ask out of a good footwear cleaner?




The Reshoevn8r Cleaner is, aside from having a truly unique name, the product which claims that it is 'the only product in the industry that can provide truly effective results'. It works on just about any design and any cleaning job, 'within reason'. What separates this cleaner from the other items in our guide is that it is made out of 100% natural ingredients.
This formula contains natural oils, such as coconut and jojoba. It cleans your footwear without causing any harm to either your design or yourself. While you might have to wear latex gloves when working with other products, the Reshoevn8r is gentle and won't cause any irritation of your skin. Being an entirely natural product, this also means that it is safe for the environment, and completely non-toxic.

While the Reshoevn8r doesn't come with any special ingredients which guarantee stain removal, it gets the job done. It cleans your footwear, but it is also a wonderfully safe option, one that you know won't harm you in any way. If you're concerned about the aspect of health and safety, this is definitely the product for you.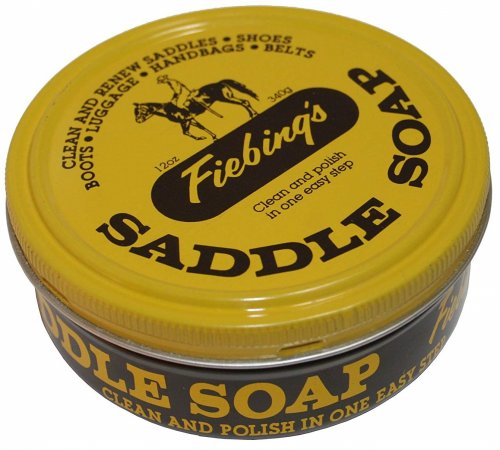 Fiebing's is a brand well-known for products related to horse and leather care, as well as to leathercraft and maintaining leather footwear. The Fiebing's Saddle Soap is one of their bestselling products, which customers regularly use on their footwear but also on their leather sofas, laptop bags, purses, and even leather journal covers. If it's leather, the Fiebing's product can clean it!
Similarly to the Kiwi formula, this one also comes in a tin can for ease of use. You will need a cloth or a brush to apply the product and to properly clean your footwear. The Fiebing's cleaner both cleans leather and lubricates the fibers to prevent brittleness. At the same time, it makes the leather soft and helps it preserve its strength.

One thing that you need to do after using this Fiebing's product is to apply conditioner or neatsfoot oil, since all soaps, including this one, eliminate natural oils in the leather. This can lead to the leather drying out and cracking, which is why your footwear will need additional care after cleaning.

The Fiebing's Saddle Soap is simple and easy to use. If you have several leather goods around you that are in need of cleaning and repairing, this item is perfect for the job! It makes leather soft and gives it a nice, glowy finish that is only characteristic of new products. With this formula, you can definitely do no wrong.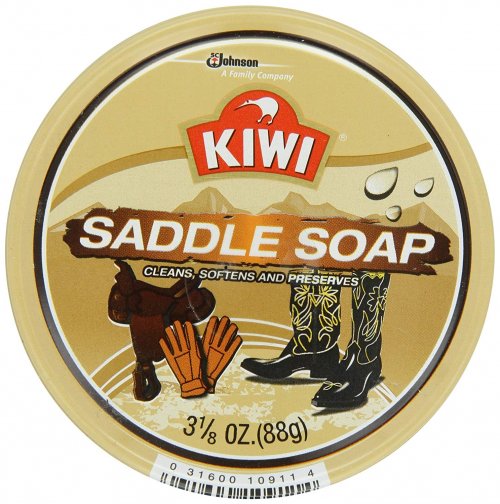 Leather footwear lasts for a long time, but only if it's properly cared for. It needs regular cleaning and conditioning to retain its suppleness, to not show cracks or creases, and to make it seem like you're wearing a brand new pair of shoes, instead of only restoring your old ones. The Kiwi Saddle Soap is a great option for cleaning, softening and preserving not only your leather footwear but all of your leather products.
This tin-packaged formula is a traditional mixture of ingredients which makes the leather smooth and even, and which removes dirt, grime, and even salt stains from walking around in winter time. The formula also contains quality wax for added protection, so that your footwear doesn't get as easily stained in the future.

The beauty of the Kiwi formula is that you don't have to spend money on purchasing several separate products for cleaning, conditioning, and preserving. With this one, you get all three at the same time! The Kiwi product will breathe new life into your footwear, as well as your purses, gloves, even furniture and leather car seats. You don't have to worry about how you will get that stain out of your leather goods ever again.

Subscribe to our Newsletter