Best Shoe Clips & Decorative Add-Ons Reviewed
In a Hurry? Editors choice: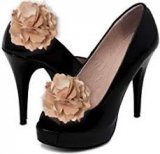 Test Winner: Absolutely Audrey Gia

Tired of seeing the same old footwear in your wardrobe? Wanting to spice things up, to reinvent yourself and your style, but your budget isn't allowing it? Fear not, we have a solution – shoe jewelry! That is, ornaments that you can fasten on or drape over your footwear to completely change its appearance and add some zing to your looks. If you are looking for that perfect clip to add to your
favorite flats
or pumps, we got your back! We have analyzed hundreds of designs and organized this list of top ten ones in the hopes of easing your journey through the world of footwear jewelry. In it, you will encounter clips and chains all in different shapes and sizes, from
whimsy to edgy to glamorous
, for everyone's tastes. So kick your feet up, read on, and get a great shoe ornament today!
Standout Picks
Criteria Used for Evaluation
Use
Contrary to popular belief – and to what you have seen in this guide – shoe clips are not the only decorative add-ons when it comes to footwear. There are also boot chains and even heel rings! So we have sorted through these options and grouped them into categories for your consideration.
Style
The largest category there is, shoe clips can be found in abundance. They are an inexpensive, practical way of switching up your style, adding an embellishment to your regular old pumps or flats – or even sandals – to elevate your look. Simply snap them on around any edge of the design – it can be at the front, but it can also be at the top or the side – and you're ready to dance the night away!
These decorations come in hundreds of different shapes and sizes. We have showcased some of the most popular styles in our list, but there are some which didn't make the cut, so we're going to mention all of them here:
Pom Poms: You may associate pom poms with cheerleaders – the image that comes to mind is one of a huge ball of fibrous material used by high schoolers all over the world to cheer on their sports teams. However, pom poms are also smaller tufts of (faux) fur which can be attached to footwear and apparel, also called bobbles or toories.
These come in many colors and sizes and are usually amazingly soft to the touch, so much that sometimes it's hard to let go of one once you have it in your hand. They are a great way to add some playfulness to your footwear.
Bows: Bows are always a great choice for when you want to add a touch of romance to your design. They can range from plain, simple bows which complete a professional look, or more elaborate bows, with jewel inserts and dangling charms. You can choose a bow in a different color than your footwear for an eye-catching contrast, or you can try to match the color of your design to the color of the bow and create an impressive monochrome effect.
Buckles: Buckles are those decorations which usually have a large gemstone in the middle, and several smaller ones framing it. All of this is very symmetrical and similar to how an actual buckle permanently attached to a shoe would look like. These are quite classy and refined, and they are perfect additions for a formal event, such as a wedding reception or a gala night out.
Flowers: Honestly, who doesn't like a bit of flower in their footwear? Flower ornaments are there to infuse your style with all the ease and freshness of a bright spring morning, and to make you an absolute darling of any event.
Flower clips can be made out of rhinestones and crystals, for a more expensive, polished look. These are perfect for outdoor weddings and glamorous spring events.
But they can also be made out of fabric, such as satin or cotton, and as such, they are a bit more casual.
The size of the flower can vary as well, and if you are looking to be the center of attention, you should definitely go for a larger one.
Jewels: When it comes to jewels, there are no rules – these can be symmetrical or misshapen, made out of many smaller rhinestones or only a few larger ones. They can be colorful, monochrome, or crystal clear to match with everything. There are jewels in the form of feathers, lips, hearts, stars, butterflies and everything in between. They are ideal for formal settings, though smaller, more modest jewels are good for the workplace as well.
Accessories
Boot chains are essentially bracelets – or anklets – that you fasten over your boot. It can be a mid-calf or a knee-high boot, but it can also be an ankle bootie. These serve as a great way to bring an edgy, rock and roll twist to your look, and to glam up your old pair of boots. There are countless options, from thin links for a bit of simple metallic bling to thicker chains, even those which have charms such as crosses, skulls or scorpions for a darker vibe.
The only downside, if you can call it that, is that if you have several chains on at once, they will inevitably jingle as you walk. This can be a good thing, however, if you are the type of person who enjoys making an entrance and wouldn't mind people hearing you come in.
Features
Heel rings represent exactly what their name suggests – rings for heels. They are made of rhinestones lined up around an elastic band which can stretch out to accommodate the width of your heel – however, they are most commonly worn with stilettos.
Depending on the complexity of the ring, you can either group several rings together in one wide rhinestone band around your heel, or you can evenly spread them out, for a more sophisticated look. Either way, these unique decorations bring sparkle and luxury to your heels in a very unique and innovative way.
Value
The last criterion that we looked at when picking out each product for today's buying guide was the cost and value relationship. At the core, this principle is the ideology of looking at the price tag of a product and measuring whether or not it's a good price, given the amount of value that the product offers. Now, to figure this out, there are a few different things that we, as consumers, need to do. This does take a few extra minutes; however, it can pay off in the long run! Reason being, through understanding this relationship, you can avoid making a bad purchase!

Here's how it works:
--Look at a wide variety of different products that you are looking for.
--Find the highest priced and lowest priced product to create an average for the industry
--Assess a wide variety of products and look at the value that they offer.
--Look at the price tag and evaluate whether or not the value that the product offers is worth the price, considering the average price point from step 2.
--If the product is priced higher than the value, it's not worth considering. If the product is priced lower or equal to the value, that's a good choice!
10 Best Shoe Clips & Decorative Add-Ons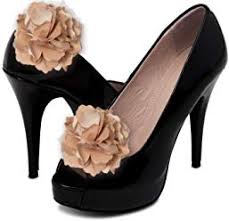 For a brief reprieve from the crystals and the rhinestones, and even bows, we venture into more floral designs. The Absolutely Audrey Gia is a gorgeous organza flower that certainly makes a statement. It measures two and a half inches in width and about two inches in height, meaning that it is definitely bold and eye-catching. You can fasten this lavish rose to any part of the shoe you want, and even make it a great decoration for your clutch, collar, belt and other parts of your outfit. The good thing about the Zinnia is that the closure itself is detachable, allowing for maximum convenience and versatility.
Striking
One thing is for sure - thanks to its size and elaborate design, you can't miss this glorious rose. So whenever you're feeling daring and like you won't mind a bit of floral pop in your look, then definitely go for this striking flower which will draw everyone's attention and earn you a world of compliments!
Detachable Closure
What we love about the Absolutely Audrey Gia is the fact that its closure can be removed at our convenience. This means that the flower doesn't have to be only for footwear. With minor adjustments, the Gia can decorate anything from your hairstyle to your shirt to your bag for that soft, romantic floral effect.
Cost and Value
Quite unsurprisingly, the Absolutely Audrey Gia is the least expensive item on our list. It isn't made out of any crystals, studs or rhinestones, and it definitely doesn't sparkle, but it still does a great job of being a captivating decoration. For an insignificant price, you can completely transform your footwear with this violet rose.

2

. Trendy Fashion Scorpion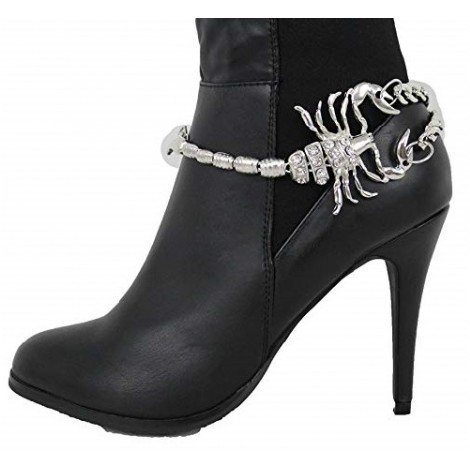 We're taking a small break from traditional shoe clips and diving into another type of footwear decorations - the boot chain! Similar to an anklet, but for boots, these can be fastened around any type of boot for an instant change in appearance. And what a change the Trendy Fashion Jewelry Scorpion brings! This bold design is truly impressive with its scorpion silhouette in a silver finish, complete with several sparkling crystals on its body. The length of the chain can vary depending on the width of your boot, and it is purchased individually, not in a pair.
Daring Edge
If you are looking to experiment with your style, maybe try something bolder, darker and edgier without spending too much money - the Trendy Fashion Jewelry Scorpion is a perfect choice! With this badass design, you will surely raise some eyebrows, and people will now that you are not someone to be messed with.
Customizable Length
Not only do we all have ankles of different widths, but also not all boots have shafts of the same circumference. This is why it is extremely practical that you can customize the length of the Trendy Fashion Jewelry Scorpion to fit your needs. Simple take out the extra links in the extension chain, and you're all set!
Cost and Value
The Trendy Fashion Jewelry Scorpion charm is a bit higher in price, compared to other options in this guide. However, it is a weighty chain that won't go unnoticed, and truly an innovative way of introducing some punk glam into your outfit. If your goal is to dip your foot into the mystical world of rebellious style, then what better way to start than with a boot chain!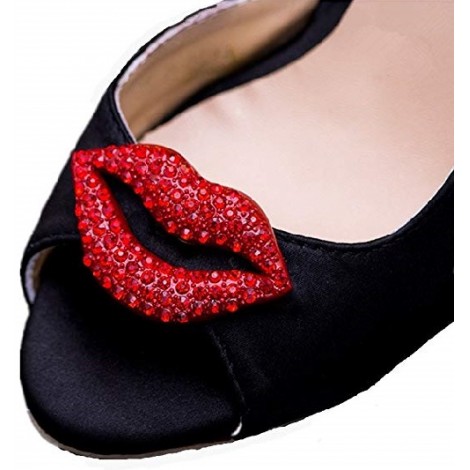 We explored many elegant designs for weddings and gala events, and we have also looked at some professional ones which can work in an office setting. Now it is time for something a little more playful and a little sillier, thanks to the Shoe Accessories Lips. This ornament is made out of red crystals and rhinestones and alloy, and it is shaped like a red pair of lips! It is approximately two by one and a half inches in size. While it is maybe too eccentric for the most formal of occasions, we love the fun and flirty spirit of this decoration, and feel like it will be a perfect addition to any party look!
Whimsy
Seriously, why skip an opportunity to wear a crystal-studded lips accessory anywhere on your outfit? This clip is perfect to express your personal style and sense of humor, and it will make everyone around you smile wide! The Lips brings whimsy to all the gatherings!
A Gift
Aside from getting this lovely decoration for yourself, it is also a perfect gift for someone's birthday or bachelorette party. With the Lips, you are bound to make someone's day, and you can even buy matching sets for the whole group to wear!
Cost and Value
The Shoe Accessories Lips is a comfortably middle-priced add-on. It is eccentric in design; perhaps not something that you'd expect to wear to formal events, but nevertheless a great way to spice up any party outfit! For its cost, you can consider treating your close friends and family members with this darling decoration as well!

4

. Shoe Accessories Ribbon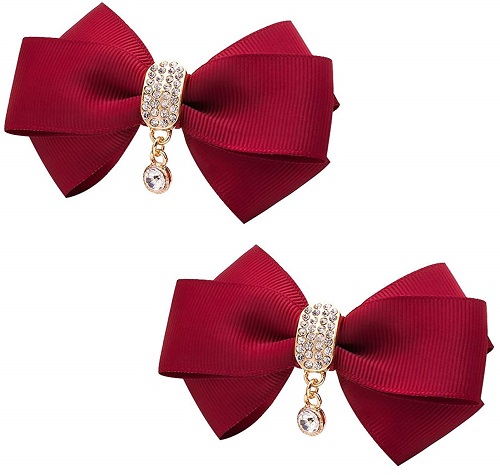 Unlike the other bow design in this guide, the Shoe Accessories Ribbon is anything but plain. It is a butterfly-shaped bow made out of sophisticated material, with a sparkling ornament in the middle. This ornament has a golden finish, a set of tiny embedded crystals, as well as a round rhinestone dangling from it. This footwear decoration is romantic and dainty and bringing a touch of that cute, flirty femininity to any design. It can be attached to pumps, flats, sandals, and even boots, and there is a myriad of colors to select from.
Elegant
The moment you lay your eyes on the Ribbon, there is no denying that this is one refined decoration. Especially with its dangly crystal, it gives the impression of something delicate, charming, a brush of elegance that can fit any design of your choice.
Multiple Color Choices
One of the many things that we love about the Ribbon is that it comes in a multitude of color options. You can get a pair which stands out from your footwear color, or you can even get a ribbon which is the exact same color as your pump. You can also get several colors, to mix and match however you'd like!
Cost and Value
The Shoe Accessories Ribbon is a decoration which belongs in the middle range of cost. It isn't too expensive, though not too cheap either, but it will definitely help bring some elegance and refinement into your look. All in all, a good deal!

5

. Elegant Park Rhinestone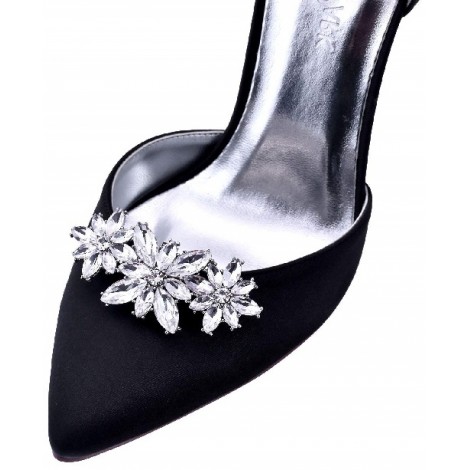 If you are not sure about the color of the decoration that you need - or if you are not a fan of it in general - then there is a perfect solution for you in the form of the Elegant Park Rhinestone! This accessory comes in various shapes and sizes, all of which are crystal clear in color. There are some floral designs, as well as just elegant groupings of crystals, all between 1.8 and 2.5 inches in length. You can choose which shape you like, and which size fits your footwear the best! These sparkly gems are sophisticated and elegant, perfect for any formal event you have in the future.
Crystal Clear
It is not easy to pair the right footwear color with the dress you have, and even more difficult to then find a suitable decoration for your pump to match with everything. This is why the clear color of the Elegant Park Rhinestone saves you a headache, as it goes perfectly well with any color combination!
Secure
It is a real frustration when you get yourself a gorgeous clip, and it ends up moving around all over your shoe. It twists and turns and won't stay in place, thus losing its purpose. Fortunately, this isn't the case with the Elegant Park Rhinestone. Once you fasten this accessory on, you can be sure that it will stay where it's supposed to throughout the event.
Cost and Value
Depending on the size and the shape of the jewels that you pick, the cost of the Elegant Park Rhinestone can vary between a middle range and a high range. Nevertheless, we still feel like any one of these prices is not exaggerated, and that this lovely ornament which complements any outfit is worth the buy!

6

. Absolutely Audrey Amanda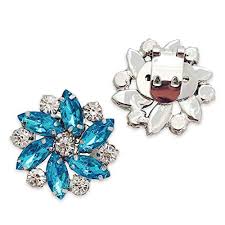 From a brand which specializes in designing footwear decorations and ornaments, inspired by the effortlessly sophisticated style of Audrey Hepburn, comes the Amanda clip. The designer of these products famously asks herself, "Would Audrey wear this?" every time she creates a new decoration. The Artemis is certainly a unique design, one that stands out from the others in this guide. It has the shape of crystal encrusted feathers with blue and green accents and is created to evoke images of old Hollywood glamour. It is perfect for bridal and evening footwear alike!
Regal
While many options here are their own versions of glittery glamour, the Absolutely Audrey Amanda is truly something special. It is subtle in its sparkle, and yet undeniably beautiful with all the intricate details that make up the decorative feather. With the Amanda ornament on the front of your pumps, you will feel like a member of royalty.
Versatile
Not only can you wear this gorgeous clip on any type of footwear you want - especially pumps and dress shoes - but you can also snap it on various other accessories! The Absolutely Audrey Amanda is particularly fancy when adorning a simple clutch that you can take with you anywhere.
Cost and Value
There is no hiding the fact that the Absolutely Audrey Amanda is one of the most expensive designs we've looked at. The reason for this is that its manufacturer is a well-known brand of footwear decorations, and the Amanda itself is a one-of-a-kind design. While it may be pricey at a first glance, it is still less money than investing in new footwear altogether.

7

. Shoe Accessories Plain Ribbon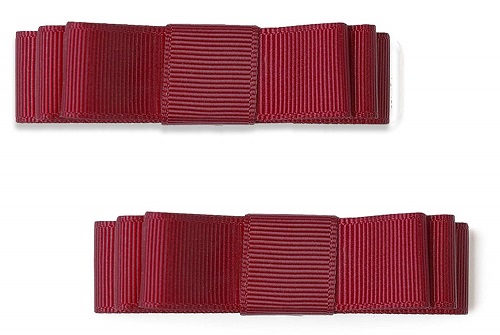 With the Shoe Accessories Plain Ribbon, we are turning towards a more subdued design. This decoration may seem unremarkable at first - it is a flat butterfly ribbon 0.98 inches in width and 2.98 inches in length, without any eye-catching details. However, therein lies its beauty. The Plain Ribbon is elegant, sophisticated with its ribbed finish, and can be easily matched with any style - you can put it on a flat or a pump or even a sandal and get a refined, elevated look in a blink of an eye!
Professional
Of course that anything not too out there in terms of design is suitable for the workplace. However, sometimes we wish to add some interest to our footwear, and this Plain Ribbon accessory is perfect for that! It is subtly elegant, but not clashing, and it will complete your professional outfit without any problems.
Two Sizes
For the price of one, you get two pairs of bows in different sizes! That way you can play around with the proportions, figure out where the small bows fit and where the bigger ones do. Maybe try snapping them on in different parts of the upper, not just on the front, to see what effect that achieves.
Cost and Value
As perhaps expected from a modest design like this, the Plain Ribbon is not an expensive design. For a handful of coins, you can treat yourself to a beautifully simple decoration that will instantly transform the look of your favorite designs, without any effort on your part.

8

. Qlychee Rhinestone Crystal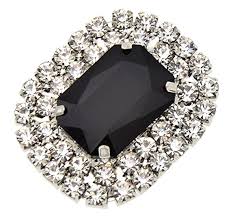 What sparkling elegance! With the Qlychee Rhinestone, you are surely going to be the star of any event. This ornament represents a cluster of several crystal clear rhinestones, different in shapes and sizes - from large princess-cut ones to the smallest, round brilliant ones. It is approximately 3.5 inches in width and 4 inches in length. This snap-on is a great choice for a pump or even a flat that you wish to make classier to take with you to a gala or a wedding reception.
Sparkling Extravagance
For a low price, you can transform your ordinary office pump into a real statement piece, a design which everyone envies you on for its expensive and sparkling design. This collection of crystals brings that much-needed opulence to any style, which works even for bridal footwear!
Any Shoe Type
It doesn't matter if your footwear is of the open-toed or closed-toed kind if it has a T-strap or not - the Qlychee Rhinestone works great for all types! You can fasten it on the front or the side, as its shape makes it a very versatile decoration.
Cost and Value
Given how glamorous and extravagant the Qlychee Rhinestone looks, we are surprised at how little it costs. Forget about investing in a new pair of evening footwear - with this stunning clip you can now wear all of your 'regular' pumps to formal events without being worried about a dent in your budget.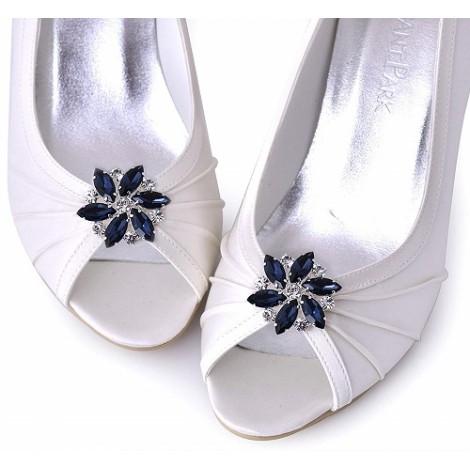 Bring a little luxury into your look with the Elegant Park Crystal ornament. These round flower-like decorations look like they belong on a Hollywood starlet, with their gleaming rhinestones and uncontained sparkle. They measure about 1.5 inches in diameter and can be attached not only to any type of footwear but also to hats and bags as well. When you're styling these, you don't have to limit yourself only to the front of the upper - place the clips to the side, or in the back for a whole new effect! The Elegant Park Crystal will make you shine in any formal event!
Flower Design
While we have modest and not so modest bows, feathers and even deadly crawlers, the Elegant Park Crystal is the first crystal flower design in our guide. It has that glimmering spring feel, one that is perfect for an elegant garden party or an outdoor wedding.
No Holes
There is nothing worse than purchasing a pair of decorations, trying them on, and realizing that the fastening mechanism left tiny permanent holes in the material of the upper. Fortunately, this isn't an issue with the Elegant Park Crystal, as these decorations won't damage your footwear in any way.
Cost and Value
The Elegant Park Crystal is leaning a bit towards the higher range when it comes to cost. We find that this is an accurate reflection of its quality, and more importantly, of the impression, it will leave on your surroundings. This is a sophisticated, downright regal ornament that will elevate any look you choose for the occasion.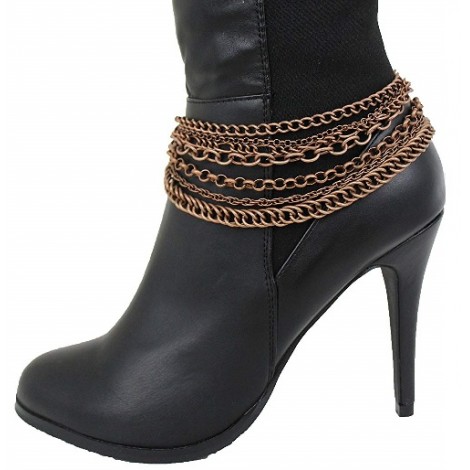 For an edgy, biker vibe that is less attention-grabbing, the Trendy Fashion Jewelry Links is a great option. What its name suggests, this boot anklet is made out of several thin chains joined together at each end - made out of different link shapes and of varying thickness, all evenly spread out for a cool, rocker look. They have a matt, copper finish, and are sold individually. The Trendy Fashion Jewelry Links is a decoration which can be fastened around any type of boot, regardless of its width and height.
Subtle
The Trendy Fashion Jewelry Links is a decoration that might not get noticed right away. In fact, most of the people you encounter will probably think it a permanent part of your boot. And its subtlety is exactly what we like about it - the fact that you're not attracting too much attention, but are still rocking that metallic look.
Versatile
Regardless of the type of boot you're wearing, the Trendy Fashion Jewelry Links will be a great fit. This decoration works for a knee-high boot as well as the one which goes up to your mid-calf. It also looks stunning on ankle boots! No matter what you wear, the Links chain has your back.
Cost and Value
As far as footwear ornaments go, the Trendy Fashion Jewelry Links is high in price. However, it is not outrageously expensive by any means and is still a good choice for when you're bored of your regular old autumn boots and what to push the boundaries of your style. You will enjoy this subtle copper accent!

Subscribe to our Newsletter